The Ultimate Paris Travel Guide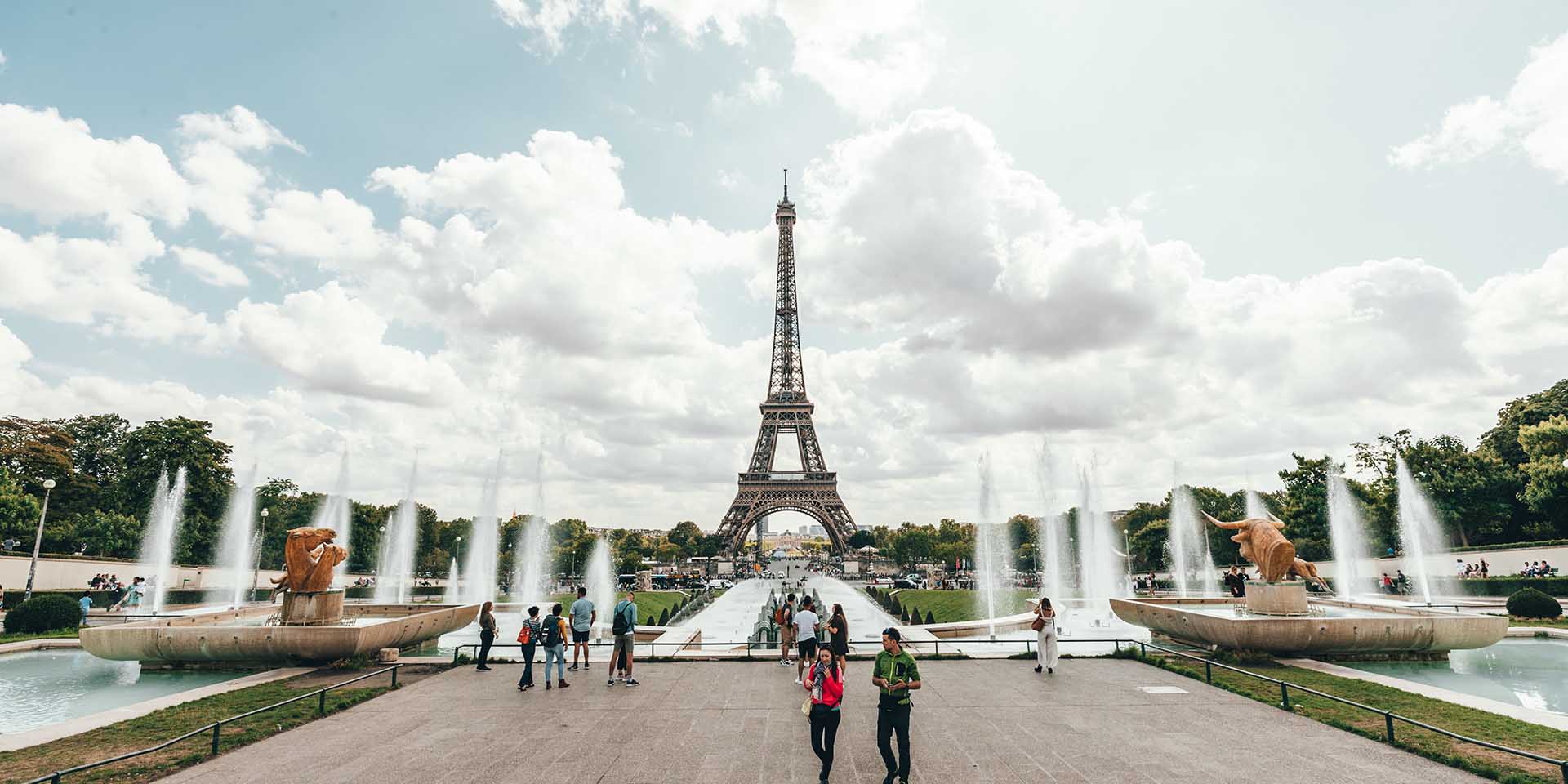 Introduction
Welcome to the ultimate Paris travel guide! Known as the "City of Light," Paris is a captivating destination that offers a perfect blend of history, culture, and romance. From iconic landmarks such as the Eiffel Tower and Notre-Dame Cathedral to charming neighborhoods and world-class cuisine, Paris has something to offer for every type of traveler.
With its rich history dating back to the Roman era, Paris is a city that has witnessed centuries of defining moments. From the French Revolution to the Renaissance, the city has played a pivotal role in shaping the course of art, literature, and politics. Today, it remains a global center for fashion, art, and gastronomy, attracting millions of visitors each year.
Getting lost in the winding streets of Paris opens up a world of discovery. Each neighborhood has its own unique character, from the bohemian charm of Montmartre to the upscale boutiques of the Champs-Élysées. Whether you're strolling along the Seine River, indulging in a decadent croissant at a local café, or immersing yourself in the works of master painters at the Louvre Museum, Paris offers an endless array of experiences.
Throughout this guide, we will provide you with all the essential information you need to plan your perfect trip to Paris. From transportation options and accommodation choices to the best attractions and cultural experiences, we've got you covered. Whether you're a first-time visitor or a seasoned traveler, let us be your trusted companion as you navigate the wonders of the City of Light.
Getting to Paris
Getting to Paris is incredibly convenient, thanks to its well-connected transportation infrastructure. Whether you're traveling domestically or internationally, there are several options to consider.
If you're flying into Paris, you'll most likely arrive at Charles de Gaulle Airport, which is the largest international airport in France. Located about 25 kilometers northeast of the city center, it offers numerous flights from major cities around the world. From the airport, you can easily reach the city center by taking the RER train, which provides a direct connection to major stations like Gare du Nord and Châtelet-Les Halles.
Alternatively, if you're traveling from within Europe or nearby countries, you may consider taking the train to Paris. The city is well-connected to major European cities through the high-speed train network. Gare du Nord is the main train station in Paris and serves as a hub for domestic and international routes. It is also the arrival point for the Eurostar train from London.
For those who prefer a more leisurely journey, traveling to Paris by car or bus is also an option. The city is easily accessible by major highways, and there are several bus companies that offer affordable and comfortable travel options to and from neighboring countries.
Once you've arrived in Paris, the city's efficient public transportation system makes it easy to navigate. The Paris Metro is a comprehensive subway network that covers the entire city and its outskirts. It's a fast and convenient way to get around, with trains running frequently throughout the day. Additionally, buses and trams provide additional options for getting around the city.
If you prefer a more scenic mode of transportation, exploring Paris by bike is a popular choice. The city has an extensive network of bike lanes and rental services, making it a pleasant and eco-friendly way to discover the city's hidden gems at your own pace.
With its excellent transportation options, getting to and around Paris is a breeze. Whether you choose to fly, take the train, or explore the city on two wheels, your journey to the City of Light is just the beginning of an unforgettable adventure.
Accommodation Options
When it comes to finding accommodation in Paris, you'll be spoilt for choice. The city offers a wide range of options to suit every budget and preference.
One of the most popular choices for travelers is staying in a hotel. Paris has a plethora of hotels, ranging from luxurious five-star establishments to budget-friendly options. Whether you prefer to stay in the heart of the city or in a quieter neighborhood, you'll find a hotel that meets your needs. From charming boutique hotels to internationally renowned chains, there is something for everyone.
If you're looking for a more immersive experience, consider renting an apartment or a vacation rental. This allows you to live like a local and have your own space. Several websites offer a variety of options, from cozy studios to spacious apartments, giving you the freedom to explore the city at your own pace.
For the budget-conscious traveler, hostels are a fantastic option. Paris has numerous hostels that offer affordable dormitory-style accommodations, as well as private rooms. Hostels are a great way to meet fellow travelers and exchange tips and stories.
If you're seeking a unique and luxurious experience, Paris is renowned for its exquisite boutique hotels. These small, intimate establishments are often located in historic buildings and offer personalized service and elegant décor. Staying in a boutique hotel adds an extra touch of charm to your Parisian getaway.
Another alternative to traditional accommodations is bed and breakfasts, or chambres d'hôtes. These charming guesthouses provide a more intimate and personalized experience, often run by locals who can share insider tips about the city. It's a great way to immerse yourself in the local culture and connect with the residents.
Regardless of the type of accommodation you choose, it's important to book in advance, especially during peak travel seasons. Keep in mind the location, amenities, and budget to ensure you have a comfortable and enjoyable stay.
Now that you know the various accommodation options available in Paris, you can find the perfect place to rest and recharge after a day of exploring the enchanting city.
Top Tourist Attractions
Paris is home to some of the most iconic tourist attractions in the world. From architectural marvels to historical landmarks, here are the top must-visit attractions in the City of Light.
1. Eiffel Tower – No trip to Paris is complete without a visit to the Eiffel Tower. This iconic symbol of the city offers breathtaking views over Paris from its observation decks. You can also enjoy a romantic dinner at one of the tower's restaurants.
2. Louvre Museum – Housing over 38,000 works of art, including the famous Mona Lisa, the Louvre Museum is a treasure trove of artistic masterpieces. Explore the vast halls and galleries to immerse yourself in the world's most significant artworks.
3. Notre-Dame Cathedral – A masterpiece of Gothic architecture, Notre-Dame Cathedral is a must-see attraction. Admire the intricate stained glass windows and climb to the top for a mesmerizing view of the city.
4. Montmartre – Discover the bohemian charm of Montmartre, home to the famous Sacré-Cœur Basilica. Explore its charming streets, visit the artists' square at Place du Tertre, and enjoy panoramic views of the city from the hilltop.
5. Palace of Versailles – Located just outside Paris, the Palace of Versailles is a UNESCO World Heritage site and a testament to the grandeur of the French monarchy. Explore the opulent palace and its stunning gardens.
6. Champs-Élysées – Stroll down the iconic Champs-Élysées, lined with shops, cafes, and theaters. Enjoy a leisurely walk from the Arc de Triomphe to Place de la Concorde, soaking in the lively atmosphere.
7. Sainte-Chapelle – Admire the breathtaking stained glass windows at Sainte-Chapelle, a medieval Gothic chapel known for its stunning architectural beauty.
8. Musée d'Orsay – Housed in a former railway station, the Musée d'Orsay is home to an extensive collection of French art from the 19th and early 20th centuries, including works by Monet, Renoir, and Van Gogh.
These are just a few of the many incredible attractions that Paris has to offer. From world-famous landmarks to hidden gems, the city's rich history and cultural heritage will leave you awe-struck at every turn.
Exploring the Neighborhoods
Paris is a city of diverse neighborhoods, each with its own unique character and charm. Exploring these neighborhoods is a fantastic way to immerse yourself in the local culture and experience the city from a different perspective. Here are some of the top neighborhoods to explore in Paris:
1. Le Marais – This historic district is known for its narrow cobbled streets, art galleries, and trendy boutiques. Explore the bustling Rue des Rosiers, visit the beautiful Place des Vosges, and soak in the vibrant atmosphere of this lively neighborhood.
2. Saint-Germain-des-Prés – Located on the Left Bank of the Seine, this neighborhood has a rich intellectual and literary history. Stroll along the iconic Boulevard Saint-Germain, visit the famous Café de Flore and Les Deux Magots, and explore the charming streets filled with art galleries and bookshops.
3. Montparnasse – Once a hub for artists and intellectuals, Montparnasse retains a bohemian atmosphere. Climb to the top of the Montparnasse Tower for panoramic views of the city, visit the famous Montparnasse Cemetery, and enjoy the lively bars and cafes in the area.
4. Latin Quarter – Located in the heart of the Left Bank, the Latin Quarter is known for its lively atmosphere and student population. Explore the medieval charm of the winding streets, visit the historic Sorbonne University, and enjoy the vibrant nightlife in this energetic neighborhood.
5. Canal Saint-Martin – This trendy neighborhood is centered around the Canal Saint-Martin, offering a peaceful and picturesque setting. Enjoy a leisurely stroll along the canal, discover the quirky shops and cafes, and picnic on the waterfront.
6. Belleville – A multicultural neighborhood, Belleville is known for its vibrant street art, diverse culinary scene, and panoramic viewpoints. Explore the hidden alleyways, visit the Belleville Park, and enjoy the mix of cultures and flavors in this dynamic area.
7. Île de la Cité – The historic heart of Paris, Île de la Cité is home to iconic landmarks such as Notre-Dame Cathedral and the Sainte-Chapelle. Explore the medieval streets, admire the stunning architecture, and learn about the city's fascinating history.
These are just a few of the many neighborhoods waiting to be discovered in Paris. Each one offers a unique experience and a different glimpse into the city's vibrant culture and heritage. So, lace up your walking shoes and get ready to explore the diverse and captivating neighborhoods of the City of Light.
Dining and Drinking
Paris is renowned for its exquisite culinary scene, offering a gastronomic paradise for food lovers. Whether you're indulging in a traditional French meal or exploring international flavors, the city's diverse dining options will tantalize your taste buds. Here's a taste of what to expect when it comes to dining and drinking in Paris:
1. French Cuisine – Sampling authentic French cuisine is a must when visiting Paris. From buttery croissants and delicate pastries to rich beef bourguignon and classic escargots, the city offers an array of traditional dishes. Don't miss the chance to savor the delectable cheeses, accompanied by a glass of French wine, for a true gastronomic experience.
2. Bistros and Cafés – Paris is known for its charming bistros and sidewalk cafés, providing a quintessential Parisian dining experience. Enjoy a leisurely breakfast with a café au lait and a freshly baked baguette, or sit back and people-watch while sipping on a glass of wine or a refreshing apéritif.
3. Michelin-Starred Restaurants – Paris is home to numerous Michelin-starred restaurants, offering a fine dining experience like no other. Indulge in exquisite tasting menus crafted by renowned chefs, who push the boundaries of culinary innovation and presentation.
4. Street Food – For a more casual and budget-friendly option, explore the city's street food scene. From crêpes and falafel to gourmet burgers and artisanal ice cream, you'll find a variety of delicious options to satisfy your cravings as you wander the streets of Paris.
5. Markets – Parisian markets are not only a feast for the senses but also a great place to discover fresh produce, local specialties, and regional delicacies. Visit the bustling Marché des Enfants Rouges or the vibrant Marché Bastille to sample an array of flavors and shop for picnic provisions.
6. Wine and Cocktails – Paris boasts an impressive selection of wine bars and cocktail lounges, where you can sip on carefully curated wines from different regions of France or enjoy expertly crafted cocktails. Don't miss the opportunity to try a glass of Champagne, as the city is renowned for its champagne bars.
7. Food Experiences – Paris offers a range of food-focused experiences, from cooking classes and wine tastings to food tours and market visits. Immerse yourself in the culinary world of Paris by learning from local chefs, exploring neighborhood food markets, and gaining insights into the rich gastronomic heritage of the city.
With its diverse culinary offerings and vibrant dining scene, Paris is truly a food lover's paradise. So, indulge in the flavors of the city, embrace the French art of dining, and let your taste buds embark on a culinary adventure.
Shopping in Paris
Paris is known as a global fashion capital, offering a shopping experience that caters to all tastes and budgets. From luxury designer brands to charming boutiques and flea markets, the city provides endless opportunities for a memorable shopping spree. Here's a glimpse into the world of shopping in Paris:
1. Fashion and High-End Shopping – Paris is home to some of the world's most renowned fashion brands and luxury boutiques. The famous Champs-Élysées is lined with flagship stores, including Louis Vuitton, Chanel, and Hermès. The Golden Triangle, consisting of Avenue Montaigne, Avenue George V, and Rue François 1er, is another high-end shopping district where you can find exclusive designer fashion.
2. Department Stores – Paris is famous for its grand department stores, which offer a mix of luxury brands, designer collections, and affordable fashion. Printemps and Galeries Lafayette are iconic destinations, known for their stunning architecture and a wide range of products, from clothing and accessories to beauty and home goods.
3. Concept Stores – For a unique and curated shopping experience, explore Paris' concept stores. Colette, formerly located on Rue Saint-Honoré, was a pioneer in this concept, combining fashion, design, art, and lifestyle products under one roof. Merci and The Broken Arm are other notable concept stores that offer a carefully curated selection of fashion, design, and home goods.
4. Rue du Faubourg Saint-Honoré – This elegant street is synonymous with luxury shopping. Here, you'll find iconic fashion houses and upscale boutiques, making it a haven for fashion enthusiasts. It's the perfect place to discover the latest trends, unique designer pieces, and haute couture.
5. Vintage and Flea Markets – Paris is a treasure trove for vintage lovers and bargain hunters. Visit the famous Marché aux Puces de Saint-Ouen, one of the largest flea markets in the world, to browse through a vast array of antiques, vintage clothing, and unique finds. Other vintage hotspots include Kilo Shop, where you buy clothing by weight, and numerous vintage boutiques scattered across the city.
6. Artisanal Products and Souvenirs – If you're looking for authentic Parisian souvenirs and artisanal products, head to the charming neighborhood of Le Marais. Here, you'll find independent boutiques and concept stores offering a wide array of unique crafts, gourmet food products, and stylish accessories.
7. Food Markets – Paris is not only a paradise for fashion lovers but also for food enthusiasts. Explore the city's vibrant food markets, such as Rue Cler and Rue Mouffetard, to discover fresh produce, mouth-watering delicacies, and French specialties to bring back home.
Remember to take advantage of the tax refund system for tourists, as many stores offer VAT refunds for purchases made in Paris. This allows you to save money while indulging in your shopping adventures.
With its diverse shopping scene, Paris offers a unique blend of fashion, art, and artisanal goods. So, grab your shopping bags and get ready to explore the city's stylish streets and hidden gems.
Cultural Experiences
Paris is a city steeped in rich history, art, and culture. From visiting world-class museums to attending captivating performances, the city offers a plethora of cultural experiences that will leave you inspired and enriched. Here are some of the top cultural experiences to enjoy in Paris:
1. Museums and Art Galleries – Paris is home to some of the most renowned museums in the world. The Louvre Museum, with its vast collection of artistic treasures including the Mona Lisa, is a must-visit. Explore the Musée d'Orsay, which houses an impressive collection of Impressionist and Post-Impressionist art, and the Centre Pompidou for contemporary art enthusiasts.
2. Opera and Ballet – Experience the grandeur of the Paris Opera House, an architectural masterpiece, and witness a world-class opera or ballet performance. The Opéra Garnier and Opéra Bastille showcase a diverse program of classical and modern productions that will transport you into the world of music and dance.
3. Literary History – Follow in the footsteps of literary giants such as Victor Hugo and Ernest Hemingway by exploring Paris' literary landmarks. Visit Shakespeare and Company, a legendary bookstore beloved by writers, or take a literary-themed walking tour through the Latin Quarter to discover the inspirations behind famous novels.
4. Classical Music – Immerse yourself in the sounds of classical music by attending a concert at one of Paris' renowned venues. The Philharmonie de Paris and Salle Pleyel are just two of the many venues where you can enjoy exceptional orchestral performances and recitals by world-class musicians.
5. Architecture – Paris is a treasure trove of architectural marvels. Admire the Gothic splendor of Notre-Dame Cathedral, the grandeur of the Palace of Versailles, and the iconic Eiffel Tower. Take a stroll through the beautiful gardens of the Château de Versailles or explore the hidden architectural gems in the Marais neighborhood.
6. Street Art – Appreciate the vibrant street art scene in Paris by exploring neighborhoods like Belleville and Ménilmontant. These areas showcase an array of colorful murals and artistic interventions that reflect the city's ever-evolving urban culture.
7. Cultural Festivals – Paris hosts a multitude of cultural festivals throughout the year. From the Nuit Blanche, an all-night art festival, to the Fête de la Musique, a citywide celebration of music, there are plenty of opportunities to immerse yourself in the vibrant cultural scene of Paris.
8. Local Markets – Experience the local lifestyle and cultural diversity by visiting Paris' markets. Whether it's the flower market on Île de la Cité or the bustling market street of Rue Mouffetard, these vibrant hubs offer a glimpse into the daily life of Parisians and an opportunity to savor delicious local produce.
From art and music to literature and architecture, Paris offers a wealth of cultural experiences that will leave you with a deeper appreciation for the city's rich heritage. So, plan your itinerary accordingly and immerse yourself in the captivating cultural tapestry of Paris.
Outdoor Activities
While Paris is renowned for its museums and historical landmarks, the city also offers a multitude of outdoor activities for those who want to soak up the beauty of the outdoors. From tranquil gardens to scenic parks, here are some of the top outdoor activities to enjoy in Paris:
1. Explore the Gardens – Paris is dotted with stunning gardens that provide peaceful retreats from the bustling city. Visit the Luxembourg Gardens and stroll among lush greenery, beautiful flower beds, and ornate fountains. The Tuileries Garden, located near the Louvre, offers a picturesque setting for a leisurely walk or a relaxing picnic.
2. Take a Seine River Cruise – Embark on a leisurely boat cruise along the Seine River for a unique perspective of the city. Admire the iconic landmarks such as the Eiffel Tower, Notre-Dame Cathedral, and the Louvre while cruising along the tranquil waters of the river.
3. Cycling – Paris is a bike-friendly city, and exploring on two wheels is a popular outdoor activity. Rent a bike and pedal along the dedicated bike paths, such as the quays of the Seine or Canal Saint-Martin. You can also join a guided bike tour to discover the city's hidden gems.
4. Picnics in the Parks – Take advantage of the many parks in Paris and enjoy a delightful picnic. Locals and visitors alike flock to parks like the Bois de Boulogne or the Parc des Buttes-Chaumont to relax, enjoy a meal, and soak up the sun.
5. Visit the Rooftop Terraces – Get a bird's-eye view of the city by visiting one of the many rooftop terraces in Paris. Enjoy a drink or a meal while taking in breathtaking panoramic views of the iconic landmarks and the cityscape. Rooftop terraces at venues like Galeries Lafayette or Printemps offer stunning vistas.
6. Jogging and Running – Stay active during your visit to Paris by going for a jog or a run in one of the city's parks or along the Seine River. The riverside paths and the trails in the Bois de Vincennes offer scenic routes for outdoor exercise.
7. Public Outdoor Art – Paris is not only home to world-class museums but also boasts an abundance of public outdoor artworks. Explore open-air sculpture gardens such as the Rodin Garden or stroll along the colorful murals in the 13th arrondissement's Street Art Trail.
8. Street Performers and Entertainment – Wander through the bustling streets of Montmartre or the vibrant Latin Quarter and soak up the atmosphere created by street performers, musicians, and artists. Marvel at their talents and be entertained by the live performances.
Outdoor activities in Paris offer a chance to connect with nature, enjoy the city's beauty, and experience the lively atmosphere. So, take advantage of the outdoor offerings and make your visit to the City of Light even more memorable.
Transportation in the City
When it comes to getting around Paris, the city offers a range of transportation options to make your travels convenient and efficient. From the extensive public transportation network to alternative modes of transportation, here's what you need to know about getting around in the City of Light:
1. Paris Metro – The Paris Metro is a comprehensive subway system that covers the entire city and its suburbs. With well-connected lines and frequent trains, it's a fast and efficient way to navigate Paris. The Metro operates from early morning until around midnight, and tickets can be purchased at the stations or through electronic ticketing systems.
2. Buses and Trams – Paris also has an extensive bus network that covers areas not served by the Metro. Buses are a great option for exploring the city's neighborhoods and offer the added advantage of enjoying the scenic views from above ground. Additionally, there are modern tram lines that provide convenient transportation options in certain parts of the city.
3. RER – The Réseau Express Régional (RER) is a regional train system that connects Paris with its surrounding suburbs. It's especially useful for reaching attractions such as Versailles or Disneyland Paris. RER trains are also a good way to travel to and from Charles de Gaulle Airport.
4. Taxis – Taxis are readily available in Paris and can be hailed on the street or found at designated taxi ranks. While taxis offer a convenient door-to-door service, they can be more expensive compared to public transportation. It's important to note that Uber operates in Paris as well, providing an alternative option for getting around the city.
5. Biking – Paris is a bike-friendly city with an extensive network of bike lanes and bike-sharing programs. You can easily rent a bike from one of the many self-service bike stations located throughout the city. Exploring Paris by bike offers a unique and eco-friendly way to discover the city's streets and neighborhoods.
6. Walking – Paris is a walkable city, and many of its attractions are within reasonable walking distance of each other. Walking allows you to fully immerse yourself in the charm and beauty of the city, while also stumbling upon hidden gems and local experiences along the way.
7. Navigo Card – If you plan on using public transportation extensively during your visit, consider getting a Navigo card. This smart card allows for unlimited travel on the Metro, RER, buses, and trams within specific zones. It can be a cost-effective option if you're staying in Paris for an extended period or will be using public transportation frequently.
Paris offers a well-connected transportation system that caters to different needs and preferences. Whether you choose to ride the Metro, hop on a bus, pedal your way on a bike, or simply explore on foot, getting around the city is a breeze, ensuring you can make the most of your time in the City of Light.
Safety and Security Tips
Paris is generally a safe city, but it's always important to take precautions to ensure your safety and security during your visit. Here are some essential tips to keep in mind:
1. Stay Alert and Be Aware – As with any major city, it's important to stay alert and be aware of your surroundings. Pay attention to your belongings and be cautious in crowded areas, especially tourist hotspots where pickpocketing can occur.
2. Use Reliable Transportation – When using public transportation, choose well-lit stations and bus stops, and be cautious of your belongings on crowded trains or buses. Stick to official taxis or ride-hailing services like Uber for secure transportation.
3. Secure Your Valuables – Ensure your valuables are secure by using a theft-resistant bag or keeping them in a front pocket. Avoid displaying expensive jewelry or electronics that may attract unwanted attention.
4. Keep Important Documents Safe – It's wise to make copies of your passport, ID, and other important documents. Keep the originals in a secure location like a hotel safe, and carry the copies with you instead.
5. Stay in Well-Lit and Populated Areas – Avoid walking alone in dark or isolated areas, especially late at night. Stick to well-lit and populated streets or utilize transportation options like taxis or rideshares.
6. Protect Your Personal Information – Be cautious with your personal information and beware of scams or fraudulent activities. Be skeptical of anyone asking for sensitive data or sharing personal information with strangers.
7. Beware of Common Scams – Be aware of common scams such as distraction techniques, fake petitions, or people trying to offer unsolicited help. Politely decline and walk away if you feel uncomfortable.
8. Emergency Contact Information – Familiarize yourself with the local emergency contact information, including the police (17), ambulance (15), and fire department (18). Save these numbers in your phone or have them readily accessible in case of an emergency.
9. Follow Local Laws and Customs – Respect the local laws, customs, and etiquette while in Paris. Familiarize yourself with basic French phrases to communicate politely, and be considerate while visiting places of worship or other culturally significant sites.
10. Stay Updated with Travel Advisories – Prior to your trip, stay updated with travel advisories or any security alerts for Paris. Check the embassy or consulate websites for your country for the most recent information and guidance.
By being cautious, aware of your surroundings, and taking necessary precautions, you can maximize your safety and enjoy your time in Paris without any major concerns. Remember, common-sense practices go a long way in ensuring a safe and secure visit to the City of Light.
Language and Etiquette
Understanding the language and cultural etiquette can greatly enhance your experience in Paris. Although English is widely spoken, making an effort to learn a few basic French phrases and understanding local customs can go a long way in showing respect and connecting with the locals. Here are some tips on language and etiquette in Paris:
1. French Greetings – When entering a shop, restaurant, or any social gathering, it's customary to greet with a "Bonjour" (hello) or "Bonsoir" (good evening) depending on the time of day. It's considered polite to greet people with these simple phrases before starting any conversation.
2. Basic French Phrases – Learning a few basic French phrases can be helpful and appreciated. Phrases like "s'il vous plaît" (please), "merci" (thank you), and "excusez-moi" (excuse me) can go a long way in showing respect and politeness.
3. Politeness and Respect – French culture places importance on politeness and mutual respect. Use "vous" instead of "tu" when addressing someone as a sign of politeness, unless invited to do otherwise. Saying "au revoir" (goodbye) or "merci, au revoir" when leaving a shop or restaurant is considered polite.
4. Dining Etiquette – When dining in Paris, it's customary to wait for the host to initiate the meal or give a toast before starting. Keep your hands on the table and use utensils properly. Avoid placing bread directly on the table; instead, use the bread plate provided.
5. Dressing – Parisians often dress stylishly and take pride in their appearance. While there is no strict dress code, it's common to dress neatly and avoid overly casual attire in certain establishments. Embracing a more polished and put-together look will help you blend in with the locals.
6. Public Behavior – Parisians value their personal space and privacy. Avoid loud conversations, especially on public transportation, and keep a moderate volume when speaking in public areas. Be mindful of others and respect queues or lines when waiting for a service or entering attractions.
7. Tipping – Unlike some countries, tipping in Paris is not obligatory. However, it is customary to leave a small tip, typically up to 10% of the bill, for exceptional service. Check the bill or ask if a "service compris" (service included) charge has already been added.
8. Punctuality – Punctuality is considered respectful in French culture. Arriving on time for appointments, meetings, or dinner reservations is appreciated. If you anticipate being late, it's courteous to inform the person you're meeting in advance.
Remember, showing a genuine interest in French culture and making an effort to communicate in the local language can foster positive interactions and create memorable experiences in Paris. Embrace the customs, greetings, and language, and you'll find that the locals will be more receptive and welcoming during your visit.
Useful Phrases
While many people in Paris speak English, making an effort to communicate in basic French phrases can greatly enhance your experience and interactions with the locals. Here are some useful phrases that will help you navigate through your time in Paris:
Bonjour – Hello
Bonsoir – Good evening
Merci – Thank you
S'il vous plaît – Please
Excusez-moi – Excuse me
Pardon – Sorry
Oui – Yes
Non – No
Parlez-vous anglais? – Do you speak English?
Je ne comprends pas – I don't understand
Où est… – Where is…
Combien ça coûte? – How much does it cost?
L'addition, s'il vous plaît – The bill, please
Je m'appelle… – My name is…
Comment allez-vous? – How are you?
Je suis désolé(e) – I'm sorry
Je voudrais… – I would like…
Au revoir – Goodbye
Remember to greet people with a polite "Bonjour" or "Bonsoir" depending on the time of day and to say "Merci" when someone helps you. Using these phrases shows respect for the local language and culture, and can make your interactions more pleasant.
It's worth noting that Parisians appreciate it when visitors make an effort to speak French, even if it's just a few basic phrases. However, if you're struggling with French, many Parisians will be happy to switch to English to assist you.
Embrace the opportunity to immerse yourself in the French language, and you'll find that it adds an extra layer of enjoyment to your time in Paris. So, don't be shy – give these phrases a try and experience the warmth and hospitality of the locals.
Conclusion
Congratulations! You've now reached the end of our comprehensive Paris travel guide. We hope this guide has provided you with all the essential information you need to plan an unforgettable trip to the City of Light. From iconic landmarks and world-class museums to charming neighborhoods and delectable cuisine, Paris offers a wealth of experiences for every traveler.
Whether you're marveling at the architectural beauty of the Eiffel Tower, immersing yourself in the art at the Louvre Museum, discovering hidden gems in the neighborhoods, indulging in French delicacies, or simply strolling along the charming streets, Paris has something to captivate every visitor.
Remember to take advantage of the convenient transportation options, stay aware of your surroundings, and respect the local customs and etiquette. Learning a few basic French phrases will also go a long way in connecting with the locals and enhancing your experience.
Above all, savor every moment in this breathtaking city. Allow yourself to get lost in the enchantment and immerse yourself in the rich history, culture, and romance that Paris has to offer. Whether it's your first visit or a return trip, Paris never fails to leave a lasting impression.
So, pack your bags, embrace the charm and allure of Paris, and get ready to create memories that will last a lifetime. Bon voyage!