10 Best Things To Do In Bath, UK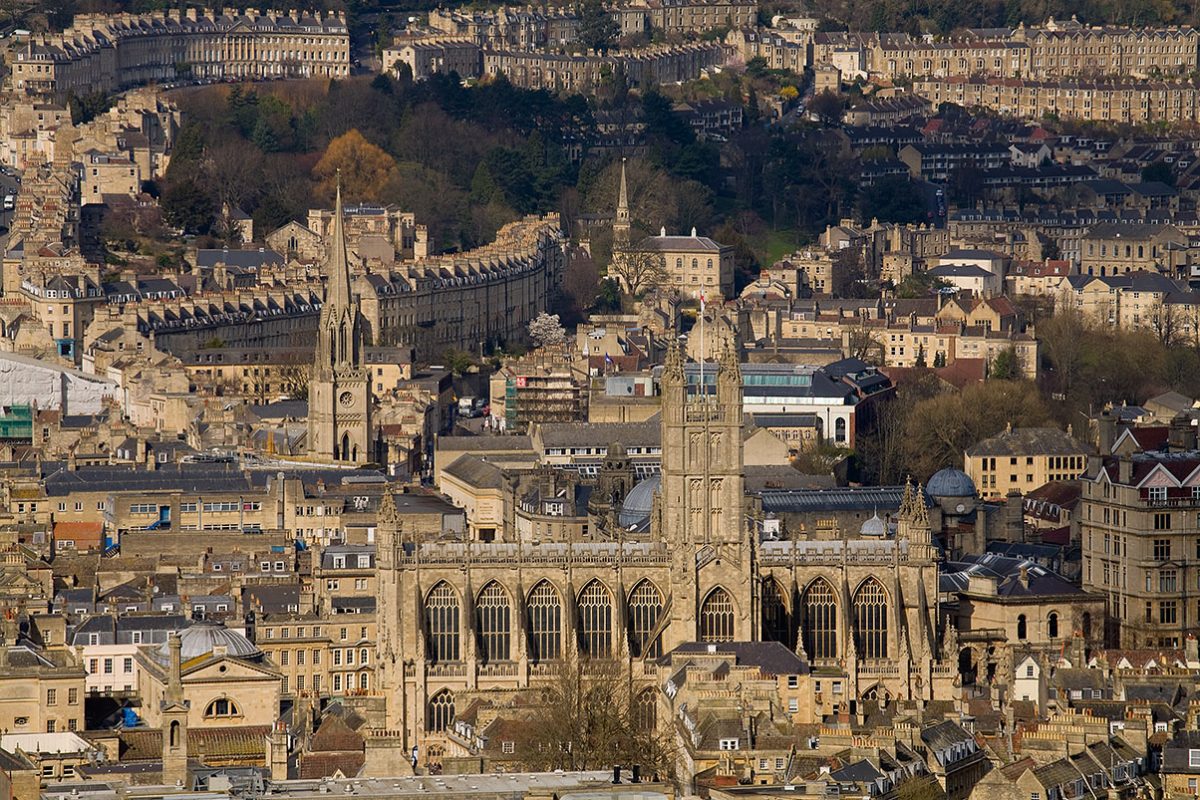 The city of Bath is located in Somerset, England, and it's known for its stunning architecture and history. The Romans discovered hot springs and built their baths there in 60 AD, giving the city its name. Bath is home to some of the most interesting things to do in England.
The city draws people from around the country and world to see architecture and culture. The train from London to Bath takes approximately one hour and 40 minutes, so it's great for a day trip. There are so many unique things to do in Bath, England – here are the attractions you shouldn't miss.
See Living History At The Roman Baths
You can't leave Bath without taking in its namesake – the Roman Baths. These were built nearly 2,000 years ago and have been meticulously preserved. While you can't swim in the original Roman Baths, you can explore the structure and see their collection of preserved artefacts.
They offer guided tours and activities onsite – there's even a Roman-themed escape room. Be sure to visit the onsite restaurant, The Pump Room, for fine dining. This needs to be on the top of your list for things to do in Bath.
Take In Stunning Architecture At Bath Abbey
Another one of the most popular things to do in Bath is the Bath Abbey. Every detail of this beautiful Victorian Gothic building will take your breath away. The ceiling is one of the most incredible sights, with an intricate fan pattern and stained glass walls. You can even take tours of the abbey's tower to see behind-the-scenes architectural detail.
3.
Have A Picnic In Prior Park Landscape Garden

Photo by Spencer Means on Unsplash
Somerset, England is noted for its beautiful countryside, and Prior Park is the perfect place to enjoy it. The park has been in place since the 18th century and is one of the most popular outdoor things to do in Bath.
It's known for its picturesque gardens and walking trails. There are also several pieces of architecture onsite from centuries past that has been well-preserved. The most notable of these is the Palladian Bridge, which makes for an excellent photo op. When the weather is pleasant, pack a picnic and bask in the beauty of the stunning countryside.
4.
Soak At The Thermae Bath Spa

Photo by NH53 on Flickr
Bath, England is home to natural hot springs, which is why the Romans built their baths there centuries ago. While you can't swim in the original Roman Baths, you can swim at the Thermae Bath Spa.
There are so many relaxing services available here. There are several thermal baths on site where you can relax, including a beautiful open-air rooftop bath. Onsite saunas, infrared rooms, and ice chambers help you detox and relax. They also offer spa treatments like massages and facials.
5.
Wander Across Pulteney Bridge
Robert Adam designed the Pulteney Bridge in 1774, which crosses the River Avon. It is one of the only bridges in the world that is lined with shops. It is a classic example of Georgian architecture, which is stately yet charming. On the bridge, you'll find cafes, restaurants, antique shops, clothing stores, florists, and more.
There are also boutiques on both sides of the river for even more retail therapy. Many local boat tours leave from Pulteney Bridge as well.
6.
Take Tea At Sall Lunn's
Sally Lunn's is a classic British tea shop that is a must-see for visitors. What makes it so unique is that it is inside one of Bath's oldest houses. The house was built around 1483, and many aspects of it have been preserved for centuries. In addition to the restaurant, there is a museum on-site where you can see Sally Lunn's original kitchen.
This restaurant is home to the Sally Lunn bun, a delicious bread that can be made either sweet or savory. You can visit for breakfast, lunch, afternoon tea, and dinner. Expect classic, hearty British cuisine.
7.
Visit The Fashion Museum Bath
For a small city, Bath has a huge number of museums. It's hard to go wrong with any of the fascinating museums in town, but for fashion lovers, the Fashion Museum will be one of your favorite things to do in Bath. The museum is set in the historic Bath Assembly Rooms, an elegant building designed in the 18th century.
This museum features a collection of authentic fashion spanning the last four centuries, with pieces dating as far back as the 1600s. While you're at the Assembly Rooms, be sure to visit the classic ballrooms as well.
8.
Hike Bath's Skyline Walk
Bath is well-known for its stunning Georgian architecture. Many things to do in Bath revolve around the elegant building design. One of the best places to see it is on Bath's Skyline Walk. There are over six miles of footpaths on a hill overlooking the city. Many companies offer tours of these trails, or you can go on your own.
From the Skyline Walk, you'll be able to see architectural gems like the Bath Abbey and the Royal Crescent from a unique perspective. This is a great place to take photos, or just relax and take in the view.
9.
Tour Bath's Unique Art Galleries
Many of the most interesting things to do in Bath are art galleries and museums. Many of the museums are in historic buildings, which are worth a visit just for their unique architecture. Take a day to really immerse yourself in the art culture of this unique city. The Victoria Art Gallery is one of the most famous, located right next to the Pulteney Bridge.
The Holbourne Museum and Corsham Court are both popular art destinations as well. For literature lovers, the Jane Austen Museum should also be on your to-do list.
10.
See A Show At Theater Royal
This stunning theatre was built in 1850 and recently refurbished in 2010. The beautifully gilded interior will make you feel like you've travelled back in time. You'll find year-round theatre productions here, ranging from classics to contemporary works, as well as musicals and dance. The shows are always popular things to do in Bath among locals and visitors alike.
Visiting Bath for a weekend is one of the most popular things to do in England. Taking the train from London to Bath is very simple. The Great Western Railway runs directly between the two cities. The closest airport to Bath is Bristol Airport. To get from Bristol Airport to Bath is a half-hour drive.
You can also take public transit from Bristol Airport to Bath by taking the airport shuttle into downtown Bristol, and then taking the GWR train towards London. With so many incredible things to do in Bath, this charming countryside town is worth a visit.