Aruba Guide – Be My Travel Muse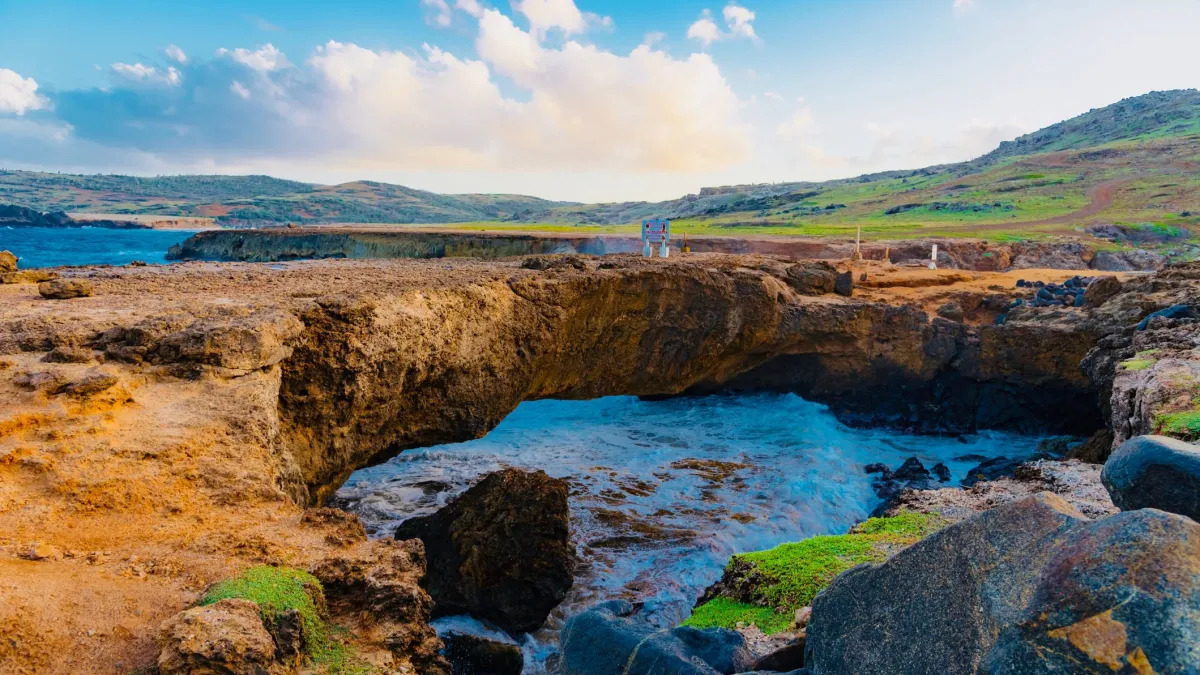 Introduction
Welcome to Aruba, a small island paradise in the Caribbean! Known for its pristine beaches, vibrant culture, and warm hospitality, Aruba is a dream vacation destination for travelers seeking a blend of relaxation and adventure. Whether you're looking to soak up the sun on stunning white-sand beaches, explore vibrant coral reefs, indulge in delicious local cuisine, or dance the night away at lively beachfront bars, Aruba has something for everyone.
Located in the southern Caribbean Sea, just off the coast of Venezuela, Aruba is part of the Dutch Caribbean and is one of the four constituent countries that form the Kingdom of the Netherlands. With its dry and arid climate, the island boasts year-round sunshine, making it the perfect retreat for sun-seekers.
Aruba's main language is Dutch, but most locals also speak English and Spanish, making it easy for visitors to navigate and communicate with the friendly locals. The island's capital, Oranjestad, is a charming city with colorful Dutch colonial architecture, bustling markets, and a vibrant atmosphere.
Aruba is renowned for its warm and welcoming community, known as "One Happy Island." The island's residents take pride in their culture and traditions, which are reflected in their food, music, and festivals. Visitors to Aruba can immerse themselves in this vibrant culture, experiencing traditional dances, music, and delicious local dishes.
Whether you're looking for a relaxing beachside retreat or an adventurous escape, Aruba has a wide range of activities and attractions to suit every interest. From exploring the stunning Arikok National Park, where rugged desert landscapes meet serene beaches, to indulging in water sports such as snorkeling and windsurfing, there's never a dull moment on the island.
In this comprehensive guide, we'll take you through everything you need to know about Aruba, from the best time to visit and where to stay, to the top attractions, local cuisine, shopping, and nightlife. So pack your bags, put on your flip-flops, and get ready to experience the charm and beauty of Aruba!
Getting to Aruba
Getting to Aruba is a breeze, thanks to its well-connected international airport, Queen Beatrix International Airport (AUA), which is serviced by numerous airlines from around the world. Many major airlines offer direct flights to Aruba, making it easily accessible for travelers from North America, Europe, and other parts of the world.
If you're traveling from the United States, several airlines, including American Airlines, Delta Air Lines, and JetBlue Airways, operate regular flights to Aruba from major cities such as Miami, New York, and Atlanta. The average flight time from the East Coast of the United States to Aruba is approximately 4-5 hours.
For travelers coming from Europe, there are also options available. KLM Royal Dutch Airlines operates direct flights from Amsterdam to Aruba, providing a convenient connection for travelers from various European cities.
Once you arrive at Queen Beatrix International Airport, you'll go through customs and immigration before heading to the baggage claim area. The airport facilities are modern and well-equipped to handle the influx of tourists.
Transportation options from the airport to your accommodation are plentiful. Taxis are readily available outside the airport terminal, and many hotels also offer shuttle services. It's worth noting that taxis in Aruba do not have meters, so it's a good idea to agree on the fare with the driver before getting in.
If you prefer to have your own wheels during your stay, you can also rent a car at the airport. Rental car companies like Avis, Hertz, and Alamo have counters at the airport, making it convenient to pick up and drop off your vehicle.
Alternatively, if you're arriving in Aruba by cruise ship, you'll dock at the Port of Oranjestad, the island's capital. The port is located in the heart of the city, making it easy to explore the shops, restaurants, and attractions nearby.
Overall, Aruba's accessibility and transportation options make it a convenient destination for travelers from all corners of the globe. Whether you choose to fly in or arrive by cruise ship, you'll find that getting to Aruba is a smooth and hassle-free experience, setting the stage for an unforgettable vacation.
Best Time to Visit Aruba
Aruba is blessed with a pleasant tropical climate, making it an ideal vacation destination year-round. With its year-round sunshine and warm temperatures, you can't go wrong when it comes to visiting this beautiful Caribbean island.
The peak tourist season in Aruba falls between December and April, when travelers from colder climates flock to the island to escape the winter chill. During these months, the temperatures range from the mid-70s to low 80s Fahrenheit (mid-20s to high 20s Celsius), providing a perfect beach getaway.
However, it's important to note that peak season also means larger crowds and higher hotel rates. If you prefer a quieter and more budget-friendly experience, consider visiting Aruba during the shoulder seasons of May to June and September to November. During these months, the weather is still warm, with temperatures ranging from the mid-80s to low 90s Fahrenheit (high 20s to low 30s Celsius), and you can enjoy the island's beauty without the crowds.
Aruba does have a rainy season, which typically runs from October to January. However, don't let this deter you from planning a trip during these months. The rain showers are usually short-lived and sporadic, and they often occur overnight or in the early morning, leaving plenty of sunshine for you to enjoy during the day.
If you're an outdoor enthusiast and enjoy water sports such as snorkeling, diving, and windsurfing, the months of June to August are ideal, as the ocean conditions are generally calm and the water is crystal clear.
No matter when you choose to visit Aruba, be sure to pack light and breathable clothing, as well as sunscreen and a hat, to protect yourself from the strong tropical sun. Don't forget to stay hydrated and drink plenty of water, especially during outdoor activities.
Overall, Aruba's year-round warm weather and sunny skies make it a fantastic destination at any time of the year. Whether you're seeking a lively atmosphere during peak season or a more tranquil experience during the shoulder seasons, Aruba has something to offer every traveler.
Where to Stay in Aruba
Aruba offers a wide range of accommodation options to suit every traveler's preferences and budget. Whether you're looking for a luxurious beachfront resort, a cozy boutique hotel, or a budget-friendly guesthouse, you'll find plenty of choices on the island.
Palm Beach and Eagle Beach are two of the most popular areas to stay in Aruba. Palm Beach is known for its upscale resorts, lively atmosphere, and proximity to a variety of restaurants, bars, and shopping centers. The area is perfect for those seeking a vibrant and bustling beach experience.
Eagle Beach, on the other hand, is a more serene and tranquil location, characterized by its white sandy beaches and swaying palm trees. It's a great choice for those looking for a quieter and more laid-back beachside retreat.
If you prefer a more local and authentic experience, consider staying in the capital city of Oranjestad. Here, you'll find charming boutique hotels, guesthouses, and bed and breakfasts, as well as easy access to the city's cultural attractions, shopping districts, and historical sites.
For nature lovers, the southeastern part of the island offers a quieter and more rustic setting. The area is home to several eco-resorts and villas nestled among stunning natural landscapes, such as the Arikok National Park. Staying in this area allows you to immerse yourself in the beauty of Aruba's nature while being just a short drive away from the island's main attractions.
Regardless of where you choose to stay in Aruba, most accommodations offer a range of amenities, including swimming pools, beach access, restaurants, and bars. Many resorts also provide activities and entertainment options, such as water sports, yoga classes, and live music, ensuring that you have a memorable and enjoyable stay.
When booking your accommodation, it's advisable to book well in advance, especially if you're planning to visit during the peak tourist season. This will ensure that you have a wider selection of accommodations to choose from and can secure the best deals.
No matter where you decide to stay in Aruba, you'll be treated to warm island hospitality, stunning scenery, and a vacation experience you won't soon forget.
Top Attractions in Aruba
Aruba is not just about stunning beaches and crystal-clear waters. The island is home to a variety of attractions that offer something for everyone. From natural wonders to cultural landmarks, here are some of the top attractions you don't want to miss during your visit to Aruba.
1. Arikok National Park: Explore Aruba's rugged and diverse terrain in Arikok National Park. Hike through desert landscapes, visit ancient caves with Indigenous artwork, and discover unique plant and animal species. Don't miss the breathtaking views from the Natural Pool, a hidden gem tucked away in the park.
2. Natural Bridge: One of Aruba's most famous natural landmarks, the Natural Bridge is a must-see. Formed by years of erosion, this coral limestone arch offers a picturesque backdrop for photos and is a testament to the island's natural beauty.
3. California Lighthouse: Located on the northwest tip of the island, the California Lighthouse offers panoramic views of Aruba's coastline. Climb to the top for a stunning sunset experience and learn about the lighthouse's history.
4. Oranjestad: Explore the vibrant capital of Aruba, Oranjestad. Stroll through colorful streets lined with Dutch colonial architecture, shop for local souvenirs in the lively marketplaces, and visit historical landmarks such as Fort Zoutman and Willem III Tower.
5. Palm Beach: Relax and soak up the sun at Palm Beach, one of Aruba's most popular beaches. With its soft sand and crystal-clear waters, it's the perfect spot for swimming, sunbathing, and enjoying water sports such as snorkeling and jet skiing.
6. Baby Beach: Situated on the southeastern tip of the island, Baby Beach is a tranquil and secluded spot known for its calm, shallow turquoise waters. It's an excellent choice for families with young children or those looking for a peaceful beach day.
7. Bushiribana Gold Mill Ruins: Delve into Aruba's history with a visit to the Bushiribana Gold Mill Ruins. These ruins are remnants of Aruba's gold rush era in the 19th century and provide insight into the island's past as a gold-producing region.
8. Casibari Rock Formations: Marvel at the unique rock formations found in Casibari. These massive boulders, believed to be formed by volcanic activity, create an otherworldly landscape. Climb to the top for breathtaking views of the surrounding area.
9. Butterfly Farm: Immerse yourself in nature's beauty at the Butterfly Farm, where you can observe and learn about various butterfly species in their natural habitat. It's a tranquil and educational experience for visitors of all ages.
10. Donkey Sanctuary: Pay a visit to the Donkey Sanctuary and meet the rescued donkeys of Aruba. Learn about their conservation efforts and have the opportunity to interact with these friendly animals.
These are just a few of the top attractions in Aruba. The island offers a myriad of experiences that will captivate and enchant travelers from all walks of life. So, make sure to add these destinations to your itinerary and create lasting memories on your Aruba adventure.
Beaches in Aruba
Aruba is renowned for its stunning beaches with soft white sands and crystal-clear turquoise waters. With over 20 miles of coastline, the island offers a diverse range of beach experiences, from lively and bustling to tranquil and secluded. Here are some of the top beaches in Aruba that you won't want to miss:
1. Palm Beach: Palm Beach is one of the most popular beaches in Aruba, known for its vibrant atmosphere and a wide range of water sports activities. With its calm waters, it's perfect for swimming, snorkeling, and jet skiing. The beach is lined with resorts, restaurants, and beach bars, offering plenty of options for food and refreshments.
2. Eagle Beach: Eagle Beach is often ranked among the best beaches in the world and is famous for its powdery white sand. It's a quieter alternative to Palm Beach, with less crowds and a more relaxed vibe. The beach is dotted with divi-divi trees, providing shade and a picturesque backdrop for sunbathing.
3. Baby Beach: Located on the southeastern tip of the island, Baby Beach is a hidden gem loved by locals and visitors alike. Its calm and shallow turquoise waters make it ideal for swimming and snorkeling. The beach is named after its natural pool-like shape, which creates a safe space for families with young children to enjoy the water.
4. Arashi Beach: Arashi Beach is known for its crystal-clear waters and excellent snorkeling opportunities. The vibrant coral reefs just off the shore are teeming with colorful marine life, making it a paradise for underwater enthusiasts. The beach is less crowded than the popular tourist spots, providing a peaceful and relaxing experience.
5. Boca Catalina: Boca Catalina is a small and secluded beach with calm waters and a vibrant coral reef close to the shore. It's a great spot for snorkeling and exploring the underwater world of Aruba. The tranquil setting and stunning marine life make it a hidden gem for those seeking a quieter beach escape.
6. Mangel Halto: Mangel Halto is a picturesque beach located near Spanish Lagoon, known for its shallow and clear waters. The beach is framed by mangroves and a vibrant ecosystem, creating a unique and peaceful atmosphere. It's an excellent spot for snorkeling, kayaking, and enjoying the natural beauty of Aruba.
7. Rodgers Beach: Located on the southern coast of the island, Rodgers Beach offers a serene and secluded experience with its soft sand and calm waters. It's a great spot for sunbathing, swimming, and enjoying a peaceful beach day away from the crowds.
These are just a few of the many breathtaking beaches in Aruba. Whether you're looking for excitement and water sports or tranquility and relaxation, the island offers a beach for every preference. So, grab your towel, sunscreen, and snorkel gear, and get ready to unwind and soak up the sun on the beautiful beaches of Aruba.
Outdoor Activities in Aruba
Aruba is not only known for its stunning beaches but also for its wide array of outdoor activities that cater to adventure seekers and nature enthusiasts. Whether you prefer land, sea, or sky, the island offers an abundance of exciting activities to enjoy. Here are some top outdoor activities in Aruba:
1. Snorkeling and Diving: With its crystal-clear waters and vibrant coral reefs, Aruba is a paradise for snorkelers and divers. Explore the underwater world teeming with colorful fish, sea turtles, and even shipwrecks, such as the popular Antilla and the Pedernales.
2. Windsurfing and Kitesurfing: Aruba's constant trade winds make it a haven for windsurfers and kitesurfers. Glide across the turquoise waters and enjoy the thrill of these exhilarating water sports. Beginners can take lessons while experienced enthusiasts can challenge themselves with advanced maneuvers.
3. ATV and UTV Tours: Embark on an off-road adventure and explore Aruba's diverse landscapes on an ATV (All-Terrain Vehicle) or UTV (Utility Task Vehicle). Ride through desert terrain, visit natural attractions like the Natural Pool, and witness stunning panoramic views from elevated points.
4. Jeep Safaris: Join a jeep safari and venture deep into Aruba's outback with an experienced guide. Traverse rugged landscapes, visit hidden natural treasures like rock formations and limestone caves, and learn about the island's flora, fauna, and cultural heritage along the way.
5. Horseback Riding: Experience the beauty of Aruba's landscapes from a different perspective on a horseback riding excursion. Ride along the coast, through cactus-filled deserts, or even take a sunset ride along the beach for a truly magical experience.
6. Hiking and Nature Walks: Lace up your hiking boots and explore the natural wonders of Aruba on foot. Arikok National Park offers hiking trails that lead to enchanting hidden gems, including caves, natural pools, and panoramic viewpoints. You can also join guided nature walks to learn about the island's unique flora and fauna.
7. Kayaking and Stand-Up Paddleboarding: Discover Aruba's coastlines and mangroves by kayaking or stand-up paddleboarding. Paddle through tranquil waters, spot marine life, and observe the mangrove ecosystems up close. Some tours even include snorkeling stops along the way.
8. Zip-lining: Soar through the treetops and feel the adrenaline rush on a zip-line adventure. Aruba offers zip-line tours that take you through stunning landscapes, offering a bird's-eye view of the island's natural beauty.
9. Cycling and Mountain Biking: Explore Aruba's scenic routes and coastline on two wheels. Rent a bicycle or join a mountain biking tour to discover hidden beaches, picturesque villages, and stunning panoramic viewpoints while enjoying the fresh island breeze.
These are just a few of the many outdoor activities available in Aruba. The island's diverse landscapes and warm climate make it the perfect playground for adventurers and nature lovers. So, get ready to soak up the sun, embrace the thrill, and create unforgettable memories through these exciting outdoor activities in Aruba.
Aruba's Local Cuisine
When visiting Aruba, one cannot miss out on the opportunity to indulge in the island's vibrant and delicious local cuisine. Influenced by its multicultural heritage, Aruba offers a diverse range of dishes that blend flavors from African, Dutch, Caribbean, and Latin American cuisines. Get ready to tantalize your taste buds with these iconic Aruban dishes:
1. Keshi Yena: This traditional Aruban dish is a true embodiment of the island's multicultural influences. It consists of a hollowed-out Edam or Gouda cheese filled with a mixture of spiced meat, vegetables, and sometimes raisins or olives. The cheese is then baked to perfection, creating a savory and cheesy delight.
2. Keri Keri: Made from fresh cactus leaves, Keri Keri is a unique and healthy Aruban side dish. The cactus is boiled to remove its thorns, then cooked with onions, garlic, and various seasonings. It is often served as a cold salad or as a side dish accompanying meat or seafood.
3. Pastechi: Similar to empanadas, Pastechi is a staple snack in Aruba. These deep-fried pastry pockets are filled with a variety of fillings, such as meat, cheese, or fish. They are perfect for a quick bite on the go or as an appetizer before a main meal.
4. Funchi: Funchi is a traditional Aruban side dish made from cornmeal. It has a polenta-like consistency and is seasoned with butter, cheese, or even okra. Funchi is often served alongside stews, fish, or meat dishes, adding a comforting and hearty element to the meal.
5. Calco Stoba: Calco Stoba, or conch stew, is a seafood delicacy that showcases Aruba's rich coastal resources. The conch meat is slow-cooked with onions, garlic, tomatoes, and various herbs and spices, resulting in a flavorful and tender dish. It is typically served with funchi or rice.
6. Seafood: With its bountiful waters, Aruba is a seafood lover's paradise. Fresh catches such as red snapper, grouper, shrimp, and lobster are popular choices. From grilled to fried, seafood dishes can be found in various restaurants across the island, often accompanied by locally sourced ingredients and flavors.
7. Sopi Mondongo: This hearty soup is a favorite among Arubans. Made from tripe (cow stomach) and various seasonings, Sopi Mondongo is slow-cooked to perfection, resulting in a rich and flavorful broth. It is commonly enjoyed with funchi and served with a side of lime to add a tangy kick.
Don't forget to pair your Aruban meal with a refreshing local drink like Balashi beer, Aruba Ariba cocktail, or a glass of refreshing Aloe vera juice.
While exploring Aruba, be sure to visit local restaurants, "snack" stands, and food trucks to savor the authentic flavors of the island. Aruban cuisine not only offers a delightful experience for your taste buds but also provides a window into the vibrant cultural heritage of the island.
Shopping in Aruba
Aruba is a shopper's paradise, offering a diverse range of shopping experiences for visitors to enjoy. Whether you're looking for luxury brands, unique souvenirs, or local handicrafts, the island has something for everyone. From bustling marketplaces to upscale malls, here's a guide to shopping in Aruba:
1. Oranjestad: The capital city of Aruba, Oranjestad, is a shopper's haven with its colorful streets lined with shops, boutiques, and department stores. Main Street and Renaissance Mall are two popular shopping areas where you can find a wide range of international brands, jewelry, cosmetics, clothing, and accessories.
2. Renaissance Marketplace: Adjacent to the Renaissance Mall, the Renaissance Marketplace offers a vibrant shopping experience with a mix of duty-free and luxury shops. From designer goods to local handicrafts and souvenirs, you'll find plenty of options to choose from. It's also a great place to grab a bite to eat or sip a refreshing cocktail.
3. Palm Beach Plaza: Located in the popular Palm Beach area, Palm Beach Plaza is a modern shopping mall featuring a variety of stores. From fashion and beauty to home decor and electronics, this mall offers a range of international brands and retail outlets. You can also catch a movie at the cinema or enjoy a meal at one of the many restaurants.
4. Seaport Marketplace: If you're arriving in Aruba by cruise ship, a visit to the Seaport Marketplace is a must. This vibrant shopping center is situated right at the port and is home to a variety of shops selling clothing, accessories, fragrances, and souvenirs. It's a convenient stop for travelers looking to do some shopping before or after their exploration of the island.
5. Local Markets: For a more authentic Aruban shopping experience, head to one of the local markets. The Alhambra Bazaar, located near Eagle Beach, is a popular spot where you can find a mix of Caribbean and international products, including jewelry, clothing, and local artwork. The weekly Bon Bini Festival in Oranjestad is another great opportunity to browse stalls selling handicrafts, artwork, and traditional food.
6. Aruba Aloe Factory: Aruba is famous for its aloe plants, and a visit to the Aruba Aloe Factory is a must for those interested in skincare and beauty products. Take a tour of the factory to learn about the process of making aloe-based products, and browse the shop to purchase lotions, creams, and other aloe-infused items.
7. Souvenirs and Handicrafts: Don't forget to bring home a piece of Aruba with you. Look for souvenirs such as keychains, magnets, and traditional Aruban artwork to remind you of your trip. Local artisans also create beautiful handicrafts, including intricate pottery, hand-painted tiles, and unique jewelry made with shells and coral.
Remember, many shops in Aruba offer duty-free shopping, allowing visitors to enjoy tax-free prices on luxury items such as jewelry, watches, and electronics. Make sure to keep your receipts and review the duty-free allowances for your destination to ensure a smooth travel experience.
So, whether you're looking to splurge on high-end brands or seek out unique local treasures, shopping in Aruba offers a delightful mix of options to satisfy every shopper's desires.
Nightlife in Aruba
When the sun goes down, Aruba comes alive with a vibrant and lively nightlife scene. From beachfront bars and clubs to casinos and live music venues, the island offers a diverse range of options for those looking to dance, socialize, and have a memorable night out. Here's a guide to the nightlife in Aruba:
1. Palm Beach: Palm Beach is the hub of nightlife in Aruba. The strip along the coastline is dotted with beach bars, clubs, and restaurants that offer a dynamic and festive atmosphere. Enjoy live music, dance to the sounds of local bands or international DJs, and sip colorful cocktails while enjoying breathtaking ocean views.
2. Oranjestad: The capital city of Aruba, Oranjestad, offers a mix of cultural events, casinos, and lively bars that cater to all tastes. The Renaissance Marketplace and the Main Street area are home to various bars, clubs, and casinos where you can try your luck or dance the night away.
3. Casinos: Aruba is known for its vibrant casino scene, offering a thrilling and entertaining nightlife experience. From small gambling halls to larger resort-based casinos, you'll find a variety of gaming options including slot machines, poker, blackjack, and roulette. Many casinos also feature live entertainment, including music performances and themed nights.
4. Live Music: Aruba boasts a vibrant live music scene, with local bands performing a mix of traditional Caribbean music, reggae, salsa, and international hits. Enjoy live performances at beachfront venues, open-air bars, and clubs throughout the island. Look out for the Bon Bini Festival in Oranjestad, where you can experience traditional music and dance performances.
5. Sunset Cruises: For a unique nightlife experience, embark on a sunset cruise along Aruba's beautiful coastline. Enjoy live music, open bars, and breathtaking views as you sail into the sunset. Some sunset cruises even include dinner and entertainment, making for a memorable evening on the water.
6. Late-Night Eateries: After a night of dancing and fun, satisfy your cravings at one of Aruba's late-night eateries. From food trucks offering local delicacies to international cuisine at all-hours restaurants, you'll find a variety of options to fuel up for the night or indulge in a post-party feast.
7. Bar Hopping: Take a stroll along the beaches or through downtown Oranjestad and hop from one bar to another. Experience different vibes, sip on tropical cocktails, and meet fellow travelers and locals along the way. Many establishments offer happy hours and nightly drink specials.
Aruba's nightlife maintains a lively and safe atmosphere throughout the year. However, it's important to drink responsibly, be aware of your surroundings, and take necessary precautions when enjoying the late-night scene.
So, whether you're in the mood for dancing, live music, or trying your luck at the casino, Aruba offers an exciting and vibrant nightlife that will leave you with unforgettable memories.
Safety Tips for Traveling to Aruba
Aruba is generally considered a safe destination for travelers. The island has a low crime rate, friendly locals, and a strong focus on tourism safety. However, it's always important to take precautions and stay vigilant while traveling. Here are some essential safety tips for your trip to Aruba:
1. Stay in well-populated areas: Stick to well-populated and tourist-friendly areas, especially at night. Places like Palm Beach and Oranjestad are generally safe for travelers and have a visible police presence. Avoid wandering into secluded or unfamiliar areas alone, particularly after dark.
2. Protect your belongings: Keep your belongings secure at all times. Use hotel safes to store valuables such as passports, cash, and jewelry. When exploring, keep a close eye on your belongings and never leave them unattended. Pickpocketing and petty theft can occur in crowded areas, so be cautious with your bags and wallets.
3. Be cautious at ATMs: When using ATMs, be mindful of your surroundings. Choose ATMs located in well-lit and secure areas such as inside banks or shopping centers. Shield your PIN number from prying eyes and avoid using ATMs that look suspicious or tampered with.
4. Swim with caution: While Aruba's beaches are beautiful, it's essential to be cautious when swimming. Pay attention to the flag warning system that indicates the current sea conditions. Strong currents or rip tides can sometimes be present, so it's best to swim in designated areas with lifeguards and avoid swimming alone.
5. Follow local laws and customs: Familiarize yourself with the local laws and customs of Aruba. Respect the local culture, traditions, and religious sites. Aruba has strict drug laws, so it's important to refrain from any involvement with illegal drugs. Carry proper identification at all times, as authorities may request it.
6. Stay hydrated and protect against the sun: Aruba is known for its warm climate and constant sunshine. Drink plenty of water to stay hydrated throughout the day, especially if you're engaging in outdoor activities. Apply sunscreen regularly and wear a hat, sunglasses, and lightweight clothing to protect yourself from the sun's rays.
7. Use licensed taxis and reputable transportation services: When using taxis or transportation services, choose licensed and reputable providers. Look for official taxi stands or have your hotel arrange transportation for you. Avoid unmarked vehicles or accepting rides from strangers.
8. Stay informed about weather conditions: Aruba occasionally experiences extreme weather conditions such as strong winds or heavy rain. Stay informed about weather forecasts and be prepared for any weather changes. Follow the instructions of local authorities in case of severe weather alerts or emergency situations.
Remember, these are general safety tips that apply to most destinations. Aruba is generally a safe place to visit, but it's always wise to exercise caution and maintain awareness of your surroundings. By taking these precautions, you can ensure a safe and enjoyable trip to the beautiful island of Aruba.
Conclusion
Aruba is a captivating destination that offers a wealth of experiences for travelers. From its pristine beaches and crystal-clear waters to its vibrant culture and exciting outdoor activities, the island has something for everyone. Whether you're seeking relaxation, adventure, or a mix of both, Aruba's beauty and charm are sure to leave a lasting impression.
With a year-round warm climate, Aruba is an ideal getaway any time of the year. Whether you visit during the peak tourist season or opt for a quieter shoulder season, you'll be greeted with sunshine and a warm welcome from the friendly locals. The island's accessibility and well-connected airport make it easy to reach from various parts of the world.
Aruba offers a range of accommodations, from luxurious resorts to cozy bed and breakfasts, ensuring a comfortable stay for all types of travelers. The island's local cuisine is a delightful blend of flavors that reflect its multicultural heritage, and exploring the local markets and restaurants is a must-do to truly immerse yourself in the Aruban culture.
From snorkeling and diving in vibrant coral reefs to embarking on thrilling outdoor adventures, Aruba's outdoor activities cater to every interest. Whether you choose to explore the stunning landscapes on an ATV, or simply relax on the world-famous beaches, the natural beauty of Aruba will captivate and inspire you.
As the sun sets, the nightlife in Aruba comes alive with vibrant bars, casinos, and live music venues. Dance the night away, try your luck at the casinos, or simply enjoy the laid-back atmosphere of beachside bars. Aruba offers a diverse range of entertainment options to suit every taste.
Traveling to Aruba is generally safe, but it's important to take common-sense precautions and be aware of your surroundings. By following basic safety tips and respecting the local customs, you can enjoy a worry-free vacation on the island.
In conclusion, Aruba is a tropical paradise that offers an unforgettable vacation experience. With its breathtaking beaches, thrilling outdoor activities, vibrant culture, and warm hospitality, Aruba invites you to embrace the "One Happy Island" spirit and create memories that will last a lifetime.