Exploring Casa Loma: The Stunning Castle In Toronto, Canada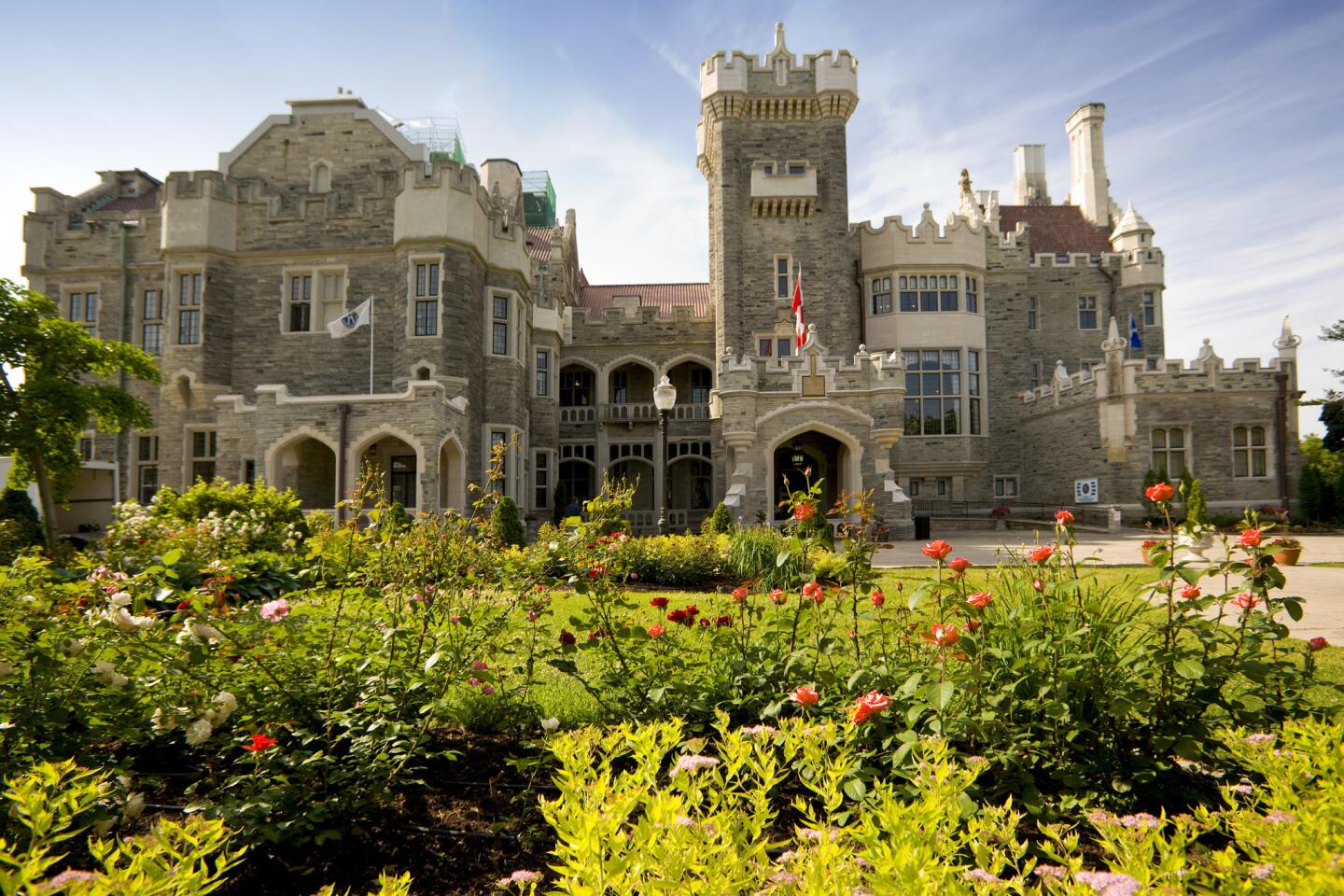 Introduction
Welcome to Casa Loma, an enchanting castle nestled in the heart of Toronto, Canada. This architectural masterpiece is an iconic landmark that showcases the grandeur and elegance of a bygone era. Designed by the renowned architect E.J. Lennox, Casa Loma is a testament to the opulence and prosperity of the early 20th century.
As you step foot onto the castle grounds, you will be transported back in time to a world of luxurious living and intricate craftsmanship. With its captivating history, stunning architecture, and breathtaking interiors, Casa Loma has become a must-visit destination for locals and tourists alike.
Join us as we embark on a journey to explore the fascinating allure of Casa Loma, where every corner reveals a story waiting to be discovered. From its captivating history to its vibrant events and exhibitions, there is something for everyone to enjoy at this extraordinary castle.
So, grab your passport and prepare to be enthralled by the beauty and charm of Casa Loma. Whether you're a history enthusiast, architecture lover, or simply seeking a unique experience, this grand castle is sure to captivate your imagination and leave an indelible mark on your memories.
Are you ready to embark on this adventure? Let us dive into the history, architecture, interiors, gardens, events, and visiting information of the magnificent Casa Loma castle in Toronto, Canada.
History of Casa Loma
The history of Casa Loma is as captivating as the castle itself. Construction of the castle began in 1911 and took three years to complete. It was commissioned by Sir Henry Pellatt, a wealthy Canadian financier and industrialist, who aspired to create a grand mansion that would rival European castles.
Sir Henry Pellatt spared no expense in building Casa Loma, investing a staggering $3.5 million at the time. The castle's name, Casa Loma, is Spanish for "Hill House," named after its location on a hill overlooking Toronto.
However, despite its lavish beginnings, Casa Loma's story took a turn of events. Sir Henry Pellatt faced financial troubles, and by 1924, he was forced to abandon his dream castle. The City of Toronto seized the property due to unpaid taxes, and Casa Loma was left vacant.
In the years that followed, Casa Loma served various purposes. During World War II, it was used as a secret research location for sonar detection. After the war, it briefly was a hotel and a popular venue for elegant social events.
In 1937, Casa Loma was opened to the public, allowing visitors to marvel at its architectural marvels and experience a taste of the grandeur that once graced its halls. Today, it is operated as a museum and event venue, showcasing not only its rich history but also hosting a range of exhibitions and events throughout the year.
Explore the halls of Casa Loma and uncover the stories of its previous owners, the grand parties held within its walls, and the enduring legacy of Sir Henry Pellatt. With its intriguing past, Casa Loma stands as a testament to the resilience and enduring charm of Toronto's history.
Architecture and Design
The architecture and design of Casa Loma is a stunning representation of the Edwardian era. Designed by architect E.J. Lennox, who also designed several notable buildings in Toronto, Casa Loma boasts a unique blend of architectural styles, including Gothic Revival, Romanesque Revival, and Neoclassical elements.
The castle's exterior is an awe-inspiring sight, with its majestic towers, turrets, and battlements. The limestone facade adds to its grandeur, while the soaring windows and intricate detailing showcase the craftsmanship of the time.
Upon entering the castle, visitors are greeted with lavish interiors that exude elegance and sophistication. The Great Hall is a magnificent space with a 60-foot-high ceiling, stained glass windows, and a stunning fireplace. The oak paneling and intricate stonework further enhance the regal ambiance.
One of the highlights of Casa Loma is the majestic staircase, which leads to the upper floors. With its sweeping design and intricate carvings, the staircase is a work of art in itself. The stained glass dome above allows natural light to bathe the space, creating a breathtaking visual effect.
As you explore further, you will discover the various rooms and suites that showcase the luxurious lifestyle enjoyed by the castle's original occupants. The library, with its vast collection of books and ornate ceiling, transports you to a time of literary indulgence. The billiard room, conservatory, and private quarters also offer glimpses into the opulent living spaces of the past.
The gardens surrounding Casa Loma are equally magnificent. Designed by landscape architect Henry Simpson, the gardens feature beautifully manicured lawns, vibrant flowers, and serene fountains. Visitors can stroll through the gardens, taking in the picturesque views and finding hidden gems along the way.
Overall, the architecture and design of Casa Loma are a testament to the grand vision of Sir Henry Pellatt. The meticulous craftsmanship and attention to detail make it a true architectural gem, transporting visitors to a world of refined elegance and beauty.
Interiors and Decorations
The interiors of Casa Loma are a sight to behold, each room showcasing exquisite decorations and details that reflect the luxurious lifestyle of its former owners. As you wander through the castle, you'll be mesmerized by the opulent furnishings, intricate woodwork, and stunning artwork.
One notable room is the Dining Room, which can accommodate up to 100 guests. Adorned with a magnificent chandelier, rich wood paneling, and a grand fireplace, it offers a glimpse into the extravagant dinner parties that once took place within its walls.
The Pellatt Suite, formerly the private living quarters of Sir Henry Pellatt and his wife, is a marvel of luxury and elegance. The suite features an expansive bedroom, a sitting room, a dressing room, and a private bathroom, all decorated with impeccable taste and attention to detail.
The Oak Room is another highlight, boasting rich oak paneling and a magnificent vaulted ceiling adorned with intricate carvings. This room was once a gathering place for social events and features a beautiful fireplace and stained glass windows.
Throughout the castle, you'll also find an impressive collection of artwork, including paintings, sculptures, and tapestries. Each piece adds to the ambiance and historical significance of Casa Loma, making it a treasure trove for art enthusiasts.
Special attention should be given to the stunning stained glass windows that adorn the castle. Created by renowned artist Robert McCausland Limited, these windows add a touch of color and artistry to the interiors, casting a mesmerizing glow throughout the spaces.
The attention to detail in the interior design of Casa Loma is unparalleled. From the intricate woodwork to the sumptuous fabrics and carefully chosen furniture, every element contributes to the castle's atmosphere of refined elegance.
Exploring the interiors of Casa Loma provides a glimpse into the extravagant lifestyle enjoyed by the castle's residents. Step back in time and immerse yourself in the beauty and opulence that awaits within its walls.
Gardens and Grounds
The gardens and grounds surrounding Casa Loma are as stunning as the castle itself. Designed by landscape architect Henry Simpson, the sprawling outdoor space offers a tranquil and picturesque setting for visitors to explore.
As you step outside, you'll be greeted by manicured lawns, vibrant flower beds, and lush greenery. The carefully arranged plants and flowers create a vibrant and colorful display, changing with the seasons to provide a new visual experience throughout the year.
One of the highlights of the gardens is the breathtaking Conservatory, a glass-enclosed space that houses a diverse collection of exotic plants and flowers. Step inside and be transported to a tropical oasis, surrounded by palm trees, blooming orchids, and cascading vines. It's a perfect place to relax and take in the beauty of nature.
Walking through the gardens, you'll come across charming pathways and hidden nooks, inviting you to explore further. Follow the trails and you'll discover delightful surprises, such as tranquil fountains, picturesque gazebos, and secluded corners where you can sit and enjoy the peaceful ambiance.
One iconic feature of the grounds is the Secret Garden. Tucked away behind the castle, this enchanting space offers a secluded retreat with its pergolas, winding paths, and vibrant blooms. It's a perfect spot for a quiet moment of reflection or a romantic escape.
From atop the towers of Casa Loma, visitors can enjoy sweeping views of the surrounding cityscape. The panoramic vistas showcase the beauty of Toronto, with its blend of modern skyscrapers and historic landmarks.
The gardens and grounds of Casa Loma are not only a visual delight but also a place for outdoor activities and events. Throughout the year, the castle hosts various events, including seasonal festivals, concerts, and even outdoor movie nights. It's a wonderful way to experience the magic of Casa Loma in a unique and engaging setting.
Whether you're a nature lover, a photography enthusiast, or simply seeking a serene space to unwind, the gardens and grounds of Casa Loma offer a captivating escape from the bustle of the city. So, take a leisurely stroll, breathe in the fresh air, and immerse yourself in the natural beauty that surrounds this magnificent castle.
Events and Exhibitions
Casa Loma isn't just a historical landmark – it's a vibrant hub of events and exhibitions that offer a unique and immersive experience for visitors. From themed exhibits to interactive displays, there is always something exciting happening within the castle's walls.
Throughout the year, Casa Loma hosts a variety of events that cater to all interests and age groups. During the holiday season, the castle transforms into a winter wonderland with festive decorations, light displays, and visits from Santa Claus. It's a magical time to explore the castle and get into the holiday spirit.
The castle also hosts themed events, such as the Legends of Horror, where visitors can journey through the castle's secret passages and encounter spooky scenes and characters. It's an immersive theatrical experience that brings the legends and tales associated with Casa Loma to life.
In addition to events, Casa Loma features rotating exhibitions that delve into various aspects of the castle's history and cultural significance. These exhibits showcase artifacts, photographs, and interactive displays that provide fascinating insights into the castle's past and the people who inhabited it.
For art enthusiasts, Casa Loma often collaborates with local artists and galleries to display temporary art exhibitions. From contemporary art to historical collections, these exhibitions add an extra layer of creativity and culture to the castle experience.
If you're a fan of live music, Casa Loma offers a summer concert series, where visitors can enjoy performances by local musicians in the castle's beautiful outdoor grounds. It's a wonderful way to relax and soak in the atmosphere while being surrounded by the stunning backdrop of Casa Loma.
Whether you're attending an event or exploring an exhibition, Casa Loma provides a unique opportunity to engage with history, culture, and art in a truly extraordinary setting. Step into the castle and immerse yourself in the vibrant and dynamic world of Casa Loma's events and exhibitions.
Visiting Casa Loma
Visiting Casa Loma is an unforgettable experience that allows you to step back in time and immerse yourself in the grandeur of a real-life castle. Here is everything you need to know to plan your visit to this enchanting landmark in Toronto.
The castle is open to the public year-round, offering both guided and self-guided tours. Guided tours provide in-depth information about the castle's history, while self-guided tours allow you to explore at your own pace.
Upon arrival, you will be greeted by the castle's iconic exterior, which serves as a majestic preview of the wonders that lie inside. Make sure to take some time to capture photos and admire the castle's stunning architecture before entering.
Inside Casa Loma, you can explore various rooms, such as the Great Hall, the Queen's Own Rifles Museum, and the Sir Henry Pellatt Suite. Each room is meticulously decorated and filled with historical artifacts that provide a glimpse into the lives of the castle's former residents.
Throughout your visit, knowledgeable staff members are available to answer questions and offer insights into the castle's history and architecture. Don't hesitate to engage with them – they are a wealth of information and can enhance your experience with their expertise.
As you make your way through the castle, don't forget to visit the gift shop, where you can find unique souvenirs and mementos to commemorate your visit to Casa Loma.
While exploring the castle's interior is a must, make sure to also set aside time to explore the beautiful gardens and grounds. Take a leisurely stroll through the pathways, relax in the outdoor seating areas, and revel in the tranquility of the castle's surroundings.
Before you leave, take a moment to enjoy a meal or indulge in a snack at the on-site restaurant or cafe. Casa Loma's dining options provide a delightful culinary experience, allowing you to savor delectable dishes while enjoying stunning views of the castle.
It's important to note that Casa Loma can get busy, especially during peak tourist seasons. To avoid crowds and ensure a smooth experience, consider visiting during weekdays or booking your tickets in advance. This will allow you to enjoy the castle's splendor with ease.
Visiting Casa Loma is like stepping into a fairy tale. Plan your visit to this extraordinary castle, and let yourself be captivated by its remarkable history and stunning architecture. It's an experience that will leave a lasting impression and create memories to cherish for a lifetime.
Nearby Attractions and Amenities
When visiting Casa Loma, there are several nearby attractions and amenities that you can explore to enhance your experience in Toronto. Here are some recommendations:
Spadina Museum: Located just a short distance from Casa Loma, Spadina Museum is another historic mansion that offers a glimpse into Toronto's past. Explore the beautifully preserved interiors and well-manicured gardens of this Edwardian-style home.
The Royal Ontario Museum: If you're interested in history, art, and culture, a visit to the Royal Ontario Museum is a must. It houses a vast collection of exhibits that span across different eras and continents, including natural history, archeology, and fine art.
Art Gallery of Ontario: For art enthusiasts, the Art Gallery of Ontario is a haven of creativity. Explore its extensive collection of Canadian and international art, ranging from renowned masterpieces to contemporary works.
Toronto Botanical Garden: If you want to spend some time surrounded by nature, head to the Toronto Botanical Garden. This serene oasis offers beautiful gardens, walking trails, and educational programs for all ages.
Yorkville: Yorkville is a charming neighborhood known for its upscale shopping, cozy cafes, and fine dining establishments. Take a leisurely stroll through its streets, indulge in some retail therapy, or treat yourself to a gourmet meal.
Public Transportation: Toronto has an excellent public transportation system, making it easy to move around the city. Consider using the subway or streetcars to reach your desired destinations, as parking can be limited in some areas.
Restaurants and Cafes: While Casa Loma has its own dining options, there are also many restaurants and cafes in the surrounding area. Whether you're looking for a quick bite or a leisurely meal, you'll find a wide range of culinary options to suit your preferences.
Make the most of your visit to Casa Loma by exploring these nearby attractions and taking advantage of the amenities available in Toronto. From cultural experiences to culinary delights, there's something for everyone to enjoy in this vibrant city.
Conclusion
Casa Loma stands as a testament to the grandeur and elegance of a bygone era. From its captivating history and stunning architecture to its lavish interiors and picturesque gardens, this enchanting castle offers a truly unforgettable experience for visitors.
Exploring Casa Loma allows you to immerse yourself in the opulence of the early 20th century, where every room tells a story and every detail showcases the craftsmanship of the time. The castle's guided and self-guided tours provide a fascinating journey through its halls, while its events and exhibitions bring its rich history and cultural significance to life.
Surrounded by the beauty of Toronto, Casa Loma offers a tranquil escape from the bustling city. Its gardens and grounds provide a serene setting to relax and appreciate the natural splendor that abounds.
When planning your visit to Casa Loma, be sure to explore the nearby attractions and amenities that Toronto has to offer. From other historic landmarks to vibrant neighborhoods and cultural institutions, there is no shortage of enriching experiences to complement your visit.
Whether you're a history enthusiast, architecture lover, art aficionado, or simply seeking a unique and memorable outing, Casa Loma is a must-see destination in Toronto. Step into its timeless charm and be transported to a world of elegance, beauty, and intrigue.
So, come and discover the magic of Casa Loma – an architectural gem that has captured the hearts of locals and visitors alike. Experience the grandeur and allure of this remarkable castle, and create cherished memories that will last a lifetime.