Best Things To Do In Charlottetown PEI For Every Type Of Traveller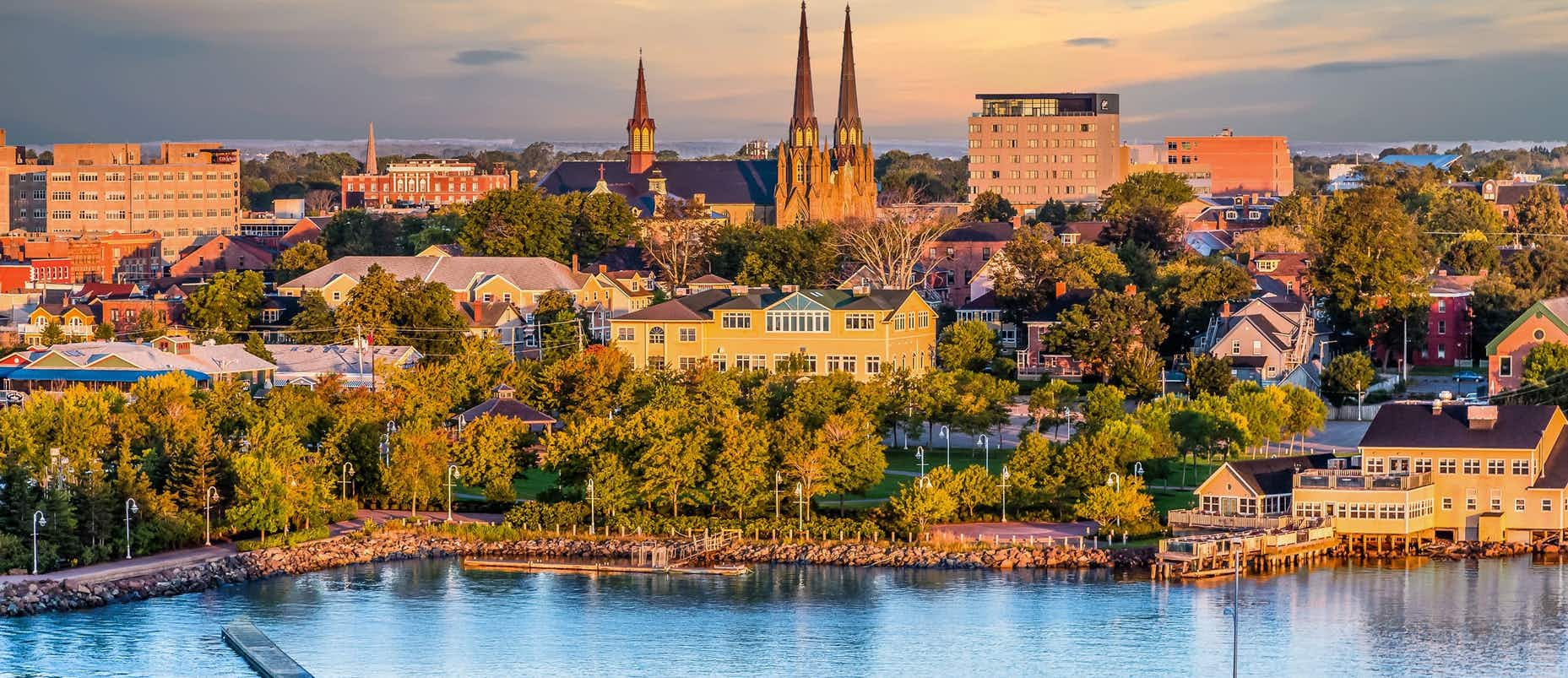 Introduction
Welcome to Charlottetown, the charming capital city of Prince Edward Island (PEI), Canada's smallest province. Nestled on the southern coast of the island, Charlottetown offers a perfect blend of history, culture, and natural beauty. Whether you're a history enthusiast seeking to immerse yourself in the birthplace of Confederation or an outdoor lover looking to explore picturesque landscapes, Charlottetown has something for everyone.
As you stroll through the streets of this vibrant city, you'll be captivated by its rich heritage reflected in its well-preserved historic buildings and cobblestone streets. But Charlottetown is more than just a history buff's paradise. It boasts a thriving arts scene, a lively culinary scene featuring the freshest seafood, and a vibrant waterfront where you can enjoy a leisurely stroll or embark on exciting water activities.
Whether you're visiting Charlottetown with family, friends, or as a solo traveler, you'll find an array of activities to suit your interests. From outdoor adventures to cultural experiences, from indulging in local delicacies to exploring unique shops, there's something here that will resonate with every type of traveler. So, let's dive into the best things to do in Charlottetown, PEI.
Outdoor Activities
Charlottetown offers a plethora of outdoor activities for those seeking to explore the stunning natural beauty of Prince Edward Island. Here are some of the best outdoor activities to enjoy during your visit:
Beach hopping: With its pristine sandy beaches, Charlottetown is a paradise for beach lovers. From the popular Brackley Beach to the tranquil Covehead Bay, you can spend your days soaking up the sun, swimming in the clear waters, and enjoying picnics on the shore.
Hiking and biking: The island's diverse terrain provides ample opportunities for hiking and biking enthusiasts. The Confederation Trail is a must-visit, offering over 400 kilometers of scenic trails that wind through picturesque landscapes and charming communities.
Kayaking and paddleboarding: Explore the island's breathtaking coastline by renting a kayak or paddleboard. You can paddle along the tranquil rivers, explore secluded coves, and even spot wildlife like seals and birds.
Golfing: Prince Edward Island is known for its world-class golf courses, and Charlottetown is no exception. Tee off at one of the championship courses, surrounded by stunning coastal views and rolling green hills.
Charlottetown Harbour Cruise: Embark on a scenic harbor cruise and experience the beauty of Charlottetown from the water. Learn about the city's history, enjoy stunning views of the waterfront, and keep an eye out for marine life.
Engaging in these outdoor activities will not only allow you to appreciate the natural splendor of the island but also provide you with an invigorating experience that will leave you with lasting memories of your time in Charlottetown, PEI.
Historical Sites
Charlottetown's rich history is evident in its well-preserved historical sites and landmarks. Immerse yourself in the past as you explore these iconic attractions:
Province House National Historic Site: This is where the famous Charlottetown Conference took place in 1864, leading to the creation of Canada as a nation. Take a guided tour of the historic building and learn about the pivotal role it played in shaping Canadian history.
Beaconsfield Historic House: Step back in time as you visit this Victorian-era mansion, beautifully restored to showcase the grandeur of the 19th century. Explore the elegant rooms, admire the period furnishings, and learn about the fascinating history of the house.
St. Dunstan's Basilica: This magnificent Roman Catholic basilica is a landmark in Charlottetown. Marvel at its stunning architecture, intricate stained glass windows, and ornate decorations. Attend a mass or simply spend some time in quiet contemplation.
Founders' Hall: Dive into the interactive exhibits at Founders' Hall and discover the story of Canada's birthplace. Learn about the struggles and triumphs of the delegates who met in Charlottetown to craft the foundations of the country we know today.
Charlottetown Waterfront: The scenic waterfront is not only a beautiful place to walk or relax but also holds significant historical significance. Take a stroll along the Confederation Landing Park, where the Fathers of Confederation first stepped ashore in 1864.
These historical sites offer a fascinating glimpse into the past and allow visitors to connect with Charlottetown's rich heritage. Immerse yourself in the stories and traditions of the city as you explore these iconic landmarks.
Cultural Experiences
Charlottetown is a vibrant city that truly embraces its cultural heritage. From live performances to art galleries, there are plenty of opportunities to immerse yourself in the local arts and culture scene. Here are some must-visit cultural experiences in Charlottetown:
Confederation Centre of the Arts: This cultural hub is home to the Charlottetown Festival, featuring world-class theatre productions that showcase Canadian talent. Catch a Broadway-style musical or enjoy a thought-provoking play at this iconic venue.
Art Galleries: Explore Charlottetown's thriving art scene by visiting the numerous art galleries scattered throughout the city. From contemporary pieces to traditional artwork, you'll find a diverse range of exhibitions that highlight the talent of local and international artists.
Cultural Festivals: Experience the vibrant spirit of Charlottetown by attending one of the many cultural festivals that take place throughout the year. From the vibrant cultural celebrations of Old Home Week to the lively music festivals like Jazz and Blues, there's always something exciting happening.
Historic Walking Tours: Join a guided walking tour and explore Charlottetown's historic streets. Learn about the city's fascinating history, hear captivating stories, and discover hidden gems tucked away in charming heritage buildings.
Local Cuisine: One of the best ways to immerse yourself in a city's culture is through its food. Sample the delicious local cuisine in Charlottetown, which includes fresh seafood, traditional Acadian dishes, and quintessential Island fare.
These cultural experiences will allow you to engage with the vibrant arts scene, learn about the local history, and gain a deeper appreciation for Charlottetown's rich cultural heritage. Don't miss the chance to explore the city's creative spirit during your visit.
Food and Drink
Charlottetown is a culinary delight, offering a diverse range of dining experiences that showcase the region's fresh and flavorful ingredients. From farm-to-table restaurants to charming pubs and cozy cafes, here are some food and drink experiences you don't want to miss:
Seafood Delicacies: Indulge in the bounty of the sea with PEI's famous seafood. Savor succulent lobster, freshly shucked oysters, and delectable scallops at local seafood restaurants and waterfront eateries.
Farm-to-Table Cuisine: Charlottetown's farm-to-table restaurants take advantage of the island's fertile lands to create unforgettable dishes. Enjoy seasonal ingredients, locally sourced produce, and creative culinary creations that highlight the flavors of PEI.
Pub Culture: Experience the lively atmosphere of Charlottetown's pubs, where you can enjoy a pint of locally brewed craft beer and indulge in classic pub fare. These cozy establishments often feature live music and serve as gathering places for locals and visitors alike.
Coffee and Bakeries: Start your day with a cup of freshly brewed coffee from one of Charlottetown's charming coffee shops. Pair it with a delectable treat from a local bakery, such as a flaky croissant or a buttery Island-made pastry.
Culinary Tours: Join a culinary tour to sample a variety of food and drink offerings in Charlottetown. These guided tours provide insights into the local food scene, allowing you to taste your way through the city's culinary delights.
From indulging in world-class seafood to exploring the vibrant pub culture, the food and drink scene in Charlottetown is sure to satisfy every palate. Relish the flavors and take home unforgettable culinary experiences from your visit to this food lover's paradise.
Shopping
Charlottetown offers a delightful shopping experience, with a mix of unique boutiques, charming shops, and local markets. Whether you're looking for artisanal products, handmade crafts, or fashionable finds, here are some shopping destinations you should explore:
Charlottetown Farmers Market: Visit the bustling Charlottetown Farmers Market, where you'll find a wide array of fresh local produce, artisanal products, homemade treats, and handcrafted goods. It's the perfect place to support local vendors and take home a taste of PEI.
Downtown Boutiques: Stroll along the streets of downtown Charlottetown and discover a variety of unique boutiques and shops. From stylish clothing and accessories to locally made jewelry and artwork, you'll find plenty of treasures to bring back home.
Peake's Quay: Located along the waterfront, Peake's Quay is a charming shopping area filled with specialty stores, gift shops, and local artisans. Browse through the eclectic mix of offerings and find that perfect souvenir to remind you of your visit to Charlottetown.
Antique Shops: History enthusiasts and collectors will enjoy exploring the antique shops in Charlottetown. Discover hidden gems, vintage treasures, and unique pieces that tell stories of the past.
Cavendish Boardwalk: If you're willing to venture outside of Charlottetown, the Cavendish Boardwalk offers a delightful shopping experience. Explore a variety of shops, from clothing boutiques to craft stores, and peruse local artwork and souvenirs.
Whether you're searching for locally made products, one-of-a-kind souvenirs, or unique gifts, Charlottetown's shopping scene has something for everyone. Take your time to explore the charming shops and markets and bring home a piece of the island's culture and craftsmanship.
Entertainment
Charlottetown offers a vibrant entertainment scene, with a variety of options to keep you entertained during your visit. From live music and theater performances to exciting nightlife, here are some entertainment choices to consider:
Live Music: Immerse yourself in the local music scene by catching a live performance at one of Charlottetown's many venues. From intimate acoustic sessions to lively concerts, you'll find an eclectic range of genres to suit your musical tastes.
Theater and Performing Arts: Charlottetown is renowned for its theater productions, with the famous Charlottetown Festival taking center stage. Don't miss the chance to watch a captivating musical or play at one of the city's iconic theaters.
Comedy Clubs: Laugh your heart out at one of Charlottetown's comedy clubs, where talented comedians will have you in stitches with their hilarious performances. Enjoy a night filled with laughter and entertainment.
Nightlife: Experience Charlottetown's vibrant nightlife by exploring the various bars, pubs, and clubs scattered throughout the city. Enjoy live music, dance the night away, or simply relax and unwind with friends over a cocktail.
Festivals and Events: Charlottetown is known for its lively festivals and events, offering a range of entertainment options throughout the year. From the Charlottetown Festival to the PEI Jazz and Blues Festival, there's always something exciting happening in the city.
Whether you're a music enthusiast, theater lover, or simply enjoy a lively night out, Charlottetown's entertainment scene is sure to captivate you. Immerse yourself in the vibrant culture and enjoy the array of entertainment options available to make your visit truly memorable.
Family-Friendly Attractions
Charlottetown is a fantastic destination for a family vacation, offering a range of attractions and activities that both kids and adults will enjoy. From interactive museums to outdoor adventures, here are some family-friendly attractions to explore in Charlottetown:
Green Gables Heritage Place: Visit the iconic Green Gables House, the inspiration for Lucy Maud Montgomery's beloved novel, and step into the world of Anne Shirley. Explore the beautiful grounds, take a guided tour, and learn about the author's life and the stories that have captivated readers for generations.
Bricks 4 Kidz: Let your little ones unleash their creativity and problem-solving skills at Bricks 4 Kidz. This interactive center offers Lego-based educational programs and hands-on activities that will keep kids entertained for hours.
Confederation Centre of the Arts: This cultural hub offers various family-friendly performances and activities. From children's theater productions to art workshops, the Confederation Centre of the Arts has something to engage and entertain the whole family.
Victoria Park: Spend a day at Victoria Park, a beautiful green oasis located along the waterfront. Enjoy a picnic, stroll along the walking trails, and let the kids have fun at the playgrounds and splash pad.
Ripley's Believe It or Not!: Take a journey of curiosity and wonder at Ripley's Believe It or Not! Explore the oddities and marvel at the weird and incredible exhibits that will leave the whole family amazed.
With its range of family-friendly attractions, Charlottetown ensures that every member of the family has a memorable and enjoyable experience. From immersing in literary history to embracing creativity and nature, there's no shortage of activities to delight both children and parents.
Nature and Parks
Charlottetown is surrounded by stunning natural beauty, making it a paradise for nature lovers. From picturesque parks to serene gardens, here are some of the top nature and park attractions to explore:
Victoria Park: Located on the waterfront, Victoria Park offers a tranquil escape from the bustling city. Take a leisurely stroll along the pathways, admire the beautiful flower gardens, and enjoy panoramic views of the harbor and shoreline.
Confederation Landing Park: Situated on the Charlottetown waterfront, this park is ideal for those seeking a scenic spot to relax and enjoy the outdoors. Take in the stunning views of the harbor, watch boats sail by, and marvel at the impressive craftsmanship of the boardwalks and sculptures.
Charlottetown Farmers Market: While primarily known as a bustling market, the Charlottetown Farmers Market also boasts a beautiful outdoor courtyard. Situated beneath a canopy of trees, it's the perfect spot to enjoy some fresh air while indulging in delicious treats and local produce.
Victoria Park Beach: For those looking to soak up the sun and enjoy some beach time, Victoria Park Beach is the ideal spot. With its soft sandy shores and pristine waters, it's a great place to relax, go for a swim, or simply enjoy a beachside picnic.
Confederation Trail: Nature enthusiasts and avid walkers will appreciate the Confederation Trail. This scenic trail stretches across the island, offering breathtaking views of the countryside, forests, and waterways that surround Charlottetown.
Charlottetown's nature and park attractions allow visitors to connect with the region's natural beauty and enjoy moments of tranquility amidst the bustling city. Whether you're seeking a peaceful stroll, picturesque views, or a place to relax, these spots offer a delightful escape into nature.
Day Trips and Excursions
While Charlottetown itself offers an abundance of things to see and do, there are also several incredible day trips and excursions to embark on, allowing you to explore the surrounding areas of Prince Edward Island. Here are some top day trips and excursions from Charlottetown:
Prince Edward Island National Park: Just a short drive from Charlottetown, Prince Edward Island (PEI) National Park is a must-visit destination. Explore stunning beaches, hike picturesque trails, and spot wildlife in this natural oasis. Don't miss the iconic red sandstone cliffs and the unique dune systems.
Anne of Green Gables Museum: Take a trip to Cavendish and visit the Anne of Green Gables Museum, where you can learn more about Lucy Maud Montgomery's famous literary character. Explore the historic house, stroll through the beautiful gardens, and immerse yourself in the world of Anne Shirley.
St. Peters Courthouse Theatre: Located in the scenic community of St. Peters, the St. Peters Courthouse Theatre offers an enchanting experience. Enjoy live theater performances in a historic setting, where the stage is set inside a beautifully restored former courthouse.
North Cape Coastal Drive: Embark on a scenic drive along the North Cape Coastal Drive, which takes you through picturesque coastal landscapes, charming villages, and stunning viewpoints. Discover hidden coves, lighthouses, and breathtaking cliffs that will leave you in awe.
Wood Islands: Catch a ferry from Caribou, Nova Scotia, to Wood Islands, PEI, and explore the picturesque community. Visit the historic Wood Islands Lighthouse, enjoy a seafood feast, and take in the tranquil island atmosphere.
These day trips and excursions provide an opportunity to explore beyond Charlottetown and discover the diverse landscapes and attractions of Prince Edward Island. Each adventure offers a unique experience and a chance to create unforgettable memories during your visit to this beautiful region.
Conclusion
Charlottetown, PEI, is a charming and vibrant destination that offers a perfect blend of history, culture, and natural beauty. Whether you're a history enthusiast eager to learn about the birthplace of Confederation, a food lover ready to indulge in delicious seafood, or an outdoor adventurer seeking to explore picturesque landscapes, Charlottetown has something for everyone.
Immerse yourself in the city's rich history by visiting the historic sites and landmarks, such as Province House and Beaconsfield Historic House. Engage in the local arts and cultural scene by attending live performances at the Confederation Centre of the Arts or exploring the numerous art galleries.
Indulge your taste buds in the city's diverse culinary scene, where fresh seafood and farm-to-table cuisine take the spotlight. Explore the charming boutiques and shops for unique finds or stroll through the local markets to immerse yourself in the island's vibrant culture.
For families, Charlottetown offers an array of family-friendly attractions and outdoor adventures. From exploring the enchanting world of Anne Shirley at Green Gables Heritage Place to enjoying a day at Victoria Park or the stunning beaches of Prince Edward Island National Park, there is no shortage of activities to keep the whole family entertained.
Don't miss the opportunity to venture beyond Charlottetown on day trips and excursions, where you can discover breathtaking landscapes, charming villages, and historic landmarks. Whether you choose to explore the North Cape Coastal Drive, visit the Anne of Green Gables Museum, or take a ferry ride to Wood Islands, these adventures will showcase the diverse beauty of Prince Edward Island.
In conclusion, Charlottetown is a destination that offers something for everyone. Whether you're interested in history, culture, outdoor activities, culinary delights, or simply relaxing in nature, you'll find it all within the charming streets of this vibrant capital city. Plan your visit to Charlottetown, PEI, and get ready for an unforgettable experience.