Best Things To Do In Tianjin, China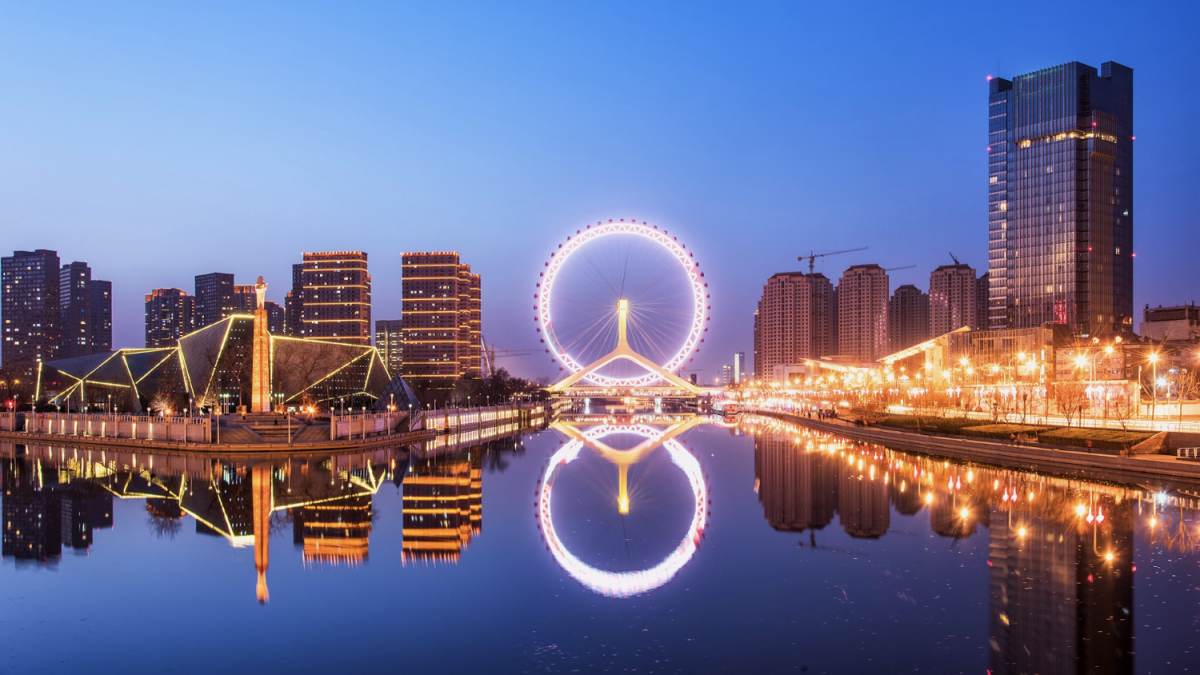 Unsure where to go this holiday? Well, this is why you should travel to Tianjin – 'the place where the emperor crossed the sea'!
Always being compared to its neighbours, Beijing and Shanghai, Tianjin as one of the 9 central cities in China, is a large, thriving, yet more laid-back city. It is one of the largest coastal cities in North China and is Beijing's gateway to the sea. With its cool, refreshing sea breeze, Tianjin boasts a pleasant river promenade, modern skyscrapers, and several European-flavoured neighbourhoods. Tianjin also features historical relics, beautiful natural scenery, extraordinary architecture styles, as well as ancient places of worship – all of which highlighting the city's past, present, and future.
Are you an over-zealous foodie? Well, in that case, you'll love Tianjin! Well-known across China for its distinct dining culture, Tianjin will tantalise your taste buds through its scrumptious traditional dishes and unique cross-cultural Chinese dishes. Some must-try dishes include Fried Dough Twists – a sweet, crispy specialty snack; Goubuli Baozi – flavourful steamed stuffed buns; and Ear-hole Fried Cake – a golden, crunchy pastry filled with a sweet and tender red bean filling. If that doesn't get you drooling, I don't know what will!
Getting To Tianjin
Unsure of how to get to Tianjin from Beijing or Shanghai? Well, here are a few ways!
Located only approximately 135 km away from Beijing, there are no flights available between the two cities. Hence, the major modes of transportation from Beijing are a 30 to 50 minutes intercity high-speed train, a 2-hours long-distance bus ride, and a 1.5 hours taxi ride. The most convenient option, of course, is the Beijing-Tianjin High-Speed Train from Beijing South Railway Station! Costing around RMB 55 to RMB 60 (USD 7.77 to USD 8.48), the train departs every 5 to 15 minutes, and operates from 6:01 AM to 11:05 PM.
For those looking to get to Tianjin from Shanghai instead, a flight from Shanghai Hongqiao Airport to Tianjin Binhai is certainly the fastest option. Although it takes 4 hours and 15 minutes of travel time, it does cost around 505 to 1913 CNY! Hence, the most convenient and recommended mode of transportation is the train from Shanghai Station to Jinan West! This includes a transfer to another train from Jinan West to Tianjin West. This route takes around 5 hours and 10 minutes and costs approximately RMB 483 to RMB 615 (USD 68.27 to USD 86.93).
Major Attractions In Tianjin, China
Suspended over the Hai River, this massive neon wheel is 120 metres tall and is built above the Yongle Bridge, offering spectacular city views. Said to be the only Ferris Wheel in the world constructed over a bridge, the Tianjin Eye is indeed one of Tianjin's most iconic attractions!
The wheel is electrically powered and features 64 passenger compartments that can fit up to 8 people at a time. Taking half an hour to complete one rotation, riders on the wheel have more than enough time to whip out their cameras and snap away at the impressive view of the city. At night when the colourful neon display is lit, the Tianjin Eye can be seen all across the city. Its reflection on the river makes this display doubly impressive and romantic as you wave at boats passing by!
Built along the mountains, the Huangyaguan Pass is an ideal place to visit when looking to get a good challenging workout or appreciate tranquil, scenic views! Listed as World Cultural Heritage by UNESCO in 1987, the Huangyaguan Pass played a crucial role in Tianjin's history. It was one of the most essential passes when it came to military facilities and defenses.
Explore the Eight Diagram Street saturated in history and culture! Consisting of over 40 crisscrossing streets forming the shape of the Eight Diagram, the pass earned its nickname 'The Eight Diagram Fortification City'. There, you can jump back into the past with the Huangyaguan Great Wall Museum! A dispatcher's office during the Ming Dynasty, visitors can take a look at the weapons and daily necessities of soldiers. There, you can also dive into Tianjin's culture by viewing poems inscribed in the Stele Forests, and couplets carved onto bamboo strips in the Couplet Hall.
Tour the Huangyaguan Great Wall where hiking is a challenging yet rewarding feat! A rough and steep pass, the pass is host to the exciting annual Great Wall Marathon. It is known for being one of the toughest yet most picturesque marathons in the world.
Head down to the Tianjin Museum! An art palace showcasing Chinese Civilisation and Tianjin's extensive history, it is a must-see for history lovers of all ages!
As the largest museum in Tianjin, the Tianjin Museum boasts a comprehensive range of significant historical relics and ancient Chinese fine arts. It is home to approximately 200,000 collections of valuable historical and cultural art relics. Such relics include calligraphy, paintings, ceramics, jade ware, seals, historic documents, and local folk art. Combined with different exhibitions of fine work, the museum shows how Tianjin transformed itself into the cross-cultural wonder it is today. This earned them their high reputation.
Contributing to this reputation is its unique architectural style resembling that of a swan spreading its wings. It draws attention and earning its reputation as one of the city's iconic buildings.
A local favourite when it comes to satisfying a dumpling craving, Bai Jiao Yuan is famous in Tianjin for their large number of dumpling selections. Located at No. 79 Jintang Road, Hedong District, the restaurant possesses around 12 pages worth of dumpling varieties.
This 100 Dumpling inexpensive restaurant comes in all flavours and colours such as shrimp, crab, and mushroom fillings. Eaten at any time of the day, these delicious savoury balls of dough are typically steamed in a bamboo basket. It is then dipped in some soy sauce or vinegar for that flavourful taste that will leave you wanting more!
5.
Xikai St. Joseph's Catholic Church
Lying at the southern end of Binjiang Avenue in Heping District, this 45-metre church is the largest Catholic Cathedral in Northern China. Built in 1913 and designed with Roman-French elements, the Xikai church stands out as an architectural masterpiece, projecting a sense of dignity and elegance. As a Tianjin landmark and protected historical relic, the church features three massive green domes and consists of two parts: a cathedral and a chief church.
The interior of the church is well preserved with all the splendour of a historic European cathedral with a Chinese twist. With gentle hues illuminating its interior, the church highlights its expressive religious art such as oil paintings, religious paintings, murals, colourful statues, as well as stained glass windows depicting Biblical scenes.
Located in the south of downtown Tianjin, the Five Great Avenues is a parallel street from east to west. These avenues' names are from the five cities of southwest China – Chongqing, Changde, Dali, Munan, and Machang.
Also known as the 'Expo of Worldwide Buildings', the Five Avenues consists of over 230 buildings of various unique architectural styles from Britain, France, Italy, Germany, and Spain. It also contains over 50 houses occupied by famed celebrities and multiple houses with beautiful courtyards and gardens. Hence, if you're an architecture enthusiast, you can certainly see why The Five Avenues is a popular major attraction in Tianjin.
Featuring a range of diverse architectural styles from Gothic to Renaissance, Romantic to Eclectic, and a mix of Chinese and Western styles, these houses symbolises a true passion when it comes to art! As a historical and cultural city, Tianjin attaches great importance to the protection of its historical buildings, making The Five Avenues an important part of Tianjin.
So, ride around a horse-drawn cart or on a rickshaw and experience the lives of past celebrities while taking in these exotic architectural wonders!
7.
Tianjin Ancient Culture Street
The Ancient Culture Street is Guwenhua Jie in Chinese. It is in the Nankai District of Gong Nan and Gong Bei Street This famed street allows visitors to take a step back in time with its re-enactment of the Qing Dynasty era. Stretching over 580 metres, the street boasts rich Qing architecture, souvenir folk crafts. Over 100 shops and food stalls of local delicacies line this street.
With deep blue bricks and sloping orange roofs, the street itself is a work of art! The shops show colourful pottery designs. All of which has the original Qing Dynasty style. These designs draw inspiration not only from its beautiful local environment but from past stories of the Qing Dynasty such as mythical, legendary and historical figures.
Another noteworthy mention is the Tianhou Palace, also called 'The Queen of Heaven Place'. The palace is an ancient temple that honours the Chinese sea goddess, Mazu. It is one of the three remaining Mazu temples in China. People prayed in these temples for the safety of mariners at sea. It is a place to honour past Marines who sacrificed their lives. Various performances are held here to express the city's gratitude to Mazu.
Huanghui Fair is an annual fair also held in her honour for 4 days on every March 23rd to celebrate the goddess' birthday. Packed with lion dances, dragon lanterns, and stilt performances, this renowned festival is not one to be missed!
Take a relaxing stroll at one of Tianjin's top tourist attractions, Tianjin Shuishang Park! This park is the city's largest urban park and recreation area, consisting of 5 islands and 3 lakes. Winding pathways, grand pagodas, and beautiful gardens surround the waterways. These gardens highlight the park's architectural styles, ornate pavilions, and tall towers. Blending together with its natural beauty and lush landscape, the park stands as a picturesque, romantic oasis.
Although known widely as a waterpark, the park doesn't actually contain any water slide facilities. Instead, as an amusement park, it has one of the city's highest Ferris Wheels, a few rollercoasters, rowboats and high-speed water shuttles for touring the waterways. Furthermore, watch out for seasonal events held such as ice-skating and flower shows!
With so many activities going on, this vibrant scenic park will be great for a nice family day out!
Are you looking to immerse yourself in European culture and authentic Italian food? Well, Italian Style Town is definitely the place to go!
Located in Marco Polo Square in the Hebei District, Tianjin's Italian Style Town was the only concession outside of Italy. Today, it is a vivid tourist hub with multiple tall, unique European-style buildings! You will find many former residence of celebrities, chic 24-hour bars, western art, boutique shops, and lavish international restaurants. Italian citizens even own and manage some of those establishments!
Unlike its name suggests, the town is not only solely for Italian food and culture! Other European nationality restaurants like German and French establishments are also on-site – giving its visitors the perfect European experience!
Formed by the 5 large rivers in Tianjin, the Haihe River is the largest water system in North China. Regarded as the 'Mother River' of Tianjin, the Haihe River has contributed greatly to generations of Tianjin citizens. Today, as a place of relaxation and a popular tourist destination, the river is famous for its scenic beauty, as well as its historical and cultural atmosphere.
Attractions along the river include Haihe Cultural Square which features colourful lighting design highlighting high-tech charm. This makes for a breathtaking view especially at night when the square lights up the river bank!
Another noteworthy attraction is Haihe Park, one of the most attractive views of the river. It is an ideal place for amusement and relaxation with its lush greenery, beautiful blossoms, bronze sculptures, and fountains.
Lastly, check out Haihe Fountain Amusement Park! The park offers 3 luxurious sightseeing ships and several speed boats offering tours along the Haihe River. There, visitors can also enjoy a romantic, scenic boat excursion at night!
Final Thoughts
As you can clearly see, Tianjin is bountiful with attractions and mouth-watering dishes for you to explore to your heart's content! What are you waiting for? Head to Tianjin now! This historical seaside town will definitely satisfy your desire for a fulfilling adventure!