Best Things To Do In Puerto Vallarta, Mexico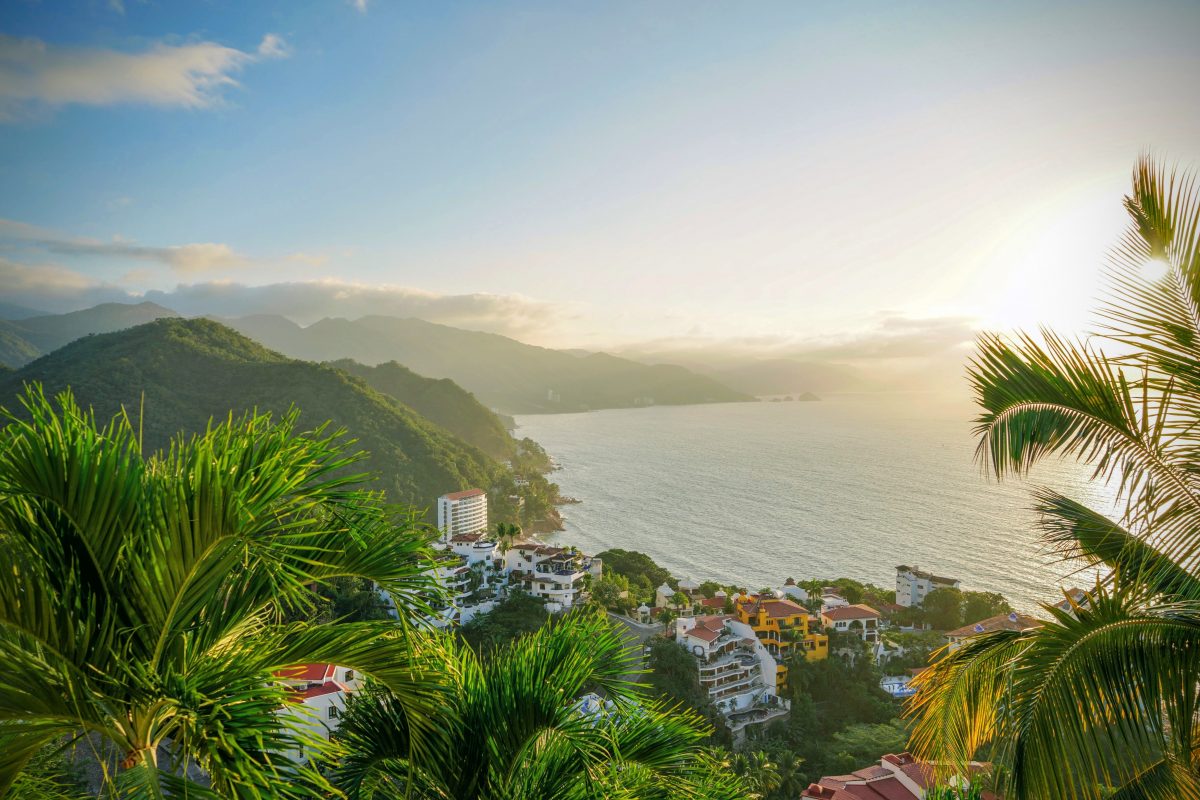 Puerto Vallarta is the shining jewel of Mexico's Jalisco state. A paradise of cobbled streets and white sand beaches. The city is a hotchpotch of brightly painted buildings, vivid purple jacaranda trees and startling pink bougainvillea. This former fishing village overlooks the azure blue Pacific Ocean in the Bay of Banderas.
Puerto Vallarta merges Mexican history with designer shops and tropical beaches with a thumping nightlife. You can visit the jungle, swim in an underwater cave, buy designer clothing and watch one of the world's best sunsets all in one day.
All things considered, here are some must-do things if you are planning to visit Puerto Vallarta.
1.
Watch the sun go down on Malecon Boardwalk
Malecon boardwalk is a seafront promenade that stretches from downtown Puerto Vallarta to Los Muertos Beach area. A sublimely beautiful boardwalk that runs parallel to the Pacific Ocean. The boardwalk is lined with historic buildings, street art, cafes and upscale shops. This is the heart of Puerto Vallarta; where the locals gather to swap tales and tourists come to sample $1 margaritas and huge bowls of guacamole.
Make Malecon boardwalk one of your first points to visit. Nowhere is better to orientate yourself with Puerto Vallarta. And its views of the city and ocean are unparalleled. Your walk will take you past noted artworks such as the Friendship Fountain with its 3 dolphins and the iconic Sea Horse, a sculpture that has become the unofficial symbol of Puerto Vallarta.
The highlight of the Malecon boardwalk are the sunsets. Watch the sun dip into the Pacific Ocean whilst painting the hillside orange and pink. As darkness descends, a firework show starts from a pirate boat on the water. People wander off to restaurants and later to nightclubs that will stay open until the sun rises.
2.
Get off the beaten track at Majahuitas and Yelapa beaches
White sand beaches and dense jungle filled with scampering monkeys and tiny brightly-coloured birds greet you as you cruise towards these tiny isolated beaches. Both Majahuitas and Yelapa are only accessible by boat.
Yelapa, the larger of the two, is no more than a sleepy fishing village with a couple of buildings, a sandy beach and tropical vegetation stretching nearly to the shore. Follow the trail into the jungle for a two-hour walk up along a stream to a glorious waterfall. Cool off in the icy water or walk back to the beach with its crystal clear water. A fading hotel offers drinks and light lunches.
Majahuitas beach is even more deserted; here you will find nothing but white sand and water. Catch a boat from Playa de Los Muertos early in the morning and you could very easily find yourself on the beach alone. An idyll of solitude and calm with amazing diving and snorkelling. Make sure to bring lots of water and food as there is nowhere to buy anything.
3.
Marvel at the Church of Our Lady of Guadalupe
Church of Our Lady of Guadalupe, or as the locals call it, La Iglesia de Nuestra Senora de Guadalupe, is the most recognized and beloved building in all of Puerto Vallarta.
Located on the Malecon Boardwalk, this important church is recognizable by its stunning tower, which is topped with a wrought iron crown being held aloft by angels. It is said to have been created in homage to Empress Carlotta of Mexico who owned a similar headpiece. This is the spot for your Instagram snaps and for history buffs alike.
The Church of Our Lady of Guadalupe dominates the Puerto Vallarta skyline, its red brick tower looming over the city, its crown glistening in the sunlight. It is open daily and accessible to all. If you would like to attend a service, an English language service takes place on Saturdays.
4.
Chill with the locals in Old Vallarta/ Zona Romantica
Just south of downtown Puerto Vallarta across the Rio Cuale is Old Vallarta. It is, in fact, newer than downtown Vallarta but its jumble of buildings; painted rainbow colours and festooned with plants makes it feel older and more authentically Mexican. Puerto Vallarta's signature uneven cobbled streets lead through a sprawl of restaurants, cafes and shops.
Old Vallarta is where the expats live and the tourists tend to hang out. It is a kaleidoscope of colour and life with more restaurants and shops per sq. metre than anywhere else in town. Venture away from the beach and the streets become smaller, a maze of hidden delights, painted doors hiding restaurants and shops that only the locals know.
Often referred to as the Romantic Zone, this is the place to wander hand in hand browsing Mexican curios before stopping for sundowners on Playa de Los Muertos.
5.
Suntan and swim at Playa de Los Muertos
Playa de Los Muertos fronts Old Vallarta and sits to the south of the Malecon Boardwalk. Playa de Los Muertos is the busiest and most popular beach in Puerto Vallarta. The shops and restaurants of the Romantic Zone frame fine golden sand and dazzling blue water. You can spend your day suntanning on loungers, sipping Tejuino, a refreshing shake made from fermented corn, brown sugar and lime or indulge in one of the many water activities.
The Playa de Los Muertos pier built in 2013 is a vision of modern engineering, a 200-metre structure that gives you an incredible view of the Vallarta shoreline. The pier is also the place to catch boat rides to one of the neighbouring beaches or marine parks.
6.
Catch some tunes at Main Plaza in downtown Puerto Vallarta
The oldest part of Puerto Vallarta is home to old colonial buildings, the imposing town square and a myriad of important statues. Located between the Malecon and Old Vallarta, the most ancient part of the city is famed for its main plaza. Historic buildings line the cobbled plaza, which is filled with brightly coloured flags and vendors selling candies and pinwheels for the kids.
Most days you will find bands playing here, this is the place to come to sip agua fresca and enjoy the relaxed vibe. On Sunday evenings, ballroom music is played and couples of all ages comes to perform the traditional dances. The main plaza is where all the big events happen. On festival days, parades gather to fill the square with music and dancing.
7.
Hand feed animals at Vallarta Zoo
Deep within the lush forested hillsides of the South Zone is Mismaloya's Vallarta Zoo, a must-visit landmark if you have kids or are a lover of animals. The zoo is a 15-minute drive into the jungle and offers much-needed shade from the searing heat. Don't miss the chance to buy bags of food to feed the animals — an experience you don't get in many other zoos.
Getting there: Get a taxi or catch the bus to Mismaloya at the southern end of town. Get off in Mismaloya and walk towards El Eden until you see the signs and main entrance.
Opening Hours: 10 a.m. – 6 p.m, daily
Ticket Prices: Adults: $10 USD/ Children (ages 2-10): $5 USD
8.
Hit the beach at Playa de las Gemelas
Imagine a soft sand beach, blue-green water filled with tropical fish and not a shop, or restaurant in sight. Escape the tourists of Puerto Vallarta and take a day trip to Playa de Las Gemelas. This is a taste of untouched Mexico. Not quite off the beaten track given its location to Puerto Vallarta but a moment of beachside peacefulness a short distance from the resort town.
Playa de Las Gemelas is two beaches separated by a sea wall, neither have toilet or food facilities so bring your own. A quicker beach option than Majahuitas and Yelapa which are further away and harder to reach.
Take an Uber or catch a southbound bus towards Boca. The bus departs from the corner of Constitución and Basilio Badillo street in the Romantic Zone (Old Vallarta).
9.
Explore Mexico's natural beauty at Vallarta Botanical Gardens
Deep in the Mexican countryside, at an altitude of 1300 metres, is the Vallarta Botanical Gardens. The garden is 64 acres of lush forest and mountain streams, filled with wildflowers, exotic plants, birds, insects and butterflies.
Follow winding trails through the gardens and gaze at the abundance of diverse plant life. Bring your swimming gear and take a dip in the river. An excellent restaurant is on site, give yourself lots of time here, it's worth the day trip.
Take a taxi or catch the bus to "El Tuito". The bus leaves from the corner of Carranza and Aguacate streets, in Old Vallarta. Bus fare is 30 pesos (about 1.60 USD) each way.
Opening Hours: 9 a.m. – 6 p.m, daily
Ticket Price: 200 pesos (Children under 4: free)
10.
The Arches Amphitheatre
The four stone arches on the Malecon boardwalk are as iconic to Puerto Vallarta as the Seahorse sculpture or The Church of Our Lady of Guadalupe's crown. In 2002 the arches were washed away by a hurricane but were since replaced with identical replicas. The arches are the backdrop to the wildly popular Arches Amphitheatre.
Most afternoons hundreds of locals and tourists can see shows for free. There are clowns and puppet shows for the kids, musicals and dance troupes or the adults. Many traditional folk dances take place.
11.
Swim with the fishes at Los Arcos National Park
A cluster of fives granite rocks signals your arrival at Los Arcos National Park. But, it is what is beneath the water that is more interesting — a subterranean wonderland of tunnels, caves and exotic fish. This is a scuba diver's dream come true. The depth of the water can reach 800 metres meaning that deep-sea fish are often spotted.
The rocks above ground are a mecca for pelicans, blue-footed boobies and swallows. Watch them dive into the water, snorkel amongst a dazzling display of tropical fish or relax on the boat and keep an eye out for the endangered green turtles.
Getting there: Take a boat tour from Playa de las Muertas
Cost: a snorkel trip with lunch will cost 50 USD
12.
Isla de Rio Cuale shopping with a bohemian vibe
The Isla del Rio Cuale is a small island formed when the River Cuale splits into two. Two suspension bridges cross from mainland Puerto Vallarta to the Isla de Rio Cuale. This is an island of artists, hippies…and many cats, a place that feels a world away from Puerto Vallarta.
A few laid back restaurants dot the island. Visit Oscars Bar and Grill, it sits right on the southern tip and offers stunning sunsets. Bargain hunt at the daily flea market. Visit El Museo del Cuale, which showcases archaeological finds from all over Western Mexico or just take a moment to relax in the lush parks on this sleepy, bohemian oasis.
13.
Make like Jacques Cousteau at La Isla Marietas National Park
La Isla Marietas is an uninhabited archipelago famous for its Hidden Beach, or Love Beach. You can't say you have visited Puerto Vallarta without seeing pictures of this jaw-dropping beach. However, it is only accessible by swimming or kayaking at low tide.
Beloved of the Jacques Cousteau, La Isla Marietas is a maze of caves and tunnels and the dazzling sea life that populate them. It is a key destination for divers and snorkelers. If you prefer to stay above water you can kayak through the tunnel. If you choose to swim, you'll need to be a confident swimmer as it is a tough 12 metres through open water.
Tour boats depart every day from the pier at Puerto Vallarta or catch a taxi to Punta de Mita and charter a small boat for just a few hundred pesos.
14.
Take a step back in time at San Sebastian del Oeste
Looking for a real immersion into Mexican life? Then a day trip to San Sebastian del Oeste is your answer. 47 miles away from Puerto Vallarta, San Sebastian is an old silver mining village filled within historic haciendas and traditional buildings.
This is a village where time has stood still, some of the old buildings are fading away but many have been carefully preserved and offer you a glimpse into a former time. Visit Iglesia de San Sebastian, the centuries-old town church or take a 4×4 trip up to Certto de la Bufa and marvel at a view that stretches all the way back to the Pacific Ocean.
Take the ATM Red Line to La Estancia then grab a taxi to San Sebastian. The bus journey is about two hours cost around 6 or 7 dollars each way. The taxi should cost no more than 10 USD.
15.
Shop till you drop at Marina Vallarta
Marina Vallarta is a huge 580-acre upscale resort area, where you will find all the big tourist hotels, American-style shopping malls and international brand restaurants. Designed around a huge harbour, its long paved boardwalk, lined with designer shops, takes you past the million dollar yachts and up to El Faro Lighthouse.
There, you can enjoy a long lunch or sundowners with a view over the Marina. The Marina offers residents and tourists everything they could wish for. There is an 18-hole professional golf course, spa, tennis courts, bowling alley, numerous boutiques and a nightclub. Consider Marina Vallarta a peaceful haven, an area of tranquillity for a day of relaxation, pampering and shopping.
Which tourist attraction in Puerto Vallarta interests you the most? Let us know in the comments section below!