Best Things to Do In Kalbarri, Australia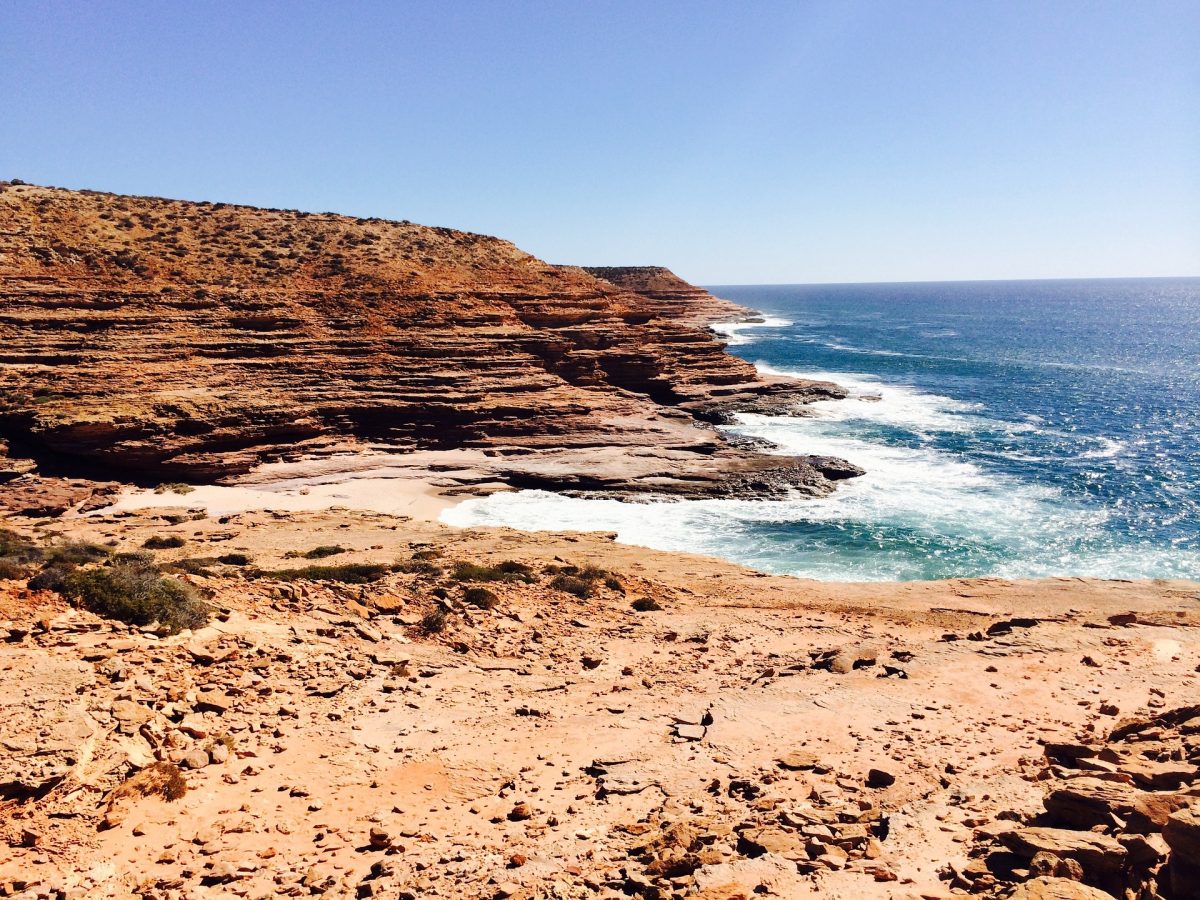 On the edge of the Mild West region in the mouth of the Murchison River lies a small town of Kalbarri. This place is an entrance point to the exploration of the fascinating natural world of Australia. Coarse cliffs, breathtaking shores, spectacular creeks, and many other natural wonders create a mesmerising and bizarre world that waits for you to explore it! We have put together a list of the best things to do in Kalbarri, Australia to make sure you won't miss a thing.
1.
Visit The Magnificent Hutt Lagoon
The kaleidoscope of the shades of red from dusty pink to deep maroon will please your eye in Hutt Lagoon. A short trip to the south of Kalbarri will take you to the fascinating salt lake that stretches for 70km. The lake itself is framed by sand dunes and a thin stripe of the shore that bars it from the Indian Ocean. Salty waters feed Hutt Lagoon sipping through the sandy barrier since the lake is located below the sea level.
The secret behind the fascinating colours of the lagoon's water is algae. These microorganisms cultivate a massive amount of beta carotene. Besides the pleasant red hue which is also used as food colouring, beta carotene is also a source of Vitamin A. Therefore, Australians also use this place as a sort of farm for this pigment. Our recommendation is to visit the saline at sunset as the sunlight will add breathtaking contrast to the lake's palette. Hutt Lagoon can be easily reached by car via a short 35-minute drive from Kalbarri town.
2.
Enjoy The Pristine Nature At Kalbarri National Park
One of the most fascinating gems of Australian Coral Coast is Kalbarri National Park. From spectacular coastal riffs to breathtaking river creeks, this National Park is a place to capture your imagination. A wide range of adventures in the hilly landscapes of Kalbarri such as bushwalking, gorge hiking, and canoeing awaits you. You will have a chance to enjoy the marvels of nature from such picturesque viewpoints as Nature's Window, Z Bend, and Hawk Head Lookout. To top it all, during the local winter-spring season, from July to October, you will be able to enjoy the unique blossoming of local wildflowers.
You can find the park entry point on 70 Grey St, in Kalbarri. The entry fee is $9 per car with up to 12 people. The price for commercial vehicle entry varies depending on the company and starts from $5.50 per person. Camping in the park is prohibited.
3.
Be Amazed By The Mighty Murchison River
The second largest river in Western Australia, the Murchison River finds its way to the ocean near Kalbarri. The river flows for 820km through hills, salt lakes, and desert lands gathering tons and tons of sand and dust. When it finally reaches the ocean, the muddy brown river water gets mixed into the crystal blue marine waters in an awe-inspiring water dance. We recommend you to plan an early morning stroll there to have your day started in a perfect way. The other picturesque view of the mouth of the Murchison River opens from the Meanarra Hill Lookout. You can reach the lookout with a quick 8-minute ride from the city center.
4.
Spend Some Time On The Peaceful Chinaman's Beach
Another place of interest is located right next to the Murchison River mouth. A calm beach with a stunning view of the Indian Ocean may become a perfect refuge for a whole day. Safe swimming conditions on Chinaman's beach make this place perfect for beach leisure for the whole family. The beach is fully equipped with changing rooms and bathrooms, besides it has shaded picnic tables so you can stay for a BBQ.
Chinaman's beach is also the only no-fishing place Kalbarri. Warm sands and sea breeze will make you want to stay there from dawn till dusk. As a bonus, there is a pelican feeding area on the beach, too. Look for wooden viewing areas and wait for hungry avians, but remember never to feed pelicans with bread, chicken, or meat. Their diet is mostly fish-based.
5.
Glide Over The Picturesque Sights With Kalbarri Scenic Flights
Kalbarri's surroundings have one of the most picturesque views in Australia. Mighty cliffs, stunning dunes, desert lands covered with creeks and valleys… The best way to fully enjoy all spectacular scenes is to take a Kalbarri Flight tour. Onboard a small aircraft, you will glide over Kalbarri to take in the natural panorama in full. From a separate window seat, you'll have a chance to admire the park's beauty.
In addition, all flights include a guided narration describing the sights underneath you. There are several flight destinations to choose from, including particular attractions like Hutt Lagoon or River Gorge and overall tours over the most popular sights. The price of a tour depends on the route and starts from $67 per person. Tours may last from 20 minutes to a couple of hours. For more specific information on destinations, cost and schedule visit the official website of Kalbarri Scenic Flights.
6.
Visit The Rouge Hutt River Province
Seventy kilometres to the south of Kalbarri there is the Principality of Hutt River. Known as Hutt River Province, this region is famous for having pronounced its sovereignty from Australia. In 1970, Leonard Casely – then the owner of the biggest farm in the region – found that the government's wheat production quotas were outrageous and proclaimed the principality's independence.
Long story short, because of endless bureaucracy, court listings, and tons of bills, their independence wasn't recognised by the Australian government. However, it didn't stop Mr. Casely from declaring oneself as Prince Leonard. Curiously, despite the autonomy, he always said that he kept his loyalty to the Queen of England. The province has own currency, and issues own passports and stamps. A popular tourist attraction, Hutt River Province is still very fond and proud of its founder who died last February at the age of 91 after 45 years of ruling.
7.
Relax At Natural Pools At Blue Holes
The crystal blue waters of the Blue Holes of Australian coral coast offer perfect conditions for snorkeling. Due to the extraordinary shape of the local limestone reef, some areas become exposed during low tide. This phenomenon forms miraculous natural pools. This reef is home to more than 70 species of fish who would accompany you for a tranquil and marvelous underwater adventure.
Once you get tired from swimming you'll have a chance to relax on the snow-white sand of the surrounding beach. The waters of Blue Holes are completely safe, therefore they are a great alternative to your regular beach leisure with kids. Blue Holes can be easily reached by car or on foot. Simply follow the Red Bluff Road to the south until you reach the turn on Blue Holes Road.
8.
Peek Over The Edge Of The World At Red Bluff
A place offering a dramatic view of the mighty waters of the Indian Ocean, Red Bluff is one of the must-visit places in Kalbarri. From the height of 100 metres over the coast opens a spectacular picture of Redrock cliffs. For over 400 million years the cliff has been shaped by time and winds creating spectacular natural patterns.
Red Bluff stretches for 13 km along the coastline; a little to the north of it there is a site of the first European settlement on Australian lands. From Pedrick Lookout, there is a trail that leads to the Red Bluff beach. This beach is great for snorkeling, swimming, sunbathing or just lounging. As a bonus, Red Bluff offers a perfect lookout point for Hunchback whale watching. These magnificent creatures frequently migrate close to the Kalbarri coastline. You can reach Red Bluff by car, and even take a drive along some off-road car trails there.
9.
Get Lost At Rainbow Jungle
To the south of Red Bluff, there is a unique parrot breeding center called Rainbow Jungle. This facility is the largest free-flight walk-in aviary in the country. Wander around tropical gardens, waterfalls, and fountains inhabited by the joyous birds. Rainbow Jungle is home to a large population of purple crowned Lorikeets and brightly coloured Australian parrots.
These marvelous birds will keep you funny company and – who knows – maybe they will learn some new words from you. Besides, the facility offers two additional attractions: the Maze and Parrotiso's Cinema. The Maze is a large labyrinth where you can play hide and seek with your significant other or kids. Parrotiso's Cinema is a modern outdoor cinema offering drinks, snacks, and pizza.
The cinema features current popular titles. Rainbow Jungle works seven days a week from 9 AM to 5 PM except on Sundays, when it closes at 4 PM. The entrance ticket is $10 for an adult and $5.50 for a child, however, you can purchase a family pass (2+2) for $28. The Maze and the cinema have additional fees, check their website for more details.
10.
Catch Some Marine Giants With A Fishing Tour In Kalbarri
Fishing is the second passion of the locals after beach lounging. Kalbarri boasts a lush variety of fish. No matter how experienced a fisherman you are, you'll have a chance to catch a special fish of your own. Depending on the season, your bait can be taken by a Pink Snapper, a Dhufish, a Coral Trout, a Red Emperor, a Bald Chin Groper or even a shark! Some of these fish tend to grow 1.5m long not mentioning their weight. Just imagine a story you could tell after catching such a giant!
And of course, you will always have a chance to set the fish free once you're done enjoying your catch. The fishing tour will cost you approx. $150, prices vary depending on the service provider. That price includes gear, transportation, and lessons if needed. Don't forget to pack snacks as fishing is a long, meditative activity that sometimes takes hours.
Final Thoughts
Despite its small size, Kalbarri is chock-full of wonderful things to do and unique places to see. From sightseeing to hiking and beach leisure, be sure that Kalbarri has plenty to offer to any visitor year-round!