Best Places You Can Visit In Budapest, Hungary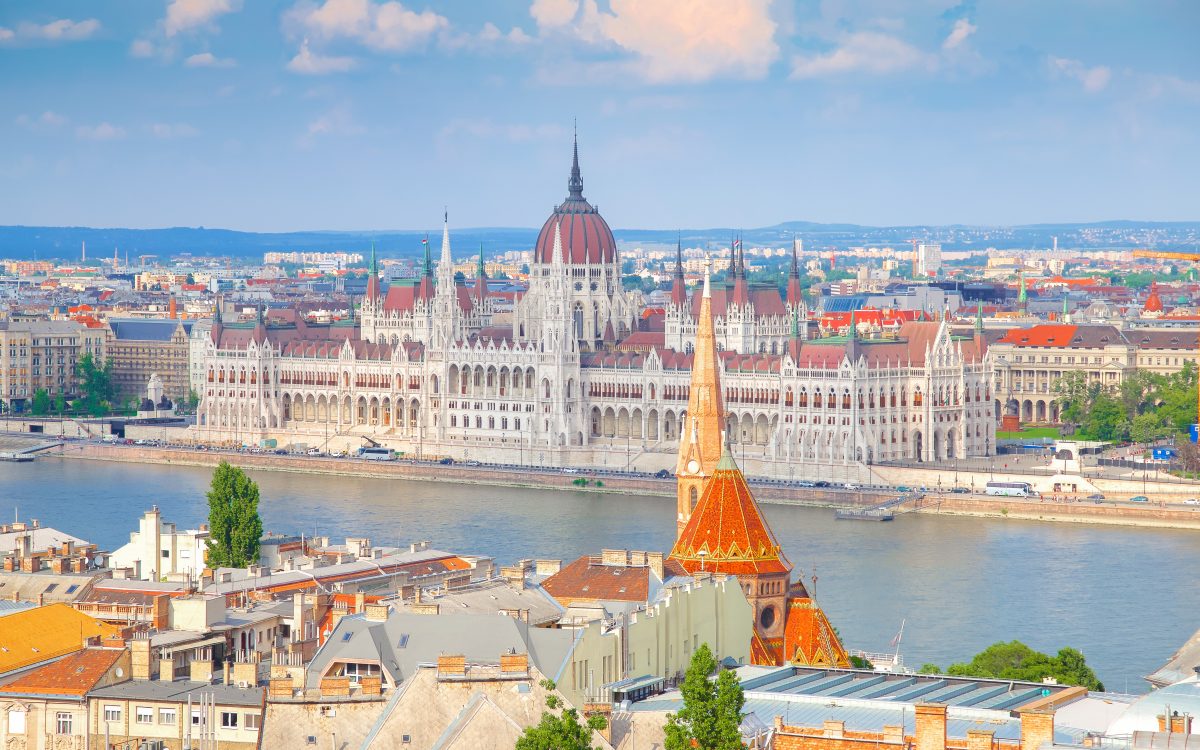 Overlooking the quiet Danube waters, Budapest is the very center of Hungary's culture, history, and vivid social life. The city successfully combines UNESCO heritage sites, musical events, thermal resorts, and famous tourist attractions all in one location.
Obviously, Budapest folks love their city as the friendly atmosphere is spread everywhere. Wherever you are at Budapest, this city offers unique experiences and adventures.
For all the best places to be in Budapest, Hungary, we've got you covered. Here are the best places to visit in Budapest.
1.
The Hungarian Parliament Building
The Hungarian Parliament Building is the undisputed symbol of Budapest. It is the heart of the city that keeps the place's history alive. The palace-style building creates one of the most beautiful views of the whole city. It is Budapest's economic powerhouse, a union of three ancient cities: Buda, Pest, Obuda and a masterpiece of Imre Steindl.
The Hungarian Parliament Building is open from 8 am to 6 pm in the summer. Opening hours are shorter in the winter as the place opens from 8 am to 4 pm. Entrance tickets cost 12 USD for adults, 6 USD for students and free for kids under 6 years.
2.
St. Stephen's Basilica
Named after the first King of Hungary, St. Stephen's Basilica is another important landmark to explore in Budapest's Pest area. Especially for tourists who love culture and history. The basilica's neoclassical exteriors are graced by an elegant dome and bell towers. Ancient frescos, statues, and windows offer a glimpse into the life of past saints.
Visitors will be amazed by the stunning beauty of the Cupolas's interior. The Basilica organ is also worth hearing. Concerts of choir and classical music take place in the evenings. Famous Budapest musicians and singers often participate in concerts here.
An exceptional example of Islamic architecture is Budapest's Great Synagogue —the biggest in Europe. Additionally, you can feel its hallowed atmosphere as you walk inside.
Blessed with Moorish and Byzantine architectural styles, the Great Synagogue's exterior also contains elements of Gothic ornaments. Surprisingly, there is no trace of Jewish traits in its architecture, even though the building resembles a typical Judaic synagogue.
And last but not least, Heroes' Square. The final major landmark of Budapest on the Pest side deserves a mention. The Memorial Heroes' Square was built in commemoration of past political events and in remembrance of national leaders who gave their lives in the name of Hungary's freedom and independence.
The first stone of the landmark was laid in 1896. This marked the start of what is to be Budapest's most notable memorial.
Budapest's Buda Castle Hill is a historical precinct where all the most famous Hungarian world heritage sites are located. This includes the Buda Castle, Fisherman's Bastion, Matthias Church and many other museums.
Along the Danube River, Buda Castle Hill has garnered the admiration of countless tourists throughout the years with its ancient beauty.
This ancient royal castle is Budapest's largest palace and a UNESCO Heritage Site. Today, it is the home of many of Budapest's museums. The Buda Castle was occupied and almost destroyed during World War II. Reconstruction was done post-war, and most Budapest's cultural icon was rebuilt by 1980.
The Buda Castle is linked to the Buda Hill Funicular and the Szechenyi Bridge, making it easily accessible.
7.
The Hungarian National Gallery
Facing the Danube River is the Hungarian National Gallery. It is the main building of the Buda Castle. The huge variety of paintings and sculptures in the Hungarian National Gallery makes it an ideal place for art lovers. Furthermore, the Budapest museum's impressive collection reveals the secrets of all genres from the 15th century. It contains rare works of art like ancient wood altars, medieval and baroque paintings, as well as modern photography.
The gallery's permanent exhibitions are a major highlight and will enthrall even the most sophisticated art connoisseur. Guided tours are the best way to experience the national gallery in Budapest.
The Hungarian National Gallery is open from 10 am to 6 pm. Entrance tickets cost 9 USD per person.
8.
The Budapest History Museum
The Budapest History Museum is an essential part of Budapest's heritage, capturing the essence of the city's long and proud history in many ways. The treasures of this Budapest museum include a broad range of items that can be up to 2,000 years old. Such artifacts are photos, books, furniture, clothes and tools from centuries ago. Furthermore, The Budapest History Museum's impressive medieval collection makes the cultural landmark one of the world's most remarkable museums.
The museum in Budapest is open from 10 am to 6 pm and you can purchase an adult ticket for 7 USD.
Budapest's Fisherman's Bastion is known locally as "Halászbástya". The landmark's highlights are its seven towers, broad stone terrace, and medieval statues. In fact, some might say that the Fisherman's Bastion in Budapest looks like a place right out of a fairytale.
Built in the 19th century by seven Magyar tribes, the Fisherman's Bastion is where you can enjoy a panoramic view of Budapest and Buda Castle Hill. In fact, you can even use the view to plan your exploration as most famous Budapest landmarks are interconnected.
The bastion remains a beautiful ancient place that will leave you feeling as though you were in the middle of a fantasy story.
10.
Széchenyi Chain Bridge
Hungarians love unity and the Széchenyi Chain Bridge in Budapest embodies this philosophy. The bridge served as the first connection between two parts of the city — Buda and Pest. Here, visitors can muse at majestic sculptures such as bronze lions and stone pedestals.
Today, this bridge is regarded as a symbol of renewal and friendship. As a result, the Széchenyi Chain Bridge is more than a physical bridge between two lands. It truly represents a slice of Budapest culture — unity through friendship.
Looking for a romantic place in Budapest? Then Gellert Hill is the place to be at. The most strikingly beautiful views can be seen here, especially when the sun sets.
Budapest's Gellert Hill is also famous for its Gellert Baths. The spa resorts provide a relaxing experience for tourists who will feel pampered by the end of their stay.
Budapest offers a wide range of river cruises on a daily basis. Cruises with meals provided are offered during the day. To immerse yourself in wine or a romantic experience, book an evening cruise. In addition, the view of Budapest from the river at night is a sight to behold.
Prices start from 15 USD for a day cruise and up to 110 USD for a VIP cruise with added services. Cruises leave from both sides of the Danube between Margaret Island and the Green Bridge.
Budapest is also a hub for long cruises too. For instance, tourists can book a multi-day cruise to Germany or Poland. Prices vary from 100 to 3,000 USD.
It is easy to find a spa in Budapest. Besides that, Budapest really stands out for the high-quality options on offer, among other destinations that offer wellness programs.
The most popular baths in Budapest are in the city center. Gellért Baths, Széchenyi Thermal Bath or Rudas Baths are unique not only for their healing springs but also for their historical museum-like atmosphere. You can indulge in a public pool dip. If you wish to treat yourself like Hungarian royalty, you can book a spa package or massage.
Baths are open from 6 am to 8 pm. Spa tickets for the whole day cost 20 USD, while an hour's massage is priced from 58 USD onwards.
Throughout the year, Budapest is a cradle of fabulous music events. As a result, Budapest is a city that creates its own musical trends. Festivals include all kinds of music: from folk to classics.
Many of the world's most famous artists perform with The Budapest Philharmonic Orchestra at the Palace of Arts or at the Budapest Opera House or even at the City Park. Held at the beginning of April, the annual Táncháztalálkozó folk show is also not to be missed. This is where all cultural and musical traditions meet.
There is also the Museum of Music history in Budapest where tourists can learn how these traditions were formed.
Budapest is a city where you can have fun in the day and at night. If you still have the energy for drinking and dancing, Budapest is spoiled for choice with many bars and restaurants that open past midnight.
Some places we recommend include Creol Bar at the Pest side and Marxim's on the Buda side. Besides that, Szimpla Kert is also a trendy bar which can be found in the Jewish quarter.
If you would like to see Budapest's skyline after sunset, Buda Castle is also still open at night.
Which tourist destination in Budapest interests you the most? Let us know in the comments section below!