How To Explore Dubai – The Complete Guide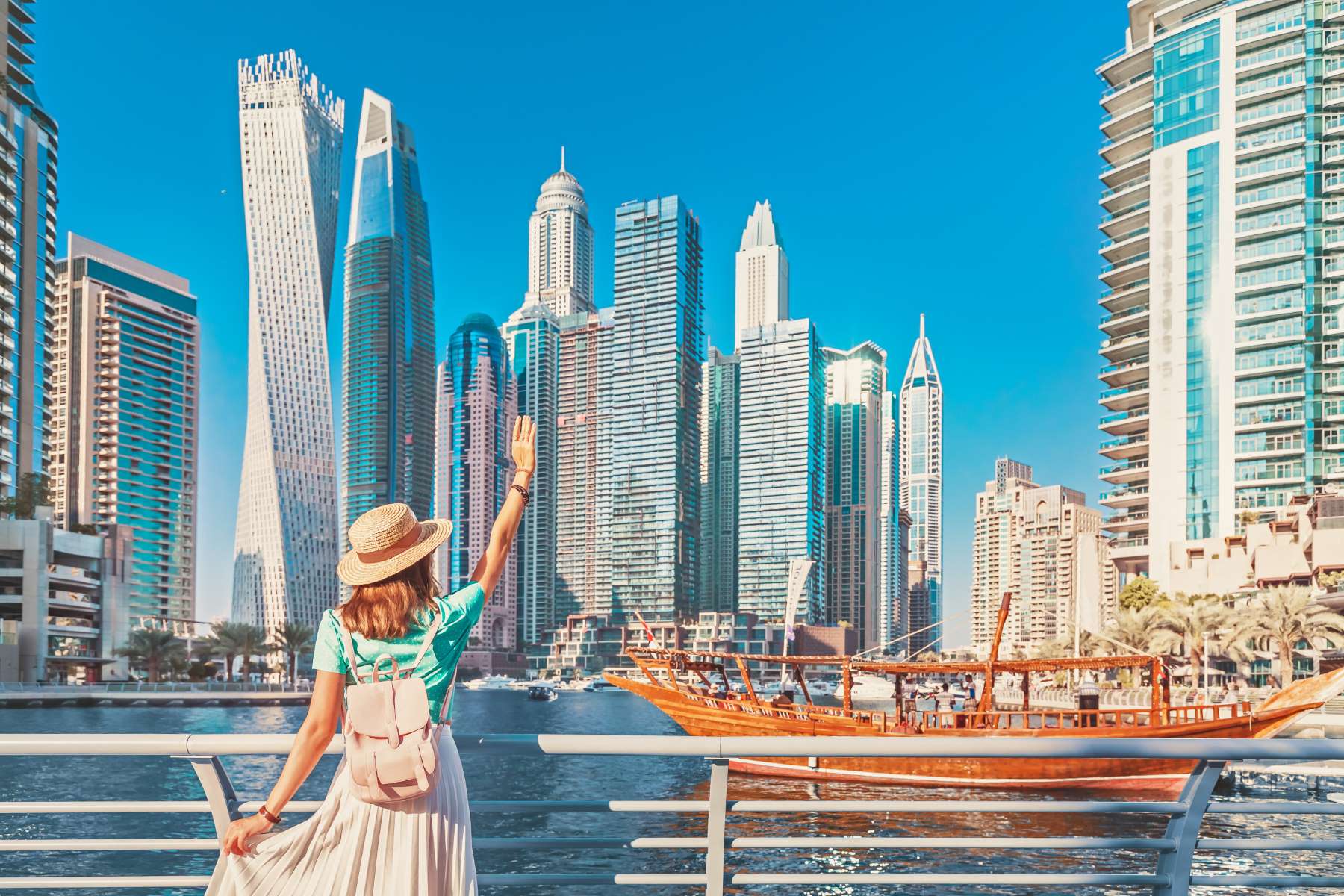 Introduction
Welcome to the vibrant and cosmopolitan city of Dubai, a jewel in the United Arab Emirates' crown. Known for its luxurious lifestyle, stunning architecture, and endless opportunities for entertainment and exploration, Dubai offers a perfect blend of tradition and modernity.
With its year-round sunshine, world-class shopping malls, pristine beaches, and rich cultural heritage, Dubai has become a top destination for travelers from all over the globe. Whether you're a thrill-seeker looking for exciting adventures, a culture aficionado eager to immerse yourself in the local traditions, or a food lover craving diverse culinary experiences, Dubai has something to offer everyone.
Getting to Dubai is incredibly convenient, as it is served by one of the world's busiest airports, Dubai International Airport, with direct flights from major cities around the world. Once you arrive, you'll find a range of accommodation options to suit every budget and preference, from luxurious five-star hotels to cozy guesthouses and serviced apartments.
One of the highlights of Dubai is its iconic landmarks. From the world-famous Burj Khalifa, the tallest building in the world, to the stunning Palm Jumeirah, an artificial archipelago shaped like a palm tree, and the Dubai Fountain, the largest choreographed fountain system, there is no shortage of visually captivating sights to explore.
While Dubai is known for its modernity, it also embraces its roots and showcases its rich culture and heritage. Dive into the traditional Al Fahidi Historic District, where you'll find charming wind-tower houses, art galleries, and museums, providing a glimpse into the city's past. Don't miss the opportunity to visit the majestic Jumeirah Mosque, one of the few mosques in Dubai open to non-Muslims, where you can learn about Islam and its practices.
Shopping enthusiasts will be in paradise in Dubai, with its array of extravagant shopping malls, such as the Dubai Mall, home to the famed Dubai Aquarium and Underwater Zoo. Experience the world-class shopping experience at the Mall of the Emirates, where you can also hit the slopes at the indoor ski resort, Ski Dubai.
Being a melting pot of cultures, Dubai offers a diverse culinary scene, ranging from traditional Arabian dishes to international cuisines prepared by world-renowned chefs. Indulge your taste buds in the charming souks, where you can savor aromatic spices, freshly baked bread, and authentic Emirati delicacies.
For those seeking outdoor adventures, Dubai doesn't disappoint. Enjoy a thrilling desert safari, where you can go dune bashing, ride a camel, or try sandboarding. If you prefer water activities, take a yacht cruise along the stunning coastline or indulge in a scuba diving expedition to discover the underwater treasures of the Arabian Gulf.
If you have extra time, consider taking day trips from Dubai to explore nearby cities and attractions. Visit Abu Dhabi to see the magnificent Sheikh Zayed Grand Mosque or venture to the picturesque city of Sharjah, known as the cultural capital of the UAE.
Before embarking on your Dubai adventure, it's essential to know a few tips to make the most of your trip. Familiarize yourself with the local customs and dress codes, be mindful of the weather conditions, and plan your activities in advance to avoid disappointment.
Get ready to be mesmerized by the glitz and glamour of Dubai, where every experience is taken to a whole new level. From the lively nightlife scene to the awe-inspiring architecture and captivating landscapes, Dubai promises an unforgettable journey that will leave you longing to return.
Getting to Dubai
Getting to Dubai is a breeze, thanks to its modern infrastructure and well-connected transportation systems. The city is served by the world-renowned Dubai International Airport (DXB), which is one of the busiest airports in the world and offers direct flights to and from major cities around the globe.
If you're traveling from within the United Arab Emirates, you also have the option of flying into Dubai's second airport, Al Maktoum International Airport (DWC). It is located in Jebel Ali, approximately 37 kilometers southwest of Dubai's city center. Both airports offer a wide range of facilities and services to ensure a smooth and hassle-free travel experience.
In addition to air travel, Dubai is easily accessible by land from neighboring countries. The city is well-connected by an extensive network of highways, making it convenient for those traveling by car or bus. You can drive to Dubai from other emirates within the UAE, such as Abu Dhabi and Sharjah, or even cross the border from neighboring countries like Oman or Saudi Arabia.
If you prefer traveling by sea, Dubai is a major port and a hub for cruise ships in the Arabian Gulf. The city boasts world-class cruise terminals that cater to a growing number of international cruise liners. This provides an exciting opportunity to combine a cruise vacation with a visit to Dubai's incredible attractions.
Once you arrive in Dubai, you'll find a range of options for transportation within the city. The Dubai Metro, a driverless train system, is a convenient and efficient way to navigate the city. It covers major locations and attractions, providing a comfortable and affordable means of transportation.
If you prefer a more private mode of transportation, taxis are readily available throughout the city. Dubai's taxis are known for their strict regulations and professionalism, ensuring a safe and reliable journey. Ride-hailing services like Uber and Careem are also popular options for getting around Dubai.
For those who want to explore Dubai at a leisurely pace, consider renting a car. Dubai has well-maintained roads and a comprehensive network of highways, making it easy to navigate. Just be aware that traffic can be heavy during peak hours, so plan your journeys accordingly.
Overall, Dubai offers a variety of transportation options to suit different preferences and budgets. Whether you choose to travel by air, land, or sea, getting to Dubai is the first step towards an unforgettable experience in one of the most dynamic cities in the world.
Accommodation Options
Dubai is known for its opulence and luxury, and you'll find a wide range of accommodation options that cater to every taste and budget. From lavish five-star hotels to budget-friendly guesthouses and serviced apartments, Dubai has something for everyone.
If you're looking for a truly luxurious experience, Dubai is home to some of the most extravagant hotels in the world. The city boasts iconic properties like the Burj Al Arab, the world's only seven-star hotel. With its stunning architecture and unparalleled service, staying at the Burj Al Arab is a once-in-a-lifetime experience.
For those who prefer a more contemporary ambiance, Dubai offers a wide selection of stylish and modern hotels. Many of these properties are located in the bustling downtown area or along the stunning Dubai Marina, offering breathtaking views of the city skyline or the Arabian Gulf.
If you're traveling on a tighter budget, fear not, as Dubai also has numerous budget-friendly accommodation options. You can find comfortable guesthouses and hostels that provide affordable yet clean and comfortable rooms. Many of these options are located in popular neighborhoods such as Deira and Bur Dubai, where you can also immerse yourself in the local culture.
If you're planning an extended stay in Dubai or prefer the convenience of a home-like environment, consider booking a serviced apartment. These apartments offer the comforts of home, including a fully equipped kitchen and separate living areas. They are ideal for families, groups, or those who value flexibility and space.
In recent years, Dubai has also witnessed a rise in the popularity of luxury resort-style accommodations. These resorts provide a perfect blend of comfort, recreation, and relaxation. Many of them offer private beach access, multiple swimming pools, spa facilities, and an array of dining options.
When choosing your accommodation in Dubai, consider the location as well. If you want to be in the heart of the action, look for properties in areas like Downtown Dubai or Jumeirah Beach Residence. If you prefer a more tranquil and natural environment, opt for properties along the Palm Jumeirah or in the Dubai Marina area.
With its wide range of options, Dubai ensures that there is an accommodation choice that suits every traveler's preferences. Whether you're seeking ultimate luxury, a comfortable stay on a budget, or a home away from home, Dubai's accommodation options will exceed your expectations and contribute to a memorable stay in this cosmopolitan city.
Must-Visit Attractions
Dubai is a city filled with iconic landmarks and must-visit attractions that showcase its grandeur and uniqueness. From record-breaking structures to family-friendly amusement parks, there is no shortage of things to see and do in this vibrant city.
One of the top attractions in Dubai is the Burj Khalifa, the world's tallest building. Soaring at a height of 828 meters, the Burj Khalifa offers breathtaking views of the city from its observation decks on the 124th and 148th floors. For a truly unforgettable experience, consider visiting during sunset to witness the city's transformation into a glittering sea of lights.
Another architectural marvel not to be missed is the Palm Jumeirah. This man-made palm-shaped island is home to luxurious hotels, stunning beachfront villas, upscale shopping malls, and a variety of fine dining options. Take a stroll along the iconic Palm Jumeirah Boardwalk or indulge in a relaxing day at one of the many exclusive resorts along its crescent.
No trip to Dubai is complete without a visit to the enchanting Dubai Mall. The largest shopping mall in the world is much more than just a retail paradise. Inside, you'll find the Dubai Aquarium and Underwater Zoo, where you can get up close and personal with thousands of marine creatures. Don't forget to catch the mesmerizing Dubai Fountain show, a choreographed display of water, music, and lights right outside the mall.
If you're seeking a taste of Arabian culture and heritage, the Al Fahidi Historic District is a must-visit. This charming neighborhood is home to traditional wind-tower houses, narrow alleyways, art galleries, and museums. Explore the Dubai Museum housed in the Al Fahidi Fort to learn about the city's history and the Emirati way of life.
For thrill-seekers and adventure enthusiasts, Dubai offers a host of adrenaline-pumping activities. Experience the thrill of dune bashing in the Arabian Desert, where skilled drivers take you on a heart-pounding ride over the golden sand dunes. You can also try sandboarding, camel riding, or even indulge in a hot air balloon ride at sunrise for a bird's-eye view of the captivating desert landscape.
If you're traveling with family, make sure to visit Dubai Parks and Resorts, an entertainment complex that houses three world-class theme parks: Motiongate Dubai, Bollywood Parks Dubai, and Legoland Dubai. Enjoy thrilling rides, live entertainment, and interactive experiences that will create lasting memories for all ages.
If you're looking for an authentic cultural experience, be sure to visit the historic district of Bastakiya. This area is known for its traditional architecture, beautiful courtyard houses, art galleries, and quaint cafes. Take a walk along the narrow lanes, known as "sikka," and explore the local art and craft scene.
These are just a few highlights of the must-visit attractions in Dubai. The city offers an array of experiences that cater to all interests, whether you're a history buff, nature lover, adventure seeker, or simply looking to soak up the city's vibrant atmosphere.
Exploring Dubai's Culture
Beyond its glitzy skyscrapers and extravagant lifestyle, Dubai has a rich and diverse culture waiting to be explored. The city embraces its Arab roots while also embracing the influence of its multicultural population. From traditional markets to stunning mosques, here are some ways to immerse yourself in Dubai's vibrant culture.
A visit to the Dubai Museum is a great way to start understanding the city's heritage. Housed in the Al Fahidi Fort, the museum showcases the rich history and culture of Dubai through interactive exhibits and artifacts. Learn about the Bedouin way of life, traditional pearl diving, and the evolution of Dubai from a small fishing village to a global metropolis.
To truly appreciate Dubai's culture, take a stroll through the vibrant and bustling souks. The Gold Souk is a dazzling display of gold and jewelry, with countless shops offering exquisite pieces. The nearby Spice Souk is a treat for the senses, with its aromatic spices, herbs, and dried fruits filling the air. While bargaining is expected in the souks, remember to be respectful and polite in your negotiations.
For an authentic cultural experience, visit the Jumeirah Mosque, one of the most beautiful mosques in Dubai. The mosque offers guided tours where visitors can learn about Islamic practices, traditions, and the role of the mosque in Emirati society. Dress modestly and respectfully, as visitors are required to cover their shoulders, arms, and legs.
Dubai's diverse population has given rise to a thriving art and cultural scene. Explore the Alserkal Avenue district, a warehouse complex turned contemporary art hub. Here you'll find galleries, theaters, and art spaces showcasing works by local and international artists. Don't miss the opportunity to attend cultural events, exhibitions, and live performances organized by the vibrant arts community in Dubai.
Indulge your taste buds in traditional Emirati cuisine to experience the unique flavors and culinary heritage of the region. Try dishes like Machbous (a spiced rice dish with meat), Harees (a popular Ramadan dish made of wheat and meat), and Luqaimat (sweet dumplings). You can find these dishes in local restaurants or opt for a cultural culinary experience by joining a traditional Emirati cooking class.
Attending a traditional Emirati dance performance, such as the Ayyala dance, is another way to immerse yourself in the local culture. The Ayyala is a mesmerizing dance performed by men using swords and drums, accompanied by rhythmic chanting. Look out for cultural shows and performances at heritage sites, hotels, or during special events and festivals.
Lastly, don't miss the opportunity to celebrate UAE National Day on December 2nd. This day commemorates the unification of the seven emirates and is marked with patriotic events, parades, and firework displays. It is a joyous occasion to witness the Emirati pride and experience the cultural festivities.
Exploring Dubai's culture is an enriching and eye-opening experience. From its traditional markets and stunning mosques to its vibrant arts scene and culinary heritage, Dubai offers a glimpse into the fascinating amalgamation of traditions and cultures that shape the city's identity.
Shopping in Dubai
Dubai is a shopper's paradise, renowned for its extravagant malls, traditional markets, and luxury boutiques. Whether you're hunting for international brands, unique souvenirs, or traditional Arabian treasures, Dubai offers an unparalleled shopping experience.
One of Dubai's most famous shopping destinations is the Dubai Mall, the largest shopping mall in the world. With over 1,200 retail outlets, it offers an extensive range of international brands, from high-end luxury designers to popular high street fashion. Browse through the latest collections, shop for accessories, or indulge in some retail therapy.
Located within the Dubai Mall is the immersive shopping experience of Souk Al Bahar. This traditional Arabian marketplace showcases a variety of shops selling jewelry, textiles, carpets, and handicrafts. Wander through its narrow alleyways and soak up the vibrant atmosphere while haggling for unique souvenirs to take home.
If you're looking to uncover local treasures, a visit to the traditional markets, or souks, is a must. The Gold Souk, located in the heart of old Dubai, is a dazzling display of gold jewelry, precious stones, and intricate designs. The Spice Souk, a neighboring market, entices visitors with its aromatic spices, dried fruits, and traditional herbal remedies.
For a more modern shopping experience, head to The Mall of the Emirates. This expansive mall is home to a vast selection of global brands, designer stores, and high-end boutiques. It also houses Ski Dubai, the first indoor ski resort in the Middle East, where you can hit the slopes and enjoy winter sports, even in the desert.
For those seeking luxury and exclusivity, Dubai is home to some of the world's most prestigious brands and designer labels. Explore the upscale fashion boutiques along the iconic Avenue at the Atlantis, The Palm, or visit the newly developed Dubai Design District (d3), which is known for its avant-garde fashion and design scene.
Dubai also hosts several annual shopping festivals that attract visitors from around the world. The Dubai Shopping Festival (DSF), held in January and February, offers unbeatable discounts, promotions, and entertainment for shoppers. The Dubai Summer Surprises (DSS) festival, taking place during the summer months, is another exciting event featuring incredible sales, family-friendly activities, and entertainment.
When shopping in Dubai, keep in mind that haggling is a common practice in the traditional markets, so don't be afraid to negotiate for a better price. Also, be aware of the city's customs and regulations regarding the purchase of certain items, such as gold and electronics.
From luxury brands to traditional marketplaces, Dubai offers a shopping experience like no other. With its unique blend of modernity and Arabian traditions, the city provides a vibrant and diverse retail landscape that caters to every shopper's desires.
Dining and Nightlife in Dubai
Dubai is a hub of culinary delights, offering a wide array of dining options that cater to every palate and preference. From Michelin-starred restaurants to local street food stalls, the city offers a truly global culinary experience.
For those seeking an upscale dining experience, Dubai is home to numerous world-class restaurants helmed by acclaimed chefs. Indulge in fine dining at iconic establishments like Pierchic, located on a jetty extending out into the Arabian Gulf, offering stunning views and exquisite seafood. Alternatively, enjoy a gastronomic adventure at one of Dubai's many celebrity chef restaurants, where you can savor innovative and fusion-inspired cuisine.
Dubai's diverse population has resulted in a vibrant international dining scene. From authentic Arabian dishes to Asian fusion, European classics to African specialties, you can find virtually every type of cuisine in this cosmopolitan city. Explore the multicultural neighborhoods of Jumeirah Lake Towers, Al Barsha, or Dubai Marina to discover hidden gems and local favorites.
Emirati cuisine should not be missed during your stay in Dubai. Sample traditional delicacies like Machbous (spiced rice with meat), Harees (a slow-cooked wheat and meat dish), or Luqaimat (sweet dumplings). Many restaurants in Dubai offer Emirati cuisine with a modern twist, providing a unique dining experience that combines tradition with innovation.
When it comes to nightlife, Dubai offers a vibrant and diverse scene. From glamorous rooftop bars with breathtaking skyline views to energetic nightclubs featuring world-renowned DJs, there is something for everyone. Explore trendy neighborhoods like Downtown Dubai, Dubai Marina, or Jumeirah Beach Residence to discover the city's pulsating nightlife.
If you're looking for a more serene and sophisticated experience, Dubai boasts a wealth of stylish lounges and cocktail bars. Enjoy a sunset cocktail on the terrace of a luxury hotel overlooking the Arabian Gulf or indulge in a handcrafted signature cocktail at one of Dubai's trendy speakeasies.
For a taste of Arabic entertainment, consider visiting a traditional Emirati-style restaurant that offers live performances. Immerse yourself in the enchanting world of belly dancing, traditional music, and captivating folklore shows while enjoying a delicious meal.
It's important to note that Dubai adheres to Islamic traditions and has certain regulations regarding alcohol consumption. Alcohol is primarily served in licensed establishments such as hotels, restaurants, and clubs. Public displays of drunkenness and drinking in the streets are strictly prohibited.
Dubai offers a dining and nightlife scene that is as diverse as its population. Whether you're looking for a glamorous dining experience, a taste of local flavors, or an unforgettable night out, Dubai's culinary and entertainment offerings will satisfy even the most discerning of tastes.
Outdoor Activities in Dubai
Dubai's year-round sunshine and stunning natural landscapes make it the perfect destination for outdoor enthusiasts. Whether you're seeking thrilling adventures or serene relaxation, Dubai offers a wide array of outdoor activities for every interest.
One of the most popular outdoor activities in Dubai is desert safari. Embark on a thrilling dune bashing adventure, where experienced drivers take you on a heart-pounding ride over the golden sand dunes. You can also try sandboarding, camel riding, or enjoy a mesmerizing sunset in the desert while savoring a delicious Arabian barbecue dinner.
For those who enjoy water activities, Dubai's coastline offers a wealth of options. Try your hand at jet skiing, flyboarding, or parasailing to experience the thrill of speeding through the waves or flying high above the azure waters of the Arabian Gulf. You can also take a relaxing yacht cruise to soak up the sun and enjoy panoramic views of Dubai's iconic skyline.
Dubai is known for its world-class golf courses, designed by renowned golf course architects. Tee off at one of the many championship golf courses, which not only offer challenging gameplay but also stunning views of the cityscape and lush green fairways.
If you're a nature lover, don't miss the opportunity to explore Dubai's beautiful parks and gardens. Visit the Dubai Miracle Garden, a breathtaking floral paradise featuring over 50 million colorful flowers, or escape the hustle and bustle of the city in Dubai Creek Park, where you can enjoy a tranquil picnic, rent a bike, or take a leisurely stroll along the picturesque creek.
For adrenaline enthusiasts, Dubai offers exciting opportunities for skydiving. Experience the thrill of freefall while enjoying panoramic views of the city, Palm Jumeirah, and the Arabian Gulf. With experienced instructors and state-of-the-art facilities, Dubai's skydiving centers provide a safe and exhilarating experience.
If you're looking for a unique nature experience, head to Dubai's Hatta region. This mountainous area, located about an hour's drive from the city, offers stunning landscapes with rugged mountains, lush valleys, and crystal-clear lakes. Explore the Hatta Dam and enjoy activities like kayaking, paddleboarding, or simply relax and take in the serene surroundings.
Dubai's warm climate also makes it an ideal destination for outdoor sports. Play a game of beach volleyball or soccer on the pristine beaches, join a group for a morning yoga session on the sand, or rent a bike and explore the city's cycling tracks and dedicated pathways.
Before engaging in any outdoor activity, it's important to consider the weather conditions and take necessary precautions. Stay hydrated, wear sun protection, and comply with safety guidelines provided by activity operators.
With its multitude of outdoor activities, Dubai offers a playground for adventure seekers, nature lovers, and those looking to unwind in a beautiful setting. From sand dunes to turquoise waters, Dubai's outdoor offerings will leave you with unforgettable memories of fun and relaxation.
Day Trips from Dubai
While Dubai has a wealth of attractions and experiences to offer, venturing beyond the city on a day trip allows you to discover even more of the United Arab Emirates' diverse beauty and culture. Here are some fantastic day trips from Dubai that promise memorable adventures.
A visit to Abu Dhabi, the capital city of the UAE, is a must-do day trip from Dubai. Explore the stunning Sheikh Zayed Grand Mosque, one of the largest mosques in the world, renowned for its breathtaking architecture and intricate design. Immerse yourself in the culture and history of the UAE with a visit to the impressive Louvre Abu Dhabi museum, home to a fascinating collection of art and artifacts.
If you're craving natural beauty, head to the picturesque town of Al Ain, known as the "Garden City" of the UAE. Explore the Al Ain Oasis, a UNESCO World Heritage Site, and experience the traditional falaj irrigation system. Visit the Al Ain Zoo, home to a diverse range of animals, including the endangered Arabian Oryx. Don't miss the opportunity to hike or drive up Jebel Hafeet, a towering mountain that offers breathtaking views of the surrounding desert landscape.
For a taste of history and heritage, venture to the charming city of Sharjah, known as the cultural capital of the UAE. Explore the Sharjah Museum of Islamic Civilization, which houses a vast collection of Islamic artifacts and manuscripts. Visit the historic Al Hisn Fort, a restored fortification that showcases Sharjah's history. Stroll through the enchanting Souk Al Arsa, a traditional market where you can find unique handicrafts and local souvenirs.
If you're looking for an outdoor adventure, head to the Musandam Peninsula in Oman. Take a scenic drive through rugged mountains and fjords, known for their stunning beauty. Embark on a dhow cruise to explore the crystal-clear waters and dramatic cliffs of the Musandam Peninsula, and have the opportunity to go snorkeling or diving to discover the rich marine life.
Escape the city's hustle and bustle with a trip to the tranquil town of Fujairah on the UAE's east coast. Discover the rich history of the region at the Fujairah Fort, explore the beautiful Al-Bidyah Mosque, one of the oldest mosques in the UAE, or simply relax on the pristine beaches and soak up the sun.
Before embarking on a day trip, plan your itinerary and consider transportation options. Renting a car is a convenient way to explore these destinations at your own pace, but guided tours are also available for those who prefer a hassle-free experience.
With its close proximity to diverse destinations, Dubai serves as a gateway to a wealth of cultural, historical, and natural wonders. Embarking on a day trip from Dubai allows you to broaden your horizons and discover the incredible gems that the UAE and its neighboring countries have to offer.
Tips for Exploring Dubai
Exploring Dubai can be an exciting and enriching experience. To make the most of your visit, here are some tips to keep in mind:
1. Respect the local customs: Dubai is a city deeply rooted in its Islamic traditions and customs. It's important to respect and adhere to local culture, including conservative dress codes in public places, especially when visiting mosques or religious sites. Avoid public displays of affection and be mindful of local sensitivities.
2. Plan according to the weather: Dubai has a desert climate, with hot summers and mild winters. The best time to visit is during the cooler months, from November to March, when temperatures are comfortable for outdoor activities. Be prepared for high temperatures and intense sun exposure during the summer months, and stay hydrated by drinking plenty of water.
3. Use public transportation: Dubai has an efficient and modern public transportation system, including the Dubai Metro, buses, and taxis. Utilize the Dubai Metro, which connects major attractions, to avoid traffic and parking issues. Taxis are readily available and can be hailed on the street or booked through ride-hailing apps.
4. Dress modestly in public places: While Dubai is an open and cosmopolitan city, it's important to dress modestly in public areas. Cover your shoulders and knees when visiting malls, restaurants, and other public spaces, out of respect for local customs and to avoid any potential discomfort.
5. Respect Ramadan etiquette: If you visit Dubai during the holy month of Ramadan, be aware of local customs and etiquette. Refrain from eating, drinking, or smoking in public areas during daylight hours as a sign of respect for those observing the fast. Many restaurants and cafes are closed during the day but open for evening meals.
6. Bargain in souks: Bargaining is common in traditional souks and markets in Dubai. Don't be afraid to negotiate prices, but do so respectfully and with a smile. Remember that the goal is to reach a fair and mutually agreeable price.
7. Stay hydrated: Dubai's climate can be hot and arid, so it's essential to stay hydrated throughout the day. Carry a reusable water bottle and drink plenty of fluids, especially when engaging in outdoor activities.
8. Check visa requirements: Before traveling to Dubai, ensure you have the necessary visa in place. Check the visa requirements based on your nationality, and obtain all the required documentation well in advance of your trip.
9. Take advantage of hotel facilities: Dubai's hotels often offer a range of amenities, such as pools, spas, and private beaches. Make the most of these facilities to relax and unwind after a day of exploring.
10. Embrace the diversity: Dubai is a melting pot of cultures, with people from all over the world calling it home. Embrace the diversity and take the opportunity to learn about different cultures, traditions, and cuisines during your visit.
By following these tips, you'll have a smooth and enjoyable experience exploring the dynamic city of Dubai. Respect the local customs, take advantage of public transportation, and make the most of the city's attractions and amenities to create unforgettable memories in this vibrant destination.
Conclusion
Dubai is a remarkable destination that seamlessly blends tradition and modernity, offering a wealth of experiences for travelers. From its awe-inspiring architecture and luxurious lifestyle to its rich cultural heritage and outdoor adventures, Dubai has something to captivate every visitor.
Getting to Dubai is convenient, with its well-connected transportation systems and world-class airports. Once you arrive, you'll find a wide range of accommodation options to suit every taste and budget, from luxurious hotels to cozy guesthouses.
The city's iconic landmarks, such as the Burj Khalifa and the Palm Jumeirah, showcase Dubai's grandeur and provide stunning backdrops for memorable experiences. Exploring Dubai's culture allows you to immerse yourself in its rich heritage, whether through visits to traditional markets, mosques, or museums.
Dubai is also a shopper's paradise, boasting extravagant malls, traditional souks, and luxury boutiques. Indulge in retail therapy and discover treasures from around the world or embrace the local flavors by savoring traditional Emirati dishes in a variety of dining establishments.
Unveil the city's adventurous side by engaging in outdoor activities, such as desert safaris, water sports, or golfing on world-class courses. Alternatively, take day trips from Dubai to explore neighboring cities, learn about the region's history, or immerse yourself in serene natural settings.
As you explore Dubai, keep in mind key tips such as respecting local customs, dressing modestly, and staying hydrated in the desert climate. Embrace the city's diversity and take advantage of the excellent public transportation system to navigate through the vibrant neighborhoods and attractions.
In conclusion, Dubai offers a wealth of wonders and experiences that will leave you captivated and longing to return. So embark on your Dubai adventure, immerse yourself in the blend of authenticity and modernity, and create memories that will last a lifetime in this extraordinary city.