Epic Guide To Visit A South Africa Safari On A Budget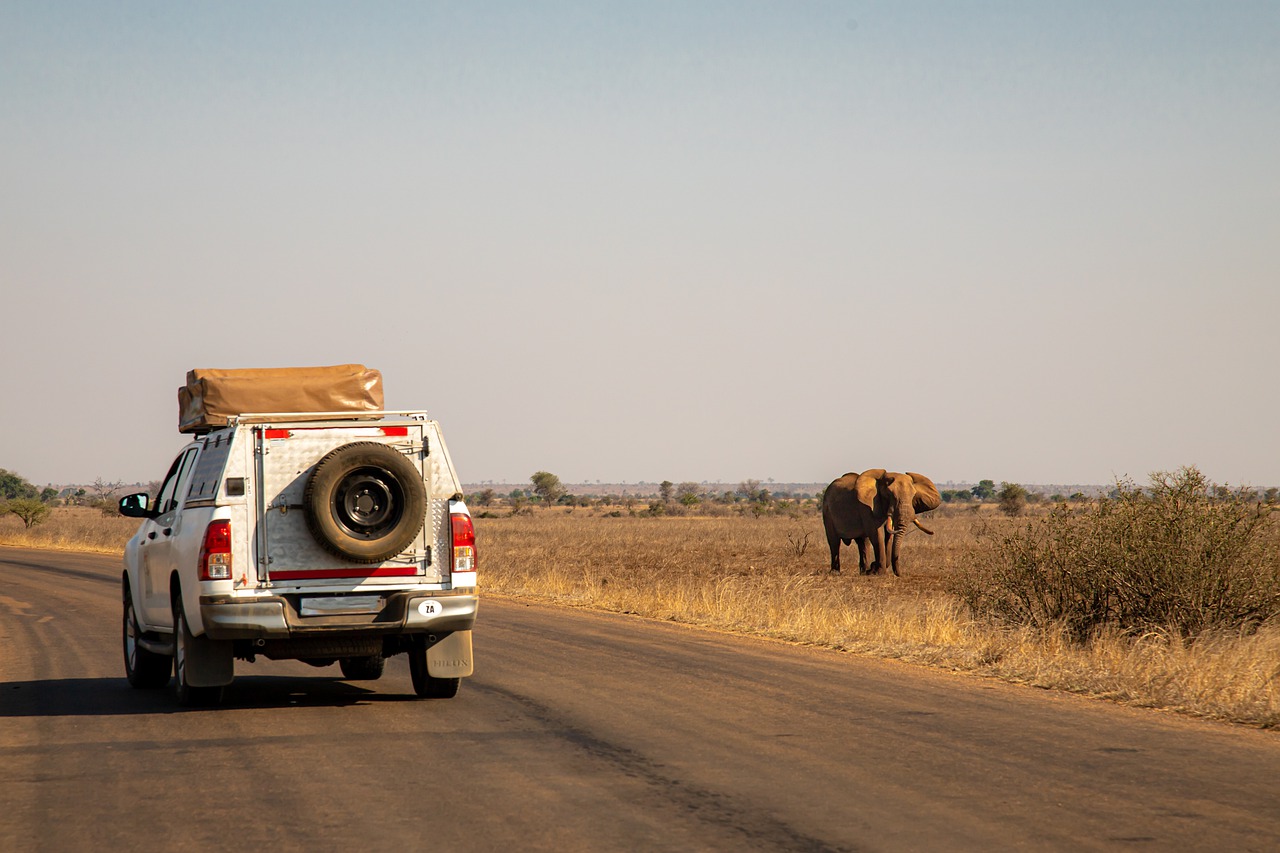 South Africa has long been known as a top destination for safaris and wildlife observation. Adventurers from far and wide travel all the way to this great nation to experience the wild firsthand. In a South Africa safari, visitors get to explore vast terrain where animals roam free, making for a truly unique encounter.
Contrary to popular belief, you don't have to break the bank in order to go on a South Africa safari. Such escapades are available even to those who are working within a budget. Sure, there are a handful of luxury safaris — ones you see influencers post about on social media. However, you don't have to pay much to genuinely feel one with nature.
In this epic guide to South Africa safaris, we discuss how you can make your trip more affordable and what you must keep in mind.
What is South Africa Safari All About?
Before we dive in, let's first define what a safari is. Most people are probably already familiar with the term, while others may still be confused. Simply put, a safari is a journey made over land, typically in South Africa. Interestingly, the word itself comes from the Swahili term for "journey." Although safaris involved big-game hunting in the past, it's mostly associated with observation of wildlife in today's setting.
Which National Parks To Go For?
If you want to go on a South Africa safari on a budget, one of the best recommendations is to head to the national parks. South African National Parks, or SANParks for short, manages 20 parks across the country. These parks offer cheaper accommodation camps than privately owned lodges. Hence, saving you a sum of money for other activities.
With over a dozen national parks to choose from, South Africa is your oyster. However, you can't go wrong with Kruger National Park, which is arguably the most popular park of its kind. If you want to plan your own trip, you can go on a self-drive expedition from Johannesburg all the way to Kruger National Park. Other South Africa safari parks you can visit include Addo Elephant National Park and |Ai-|Ais/Richtersveld Transfrontier Park.
Best South Africa Safari Tours
Of course, you don't always have to plan out your own South Africa safari tours. There are plenty of pre-planned safari tours you can book, though they may not always be pocket-friendly. Regardless, these South Africa safari tours are some of the best in the world, so they are worth a try at least once in your lifetime.
1.
Bushveld and Beach Escape
If you want to take a South Africa safari tour in Kruger National Park, keep Bushveld and Beach Escape in mind. The tour itself spans 9 days and boasts a ton of features. Tourists can prepare themselves for "Big 5" game viewing and then retire to island life after a long day. The tour offers accommodations on the tropical Inhaca Island in Mozambique, which makes for a perfect experience for those who want both a wild safari and a relaxing beach vacation. The beaches here are calm, with serene turquoise waters and white sandy shores. If you're looking to book a safari for a family, you've certainly found it.
Those on the hunt for a South Africa safari tour rarely think of Namibia, which is a shame because it's one of the most beautiful places in Southern Africa. Namibia is home to some of the most spectacular sceneries in the world, boasting extensive and diverse terrain.
Diverse Namibia lets you explore the country's gems, from the charming city of Swakopmund to the sand dunes and desert plains of the Sossusvlei. The 10-day escapade also integrates a wildlife safari South Africa tour in the world-famous Etosha National Park. There, tourists are exposed to an assortment of flora and fauna native to the area. As for lodging, you get to stay in Meru-style safari tents, giving you a true taste of wildlife.
3.
Durban, Bayala, and St. Lucia
Another overlooked destination in Southern Africa is KwaZulu Natal. This location boasts a variety of features, including Big 5 game reserves and subtropical beaches. There's also a World Heritage site that combines a myriad of natural terrains, such as forests, wetlands, mangroves, grasslands, and ancient dunes.
While this isn't one of those South Africa safari packages that solely focuses on animals, it does check that box and adds a little extra to the mix. It gives travelers a chance to explore the city and the beach, as well as view wildlife endemic to the area. Plus, KwaZulu Natal offers unique Indian cuisine that's a definite must-try for all visitors. All that in 8 days? Sign me up!
4.
Kwandwe, Garden Route, and Cape Town
When it comes to the most popular destinations in South Africa, Cape Town usually tops the list — and for no small reason. After all, the Cape boasts breathtaking landscapes you just won't find anywhere else. This South Africa package tour lasts for 10 days and incorporates all of the landmarks the Cape has to offer. It promises unique experiences in store for tourists, as well as impressive 5-star accommodations. This tour comes with a guide who is equipped to share all the information you need.
Apart from upscale experiences, this safari tour also boasts exciting game drives in Kwandwe Game Reserve, a malaria-free zone. Witness the stunning flora and fauna of the Garden Route and relax in the golden beaches of the Cape. While not exactly a budget safari South Africa tour, it certainly is worth it.
5.
Lion Sands Sabi Sand Safari
If you don't care about all the frills and extras that come with South Africa safari tours, the Lion Sands Sabi Sand Safari is for you. The tour only spans 3 days but promises you'll walk away satisfied and happy. The safari itself takes place in the Lion Sands Game Reserve, which is known for its remarkable sightings of the "Big 5." Brace yourself as you come face-to-face with lions, cheetahs, and leopards as you ride in open game vehicles. There's also a bush walk included in the experience, which lets you explore the various flora and fauna in the area.
Don't worry about lodging either. The package tour comes with unique accommodations at Lion Sands River Lodge, which lets you stay atop a treehouse in the African bush. This isn't your ordinary treehouse, too. It expertly combines nature with comfort, giving you an experience unlike any other. It's definitely one of the more romantic treehouses you'll come across. So, if you're going on a South Africa safari honeymoon, keep this tour on your list.
6.
Luxury Kruger, Victoria Falls, and Cape Town
While this tour is definitely on the more expensive side, don't count it out just yet. This South Africa safari tour combines Cape Town, Kruger, and Victoria Falls — three of the continent's most popular destinations. Tourists get to sleep in luxury accommodations at the end of activity-filled days. The tour offers stunning vistas and many chances for exploration, which is perfect for thrill-seekers and adventurers at heart.
The safari is, of course, a big highlight. You get to visit Kruger National Park and observe the "Big 5" in their natural habitat. There's also an interaction with an elephant, perfect for animal lovers. Additionally, you get to view the majestic water flow of Victoria Falls. However, it doesn't stop there. The 11-day tour will also find you on the top of Table Mountain, which offers exquisite views of Cape Town. With such a jampacked luxury safari South Africa tour, who could possibly say no?
7.
Luxury Victoria Falls and Chobe
Luxury Victoria Falls and Chobe isn't the most affordable tour, but it's definitely worth considering. It takes place in two countries, each with its own flavor. There's no shortage of wild animals and stunning vistas to be had here. Plus, the sanctuary lodges and a luxury treehouse are the perfect places to unwind after a long day of exploration. There's even an authentic cultural experience waiting for tourists who avail of this South Africa safari tour.
Journey across the Mosi-oa-Tunya National Park and the Chobe National Park, with game drives fit for adventurous souls. Chobe National Park holds the largest elephant population in the world, so it's certainly one of the highlights. In addition to that, there's even a sundowner cruise on the Zambezi River sure to amaze anyone who experiences it. Spanning only 6 days, it's not the longest South Africa safari tour, but it sure packs a punch.
8.
Magical Moremi and Okavango Delta
This safari tour takes place right in the heart of Botswana, with its many grasslands and waterways. Prepare to witness over 500 bird species in flight as you explore the area. The tour takes you to the Moremi Game Reserve, where a plethora of animal species await. After that, it's off to the Okavango Delta, a picturesque destination. Keep your eyes peeled for the endangered African Wild Dog, a rare sighting. Apart from the usual game drives and night drives, this South Africa safari tour offers you a chance to experience mokoro (dugout canoe) trips, motorboat cruises, and game walks.
What to Pack For A South Africa Safari?
It can be difficult to pinpoint exactly what you need to bring with you on your South Africa safari, especially if this is your first time. After all, it's not your usual trip abroad where everything you need can usually be found in one place. What you need to pack highly depends on where you're staying. However, in general, these are the things you must take with you:
Duffel bag. South Africa safari trips typically involve long walks and some unforgiving terrain. It's going to be hard to lug large bags around. For this reason, it's best to pack light and put all your things in a duffel bag. This reduces the hassle of pulling strollers or carrying bulky luggage.
Enough clothes and shoes. As with any kind of trip, you must bring with you enough clothes and footwear to last the entire trip. In fact, pack an extra shirt or pair of trousers in there for safety. Don't bring your entire closet, though. Remember that it's best to pack light!
Food and drinks. You may not need to pack food and drinks straight from your house, but it's a good idea to stop by local stores or markets before heading to your safari tour. Not all the parks in South Africa have restaurants, though they do make it fairly easy for you to cook meals. Also, given that you're going to do a lot of exploring, you must bring more than enough water to keep yourself hydrated.
Toiletries. Depending on where you'll be staying, you may need to pack toiletries. If you're staying in a luxury hotel or South Africa safari resort, there's a good chance you'll be provided with toiletries there. However, if you'll be roughing it out, it's best to bring your own.
Sunscreen. The sun can be very harsh on your skin, especially when you'll be spending most of your days outside. To keep your skin healthy and damage-free, pack a bottle or two of sunscreen with a high SPF. Don't forget to reapply! That should protect your skin from the sun's rays all day long.
Sunglasses. For the same reason, you mustn't forget to bring a pair of sunglasses with you. You'll be outdoors most of the time and observing wildlife can make your eyes tired when the sun is out.
Mosquito repellent or bug spray. Since you'll be out in the wild, insects are to be expected. For your own health and safety, you must bring bug spray or mosquito repellent with you. Remember to apply generously and reapply when appropriate. After all, not all of South Africa is malaria-free.
Medicine or a first aid kit. You never know what's going to happen on a South Africa safari trip. Hopefully, you'll head home with a smile on your face instead of a cast on your leg. However, in case of emergencies, it's a good idea to bring a fully-stocked first aid kit and necessary medication along.
Flashlight. It can get very dark once night falls, especially if you'll be camping out. Pack a lightweight flashlight with you to keep your path illuminated and reduce the risk of accidents.
Camera and spare memory cards. A trip to South Africa wouldn't be complete without photographs to cement the memories. Make sure to bring your camera with you, as well as spare memory cards. You may not think you need it, but you'd be surprised at how fast your storage fills up with pictures.
Chargers. Of course, don't forget your chargers! This includes chargers for your camera, smartphone, and other gadgets.
Binoculars. A South Africa safari trip mostly involves observing wildlife from either afar or closeup. If you spot an animal far away and want to get a better look, a pair of binoculars will come in handy. These are especially helpful for birdwatchers!
A book or other recreational items. Contrary to popular belief, South Africa safari tours will have downtimes. So, if you want to keep yourself occupied, pack a good book or other recreational items so you don't get bored.
What To Wear On A South Africa Safari?
While many people associate South Africa with high temperatures, it's not always hot there. Additionally, since you'll be spending the majority of your time outdoors, you must adjust your wardrobe accordingly. The surroundings can be dusty, afternoons can be hot, and evenings can be chilly. There are naturally going to be game drives and night drives, as well as opportunities to go swimming. With all of these going on, it can be confusing to know what you should wear on a South Africa safari. Here's a list to help you out:
Pack a variety of tops that work well for all times of the day. Take a long-sleeved top for cold mornings and nights, as well as a casual shirt that's both lightweight and breezy for sunny afternoons. Go for breathable fabrics that keep you cool during the day and warm at night. If you plan on going during the winter, take note that temperatures can drop below zero.
As with tops, it's best to bring an assortment of bottoms with you. A pair of comfortable long trousers should suit you well for cold temperatures. When the heat starts to turn up, a pair of shorts should do the trick. If you're going to do a lot of physical activities, stay away from short skirts or short dresses. These will only make for an uncomfortable experience.
You may not think you need it, but outerwear is a definite must on South Africa safari tours. A fleece pullover should keep you extra warm in times of cold weather or climate. It would also be a good idea to bring a rain jacket, in case it starts to pour. If you're going on a winter safari, bring thicker outerwear. As stated above, temperatures can drop below zero during this season!
Depending on where you'll be staying, it may be wise to pack a pair of swimwear with you. Luxury tours usually have accommodations that come with swimming pools, so don't miss your chance to take a dip while enjoying stunning vistas of the wild.
Since you'll be staying within the vehicle for most of the drives, appropriate footwear is recommended. You may stop for breaks every once in a while, and the ground can be dirty or dusty. It can even be muddy when it rains. For this reason, it's best to wear sneakers or boots. However, flip flops are also generally acceptable. If you plan to take bush walks, though, comfortable walking shoes are ideal.
To complete your wardrobe, make sure to bring a pair of sunglasses and a wide-brimmed hat with you. The sun can be unforgiving on hot afternoons, so these accessories should protect your eyes and head. Go for a hat with a string so that it won't easily fall off your head, as it may when the drives become speedy. A light scarf would also be a good addition, particularly on chilly nights.
Because it's important to pack light for your South Africa safari, it's a good idea to go for a capsule wardrobe. Don't be afraid to wear your clothes more than once. It's also recommended to bring clothing items and shoes that are neutral in color and shade. Don't wear red, as this could make you a prime target for predators. Dark blue and black, on the other hand, attract mosquitoes and flies. Go for browns and greens — no bright or neon pigments! This way, you'll have an easier time mixing and matching your clothes for more outfit options. Plus, these colors blend well to fit the South Africa safari vibe..
When is The Best Time to go for a South Africa Safari?
As a tourist, it's understandable to want to visit South Africa during the best time. It's only natural. However, it can be difficult to pinpoint the best time to go for a South Africa safari when you've never been on one before.
If your goal is to witness the majesty of the Big 5, visit South Africa during the dry winter and spring months. This takes place from May to early October. However, the optimal time for a safari is from June to September. During this time, big game viewing is at its peak. Animals come out to drink from rivers and waterholes, giving tourists a higher chance of seeing them interact in the wild. Furthermore, the weather during this time is pleasant and ideal for exploration. This applies to places like Kruger, KwaZulu Natal, and Madikwe. KwaZulu Natal, in particular, is known for is warmer winter.
If you're heading to Namibia, Botswana, or Zambia, however, you can go virtually any time of the year. The parks here are fenced, so you don't have to wait for animals to come out. However, it's important to note that, during the wet season, the thicker bush can make it more difficult to see them. When in doubt, schedule your trips here during the dry season.
As for the Cape, the best time to visit is from April to May or October to November. These shoulder months provide good game viewing for tourists, as well as being a great time for physical activities like bushwalking or general exploring. It's best to avoid June and July, the coolest months of the year, as outdoor walks during these months can be unpleasant.
Because these are the best times to visit Southern Africa, expect higher rates for tours and accommodations. If you're on a tight budget, consider visiting during the off-peak seasons to save a lot of money.
Where to Stay when you Signed Up for A South Africa Safari?
If you're planning on visiting one of the SANParks, there are several accommodation options to choose from. Most of them have campsites, while others offer more upscale lodging. These can be in the form of huts, chalets, guesthouses, and cottages. You can book your choice of accommodation through the parks' central website.
Kruger National Park's largest rest camp, Skukuza, has almost everything you need. It has cottages in a wide range of sizes, plus shops and a steakhouse chain restaurant for guests to enjoy. There are also play areas for children, as well as swimming pools for those looking to take a dip in the cool water.
On the other hand, if you prefer to rough it out in the wilderness, there are campsites that suit your taste. Fair warning, though. The only thing that separates these campsites from wild animals is a low fence, so it may be terrifying to some. Finally, there's also an option of bush camps, which strikes a balance between the crowded Skukuza and the more remote safari camps in South Africa.
How Long to Stay at South Africa Safari Camps?
The duration of your stay highly depends on the tour you're booking. Some South Africa safari packages last only 3 days, while others can go on for as long as 11 days. Shorter tours tend to be more affordable if they're not the luxury kind, but they may leave you wanting more at the end.
Of course, you can always organize your own tour by picking one of the SANParks and booking your stay at one of their campsites. You can generally save more money by DIY-ing your stay. It may cost you more in terms of time and effort to research and book, but it'll be well worth it in the end. When deciding how long you should stay, it depends on your budget and tolerance for the outdoors. If you absolutely love nature and can't get enough of it, a long stay spanning 9 days should be satisfactory. You can even stretch it out for longer, assuming you have the funds to back it up. Alternatively, you can divide your time between two or more camps.
On the other hand, if you're not that adventurous, a short stay spanning 4 days should be enough. It may only give you time to explore one national park, but 4 days of big game viewing and bushwalking should suffice. You can spend the rest of your vacation time in more urban areas like Cape Town, which is still nothing to complain about.
How Much Does It Cost to Go On A South Africa Safari?
It can be hard to determine the exact price of a South Africa safari without specifics. The price varies from package to package and increases if they're the luxury kind. Generally, though, a safari can cost anywhere between $125 and $1500 per person per night. On average, budget tours cost $150 per person per night, while mid-range tours cost $350 per person per night. More upscale tours cost $750 per person per night. However, the ones that go all out with no holds barred can cost $1500 and more per person per night.
When booking your own safari, it's a good idea to do a lot of research. Look for a tour that best suits your needs and budget. There's one for every type of traveler. All you have to do is look hard enough!
How Much To Tip For Your South Africa Safari Tour Guide?
When you're on a budget, the last thing you want is to spend more money on unnecessary things. However, tipping is far from unnecessary. While it's not mandatory, tipping shows you appreciate the services provided and can be a form of additional support to those earning a small wage.
On a South Africa safari, you'll typically be accompanied by a tour guide and a tracker. It's generally acceptable to tip your tour guide $10 and your tracker $5 at the end of the safari. Depending on the number of people on the tour, these amounts can go higher and even be given on a daily basis. Your tour guide and tracker work very hard to keep you entertained and safe. It's only polite to show them how grateful you are for their services. Of course, you mustn't feel obliged to tip someone if they've given you poor service.
What To Do Before Going For A South Africa Safari Trip?
Much like any other big trip, there are some things you must do prior to a South Africa safari trip.
Research and plan thoroughly. The best way to ensure a seamless journey is to research and plan your trip thoroughly. Decide on which tour you want to avail of (or whether you're doing it yourself) and make a list of everything you need to do and bring. If you're going on an all-inclusive safari South Africa tour, you may not need to worry about food and transport. However, if you're doing it any other way, too much research is never enough.
Currency exchange. Since most things will come pre-booked and prepaid on a South Africa tour, you might think there's no need to get local currency. However, even if you're not going to be spending a dime, it's best to have some local currency in your wallet. You may need them for small items, tipping, or souvenirs. Furthermore, not all destinations accept US dollars, so keep that in mind.
Get vaccinated. Perhaps one of the things tourists are most concerned about in South Africa is the dangers of disease and, in particular, malaria. Not all places in Southern Africa are malaria-free. Before you go on your trip, consult your doctor on what type of vaccines you may need to get. It usually depends on the destination, but you may want to get all the vaccines ahead of time. After all, it's better to be safe than sorry.
There's plenty to be excited about in Southern Africa. Aside from the safaris and wildlife opportunities, this destination offers breathtaking sights and delicious local cuisine. On top of that, you get to experience a culture unlike any other. South Africa combines nature, wild animals, food, and gorgeous scenery with true ease. While planning for a South Africa safari tour can be challenging at first, you'll find yourself suddenly immersed once you get into it. Hopefully, this guide to South Africa safari tours will help. Happy travels!