9 Awesome Things To Do In Fort Lauderdale, Florida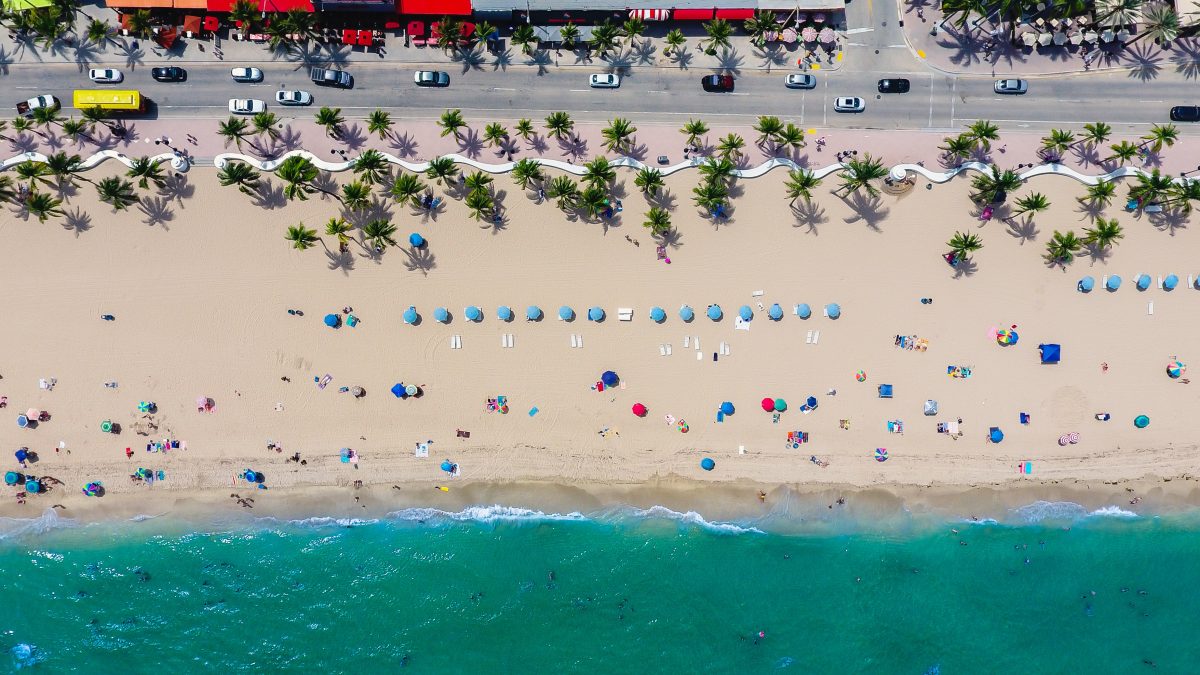 With one foot in the Atlantic Ocean and another in the wiggling canals and waterways of southern Florida, Fort Lauderdale has all the ingredients needed to make a good-living city filled with fun. Balmy year-round temperatures and over 240 days of sun each year only add to the draws, with everyone from yachters to snowbirds flocking to this buzzing metro gem for their fix of R&R.
Much-loved FL started life as a Union outpost in the territory of the Seminole Indians way back in 1838. These days, it reigns as one of the vacationing meccas of the Sunshine State as a whole, boasting mile upon mile of yellow-tinted beachfront, uber-clean seas, rolling surf, yacht moorings, cool clubs, vibrant shopping strips, slick cocktail bars – the list goes on.
What's more, rarely has a holidaying spot been more accessible, what with the colossal Fort Lauderdale airport to the south and a gigantic cruise port huddled around the grand Hilton Fort Lauderdale marina resort on the coast. Tempted? This list hops from the scintillating shoreline to the enthralling museums and art galleries in the city's heart, all with the aim of revealing the very best FL itinerary you can think of…
Getting To Fort Lauderdale?
This Florida's southeastern coast is a booming city with developments and especially known for its beaches and boating canals. FL is no shortage of upscale shopping and luxury hotels, this city can be on par to its dazzling rivals — Miami. While there's no end to transportation options greater than in FL. To get there, here are a few options to get you going.
Driving
If you're traveling by car, it's simple to get here from downtown Miami or Miami Beach. Just follow the route up north via Interstate 95 (I-95N) for about 40 mins, you'll be there in a jiffy. However, if intent to rent a car, there are plenty of major national chains within and outside of Fort Lauderdale Airport. Though the rental price is substantially lower if you rent it outside of the airport.
Flight
Catching a flight is one of the ways to get here. Fort Lauderdale Airport is an agile hub for both local and international flights. As an emerging hub for flights to and fro the Caribbean, this FL airport is also a popular low-cost carrier destination. That means said, travelers can easily board on a flight to FL without breaking the bank. Though Spirit Airlines maintains a hub here, you'll still find many other airlines like Delta Air, United, JetBlue and even major airlines like the Emirates, British Airways and more.
Train
One of the best ways to get to and fro from Fort Lauderdale to Miami is by taking the Tri-Rail. It's convenient as the rails are interlinking from Miami Airport, Fort Lauderdale, and West Palm Beach in Florida. Though Tai-Rail runs less frequently during the weekend, these rails come on time based on the schedule. Hop on a city bus that connects you to downtown FL.
1.
Shop, sip, dine and mingle at Fort Lauderdale Las Olas Blvd
Everything from high-fashion boutiques to Haute jewelry emporiums awaits in Las Olas Boulevard. The beating retail hub of Fort Lauderdale, it's a place that forever pulses with energy and action. Folk comes to hop between the outlets, try on the latest beachwear, and get their fill of retail therapy. When you aren't maxing out the credit card at the tills, you can enjoy some of the town's most eclectic dining. Fancy a mezze platter of Greek cheeses, spinach pies, and Mediterranean seafood? That's doable. Prefer some Cajun soul food straight off the firey BBQ grill? No problem. At night, the whole stretch of Las Olas Blvd is illuminated with neon and fairy lights. It's a haze of the bars and nightclubs, bringing Floridian craft beer and dancefloor parties to the table. You'll find all these entertainments sitting between Andrews Avenue and the main Fort Lauderdale Beach.
2.
Explore the Bonnet House Museum and Gardens
The Bonnet House Museum & Gardens has been a registered US historic landmark since the early 1980s. However, the house itself has stood just back from Central Beach since the 1800s, making it a fine spot to head to for that dose of local Floridian heritage and culture. You'll learn all about the high-flying Midwestern lawyer, Hugh Taylor Birch, who once owned the property, and about his family links to the luminary art collector Frederic Clay Bartlett.
You'll also get to explore elegant interiors and gardens, which are laced with plantation-style architectural flurries reminiscent of the Caribbean and Latin America. Guests are taken on a guided 90-minute tour of the complex, which includes walks through the grounds (look out for the resident monkeys), glimpses of the daffodil-colored outbuildings, and talks on the intriguing history of the place. Entrance costs $20 for an adult and $16 for a student.
3.
Sun yourself on the beaches of Fort Lauderdale
There's a whopping 20 miles or more of beachfront to get through in Fort Lauderdale. Going from north to south, the Florida Atlantic coast ranges through remote state parks peppered with stooping palm trees and lively urban beaches where you can grab a cold one and watch the boats drift across the bay.
Among the most popular spots to lay the towel down is Hollywood Beach. That's alive with kitschy street performers and dotted with cool surf cafes. It's also got plenty of places to rent bikes, longboards, or deckchairs for the sand. Local Dania Beach sits southwards along the shoreline, with its own historic area laden with trinket and antique shops. Then there's bumping Sebastian Beach. A stunning shore stretch, it comes with an all-welcome LGBTQ vibe and loads of watersports outfitters to boot. Finally, if you're looking to get away from it all, you might be best off heading further down to the protected marine reserves of the Dr. Von D. Mizell-Eula Johnson State Park. Be ready to meet sea turtles in the crystal-clear waters in those parts.
4.
See the creatures at the Flamingo Gardens
Tucked into a strip of wildland between Davie and Pembroke Pines out on the far western reaches of Fort Lauderdale, the acclaimed Flamingo Gardens are awash with awesome attractions. Of course, the pink-tinted birds that give the place its name are the most common reason folk add it to their itinerary. You'll get to see those curious critters stalking through the murky swamps and pond waters that filter through the grounds.
But that's just the beginning. A 25,000-square-foot aviary has over 40 species of sub-tropical birds that are native to Florida, There are gardens that showcase the unique hardwood hammocks and sawgrass prairies of the nearby Everglades National Park. And on top of that, you can come face to face with black bears, see river otters, and even encounter the elusive panther. History buffs might also want to set aside a little time to tread the preserved rooms of the Wray Home Museum. It looks just the same as it did back in 1933, with antique interiors and lawns shaded by great oaks cloaked in Spanish moss.
5.
Ride the Jungle Queen Riverboats
The vintage cruisers of Jungle Queen Riverboats have been gliding up and down the palm-fringed reaches of the New River ever since the 1930s. That gives them the distinction of being some of the oldest pleasure boats on the planet. (An estimated 18 million previous passengers and counting have come and gone).
These days, there's a whole array of different types of a trip on the menu. Early birds might like the 1.5-hour morning excursion, which navigates the web of canals around Fort Lauderdale to the famous mansions of so-called Millionaire's Row (keep a lookout for the mega-yachts moored up outside of those!). Longer daytime cruises aim to balance local culture, sightseeing, and outdoor adventure. They make regular pitstops in tropical river islets where it's possible to see baby gators. And they slow down for lunch at a classic hotdog concession for American soul food. Come evening, the multi-tiered river rider is transformed into a vaudeville theatre on the water. Expect cabaret acts and music shows to serenade in the sunset.
6.
Get out and about in the Hugh Taylor Birch State Park
Hailed as Fort Lauderdale's answer to NYC's Central Park, the Hugh Taylor Birch State Park is a welcome breath of greenery and fresh air that's smack bang in the heart of the big city. You can find its entrance just steps from the shopping mecca of the Galleria mall. There are buts up to where the Atlantic rollers lap into the middle of the Fort Lauderdale Beach.
The preserve was the pet project of local luminary and namesake Hugh Taylor Birch. He hatched plans to keep a section of the coastline undeveloped for future generations way back in 1940. The idea seems to have worked a charm. Today, the palm-topped lawns and reed-fringed rivers host everything from opossums to tortoises to rare painted butterflies. You also won't want to miss the colossal banyan trees. They're now a centerpiece. Check out the gnarled trunks, muscular bows, and a draping of vines and mosses that's grown over the course of centuries.
7.
Visit the fliers of Butterfly World
Butterfly World sits between the golfing resorts, well-to-do vacation communities, and residential areas of Coconut Creek. That's on the northernmost fringes of Fort Lauderdale itself. There, it covers a whole medley of free-fly birding zones and aviaries and hosts a whopping 20,000 live butterflies – the largest of any butterfly sanctuary in the world.
From start to finish, it's a truly hands-on experience. Visitors get the chance to feed the miniature parrots. You can get up close and personal with the orange-beaked Lorikeets and their fantastically colored plumage. And there are guided educational tours that help explain the unique habitats that the resident birds call home. The attraction is mapped over several zones. It starts with small butterfly gardens and culminates in rainforest enclosures where it's possible to spot some seriously strange insects. Admission costs $29.95 for adults and $21.95 for children aged 3-11. Those under two years go free.
8.
Go on a cruise in Fort Lauderdale
Fort Lauderdale is home to the third-largest cruise shipping terminal on the globe. Yep, around 3.8 million passengers pass through the embarkation and disembarkation halls of the Port Everglades Cruise Port each year. So, you'll be in a darn fine company if you opt to hit the high seas yourself. There are oodles of jaunts to choose from. Quick sails to the Florida Keys could offer that fix of humidity and sun you've been pining after. They typically involve stopovers in the glowing lagoons of Key West and the bumping rum bars of Duval Street.
Longer expeditions might whisk you to the heart of the Caribbean. Those adventures mean pink-tinged beaches on the Bahamas, pirate chasing in Nassau, or jerk chicken in Jamaica. Before you go or as you return, deluxe hotels like the Hilton Fort Lauderdale marina are ready and waiting near the quays. They have pools, spas, slick cocktail joints, and views of the big boats drifting out to the ocean.
9.
A day trip to the Everglades National Park
Last but certainly not least comes one of the greatest treasures of the Sunshine State as a whole: The Everglades. This unique swathe of wetland, swamp, and sub-tropical hardwood forest dashes across a huge quarter of southern Florida. It's eastern end buts right up to the side of Fort Lauderdale and Miami. And that makes FL the perfect place to launch expeditions into the wilds.
Intrepid types will find plenty to love. Airboat tours will whiz you around flooded sawgrass plains at high speed. They get the adrenaline pumping as you spot alligators on the muddy riverbanks. Alternatively, opt to hit one of the many trekking routes. There's the Mahogany Hammock Trail, wiggling through dense palm groves and gumbo-limbo on creaking boardwalks. There are the Shark Valley trails, which come complete with soaring observation towers that promise sightings of egrets and dragonflies. Entry to the Everglades National Park is to the west and south of Fort Lauderdale. Seven-day passes cost $30 per car.
Of course, there are loads and loads more amazing things to do in Fort Lauderdale. If you can think of any, we'd love to hear about them in the comments below. Everything from tips on the top beaches, the best soul food kitchens, and the hotspots of the cruise marinas is welcome!