Top 10 Adventurous Things to Do In Nepal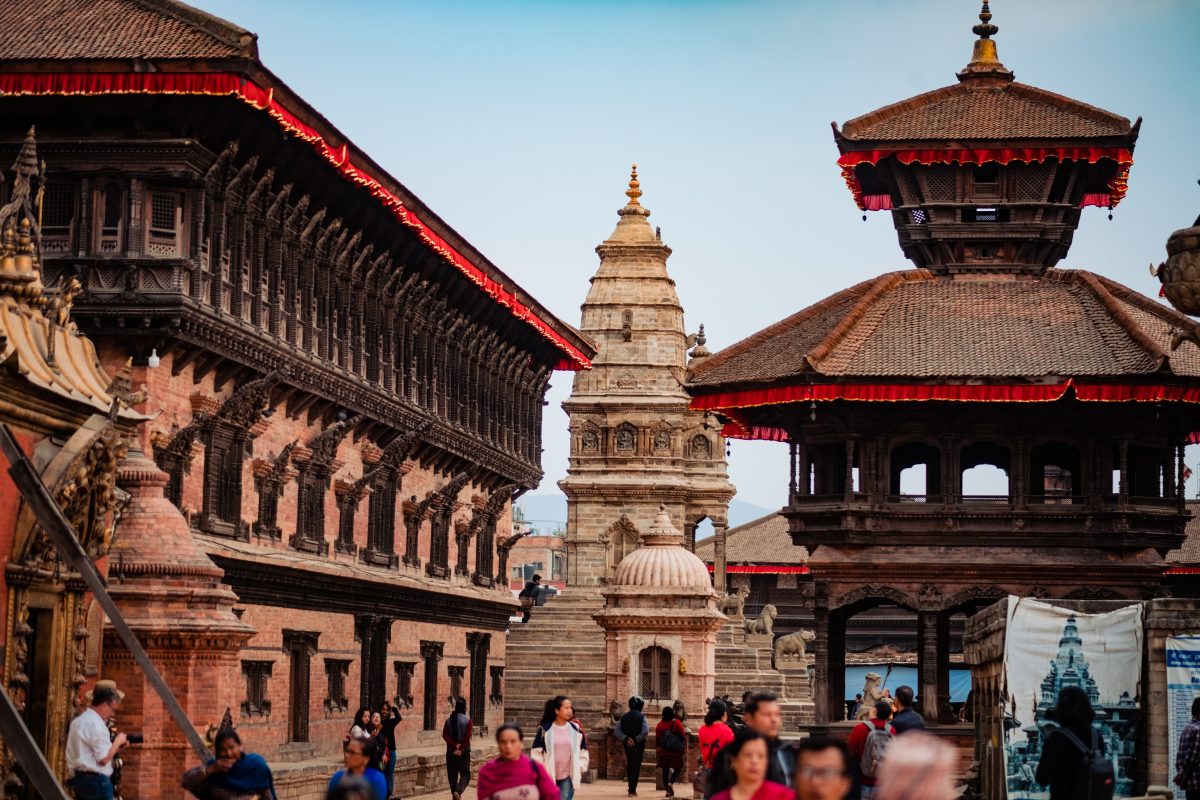 Nestled between the cultural giants of India and China, Nepal is a land where even the most common destinations are considered exotic. Home to eight of the ten tallest mountains on Earth, Nepal straddles the mighty Himalaya Mountains. These peaks are certainly the largest draw for visitors. However, in its historic cities, fertile valleys and the multiethnic blend of people, there are many things to see and do in Nepal that go beyond the usual mountain trekking.
Read on for a list of ten of the top attractions in Nepal!
1.
Explore Exotic Kathmandu And Its Valley
Just the name alone of Kathmandu is a byword for someplace remote and exotic. Visitors to the capital city of Nepal won't be disappointed. Kathmandu is the port of entry for the majority of visitors. However, it should be more than just an arrival and departure point. Exploring the ancient city in all of its frenetic, ramshackle glory will allow you to taste the rhythm of the Himalayas and gain exposure to its spiritual and cultural roots.
Among the many things to see in Nepal's capital city is Durbar Square; a UNESCO World Heritage Site and the former royal residence. You can marvel at the Royal Palace (Hanuman Dhoka) and admire a collection of Buddhist and Hindu Temples before pushing deeper into the surrounding Old City. Soak up the atmosphere and be surprised by hidden shrines and a maze of alleys in this historic part of the city before moving on to the tourist hub of Thamel.
Here you'll have a wealth of shopping opportunities amid a riot of colorful prayer flags and the shouting of shopkeepers touting all sorts of merchandise. For example, there are jewelry, bronze statues, clothing, wood carvings and more you can buy from their overflowing shops. Additionally, you can sample local cuisine in the restaurants that offer the otherworldly ambiance that this district exudes.
Surrounding the city and lining the Kathmandu Valley is an abundance of cultural and religiously important sites. You can take a tour or set out on your own for some of the best day trips in the country. In fact, basing yourself out of Kathmandu is a great way to explore further afield. It serves as the political, cultural and transportation hub of the country. Also, it offers the most in terms of accommodation and culinary options.
2.
Climb Mount Everest—The World's Tallest Mountain
Nepal's most famous resident is Mount Everest, the world's tallest mountain. Climbing this imposing peak is the feather in any mountain climber's cap. For this reason, it draws an ever-growing crowd of would-be conquerors looking to surmount the ultimate physical challenge. To make an attempt at the summit requires great investments of both time and money. Also, the actual dangers of attempting such a climb cannot be understated.
Every year there are many who die on the mountain for a host of reasons. Given the remoteness of the location, the extreme weather and logistical conditions, and very limited infrastructure, only the most dedicated and experienced climbers should attempt this kind of expedition. However, for those with the stamina and resources to pull it off, Mount Everest literally offers the prospect of allowing you to stand on top of the world and join an elite club of adventurers.
3.
Go Mountain Trekking In Places Other Than Mount Everest
For those content just to sample the experience and admire this giant up close, treks to the Everest Base Camp is a far less dangerous option. While it doesn't afford the bragging rights that climbing the peak does, it will make for a bucket list experience.
Besides Everest, Nepal offers tons of mountain hiking opportunities that are world-class. For instance, the Gokyo Lakes, not far from the base camp are popular trekking destinations. As the highest freshwater lakes in the world (between 4,700 to 5000 meters in altitude), they not only present a jewel-colored spectacular panorama but also have a significant spiritual value as well for both Buddhists and Hindus.
Another popular and challenging trek is the Three Passes; a circuitous route in the Everest area that brings hikers through three passes over 5,000 meters. Plan on at least three weeks to make this trek, not including travel days for the internal flights from Kathmandu to Lukla. Given the extreme altitude and strenuous activity required, this route is not for beginners. However, if you're fit and looking to see jaw-dropping scenery and experience authentic country living, this is a Nepal backpacker's dream.
And if you've already climbed Mount Everest, Annapurna, the tenth tallest mountain in the world shouldn't be a problem. It is considered by some as an even more challenging climb. As with its more famous neighbor to the east, there are also popular and less formidable treks to its Base Camp, which is all located within a conservation area of the same name.
4.
Wildlife Viewing at Chitwan National Park
Hugging Nepal's southern border with India is another one of its natural gems—Chitwan National Park. If you think Nepal is nothing more than snowcapped peaks, then this sub-tropical oasis might come as a surprise. Chitwan National Park was the first protected area in Nepal and now enjoys UNESCO World Heritage Status for its natural value and unique biodiversity. Situated in a well-watered region at a lower altitude than the snowy north, the park is known for its tropical and sub-tropical forests and the chance to see such large animals as One Horned Rhinoceros, Royal Bengal tigers, wild elephants, and Gharial Crocodiles.
Getting to Chitwan requires either a 6-hour bus, minivan or private car hire ride from Kathmandu. However, you can also catch a short flight to Bharatpur. Either way, you'll have to pass through the town of Sauraha, which is at the park's doorstep. It also makes for an excellent base of operations for one of the many safaris in the park. Options include jungle treks, Jeep tours, and even a ride on an elephant through the park. Entrance costs 2000 rupees per person. However, it is always subject to change, so check before going.
Note: while the park is open year-round, the months of October to December offer the greatest chance of seeing tigers and other animals that congregate near water holes during the dry season.
5.
Visit The Birthplace Of The Buddha
According to tradition, Prince Siddhartha Guatama, who upon enlightenment would become known as the Buddha. He was born in Lumbini, a small town near the border with India. Now a UNESCO World Heritage Site, this location is considered a holy site for Buddhists around the world. Here, they come to visit its collection of monasteries and temples on pilgrimage. In fact, while visiting, you can witness the architectural collection of monasteries built by representatives of countries ranging from China and Japan to Germany and France.
The most sacred site in Lumbini is the Mayadevi Temple. It is believed to be the exact spot that the Buddha was born. Overall, the site is composed of several contemplative gardens, archeological relics, and monuments left by influential pilgrims throughout history.
6.
Get Off The Beaten Path At Bardiya National Park
Of a similar vein as Chitwan National Park, Bardiya National Park in Nepal's far west is also its largest. It requires a flight from Kathmandu to Nepalgunj followed by a few hours' drive. Here, visitors will be immersed in riverine forests and tall grass that houses a wide array of wildlife. There are some 30 species of mammal and over 250 types of birds! Once again rhinos, elephants, and tigers are the stars of the show here—with the latter being spotted here more often than in other areas due to its remote location.
Additionally, if you're interested in more than just wildlife viewing, you can opt for a whitewater rafting trip along the Karnali River. It is the longest river in Nepal which flows through the park. While rafting, you may even catch a glimpse of the elusive Gangetic dolphin. Sportfishing and elephant rides are also on offer from the many lodges located in and around the park. The best times to visit are early summer, winter, and autumn. Entrance fees for foreigners are 1,500 rupees per person.
7.
Explore The Alpine Wonderland Of Sagarmatha National Park
The world's highest national park, this is where such giants as Everest and Lhotse reside. Its lowest point is over 3,000 meters in elevation, and a 25-minute flight from Kathmandu to Lukla is required along with a two-day hike to get there. But once there, you can explore a pristine alpine environment with views unmatched anywhere else.
In addition, wildlife enthusiasts may spot musk deer, black bears, and Himalayan tahr. Also, there are some nearly 200 bird species in the park. As with all other areas mentioned, the best and safest times to visit are Spring and Fall. It is best to visit at these times because you can avoid extreme rains and precipitation. Entrance fees are 3000 rupees per person for foreigners.
8.
Make A Pilgrimage To Pashupati Temple
Switching seamlessly from Buddhism to Hinduism, the Pashupati Temple, is the largest temple complex in Nepal. Located just outside of Nepal's biggest city Kathmandu, it is another UNESCO Cultural Heritage Site. There are also some 492 temples and several dozen shrines within the complex set along the banks of the Bagmati River, each with a specific set of rituals and customs.
This site is a blend of art, culture, and religion. It is an active center of worship, with rites and rituals constantly being performed for large crowds of the devoted. This includes the Hindu cremation ritual which curious visitors may observe from across the river. Additionally, given its proximity to Kathmandu, the spiritually curious will no doubt find this to be an interesting day trip; one that will shed light on the everyday life of Nepal's people, deeply steeped in tradition.
9.
Go Back In Time In Bhaktapur
Close to Kathmandu and one of the three major cities of the valley of the same name, Bhaktapur is considered to be a living example of what the Kathmandu Valley would have looked like during medieval times. An architectural gem, Bhaktapur boasts soaring pagoda-like temples, royal courtyards, and squares as well as plenty of religious structures.
Local handicrafts include wood carving and pottery, which are also on display at the National Art Museum. However, to those interested, you can also buy the works of art from local craftsmen. Though one day's exploration would suffice, there are enough sites and experiences to cover multiple days too.
10.
Go Sightseeing From Above
If your age, fitness and/or comfort level preclude you from undertaking multi-day hikes through high-altitude mountainous terrain, you still have the option to experience the wonders of Nepal's attractions by taking a scenic flight or helicopter tour. You can take in the breathtaking scenery of the Himalayas and its main attractions such as Everest Base Camp and the Gokyo Lakes without working up a sweat, and still have the incredible photos of those areas to share with everyone back home.
Packages range from one day to several days, and not surprisingly prices are steep. But for minimum hassle and maximum views, a scenic flight or helicopter tour will bring the best of Nepal within reach regardless of your fitness level.
Nepal is a fascinating destination both in terms of natural beauty and cultural richness. Despite the scars of a devastating earthquake back in 2015, the country continues to draw travelers looking to reach new heights and expand their minds and horizons. Equipped with this list of worthy attractions in Nepal, you too can explore 'the rooftop of the world' in a way that you'll enjoy the journey just as much as the destination.