5 Best Portugal Beaches You Should Never Miss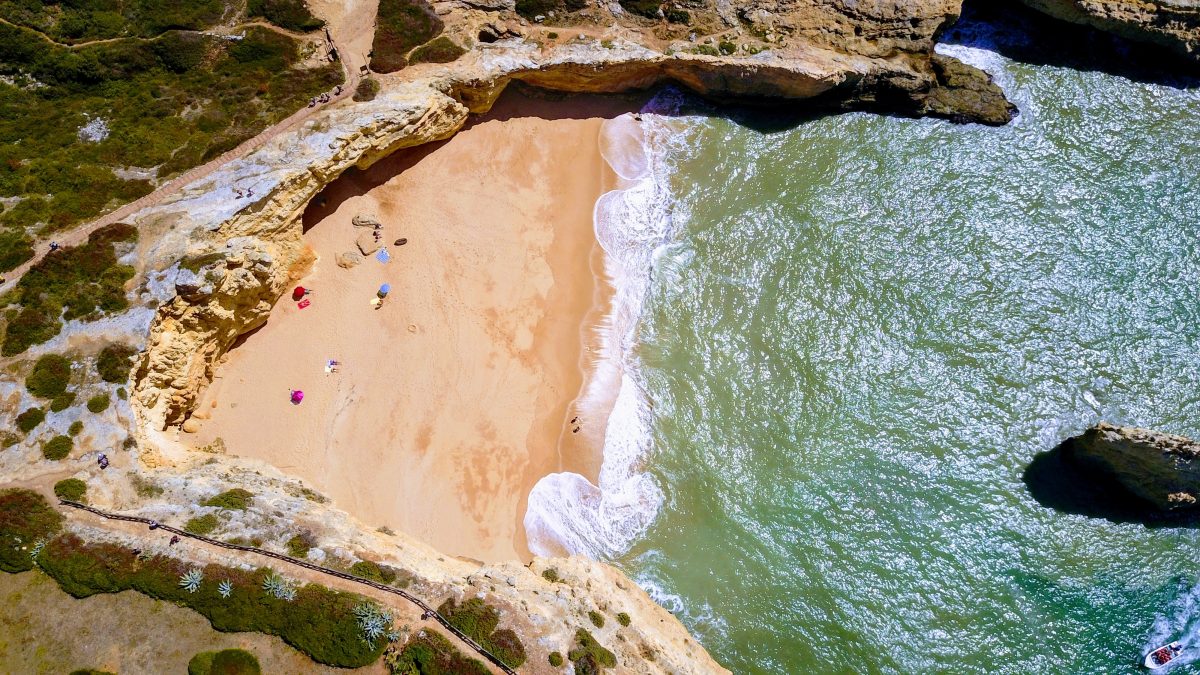 Portugal is loved for so many reasons. One that has maintained its popularity are the beautiful beaches located on the southern part of the country. So if you are planning to go to Portugal for vacation, make sure to include visiting the beautiful beaches in your itinerary.
Besides boasting some of Europe's finest beaches, Portugal has many charming little towns that are interesting to explore. Check out our recommendations for the 5 best Portugal beaches you should never miss below.
Praia de Benagil is located in a small fishing village in the Algarve region. The beach is famous for its uniquely beautiful Benagil sea cave. It's a beach scenery like no other places you've seen before.
Make sure to arrive early in the morning to catch the magical moment of the sunlight pouring into the hole on top of the cave. Don't forget to take a picture of it!
The cave is located not far from Benagil beach, in a secluded location, only accessible by water. For the easiest option, you can hire a boat to get you there, but for more fun and adventure, you can swim there or rent a kayak from Benagil beach!
Important to know that Benagil is not only about the sea caves. The beach itself is beautifully surrounded by high cliffs, which makes it pleasant just to lay there and soak in the sun. There is also a popular spot where you can do some cliff-jumping and hiking, so make sure to ask around for direction.
Praia de Benagil is undoubtedly one of the most loved Portugal beaches.
One of the most iconic Portugal beaches is the Praia da Marinha also located in the Algarve region.
You'll soon realize while traveling in this region, that most of the beautiful beaches have a similar landscape of strikingly stunning high-cliffs. Praia da Marinha is one of the famous beaches in the country, but surprisingly it's not that crowded. So, for solitary-seekers, this might be the place for you.
Getting to the beach, you'll have to make your way down many steps which seems to be okay on the way down, but after making your way up again, you'll have tired legs. However, it's still worth the hard work.
You'll be tempted to make the journey by the view below. Crystal clear water and calm conditions, which makes it perfect for swimming and even snorkeling! So don't forget to bring your snorkel gears with you! Moreover, just like Praia de Benagil, there are plenty of caves to be explored.
Although not as exclusive as the other two beaches, Praia da Arrifana is equally gorgeous and offers a wide variety of activities and food options to choose from.
The long-stretch beach has a length of 630 meters, making it one of the biggest Portugal beaches, providing plenty of spaces to sunbathe and hangout.
Praia da Arrifana is also one of the famous beaches for surfing. There are several places where you can rent surfing equipment and have a surf lesson. As this is one of the famous beaches in the Algarve region, many signposts will direct you to the beach.
If you're planning to stay overnight here, the surrounding area of the beach is built with many apartments and holiday homes.
Another interesting aspect of Praia da Arrifana is the abundance of local Portuguese restaurants that offer not only Portuguese specialities, but also a great panoramic view of the ocean.
A visit to Praia da Arrifana will be the highlight of your Portugal beaches vacation.
Known to be the most photographed beach in the Algarve region, Praia Dona Ana boasts of some of the best rock formations in the area and has one of the cleanest water around. You would have probably seen the photo of the beach on some of Portugal's travel brochures and postcards.
The sea is also known for being calm, thanks to the limestone cliffs that shelter the area from the waves.
Praia Dona Ana is also home to a variety of flora and fauna underwater. With all that these combinations, Praia Dona is one of the best beaches in Portugal to do snorkeling.
If you're looking for a beach that has a calm ambience, Praia Dona Ana is your best bet. Complete facilities are available here at the beach. There are showers, shops, and restaurants.
If you're bringing your family with you to Portugal, this is the place you want to bring them. Swimming in the turquoise water of Praia Dona Ana will surely put a smile on their faces.
Praia Dona Ana is no doubt the favorite of many tourists out of Portugal beaches.
The charming little town of Carvoeiro is home to one of the most picturesque Portugal beaches. Praia Do Carvoeiro has a different beach scenery that is unique from the rest. Small colourful houses are located on the Cliffside that stands dominantly in the background–A view just like you see in a painting. Some of these traditional houses belong to the local fisherman and have become the icon of Carvoeiro.
There are different kind of activities you can do here. Hire a local fishing boat to show you around the coastline of Carvoeiro or do some watersports such as Kayaking and jet skiing.
The nightlife isn't too bad either. Head over to the promenade where you can find many bars and restaurants.
Unfortunately, there are some downsides to this beach. Because it is amongst the famous beaches in the area, Praia Do Carvoeiro has caught in the tourist radar. So, if you're coming in the high season, be ready to share it with other tourists. Also, it has one of the highest tourist prices compared to other Portugal beaches.
Make sure to explore the town itself. The city has so much to offer from historical buildings to hiking trails, to fun theme parks. It's a town with a mix of local heritage and modern culture.