15 Places You Must Visit In Anaheim, California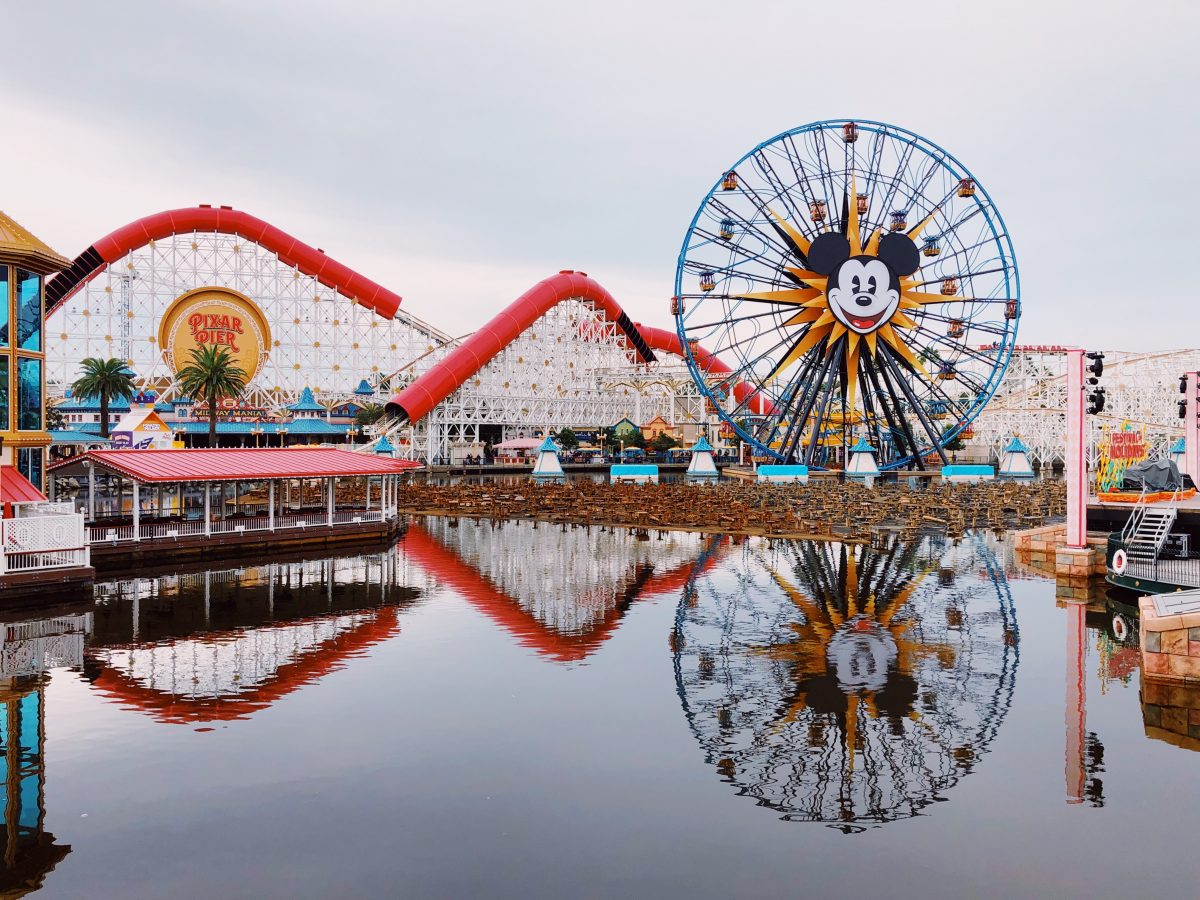 Tourists from around the country visit Anaheim mainly because of its great theme parks and amazing convention centers. Anaheim is located in the heart of Orange County, California, and offers tourists a wide array of fun and exciting attractions in addition to the popular Disneyland Resort.
From the moment you get off the airplane and first drive onto the city's palm tree-lined streets, your exhilarating vacation begins.
Anaheim is home to the iconic Disneyland Resort, Angel Stadium of Anaheim and the Honda Center. The city also offers a great selection of unique and fun attractions, like the Flightdeck Flight Simulation Center, Yorba Regional Park, Sky Zone Anaheim Indoor Trampoline Park, the Downtown Disney District, and a lot of great restaurants. Whether you're a live music aficionado, die-hard sports fan, an adrenaline junkie, food lover, or artisan shopper, there is a memorable experience awaiting you in Anaheim.
Although Anaheim is often called the Mecca of theme parks as well as all things Disney, there is a lot more to this sun-splashed city in Southern California. Head to these great attractions for a delightful, varied, and memorable trip in Anaheim!
With its princess castles and fairytale characters, Disneyland is the main highlight for Anaheim tourists. The park opened in 1955 and is the only Disney Park built and designed by Walt Disney. The park features the iconic and mesmerizing Sleeping Beauty Castle. Unsurprisingly, Disneyland has the most visitors, compared to any other theme park in the world. Your trip to Anaheim isn't complete if you haven't visited Disneyland.
The park is open from 8 a.m. to 12 a.m. Ticket prices start from $68 onwards.
Anaheim GardenWalk is a sleek and attractive outdoor complex comprising of eateries and shops. It makes a very appealing and fun destination, particularly after dark. This is because things, like entertainment venues and outdoor fire pits, come to life.
Anaheim GardenWalk is quite close to Disneyland and also only a brief walk from a majority of hotels in this area. Main restaurants that front the Anaheim GardenWalk include Cheesecake Factory, Bubba Gump Shrimp, and Roy's Hawaiian Fusion. Shops usually stay open from 11 a.m. to about 9 p.m., and you can browse for some handmade, luxury cosmetics at Lush which is a celebrity-favorite, or you can get your leather on at LA Harley-Davidson of Anaheim.
3.
Anaheim Convention Center
The popular Anaheim Convention Center is much more than merely a convention center; it is practically a full-fledged travel destination due to its proximity to many prominent Anaheim tourist attractions, like Disneyland and Disney California Adventure Park. The center is located across from the famous Disneyland Resort on Katella Avenue.
The Anaheim Convention Center often hosts many of the premier exhibits, events, and trade shows in various industries. It is the largest exhibit space on the US west coast. The center has also undergone six major expansions.
The Anaheim Convention Center has more than one million square feet of exquisite exhibition space. Also, the convention center features about 130,000 square feet of ballroom as well as meeting space on the 2nd and 3rd floors above the exhibit halls. There is a 100,000-square-foot Grand Plaza mainly for large outdoor gatherings. You can visit the center from 8 a.m. to 5 p.m.
4.
Anaheim Farmer's Market
Did you know that the city of Anaheim hosts its own farmer's market? Anaheim Farmer's Market was established in 1995; it has been growing strong ever since. It's one of the bigger markets and offers not just vegetables, fruits, and tasty gourmet foods that you will love, but also features entertainment, crafts, and delectable food cooked right there on-site.
While admission to the Anaheim Farmer's Market is free, make sure you bring some cash for certain vendors! You will be glad to know that certified growers in the area proudly display their seasonal vegetables and fruits. These include sweet corn, asparagus, broccoli, tomatoes, avocados, carrots, cauliflower, kale, cactus, and radishes.
Some of the seasonal fruits include peaches, nectarines, cantaloupes, cherries, apricots, and strawberries.
5.
Ralph B. Clark Regional Park
Nestled near the foot of beautiful Coyote Hills, Ralph B. Clark Regional Park offers more than 100 acres of exciting, diverse, and fun activities. This park was home to more than 70 species of animals, such as the ancient mammoth as well as a ring-tailed cat.
You can fully explore the prehistoric past of the area at the Ralph B. Clark Interpretive Center, explore the thrilling hiking and biking trails, relax, and unwind in one of the many shaded, cool picnic areas. You can also go fishing in the amazing stocked lake or play on the baseball, tennis, as well as volleyball courts.
The park opens at 7 a.m. and closes at 9 p.m. parking fee is $3 per vehicle.
Yorba Regional Park has been developed to offer an abundance of group and family picnicking facilities that you will love. Over 400 picnic tables are situated in this park; many have permanent shade structures. Yorba Regional Park is a linear day-use park in Anaheim over one mile long and about 140 acres. It is situated in the mouth of Santa Ana Canyon.
This linear environment of the Yorba Park site tends to recapture the river setting of the nearby Santa Ana River. You can experience 140 acres of beauty that features ducks, geese, jays, robins, and water lilies. The park offers endless possibilities.
There are 4 lakes that are connected by streams. They are popular places for fishing and model boat sailing. If you are looking for more rugged greenery, you should consider hiking or biking around the nearby Chino Hills State Park. The park opens at 7 a.m. and closes at 9 p.m. The Parking fee is $3 per vehicle.
7.
Oak Canyon Nature Center
Oak Canyon Nature Center provides an excellent spot for kid-friendly hiking within the bigger regional trail system. The 58-acre natural park is nestled in the gorgeous Anaheim Hills. Also, a year-round water stream meanders through this park. You can enjoy free movie nights on Friday!
Consisting of 3 adjoining canyons, 4 miles of incredible hiking trails seamlessly traverse one of the last remaining regions of coastal sage scrub and oak woodland in the area. This shaded and serene slice of nature provides the perfect terrain for most budding wilderness explorers.
You will be able to handle most of the easygoing trails in the area, whether atop a grassy ridge or along a gentle stream, within a half hour.
You can visit the center from 7 a.m. to 5:30 p.m. No fee is required to enter the park at the center.
8.
Medieval Times Dinner & Tournament
You can enjoy an unusual and unique take on dinner as well as a show at Medieval Times in Anaheim. Also, during this historical and fun experience, you will be privy to an exciting knight's tale, complete with mystery, drama, treachery, and intrigue.
You will also enjoy spectacular pageantry, breathtaking swordplay, dramatic horsemanship, romance, and falconry while feasting on a delicious four-course banquet that is served in authentic medieval, pre-silverware fashion. You can visit the Medieval Times from 9 a.m. to 11 p.m. General admission starts at $89.
9.
Flightdeck Flight Simulation Center
Need a rush? You can experience what it is like to be a brave combat pilot with amazing aerial maneuvers or even fly a Boeing 737. Located on South Sinclair Street in Anaheim, the center emulates the sensation of riding in a cockpit as well as flying an aircraft.
If you are at least eleven years old and want to develop a taste and liking for the skies, it is the perfect time to visit the thrilling Flightdeck Flight Simulation Center!
You will receive classroom training as well as in-flight instructions at the facility. It is open to the general public and also caters to families.
Flightdeck Flight Simulation Center is less than five miles southeast of central Anaheim. However, keep in mind that you will have to make reservations one week in advance (at least). You should book even earlier if you are planning to visit with a large group.
The center is open to the public Wednesday through Friday usually from 11 a.m. to 8 p.m. and from 10 a.m. to 9 p.m. on Saturday and Sunday. Prices vary based on which simulator as well as the duration that you choose. For example, a forty-minute "flight" in the typical fighter jet simulator (a ninety-minute experience) will cost you $59 per person.
If you are looking for unparalleled thrills, you are likely to find them at the Honda Center! Constructed in 1993, the center can easily squeeze in about 17,000 Anaheim Ducks fans during the popular hockey season.
However, this number is about halved when this venue is converted into an amazing amphitheater-style seating area for popular musical guests, which have included the likes of Jay-Z, U2, and Madonna. This indoor arena is considered one of the leading indoor arenas in the region.
The Honda Center is located next to the new transportation center known as ARTIC. You could hop on the bus, rail, or grab an Uber.
11.
House of Blues Anaheim
House of Blues is well known for its amazing soul food restaurant called Crossroads. Many famous bands come to play here as well. The new restaurant and bar offer both outdoor and indoor dining surrounded by spectacular touches of modern and traditional Southern art as well as features made-from-scratch, and Southern-inspired favorites.
House of Blues is open from 11 a.m. to 10 p.m. Sunday through Thursday, and 11 a.m. to 12 a.m. on Friday and Saturday.
12.
Anaheim Packing District
The popular Anaheim Packing District is a historic area which features several eateries and hosts various outdoor events. It is located at the intersection of Anaheim Boulevard and Santa Ana Street. Anaheim Packing District makes the most of the perfect combo of verified history and unforgettable food.
Originally built in 1919, the historical staple was initially a citrus-packing facility, where many of the best products in Anaheim were shipped to the public. You can visit the place from 9 a.m. to 11 p.m.
The tour of the Angel Stadium of Anaheim allows you to experience and enjoy one of the oldest and most significant Major League Baseball stadiums in the US. Take your Anaheim experience to the next level with a trip to one of the area's premier athletics locations! At the Angel Stadium, you can frequently find demonstrations of top-notch athleticism and competition!
Grab some popcorn and a hot dog and watch the fireworks here or over at Disneyland afterward. Angel Stadium often hosts various events when the Angels are not continuing their winning streak, so you should check online for some of the latest and greatest events that are happening right on Angels' turf!
14.
Sky Zone Trampoline Park
If you are looking for a dose of high-octane excitement and fun, then visit the popular Sky Zone Trampoline Park when you visit Anaheim! Sky Zone Indoor Trampoline Park is located in Anaheim on North Kellogg Drive. Opened in 2012, it's the world's first indoor trampoline park. You can take part in a healthy and effective cardio workout and have fun doing it.
The park features a diverse and effective selection of great trampolines and environments, and continues the well-known Sky Zone legacy of top-quality fun, without making any compromises on your personal safety. The park is open from 2 p.m. to 8 p.m.
With its NHL and Olympic-sized rinks, Anaheim Ice is the training facility of the Anaheim Ducks. Also, it is Orange County's official community center for high school hockey, youth hockey, and adult leagues.
It can be your best excuse for a mind-numbing excellent time! Note that Anaheim Ice is an ideal place to be if you are looking to ice skate in Anaheim. The modern facilities are first-rate, the prices are affordable, and the whole experience would serve as a treasured memory!
Anaheim Ice is open from 6 a.m. to 12 a.m. Admission price is $8.
Final Thoughts
These attractions will guarantee that your next Anaheim excursion would be memorable! From Anaheim GardenWalk to Anaheim Ice to an amazing trampoline park that will send your vacation expectations out of this world, you should trust our list of the best attractions in Anaheim, CA, for a vintage California experience!
Which tourist destination interests you the most? Let us know in the comments section below!