10 Best Things To Do In Punta Cana, Dominican Republic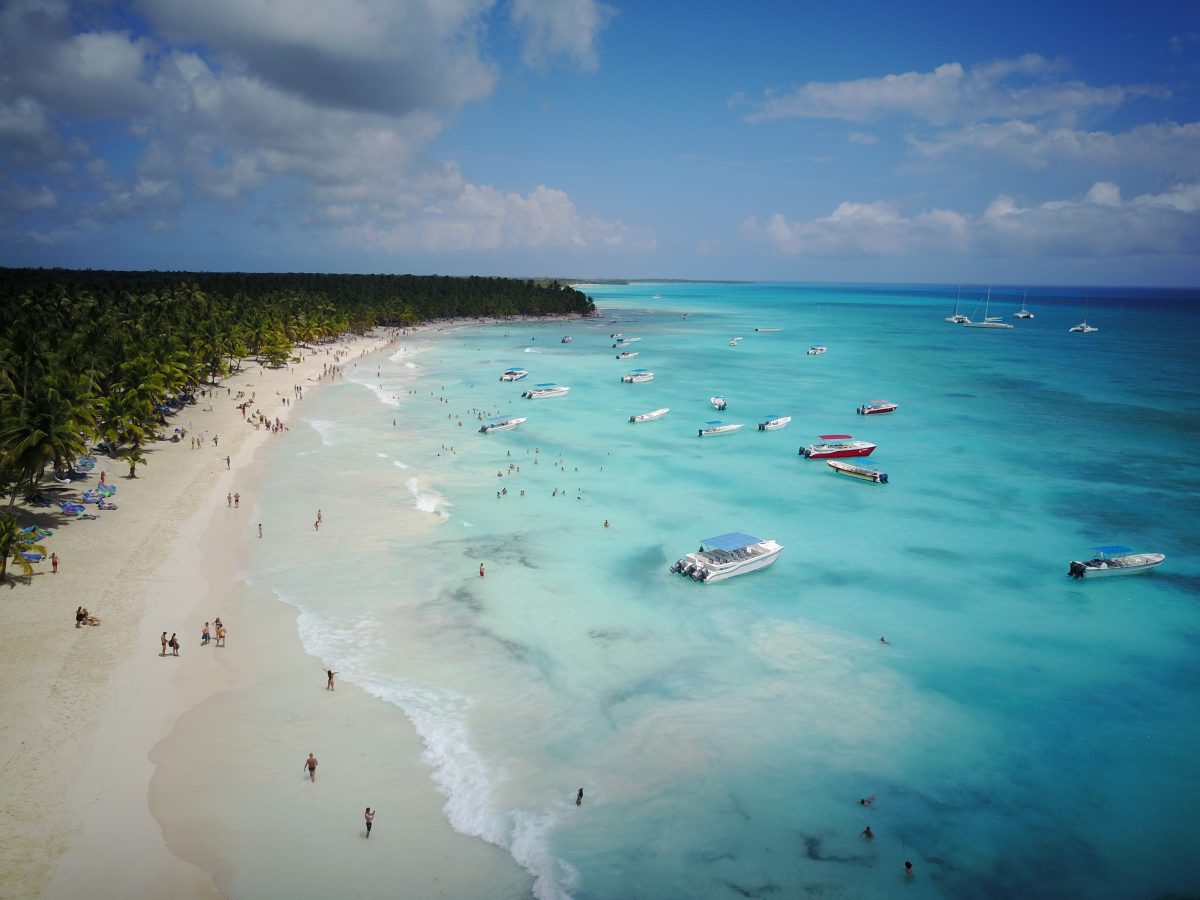 Lying on the easternmost tip of the Dominican Republic, Punta Cana is an ideal place to be if you're looking for a great summer escape. Its pristine and long stretches of white beaches have been a lure for many beach lovers around the globe.
In 2017, Punta Cana had welcomed over 4.35 million tourist visitors through the Punta Cana International Airport, the first privately owned airport in the world. This was not a surprise, however, as there are dozens of amazing things to do in Punta Cana! If you and your partner are looking for cheap Caribbean vacations for couples, this place is surely one to be considered.
Weather And Flights To Punta Cana
Punta Cana is your typical getaway destination in all weather. For tourists from colder countries, Punta Cana weather, even in the months of November to January, is a perfect time for beach and other things to do in Punta Cana.
Usually, the lowest temperature hits at 70°F (21°C) in January, although the average temperature is 84°F (29°C). Peak high temperature reaches 90°F (32°C) from June to July. However, Punta Cana weather can be very wet during the months of September, October, and November.
Flights to Punta Cana aren't as hard as other destinations. The Punta Cana International Airport is serving 53 airlines in 96 cities across 28 countries. There are top airlines operating commercial flights to Punta Cana, including American Airlines, Delta Airlines, Sunwing Airlines, Copa Airlines, and United Airlines.
Also, watch out for flight promos by these airlines to save more money during your stay and use it elsewhere!
Punta Cana Offers Diverse Adventures
Punta Cana surely is highly regarded for its wide stretches of powdery white beaches and tranquil waters. Hundreds of resorts are readily available to offer you a wonderful stay. However, there are more things to do in Punta Cana than submerging yourselves in the shimmering turquoise waters. From enjoying the natural parks and landscapes to night parties and drinks, your vacation will certainly never get boring.
Things To Do In Punta Cana
If you're planning to visit this wonderful Spanish-speaking town in North America, check out our list of the 10 best things to do in Punta Cana:
1.
Swim At Punta Cana Beaches
It's impossible to think of things to do in Punta Cana without discussing its pristine beaches and shorelines. For a place with 35 kilometers and 8 main beaches, this town in the famous Caribbean is beyond perfect and serves as a relaxing escape! Interestingly, Punta Cana has more Blue Flag beaches than any other towns in the Caribbean!
The Bavaro Beach could be the epitome of what a true Punta Cana experience is, and has certainly been regarded as the best of the bunch. Dozens of scenic beaches await to surprise you, such as the Macao Beach, Playa Blanca, Playa Arena Gorda, Playa Juanillo, Dreams Palm Beach, and Secrets Royal Beach. These beaches give you an ultimate and never-ending Caribbean experience. You can make the best of your beach experience by indulging yourselves with many fun things to do in Punta Cana beaches, such as sunbathing, kayaking, and scuba diving!
2.
Sail And Snorkel On Catamaran Tour
Where there's a beach, there are sailing and scuba diving adventures waiting for you! There's no shortage of things to do in Punta Cana. The reef in its seas prevents large waves from hitting the shores, making it best for sailing and snorkeling! Several tour operators offer complete and semi-private snorkeling package. Booking these kinds of packages gives you a hustle-free adventure.
If you're traveling in a small group, a Catamaran Tour is the perfect answer to enjoy sailing and snorkeling. The tour brings you activities such as setting sail in picture-perfect waters and sandbars and snorkeling in reefs. You can also relish a cocktail drink on the boat hammocks!
3.
Reconnect With Nature Through Natural Parks
Visiting natural theme parks is what it takes for a real adrenaline rush treat in Punta Cana! From water parks to zoos, there are surely other exciting things to do in Punta Cana than venturing off the sandy beaches. The Manati Park offers an ideal treat for kids and animal lovers. It houses more than 150 species of animals, including dolphins! A show and a village featuring the Taino people's traditions, dances and rituals are also up for a curious explorer!
4.
Surf (And Learn How To) In Macao Surf Camp
Whether you're an amateur or a professional surfer, surfing should definitely be on your bucket list of things to do in Punta Cana! After all, exploring new fun activities is what Punta Cana is here for. Macao Surf Camp offers surf lessons to learn the basics of surfing. There are also surfboard rentals available so you can practice on perfect wave heights! A weeklong visit would be just enough for a headstart of your soon-to-be hobby.
5.
Be Awed By The Majestic Hoyo Azul Lagoon
Decided to take a break from the beaches? Well, be prepared to experience the majestic lagoons and waterfalls Punta Cana has to offer! The Hoyo Azul lagoon is a natural sinkhole coupled with blue and crystal-clear freshwater, covered by the shades of limestone!
6.
Overcome Heights With Farallon Zip Line
There's no better way to enjoy the natural landscapes of Punta Cana than sightseeing while in a zip line course! The Farallon Zip Line course is a must-try if you want a next-level adventure! Farallon's zip line is attached to the side of a sheer cliff, offering you heart-pumping trails from north to south of the cliff. While on the course, you are also set to take mini-hikes and eco-trails.
7.
Explore Caves In Scape Park
Perhaps one of the most adventurous things to do in Punta Cana is exploring caves and waterfalls. Inside the Scape Park are caves waiting to be seen by cave enthusiasts. The caves house bats and an underground swimming pool!
8.
Learn About Chocolates In ChocoMuseo
Next, visiting the ChocoMuseo is a must when you're considering free things to do in Punta Cana. This unique museum exhibits the Cacao "bean to bar" process. If you're a chocolate lover, you've probably gushed over the idea (at one point or another) of how your favorite chocolates are made into delightful bars. If you have more time, you can also learn how to make chocolates through their workshops! Sounds exciting, right?
9.
Get Into Jeep Safari Tour
A Jeep Safari Tour for a day is all you need for an authentic Dominican Experience! Tour operators offering Jeep Safari tours give you destinations to wander to as you drive your own Jeep. The Just Safari Tour, for instance, starts its route in Dominican House, where tourists experience Dominican culture and food. The tour would later end in Macao Beach for a sumptuous lunch!
10.
Eat Out With Local Delicacies In Punta Cana
Food hopping for local delicacies is always one of the first things to do in Punta Cana! Dominican foods are normally available in many hotels and restaurants. Due to a rich culinary history, foods here are extraordinarily good. However, locals will say that their local cuisines, such as Arroz Blanco (White Rice), Sancocho (7-Meat Stew), Pollo Guisado (Braised Chicken), Mangú (Plantain Mash), Ensalada Verde (Green Salad), and Tostones (Twice-Fried Plantains), are the must-eat delicacies!
Enjoy & Be Safe…
To summarize, Punta Cana is a great place to spend quality time with your family and friends. However, it is also important to consider the safety of everyone. Read for safety and emergency measures in case you stumble upon unwanted experiences. You also need to strictly follow precautions set by tour and beach operators. With that, take a break and enjoy the unmatched beauty Punta Cana has to offer you.
Looking for other beach destinations? You might want to check out top international tropical beaches for your next seaside getaway!