Everything You Need To Know About SunPass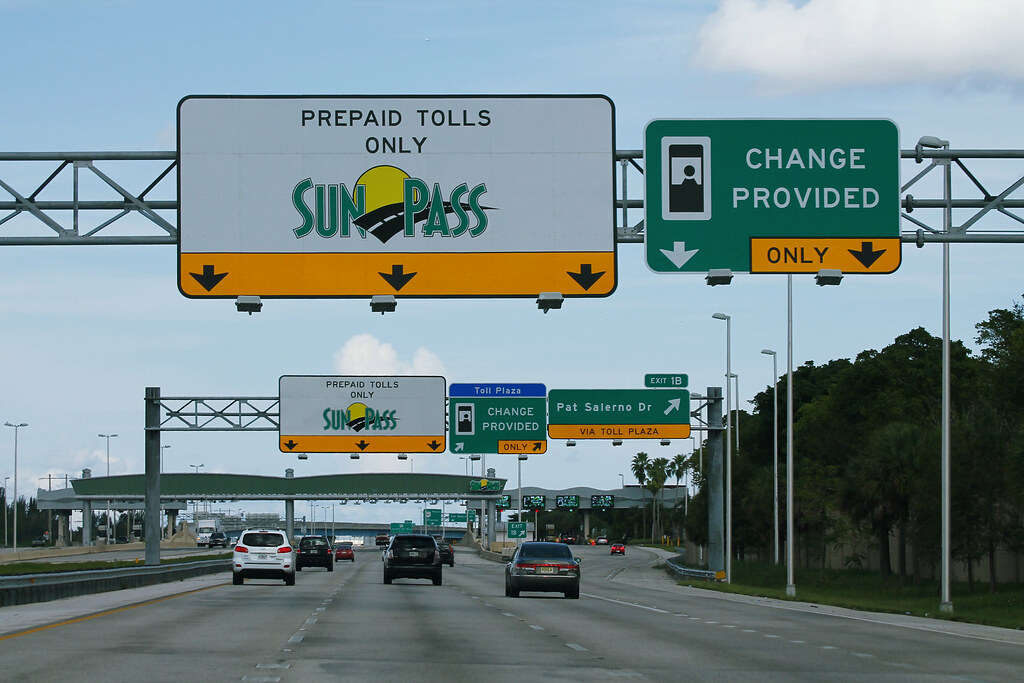 Are you planning a trip to the sunny state of Florida sometime soon? If you're looking at renting a car or intend to be driving most of the time while you're there, you are going to need a SunPass.
We feel a SunPass is absolutely essential if you're in any of the 283 cities within Florida. This tiny device will soon be your new best friend as it helps you fly through the long queues at any toll booths you may encounter on your journey.
1.
What Exactly Is SunPass?
If you're from the states then you're familiar with the likes of E-ZPass, E-Pass, and O-Pass. SunPass runs on the same concept. Instead of you having to wait in line at toll booths, change in hand, palms sweaty and left smelling of metal – simply drive through a designated SunPass lane and the fare will be deducted automatically.
It comes in two forms, as a handy little device or as a sticker. Depending on your vehicle and your needs, you can decide which suits you best.
The SunPass Transponder is a compact, grey box that affixes to your windscreen via suction cups. If you are someone who switches regularly between vehicles, this is the version of SunPass most suited to you. It is portable and can be used in various vehicles, meaning you don't have to worry about the SunPass Transponder being linked to a particular vehicle.
The SunPass Mini, on the other hand, comes in the form of a sticker. Do take note that once the SunPass Mini is applied to your windscreen it cannot be transferred to another vehicle. Attempting to remove and reapply it will damage it. So if you do opt for the SunPass Mini be sure you're ready for the commitment!
Another point worth mentioning, the SunPass Mini will not work with motorcycles. This is due to the fact that it only works when applied to a glass windshield.
2.
What Happens If You Don't Have A SunPass?
If you decide that you do not want to get yourself a SunPass, you may opt to go through the regular toll lanes. This does, however, come with a delay and the need for physical cash to pay the fare.
Additionally, you may encounter toll booths that are SunPass only. Should you find yourself without either a SunPass Transponder or a SunPass Mini, you will be charged via TOLL-BY-PLATE.
What this means is that the toll snaps a picture of your license plate and you will later receive a bill for that particular toll fare. Some of Florida's highways have gone all-electronic, meaning that there are no cash options.
When you are billed with the TOLL-BY-PLATE option, you will be charged an additional fee of USD$2.50 as a service fee. So you're probably better off purchasing one of the two SunPass options if you're going to be spending a lot of time on the highway.
3.
Where Can You Get A SunPass Transponder Or SunPass Mini?
Now that you understand the ease that comes with owning a SunPass, you are probably wondering where you can get your hands on one of these nifty little devices!
The SunPass Transponder and SunPass Mini are both available for purchase at various locations. You can most likely find an authorised dealer near you as there are roughly 3100 within Florida.
Publix Super Markets, CVS Pharmacy, Walgreens, Amscot Financial, AAA South, Navarro Pharmacies, and Sedano's Supermarkets will all be able to get you hooked up with a SunPass.
A SunPass Transponder will set you back USD$19.99 and USD$4.99 for a SunPass Mini, both prices are before tax.
Alternatively, you can also purchase your SunPass online or call 1-888-TOLL-FLA or 1-888-865-5352 and follow the series of instructions that you are provided with.
4.
How Do You Set Up Your SunPass?
Once you have acquired the SunPass that is most suited to your needs, you are going to need to create an account. You can head on over to the official SunPass website to register. Your account can later be used to check on or add to your balance.
Your SunPass needs a minimum of USD$10 to begin. For ultimate convenience, you can configure your SunPass to top-up automatically to avoid the hassle of needing to log-on and adjust it manually. Remember not to let the balance fall below the initial USD$10!
Setting your SunPass to automatically top-up also makes you a SunPass member, allowing you to park at various airports and locations such as the Hard Rock Stadium in Miami, Miami International, Orlando International, Palm Beach International, Fort Lauderdale International, and Tampa International.
5.
Where Do You Use Your SunPass?
As we've mentioned, you can use your SunPass within any of the states in Florida! Your SunPass is also valid in the state of Georgia.
The same SunPass Transponder or SunPass Mini can be used with ease in any of the cities within the two states. Therefore, you can drive smoothly through any designated SunPass, O-Pass, and E-Pass lanes without hassle!
Wrapping Up…
We hope that we have managed to answer any questions you may have had pertaining to the usage and acquiring of your SunPass Transponder or SunPass Mini! A SunPass certainly makes your time in Florida and Georgia a whole lot more convenient.
If you travel frequently and often find yourself renting a car, the SunPass Transponder can and will carry you from vehicle to vehicle. Plus, you can always remove it and save it for the next time you find yourself needing to use one!