How To Do Miami On A Budget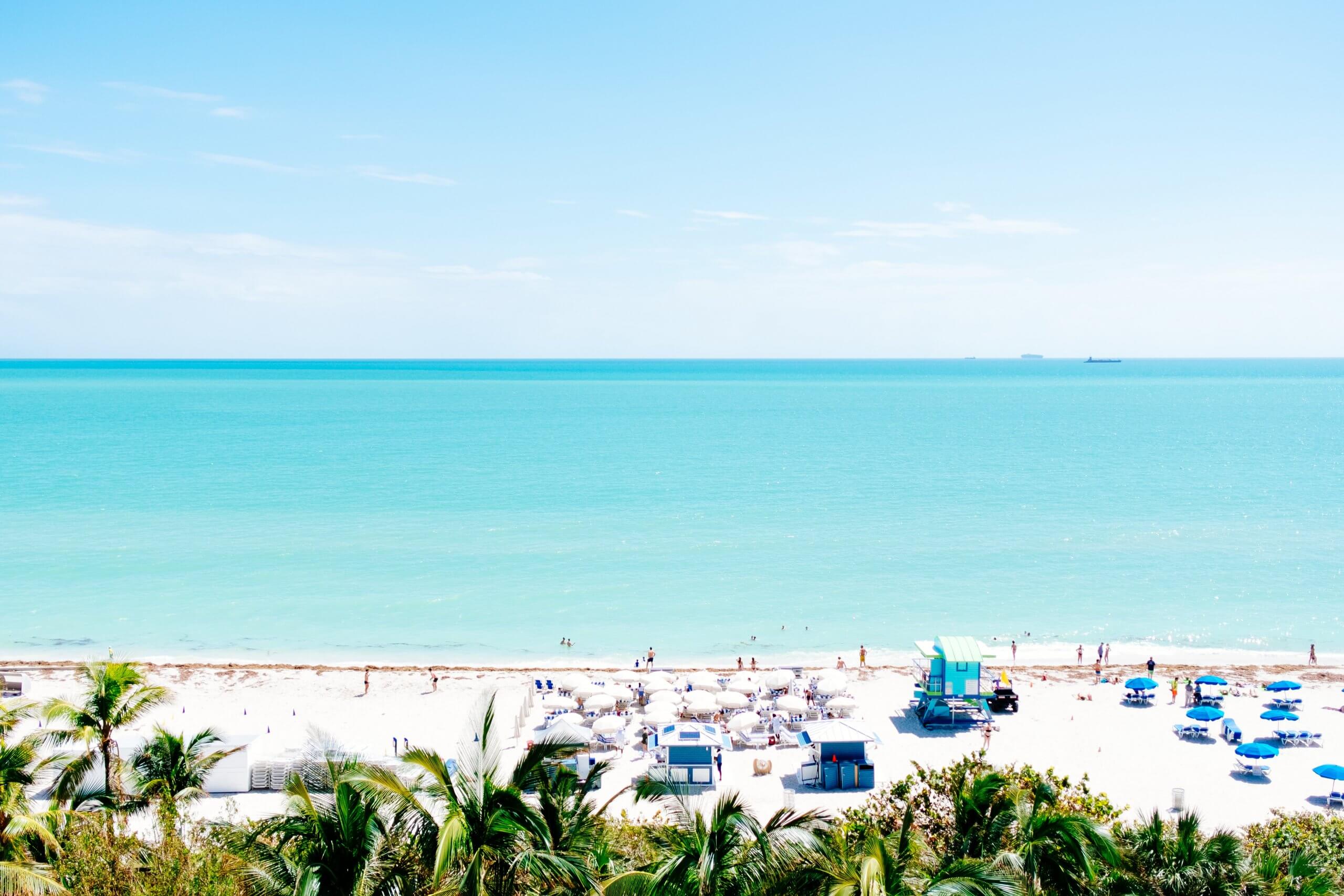 Introduction
Welcome to Miami, the vibrant and energetic city known for its stunning beaches, vibrant nightlife, and multicultural vibe. While Miami may be known for its glamorous lifestyle, you don't have to break the bank to enjoy all that this incredible city has to offer. With a little planning and some insider tips, you can experience the best of Miami without blowing your budget.
Whether you're a budget-conscious traveler or simply looking to save some money during your trip, this comprehensive guide will provide you with all the information you need to explore Miami on a budget. From finding affordable accommodation to discovering free and low-cost attractions, and savoring delicious yet wallet-friendly food, we've got you covered.
Miami offers a wide range of options for budget travelers, ensuring that you can make the most of your visit without draining your bank account. So, pack your sunglasses, put on your flip-flops, and let's dive into the world of budget travel in Miami!
Nowadays, it's easier than ever to find affordable accommodation in Miami. From budget hotels to hostels and vacation rentals, the city has plenty of options to suit every traveler's needs and budget. And don't worry, just because you're on a budget doesn't mean you have to compromise on comfort and safety. Many affordable accommodations offer excellent amenities and convenient locations.
When it comes to choosing accommodation, carefully consider your priorities. If you are a solo traveler or don't mind sharing a room with others, hostels can be a great option. They are not only budget-friendly but also offer a chance to socialize with fellow travelers. If you prefer more privacy and space, vacation rentals or budget hotels are worth considering. Do proper research, compare prices, and read reviews to find the best deals.
In the next sections, we will explore how to make the most of Miami on a budget, including free or low-cost attractions, affordable food and drink options, transportation choices, and tips for saving money on souvenirs and shopping. Let's dive in and discover how to have an amazing budget-friendly experience in the beautiful city of Miami!
Finding Affordable Accommodation
One of the key factors in enjoying Miami on a budget is finding affordable accommodation that doesn't compromise on comfort or safety. Luckily, there are plenty of options available for budget-conscious travelers.
If you're open to a shared living experience, consider staying in a hostel. Hostels in Miami are not only affordable but also provide an opportunity to meet fellow travelers from around the world. Choose a hostel located near the areas you plan to explore to save on transportation costs. Some popular hostels in Miami include Miami Hostel, Freehand Miami, and SoBe Hostel & Bar.
For a more private and comfortable stay, consider vacation rentals. Websites like Airbnb and VRBO offer a wide range of affordable options, from private rooms to entire apartments or houses. Look for rentals in neighborhoods like Little Havana or Midtown, which tend to be more budget-friendly compared to beachfront areas.
If you prefer a traditional hotel experience, don't worry, there are still affordable options available. Look for budget hotels or motels in areas like Downtown or the Miami Airport area. Consider staying slightly outside of the popular tourist hubs to find better deals.
Another option to save on accommodation costs is to choose a hotel that offers complimentary breakfast. Starting your day with a free meal can help you stretch your budget further. Additionally, consider booking your stay during weekdays or in the off-peak season when prices tend to be lower.
When searching for accommodation, take advantage of online booking websites that offer deals and discounts. Compare prices, read reviews, and look for any additional fees or hidden charges before making a reservation.
Remember to keep an eye out for any special promotions or last-minute deals. Signing up for newsletters or following travel websites and social media accounts can keep you informed about any ongoing promotions or flash sales.
Lastly, if you have a flexible travel schedule, consider house-sitting or couch-surfing. Websites like TrustedHousesitters and Couchsurfing connect travelers with hosts who offer accommodation for free in exchange for light duties or cultural exchange. Not only will you save money, but you'll also get a unique local experience.
Now that you have some ideas for finding affordable accommodation in Miami, let's move on to the next section where we'll uncover free or low-cost attractions to explore during your budget-friendly trip.
Exploring Free or Low-Cost Attractions
One of the best things about Miami is that there are numerous free or low-cost attractions that allow you to experience the city's vibrant culture and beautiful landscapes without breaking the bank. Here are some suggestions for exploring Miami on a budget:
1. Spend a day at the beach: Miami is renowned for its stunning beaches, and luckily, they are free! Whether you choose South Beach, Key Biscayne, or Virginia Key Beach, you can enjoy the sun, sand, and turquoise waters without spending a dime. Remember to bring your own beach towel, sunscreen, and snacks to maximize your beach day experience.
2. Discover the street art of Wynwood: Wynwood Walls is a world-famous outdoor street art gallery located in the Wynwood neighborhood. Explore the colorful murals and graffiti art created by renowned artists from around the globe. Entry to the Wynwood Walls is free, and you can spend hours enjoying the vibrant art scene.
3. Visit the iconic Art Deco Historic District: Take a stroll along Ocean Drive in South Beach and marvel at the iconic pastel-hued Art Deco buildings. The district is a designated National Historic Landmark and offers a glimpse into Miami's architectural heritage. The best part? Admiring the art-deco buildings doesn't cost a thing!
4. Explore the outdoor spaces: Miami has several beautiful parks and gardens that offer a tranquil escape from the city bustle. Visit the picturesque Bayfront Park, relax in the tranquil Vizcaya Gardens, or take a walk along the famous Miami Beach Boardwalk. These outdoor spaces provide beautiful scenery and opportunities for leisurely walks or picnics.
5. Immerse yourself in the culture at Little Havana: Explore the vibrant Cuban culture at Little Havana, a neighborhood known for its lively atmosphere and rich heritage. Walk along Calle Ocho, visit the Domino Park to watch locals play dominoes, and indulge in delicious and affordable Cuban cuisine.
6. Discover the natural beauty of the Everglades: Just a short drive from Miami, the Everglades National Park is a must-visit for nature lovers. While there is an entrance fee to the park, you can take advantage of free ranger-led programs and hiking trails to explore the unique ecosystem.
7. Enjoy free or discounted museum days: Many museums in Miami offer free or discounted admission on select days. The Pérez Art Museum Miami (PAMM) and the Wolfsonian-FIU Museum are just a couple of examples. Check their websites for information on specific days and times to take advantage of these cost-saving opportunities.
With these affordable or free attractions, you can have a memorable and enriching experience in Miami without straining your budget. Now let's move on to the next section where we'll explore budget-friendly food and drinks options in the city.
Enjoying Budget-Friendly Food and Drinks
When it comes to food and drinks, Miami has a diverse culinary scene that caters to all budgets. From local eateries to international cuisine, you can find delicious and affordable options throughout the city. Here are some tips for enjoying budget-friendly food and drinks in Miami:
1. Explore food markets and food trucks: Visit popular food markets like the Wynwood Yard or the Miami Design District's St. Roch Market, where you can find a variety of food options at affordable prices. Food trucks are also a great choice for cheap and tasty meals. Head to popular food truck gatherings like the Food Truck Fridays at Tropical Park or the Wynwood Food Truck Rally.
2. Sample ethnic cuisine: Miami is a melting pot of different cultures, and you can experience a world of flavors without breaking the bank. Head to neighborhoods like Little Havana, Little Haiti, or Doral, where you'll find affordable and authentic Cuban, Haitian, Jamaican, or Venezuelan eateries.
3. Take advantage of happy hour specials: Many restaurants and bars in Miami offer happy hour specials during certain times of the day. You can enjoy discounted drinks and appetizers, making it a perfect opportunity to experience Miami's nightlife scene without overspending. Check online listings or ask locals for recommendations.
4. Pack a picnic: Miami has numerous parks and beaches where you can enjoy a picnic. Visit local supermarkets or grocery stores and pick up some fresh fruits, sandwiches, and snacks. Then, find a scenic spot to relax and enjoy a budget-friendly outdoor meal.
5. Lunch specials and prix fixe menus: Many restaurants in Miami offer lunch specials or prix fixe menus, especially during weekdays. Take advantage of these deals and enjoy a full meal at a fraction of the cost. Look for restaurants that offer prix fixe menus for dinner as well.
6. Avoid touristy areas: While it's tempting to dine in the popular tourist areas, prices tend to be higher. Explore neighborhoods like Coral Gables, Little Havana, or MiMo (Miami Modern) District, where you can find authentic and affordable dining options.
7. Embrace the local seafood: Miami is known for its fresh and delicious seafood. Visit local seafood markets or casual seafood shacks for affordable options like fish tacos, ceviche, or blackened fish sandwiches. You'll enjoy the flavors of Miami without a hefty price tag.
With these tips, you can indulge in the culinary delights of Miami without straining your budget. Now let's move on to exploring transportation options for budget travel in Miami.
Transportation Options for Budget Travelers
Getting around Miami on a budget is relatively easy, thanks to a range of affordable transportation options. Here are some budget-friendly ways to navigate the city:
1. Public transportation: Miami has an extensive public transportation system, including buses and the Metrorail. Utilizing public transportation is not only cost-effective but also allows you to experience the city like a local. Purchase a reloadable EASY Card or EASY Ticket to pay for your fares conveniently. The Metrorail connects key areas of the city, while buses offer coverage to neighborhoods not served by the rail system.
2. Free Trolley services: Miami offers free trolley services in certain neighborhoods, including Downtown, Brickell, and Wynwood, among others. These trolleys operate on fixed routes and can be a convenient and no-cost way to explore specific areas of the city.
3. Ride-sharing apps: Utilize ride-sharing apps like Uber and Lyft to get around Miami. These services often offer affordable rates, especially for shared rides. Keep an eye out for any promotional offers or discounts specific to Miami.
4. Biking: Miami is a bike-friendly city with several bike lanes and rental services available. Rent a bike from one of the many rental companies and explore Miami at your own pace. You can enjoy the coastal views, visit different neighborhoods, and get some exercise while saving money on transportation.
5. Walking: Many areas of Miami, particularly popular tourist spots, are easily walkable. Take advantage of the city's pleasant weather and explore neighborhoods like South Beach or Wynwood on foot. Walking allows you to immerse yourself in the vibrant atmosphere of Miami and discover hidden gems along the way.
6. Car-sharing services: Consider using car-sharing services like Zipcar if you need a vehicle for a few hours or a day. These services provide flexibility and cost savings compared to traditional car rentals.
7. Plan your itinerary strategically: Consider grouping activities and attractions together to minimize transportation costs. Explore one neighborhood per day instead of traveling back and forth across the city. This reduces travel time and expenses.
Remember to check for any special transportation deals or discounts offered by hotels, attractions, or transportation providers. By being strategic and utilizing these budget-friendly transportation options, you can explore Miami without breaking the bank.
Now that we've covered transportation, let's move on to the next section, where we'll share tips for saving money on souvenirs and shopping during your visit to Miami.
Tips for Saving Money on Souvenirs and Shopping
When it comes to souvenirs and shopping in Miami, there are plenty of opportunities to find great deals and save money. Here are some tips to help you stretch your budget while still bringing home memorable souvenirs:
1. Shop at local markets and flea markets: Skip the high-end tourist shops and head to local markets like the Bayside Marketplace or the Lincoln Road Mall. Here, you'll find a wide variety of souvenirs, arts and crafts, clothing, and accessories at more affordable prices. Additionally, consider visiting flea markets like the Opa-locka Hialeah Flea Market or the Miami Flea Market for unique finds and bargain deals.
2. Look out for discounted or clearance sections: Many shops in Miami have special sales sections or offer markdowns on certain items. Take the time to browse through these areas and keep an eye out for discounted goods. It's not uncommon to find designer items at a fraction of their original price.
3. Avoid purchasing souvenirs in touristy areas: Souvenirs tend to be overpriced in popular tourist spots. Venture out to local neighborhoods, where you're more likely to find unique and reasonably priced souvenirs. Shop in areas like Coral Gables, Little Havana, or Wynwood, where you can support local businesses and find authentic Miami souvenirs.
4. Consider purchasing practical and useful items: Instead of purchasing generic trinkets, consider buying items that you can use in your daily life or as practical mementos. Look for locally made products such as handmade soaps, artisanal chocolates, or locally produced artwork. These items will not only serve as reminders of your trip but also provide value beyond the souvenir aspect.
5. Compare prices and negotiate: Don't be afraid to compare prices across different stores before making a purchase. Miami's diverse shopping scene means there are often multiple options for the same or similar items. Additionally, if you're shopping at local markets or independent shops, consider negotiating the price. Polite haggling is common in certain settings and can help you score a better deal.
6. Utilize tax-free shopping: If you're visiting Miami from outside the U.S., take advantage of the tax-free shopping available to international travelers. Look for stores displaying the "Tax-Free for Tourists" sign and inquire about the process for tax refunds. This can save you a significant amount, especially on higher-priced items.
7. Stick to a budget: Before you start shopping, set a budget for yourself and stick to it. This will help you avoid overspending and ensure that you stay within your means. It's easy to get carried away with the excitement of shopping, but being mindful of your budget can save you from unnecessary expenses.
By following these tips, you can save money on souvenirs and shopping in Miami while still bringing back meaningful mementos from your trip. Now that we've covered tips for budget-friendly shopping, let's conclude our guide to exploring Miami on a budget.
Conclusion
Exploring Miami on a budget is not only possible but also incredibly rewarding. By following the tips and suggestions outlined in this guide, you can experience the best of Miami's beaches, attractions, cuisine, and culture without breaking the bank.
From finding affordable accommodation options to exploring free or low-cost attractions, there are plenty of ways to enjoy all that Miami has to offer while keeping your budget intact. Take advantage of public transportation, free trolley services, and bike rentals to navigate the city without spending a fortune on transportation.
When it comes to food, try out local eateries, food markets, and happy hour specials for budget-friendly dining experiences. And don't forget to sample the diverse culinary traditions that Miami has to offer, from Cuban cuisine in Little Havana to seafood delights along the coast.
When it comes to shopping and souvenirs, explore local markets, compare prices, and look for discounts or sale sections. By being selective and creative in your choices, you can find meaningful souvenirs and unique items that won't break the bank.
Remember, the key to successful budget travel in Miami is a balance of planning, creativity, and resourcefulness. Researching, comparing prices, and making informed choices will help ensure that you get the most out of your trip while sticking to your budget.
So, whether you're lounging on the beautiful beaches, exploring the art scene, or immersing yourself in the vibrant neighborhoods, Miami offers a plethora of budget-friendly experiences that will leave you with unforgettable memories.
Now that you're armed with the knowledge to explore Miami economically, go out and enjoy the city to the fullest, all while saving those hard-earned dollars. Miami is waiting to welcome you with open arms, no matter your budget!