Best Camping Cots To Relax After A Tiring Day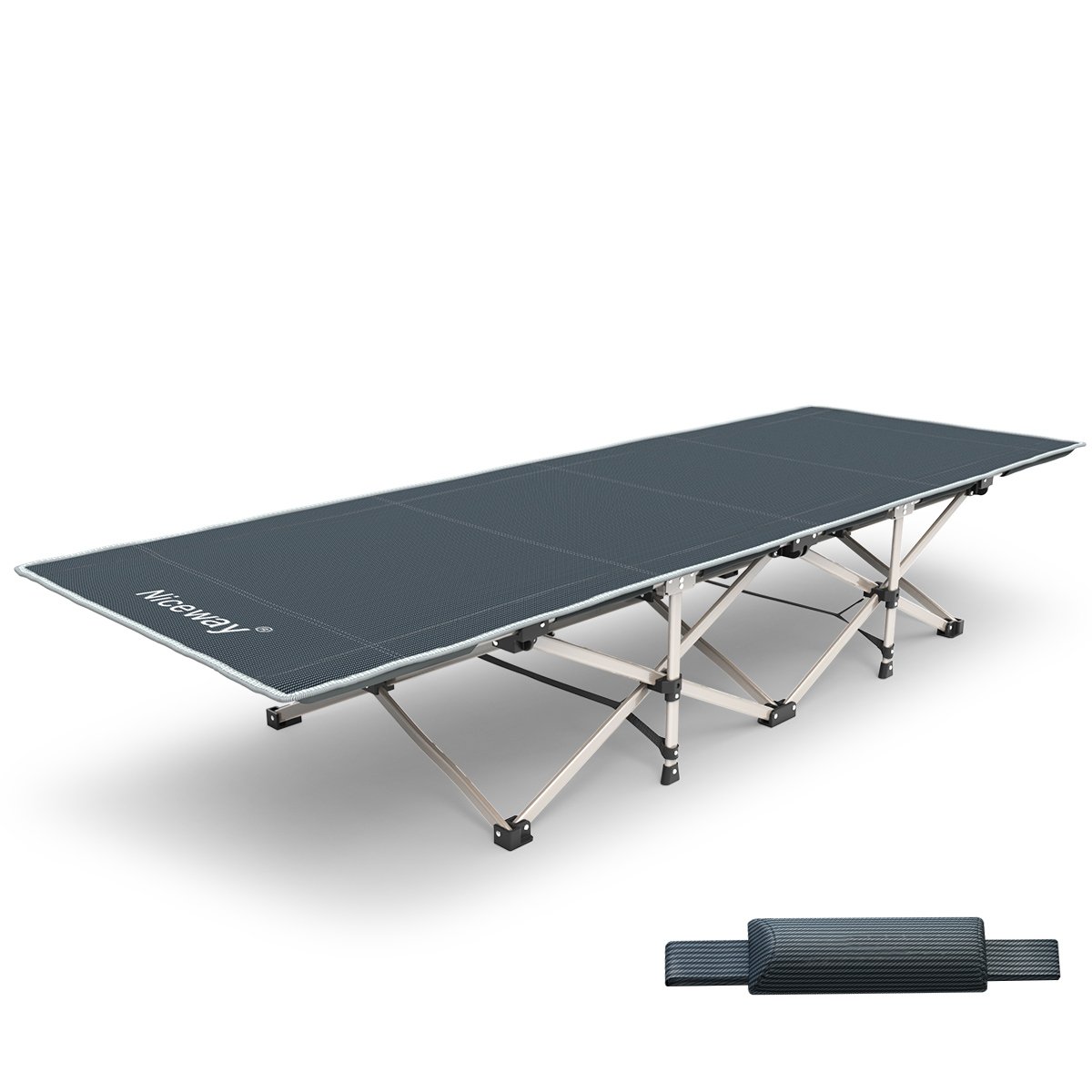 Heard of camping cots?
Then you will most probably have a preference where to sleep while going on a trip/journey. I guess no one likes to sleep on the ground, placing your head on small pebbles and making unsuccessful attempts to fall asleep. It can be really painful. So are you looking for a solution to improve your night's sleep? So you have landed in the right place.
For sure, you want to spend your camping nights on comfortable portable beds. Therefore, in this article, we are going to introduce you to camping cots – those are portable beds that make your sleep at night relaxed and convenient.
Let's break right into it…
"Camping cots – What are they? And are they really so helpful?" – These are probably the questions you ask yourself right now. Well, ask yourself another question – "Do you want to sleep on grit and sand while your friends/family are sleeping on a comfy bed?"
If the answer to this question is "NO," as it should be, then yes, sleeping cots are one of the best choices when you go for camping.
So, next time when you are planning a trip or camping with your family or friends, a camping cot should be a must in your prep list. Do not worry, they aren't only for babies anymore. A 'best' camping cot can provide you with a fantastic sleep experience to rest peacefully and feel fully refreshed by the next morning.
What is a camping cot?
Camping cot/ sleeping cot/ a portable bed is a small bed that is commonly used when more massive beds can't be used for camping. They are comparatively pretty light, built from metal or wood and covered in canvas or polyester.
These features make the camping cot an incredibly easy portable bed to assemble. Thus, they become an ideal option for people who love to spend time outdoors or even for people who work in defence.
What makes camping cots so vital while camping or just going out to enjoy the outdoors?
Top 4 Best Camping Cots
Choosing the right cot for camping is an investment that can save you money for long periods, protecting your body health, and ensuring that you get a night of quality sleep.
Check some of the best camping cots we suggest on our list
1.
Disc-O-Bed Cam O Bunk Cot
This is an incredible camping cot. The style is two-beds, one being over the other. It has a traditional length and it effortlessly fits in larger tents. The main benefit you get from this type of sleeping cot is that it has available pouches connected to the beds, allowing campers to keep their electronics and important stuff near them.
The cot is compelling and reliable, it is capable of handling 500 lbs and weighs 64 lbs. The frame is built up of rust-resistant steel, ensuring that the bed will last for long years no matter the climate. This is one of the best camping cots on the market.
Buy Disc-O-Bed Cam O Bunk Cot is available from Amazon.
2.
TETON Sports Outfitter XXL Camping Cot
Another great option with a unique and great design. In spite of its simplicity, this camping cot provides excellent durability and robust functionality. Its capacity is 600 lbs. It is incredibly easy to assemble, and it weighs only 26 lbs.
The uniqueness of this bed is stemming from the unique end bar, which provides tension to the canvas. The bed is also wider than the traditional one thus giving additional comfort. Certainly, one of the best camping cots out there.
Buy TETON Sports Outfitter XXL Camping Cot from Amazon.
3.
Coleman ComfortSmart Cot
This foldable camping cot has one of the most simple designs ever made. It doesn't have the fancy bells, pouches, and other features like other expensive camping cots have in their arsenal. This cot is really known for its simplicity and sturdy features.
Though it might not have all the modern stuff, one great advantage of this bed is that it is easy to assemble than other cots. It's simple, so just unfold it and it is ready to use the very next moment. The capacity of this cot is 300 lbs and weighs 22 lbs.
This could be the best camping cot choice for you if you have a spending limit.
Buy your Coleman ComfortSmart Cot from Amazon.
4.
Niceway Oxford Portable Folding Cot
Niceway Oxford portable folding cot is a simple and adaptable unique camping cot that provides comfort and relaxation to your night experience. It hits the ground on ten places with its ten feet, thus creating reliable stability and frame support.
One of the primary benefits of this cot is that it can be used as a lounge chair. Therefore it becomes an amazing option for outdoors and resting at home. Its capacity is up to 300 lbs and it is extremely lightweight, weighing only 15.5 lbs.
Buy your Niceway Oxford Portable Folding Cot from Amazon.
So are you all set to buy a camping cot for your next adventure? Still not convinced? Ok then just think about this situation!
After a long day of hiking, you are at the end of your strengths, unable to even cook, you just put a portion of fast food in your mouth to satisfy your hunger, and you are ready to go fall asleep. But you don't have a camping cot. You realize your uncomfortable situation. But you have no choice. You lay down on the ground, close your eyes in a hard and almost impossible attempt to fall asleep. You are rolling your head over the sturdier rocks on the ground in a vague hope to find a more comfortable place where you can put your body to rest. Finally, when you find a better position for your head, you can fall asleep. The next thing you realize is that you got only 2 hours of hard and unreliable sleep, and you must be ready for another long and tiring day of hiking.
Wouldn't having a camping cot near you, restrain you from all these significant problems? Of course, it would. Now, you know why having a camping cot after a long day of walking and exploring might be an excellent option for you.
So we hope we have convinced you in getting a camping cot and we hope you found this article really useful and informative.