Nusa Lembongan: An Insider's Guide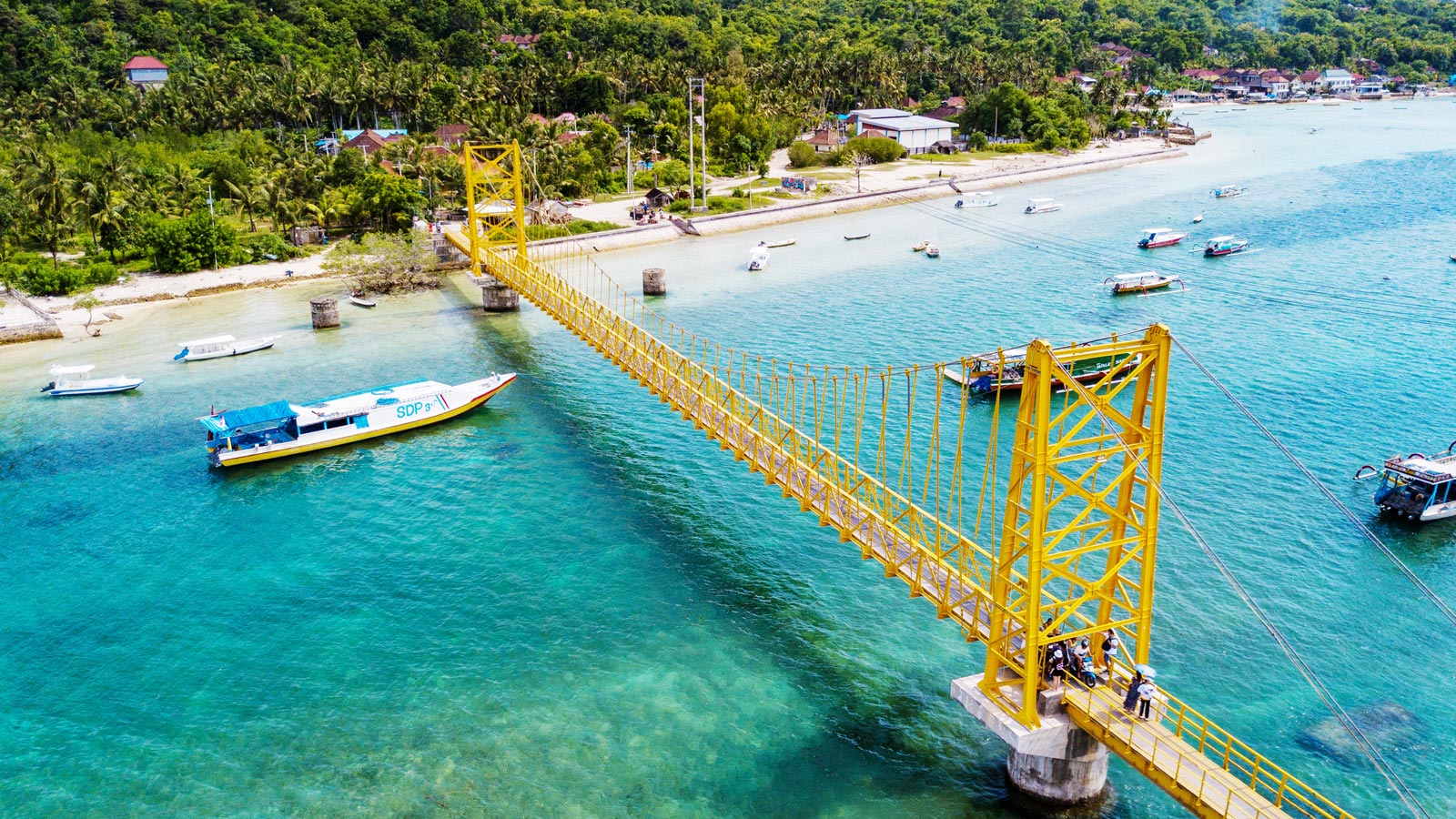 Introduction
Welcome to Nusa Lembongan, a hidden gem nestled in the azure waters of Bali, Indonesia. This tropical paradise is the perfect destination for travelers looking to escape the crowds and immerse themselves in natural beauty and tranquility. With its pristine beaches, breathtaking views, and vibrant underwater world, Nusa Lembongan offers a unique and unforgettable experience.
Located just a short boat ride away from Bali, Nusa Lembongan is a small island that has managed to retain its charm and authenticity. Here, you can find a slower pace of life, peaceful vibes, and an opportunity to connect with nature. Whether you're seeking a relaxing beach vacation, thrilling water activities, or a cultural escape, Nusa Lembongan has something for everyone.
One of the highlights of Nusa Lembongan is its stunning coastline. The island boasts a collection of pristine beaches, each with its own distinct charm. From the powdery white sand of Jungut Batu Beach to the rugged cliffs of Dream Beach, there is a perfect spot for every beach lover. Relax under swaying palm trees, take a dip in the crystal-clear water, or soak up the sun while enjoying the breathtaking views – the choice is yours.
For those seeking adventure, Nusa Lembongan offers a variety of water activities. Explore the vibrant coral reefs while snorkeling or diving, and discover a myriad of colorful marine life. Surf enthusiasts can catch some of the best waves in the region at spots like Playgrounds and Lacerations. Kayaking, stand-up paddleboarding, and jet skiing are also popular options for those looking for an adrenaline rush.
Aside from its natural beauty, Nusa Lembongan is also known for its vibrant local culture. Take a stroll through the charming villages and get a glimpse of traditional Balinese life. Visit the seaweed farms, where locals engage in an ancient practice that has been passed down through generations. Immerse yourself in the island's rich history and tradition by attending a mesmerizing Balinese dance performance.
Food lovers will delight in the culinary offerings of Nusa Lembongan. From fresh seafood barbecues on the beach to hip cafes serving up healthy smoothie bowls, there is a wide range of dining options to satisfy every palate. Don't miss the chance to taste the local delicacies, such as spicy sambal, grilled squid, and refreshing coconut water straight from the shell.
Whether you're planning a romantic getaway, a family vacation, or a solo retreat, Nusa Lembongan promises an unforgettable journey. In this insider's guide, we'll dive into the details of getting to Nusa Lembongan, the best accommodation options, top tourist attractions, must-try local cuisine, and valuable travel tips and recommendations. Get ready to embark on an adventure of a lifetime in this tropical paradise.
Getting to Nusa Lembongan
Getting to Nusa Lembongan is relatively easy, and most travelers opt to take a boat from Bali. From Bali's main tourist areas, such as Kuta, Seminyak, or Sanur, you can find numerous fast boat services that operate daily to the island.
The most common departure point for boats to Nusa Lembongan is Sanur Beach. From here, it takes around 30 minutes to an hour to reach the island, depending on the sea conditions. The boat ride itself can be a thrilling experience, with stunning views of the coastline and the possibility of spotting dolphins along the way.
Before booking your boat ticket, it's important to check the departure times and choose a reputable and reliable service. There are several well-known operators, such as Scoot Fast Cruises, Rocky Fast Cruises, and D'Camel Fast Ferry, just to name a few. It's recommended to book your ticket in advance, especially during peak tourist seasons, to secure your spot.
For those who prefer a more luxurious and hassle-free journey, private charters and speedboats are also available. These provide a more personalized experience and can be arranged through travel agencies or directly with the operators.
Once you arrive on Nusa Lembongan, you can choose from various transportation options to get around the island. Motorbike rentals are popular among travelers, allowing them to explore at their own pace. It's important to note that while the roads on Nusa Lembongan are generally in good condition, they can be narrow and steep in some areas, so it's essential to ride cautiously.
For those who prefer not to drive, there are also plenty of taxis and local drivers offering transportation services on the island. Another popular mode of transport is renting bicycles, which is a great way to explore the island's smaller and less crowded areas.
To make the most of your time on Nusa Lembongan, it's advisable to plan your transportation in advance and allow some flexibility in your schedule. Keep in mind that weather conditions can affect boat schedules, so it's always a good idea to check the latest updates before traveling.
Now that you know how to get to Nusa Lembongan, it's time to explore the island's accommodation options and find the perfect place to stay during your visit.
Accommodation Options
Nusa Lembongan offers a wide range of accommodation options to suit every traveler's needs and preferences. Whether you're looking for luxury beachfront resorts, cozy guesthouses, or budget-friendly backpacker hostels, you'll find it all on this tropical paradise.
For those seeking a luxurious and indulgent getaway, there are several high-end resorts and villas scattered across Nusa Lembongan. These properties boast stunning ocean views, private pools, and top-notch amenities such as spa facilities, fine dining restaurants, and on-site entertainment. Some popular choices include The Kayon Resort, Sandy Bay Beach Club, and The Tamarind Resort.
If you're traveling on a mid-range budget, you'll find a variety of boutique hotels and guesthouses that offer comfortable accommodations with a touch of local charm. These establishments often feature stylish rooms, friendly staff, and convenient locations close to the island's main attractions. Some recommended options include Lembongan Beach Club & Resort, Lembongan Cliff Villas, and Mushroom Garden Villas.
Backpackers and budget-conscious travelers will find several affordable hostels and guesthouses on Nusa Lembongan. These provide a more laid-back and communal atmosphere, perfect for meeting fellow travelers and exploring the island on a shoestring budget. Nusa Lembongan Hostel, Pemedal Beach Resort, and Rama Garden Retreat are popular choices among backpackers.
For those looking for a more unique and immersive experience, there are also eco-friendly and boutique homestays available on Nusa Lembongan. These accommodations offer the opportunity to connect with local families, learn about their way of life, and enjoy authentic Balinese hospitality. Some recommended options include Lembongan Sanctuary Villas, Villa Voyage, and Klub Kokos.
When choosing your accommodation, consider factors such as location, amenities, and proximity to the attractions you wish to visit. It's also worth noting that during peak tourist seasons, it's advisable to book your accommodation in advance to secure your preferred choice.
Overall, Nusa Lembongan offers a diverse range of accommodation options to cater to different budgets and preferences. No matter where you choose to stay, you'll be greeted with warm Balinese hospitality and breathtaking views, ensuring a memorable and comfortable stay on this tropical island.
Top Tourist Attractions
Nusa Lembongan is brimming with natural beauty and enchanting attractions that will leave visitors in awe. From stunning viewpoints to mesmerizing landmarks, here are the top tourist attractions you shouldn't miss on your visit to this tropical paradise.
1. Devil's Tear: This dramatic coastal cliff offers a breathtaking view as waves crash against the rocks, creating a spectacular splash known as the "Devil's Tear." It is a popular spot to watch the sunset and witness the sheer power of the ocean.
2. Panorama Point: Located on the southwestern coast of the island, Panorama Point offers panoramic views of Nusa Lembongan, neighboring Nusa Ceningan, and the sparkling blue waters. It's the perfect spot to capture unforgettable photos and take in the island's beauty.
3. Yellow Bridge: Connecting Nusa Lembongan and Nusa Ceningan, the Yellow Bridge is an iconic landmark that is worth a visit. Take a leisurely stroll across this vibrant yellow bridge and enjoy the stunning views of the turquoise water below.
4. Mangrove Forest: Explore the lush mangrove forests on the eastern side of Nusa Lembongan. Join a boat tour or kayak through the winding mangrove channels, immersing yourself in the serenity of nature and spotting diverse wildlife along the way.
5. Dream Beach: Aptly named, Dream Beach is a picture-perfect stretch of white sand nestled between dramatic cliffs. With its crystal-clear water and tranquil atmosphere, it's the ideal spot for sunbathing, swimming, or simply unwinding while enjoying the picturesque surroundings.
6. Mushroom Bay: Known for its calm and clear waters, Mushroom Bay is a popular spot for swimming and snorkeling. The bay gets its name from the unique mushroom-like coral formations found beneath the surface, creating a vibrant and colorful underwater world.
7. Seaweed Farms: Take a tour of the traditional seaweed farms and learn about the fascinating process of cultivating seaweed. This is an opportunity to gain insight into the local way of life and witness the hard work that goes into producing this valuable marine resource.
These are just a few of the top attractions on Nusa Lembongan. Each corner of the island holds its own hidden gems, waiting to be discovered and embraced. Whether you're seeking natural wonders, cultural experiences, or simply a place to relax and recharge, Nusa Lembongan has it all.
Beaches and Water Activities
Nusa Lembongan is a paradise for beach lovers and water enthusiasts, offering an array of stunning beaches and exciting water activities. Whether you're looking to relax on the sand, catch some waves, or explore the underwater world, this tropical island has it all.
Jungut Batu Beach is the main beach on Nusa Lembongan, stretching for several kilometers along the island's west coast. With its soft white sand and calm waters, it's the perfect place for a leisurely swim or a peaceful beach walk. You'll also find beachfront bars and restaurants where you can enjoy a refreshing drink or indulge in fresh seafood while admiring the sunset.
For those seeking a more secluded beach experience, head to Dream Beach. Nestled between rugged cliffs, this picturesque beach offers a postcard-worthy setting. Lounge on the soft sand, take a dip in the turquoise water, and soak up the serene atmosphere. Dream Beach is also known for its stunning sunsets, making it a popular spot for romantic moments.
Adrenaline junkies will find plenty of water activities to get their hearts pumping. Nusa Lembongan is known for having some of the best surf breaks in Bali. Experienced surfers can challenge themselves on reef breaks like Playgrounds and Lacerations, while beginners can take lessons on the sandy breaks at Sandy Bay Beach or Mushroom Bay.
Snorkeling and diving are also popular activities on Nusa Lembongan. The island is surrounded by vibrant coral reefs teeming with marine life. Take a snorkeling or diving tour to explore the underwater world, and be amazed by the colorful corals, tropical fish, and maybe even encounter turtles, manta rays, or reef sharks.
If you prefer to stay on the surface, try your hand at stand-up paddleboarding or kayaking. Explore the coastline, paddle around the mangroves, or simply enjoy the tranquility of the calm sea. Jetski rentals are also available for those looking for a thrilling water adventure.
To take your beach experience to the next level, consider booking a boat tour around the neighboring islands. Visit the famous Nusa Penida and explore its breathtaking cliffs and pristine beaches, or take a trip to Nusa Ceningan, home to the iconic Blue Lagoon and stunning cliff jumps.
With its crystal-clear waters, abundant marine life, and pristine beaches, Nusa Lembongan offers endless opportunities for beach lovers and water enthusiasts. Whether you're looking for relaxation, exhilaration, or simply a fun day in the sun, this tropical paradise has something for everyone.
Exploring the Underwater World
One of the most captivating aspects of Nusa Lembongan is its incredible underwater world. With its vibrant coral reefs, diverse marine life, and crystal-clear waters, this tropical island is a haven for snorkelers and divers seeking an unforgettable underwater adventure.
Snorkeling is a popular activity for all ages, allowing you to explore the mesmerizing coral gardens and get up close to an array of colorful fish. Many of the beaches on Nusa Lembongan have accessible snorkeling spots that can be enjoyed right from the shore. Grab a mask, snorkel, and fins, and immerse yourself in the stunning underwater scenery just a few steps away.
For those wanting a more immersive experience, scuba diving is a must. Nusa Lembongan is renowned for its excellent dive sites, suitable for divers of all skill levels. Whether you're a beginner or an experienced diver, there are numerous dive centers on the island that offer courses, guided dives, and equipment rentals.
One of the highlights of diving in Nusa Lembongan is the chance to encounter magnificent Manta Rays. These graceful creatures can often be seen gliding through the water, and diving enthusiasts flock to the famous Manta Point, a dive site known for its regular manta ray sightings. Witnessing these majestic creatures up close is an awe-inspiring experience that will stay with you forever.
The island is also home to a variety of other marine life, including turtles, reef sharks, octopuses, and an abundance of tropical fish. Exploring the impressive coral reefs, which are in excellent condition off Nusa Lembongan, is like entering a magical kingdom of color and biodiversity.
Feeling more adventurous? Nusa Lembongan offers the unique opportunity to try drift diving. With strong currents in the region, drift diving allows you to be effortlessly carried along by the current while admiring the stunning underwater landscapes. Experienced divers will revel in the thrilling sensation of being swept along the ocean currents.
For those who want to combine water activities with conservation efforts, there are also opportunities to participate in coral reef restoration programs. These initiatives allow you to join forces with marine biologists and volunteers to help restore damaged coral reefs and contribute to the preservation of Nusa Lembongan's underwater ecosystem.
Whether you're a snorkeler or a certified diver, exploring the underwater world of Nusa Lembongan is an experience not to be missed. Immerse yourself in an underwater paradise filled with vibrant colors, fascinating marine life, and the serenity that only the depths of the ocean can provide.
Local Cuisine and Dining Options
When it comes to culinary delights, Nusa Lembongan offers a wide array of options to satisfy every palate. From traditional Balinese flavors to international cuisine with a twist, the island is a food lover's paradise. Here are some of the must-try dishes and dining options on Nusa Lembongan.
For a taste of authentic Balinese cuisine, be sure to sample some of the local favorites. Nasi Goreng, a fragrant fried rice dish, is a staple in Indonesian cuisine. Savor the aromatic flavors and enjoy it with a side of sambal, a spicy chili paste that adds heat and depth to any dish. Another must-try is Babi Guling, a traditional Balinese suckling pig roast that is known for its crispy skin and tender meat.
Being an island, Nusa Lembongan is renowned for its fresh seafood. Indulge in a seafood feast with grilled fish, lobster, prawns, or squid at one of the beachfront restaurants. Enjoy the flavors of the ocean while watching the sunset and feeling the gentle sea breeze.
For those seeking international flavors, Nusa Lembongan also caters to a variety of tastes. You'll find restaurants specializing in Italian, Mexican, Mediterranean, and Asian fusion cuisines. Indulge in wood-fired pizza, homemade pasta, exotic curries, or a refreshing sushi platter.
In addition to the local eateries, Nusa Lembongan boasts a vibrant café scene. Grab a cup of locally grown coffee and indulge in a delicious breakfast or brunch. Many of the cafés also offer healthy and vegetarian-friendly options, including smoothie bowls, salads, and fresh juices.
As you explore the island, you may come across small warungs, or local food stalls, offering traditional snacks and street food. Don't hesitate to try delicious treats like Pisang Goreng (fried bananas), Martabak Manis (sweet pancakes), or Bakso (meatball soup).
To enhance your dining experience, some restaurants on Nusa Lembongan provide breathtaking views of the ocean or are set in unique locations. Imagine enjoying a meal on a rooftop overlooking the beautiful beaches or dining in a seaside cave carved into the cliffs. These special dining experiences add an extra touch of charm to your culinary journey on the island.
For those who love to explore, Nusa Lembongan also offers cooking classes where you can learn the secrets of Balinese cuisine. Join a class and master the art of preparing traditional dishes using local ingredients and age-old techniques.
Whether you're a food enthusiast or simply looking to indulge your taste buds, Nusa Lembongan offers an incredible dining scene that will take you on a gastronomic adventure. From spicy Balinese delicacies to international delights, there's something to satisfy every craving on this tropical island.
Shopping and Souvenirs
While Nusa Lembongan may be a small island, it offers plenty of opportunities for shopping and finding unique souvenirs to bring back home. From handmade crafts to stylish beachwear, here's a guide to shopping on Nusa Lembongan.
Start your shopping adventure by exploring the local market in Jungut Batu Village. Here, you'll find stalls selling fresh produce, spices, and local snacks. Immerse yourself in the bustling atmosphere and browse through the colorful array of fruits, vegetables, and spices. It's the perfect place to get a taste of the island's vibrant flavors and pick up some ingredients to recreate the dishes you've come to love during your stay.
Nusa Lembongan is also known for its boutique shops and beachwear boutiques. Explore the streets around Jungut Batu and Mushroom Bay, where you'll find a variety of shops selling stylish swimwear, trendy clothes, and accessories. Browse through racks of colorful sarongs, handwoven bags, and unique jewelry, perfect for adding a touch of island style to your wardrobe.
If you're looking for unique souvenirs, consider supporting the local artisans and craftsmen. Hand-carved wooden sculptures, intricately woven baskets, and hand-painted batik fabrics are just a few of the traditional crafts you can find on the island. These one-of-a-kind pieces are not only beautiful but also make meaningful keepsakes to remind you of your time on Nusa Lembongan.
For a truly memorable shopping experience, visit the Seaweed Farmers Cooperative. This cooperative was established to support the local seaweed farmers and sells a range of seaweed-based products. From skincare items made with seaweed extract to healthy snacks and souvenirs, you can find a unique range of products that are both sustainable and locally made.
Don't forget to pick up some locally produced food products to take back home. Nusa Lembongan is known for its seaweed cultivation, so be sure to grab some seaweed snacks, crackers, or jams as tasty and unique gifts for your loved ones. Locally made coconut oil, coffee, and spices are also popular choices that reflect the island's flavors and culinary traditions.
When shopping on Nusa Lembongan, be prepared to haggle and negotiate prices, especially when buying from local vendors or at markets. It's part of the local culture, and you may even find yourself enjoying the friendly banter and bargaining process.
Exploring the shopping scene on Nusa Lembongan is not just about buying souvenirs; it's an opportunity to support local businesses, connect with the community, and bring home a piece of the island's beauty and culture. So, set aside some time to wander the streets, browse the shops, and discover hidden treasures that will forever remind you of your time on this tropical paradise.
Cultural Experiences
Beyond its breathtaking beaches and natural wonders, Nusa Lembongan offers a rich cultural heritage waiting to be explored. Immerse yourself in the island's traditions and connect with the local community through a range of cultural experiences that will leave you with a deeper appreciation for Balinese culture.
One of the highlights of a visit to Nusa Lembongan is witnessing traditional Balinese dance performances. These captivating performances showcase the island's cultural heritage through graceful movements, intricate costumes, and storytelling. Don't miss the chance to watch a mesmerizing Kecak or Barong dance performance, where you can witness ancient myths and legends come to life.
For a hands-on cultural experience, consider participating in a cooking class or a traditional Balinese offering-making workshop. Learn about the traditional ingredients and techniques used in Balinese cuisine, and try your hand at preparing mouthwatering dishes like satay, sambal, and other local specialties. You'll gain valuable insights into the culinary traditions and have the opportunity to learn directly from local experts.
Take a stroll through the charming villages of Nusa Lembongan and observe daily Balinese life unfold. Visit the local temples, where you'll witness colorful ceremonies and hear the rhythmic sounds of traditional gamelan music. The Balinese are known for their devotion to their religious practices, and observing their rituals is a beautiful way to gain insight into their culture and spirituality.
For a unique experience, visit one of the seaweed farms, which have been an important part of the island's economy for generations. These farms not only provide an opportunity to learn about the cultivation of seaweed but also offer insights into the traditional way of life and the close relationship between the Balinese people and the ocean.
To further immerse yourself in the local culture, consider participating in a yoga or meditation class. Nusa Lembongan offers serene settings for finding inner peace and practicing mindfulness. Join a yoga session overlooking the ocean or meditate in a tranquil temple garden, allowing yourself to connect with the island's serene energy and find balance in body and mind.
Lastly, interacting with the warm and friendly locals is itself a cultural experience. Engage in conversations, learn basic Balinese greetings, and ask questions to learn more about their way of life. The Balinese people are known for their hospitality and are more than happy to share their traditions and customs with visitors.
Exploring the cultural side of Nusa Lembongan adds a layer of depth to your visit, allowing you to appreciate the island beyond its natural beauty. Whether through dance performances, culinary workshops, or interactions with the locals, these cultural experiences offer a glimpse into the unique heritage and traditions of Bali.
Travel Tips and Recommendations
As you plan your trip to Nusa Lembongan, here are some travel tips and recommendations to ensure a smooth and enjoyable experience:
Timing: Consider visiting Nusa Lembongan during the dry season, which typically lasts from April to October. During this time, you'll likely experience sunny days and calm seas, perfect for beach activities and water exploration.
Boat Transfers: Book your boat transfer in advance, especially if traveling during peak tourist seasons. Choose a reputable and reliable operator to ensure a safe and comfortable journey to and from the island.
Accommodation: Research and book your accommodation well in advance, especially if you have a specific resort or villa in mind. This will ensure availability and allow you to secure your preferred choice.
Currency: Although the Indonesian Rupiah (IDR) is the official currency, many establishments on Nusa Lembongan also accept major international currencies and credit cards. However, it's advisable to carry enough cash for small transactions and in case some places do not accept cards.
Transportation: Renting a motorbike is a popular way to get around the island. However, ensure that you have a valid license and wear a helmet for your safety. If you're not comfortable riding a motorbike, taxis or hired drivers are readily available.
Sun Protection: Nusa Lembongan enjoys a tropical climate, so remember to protect yourself from the sun. Apply sunscreen regularly, wear a hat, and bring a reusable water bottle to stay hydrated.
Respect Local Customs: The Balinese people are known for their rich cultural heritage and traditions. Be respectful of their customs and dress modestly when visiting temples or participating in cultural activities.
Water Safety: Be cautious when swimming or participating in water activities. Check the local tides and currents, adhere to safety guidelines, and only swim in designated areas. If you're not a strong swimmer, consider wearing a life jacket.
Health and Safety: While the island is relatively safe, it's always wise to take precautions. Ensure you have travel insurance, keep your valuables secure, and stay aware of your surroundings.
Environmental Consciousness: Protect the beautiful marine environment by practicing responsible tourism. Avoid single-use plastics, participate in beach clean-ups, and be mindful of your impact on the fragile ecosystem.
By keeping these travel tips in mind, you can make the most of your time on Nusa Lembongan and create lasting memories of your tropical getaway.
Conclusion
Nusa Lembongan is a captivating destination that offers a perfect blend of natural beauty, adventurous activities, cultural experiences, and warm hospitality. Whether you're seeking relaxation, adventure, or a deeper connection with Balinese culture, this tropical paradise has something to offer every traveler.
From its pristine beaches and mesmerizing underwater world to its vibrant local culture and delicious cuisine, Nusa Lembongan provides a truly immersive experience. Explore the picturesque coastline, taking in breathtaking views from panoramic viewpoints and witnessing the powerful waves at Devil's Tear. Dive into the crystal-clear waters to discover vibrant coral reefs, swim with majestic manta rays, and encounter a myriad of marine life.
Immerse yourself in the island's rich culture by attending traditional dance performances, workshops, or simply observing daily life in the villages. Indulge in the local cuisine, savoring the flavors of Balinese dishes and trying fresh seafood delicacies. And don't forget to explore the unique shops and markets, where you can find handmade crafts, stylish beachwear, and local specialties to bring back as cherished souvenirs.
As you plan your visit to Nusa Lembongan, follow the travel tips and recommendations to ensure a smooth and enjoyable experience. Book your accommodation and boat transfers in advance, respect local customs, and remain environmentally conscious by supporting sustainable practices.
Whether you're seeking a romantic getaway, a family vacation, or a solo adventure, Nusa Lembongan promises a tropical escape filled with unforgettable moments. So, pack your bags, dive into the turquoise waters, and let the beauty and serenity of Nusa Lembongan captivate your heart.