How To Celebrate King's Day In Amsterdam Cheaply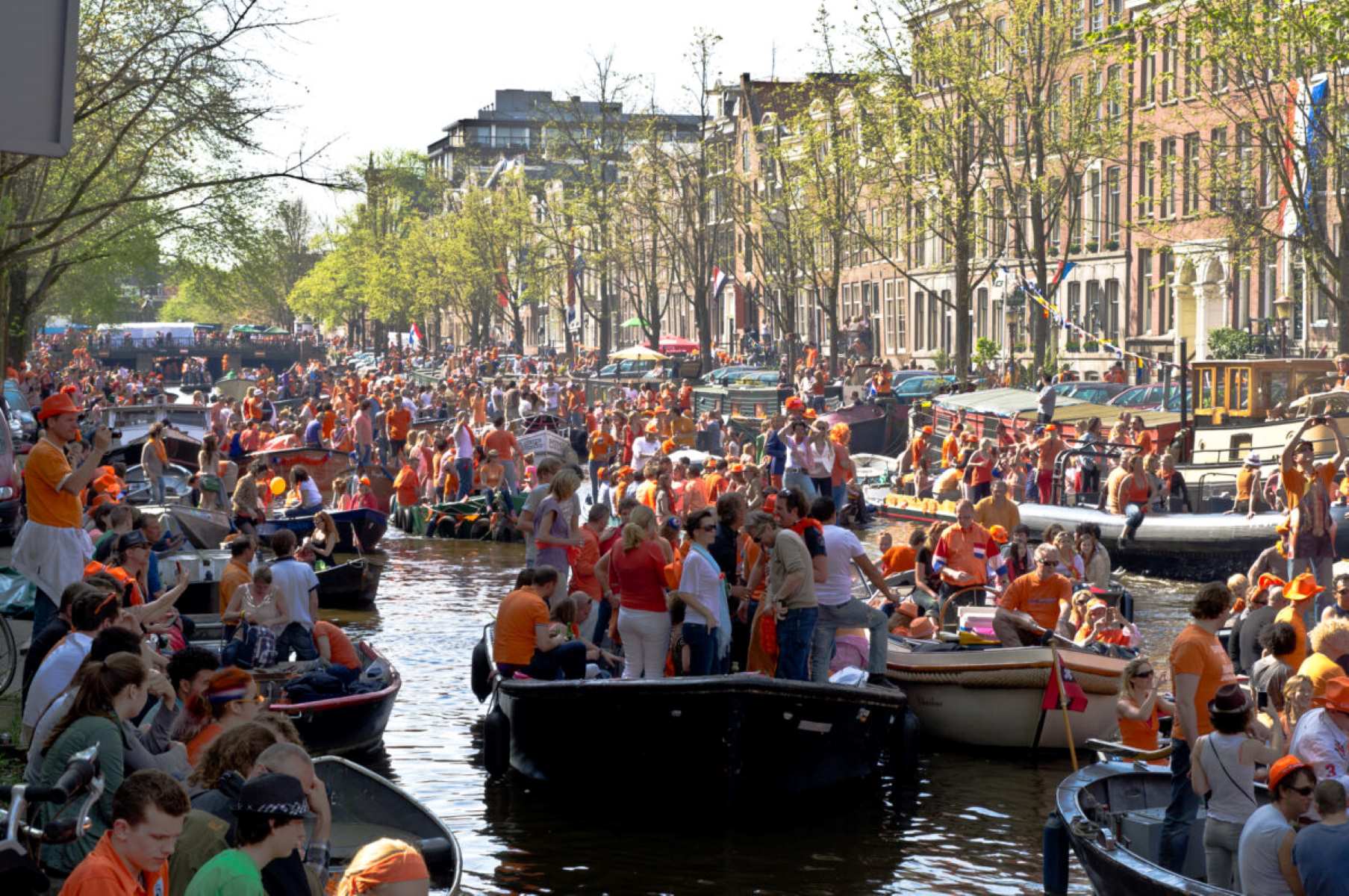 Introduction
Welcome to Amsterdam, the enchanting Dutch city known for its picturesque canals, historic architecture, and vibrant culture. While there are many reasons to visit Amsterdam, one of the most exciting and memorable times to experience this lively city is during King's Day.
King's Day, or Koningsdag in Dutch, is a national holiday in the Netherlands celebrated on the 27th of April each year. It is a day filled with festive activities, bustling street markets, live music, and a sea of orange-clad revelers. This vibrant holiday commemorates the birthday of King Willem-Alexander, the reigning monarch of the Netherlands.
With its lively atmosphere, Amsterdam shines brightest on King's Day, offering travelers a unique opportunity to immerse themselves in the city's vibrant culture and celebrate like locals. Whether you're a budget-conscious traveler or simply looking to make the most of your visit, this guide will provide you with expert tips on how to celebrate King's Day in Amsterdam cheaply.
History of King's Day in Amsterdam
The tradition of celebrating the Dutch monarchy on King's Day dates back to the 19th century. Originally known as Queen's Day, it was established as a national holiday in 1885 to honor the birth of Queen Wilhelmina. The date of the celebration was chosen to coincide with the Queen's birthday, which fell on August 31st.
In 2013, when Willem-Alexander ascended the throne, the holiday transformed into King's Day to reflect the new monarch's gender. The date of the celebration was also changed to April 27th, King Willem-Alexander's birthday.
Amsterdam, the capital city of the Netherlands, is the epicenter of King's Day celebrations. On this day, the entire city is transformed into a whirlwind of orange, the national color of the Netherlands, as locals and visitors flood the streets dressed in orange attire, donning orange accessories, and waving orange flags.
The streets of Amsterdam come alive with vibrant festivities, including street markets, music performances, parties, and boat parades along the city's iconic canals. It is a day of togetherness, joy, and celebration, as people of all ages come out to enjoy the fun-filled activities happening throughout the city.
The rich history and deep symbolism of King's Day in Amsterdam make it a truly unique and special experience for both locals and tourists. It is a celebration that not only showcases the Dutch culture and traditions but also reflects the unity and pride of the Dutch people in their monarchy.
Throughout the years, King's Day has evolved into a major highlight of the Dutch calendar, attracting thousands of visitors from around the world. It has become an annual celebration of freedom, inclusivity, and the vibrant spirit of Amsterdam.
Getting to Amsterdam for King's Day
Amsterdam is a well-connected city with various transportation options to help you reach it for King's Day. Whether you're coming from within the Netherlands or from abroad, here are some tips on how to get to Amsterdam for this exciting celebration.
By Air: Amsterdam Airport Schiphol is one of the busiest airports in Europe, serving numerous international and domestic flights. From the airport, you can easily reach the city center by train, bus, or taxi. Consider booking your flight in advance and comparing prices to secure the best deals.
By Train: If you're traveling from within the Netherlands or other European countries, trains are a convenient and eco-friendly option. Amsterdam Centraal Station is a major hub with connections to various cities. Check for special deals and discounts on train tickets to save money.
By Bus: Bus travel is another affordable option, especially if you're coming from nearby cities or countries. Several bus companies, such as FlixBus and Eurolines, operate routes to Amsterdam. Be sure to check the schedules and book your tickets in advance to secure the best fares.
By Car: While driving to Amsterdam is possible, it may not be the most convenient option during King's Day due to road closures and limited parking. If you do decide to drive, plan your route in advance and consider parking outside the city center and using public transportation to avoid traffic and parking hassles.
By Bike: Amsterdam is known for being bicycle-friendly, and cycling is a popular mode of transportation within the city. If you're already in the Netherlands or a neighboring country, consider renting a bike and embarking on an adventurous journey to Amsterdam for King's Day. Just be sure to familiarize yourself with the cycling rules and paths.
Regardless of how you choose to get to Amsterdam for King's Day, it's essential to plan your transportation in advance, especially for this popular event. Check for updates on public transportation schedules during King's Day and allow yourself extra time to reach your destination. With proper planning, you'll be able to arrive in Amsterdam ready to join in the festive celebrations.
Accommodation Options for Budget Travelers
Amsterdam offers a wide range of accommodation options to suit every budget, including affordable choices for budget-conscious travelers. Here are some accommodation options to consider when planning your stay for King's Day.
Hostels: Amsterdam is home to numerous hostels that provide budget-friendly accommodations. Staying in a hostel not only helps you save money but also offers the opportunity to meet fellow travelers from around the world. Look for hostels located in central areas such as the Jordaan or the Red Light District for convenient access to King's Day festivities.
Budget Hotels: There are several budget hotels in Amsterdam that offer comfortable rooms at affordable prices. These hotels may not have all the amenities of upscale establishments, but they provide a cozy place to rest after a long day of celebration. It's recommended to book in advance to secure the best rates.
Airbnb: Consider renting an apartment or a room through Airbnb, a popular online platform that connects travelers with locals renting out their spaces. This option provides flexibility, privacy, and often a more authentic experience of living like a local in Amsterdam.
Camping: If you're a nature lover or willing to venture just outside the city, camping is a great option for budget travelers. Amsterdam has several camping sites where you can pitch your tent or rent a cabin for an affordable outdoor experience. Just ensure that the camping site is well-connected to public transportation for easy access to the city center.
Couchsurfing: For the truly adventurous and budget-conscious traveler, Couchsurfing offers a unique opportunity to stay with locals for free. This option not only saves money but also allows you to connect with Amsterdam residents who can offer insider tips and insights into the city's culture and festivities.
When choosing your accommodation, consider factors such as location, safety, and proximity to public transportation. It's also worth noting that prices may be higher during the King's Day period, so booking well in advance or considering flexible travel dates can help secure the best deals.
Remember, while saving money on accommodation is important, be sure to prioritize your safety and comfort. Do your research, read reviews, and choose accommodation that aligns with your needs and preferences. With the right choice of accommodation, you'll have a comfortable base from which to enjoy all the festivities and excitement of King's Day in Amsterdam without breaking the bank.
Free and Cheap Activities on King's Day
King's Day in Amsterdam is a day filled with festivities and celebrations, but it doesn't have to break the bank. There are plenty of free and affordable activities to enjoy during this vibrant holiday. Here are some ideas:
Street Markets: One of the highlights of King's Day is the street markets that pop up all over the city. Join the throngs of people and explore the stalls selling second-hand goods, clothing, crafts, and delicious local treats. You can participate by setting up your own small stall to sell items you no longer need or simply enjoy the lively atmosphere.
Canal Boat Parade: Watch the colorful Canal Boat Parade, a procession of beautifully decorated boats that sail through Amsterdam's iconic canals. Find a spot along the canals and enjoy the spectacle of music, costumes, and enthusiastic locals. Alternatively, consider renting a pedal boat or joining a group boat tour for a unique perspective of the parade.
Live Music and Performances: King's Day is synonymous with live music, and you'll find free concerts and performances happening throughout the city. Check the event schedule beforehand and make your way to public squares, parks, and street corners to enjoy the local talent. Keep an eye out for impromptu performances that pop up unexpectedly.
Explore Amsterdam's Parks: Amsterdam is home to numerous beautiful parks and green spaces, which provide a peaceful retreat from the crowded streets. Spend some time in Vondelpark, Westerpark, or Oosterpark, enjoying a picnic or simply strolling around. These parks often have special activities and events for King's Day, such as outdoor games and live performances.
Visit Museums: While some museums may have entrance fees, King's Day offers an opportunity to explore the many cultural institutions in Amsterdam for free or at a reduced price. Keep an eye out for special promotions or discounted tickets offered on this day, and indulge in the rich art, history, and heritage that the city has to offer.
Food and Drink: Try traditional Dutch snacks such as stroopwafels, bitterballen, and haring at affordable prices from street vendors and food stalls. You can also bring your own homemade picnic to enjoy with friends in one of the city's parks. Don't forget to sample the locally brewed beers and enjoy the festive atmosphere.
Remember, King's Day is about immersing yourself in the lively spirit of Amsterdam, so embrace the festivities and embrace the orange-clad crowds. By taking part in these free and cheap activities, you can have a memorable and budget-friendly experience on this joyous day in the Dutch capital.
Where to Find the Best Street Markets and Flea Markets
One of the highlights of King's Day in Amsterdam is the abundance of street markets and flea markets that pop up all over the city. These lively marketplaces offer a unique opportunity to explore and discover hidden treasures while immersing yourself in the festive atmosphere. Here are some of the best places to find street markets and flea markets during King's Day:
Vrijmarkt: The Vrijmarkt, which translates to "free market," is the heart and soul of King's Day in Amsterdam. It is a sprawling street market that takes over many neighborhoods, parks, and squares throughout the city. Head to popular spots such as Jordaan, the Museumplein, or Spui to find a myriad of stalls and vendors selling everything from vintage clothing to antiques and collectibles.
Waterlooplein Flea Market: Located in the heart of the city, the Waterlooplein Flea Market is a must-visit for bargain hunters and vintage enthusiasts. This permanent flea market is open year-round, but on King's Day, it expands with additional vendors and a lively atmosphere. Here, you can find a wide range of second-hand goods, clothing, accessories, and unique finds.
Noordermarkt: Situated in the picturesque Jordaan neighborhood, Noordermarkt is a vibrant market known for its organic produce, artisanal food products, and antiques. On King's Day, the market transforms into a treasure trove of vintage clothing, books, and other unique items. Enjoy browsing through the stalls and soaking in the lively atmosphere of this historic market square.
Nieuwmarkt: Nieuwmarkt is a vibrant square located in Amsterdam's Chinatown and is home to a popular street market. On King's Day, this bustling square comes alive with vendors selling an array of goods, including clothing, accessories, art, and crafts. Explore the market, sample delicious street food, and soak in the cultural blend that characterizes this lively neighborhood.
Albert Cuyp Market: While not exclusively a flea market, the Albert Cuyp Market is one of Amsterdam's most famous and bustling markets. Located in the vibrant De Pijp district, this market offers a mix of fresh produce, local delicacies, clothing, accessories, and much more. On King's Day, you can expect additional vendors and a festive atmosphere.
As you explore these street markets and flea markets, be sure to bargain and negotiate prices with the vendors. It's part of the fun and allows you to score unique items at affordable prices.
Remember to arrive early to the markets during King's Day, as they can become crowded later in the day. Wear comfortable shoes, dress in layers, and be prepared to spend hours wandering through the colorful stalls and searching for hidden treasures.
Whether you're a seasoned flea market enthusiast or simply looking for a unique shopping experience, visiting these street markets during King's Day in Amsterdam is a must-do activity for an unforgettable adventure.
Exploring Amsterdam's Canals and Parks on a Budget
Amsterdam is famous for its beautiful canals and picturesque parks, and exploring these natural and architectural wonders doesn't have to be expensive. Here are some budget-friendly ways to experience Amsterdam's canals and parks:
Take a Canal Cruise: While traditional canal tours can be costly, a budget-friendly alternative is to opt for a hop-on-hop-off canal cruise. These affordable boat tours allow you to explore the city at your own pace, hopping off at different stops along the canals to explore various neighborhoods and attractions. Enjoy the scenic views, architectural marvels, and the charm of Amsterdam's historic canal belt.
Walk or Cycle along the Canals: Amsterdam's canals are best explored on foot or by bicycle. Take a leisurely stroll along the waterways, crossing beautiful bridges and passing picturesque houseboats. Or, rent a bike and embark on a self-guided tour, enjoying the freedom to explore the city's hidden gems and soak up the unique atmosphere of each canal neighborhood.
Visit Free and Publicly Accessible Gardens: Amsterdam is home to several stunning gardens that offer free admission. Take a relaxing stroll through the Hortus Botanicus, one of the world's oldest botanical gardens, or explore the peaceful gardens surrounding the Rijksmuseum. The Begijnhof garden, located in the city center, is a hidden oasis of tranquility that's open to the public.
Enjoy Picnics in Parks: Amsterdam boasts numerous parks where you can relax, have a picnic, and soak up the sun. Vondelpark, the city's most famous park, is a perfect spot to enjoy a leisurely afternoon picnic or simply people-watch. Other parks like Westerpark and Rembrandtpark offer expansive green spaces and opportunities for outdoor activities.
Join Outdoor Activities and Events: Many parks in Amsterdam host free or low-cost outdoor activities, especially during King's Day. Look out for events like Zomerzondagen in Vondelpark, where live music and performances take place, or outdoor film screenings in parks such as Pllek's "Pluk de Nacht" open-air cinema. These events provide an opportunity to enjoy the city's vibrant culture without spending a fortune.
Go for a DIY Canal Tour: If you're comfortable with the idea, consider renting a small electric boat or pedalo and create your own mini canal tour. You can explore the canals at your own pace, charting your course and taking in the sights as the gentle waves guide you along. This DIY approach allows you to experience the charm of the canals at a fraction of the cost of a traditional canal tour.
Remember to pack snacks, drinks, and a blanket for your park visits to save on expenses. Additionally, plan your explorations during off-peak hours to avoid crowds and fully immerse yourself in the tranquility of Amsterdam's canals and parks.
By taking advantage of these budget-friendly activities, you can experience the beauty and serenity of Amsterdam's canals and parks without putting a strain on your wallet.
Budget-friendly Dining Options and Local Treats
Amsterdam is a culinary hotspot with a diverse range of dining options, including local delicacies and international cuisines. Exploring the city's food scene doesn't have to break the bank. Here are some budget-friendly dining options to try and local treats to indulge in during your visit:
Street Food: Embrace the local street food culture and indulge in delicious treats from food stalls and street vendors. Try a warm stroopwafel, a thin syrup-filled waffle, or grab a cone of crispy fries with mayonnaise, a classic Dutch snack. Other affordable street food options include poffertjes (mini pancakes), haring (pickled herring), and bitterballen (deep-fried meatballs).
Hap-En-Stap Tour: If you're feeling adventurous, consider going on a Hap-En-Stap tour, also known as a "Bite and Sip" tour. These self-guided walking tours take you through local neighborhoods, where you can sample traditional Dutch food and drinks at budget-friendly prices. Explore areas like De Pijp or the Jordaan and discover hidden gems recommended by locals.
Cafeterias and Eetcafés: Amsterdam is dotted with cafeterias and eetcafés, which offer affordable meals in a casual setting. These local establishments serve Dutch comfort food such as stamppot (mashed potatoes with vegetables), erwtensoep (pea soup), and kroketten (croquettes). Enjoy a hearty meal without straining your budget.
Food Markets: Visit local food markets, such as the Albert Cuyp Market or the Foodhallen, where you can find a variety of cuisines at budget-friendly prices. Explore the stalls offering international street food, from Thai curry to Italian pizza slices. These markets are perfect for grabbing a quick and affordable meal while experiencing the vibrant food culture in Amsterdam.
Indonesian Cuisine: Amsterdam has a strong Indonesian influence, and Indonesian cuisine is both delicious and budget-friendly. Look for affordable Indonesian restaurants or "rijsttafel" (rice table) experiences, where you can sample an array of flavorful dishes at reasonable prices. Don't miss the opportunity to try nasi goreng (fried rice) or sate (grilled skewered meat) during your visit.
Supermarkets and Picnics: Save money by opting for picnics in the city's parks or along the canals. Visit local supermarkets such as Albert Heijn or Lidl to pick up fresh bread, cheeses, and other snacks to enjoy. Pack a blanket and find a peaceful spot to relax and savor your affordable, self-made meal while soaking up the unique atmosphere of Amsterdam.
When dining out, be sure to look out for budget-friendly menus, daily specials, and lunch deals offered by restaurants. Take advantage of happy hour promotions for discounted drinks and snacks in various bars around the city.
Remember, dining on a budget in Amsterdam doesn't mean sacrificing taste or quality. The city offers a wide range of culinary experiences that cater to different budgets and preferences, allowing you to savor local flavors without breaking the bank.
Nighttime Festivities: Cheap Parties and Celebrations
Amsterdam comes alive at night, especially during special occasions like King's Day. The city offers a vibrant nightlife scene with a variety of affordable parties and celebrations for those on a budget. Here are some ideas for enjoying the nighttime festivities without breaking the bank:
Street Parties: Amsterdam's streets and squares transform into lively party hubs on King's Day. Look out for street parties happening throughout the city, where you can join the crowds and dance to live music playing from outdoor stages. These street parties are usually free to attend and offer a fantastic atmosphere to celebrate with locals and other visitors.
BYOB Pub Crawls: Organize your own pub crawl by gathering a group of friends and visiting budget-friendly bars that allow you to bring your own drinks. Many bars in Amsterdam have a "Bring Your Own Booze" policy, meaning you can grab affordable drinks from a supermarket and enjoy them in the bar without paying steep markups.
Free Live Music Venues: Amsterdam is known for its vibrant music scene, and you can often find free live music performances in bars, clubs, and cafes. Check out venues like Bourbon Street, Maloe Melo, or the Waterhole for affordable or even free entry to enjoy live bands and talented musicians in a variety of genres.
King's Night Celebrations: The night before King's Day, known as King's Night, is also a lively and festive occasion. Many clubs and venues host special parties and events with affordable entry fees or even free admission. Celebrate the upcoming holiday with music, dancing, and a joyful atmosphere until the early hours of the morning.
Park Gatherings: Join locals and fellow travelers for informal gatherings in the city's parks during the evening. Many people gather with their friends and bring their own drinks and snacks to enjoy a relaxed and budget-friendly evening outdoors. Vondelpark and Westerpark are popular locations for such impromptu gatherings.
When attending nighttime festivities in Amsterdam, keep in mind that some venues may have age restrictions and may require identification. Additionally, always be aware of your surroundings and take necessary safety precautions to ensure a memorable and enjoyable experience.
Remember, you don't have to spend a fortune to have a great time during King's Day in Amsterdam. By exploring the affordable nightlife options and embracing the festive spirit of the city, you can create unforgettable memories without straining your budget.
Safety Tips for Celebrating King's Day in Amsterdam
Celebrating King's Day in Amsterdam is an exhilarating experience, but it's essential to prioritize your safety and well-being during the festivities. Here are some important safety tips to keep in mind:
Stay Aware of Your Surroundings: Amsterdam can get crowded during King's Day, so stay vigilant and be aware of your surroundings at all times. Keep an eye on your belongings, as pickpocketing can occur in crowded areas. Avoid displaying expensive items and keep your valuables secure.
Stay Hydrated: King's Day celebrations often involve walking, dancing, and spending considerable time outdoors. Drink plenty of water throughout the day to stay hydrated, especially if the weather is warm. Consider carrying a reusable water bottle to refill at available water stations.
Use Sun Protection: If you're celebrating King's Day in sunny weather, protect yourself from the sun's rays. Wear sunscreen, bring a hat or cap, and consider carrying a small umbrella for shade. Take regular breaks in shaded areas to avoid sunburn and heat exhaustion.
Keep Emergency Numbers Handy: Familiarize yourself with the local emergency numbers, including the general emergency number (112), the police (0900-8844), and any international helpline numbers you may need. Save these numbers in your phone or keep them in a easily accessible location.
Use Public Transportation: Public transportation is the most convenient way to get around Amsterdam during King's Day. Avoid driving in the city center, as road closures and limited parking can cause congestion. Check for any service adjustments or route changes due to the festivities, and plan your travel accordingly.
Set Meeting Points: If you're attending King's Day celebrations with a group or friends, establish meeting points in case you get separated. Due to the large crowds, it's easy to lose track of each other, so having designated spots to meet will help ensure everyone stays together.
Follow COVID-19 Guidelines: During the current pandemic, it's important to adhere to local health regulations and guidelines. Maintain social distancing as much as possible, wear a face mask when required, and follow any specific instructions from local authorities regarding crowd limitations or safety measures.
Lastly, trust your instincts and use common sense. If you feel uncomfortable or find yourself in a situation that doesn't seem safe, remove yourself from it and seek assistance if necessary.
By following these safety tips, you can fully enjoy the vibrant celebrations of King's Day while ensuring your own well-being and that of those around you.
Conclusion
Celebrating King's Day in Amsterdam is an experience that combines rich traditions, vibrant festivities, and a unique sense of unity and pride. While enjoying the celebrations, it's important to keep in mind the various tips and strategies for a budget-friendly, safe, and memorable experience.
From exploring the historic canals and vibrant street markets to indulging in local treats and joining in the nighttime festivities, there are countless opportunities to immerse yourself in the festive spirit of King's Day without breaking the bank. Whether it's picnicking in the parks, joining street parties, or enjoying free live music, Amsterdam offers plenty of affordable options for every traveler.
However, amidst the excitement, safety should always be a priority. Stay vigilant, especially in crowded areas, and take precautions to protect your belongings. Stay hydrated, use sun protection, and familiarize yourself with emergency numbers. Following these safety tips will help ensure a trouble-free experience during the celebrations.
Whether you're a budget-conscious traveler or simply seeking an authentic and lively cultural experience, celebrating King's Day in Amsterdam will leave you with unforgettable memories. So don your orange attire, embrace the festive atmosphere, and immerse yourself in the rich traditions and energetic celebrations that make King's Day in Amsterdam truly special.
Now go forth and embark on your budget-friendly adventure, and join the thousands of locals and visitors who come together to celebrate the Dutch monarchy on this joyous occasion. King's Day awaits you, offering a vibrant tapestry of colors, sounds, and experiences that will make your visit to Amsterdam truly unforgettable.