Where To Go On A Christmas Vacation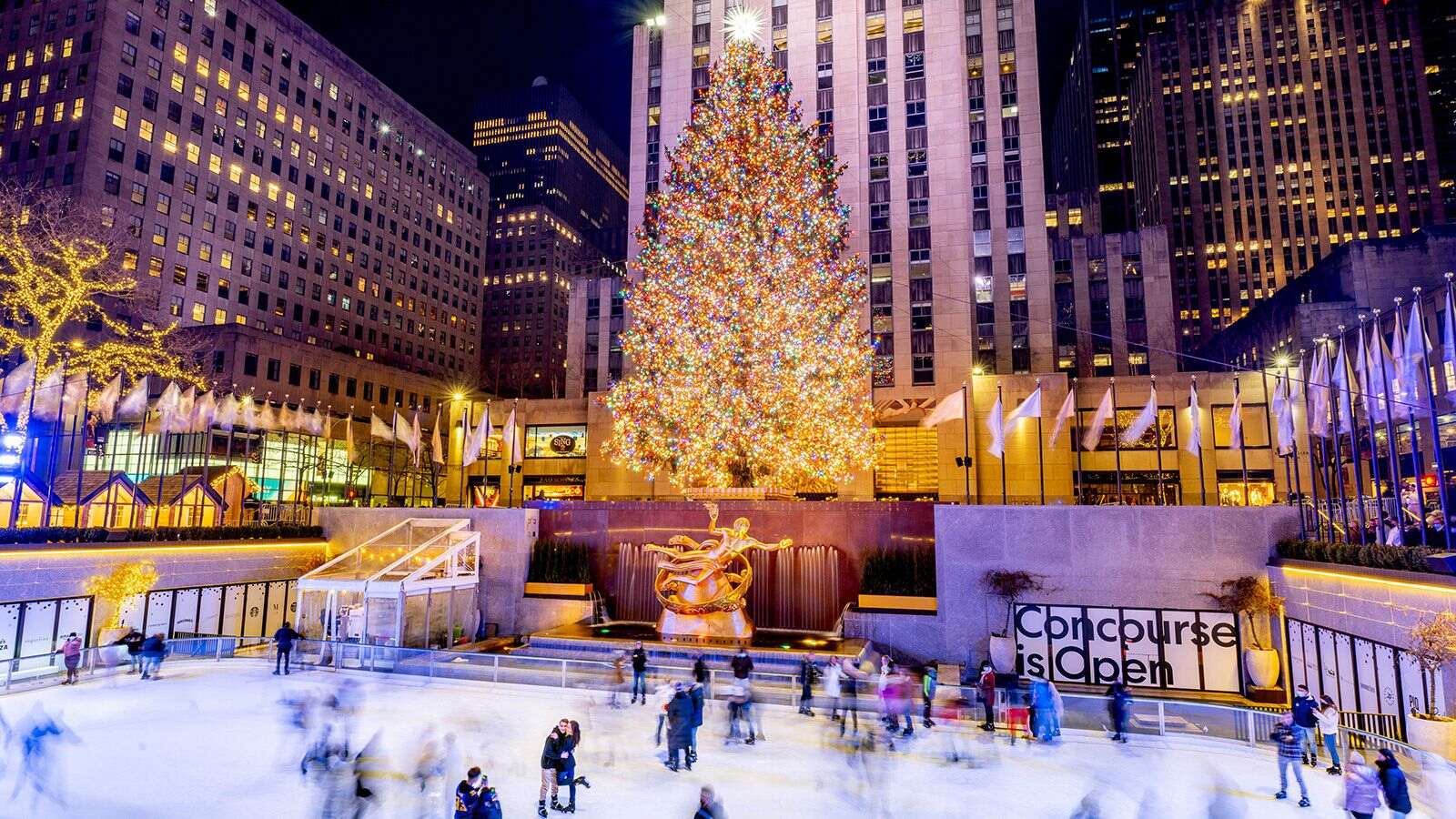 Introduction
Welcome to the magical world of Christmas vacations! The festive season is a time to celebrate, relax, and create unforgettable memories with your loved ones. Whether you prefer the traditional charm of European Christmas markets, the beauty of snowy landscapes, or the allure of a tropical paradise, there is a perfect destination out there waiting to be explored.
Christmas vacations offer a unique opportunity to immerse yourself in different cultures, customs, and traditions. From sipping hot mulled wine in front of a roaring fireplace to basking under the sun on a sandy beach, the options are endless.
In this comprehensive guide, we will take you on a journey to discover the best Christmas vacation destinations around the world. Whether you seek a winter wonderland, a sunny getaway, a cultural escape, a vibrant city break, or a secluded retreat, we have you covered. Get ready to embark on a festive adventure as we explore enchanting places that will bring joy, wonder, and holiday cheer.
Exploring Traditional Christmas Destinations
For those who crave a classic Christmas experience, there are a multitude of traditional destinations that will transport you into holiday wonderland. Europe is renowned for its charming Christmas markets, where you can stroll through beautifully decorated stalls, savor festive treats, and shop for unique handmade gifts.
One iconic destination is Germany, home to the world-famous Christkindlmarkt in Nuremberg. This enchanting market dates back to the 16th century and features over 180 stalls selling everything from hand-carved wooden ornaments to delicious gingerbread cookies. You can also visit other German cities like Munich, Dresden, and Cologne, which transform into winter wonderlands during the holiday season.
Another must-visit destination is Vienna, Austria, where you can experience the magic of Christmas at the stunning Viennese Christmas markets. The aroma of roasted chestnuts, the sound of carol singers, and the dazzling lights create an enchanting atmosphere that is truly unforgettable.
If you prefer a more fairytale-like setting, head to Rovaniemi in Finnish Lapland, also known as the official hometown of Santa Claus. Here, you can visit Santa Claus Village, meet the man himself, and even cross the Arctic Circle. The picturesque landscape blanketed in snow adds an extra touch of magic to this traditional Christmas destination.
For a taste of old-world charm, visit Quebec City in Canada. Its European-inspired architecture, cobblestone streets, and festive decorations create a delightful ambiance during the holiday season. The Christmas market at Old Quebec will transport you back in time with its wooden stalls, homemade crafts, and festive entertainment.
No matter which traditional Christmas destination you choose, you are sure to be captivated by the joyful atmosphere, delicious food, and heartwarming traditions that will make your holiday truly special.
Embracing Winter Wonderland: Snowy Christmas Escapes
If you love the magic of a winter wonderland, there are plenty of snowy Christmas escapes that will leave you in awe. From majestic mountain ranges to charming alpine villages, these destinations offer a picturesque backdrop for a truly memorable holiday.
One iconic snowy Christmas destination is Switzerland, known for its stunning landscapes and world-class ski resorts. The Swiss Alps provide a playground for winter sports enthusiasts, with resorts like Zermatt, St. Moritz, and Verbier offering breathtaking views and a wide range of activities. Imagine gliding down powdery slopes, enjoying hot chocolate by a roaring fire, and taking romantic sleigh rides through snow-covered valleys.
If you prefer a more remote and serene winter escape, head to Lapland in Northern Finland. This Arctic wonderland is perfect for those who dream of encountering Santa's reindeer, witnessing the mesmerizing Northern Lights, and experiencing the thrill of husky sledding. In addition, you can stay in cozy log cabins or even glass igloos, allowing you to marvel at the starry skies and snowy landscapes all night long.
For a truly unique snowy Christmas experience, consider visiting the quaint town of Riksgränsen in Swedish Lapland. Known for its off-piste skiing and untouched backcountry, this hidden gem offers an exhilarating adventure for outdoor enthusiasts. Imagine skiing under the magical glow of the Aurora Borealis, experiencing the thrill of snowmobiling, and cozying up in a traditional Sami tent.
Heading over to the United States, the town of Jackson Hole in Wyoming is a popular choice for a snowy Christmas escape. Surrounded by the majestic peaks of the Grand Tetons, this charming town offers world-class skiing, snowboarding, and a charming village filled with western ambiance. Don't miss the opportunity to take a sleigh ride through the National Elk Refuge or enjoy a magical evening at the annual Christmas tree lighting ceremony.
Whether you choose the Swiss Alps, Lapland, Riksgränsen, or Jackson Hole, these snowy Christmas escapes will immerse you in a winter wonderland like no other. So, bundle up, grab your snow gear, and get ready for a holiday filled with snowy adventures and unforgettable memories.
Sunny Christmas Getaways: Celebrating in Tropical Paradises
If you're dreaming of escaping the winter cold and basking in the warmth of the sun, a sunny Christmas getaway in a tropical paradise is just what you need. Imagine trading snowflakes for palm trees, building sandcastles instead of snowmen, and relaxing on pristine beaches as you celebrate the holiday season.
One of the most popular tropical Christmas destinations is the Maldives, a picture-perfect archipelago in the Indian Ocean. Here, you can indulge in luxury resorts, snorkel in crystal-clear waters, and unwind on white sandy beaches. Immerse yourself in the local culture by experiencing traditional Maldivian music and dance performances, and don't miss the chance to enjoy a festive dinner under the stars.
If you're looking for a blend of culture, adventure, and stunning beaches, head to Bali, Indonesia. This tropical paradise offers a unique Christmas experience, where you can witness vibrant ceremonies, visit ancient temples, and enjoy traditional Balinese cuisine. Spend your days exploring lush rice terraces, chasing waterfalls, or simply relaxing on the black or white sandy beaches.
The Caribbean is also renowned for its sunny Christmas getaways. From Jamaica to the Dominican Republic, you'll find a variety of stunning islands to choose from. The warm turquoise waters, vibrant culture, and laid-back atmosphere create the perfect backdrop for a tropical holiday celebration. Imagine sipping rum punch, indulging in fresh seafood, and dancing to the rhythm of calypso music under the swaying palm trees.
For a unique tropical experience, consider the Seychelles. This paradise in the Indian Ocean is home to some of the world's most beautiful beaches, where you can relax in secluded bays, snorkel with colorful marine life, and hike through lush rainforests. Explore the vibrant local markets, try delicious Creole cuisine, and partake in island hopping to discover the hidden gems of the archipelago.
Whether you choose the Maldives, Bali, the Caribbean, or the Seychelles, these sunny Christmas getaways will transport you to a tropical paradise. So pack your swimsuit, sunscreen, and festive spirit, and get ready to celebrate Christmas in paradise.
Cultural Christmas Experiences: Unconventional Destinations
If you're seeking a unique and culturally immersive Christmas experience, consider exploring unconventional destinations that offer a different perspective on the holiday season. These offbeat destinations will captivate you with their rich traditions, fascinating customs, and vibrant celebrations.
One unconventional Christmas destination is Japan, where you can witness the enchanting celebration of Christmas with a distinct Japanese twist. In cities like Tokyo and Osaka, you'll find dazzling light displays, Christmas markets selling delicious street food, and beautifully decorated public spaces. Don't forget to try the traditional Christmas cake, a popular treat in Japan.
Another fascinating destination for a cultural Christmas experience is Mexico. Here, Christmas traditions blend with vibrant fiestas and centuries-old customs. The festivities begin with the Posadas, a series of processions commemorating Mary and Joseph's search for lodging. Witness colorful parades, indulge in traditional Mexican cuisine, and join in the joyous atmosphere as locals celebrate late into the night.
For an offbeat Christmas destination with a rich historical and religious significance, visit Bethlehem in the West Bank. This biblical town is believed to be the birthplace of Jesus Christ and attracts pilgrims from around the world during the Christmas season. Experience the magical atmosphere of Manger Square, join in the midnight mass at the Church of the Nativity, and take part in the traditional Christmas parade.
If you're looking for a fusion of cultures and a unique Christmas experience, head to South Africa. Christmas falls during the summer season here, so you can celebrate in the sunshine while embracing African traditions. Attend vibrant street parades, enjoy braai (barbecue) feasts, and experience the harmonious blend of African, European, and indigenous cultures.
One unexpected destination for a cultural Christmas experience is Kerala, India. This southern state celebrates Christmas in a flamboyant and colorful manner, with elaborate decorations, vibrant processions, and traditional dances. Attend the midnight mass at historical churches, explore the local cuisine, and immerse yourself in the joyful celebrations.
These unconventional destinations offer a glimpse into the diverse ways in which Christmas is celebrated around the world. From Japan to Mexico, Bethlehem to South Africa, and Kerala to many other places, these cultural Christmas experiences will leave you with cherished memories and a deeper appreciation for global traditions.
City Breaks: Festive Celebrations in Vibrant Metropolises
If you're looking for a lively and vibrant Christmas experience, a city break to one of the world's metropolises is the perfect choice. These bustling cities come alive during the holiday season, offering a plethora of festive activities, dazzling decorations, and unforgettable celebrations.
One iconic city known for its extravagant Christmas celebrations is New York City. The Big Apple transforms into a winter wonderland, with the famous Rockefeller Center Christmas tree taking center stage. Explore the festive markets, ice skate under the twinkling lights, and catch a Broadway show for a truly magical experience. Don't forget to stroll down Fifth Avenue to admire the stunning window displays of world-renowned department stores.
In Europe, London is a top choice for a city break during Christmas. The city is adorned with festive lights, and the popular Winter Wonderland in Hyde Park is a must-visit. Enjoy ice skating, indulge in traditional mulled wine and mince pies, and shop for unique gifts at the Christmas markets. Catch the enchanting Christmas lights and decorations on display along Oxford Street, Regent Street, and Carnaby Street for a truly festive experience.
If you're seeking a unique and multicultural Christmas celebration, head to Dubai in the United Arab Emirates. While Dubai may not be the first destination that comes to mind for Christmas celebrations, the city goes all out to create a festive atmosphere. From stunning Christmas displays in malls to special holiday events and performances, you'll find a mix of international festivities and traditional Emirati touches. Visit the Global Village, where you can experience the diverse cultures and traditions of different countries, all beautifully decorated for the holiday season.
An unexpected city for a festive break is Rio de Janeiro in Brazil. Known for its vibrant Carnival, Rio also knows how to celebrate Christmas with a bang. Explore the decorated streets, revel in live Samba performances, and witness the spectacular fireworks display on Copacabana Beach. Enjoy the warm summer weather as you savor delicious Brazilian cuisine and celebrate with the friendly locals.
Another city that comes alive with festive cheer is Prague, Czech Republic. The historic Old Town Square is transformed into a magical Christmas market, with charming wooden stalls selling handmade crafts, delicious street food, and mulled wine. Enjoy traditional Czech carols and concerts, admire the beautifully decorated Christmas trees, and take a scenic stroll across the romantic Charles Bridge.
Whether you choose New York City, London, Dubai, Rio de Janeiro, Prague, or many other vibrant metropolises around the world, a city break during Christmas is an opportunity to experience the hustle and bustle of festivities in an electrifying atmosphere. Embrace the holiday spirit, explore the cultural offerings, and create unforgettable memories in these dynamic cities.
Off-the-Grid Christmas Retreats: Hideaways for Peace and Solitude
If you're seeking a peaceful and secluded Christmas getaway away from the crowds, an off-the-grid retreat is the perfect choice. These hideaways offer a tranquil escape where you can immerse yourself in nature, find serenity, and reconnect with yourself and loved ones during the holiday season.
One off-the-grid retreat is the magical Lapland region in Finland. Stay in a cozy log cabin tucked away in the snowy wilderness, surrounded by towering pine trees and pristine landscapes. Spend your days cross-country skiing through peaceful forests, embarking on exhilarating husky sledding adventures, and chasing the enchanting Northern Lights as they dance across the night sky. Gather around a roaring fire, indulge in traditional Finnish cuisine, and create lasting memories with your loved ones.
If you're looking for a beach retreat, consider the stunning island of Seychelles. Escape the hustle and bustle of everyday life and unwind on the secluded beaches of this tropical paradise. Relax in luxurious resorts that offer privacy and personalized service, or opt for a private villa tucked away in the lush hills or along the pristine coastline. Immerse yourself in the tranquility of turquoise waters, enjoy spa treatments overlooking the ocean, and celebrate Christmas in pure serenity.
Nestled deep within the Costa Rican jungle is another off-the-grid Christmas retreat, the Osa Peninsula. This remote and biodiverse region is a haven for wildlife enthusiasts and nature lovers. Stay in eco-lodges surrounded by lush rainforests, embark on guided hiking and wildlife spotting tours, and soak in the natural beauty of secluded beaches. Immerse yourself in the simplicity of a Christmas spent embracing the wonders of the tropical rainforest.
For a unique desert retreat, head to the stunning landscapes of Wadi Rum in Jordan. Leave the world behind as you venture into the vast desert, dotted with towering sandstone mountains and ancient rock formations. Stay in luxurious Bedouin-style camps, take camel rides through the golden sands, and gaze at the star-filled sky during a Christmas spent in silence and tranquility.
For those seeking a spiritual journey, the sacred temples of Bhutan offer a serene Christmas retreat. This Himalayan kingdom is known for its peaceful and harmonious way of life. Stay in monasteries turned guesthouses, hike to remote temples and meditation retreats, and immerse yourself in Bhutanese hospitality and culture. Reflect, meditate, and find inner peace amidst the breathtaking landscapes of the Land of the Thunder Dragon.
Whether you choose Lapland, Seychelles, the Osa Peninsula, Wadi Rum, Bhutan, or other off-the-grid retreats, these hideaways offer solitude, tranquility, and an escape from the noise and distractions of the modern world. Embrace the spirit of Christmas in peaceful surroundings, create meaningful connections, and rejuvenate your mind, body, and soul.
Conclusion
A Christmas vacation is a wonderful opportunity to create lasting memories, immerse yourself in different cultures, and celebrate the holiday season in a unique and unforgettable way. Whether you prefer the charm of traditional Christmas destinations, the beauty of snowy landscapes, the warmth of tropical paradises, the cultural experiences of unconventional destinations, the vibrant celebrations of metropolises, or the peace and solitude of off-the-grid retreats, there is a destination out there that will fulfill your holiday dreams.
From exploring the enchanting Christmas markets in Germany to basking in the sun on the beaches of the Maldives, or embracing the rich cultural celebrations in Mexico and the poetic tranquility of Lapland, each destination offers its own special charm and experiences.
As you plan your Christmas vacation, consider the type of experience you desire – whether it's a traditional, snowy, sunny, cultural, city-based, or off-the-grid retreat. Think about your personal preferences, the activities you enjoy, and the atmosphere you want to immerse yourself in during the holiday season.
No matter where you choose to go, make sure to embrace the joy, wonder, and holiday spirit that each destination has to offer. Take the time to create cherished memories with your loved ones, indulge in delicious food and festive treats, and immerse yourself in the local customs and traditions.
Remember that a Christmas vacation is not just about the destination itself, but also about the experiences and connections you make along the way. Whether you're sipping hot mulled wine in a European Christmas market, building sandcastles on a tropical beach, or finding inner peace in a secluded retreat, let the magic of the holiday season guide you towards a truly unforgettable Christmas vacation.
So pack your bags, follow your wanderlust, and embark on a journey that will leave you with beautiful memories and a heart filled with the joy and cheer of Christmas.