Miami To Key West Road Trip: Ultimate Driving Guide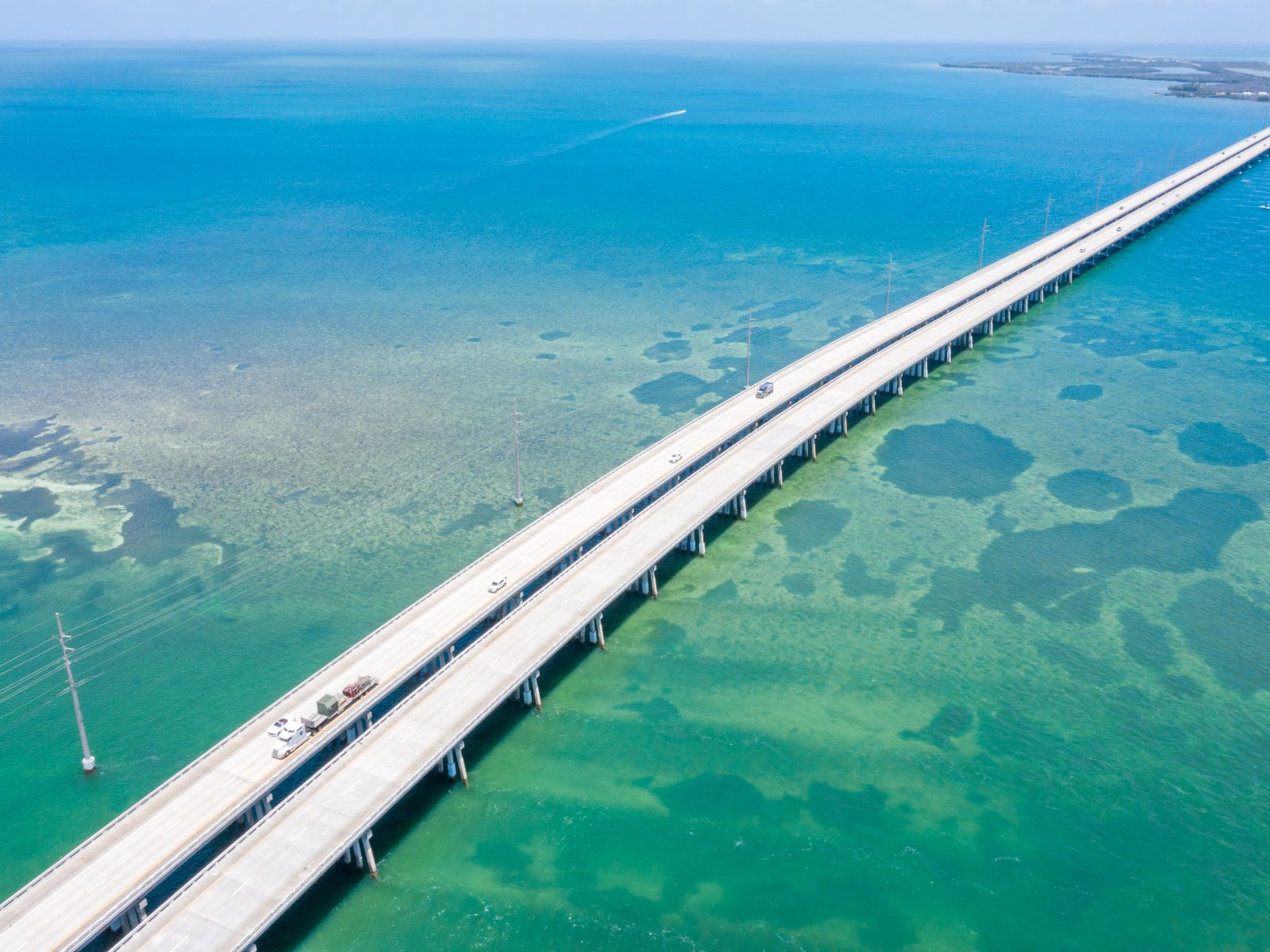 Introduction
Are you ready to embark on an unforgettable adventure? Look no further than a Miami to Key West road trip! This scenic journey along the Overseas Highway offers breathtaking views, charming coastal towns, and a laid-back vibe that is quintessentially Florida.
The Miami to Key West drive is a popular route that spans approximately 160 miles, taking you through stunning landscapes and over iconic bridges. Whether you're a nature enthusiast, history buff, or simply looking to soak up the sun, this road trip has something for everyone.
As you start your journey from Miami, you'll leave behind the vibrant cityscape and enter a world of tropical beauty. The route offers a variety of sightseeing opportunities, from pristine beaches and coral reefs to quaint villages and historical landmarks. This road trip is also known for its unique driving experience, as you'll drive on the "Highway that Goes to Sea," with the sparkling turquoise waters of the Atlantic Ocean on one side and the Gulf of Mexico on the other.
Whether you choose to make it a day trip or decide to linger longer, the Miami to Key West road trip promises unforgettable experiences and memories to last a lifetime. So pack your bags, buckle up, and get ready to hit the open road as we guide you through the ultimate driving adventure from Miami to Key West!
Best Time to Take the Road Trip
When planning your Miami to Key West road trip, it's essential to consider the best time to embark on this adventure. The weather and the tourist season can greatly impact your overall experience. Here are some factors to keep in mind when deciding when to hit the road:
Weather: The weather in South Florida is generally pleasant year-round, but it's important to note that hurricane season runs from June to November. While it's possible to encounter storms during this time, the majority of days are sunny and warm. The dry season, from November to April, offers cooler temperatures and lower humidity, making it a popular time for road trips.
Tourist Season: The peak tourist season in the Florida Keys is from December to April when visitors flock to the area to escape the colder northern climates. During this time, popular attractions and accommodation can be crowded, and prices may be higher. If you prefer a quieter experience, consider visiting during the shoulder seasons of May and November when the weather is still favorable, but there are fewer tourists.
Events and Festivals: The Florida Keys host several events and festivals throughout the year that can add an extra level of excitement to your road trip. From the Key West Food and Wine Festival in January to the Key West Fantasy Fest in October, there's always something happening. Research upcoming events and plan your trip around them to enhance your overall experience.
Ultimately, the best time to take the Miami to Key West road trip depends on your preferences. Whether you're seeking warmer weather, smaller crowds, or the chance to partake in exciting events, there's a time of year that aligns perfectly with your travel desires. Now that you have an idea of the favorable seasons, it's time to start planning and prepare for the unforgettable journey ahead!
Planning and Preparation
A successful Miami to Key West road trip requires careful planning and preparation. By taking the time to organize the logistics and gather the necessary information, you can ensure a smooth and enjoyable adventure. Here are some essential tips to help you plan your trip:
Route Mapping: Before hitting the road, map out your route. The most common route is to take US-1 South, also known as the Overseas Highway. This scenic drive will take you through the Florida Keys and over the iconic Seven Mile Bridge. Familiarize yourself with the route, including any tolls and potential traffic hotspots, so you can plan accordingly.
Timing: Consider the duration of your road trip and how many days you'd like to spend in Key West. Depending on your pace and the number of stops you plan to make, it's advisable to allow at least 2-3 days for the round trip. Take into account any events or attractions you'd like to visit and allocate enough time for each stop.
Accommodation: Research and book your accommodation in advance. Key West offers a range of options, from luxury resorts to budget-friendly hotels and charming bed and breakfasts. Consider your budget and preferences when choosing where to stay. It's advisable to book early, especially during peak tourist seasons, to secure the best rates and availability.
Attractions and Activities: Make a list of the must-see attractions and activities along the way. From exploring the beautiful beaches of Islamorada to visiting the Ernest Hemingway Home and Museum in Key West, there's no shortage of things to do and see. Research opening hours, admission fees, and any special requirements to ensure a seamless experience.
Packing: Pack essentials for your road trip, including comfortable clothing, sunscreen, swimwear, and a good pair of walking shoes. Don't forget to bring a camera to capture the stunning views and memories. It's also a good idea to have a cooler stocked with snacks and drinks to keep you refreshed during the drive.
Vehicle Maintenance: Ensure your vehicle is in good condition before embarking on the road trip. Check the tire pressure, oil levels, and other essential maintenance tasks. It's also wise to have a roadside emergency kit handy in case of any unforeseen incidents.
By planning and preparing ahead of time, you'll have a more organized and enjoyable Miami to Key West road trip. Take the necessary steps to ensure a seamless journey, leaving you free to fully immerse yourself in the beauty and charm of the Florida Keys.
Route Options
When embarking on a Miami to Key West road trip, there are a few route options to choose from, each offering its own unique attractions and experiences. Here are some popular route options to consider:
US-1 South (Overseas Highway): The most common and scenic route is to take US-1 South, also known as the Overseas Highway. This route will take you through the Florida Keys and over the iconic Seven Mile Bridge. Along the way, you'll pass through charming towns like Islamorada and Marathon, where you can stop to enjoy beautiful beaches and delicious seafood.
Florida's Turnpike and US-1: Another route option is to take Florida's Turnpike from Miami and then connect to US-1. This route offers a more direct path to Key West, bypassing some of the smaller towns along the Overseas Highway. However, you may miss out on the picturesque scenery and unique attractions that the coastal route has to offer.
Scenic Coastal Route: For those who have more time and want to explore the lesser-known areas, consider taking a scenic coastal route. This option involves taking US-1 South and then venturing off onto smaller coastal roads, such as the Card Sound Road or the Old State Road 4A. This route allows you to discover hidden gems, secluded beaches, and charming fishing villages.
The choice of route ultimately depends on your preferences and the amount of time you have for your road trip. If you're looking for a more leisurely journey with plenty of sightseeing opportunities, the Overseas Highway is the ideal choice. If you prefer a faster route with fewer stops, the Florida's Turnpike and US-1 option may be more suitable. And if you're an adventurous soul longing for off-the-beaten-path experiences, the scenic coastal route will provide the perfect adventure.
No matter which route you choose, be sure to take your time, enjoy the breathtaking views, and make the most of your Miami to Key West road trip. Each route has its own charm and attractions, ensuring a memorable and picturesque journey through the beautiful Florida Keys.
Must-See Attractions along the Way
One of the highlights of a Miami to Key West road trip is the opportunity to explore a variety of must-see attractions along the route. From natural wonders to historical landmarks, there's something for everyone. Here are some attractions that you won't want to miss:
Key Largo: As the first stop along the Overseas Highway, Key Largo offers fantastic snorkeling and diving opportunities. Explore the John Pennekamp Coral Reef State Park, known for its vibrant coral reefs and diverse marine life. Don't miss the chance to take a glass-bottom boat tour and witness the stunning underwater world.
Islamorada: Known as the "Sportfishing Capital of the World," Islamorada is a paradise for anglers. Visit the Theater of the Sea, an interactive marine animal park, where you can swim with dolphins and sea lions. The History of Diving Museum is also worth a visit to learn about the evolution of scuba diving.
The Seven Mile Bridge: Spanning seven miles and connecting the Middle and Lower Keys, the Seven Mile Bridge is an iconic landmark. Take a leisurely walk or bike ride across the bridge and admire the breathtaking views of the sparkling water and surrounding islands.
Marathon: Stop by Marathon to visit the Turtle Hospital, a conservation center dedicated to rehabilitating injured sea turtles. Take a stroll along the Marathon Beach or explore the tranquil Curry Hammock State Park for some peaceful nature encounters.
Big Pine Key and the Lower Keys: Visit the National Key Deer Refuge on Big Pine Key to spot the adorable and endangered Key deer. Explore the beautiful Bahia Honda State Park, known for its pristine beaches and clear turquoise waters. Don't miss the opportunity to capture stunning photos at the historic Bahia Honda Rail Bridge.
Key West: Finally, arrive in Key West to experience its vibrant atmosphere. Explore the charming Old Town, filled with colorful buildings and lively streets. Visit the Southernmost Point Buoy, the Ernest Hemingway Home and Museum, and Mallory Square for stunning sunsets and street performances. Don't forget to sample some Key Lime pie, a local delicacy!
These are just a few of the many attractions along the Miami to Key West road trip. Take the time to explore the unique offerings of each stop and immerse yourself in the beauty and culture of the Florida Keys. Each attraction will add its own touch of magic to your journey, creating memories that will last a lifetime.
Recommended Stops for Food and Drinks
A road trip is not only about exploring beautiful scenery but also indulging in delicious food and refreshing drinks. Along the Miami to Key West route, there are plenty of stops where you can satisfy your taste buds with local cuisine and tropical beverages. Here are some recommended stops for food and drinks:
Key Largo Fisheries Market & Café: Located in Key Largo, this seafood market and café offers fresh and flavorful dishes. Try their famous Key Lime Grilled Mahi-Mahi or their mouthwatering lobster bisque. Don't forget to take some fresh fish or stone crab claws to enjoy a seafood feast during your road trip.
Robbie's of Islamorada: Make a stop at Robbie's in Islamorada, where you can hand-feed tarpon at the docks and enjoy a meal at their waterfront restaurant. Indulge in their signature fish dip, conch fritters, or a juicy burger while overlooking the stunning marina.
Keys Fisheries and Marina: Located in Marathon, this local favorite is known for its seafood specialties. Try their famous Lobster Reuben Sandwich or the Stone Crab Claw Platter. Enjoy your meal in a relaxed outdoor setting, with views of the marina and colorful boats.
Kermit's Key West Key Lime Shoppe: No visit to Key West is complete without trying some Key Lime pie. Stop by Kermit's Key Lime Shoppe for their famous Key Lime pie on a stick, Key Lime pie ice cream, or even Key Lime pie margaritas. It's a tart and refreshing treat to savor in the tropical atmosphere of Key West.
Sloppy Joe's Bar: A Key West institution, Sloppy Joe's is a must-visit for a taste of the local nightlife. Enjoy live music, cold drinks, and their signature Sloppy Joe sandwich. This lively bar will transport you back to Ernest Hemingway's era and provide an unforgettable experience.
Blue Heaven: Take a break from your adventures in Key West and head to Blue Heaven for a true taste of the island. Known for its delicious Caribbean-inspired dishes, this charming restaurant serves up items like their famous Key West shrimp and grits, jerk chicken, and conch ceviche.
These are just a few of the many culinary delights you'll encounter during your Miami to Key West road trip. From fresh seafood and Key Lime pie to tropical cocktails and lively beachside bars, there's a range of flavors to satisfy every palate. Indulge in the local cuisine and savor the unique culinary experiences along your journey!
Accommodation Choices
Finding the perfect place to stay during your Miami to Key West road trip is key to ensuring a comfortable and enjoyable experience. The Florida Keys offer a variety of accommodation choices to suit different budgets and preferences. Here are some options to consider:
Luxury Resorts: For travelers seeking a pampering experience, there are several luxury resorts along the route. These resorts offer upscale amenities, stunning ocean views, and top-notch service. From private beachfront villas to world-class spas and gourmet dining, you'll have every indulgence at your fingertips.
Hotels and Motels: The Florida Keys are home to many hotels and motels that cater to different budgets. You'll find familiar chains as well as locally-owned boutique accommodations. These options provide comfortable rooms, convenient locations, and often include amenities like pools, restaurants, and fitness facilities.
Bed and Breakfasts: Key West is known for its charming bed and breakfasts that offer a cozy and intimate atmosphere. Stay in historic homes with unique architecture and delightful gardens. Wake up to homemade breakfasts and enjoy personalized service from friendly hosts.
Vacation Rentals: If you prefer a home-away-from-home experience, consider renting a vacation home or condo. This option is great for families or groups traveling together, as it provides more space and amenities like kitchens and laundry facilities. You'll have the freedom to cook your own meals and enjoy the comforts of a private residence.
Campgrounds and RV Parks: For nature enthusiasts and adventurous travelers, there are campgrounds and RV parks available along the Miami to Key West route. Enjoy the outdoors and stay in a tent or RV, surrounded by the beauty of the Florida Keys. These options typically offer basic amenities like restrooms, showers, and picnic areas.
When choosing your accommodation, consider your budget, preferred amenities, and the location you'd like to stay in. Keep in mind that booking in advance is recommended, especially during peak tourist seasons when availability may be limited. Take the time to research and read reviews to ensure you select the best option for your needs.
No matter where you choose to stay, the natural beauty and charm of the Florida Keys will enhance your Miami to Key West road trip experience. Rest and recharge in comfortable accommodations, ready to continue your adventures each day.
Safety Tips
While embarking on a Miami to Key West road trip is an exciting adventure, it's important to prioritize safety throughout your journey. By following these safety tips, you can ensure a smooth and secure road trip:
Plan Your Route and Check Road Conditions: Before hitting the road, plan your route and familiarize yourself with the roads you'll be traveling on. Check for any road closures or construction that could affect your journey. Utilize GPS navigation or a reliable map to stay on track and avoid getting lost.
Practice Defensive Driving: The Overseas Highway can be busy, so it's important to practice defensive driving. Follow traffic rules, keep a safe distance from other vehicles, and avoid aggressive driving behaviors. Be mindful of pedestrians and cyclists along the route.
Take Breaks and Stay Alert: Long drives can be tiring, so take regular breaks to rest and stretch your legs. Avoid drowsy driving by getting enough sleep before your journey. Stay alert and attentive while driving, especially in unfamiliar areas.
Secure Your Belongings: Keep your belongings secure inside your vehicle. Don't leave valuable items on display, as it can attract the attention of potential thieves. When making stops, lock your vehicle and take your belongings with you.
Be Prepared for Emergencies: It's always wise to be prepared for unexpected situations. Have a roadside emergency kit in your vehicle, including essentials such as a spare tire, jumper cables, flashlight, first aid kit, and emergency contact numbers. Familiarize yourself with the location of gas stations, restrooms, and emergency services along the route.
Stay Hydrated and Protect Yourself from the Sun: The Florida Keys can get hot and sunny, so stay hydrated by drinking plenty of water. Apply sunscreen regularly to protect your skin from the strong sun rays and wear appropriate clothing to shield yourself from the heat.
Follow COVID-19 Guidelines: During your road trip, it's important to follow local COVID-19 guidelines and regulations. Stay updated on travel restrictions, mask mandates, and any other safety measures in place in the areas you'll be visiting.
By following these safety tips, you can ensure a safe and enjoyable Miami to Key West road trip. Remember, safety should always be a priority, allowing you to relax and make the most of your journey through the beautiful Florida Keys.
Road Trip Essentials
To make your Miami to Key West road trip successful and stress-free, it's important to pack a few essential items. These items will ensure your comfort, safety, and convenience throughout the journey. Here are some road trip essentials to consider:
Navigation Tools: A reliable GPS device or smartphone with a navigation app will help you stay on track and easily navigate the route. Make sure to have a car phone charger or portable power bank to keep your device charged.
Travel Documents: Pack your driver's license, vehicle registration, and proof of insurance. If you're planning to visit attractions or cross over into other countries, carry your passport or any required identification documents.
Snacks and Water: Stock up on non-perishable snacks and bottled water to keep you refreshed during the drive. Having your own supply of snacks will save you time and money on the road.
Emergency Kit: Prepare a basic roadside emergency kit that includes items such as a spare tire, tire jack, jumper cables, flashlight, first aid kit, and roadside flares. These tools can come in handy in case of unexpected car trouble.
Sun Protection: The Florida Keys can be intensely sunny, so pack sunscreen, hats, sunglasses, and protective clothing to shield yourself from the sun's rays. This will help prevent sunburn and discomfort during outdoor activities.
Clothes and Comfortable Shoes: Pack clothes for different weather conditions, including lightweight and breathable options for hot days, as well as a light jacket for cooler evenings. Comfortable shoes are essential for exploring attractions and taking walks along the beach.
Entertainment and Music: Keep yourself entertained during the drive with your favorite music playlists or audiobooks. If you have passengers, consider packing travel games or books to make the journey more enjoyable.
Cash and Cards: It's wise to carry a mix of cash and cards for any unexpected expenses or places that may not accept cards. Be sure to have enough money for tolls, parking fees, and smaller establishments that may prefer cash payments.
Camera or Smartphone: Capture memories of your road trip by bringing a camera or ensuring your smartphone has ample storage space. Photograph the stunning views, wildlife encounters, and memorable moments along the way.
These are just a few essential items to consider when packing for your Miami to Key West road trip. Tailor your packing list to your specific needs and preferences. The goal is to ensure you have everything you need to make your journey comfortable, safe, and enjoyable.
Conclusion
Embarking on a Miami to Key West road trip is a thrilling adventure that allows you to experience the beauty and charm of the Florida Keys firsthand. From the scenic drive along the Overseas Highway to the unique attractions and mouthwatering cuisine, this journey offers something for everyone.
By carefully planning your route, selecting the best time to visit, and taking the necessary safety precautions, you can ensure a smooth and enjoyable road trip. Explore the must-see attractions along the way, indulge in delicious food and drinks, and choose accommodations that suit your preferences and budget.
Whether you're seeking relaxation on pristine beaches, thrilling water activities, or cultural highlights, the Miami to Key West road trip has it all. Immerse yourself in the vibrant atmosphere of Key West, discover the rich history and natural wonders of the Florida Keys, and create unforgettable memories along the way.
So, pack your bags, plan your route, and hit the open road. Embark on this journey of a lifetime, where turquoise waters, stunning sunsets, and a laid-back vibe await. The Miami to Key West road trip promises an adventure filled with beauty, excitement, and relaxation. Get ready to experience the best of the Florida Keys and create memories that will last a lifetime.