A Visitor's Guide To Vineyard Haven, Massachusetts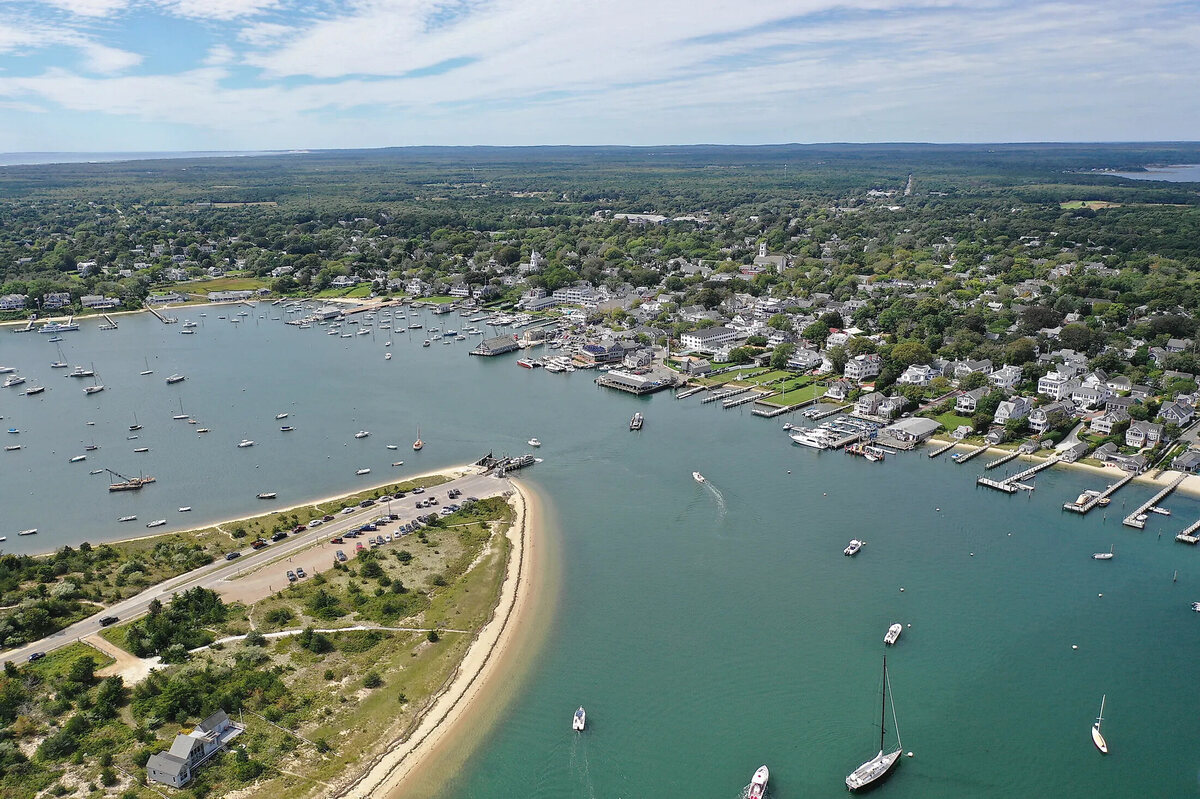 Introduction
Welcome to Vineyard Haven, a picturesque town located on the island of Martha's Vineyard in Massachusetts. This charming coastal community is a popular destination for those seeking a relaxing and scenic getaway. With its beautiful beaches, historic sites, and vibrant cultural scene, Vineyard Haven offers something for every traveler.
Immerse yourself in the natural beauty of Vineyard Haven, where sandy shores meet the crystal-clear waters of the Atlantic Ocean. Explore the quaint streets lined with historic homes, boutique shops, and inviting restaurants. Indulge in the local cuisine, soak up the sun on the beach, and experience the laid-back island life.
Whether you're a solo traveler in search of solitude, a couple seeking a romantic escape, or a family looking for a fun-filled adventure, Vineyard Haven has it all. From outdoor activities to cultural events, this charming town offers a myriad of options to suit every interest and passion.
Discover the unique history and culture of Vineyard Haven as you explore its historic landmarks, such as the East Chop Lighthouse and the Martha's Vineyard Museum. Dive into the island's maritime heritage at the Vineyard Haven Harbor, where you can watch the bustling activity of the fishing boats and yachts.
With its convenient location, Vineyard Haven serves as a gateway to the rest of Martha's Vineyard. Embark on day trips to nearby towns like Oak Bluffs and Edgartown, and explore their distinct atmospheres and attractions. Whether you're interested in art galleries, boutique shopping, or scenic bike rides, there's always something new to discover just a short distance away.
So pack your bags, grab your sunglasses, and get ready to experience the charm and beauty of Vineyard Haven. Whether you're looking for a laid-back beach vacation, an exploration of history and culture, or simply a place to relax and unwind, this idyllic town offers the perfect setting for an unforgettable getaway.
Location and Geography
Vineyard Haven is located on the island of Martha's Vineyard, which is situated off the coast of Cape Cod in Massachusetts. The town is nestled on the northern coast of the island, offering stunning views of Vineyard Sound.
The island of Martha's Vineyard is known for its unspoiled beauty and diverse natural landscapes. Vineyard Haven, with its prime location, showcases many of these natural wonders. From beautiful sandy beaches to rolling hills and scenic hiking trails, this coastal town offers a wealth of outdoor opportunities.
One of the highlights of Vineyard Haven is its picturesque harbor. The Vineyard Haven Harbor serves as a hub of activity, with boats and yachts coming and going throughout the day. Stroll along the harbor promenade and watch the boats sail by, or sit by the water's edge and enjoy the tranquil atmosphere.
The town's central location makes it an ideal starting point for exploring the rest of Martha's Vineyard. Just a short drive away, you'll find other charming towns like Oak Bluffs, Edgartown, and Aquinnah, each offering its own unique attractions and character.
The climate in Vineyard Haven is typical of New England, with warm summers and cool winters. The summer months, from June to September, are the peak tourist season, when visitors flock to the island to enjoy the sunny beaches and outdoor activities. Fall brings milder temperatures and colorful foliage, making it a popular time for nature lovers and photographers. Winter is a quieter time on the island, with fewer visitors, but it still offers its own charm, with cozy fireside dining and scenic walks along the deserted beaches.
Getting to Vineyard Haven is easy, with multiple transportation options available. The most common way to reach the island is by ferry from the mainland. Ferries operate from several ports in Massachusetts, including Woods Hole, Falmouth, and New Bedford. There is also a small airport on the island, the Martha's Vineyard Airport, which offers flights to and from major cities in the region.
With its stunning location and natural beauty, Vineyard Haven is a hidden gem on Martha's Vineyard. Come and experience the charm of this coastal town and explore all that it has to offer.
History of Vineyard Haven
Vineyard Haven, also known as Tisbury, has a rich and storied history that dates back centuries. The town was first settled by Wampanoag Native Americans, who recognized the area's potential as a fishing and hunting ground. European explorers arrived in the 17th century, and Vineyard Haven became an important seaport and trading center.
Throughout its history, Vineyard Haven has been deeply connected to the maritime industry. The town prospered in the 18th and 19th centuries, thanks to its bustling harbor and thriving shipbuilding industry. It was during this time that many of Vineyard Haven's iconic buildings were constructed, including the impressive Victorian-style homes that still line the streets today.
In the mid-1800s, Vineyard Haven began to attract tourists seeking a peaceful and idyllic escape. The construction of the Martha's Vineyard Railroad in 1874 made the town more accessible, further boosting its popularity as a summer resort destination. Wealthy visitors from New York and Boston started to build grand summer estates along the coast, establishing Vineyard Haven as a desirable vacation spot.
During the 20th century, Vineyard Haven continued to evolve. The town became known as "Tisbury" in the early 1900s but reverted to its original name, Vineyard Haven, in 1989. It saw a surge in tourism and development, with new hotels, shops, and restaurants catering to the growing number of visitors.
Despite its growth, Vineyard Haven has managed to preserve its historic character and charm. Many of the town's historic buildings have been lovingly restored, giving visitors a glimpse into its fascinating past. The Martha's Vineyard Museum, located in Vineyard Haven, offers a comprehensive exploration of the island's history, including its maritime heritage and connections to the whaling industry.
Today, Vineyard Haven is not only a popular vacation destination but also a thriving year-round community. It maintains its status as a significant maritime center, with the harbor serving as a hub for fishing boats, pleasure crafts, and ferry traffic. The town's historic Main Street is lined with specialty shops, art galleries, and restaurants, providing visitors with a unique shopping and dining experience.
As you wander through the streets of Vineyard Haven, you can feel the echoes of its rich history. From its Native American roots to its days as a bustling seaport, the town has a fascinating story to tell. Immerse yourself in this history as you explore Vineyard Haven and discover the layers of its past that have shaped the town we see today.
Getting to Vineyard Haven
Getting to Vineyard Haven is an enjoyable and convenient journey, whether you're arriving by air or sea. Located on the island of Martha's Vineyard, Vineyard Haven is easily accessible from various ports in Massachusetts.
The most popular way to reach Vineyard Haven is by ferry. Ferries operate from several ports on the mainland, including Woods Hole, Falmouth, and New Bedford. The most frequent and convenient ferry service is from Woods Hole, which is just a short drive from the town. The journey takes approximately 45 minutes, offering stunning views of the ocean and the chance to spot wildlife along the way.
If you prefer to travel by air, Martha's Vineyard Airport is the closest option. The airport offers direct flights to and from major cities in the region, including Boston, New York, and Washington, D.C. Once you arrive at the airport, it's just a short drive or taxi ride to Vineyard Haven.
Once you've reached Vineyard Haven, getting around the town and the rest of Martha's Vineyard is easy. The town is relatively compact, and many attractions, restaurants, and shops are within walking distance. You can explore the charming streets on foot or rent a bicycle to enjoy a leisurely ride around town.
If you're planning to explore other areas of the island, public transportation options are available. The Martha's Vineyard Regional Transit Authority operates a bus service that connects Vineyard Haven with other towns on the island. The buses run frequently and are an affordable way to travel around.
For those who prefer more flexibility and autonomy, renting a car or a scooter is a popular choice. There are several rental companies in Vineyard Haven that offer a range of vehicles to suit every need. Having your own transportation allows you to explore the island at your own pace and visit off-the-beaten-path destinations.
It's important to note that during the peak summer season, ferry reservations are highly recommended, as the demand is high. Be sure to book your ferry tickets in advance to secure your spot and avoid any last-minute disruptions to your travel plans. Additionally, parking in Vineyard Haven can be limited, especially during busy periods. It may be best to park your car outside the town center and utilize alternative transportation methods.
Whether you choose to arrive by ferry or plane, the journey to Vineyard Haven is part of the adventure. Take in the scenic views, breathe in the fresh sea air, and embrace the anticipation of the experiences that await you on beautiful Martha's Vineyard.
Accommodation Options in Vineyard Haven
Vineyard Haven offers a range of accommodation options to suit every traveler's preferences and budget. From cozy bed and breakfasts to luxury resorts, you'll find a variety of choices to make your stay in this charming coastal town truly memorable.
If you're looking for a home-away-from-home experience, consider staying at one of the quaint bed and breakfasts dotted throughout Vineyard Haven. These intimate accommodations offer personalized service, comfortable rooms, and delicious homemade breakfasts to start your day off right. Many of the bed and breakfasts are housed in historic buildings, adding a touch of charm and character to your stay.
For those seeking more upscale accommodations, Vineyard Haven is home to luxury hotels and resorts that offer unparalleled comfort and amenities. Indulge in world-class spa treatments, relax by the pool, or enjoy fine dining at the on-site restaurants. These establishments provide a luxurious retreat after a day of exploring the island's natural beauty.
If you prefer the freedom and space of a vacation rental, Vineyard Haven has a wide selection of rental homes and cottages available. From waterfront properties to cozy cottages nestled in the woods, you can find the perfect home base for your Martha's Vineyard getaway. Vacation rentals offer the convenience of a fully equipped kitchen and the flexibility to create your own itinerary.
For budget-conscious travelers, Vineyard Haven also offers affordable accommodations such as motels and inns. These accommodations provide comfortable rooms, friendly service, and convenient locations, allowing you to make the most of your vacation budget.
When choosing your accommodation in Vineyard Haven, it's important to consider the town's central location and proximity to various attractions. Staying in Vineyard Haven provides easy access to the rest of Martha's Vineyard, allowing you to explore other towns and attractions without hassle.
It's worth noting that accommodation options in Vineyard Haven can be in high demand during the peak summer season. To secure your preferred choice, it's recommended to make reservations in advance. This will ensure that you have a comfortable and convenient place to stay during your visit.
Regardless of where you choose to stay in Vineyard Haven, you'll be greeted with warm hospitality and a welcoming atmosphere. Immerse yourself in the cozy charm of the town, relax in your comfortable accommodations, and make the most of your time on this enchanting island.
Dining and Cuisine in Vineyard Haven
When it comes to dining, Vineyard Haven offers a diverse culinary scene that reflects the vibrant culture and coastal charm of Martha's Vineyard. Whether you're craving fresh seafood, farm-to-table fare, or international cuisine, you'll find an array of dining options to satisfy your palate.
Seafood lovers will delight in the abundance of fresh catches available in Vineyard Haven. From succulent lobster and crispy fried clams to flavorful oysters and scallops, you can indulge in the fruits of the sea at the town's many seafood restaurants and waterfront eateries. Be sure to try the iconic New England clam chowder, a creamy and comforting soup that will warm your soul.
For those seeking a taste of local flavors and ingredients, Vineyard Haven boasts several restaurants that specialize in farm-to-table cuisine. These establishments source their ingredients from local farms, ensuring that you're getting the freshest and most flavorful dishes possible. Whether it's a hearty plate of locally raised beef, a colorful salad made with seasonal produce, or a delicate pastry made with island-grown fruits, you'll experience the true essence of Martha's Vineyard in every bite.
Vineyard Haven also offers a variety of international cuisines to cater to every taste. Travel the world through your taste buds with delectable Italian pasta, authentic Mexican tacos, flavorful Thai curries, or mouthwatering sushi. You'll find restaurants that bring the flavors of different cultures to your table, allowing you to explore a world of culinary delights while enjoying the coastal charm of Vineyard Haven.
Don't forget to indulge your sweet tooth with desserts and treats from local bakeries and ice cream shops. Treat yourself to a freshly baked pastry, a scoop of homemade ice cream, or a slice of decadent cake. With the abundance of sweet delights available, you'll find the perfect indulgence to satisfy your cravings.
Many of the dining establishments in Vineyard Haven pride themselves on their dedication to sustainability and supporting local producers. This commitment to quality and community shines through in every dish, providing a truly memorable dining experience.
In addition to the sit-down restaurants, Vineyard Haven is home to cozy cafes and charming coffee shops where you can savor a cup of freshly brewed coffee, enjoy a light lunch, or grab a quick breakfast. These establishments offer a welcoming and relaxed atmosphere, where you can unwind and soak up the local culture.
Whether you're looking for a fine dining experience, a casual meal by the water, or a quick bite on the go, Vineyard Haven has a variety of dining options to suit every preference. Enjoy the flavors of the island, taste the freshness of the sea, and experience the culinary delights that await you in this charming coastal town.
Attractions and Things to Do in Vineyard Haven
Vineyard Haven offers a wealth of attractions and activities for visitors to enjoy. Whether you're interested in exploring history and culture, immersing yourself in nature, or simply enjoying the coastal ambiance, there's something for everyone in this charming town.
One of the must-see attractions in Vineyard Haven is the Martha's Vineyard Museum. Located in a historic building right in the heart of town, the museum showcases the island's diverse history and culture through engaging exhibits and interactive displays. Learn about the whaling era, maritime heritage, and the island's connection to the arts and farming industries.
If you're a fan of lighthouses, a visit to the East Chop Lighthouse is a must. This iconic landmark, situated atop a scenic bluff, offers breathtaking views of Vineyard Haven Harbor and Nantucket Sound. Learn about the history of the lighthouse and enjoy the picturesque surroundings.
For art enthusiasts, Vineyard Haven is home to several art galleries and studios showcasing the work of local artists. Explore the vibrant art scene and discover unique paintings, sculptures, and other forms of artistic expression. Many galleries also offer workshops and events where you can immerse yourself in the creative process.
Nature lovers will find plenty of opportunities to explore the great outdoors in Vineyard Haven. The town is surrounded by beautiful beaches, including Owen Park Beach and Tisbury Town Beach, where you can relax, swim, and soak up the sun. Take a leisurely stroll along the shoreline or enjoy a picnic with a view of the sparkling waters.
If you're up for a scenic hike, head to the West Chop Woods. This serene coastal woodland offers well-marked trails that wind through a picturesque landscape of towering trees and rolling hills. Enjoy the tranquility of nature and keep an eye out for various bird species that call this area home.
Vineyard Haven is also a great place to shop for unique gifts and souvenirs. Explore the town's charming boutiques, galleries, and specialty stores, where you'll find everything from handmade jewelry and art pieces to clothing, homeware, and local products. Support local businesses and bring home a piece of Martha's Vineyard.
If you happen to visit Vineyard Haven during the summer months, be sure to check out the various events and festivals that take place. From art festivals and live music performances to farmers markets and outdoor movie screenings, there's always something happening in this lively town.
Lastly, don't miss the opportunity to experience the delicious cuisine that Vineyard Haven has to offer. Indulge in fresh seafood, savor farm-to-table dishes, and immerse yourself in the local flavors and culinary traditions.
From history and culture to outdoor adventures and culinary delights, Vineyard Haven invites you to create unforgettable memories and discover all that this charming town has to offer.
Shopping in Vineyard Haven
Vineyard Haven is a shopper's paradise, offering a wide array of unique boutiques, specialty stores, and galleries. Whether you're looking for fashionable clothing, handmade crafts, or locally made treasures, you'll find a delightful shopping experience in this charming coastal town.
Explore the streets of Vineyard Haven and discover a diverse selection of shops that cater to all tastes and interests. From upscale boutiques to bohemian-inspired stores, there's something for everyone. Browse through racks of clothing, jewelry, and accessories, and find the perfect addition to your wardrobe or a special gift for a loved one.
Art lovers will appreciate the numerous galleries showcasing the works of local artists. Discover stunning paintings, sculptures, ceramics, and photographs that capture the essence of Martha's Vineyard. Many galleries also offer unique souvenirs and prints that allow you to bring a piece of the island's artistic charm home with you.
If you're a food enthusiast, don't miss the chance to explore the specialty food shops in Vineyard Haven. Indulge in local delicacies such as sauces, jams, chocolates, and homemade baked goods. You can also find an assortment of organic and locally sourced products, perfect for creating a memorable picnic or cooking a delicious meal with the island's flavors.
For bookworms and literature lovers, Vineyard Haven boasts a charming independent bookstore where you can browse through a curated selection of books. From bestsellers to local literature, find your next great read and perhaps attend a book signing or author talk.
Additionally, Vineyard Haven is home to a variety of gift shops offering a range of unique and locally made items. From handmade jewelry and accessories to home decor and crafts, discover one-of-a-kind treasures that reflect the island's rich culture and creative spirit.
Shopping in Vineyard Haven is not just about the products; it's about the experience. Enjoy the friendly and welcoming atmosphere as you peruse the shops, and take the time to chat with the store owners and artisans who are passionate about their craft. They can provide recommendations and insights about the town and the unique products they offer.
When you shop in Vineyard Haven, you're not only supporting local businesses but also taking home a piece of the island's vibrant culture and artistic heritage. So, indulge in a leisurely shopping spree, discover hidden gems, and find that perfect something that will remind you of the charm of Vineyard Haven long after you've left.
Events and Festivals in Vineyard Haven
Vineyard Haven hosts a vibrant calendar of events and festivals throughout the year, offering visitors a chance to immerse themselves in the island's lively culture and community spirit. From art exhibits to music festivals, there's always something happening in this charming coastal town.
One of the highlights of the summer season in Vineyard Haven is the Vineyard Artisans Festival. This highly anticipated event showcases the work of local artists and craftspeople, giving visitors the opportunity to browse and purchase unique handmade items. From pottery and paintings to jewelry and textiles, you'll find a wide range of beautiful creations that reflect the island's artistic talent.
Music lovers will appreciate the various music festivals and concerts that take place in Vineyard Haven. From intimate live performances at local venues to larger outdoor concerts, the town comes alive with the sounds of talented musicians. Whether you're into jazz, folk, rock, or classical music, there's a performance that will captivate your ears and have you tapping your feet.
Food enthusiasts can satisfy their cravings at the Martha's Vineyard Food & Wine Festival, held annually in Vineyard Haven. This culinary extravaganza brings together renowned chefs, winemakers, and food lovers for a multi-day celebration of gastronomy. Enjoy tastings, cooking demonstrations, and gourmet dinners, all showcasing the island's incredible food and beverage scene.
In the heart of summer, Vineyard Haven hosts the Tisbury Street Fair, a lively event that takes over Main Street with food vendors, live music, street performers, and activities for all ages. The street is transformed into a bustling marketplace, allowing locals and visitors to mingle, dance, and sample delicious treats while enjoying the festive atmosphere.
The holiday season in Vineyard Haven is filled with festive events that bring the community together. From the lighting of the town's Christmas tree to holiday parades and caroling, there's a sense of cheer and warmth in the air. Local shops and businesses also participate in holiday-themed events, offering special promotions and extended hours to make your holiday shopping experience memorable.
In addition to these annual events, Vineyard Haven hosts a variety of smaller community events and workshops throughout the year. From art workshops and yoga classes to historical walking tours and environmental talks, there's always an opportunity to learn, connect, and engage with the vibrant community of Vineyard Haven.
Attending events and festivals in Vineyard Haven is a wonderful way to fully embrace the local culture and community spirit. From art and music to food and holiday celebrations, these occasions offer a glimpse into the island's rich traditions and provide an unforgettable experience for visitors of all ages.
Surrounding Areas and Day Trips from Vineyard Haven
Vineyard Haven's central location on Martha's Vineyard makes it an ideal base for exploring the surrounding areas and embarking on exciting day trips. From charming coastal towns to pristine beaches and nature preserves, there's a wealth of destinations to discover just a short distance from Vineyard Haven.
Oak Bluffs, located just a few miles from Vineyard Haven, is a popular day trip destination. Known for its colorful gingerbread cottages and the iconic Flying Horses Carousel, Oak Bluffs exudes charm and nostalgia. Take a leisurely stroll along the Oak Bluffs Harbor, browse the boutique shops, and indulge in delicious seafood at one of the waterfront restaurants.
If you're interested in history, make your way to Edgartown, another nearby town. This historic whaling village boasts beautifully preserved 18th-century homes, cobblestone streets, and a picturesque harbor. Explore the local museums, visit the iconic Edgartown Lighthouse, and wander through the art galleries and upscale shops that line the streets.
Aquinnah, located on the western end of Martha's Vineyard, offers breathtaking natural beauty. Known for its vibrant red clay cliffs overlooking the ocean, this area is not to be missed. Take a hike along the scenic trails of Aquinnah Cliffs Reservation, enjoy the panoramic views, and visit the Gay Head Lighthouse, an iconic landmark that has guided ships for centuries.
For nature enthusiasts, a visit to Long Point Wildlife Refuge is a must. This pristine nature reserve is home to diverse ecosystems, including woodlands, grasslands, and sandy beaches. Explore the trails, go birdwatching, or simply relax on the sandy shores and appreciate the unspoiled beauty of this coastal paradise.
For a unique experience, take a short ferry ride to the Elizabeth Islands. This chain of small islands boasts secluded beaches, tranquil hiking trails, and a slower pace of life. Pack a picnic and spend the day exploring the enchanting landscapes, spotting wildlife, and enjoying the peaceful surroundings.
For those seeking outdoor adventures, consider renting a kayak or paddleboard and exploring the picturesque coastline. Discover hidden coves, paddle along calm waters, and soak up the serenity of the ocean. You can also embark on a fishing charter and try your luck at reeling in a catch while enjoying the scenic views.
These are just a few of the many day trip options available from Vineyard Haven. Whether you're craving history, natural beauty, or outdoor adventures, the surrounding areas of Martha's Vineyard offer an abundance of possibilities to explore and enjoy.
Practical Information for Visitors
Before you embark on your journey to Vineyard Haven, it's important to have some practical information to ensure a smooth and enjoyable visit. Here are some key details to keep in mind:
Weather and Clothing: Vineyard Haven experiences warm summers and cool winters. Pack accordingly with light and breathable clothing for summer, including swimsuits and sun protection. In the winter, layer up with warm clothing, including a jacket or coat. Be prepared for sudden changes in weather, especially if you plan to spend time outdoors.
Transportation: Getting to Vineyard Haven is typically done by ferry from ports in Massachusetts. If you plan to bring your vehicle, it's necessary to make a reservation in advance. Once on the island, consider renting a car, bicycle, or using public transportation to explore Vineyard Haven and the surrounding areas.
Accommodations: Vineyard Haven offers a range of accommodation options, including bed and breakfasts, hotels, vacation rentals, and inns. It's advisable to book your accommodations in advance, especially during the peak summer season, to secure your preferred choice.
Dining: Vineyard Haven is known for its diverse culinary scene. Restaurants and eateries cater to a variety of tastes and budgets, offering fresh seafood, farm-to-table cuisine, international dishes, and casual delights. Make reservations in advance for popular dining spots, especially during peak tourist times.
Currency and Tipping: The official currency in Vineyard Haven is the US Dollar. Tipping is customary and appreciated, typically ranging from 15-20% of the bill in restaurants and for services such as taxis and tour guides.
Safety: Vineyard Haven is generally a safe destination. However, it's always advisable to take common safety precautions, such as being aware of your surroundings, keeping valuables secure, and following any local guidelines or regulations.
Visitor Information: Visit the Martha's Vineyard Chamber of Commerce or the Visitor Center in Vineyard Haven for maps, brochures, and information about attractions, events, and activities in the area. Local residents and staff are often happy to provide recommendations and guidance to enhance your visit.
Respect for the Environment: As you enjoy the natural beauty of Vineyard Haven and Martha's Vineyard, please respect the environment. Follow designated trails, dispose of waste properly, and be mindful of local wildlife and protected areas.
COVID-19 Considerations: During your visit, it's important to be aware of any COVID-19 safety measures and guidelines in place. Stay informed about the latest travel advisories and regulations, follow local health guidelines, and respect the safety and well-being of the local community.
By keeping these practical tips in mind, you'll be well-prepared to make the most of your visit to Vineyard Haven. Embrace the natural beauty, immerse yourself in the local culture, and create lasting memories in this enchanting coastal town.
Conclusion
Vineyard Haven, located on the charming island of Martha's Vineyard, offers visitors a delightful blend of natural beauty, rich history, and vibrant culture. From its picturesque beaches and historic landmarks to its diverse culinary scene and lively events, this coastal town has something to satisfy every traveler's desires.
Whether you're immersing yourself in the island's maritime heritage, discovering local artwork, indulging in fresh seafood, or exploring the surrounding areas on day trips, Vineyard Haven provides a memorable and immersive experience. The town's central location makes it an ideal base for venturing out to other nearby towns and attractions, ensuring that you can fully explore the wonders of Martha's Vineyard.
As you plan your visit to Vineyard Haven, remember to consider practical information such as transportation, accommodations, and weather conditions. In addition, embrace the local community and support the businesses that contribute to the island's unique charm and character. Keep in mind any COVID-19 safety guidelines that may be in place to ensure a safe and enjoyable experience for everyone.
Whether you're seeking relaxation, adventure, or cultural enrichment, Vineyard Haven offers an idyllic escape. Lose yourself in the tranquil beauty of the beaches, immerse yourself in the island's rich history, indulge in the local cuisine, and embrace the warmth and hospitality of the community.
So pack your bags and embark on a journey to Vineyard Haven. Immerse yourself in the coastal beauty, explore the history and culture, indulge in the flavors of the island, and create memories that will last a lifetime. Experience the magic of Vineyard Haven for yourself and discover why it captures the hearts of all who visit.