Which Berlin Neighborhood Should You Stay In?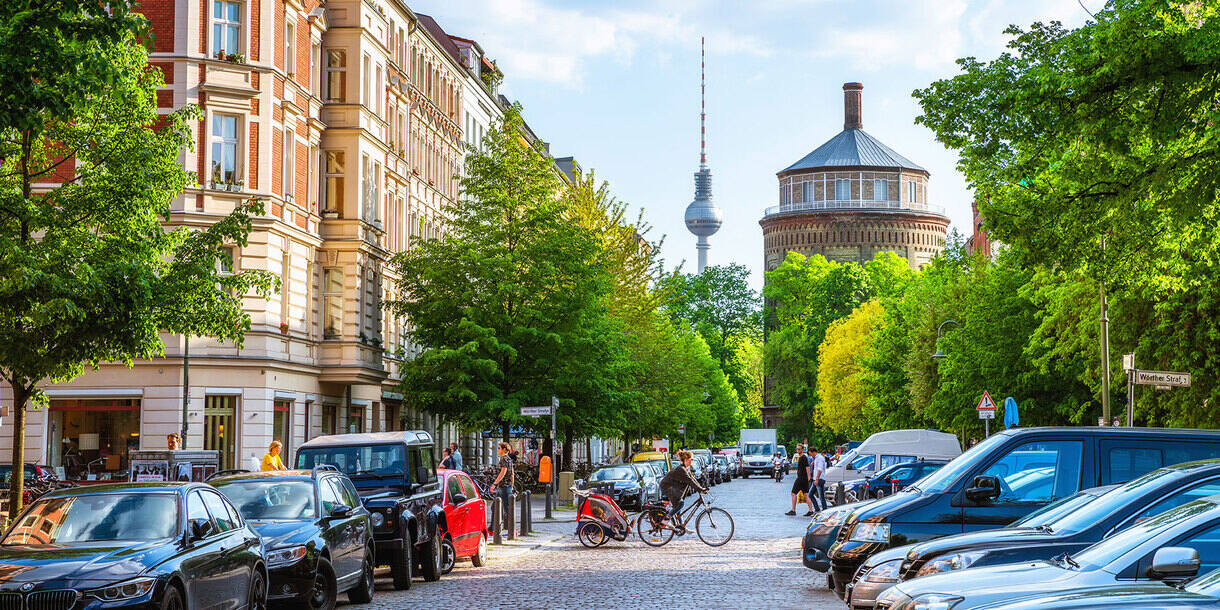 Introduction
Choosing the right neighborhood in Berlin can greatly enhance your stay in the vibrant German capital. Each neighborhood has its own distinct character and atmosphere, offering a unique experience to visitors. Whether you're looking for history, nightlife, culture, or a laid-back atmosphere, Berlin has a neighborhood that will suit your preferences.
Berlin is a city of contrasts, where trends blend with tradition, and history intertwines with modernity. From the historic heart of Mitte to the alternative vibes of Kreuzberg, there is something for everyone in this dynamic city.
In this article, we will explore some of the most popular neighborhoods in Berlin and help you decide which one is best for your stay. Whether you're a history buff, a foodie, an art lover, or someone who enjoys the hustle and bustle of city life, there's a perfect neighborhood waiting for you in Berlin.
So, let's dive into the unique charm and characteristics of each neighborhood, and discover which one suits your travel style and interests.
Mitte: The Historic Heart of Berlin
Located in the center of the city, Mitte is the historic heart of Berlin and a must-visit for history enthusiasts. This neighborhood is home to iconic landmarks such as the Brandenburg Gate, Berlin Cathedral, and Museum Island.
One of the highlights of Mitte is the infamous Berlin Wall. Here, you can visit the East Side Gallery, a section of the wall that has been transformed into an open-air gallery, showcasing colorful and thought-provoking murals. Nearby, you will also find Checkpoint Charlie, a former border crossing point between East and West Berlin, which offers a glimpse into the city's divided past.
In addition to its historical significance, Mitte is a vibrant neighborhood with a thriving cultural scene. Art galleries, boutique shops, and trendy restaurants can be found in the bustling streets of Auguststraße and Linienstraße. For a taste of traditional German cuisine, head to Hackescher Markt, where you can indulge in bratwurst and local beer.
For those looking to experience Berlin's nightlife, Mitte has plenty to offer. From sophisticated cocktail bars to underground clubs, the neighborhood comes alive after dark, particularly around the lively Rosenthaler Platz.
If you're a museum enthusiast, Mitte is the place to be. Museum Island is a UNESCO World Heritage site and home to several world-class museums, including the Pergamon Museum and the Neues Museum.
Mitte also provides excellent transportation connections, making it convenient to explore other parts of the city. Alexanderplatz, one of Berlin's major transportation hubs, is located in the heart of Mitte.
Whether you're interested in history, art, or simply soaking up the vibrant atmosphere, Mitte offers a perfect balance of culture and convenience. Its central location and rich history make it an ideal neighborhood for both first-time visitors and seasoned travelers.
Kreuzberg: Vibrant and Alternative
If you're looking for a neighborhood with a vibrant and alternative atmosphere, Kreuzberg is the place to be. Located in the southern part of Berlin, this neighborhood is known for its multiculturalism, diverse population, and thriving arts scene.
Kreuzberg is renowned for its street art, which covers many building facades and adds to the neighborhood's unique and edgy charm. Walking through Kreuzberg feels like being in an open-air art gallery, with vibrant murals and graffiti adorning the streets.
The neighborhood is also a hub for alternative culture, with numerous independent shops, record stores, and tattoo parlors. The Bergmannkiez area is particularly popular for its trendy boutiques, coffee shops, and vintage stores.
One of the highlights of Kreuzberg is the Görlitzer Park, a green oasis where locals gather to relax, have barbecues, and soak up the sun. In the warmer months, the park becomes a hub of activity, with people enjoying picnics, playing sports, and attending open-air events.
Kreuzberg is also known for its buzzing nightlife. The neighborhood is home to a wide range of bars, clubs, and music venues, offering something for every taste. Whether you're into techno, jazz, or live indie bands, you're sure to find a place to enjoy the vibrant music scene.
When it comes to cuisine, Kreuzberg offers a diverse array of food options. The neighborhood is famous for its international food scene, with a wide range of Turkish, Middle Eastern, and Asian restaurants. Don't miss out on trying the popular Turkish street food staple, the döner kebab.
Kreuzberg's multiculturalism is also reflected in its vibrant food markets. The Markthalle Neun hosts a weekly Street Food Thursday event where you can sample a variety of international culinary delights.
With its vibrant street art, alternative culture, and multicultural atmosphere, Kreuzberg has established itself as a must-visit neighborhood for those seeking a unique and offbeat experience in Berlin.
Prenzlauer Berg: Trendy and Laid-Back
If you're searching for a neighborhood that combines trendy vibes with a laid-back atmosphere, look no further than Prenzlauer Berg. Situated in the northeast of Berlin, Prenzlauer Berg is known for its charming streets lined with beautiful old buildings, cozy cafes, and trendy boutiques.
One of the defining characteristics of Prenzlauer Berg is its hipster culture. Here, you'll find an abundance of stylish coffee shops, organic food stores, and artisanal craft shops. The neighborhood is filled with young professionals, artists, and families, creating a vibrant and dynamic community.
Wandering through Prenzlauer Berg, you'll notice the neighborhood's unique architectural charm. The streets are adorned with beautiful pre-war buildings, many of which have been lovingly restored. Kollwitzplatz is a central square in Prenzlauer Berg, surrounded by cafes and restaurants, making it a popular spot for locals and visitors to relax and people-watch.
Prenzlauer Berg also boasts an impressive selection of parks and green spaces. Mauerpark is particularly beloved by both locals and tourists. On Sundays, the park hosts a famous flea market where you can hunt for vintage clothes, vinyl records, and unique treasures. The park is also home to an open-air karaoke session, where brave participants can take to the stage and showcase their talents.
For food enthusiasts, Prenzlauer Berg offers a wide variety of culinary delights. The neighborhood is known for its diverse range of international cuisine, with options ranging from Italian and Asian to vegan and vegetarian. The Kulturbrauerei complex, a former brewery, now houses a collection of bars, restaurants, and event spaces, ensuring there's always something happening in the neighborhood.
In Prenzlauer Berg, you'll find a thriving nightlife scene that caters to various tastes. Whether you're in the mood for a cozy pub, a trendy cocktail bar, or a live music venue, there are plenty of options to choose from.
With its trendy shops, laid-back atmosphere, and lively cultural scene, Prenzlauer Berg has become a popular destination for those seeking a hip and relaxed experience in Berlin.
Charlottenburg: Sophistication and Elegance
If you're looking for a neighborhood that exudes sophistication and elegance, Charlottenburg is the perfect choice. Located in the western part of Berlin, Charlottenburg is known for its grand boulevards, opulent palaces, and upscale shopping streets.
One of the highlights of Charlottenburg is Charlottenburg Palace, the largest palace in Berlin and a magnificent example of baroque architecture. You can explore the lavish interior, stroll through the beautiful gardens, and soak in the regal atmosphere of this royal residence.
Stretching from Charlottenburg Palace, Kurfürstendamm, or simply Ku'damm, is one of Berlin's most famous shopping streets. Packed with high-end boutiques, luxury flagship stores, and elegant department stores, this avenue is a paradise for fashion lovers and those seeking the finer things in life. The adjacent Wilmersdorfer Straße also offers a more diverse and affordable shopping experience.
Charlottenburg is also home to several outstanding museums. The Museum Berggruen houses an impressive collection of modernist and surrealist art, including works by Picasso, Klee, and Matisse. The Museum für Fotografie showcases a diverse range of photography exhibitions, while the Bröhan Museum specializes in art nouveau, art deco, and functionalism.
When it's time to indulge in some culinary delights, Charlottenburg won't disappoint. The neighborhood is renowned for its upscale restaurants serving international cuisine. From fine dining establishments to cozy bistros, there is something to satisfy every palate.
For those seeking entertainment, the Renaissance Theater offers a program of top-quality theater productions, while the Deutsche Oper Berlin is one of the city's most prestigious opera houses, showcasing world-class performances.
Charlottenburg also offers opportunities for relaxation and recreation. The beautiful Tiergarten park, one of Berlin's largest green spaces, is located nearby. Here, you can take a leisurely stroll, have a picnic, or rent a boat and paddle along the charming canals.
With its elegant charm, cultural attractions, and upscale shopping opportunities, Charlottenburg is the neighborhood of choice for those seeking a taste of sophistication in Berlin.
Friedrichshain: Lively Nightlife and Street Art
If you're searching for a neighborhood that never sleeps and is filled with vibrant energy, Friedrichshain is the place to be. Situated in the eastern part of Berlin, this neighborhood is known for its bustling nightlife and thriving street art scene.
Friedrichshain is home to a diverse range of clubs, bars, and music venues, making it a haven for partygoers. The neighborhood boasts some of the best techno clubs in the world, where you can dance until the early hours of the morning. RAW-Gelände, a former railway depot turned cultural space, is a hotspot for alternative nightlife. It offers a mix of clubs, bars, and outdoor spaces, creating a unique and lively atmosphere.
Aside from its vibrant nightlife, Friedrichshain is also famous for its street art. The neighborhood is adorned with colorful murals, graffiti, and street installations that reflect the creativity and rebellious spirit of the area. The East Side Gallery, located along a section of the Berlin Wall, showcases breathtaking murals created by artists from all over the world.
In addition to its nightlife and street art, Friedrichshain offers a diverse range of eateries to satisfy any food lover. Simon-Dach-Straße is a popular street known for its international restaurants, trendy cafes, and cozy beer gardens. Whether you're craving Thai cuisine, Italian pizza, or traditional German dishes, Friedrichshain has a culinary option to suit every taste.
Friedrichshain also offers picturesque green spaces, such as Volkspark Friedrichshain, where you can relax, have a picnic, or enjoy outdoor activities. The park's summit offers panoramic views of the city, making it a popular spot for locals and tourists alike.
For a unique shopping experience, head to Boxhagener Platz on Saturday, where you'll find a lively flea market offering a wide array of vintage clothing, antiques, and handmade crafts. The neighborhood is also home to various independent boutiques and second-hand shops, allowing you to uncover hidden gems and unique fashion finds.
With its vibrant nightlife, captivating street art, diverse culinary scene, and lively flea markets, Friedrichshain has established itself as a must-visit neighborhood for those seeking an energetic and artistic atmosphere in Berlin.
Neukölln: Multicultural and Artistic
If you're looking for a neighborhood that celebrates diversity and creativity, Neukölln is the perfect destination. Situated in the southeastern part of Berlin, Neukölln is known for its multicultural atmosphere, vibrant art scene, and trendy cafes.
Neukölln has a rich immigrant history, resulting in a diverse mix of cultures and ethnicities. This diversity is reflected in the neighborhood's culinary offerings. The area is known for its excellent Middle Eastern and Turkish cuisine, with countless kebab shops, falafel stands, and authentic restaurants lining the streets.
The neighborhood is also home to a burgeoning artistic community. Numerous galleries, artist studios, and creative spaces can be found throughout Neukölln. The Reuterplatz Artist Collective and the Körnerpark Art Gallery are just a few examples of the vibrant art scene in this neighborhood.
One of the highlights of Neukölln is the Tempelhofer Feld, a former airport turned public park. Spanning over 300 hectares, this vast green space offers ample opportunities for outdoor activities such as cycling, skating, and picnicking. It's also a popular spot for kite flying and barbecues during the summer months.
The Weserstraße area is a hotspot for entertainment and nightlife in Neukölln. Here, you'll find a lively mix of bars, cafes, and live music venues. The area comes alive at night, with locals and tourists enjoying the vibrant atmosphere and eclectic music scene.
In addition to its cultural and artistic offerings, Neukölln has a unique shopping scene. The Schillerkiez neighborhood is known for its independent boutiques, vintage stores, and local designer shops. From thrifted gems to one-of-a-kind fashion pieces, there's something to suit every style and budget.
Neukölln is also home to the famous Maybachufer market, which takes place every Tuesday and Friday. Here, you can browse through an array of local produce, street food stalls, and handmade crafts, while enjoying the laid-back ambiance of the surrounding canal.
With its multicultural atmosphere, thriving art scene, and vibrant markets, Neukölln provides a unique and exciting experience for those seeking a taste of diversity and creativity in Berlin.
Schöneberg: LGBTQ+ Friendly and Cultural Diversity
Schöneberg, located in the southwestern part of Berlin, has long been considered the heart of the city's LGBTQ+ community. The neighborhood has a rich history of LGBTQ+ activism and acceptance, making it a popular and vibrant destination for the LGBTQ+ community and allies.
One of the symbols of the LGBTQ+ community in Schöneberg is the iconic Nollendorfplatz. This square is adorned with a rainbow-colored crosswalk and is surrounded by LGBTQ+-friendly bars, clubs, and shops. The area comes alive during Christopher Street Day, the annual LGBTQ+ pride parade in Berlin.
Schöneberg also offers a diverse and inclusive atmosphere, with numerous LGBTQ+-friendly venues, including bars, clubs, and cafes. Whether you're looking for a cozy cocktail bar, a lively dance club, or a drag show extravaganza, Schöneberg has it all.
The neighborhood is also known for its cultural diversity. Akazienstraße, a central street in Schöneberg, is lined with international restaurants and cafes, offering a culinary journey around the world. From traditional German cuisine to Lebanese delicacies and Thai street food, there's something to satisfy every palate.
Schöneberg is not only about its LGBTQ+ culture and diversity, but it also boasts several cultural landmarks. The former home and studio of the world-famous writer Christopher Isherwood, famous for his novel "Goodbye to Berlin," can be found in the neighborhood. The Rathaus Schöneberg, the former city hall where John F. Kennedy gave his iconic "Ich bin ein Berliner" speech, is another significant historical landmark.
For those seeking outdoor activities, Schöneberg offers several parks and green spaces. The Rudolph-Wilde-Park is a favorite spot for locals to relax, have a picnic, or enjoy a game of soccer. The nearby Volkspark Schöneberg-Wilmersdorf provides a vast green oasis with jogging trails, playgrounds, and beautiful landscapes.
In terms of shopping, Schöneberg offers a mix of small independent boutiques, vintage stores, and well-known brands. The Crellestraße area is particularly known for its selection of unique fashion boutiques and designer shops.
With its LGBTQ+-friendly atmosphere, cultural diversity, and range of entertainment options, Schöneberg has become a thriving and inclusive neighborhood that welcomes and celebrates people from all walks of life.
Wedding: Affordable and Up-and-Coming
If you're seeking an up-and-coming neighborhood that offers affordability without compromising on character, Wedding is the perfect choice. Located in the northern part of Berlin, Wedding is becoming increasingly popular among young professionals and artists due to its affordable housing options and creative energy.
One of the advantages of living or staying in Wedding is the affordability of accommodation. Compared to other neighborhoods in Berlin, housing prices here tend to be more budget-friendly, making it an attractive option for those looking for affordable yet charming places to stay.
Wedding is known for its diverse and multicultural community. The neighborhood is home to a big Turkish population, resulting in a vibrant and bustling atmosphere with an array of authentic Turkish restaurants, markets, and shops. There's nothing like indulging in a delicious Turkish kebab or exploring the colorful Turkish markets, offering a glimpse into the multicultural fabric of the neighborhood.
Wedding is also attracting attention for its thriving art scene. Many artists and creatives have chosen to set up their studios and galleries in Wedding, resulting in a growing number of contemporary art spaces and events. The Wedding Art Mile is a must-visit, featuring a collection of art studios, galleries, and cultural institutions all within walking distance.
For those seeking some outdoor relaxation, Wedding offers some beautiful parks and green spaces. The Volkspark Rehberge is a lovely park featuring lush green lawns, walking paths, and even a small zoo. It's a great place to take a leisurely stroll, have a picnic, or simply unwind and enjoy nature.
In terms of transportation, Wedding is well-connected to the rest of Berlin. The neighborhood has several U-Bahn (metro) and S-Bahn (commuter rail) stations, making it easy to explore the other parts of the city and beyond.
While Wedding may still be undergoing transformation, it has a certain charm and potential that has attracted many newcomers. Its affordable housing options, multicultural atmosphere, and burgeoning art scene make it an exciting and dynamic neighborhood to watch as it continues to develop.
Conclusion
Berlin is a city of diverse neighborhoods, each offering its own unique charm and atmosphere. Whether you're drawn to the historic heart of Mitte, the alternative vibes of Kreuzberg, the trendy and laid-back atmosphere of Prenzlauer Berg, the sophistication of Charlottenburg, the lively nightlife and street art scene of Friedrichshain, the multicultural and artistic community of Neukölln, the LGBTQ+ friendly and cultural diversity of Schöneberg, or the affordable and up-and-coming vibe of Wedding, there is a neighborhood in Berlin that will suit your interests and preferences.
Exploring the different neighborhoods allows you to immerse yourself in the rich history, vibrant culture, and dynamic atmosphere that make Berlin such a captivating city. Each neighborhood has its own unique character, from the thriving nightlife spots to the hidden art galleries, the eclectic food scenes to the breathtaking parks and green spaces.
Whether you're a history enthusiast, an art lover, a foodie, or someone who simply enjoys the energy of a bustling city, Berlin has a neighborhood that will cater to your interests and provide an unforgettable experience. Take the time to explore the different neighborhoods, wander through the streets, and discover the hidden gems and local hotspots that make each area special.
Ultimately, Berlin is a city that celebrates diversity, creativity, and authenticity. No matter which neighborhood you choose to stay in or explore, you'll find a welcoming and vibrant community that reflects the true spirit of the German capital.