13 Best Resorts In Oahu On The Beach: Complete Guide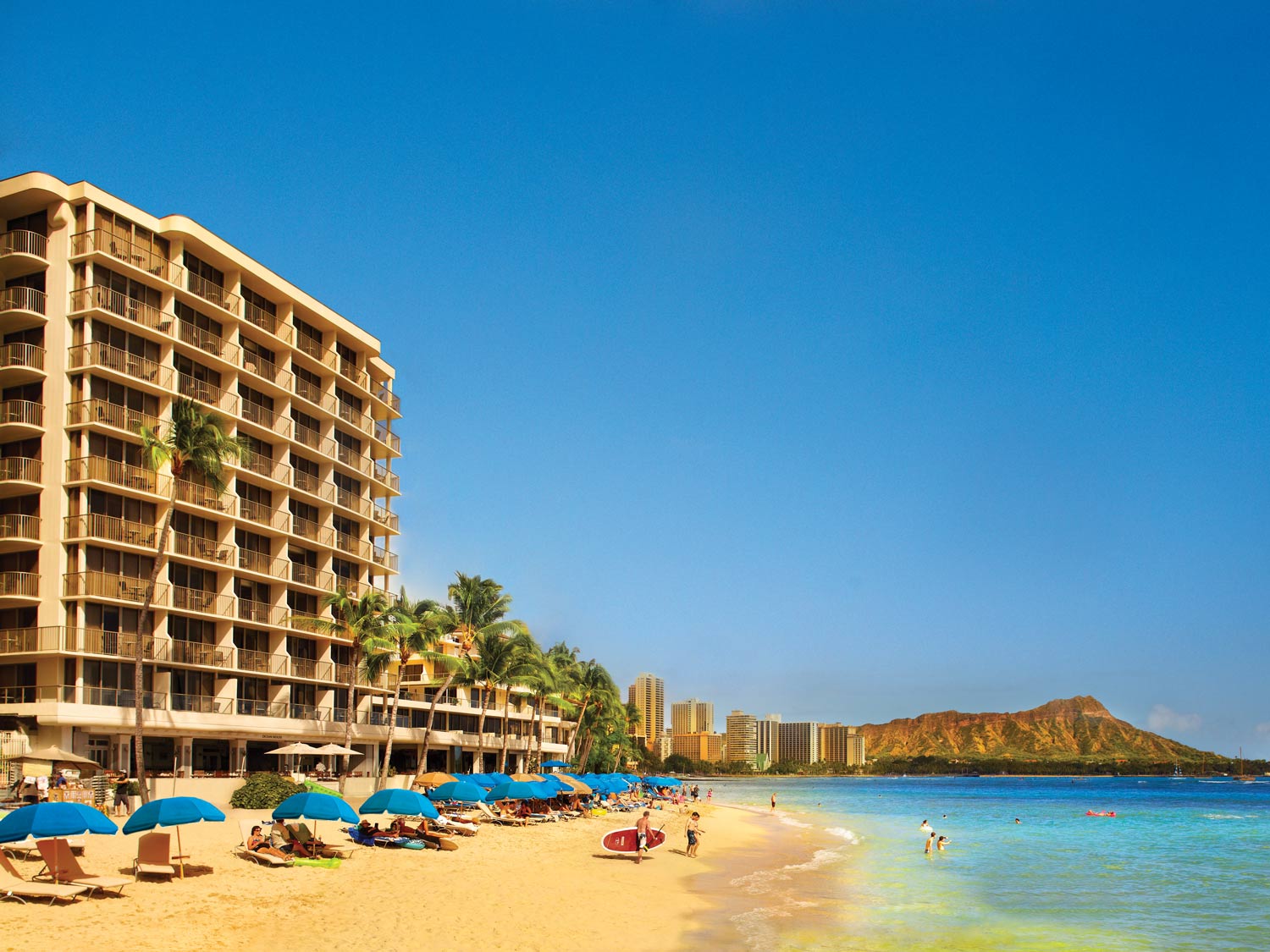 Oahu, the third largest island in Hawaii, is renowned for its stunning beaches, crystal-clear waters, and breathtaking landscapes. It is a paradise for beach lovers and offers a multitude of resorts that cater to every style and budget. Whether you are seeking a luxurious escape or a laid-back beachside retreat, Oahu has it all. In this comprehensive guide, we will take you through the 13 best resorts in Oahu that offer the ultimate beachfront experience. From world-class amenities to stunning ocean views, these resorts will provide you with an unforgettable stay. So get ready to soak up the sun, feel the sand between your toes, and indulge in the beauty and tranquility of Oahu's finest resorts on the beach.
Turtle Bay Resort
The Turtle Bay Resort is a tropical paradise located on Oahu's legendary North Shore. With its breathtaking oceanfront setting and world-class amenities, this resort offers a truly unforgettable experience. Whether you're lounging by the pool, exploring the nearby hiking trails, or catching a wave at one of the world-famous surf breaks, Turtle Bay Resort has something for everyone.
Four Seasons Resort Oahu at Ko Olina
Nestled on the picturesque Ko Olina coast, the Four Seasons Resort Oahu is a luxurious haven of tranquility. From the moment you step foot in the elegant lobby, you'll be greeted with warm hospitality and impeccable service. With its stunning beachfront location, award-winning spa, and exquisite dining options, this resort is the epitome of luxury in Oahu.
Aulani, A Disney Resort & Spa
For families looking for a magical vacation, Aulani, A Disney Resort & Spa is the perfect choice. This enchanting resort offers an array of activities and amenities for guests of all ages. From water slides and sandy beaches to character breakfasts and fireworks, Aulani creates lasting memories for every member of the family.
The Royal Hawaiian
Known as the "Pink Palace of the Pacific," The Royal Hawaiian is an iconic landmark in Waikiki. This historic resort exudes timeless elegance and charm, with its luxurious accommodations, lush gardens, and stunning ocean views. Immerse yourself in the rich history and culture of Hawaii while enjoying the modern comforts and amenities of this legendary resort.
Kahala Hotel & Resort
The Kahala Hotel & Resort is a hidden gem tucked away in the prestigious Kahala neighborhood. With its secluded beach, world-class spa, and dolphin encounter program, this resort offers a unique and unforgettable experience. Indulge in the ultimate luxury and relaxation at this exclusive retreat on Oahu's southern shore.
Halekulani
Located in the heart of Waikiki, the Halekulani is a legendary resort that has been captivating guests for over a century. With its iconic oceanfront pool, award-winning restaurants, and luxurious accommodations, this timeless gem offers a haven of tranquility amidst the bustling city. Experience true Hawaiian hospitality at Halekulani.
Ko Olina Beach Villas Resort
If you're looking for a more private and intimate getaway, the Ko Olina Beach Villas Resort is the perfect choice. Situated on the stunning Ko Olina coastline, this resort offers spacious and fully equipped villas with panoramic ocean views. Enjoy the serenity of your own luxury home away from home while still having access to all the amenities and services of a top-notch resort.
The Modern Honolulu
The Modern Honolulu is a sleek and stylish boutique hotel located in the heart of Waikiki. With its contemporary design, vibrant atmosphere, and stunning views of the Pacific Ocean, this hotel appeals to the modern traveler. Take a dip in the rooftop pool, indulge in gourmet cuisine, or unwind at the luxurious spa. The Modern Honolulu offers a fresh and sophisticated take on the Oahu beachfront experience.
Hilton Hawaiian Village Waikiki Beach Resort
As one of the largest resorts in Hawaii, the Hilton Hawaiian Village Waikiki Beach Resort has something for everyone. With its sprawling grounds, multiple pools, and variety of dining options, this resort offers endless entertainment and relaxation. Stay in one of the iconic Rainbow Towers or experience the luxury of the Ali'i Tower. The choice is yours at this expansive beachfront haven.
Four Seasons Resort at Oahu at Ko Olina
Experience the ultimate in luxury and privacy at the Four Seasons Resort at Oahu at Ko Olina. Situated on the pristine Ko Olina coast, this resort offers unrivaled oceanfront villas with private pools and stunning views. Indulge in world-class cuisine, rejuvenate at the spa, or simply relax on the secluded beach. The Four Seasons Resort at Oahu at Ko Olina is a sanctuary of serenity and opulence.
Outrigger Waikiki Beach Resort
Located on the iconic Waikiki Beach, the Outrigger Waikiki Beach Resort offers a perfect blend of tradition and modernity. From its traditional Hawaiian decor to its contemporary amenities, this resort caters to both history buffs and beach lovers. Relax on the white sands, explore the vibrant local scene, or take part in the resort's cultural activities. The Outrigger Waikiki Beach Resort is a true Hawaiian experience.
Disney's Aulani Resort & Spa
Disney's Aulani Resort & Spa is a magical retreat for families and Disney fans alike. With its enchanting Hawaiian theme, world-class entertainment, and immersive experiences, this resort is a dream come true. From character interactions to water adventures, there is never a dull moment at Aulani. Let the magic of Disney transport you to a Hawaiian paradise.
The Kahala Hotel and Resort
The Kahala Hotel and Resort offers a luxurious escape from the hustle and bustle of city life. Located on a secluded beachfront, this resort pampers guests with its lavish accommodations, world-class dining, and personalized service. Relax by the tranquil pool, indulge in a spa treatment, or take a stroll on the pristine beach. The Kahala Hotel and Resort is a true oasis of relaxation and serenity.
Conclusion
In conclusion, Oahu is a paradise for beach lovers, and there are plenty of incredible beachfront resorts to make your stay unforgettable. Whether you're seeking luxury, relaxation, or adventure, the 13 best resorts in Oahu offer something for everyone. From the stunning views of Waikiki Beach to the secluded serene beaches of the North Shore, Oahu has it all.Each resort has its own unique charm, amenities, and experiences to offer. From luxurious spa treatments to world-class dining options, you'll be pampered in style. Whether you prefer lounging by the pool, snorkeling in crystal-clear waters, or strolling along the sandy shores at sunset, Oahu's beachfront resorts have it all.So pack your bags, grab your sunscreen, and get ready for the ultimate beach vacation. Oahu awaits you with its breathtaking beauty and warm Aloha spirit. Experience the best of Oahu's beach resorts and create memories that will last a lifetime.
FAQs
1. Which resort in Oahu has the best beachfront location?
Each resort in Oahu offers its own unique beachfront location. However, some popular choices known for their stunning beachfront access include Turtle Bay Resort, The Royal Hawaiian, and Aulani, a Disney Resort & Spa.
2. Are there all-inclusive resorts in Oahu?
While all-inclusive resorts are not as common in Oahu as they are in other destinations, there are a few resorts that offer inclusive packages that cover accommodations, meals, and activities. Some options to consider include Paradise Bay Resort and Turtle Bay Resort.
3. What activities can I enjoy at the beachfront resorts in Oahu?
Beachfront resorts in Oahu offer a wide range of activities such as snorkeling, surfing, paddleboarding, kayaking, and beach volleyball. Many resorts also have swimming pools, spa facilities, and organized tours for exploring the island.
4. Can I find family-friendly resorts in Oahu?
Yes, Oahu has several family-friendly resorts that cater to the needs of families with children. Resorts like Aulani, a Disney Resort & Spa and Marriott's Ko Olina Beach Club offer kids' clubs, family-friendly pools, and activities specifically designed for children.
5. How far in advance should I book a beachfront resort in Oahu?
It is always a good idea to book your beachfront resort in Oahu well in advance, especially during peak travel seasons. Ideally, you should book at least 6-12 months in advance to secure the best rates and availability.