Where Is Navagio Beach And Why You Should Visit It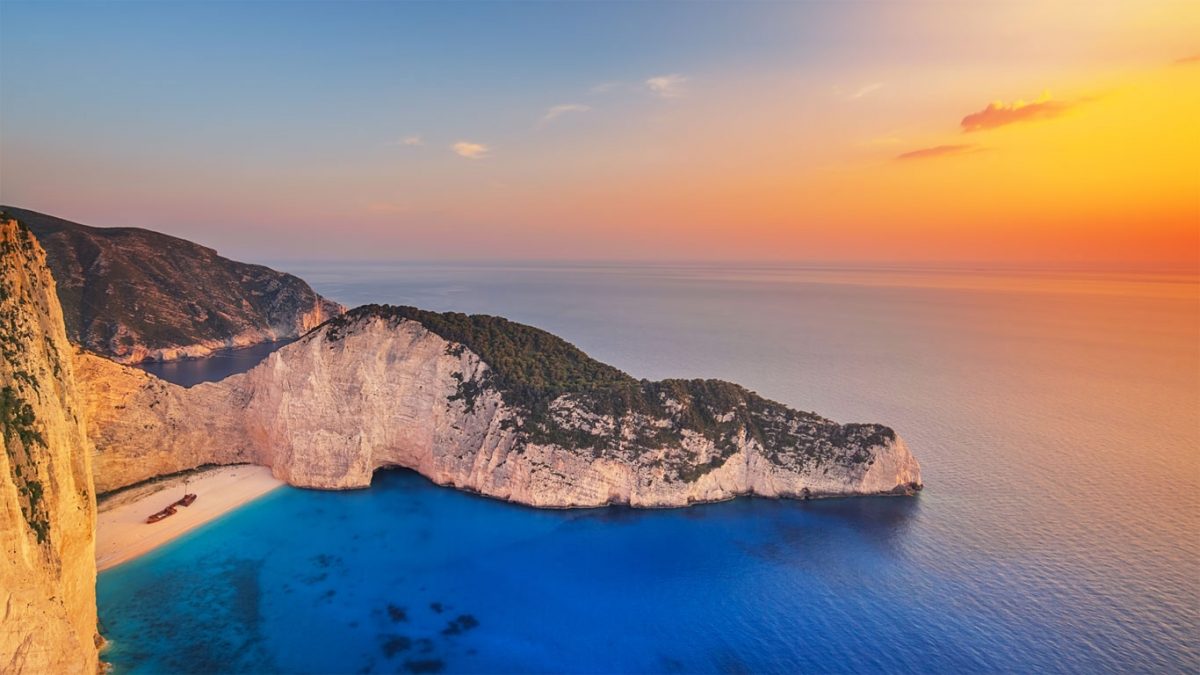 Being famous as one of the most beautiful beaches in Greece, Navagio Beach is located on the North-West coast of Zakynthos island. This isolated sandy cove is famous as the best-photographed beaches in Greece. Originally, Navagio Beach was known as Agios Georgios and later it became an impromptu ship graveyard when its shores were washed upon by the MV Panayiotis in October 1980.
Marble cliffs and white sand at Navagio Beach make it a striking setting for sunbathing and swimming. Navagio Beach is also known as the 'Shipwreck Beach' but now the question arises…
Why Is It Known As Shipwreck Beach?
The reason behind this is that Navagio Beach is home to the wreck of a ship which is known as Panagiotis and it is considered as a smuggler's ship. So, because of this alleged ship, this Navagio beach is also known as 'Smugglers Cove'. This area has clear blue water and white sand beaches which is the major attraction for overseas tourists.
Getting To Navagio Beach From Athens And Santorini
If you want to go to Navagio Beach from Athens, then you need to take a flight from Olympic Airways to Zakynthos Airport which will take 45-minutes. You can also try a coach that will take you to Zante town terminal across the mountain range. The coach will take 5 hours to take you to the destination. After that, you need to complete a 30-minute boat ride to the wreck. You can also hire a taxi or jeep safari.
Similarly, as Santorini is in between the Zakynthos and Aegean Sea. So, flying is the best way to reach Navagio Beach from Santorini. Although other ways like car, bus, and ferry are also available but by flight is the best way to cover the distance of 458 km between Santorini and Navagio beach.
Activities At Zakynthos Island
If you are planning to visit Zakynthos then you can enjoy many activities like;
Sunset dinner: Undoubtedly, this Greek-run restaurant gives the best view of the rugged interior of Zakynthos. The food and service of this place are awesome.
Dive with turtles: As this area is the home to many oldest life forms like Loggerhead Sea Turtle on Earth. You can hop on a boat to find turtles. Moreover, you can also experience several hard and soft corals like fish or crustacean life.
Visit the Venetian Castle: This Ionian Island was occupied by British, Russian and French at one time. There are many imposing sites in the form of fortresses which you can consider to see the old ruins of the Venetian Castle.
Boat tour: You can either rent a private boat or drive around the coastline yourself or you can hire someone to guide you. As there are heavy winds and waves, making your boating experience more memorable!
Weather At Navagio Beach
Generally, Navagio Beach has a normal temperature in between 24.9 degrees Celsius to 25.5 degrees Celsius. You can experience a clear sky from start to finish, which is the best for outdoor activities during your stay near Navagio Beach.
Food Near Navagio Beach
There are many places to live, eat and drink near Navagio Beach. As there is no public transport available, a taxi is another option to enjoy the beauty of nearby places.
If you have any plans to visit Navagio Beach, then there are many accommodation and food places like;
Aeras Restaurant which is just 4.4 km away from Navagio beach.
The Old Windmill, a famous restaurant in Askos is 7.8 km away from the beach.
Xigia Tavern is located in Zakynthos and at a distance of 9.7 km from the beach.
There are many other places like Yria Bar, Buca Lounge Bar, Porto Paradiso, Nobelos Bio Restaurant, etc near the Navagio beach.
Other Attractions Near Navagio Beach
Zante Town
This town is situated on the east coast of the Island and it is the capital town of Zakynthos. Its major attractions are destroyed by the earthquake, but visitors can still see the main gate, outer walls, and battlements.
Byzantine Museum
This museum shows sculptures and frescoes of the 12th century. There are two rooms in this museum which are dedicated to the paintings of the 18th century. Also, a scale model is available to give you an idea of how the town looked before the devastating earthquake in 1953.
Roma Mansion
One of the old buildings that survived the earthquake in 1953. After which, the Roma family renovated it and then reopened for the public in 2007. In this museum, visitors can see the furniture and books that can give you an idea of living style of aristocrats.
Blue Caves
At Cape Skinari, near the northern tip of the island, there are many blue caves which reflect the sky colour. You can reach these caves in a boat.
Keri Caves
At a distance of 14 kilometres from Zakynthos town, there is a village Keri on the southwest coast. Here, many caves are present in a row and open directly into the turquoise sea. Explore the beauty of these caves and the island with a mask and scuba dive tank. Moreover, sunlight reflecting through the water makes it a wonderful location for amazing photos and videos.
Important Tips For Travellers Visiting Navagio Beach
Bring your goggles as the water is very clear and blue. So, adventuring in the water is a must.
Rent a boat instead of buying tickets for tourist boats.
Neither swallow the seawater nor open your eyes underwater. The water is very salty and it burns!
At Navagio Beach, you can relax in the area surrounded by cliff faces and crystal clear water. Explore this shipwreck site and feel at peace with your loved ones. Instead of big resorts and beachside waiters, enjoy the natural beauty in this little paradise for some days.
Drop by the Navagio Beach for a short getaway when you're in Athens or Santorini!