Key West, You Are My New Favorite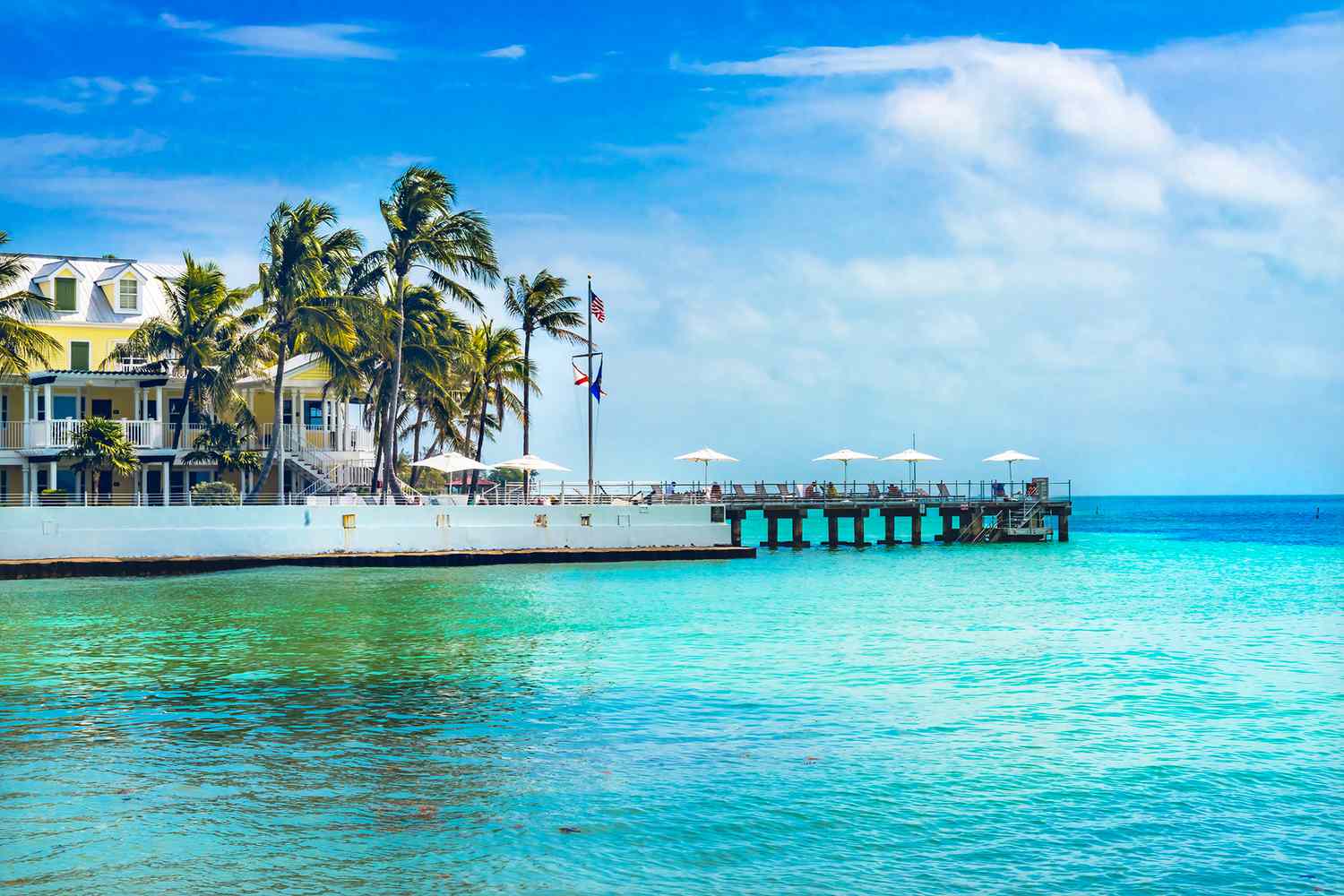 Introduction
Welcome to Key West, the enchanting paradise nestled at the southernmost point of the United States. With its pristine beaches, rich cultural heritage, vibrant nightlife, and mouthwatering cuisine, Key West has become a favorite destination for travelers seeking a tropical getaway. Whether you're looking to relax on the sandy shores, immerse yourself in history and culture, or indulge in thrilling water activities, this charming island has something for everyone.
Key West is renowned for its laid-back atmosphere, where time seems to slow down and worries fade away. As you step foot on this idyllic island, you'll be greeted by a warm sea breeze and the sound of swaying palm trees. With a year-round mild climate, Key West is the perfect destination for beach lovers and outdoor enthusiasts. You'll be captivated by the crystal-clear turquoise waters and powdery sand that stretches for miles.
But Key West isn't just about sun, sand, and sea. This island is steeped in history and has a rich cultural heritage, with influences from Spanish, Cuban, and Bahamian cultures. The charming architecture of Old Town Key West tells the story of its colonial past, while the vibrant art scene showcases the island's creative spirit.
When it comes to dining, Key West is a food lover's paradise. The island boasts a diverse culinary scene, offering fresh seafood, tropical fruits, and unique flavors. From waterfront restaurants with stunning sunset views to lively street food markets, you'll find a variety of options to satisfy your taste buds.
For the adventurous souls, Key West offers an array of thrilling water activities. Dive into the vibrant underwater world of coral reefs, go snorkeling with colorful fish, or experience the thrill of deep-sea fishing. If you prefer to stay on land, there are opportunities for hiking, biking, and exploring the lush natural beauty of the island.
As the sun sets, Key West comes alive with its vibrant nightlife. From lively bars and beach clubs to live music performances, there's no shortage of entertainment options for those looking to dance the night away or simply unwind with a cocktail in hand.
Key West also offers a fantastic shopping experience, with a mix of unique boutiques, local art galleries, and street markets. Don't forget to pick up some souvenirs to remember your visit, whether it's a handcrafted piece of jewelry, a local artwork, or a bottle of Key Lime hot sauce.
With its pristine beaches, rich culture, delectable cuisine, thrilling activities, and lively nightlife, Key West has rightfully earned its place as one of the most sought-after beach destinations. So, pack your bags and get ready for an unforgettable tropical adventure in Key West, where every moment is a postcard-worthy memory.
Exploring the History of Key West
Key West has a fascinating history that dates back centuries. The island's strategic location and natural resources made it an appealing destination for explorers and settlers throughout history. Originally inhabited by the Calusa and Tequesta Native American tribes, Key West later became a Spanish territory and played a significant role in the development of the New World.
In the early 19th century, Key West's proximity to Florida's coral reefs made it a hotspot for salvaging shipwrecks. Known as the "Wrecking Capital of the World," the local economy thrived as salvagers recovered valuable cargo from the treacherous waters. This historical legacy is still evident in the Key West Shipwreck Museum, where visitors can learn about the daring exploits of the wreckers.
During the 19th century, settlers from the Bahamas and Cuba arrived in Key West, bringing with them their rich cultural traditions. The influence of these diverse communities can be seen in the island's architecture, cuisine, and festivals. The iconic pastel-colored Victorian houses of Old Town showcase the island's unique architectural style, influenced by the Caribbean and the American South.
Key West has also played a significant role in American history. In 1898, the Spanish-American War marked a turning point for the island as it became a major naval base. Today, visitors can explore the history of this era at the Key West Naval Station and the Mel Fisher Maritime Museum, which houses artifacts from Spanish ships and the era of piracy.
Famous figures have also left their mark on Key West. One such notable resident was Ernest Hemingway, the renowned American writer. Hemingway's former residence has been converted into a museum, offering insights into his life and work. Visitors can tour the house and even meet the descendants of the author's legendary six-toed cats.
Key West's history is not only preserved in its landmarks and museums but also celebrated through its vibrant festivals and events. The annual Conch Republic Independence Celebration commemorates the humorous "secession" of Key West from the United States in 1982, bringing together locals and visitors for a week of parades, parties, and concerts.
Exploring the history of Key West is like stepping back in time, with each chapter unveiling a new layer of the island's captivating story. From the indigenous tribes and wreckers to the influence of Cuban and Bahamian settlers, Key West's history has forged a unique cultural tapestry that continues to enchant visitors today.
The Vibrant Culture of Key West
Key West is a melting pot of diverse cultures, and its vibrant atmosphere reflects this rich heritage. The island's unique blend of influences from Spanish, Cuban, Bahamian, and American cultures creates a one-of-a-kind cultural experience for visitors.
One of the highlights of Key West's cultural scene is its thriving arts community. The island has long been a haven for artists, writers, and musicians seeking inspiration. The Key West Art & Historical Society showcases the work of local artists and hosts exhibitions and events throughout the year. The Studios of Key West is another hub for creativity, offering artist residencies, workshops, and performances.
Music and performance also play a significant role in Key West's cultural fabric. From lively street musicians entertaining passersby on Duval Street to renowned theaters like the Red Barn Theater and Waterfront Playhouse, there's no shortage of opportunities to enjoy live music, theater, and comedy performances.
Key West's cultural diversity is perhaps most evident in its food scene. The island is known for its fresh seafood, and you'll find an abundance of seafood restaurants offering delectable dishes like conch fritters, Key West pink shrimp, and grilled snapper. With its proximity to Cuba, Key West also boasts vibrant Cuban eateries serving up traditional dishes like empanadas, Cuban sandwiches, and mojitos.
The island's cultural traditions are celebrated throughout the year in lively festivals and events. The Hemingway Days Festival, named in honor of the renowned writer who once called Key West home, features literary competitions, fishing tournaments, and look-alike contests. The Key West Fantasy Fest, held in October, is a vibrant and outrageous celebration of art, music, and creativity.
Key West's cultural heritage is also deeply rooted in its LGBTQ+ community. The island has long been a welcoming and inclusive destination for the LGBTQ+ community, and it's home to one of the largest LGBTQ+ celebrations in the country, the Key West Pride Festival. This colorful and inclusive event attracts people from all over the world who come to celebrate love, acceptance, and diversity.
Whether it's through art, music, food, or festivals, the vibrant culture of Key West invites visitors to immerse themselves in the island's unique spirit. As you explore the streets of Key West, you'll encounter a blend of traditions, flavors, and creativity that truly showcases the island's vibrant and diverse cultural landscape.
Key West's Stunning Beaches
When it comes to natural beauty, Key West certainly doesn't disappoint. The island is blessed with a collection of stunning beaches that offer a tranquil escape and breathtaking views. Whether you're seeking a vibrant beach with water sports or a secluded spot to unwind, Key West has it all.
Smathers Beach is one of the most popular beaches in Key West. This two-mile stretch of sandy shoreline offers crystal-clear turquoise waters and is lined with palm trees, creating a picturesque tropical oasis. It's also one of the few beaches on the island with designated areas for water sports like parasailing and jet skiing.
If you prefer a quieter beach experience, venture to Fort Zachary Taylor State Park Beach. Located within a state park, this beach is known for its unspoiled beauty and is a favorite among locals. The beach is surrounded by lush greenery and offers opportunities for swimming, snorkeling, and picnicking. Don't forget to explore the nearby historic fort for a dose of history.
Higgs Beach is another must-visit destination for beach enthusiasts. With its clear waters and soft sand, it's the perfect spot to relax and soak up the sun. The beach is also home to the African Queen boat, made famous by the classic film of the same name.
For those looking for a unique beach experience, consider visiting the Southernmost Beach in the Continental United States. Located near the iconic Southernmost Point buoy, this beach offers stunning vistas and a vibrant atmosphere, as it is within walking distance of many bars and restaurants.
While Key West may not have long stretches of white sand like some other destinations, its beaches make up for it with their unique charm and character. The soft sand, warm waters, and breathtaking sunsets create a magical setting that will leave you in awe.
When visiting the beaches of Key West, it's important to respect the local environment and follow any guidelines or regulations in place to preserve these natural treasures. Always remember to keep the beaches clean, avoid disturbing wildlife, and take only memories and photos as you enjoy the beauty of Key West's stunning beaches.
Delicious Cuisine in Key West
Prepare your taste buds for a culinary adventure in Key West, where the local cuisine reflects the island's vibrant culture, tropical flavors, and fresh seafood. Whether you're craving mouthwatering seafood dishes, Caribbean-inspired delicacies, or fusion creations, Key West offers a diverse and delicious dining scene.
As an island surrounded by the bountiful waters of the Atlantic Ocean and the Gulf of Mexico, it's no surprise that Key West is renowned for its seafood. From succulent Key West pink shrimp to sweet and tender Florida spiny lobster, the seafood offerings here are a true delight. You can savor these treasures in classic dishes like shrimp scampi, lobster bisque, or the famous Key West conch chowder.
Key West's culinary heritage is deeply influenced by the flavors of the Caribbean. You'll find dishes like Jamaican jerk chicken, Cuban roasted pork, and Bahamian conch salad that will transport you to these tropical destinations. Be sure to try the quintessential Cuban sandwich, which features layers of roasted pork, ham, Swiss cheese, pickles, and mustard pressed between crispy Cuban bread. It's a local favorite!
Another must-try item is the Key Lime pie, the official dessert of Key West. Made with tangy Key Lime juice, a buttery graham cracker crust, and topped with whipped cream, this refreshing treat is the perfect way to end a meal. Many bakeries and restaurants in Key West have their own unique twist on this iconic dessert, so be sure to sample a slice.
Key West is also home to a thriving food truck and street food scene. These mobile culinary delights offer a wide array of options, from fresh ceviche to savory empanadas and delectable seafood tacos. Take a stroll along the streets and you'll often find these hidden gems serving up delicious and affordable bites.
And let's not forget the tropical cocktails! Key West is known for its lively bar scene, with numerous watering holes serving up signature libations like the famous Key West Lime Margarita or the refreshing Mojito. Sip your favorite drink while savoring stunning ocean views or enjoying live music at one of the many beachfront bars.
Whether you're a foodie seeking unique dining experiences or simply looking to indulge in mouthwatering flavors, Key West's culinary scene has something for everyone. From fresh seafood to Caribbean-inspired dishes and iconic desserts, the island's delicious cuisine is sure to leave a lasting impression on your taste buds.
Exciting Water Activities in Key West
Key West is a water lover's paradise, offering an array of exciting activities that allow visitors to make the most of the island's stunning coastal setting. Whether you're seeking adventure, relaxation, or the chance to explore the vibrant underwater world, Key West has something for everyone.
One of the most popular water activities in Key West is snorkeling. The crystal-clear waters surrounding the island are home to vibrant coral reefs teeming with a kaleidoscope of marine life. You can embark on snorkeling tours that will take you to the best spots, or simply grab a mask and snorkel and explore the shallow areas near the shore.
For those looking to explore deeper depths, scuba diving is an incredible option. Key West boasts a variety of dive sites, including shipwrecks and expansive coral reefs. Dive trips cater to both beginners and experienced divers, offering a chance to witness the diverse marine life and underwater landscapes that make Key West such a sought-after diving destination.
If you prefer to stay above water, kayaking and paddleboarding are fantastic ways to explore the island's coastal beauty. You can glide through the calm waters, discovering hidden coves, mangrove forests, and enjoying sightings of native wildlife, such as dolphins and sea turtles. You can rent kayaks or paddleboards or join guided tours for a more immersive experience.
Key West's oceanic playground also lends itself to thrilling water sports like jet skiing, parasailing, and kiteboarding. Feel the adrenaline rush as you speed across the water or soar high above, taking in panoramic views of the island's coastline. These activities are guaranteed to inject excitement and adventure into your Key West vacation.
Fishing enthusiasts will find plenty of opportunities in Key West's rich fishing grounds. Whether you prefer saltwater fly fishing, deep-sea fishing, or even spearfishing, the island offers a variety of fishing charters and guides to help you make the most of your angling experience. Reel in a variety of species, including tarpon, grouper, mahi-mahi, and snapper.
If you're seeking a more leisurely and laid-back water activity, consider taking a sunset cruise or a romantic sailboat excursion. Enjoy the gentle sea breeze and panoramic views as you sail along the coast, toasting to the spectacular sunset and creating beautiful memories.
Key West is a paradise for water enthusiasts, with its abundance of exciting activities and breathtaking coastal scenery. Whether you're an adrenaline junkie or simply looking to relax and enjoy the beauty of the ocean, Key West's exciting water activities are sure to provide an unforgettable experience.
Key West's Thriving Nightlife
When the sun goes down, Key West comes alive with its vibrant and eclectic nightlife scene. From lively bars and clubs to live music venues and cultural performances, the island offers a myriad of options for those looking to enjoy an unforgettable night out.
Duval Street is the epicenter of Key West's nightlife. This famous street stretches through the heart of Old Town and is lined with an array of bars, restaurants, and shops. The street is buzzing with energy as visitors and locals alike hop from one lively establishment to another, soaking up the festive ambiance.
Key West is known for its lively bar scene, offering a variety of establishments catering to different tastes. You'll find casual beach bars where you can kick back with a cold drink, dance clubs where you can groove to the beats of live DJs, and upscale cocktail lounges where you can sip on expertly crafted libations.
Live music is a staple of Key West's nightlife, with many venues showcasing talented local and touring musicians. From intimate acoustic sets at cozy bars to energetic performances at larger venues, you'll find an eclectic mix of genres, including rock, reggae, jazz, and country.
For those seeking a more cultural experience, Key West offers a range of theaters and performance spaces that host plays, comedy shows, and live performances. The Key West Theater, the Waterfront Playhouse, and the Red Barn Theater are just a few of the venues where you can catch a captivating show.
As the night progresses, the party doesn't stop in Key West. Late-night bars and clubs keep the energy alive, offering dance floors, live entertainment, and DJ sets that will keep you dancing until the early hours of the morning. You'll find establishments that cater to diverse musical tastes and provide an atmosphere that encourages letting loose and having fun.
Key West also loves to celebrate, and the island is no stranger to festivals and events that light up the night. From the vibrant costumes and street parades of the annual Fantasy Fest to the magical holiday lights of the Key West Lighted Boat Parade, these special occasions add an extra layer of excitement to the vibrant nightlife scene.
As you venture into Key West's thriving nightlife, remember to drink responsibly and respect the local culture. Embrace the energy, dance to the rhythm, and create unforgettable memories in the vibrant and dynamic atmosphere of Key West's thriving nightlife.
Shopping and Souvenirs in Key West
Key West offers a delightful shopping experience with its unique blend of local boutiques, art galleries, and charming street markets. Whether you're searching for souvenirs, fashion, or one-of-a-kind artworks, Key West's shopping scene has something for every taste and budget.
One of the prime shopping spots in Key West is Duval Street. This iconic street is lined with a variety of shops and boutiques where you can find everything from beachwear and tropical fashion to jewelry, accessories, and home decor. Stroll along Duval Street and explore the many specialty stores that offer a wide range of products and unique gifts.
Looking for a piece of art to capture the spirit of Key West? The island is home to numerous art galleries showcasing the vibrant local art scene. From contemporary paintings and sculptures to photography, ceramics, and mixed media, these galleries offer a chance to bring a piece of Key West's creative spirit into your home.
For a taste of the local culture, don't miss a visit to the Key West Art and Historical Society's Museum Store. This store features an assortment of books, gifts, and souvenirs that celebrate the island's rich history and artistic heritage. From unique crafts made by local artisans to historical prints and apparel, the museum store is a treasure trove of Key West memorabilia.
If you're looking for a more eclectic shopping experience, head to Mallory Square. Here, you'll find the nightly Sunset Celebration and a vibrant market filled with local vendors offering handmade crafts, jewelry, and art. It's the perfect place to find unique and authentic souvenirs to commemorate your time in Key West.
Another popular shopping destination is the Key West Bight Marketplace. Located at the historic seaport, this waterfront shopping area offers a selection of boutiques, galleries, and specialty stores. Browse through nautical-inspired fashion, marine-themed home decor, and locally made products that capture the essence of Key West's maritime heritage.
No visit to Key West is complete without indulging in the iconic Key Lime treats. Key West is famous for its Key Lime pie, and you'll find a variety of shops and bakeries dedicated to this tangy dessert. From traditional pies to cookies, chocolates, and even Key Lime-infused hot sauce, these sweet and zesty delicacies make for delicious souvenirs.
When shopping in Key West, keep an eye out for local artists and businesses that support sustainability and eco-friendly practices. Many stores offer environmentally conscious products, such as organic skincare, recycled materials, and fair-trade goods.
Whether you're seeking unique keepsakes, local art, or trendy fashion, the shopping scene in Key West has something to satisfy all your retail cravings. Take your time to explore the charming shops, chat with friendly store owners, and bring home a piece of this captivating island paradise.
Must-Visit Attractions in Key West
Key West is a treasure trove of attractions that will delight visitors of all interests. From historical landmarks to natural wonders, this charming island offers a diverse range of experiences that capture the essence of Key West's unique allure.
The iconic Southernmost Point buoy is a must-see landmark and a popular photo spot. Located just 90 miles from Cuba, this colorful buoy marks the southernmost point of the continental United States. Don't forget to snap a photo next to it to commemorate your visit to Key West.
For history buffs, a visit to the Ernest Hemingway Home and Museum is a must. The iconic writer's former residence, now a museum, offers a glimpse into Hemingway's life and work. Explore the lush gardens and meet the descendants of his famous six-toed cats as you wander through this literary haven.
Key West is known for its charming architecture, and a stroll through Old Town will transport you to another era. The area is a designated historic district, boasting beautiful pastel-colored Victorian houses, elegant mansions, and quaint Key West cottages. Take in the architectural beauty as you wander through the picturesque streets.
No visit to Key West is complete without experiencing the breathtaking sunsets. Mallory Square is the perfect place to witness the island's famous sunset celebration. Join the lively gathering of locals and visitors as street performers captivate the crowd, and the sky transforms into a canvas of vibrant colors.
The Key West Butterfly and Nature Conservatory is a hidden gem that offers a magical experience. Step into a tropical paradise and immerse yourself in a world filled with colorful butterflies, exotic plants, and cascading waterfalls. It's a peaceful escape from the hustle and bustle of the island.
For a taste of the island's maritime history, a visit to the Key West Shipwreck Museum is a must. Explore the intriguing exhibits and learn about the fascinating tales of shipwrecks and salvage operations that were the backbone of Key West's economy in the past.
Nature lovers will appreciate the beauty of the Dry Tortugas National Park. Located 70 miles west of Key West, this remote national park is home to historic Fort Jefferson and stunning coral reefs. Embark on a boat tour or seaplane adventure to explore this pristine and secluded tropical paradise.
To fully embrace Key West's laid-back culture, spend some time at the lovely beaches that dot the island. From the popular Smathers Beach to the tranquil Fort Zachary Taylor State Park Beach, each one offers its own unique charm and opportunities for relaxation and fun in the sun.
Key West is also home to a vibrant arts scene, and visiting the Studios of Key West will give you a glimpse into the island's creative spirit. This community-focused arts center showcases local talent, offering exhibitions, workshops, and performances that reflect the unique cultural heritage of the island.
From historical landmarks to natural wonders and cultural gems, Key West is a playground of attractions waiting to be explored. Embrace the island's charm as you immerse yourself in the captivating experiences that define Key West's allure.
Conclusion
Key West truly lives up to its reputation as a captivating destination that offers a perfect blend of natural beauty, rich history, vibrant culture, and exciting experiences. From its stunning beaches and crystal-clear waters to its charming architecture and lively nightlife, Key West has something to offer every traveler.
Whether you're seeking relaxation and tranquility on the sandy shores, immersing yourself in the island's rich history and cultural heritage, indulging in mouthwatering cuisine, or embarking on thrilling water activities, Key West delivers an unforgettable tropical adventure.
Exploring the history of Key West will take you on a journey through time, unraveling the island's fascinating past as a hub for wreckers and its significant role in American history. The vibrant culture of Key West shines through its art scene, music venues, and diverse culinary offerings that celebrate its melting pot of influences.
Key West's stunning beaches are a paradise for those seeking sun and sea, offering opportunities for snorkeling, scuba diving, kayaking, and paddleboarding. The island's thriving nightlife ensures that the fun doesn't stop when the sun goes down, with vibrant bars, live music venues, and cultural performances that keep the energy alive.
When it comes to shopping and souvenirs, Key West's unique boutiques, art galleries, and street markets are a treasure trove of delights. From local craftsmanship to tropical fashion and Key Lime treats, you'll find the perfect mementos to remember your time on the island.
And finally, the must-visit attractions of Key West, including historic landmarks, natural wonders, and cultural gems, provide endless opportunities for exploration and discovery. From the iconic Southernmost Point to the tranquil Butterfly and Nature Conservatory, each attraction offers a unique experience that showcases the essence of Key West.
As you bid farewell to Key West, you can't help but feel a sense of gratitude for the memories made, the flavors indulged in, and the beauty experienced. Key West truly is a paradise that leaves a lasting impression, drawing visitors back time and time again.
So, pack your bags, immerse yourself in the charm of Key West, and create lifelong memories in this tropical haven. Whether you're seeking adventure, relaxation, or a vibrant cultural experience, Key West is ready to welcome you with its warm sun, crystal-clear waters, and enchanting island spirit.