A Sizzling Summer Trip To The Florida Keys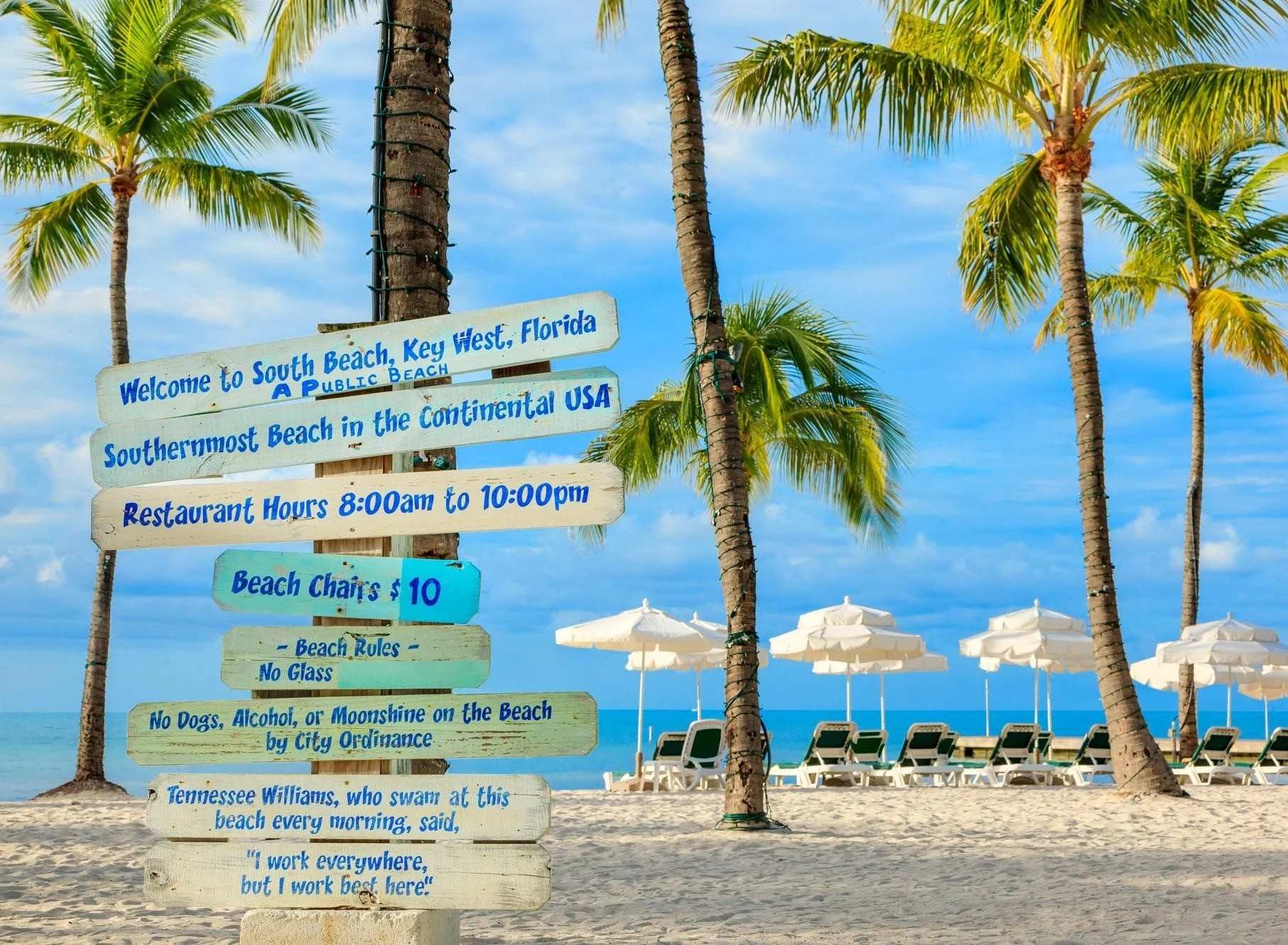 Introduction
Welcome to the captivating paradise of the Florida Keys! Nestled off the southern tip of Florida, this stunning archipelago boasts a unique blend of tropical beauty, vibrant culture, and endless adventures. With its pristine beaches, crystal-clear turquoise waters, and abundant marine life, the Florida Keys offer a perfect escape for beach lovers, water enthusiasts, and nature enthusiasts alike.
The Florida Keys are made up of a string of islands connected by the scenic Overseas Highway, extending over 100 miles. Each island has its own distinct character and charm, making it a treasure trove for exploration. From the vibrant streets of Key West to the tranquil shores of Key Largo, there is something here for everyone.
Whether you're seeking thrilling water activities, serene beach getaways, or a taste of the rich history and vibrant nightlife, the Florida Keys offers it all. Prepare to embark on an unforgettable journey as we delve into the beauty and wonder that await you in this enchanting destination.
Key West: The Southernmost Point
Vibrant and lively, Key West is the crown jewel of the Florida Keys. As you step foot on this tropical island, you'll be greeted by a captivating mix of stunning architecture, colorful streets, and an energetic atmosphere. Key West is known for its laid-back vibe and is a beloved destination for artists, writers, and free spirits.
One of the most iconic landmarks in Key West is the Southernmost Point Buoy. Located just 90 miles from Cuba, this colorful buoy marks the southernmost point of the continental United States, and it's a must-visit spot for every visitor. Capture a memorable photo here, as it is a symbol of your journey to the southernmost tip of the country.
As you explore the streets of Key West, you'll be enchanted by the charming architecture. The historic Old Town is a treasure trove of beautifully preserved Victorian houses, quaint cottages, and charming bungalows. Take a leisurely stroll along Duval Street, the main thoroughfare, and soak up the lively atmosphere. Here you'll find an array of art galleries, boutique shops, lively bars, and delicious dining options.
No visit to Key West is complete without experiencing Mallory Square. Located on the waterfront, this bustling square is famous for its vibrant sunset celebration. Join the crowds as the sun dips below the horizon, painting the sky in breathtaking hues. Street performers, local vendors, and live music create an electrifying atmosphere, making it a truly unforgettable experience.
Exploring the Underwater World: Snorkeling and Diving
The Florida Keys is a haven for water enthusiasts, thanks to its vibrant marine life and expansive coral reefs. Snorkeling and diving here offer an opportunity to immerse yourself in a mesmerizing world beneath the surface.
John Pennekamp Coral Reef State Park, located in Key Largo, is a must-visit for divers and snorkelers. This underwater wonderland is home to the only living coral barrier reef in the continental United States. Dive into a world of dazzling colors as you swim among vibrant coral formations teeming with tropical fish, sea turtles, and other fascinating sea creatures.
For those seeking a truly unique diving experience, the Florida Keys is also home to numerous shipwrecks that have become artificial reefs. Explore the depths and discover historic sites such as the Spiegel Grove, a former US Navy ship, or the Eagle, a cargo ship intentionally sunk to create an artificial reef. These wreck dives offer a glimpse into the fascinating maritime history of the area and provide a haven for marine life to thrive.
If you prefer snorkeling, Sombrero Reef in Marathon is a popular spot. This protected marine sanctuary is known for its crystal-clear waters and abundant marine life. Snorkelers will be captivated by the stunning coral formations and a diverse array of fish species that call this reef home.
Whether you're a novice or an experienced diver, the Florida Keys caters to all skill levels. Numerous dive operators and snorkeling charters are available throughout the islands, providing equipment, guidance, and safety instruction to ensure an unforgettable underwater adventure.
Remember, while exploring the underwater world, it's vital to protect this fragile ecosystem. Respect the marine life, follow guidelines set by the authorities, and never touch or disturb the coral or any sea creatures. By practicing responsible snorkeling and diving, we can preserve the beauty of the Florida Keys for generations to come.
Unwinding on the Beautiful Beaches
The Florida Keys are renowned for their stunning beaches, where powdery sands meet sparkling blue waters, creating the ideal setting for relaxation and rejuvenation. Whether you prefer basking in the sun, swimming, or engaging in water sports, the beaches here offer something for everyone.
One of the most popular beaches in the Florida Keys is Smathers Beach in Key West. Stretching two miles along the southern coast of the island, this picturesque beach is perfect for sunbathing and long walks along the shoreline. With clear waters and gentle waves, it's an inviting spot for swimming and playing in the ocean.
If you're seeking a more secluded beach experience, head to Bahia Honda State Park in the Lower Keys. This pristine beach boasts soft, white sands and crystal-clear waters where you can swim, snorkel, and even spot dolphins frolicking in the distance. Explore the park's nature trails and enjoy a picnic amid the incredible coastal landscapes.
No trip to the Florida Keys would be complete without a visit to the Dry Tortugas National Park. Accessible only by boat or seaplane, this remote island paradise offers pristine beaches and a chance to escape the crowds. Lounge on the sandy shores, snorkel in the crystal-clear waters, or explore the historic Fort Jefferson, an impressive 19th-century fortress situated on the island.
For adrenaline seekers, Smuggler's Cove in Islamorada is a popular beach for water sports. Rent a paddleboard, kayak, or jet ski and embark on a thrilling adventure, exploring the mangroves and discovering hidden coves. The beach is also great for swimming and snorkeling, with vibrant coral reefs located just offshore.
As you unwind on the beautiful beaches of the Florida Keys, don't forget to soak in the breathtaking sunsets. Grab a blanket and witness the sky ablaze with captivating hues as the sun sinks below the horizon, casting a golden glow over the shimmering waters.
With its picturesque beaches and tranquil atmosphere, the Florida Keys offer the perfect backdrop for relaxation and unwinding from the stresses of everyday life. So, grab your beach towel, sunscreen, and a good book, and let the enchanting beaches of the Florida Keys wash away your worries.
Exploring the Natural Wonders of the Florida Keys
The Florida Keys are not just about beautiful beaches and vibrant nightlife, but also a treasure trove of natural wonders waiting to be explored. From pristine mangrove forests to enchanting state parks, the islands offer a multitude of opportunities for nature enthusiasts to immerse themselves in the breathtaking landscapes.
One of the most unique natural features of the Florida Keys is the vast expanse of mangrove forests. These intricate ecosystems are home to a rich diversity of flora and fauna. Take a guided kayak tour through the mangroves, winding through the narrow channels and witnessing the beauty of this delicate habitat. Keep an eye out for coastal birds, marine life, and even the occasional manatee or dolphin.
Another natural wonder worth exploring is the Florida Keys National Marine Sanctuary. This stretch of protected waters spans over 2,900 square nautical miles and encompasses stunning coral reefs, seagrass beds, and mangrove islands. Snorkel or dive into this underwater paradise and discover the vibrant marine life that resides here, including colorful coral formations, tropical fish, and even sea turtles.
For those who prefer to keep their feet on dry land, a visit to the Everglades National Park is a must. Just a short drive from the upper keys, this expansive subtropical wilderness is home to an incredible array of plant and animal species. Take a guided tour or venture on a self-guided hike to witness the beauty of the marshes, sawgrass prairies, and cypress swamps. Keep an eye out for alligators, herons, and the elusive Florida panther.
If you're a bird lover, make sure to visit the Florida Keys Wild Bird Rehabilitation Center in Tavernier. This sanctuary provides a safe haven for injured and orphaned birds, allowing visitors to observe these beautiful creatures up close. Learn about the rehabilitation efforts and the importance of conservation while witnessing the wonder of birdlife.
Take a break from the beaches and immerse yourself in the natural wonders of the Florida Keys. From mangrove forests and marine sanctuaries to the pristine Everglades and the captivating birdlife, the natural beauty of the islands is sure to leave you in awe.
Water Sports and Activities for Adventure Seekers
If you're an adventure seeker, the Florida Keys offer an array of thrilling water sports and activities that will get your adrenaline pumping. From jet skiing to kiteboarding, there is no shortage of excitement on these beautiful islands.
Jet skiing is a popular activity in the Florida Keys, offering a fast-paced and exhilarating way to explore the crystal-clear waters. Rent a jet ski and zoom across the waves, feeling the wind in your hair and the spray of the ocean on your skin. Discover hidden coves, zoom past mangroves, and soak in the breathtaking coastal views as you embark on this thrilling adventure.
Kiteboarding is another exciting water sport that's gaining popularity in the Florida Keys. Harnessing the power of the wind, kiteboarders glide across the water, performing tricks and jumps that will leave you in awe. Whether you're a seasoned pro or a beginner looking to learn, the Keys offer ideal conditions for this adrenaline-fueled sport.
If you prefer a more relaxing yet adventurous activity, try paddleboarding. Stand atop a paddleboard and navigate the calm waters, exploring hidden coves and mangrove tunnels. Paddleboarding provides a unique perspective, allowing you to witness the stunning marine life beneath your board and enjoy the peace and serenity of the surrounding nature.
For those seeking an underwater adventure, consider going on a thrilling kayaking and snorkeling tour. Paddle your way through the mangrove forests and discover secluded beaches and hidden coves. Take a break and don your snorkeling gear to explore the vibrant coral reefs and encounter tropical fish and marine life.
The Florida Keys are also a haven for fishing enthusiasts. Whether you're a beginner or an experienced angler, you'll find a variety of fishing charters that cater to all skill levels. Cast your line in pursuit of game fish such as tarpon, bonefish, and permit, or venture offshore for the chance to reel in a trophy-worthy marlin or sailfish.
With its warm waters, abundant marine life, and ideal weather conditions, the Florida Keys offer endless possibilities for water sports and activities. So, dive in, strap on your gear, and get ready for an adventure-filled experience that will leave you with thrilling memories for years to come.
Indulging in Tropical Delights: Local Cuisine and Drinks
One of the highlights of visiting the Florida Keys is indulging in the delectable local cuisine and refreshing tropical drinks. With its abundant seafood, fresh produce, and a blend of cultural influences, the Keys offer a unique culinary experience that will tantalize your taste buds.
Start your culinary adventure with a classic Key West staple, conch fritters. These deep-fried balls of goodness are made with minced conch, a local shellfish, mixed with a flavorful blend of spices and herbs. Dip them in a tangy key lime sauce for a perfect combination of savory and citrusy flavors.
Another must-try dish in the Florida Keys is the famous Key lime pie. Made from the juice of the native Key limes, this sweet and tangy dessert is a true Floridian delicacy. Enjoy a slice of Key lime pie after a satisfying seafood dinner, and let its refreshing flavors transport you to the tropical paradise of the Keys.
Seafood lovers will be spoiled for choice in the Keys. Feast on succulent stone crab claws, served chilled with a side of mustard sauce. Delight in the flavors of fresh Florida lobster, either steamed or grilled to perfection. And of course, savor the local catch, from grouper and snapper to mahi-mahi and yellowtail, prepared in various mouthwatering styles.
For a taste of the islands, try a traditional Caribbean dish like jerk chicken. Seasoned with a blend of herbs and spices, this grilled chicken is bursting with flavors and often served with rice and beans or plantains. Alternatively, sample a plate of Cuban-inspired cuisine, such as the iconic Cuban sandwich or crispy fried plantains.
Pair your meals with refreshing tropical drinks that will cool you down in the warm Florida sun. Sip on a mojito, made with fresh mint, lime juice, sugar, and rum, for a zesty and invigorating experience. Indulge in a piña colada, a creamy concoction of pineapple and coconut, garnished with a tropical umbrella. And don't forget to try a refreshing key lime margarita, perfectly blending the tangy flavors of Key lime with the sweetness of tequila.
Throughout the Florida Keys, you'll find a variety of waterfront restaurants, beach bars, and family-owned eateries offering a diverse range of flavors. From casual seafood shacks to upscale dining establishments, the Keys cater to every palate and budget.
So, embark on a culinary journey and let the flavors of the Florida Keys transport you to a tropical paradise, where every bite and sip is a celebration of the vibrant and delicious local cuisine.
Discovering the Rich History and Culture of the Florida Keys
The Florida Keys are not only known for their natural beauty and thrilling adventures but also for their rich history and vibrant culture. Exploring the heritage of these islands offers a glimpse into the past and a deeper understanding of the unique way of life that exists here.
A visit to the Key West Historic Seaport is a great way to start your journey into the Keys' history. This bustling waterfront area was once a thriving commercial port during the 19th century. Today, it has been lovingly restored to preserve its historical charm and is home to quaint shops, lively bars, and seafood restaurants. Take a stroll along the boardwalk and learn about the island's maritime heritage.
Next, delve into the history of the Florida Keys at the History of Diving Museum in Islamorada. This one-of-a-kind museum showcases the evolution of diving equipment and technology throughout the years. Browse through fascinating exhibits and gain insight into the daring individuals who explored the depths of the ocean to uncover its mysteries.
To learn more about the cultural heritage of the Keys, a visit to the Mel Fisher Maritime Museum in Key West is a must. The museum displays artifacts recovered from Spanish shipwrecks off the coast of Florida, including the famous Atocha shipwreck. Marvel at the treasures salvaged from the ocean depths, and listen to the remarkable stories of treasure hunting and underwater archaeology.
Immerse yourself in the literary history of Key West by visiting the Ernest Hemingway Home and Museum. Explore the house where the esteemed author lived and wrote for over a decade. Admire the lush gardens and meet the descendants of Hemingway's beloved six-toed cats, who still roam the property.
For a taste of the local culture, attend the weekly Sunset Celebration at Mallory Square in Key West. This lively event brings together local artists, street performers, and food vendors to create a vibrant and festive atmosphere. Enjoy live music, art displays, and breathtaking sunsets as you mingle with locals and fellow travelers.
The Florida Keys also have a proud tradition of celebrating their Bahamian heritage. Visit the annual Key West Goombay Festival, a street party filled with vibrant music, dancing, and delicious Caribbean food. Experience the lively Junkanoo parades and immerse yourself in the colorful island culture.
From its maritime history to literary legacies and vibrant cultural festivals, the Florida Keys offer a diverse tapestry of history and culture waiting to be discovered. So, take a step back in time and embrace the rich heritage that has shaped these beautiful islands into the beloved destination they are today.
Enjoying the Vibrant Nightlife in Key West
When the sun sets over Key West, the vibrant nightlife comes alive, offering an array of entertainment options for night owls and party enthusiasts. From lively bars and pulsating nightclubs to live music venues and unique performances, Key West offers a nightlife scene that is as diverse as the island itself.
Start your evening with a visit to Duval Street, the heart of Key West's nightlife. This iconic street is lined with countless bars, restaurants, and clubs that cater to a variety of tastes. Whether you're looking to sip cocktails in a laid-back atmosphere or dance the night away to live music, Duval Street has it all.
Experience the lively atmosphere of Sloppy Joe's Bar, a Key West institution that has been serving drinks since 1933. Step inside and be transported back to the days of Ernest Hemingway, who himself was a frequent patron. Enjoy live music, delicious libations, and the spirited ambiance of this historic watering hole.
For a unique and unforgettable experience, visit the famous Key West Sunset Celebration at Mallory Square. Join the crowds as the sun dips below the horizon, setting the sky ablaze with breathtaking colors. Street performers, local artisans, and food vendors create a vibrant carnival atmosphere that is a true celebration of the island's spirit.
If you're in the mood for live music, head to one of the many venues that showcase talented local musicians. The Green Parrot Bar is regarded as one of the best music venues in Key West and features a wide range of genres, from blues and rock to reggae and jazz. Grab a drink, tap your feet to the rhythm, and enjoy the soulful melodies that fill the air.
No visit to Key West is complete without experiencing the world-famous drag shows at the 801 Bourbon Bar. Hailed as the longest-running drag bar in Key West, this lively and flamboyant venue offers a night of laughter, entertainment, and fabulous performances. Get ready to be dazzled by glamorous drag queens and their spectacular shows.
For those seeking a more intimate and sophisticated ambiance, visit one of the upscale cocktail bars that dot Key West's landscape. Savor innovative and handcrafted cocktails in a stylish setting, often accompanied by breathtaking views of the ocean or the historic Key West harbor.
The vibrant nightlife of Key West is a testament to its lively spirit and its ability to cater to all tastes. So, whether you're looking for a wild night out on the dance floor or a cozy evening sipping craft cocktails, Key West promises an unforgettable nightlife experience that will leave you wanting to come back for more.
Conclusion
The Florida Keys offer a truly captivating destination that combines stunning beaches, thrilling adventures, rich history, vibrant culture, and a lively nightlife scene. From the southernmost point in Key West to the untouched natural wonders scattered along the archipelago, the Keys provide a diverse array of experiences for every traveler.
Whether you're snorkeling or diving in the clear waters, unwinding on the beautiful beaches, exploring the mangrove forests, or immersing yourself in the local cuisine and drinks, the Florida Keys never fail to enchant with their natural beauty and unique charm.
As you venture through the islands, you'll discover a rich history and cultural heritage that is truly worth exploring. From historic seaports and maritime museums to literary landmarks and lively festivals, the Keys offer a glimpse into the past and a deeper connection to the vibrant island culture.
And when the sun sets, the vibrant nightlife of Key West comes alive, offering a variety of entertainment options to suit every taste. Whether you prefer lively bars, live music venues, or unique performances, the nightlife scene in the Keys promises an unforgettable experience for everyone.
So, pack your bags, put on your swimsuit, and get ready to embark on an unforgettable journey to the Florida Keys. Whether you're seeking adventure, relaxation, culture, or a combination of them all, the Florida Keys will leave you with cherished memories and a longing to return to this captivating paradise.