A Definitive Guide To Palolem – South Goa's Most Popular Beach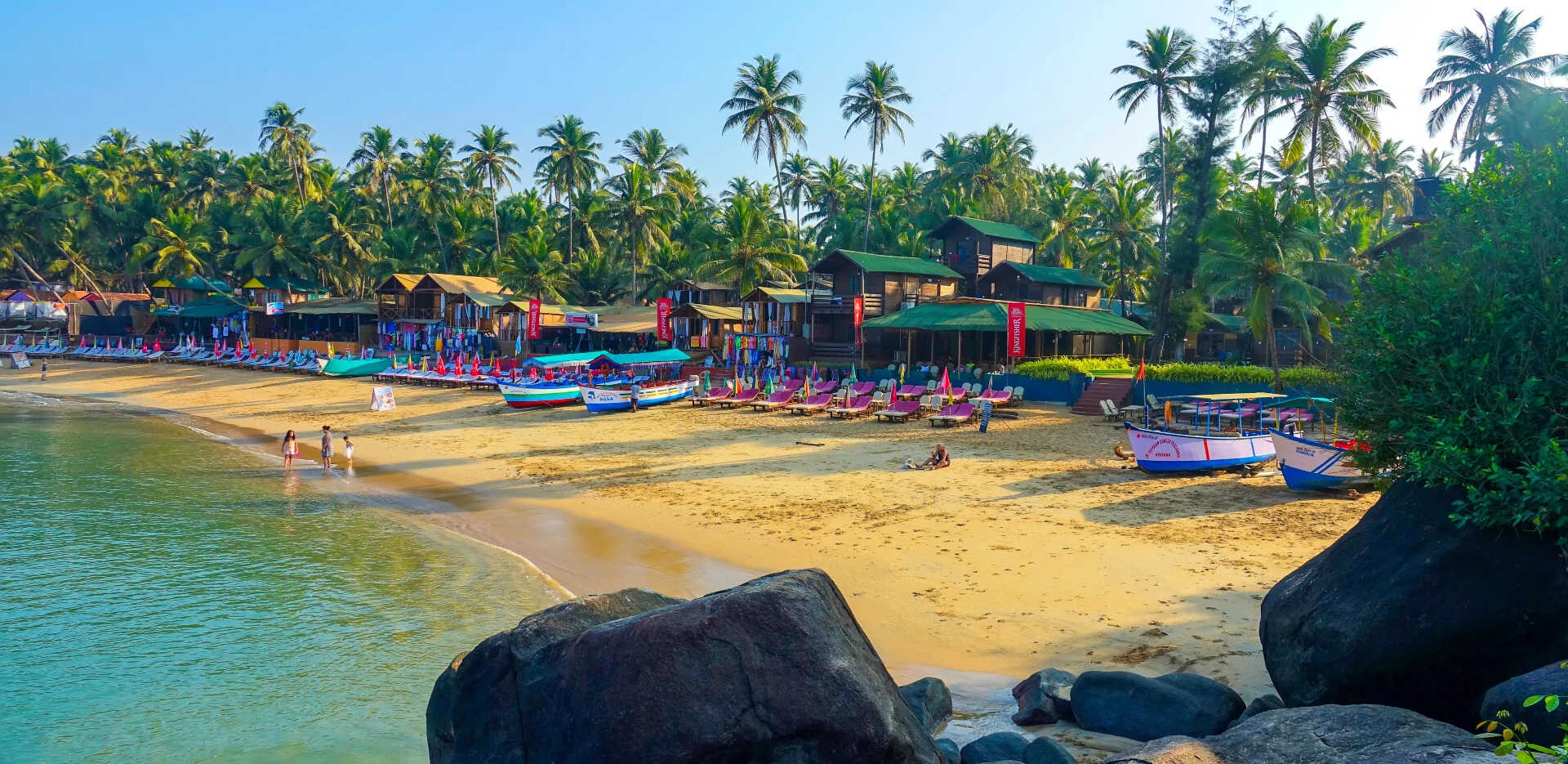 Introduction
Welcome to Palolem, South Goa's most popular and picturesque beach destination. Nestled in the serene and tranquil state of Goa, Palolem offers a perfect blend of natural beauty, exciting activities, and vibrant nightlife. With its pristine white sands, swaying palm trees, and crystal-clear waters, Palolem has become a sought-after destination for beach lovers from around the world.
What sets Palolem apart from other beaches in Goa is its laid-back atmosphere and preserved natural beauty. Unlike some of the more crowded and commercialized beaches, Palolem still retains its charm and authenticity, making it an ideal getaway for those seeking relaxation and rejuvenation.
Located in the Canacona region of Goa, Palolem is easily accessible from nearby cities like Margao and Panaji. The closest airport is Dabolim Airport, which is about an hour's drive away. You can also reach Palolem by train, with Canacona Railway Station located just a few kilometers from the beach.
Once you arrive in Palolem, you will be greeted by the breathtaking sight of a crescent-shaped beach, lined with colorful beach huts and swaying coconut trees. The calm and shallow waters make it an inviting spot for swimming and sunbathing, while the surrounding cliffs offer stunning views of the Arabian Sea.
Palolem is known for its friendly and welcoming locals, who add to the warm and inviting ambiance of the beach. The laid-back and relaxed vibe of the place is contagious, and you will instantly feel at ease as you soak in the beauty of your surroundings.
In the following sections, we will delve into the various aspects that make Palolem a must-visit destination. From accommodation options and water sports to dining, shopping, and exploring nearby attractions, we will provide you with a comprehensive guide to make the most of your time in Palolem.
Getting to Palolem
Getting to Palolem is relatively easy, thanks to its well-connected location in Goa. Here are a few options for reaching this beautiful beach destination:
By Air: The nearest airport to Palolem is Dabolim Airport, located approximately 67 kilometers away. Numerous domestic and international flights operate to and from this airport. From the airport, you can hire a taxi or take a pre-paid cab to reach Palolem, which takes around 1.5 to 2 hours.
By Train: The nearest railway station to Palolem is Canacona Railway Station, situated just a few kilometers away. Palolem is well-connected to major cities in India through the Konkan Railway network. From the railway station, you can hire an auto-rickshaw or taxi to reach Palolem in a short time.
By Road: If you prefer traveling by road, you can take a bus or hire a taxi from nearby cities like Margao or Panaji. Palolem is approximately 37 kilometers from Margao and 74 kilometers from Panaji. The scenic drive along the coastal roads of Goa adds to the charm of your journey.
Once you enter Palolem, the beach is easily accessible by foot or by hiring a rickshaw or scooter. The main road of Palolem is lined with shops, restaurants, and guesthouses, making it convenient to explore the area on foot.
It's important to note that Goa has a well-developed public transportation system with buses and taxis plying to different parts of the state. You can also consider renting a scooter or motorcycle to explore the nearby attractions at your own pace.
Whether you choose to travel by air, train, or road, the journey to Palolem is a delightful experience, offering glimpses of the natural beauty and vibrant culture that Goa is known for.
Accommodation Options
Palolem offers a wide range of accommodation options to suit every budget and preference. From beachfront resorts to cozy guesthouses and backpacker-friendly huts, you will find something that meets your needs. Here are some popular accommodation choices in Palolem:
Beachfront Resorts: If you're looking for a luxurious and indulgent stay, Palolem has a variety of beachfront resorts that offer stunning views and world-class amenities. These resorts often have private beach access, swimming pools, spa facilities, and multiple dining options.
Guesthouses: For a more affordable yet comfortable stay, guesthouses in Palolem are a popular choice. These family-run establishments offer cozy rooms, basic amenities, and a personalized touch. Many guesthouses are located just a short walk away from the beach.
Beach Huts: One of the unique experiences of staying in Palolem is the availability of beach huts. These thatched-roof huts are usually made of bamboo or coconut palm leaves and offer a rustic and close-to-nature ambiance. Beach huts are perfect for budget travelers and those looking to immerse themselves in the serenity of the beach.
Homestays and Villas: If you prefer a more private and intimate stay, consider booking a homestay or villa in Palolem. These options provide a home-away-from-home experience, with well-equipped kitchens, spacious living areas, and sometimes even a private pool or garden.
Backpacker Hostels: Palolem is a popular destination among backpackers, and there are numerous backpacker hostels that offer affordable dormitory-style accommodation. These hostels often have communal areas, where travelers can socialize, share travel stories, and make new friends.
It is advisable to book your accommodation in advance, especially during the peak tourist season from November to February. Palolem is a popular beach destination, and availability can be limited during this time. Online booking platforms and travel agencies can assist you in finding the perfect accommodation that suits your preferences and budget.
Regardless of where you choose to stay, one thing is certain – waking up to the sound of the waves and the sight of the beautiful beach will be a memorable experience that adds to the charm of your Palolem getaway.
Things to Do in Palolem
Palolem offers a plethora of activities and attractions for visitors of all ages and interests. Whether you're seeking adventure, relaxation, or cultural experiences, here are some top things to do in Palolem:
Relax on the Beach: Palolem Beach is the perfect place to unwind and soak in the sun. Spread out your beach towel, listen to the sound of the waves, and enjoy the breathtaking views of the Arabian Sea. Take a dip in the calm waters or simply lounge by the shore and watch the picturesque sunset.
Go Dolphin Spotting: Embark on an exciting boat trip to spot dolphins in their natural habitat. Local boat operators offer dolphin-watching tours where you can witness these playful creatures leaping and swimming alongside the boat. It's a thrilling experience that will leave you with lasting memories.
Try Yoga or Meditation: Palolem is known for its yoga and meditation retreats. Join a yoga class on the beach or enroll in a wellness program to rejuvenate your mind, body, and soul. From beginners to advanced practitioners, there are options for all levels of experience.
Explore Butterfly Beach: Take a boat ride to Butterfly Beach, a hidden gem located just a few kilometers from Palolem. This secluded cove is named after the plethora of colorful butterflies that can be spotted here. Enjoy the untouched beauty of the beach and indulge in some snorkeling or swimming.
Visit the Cotigao Wildlife Sanctuary: Nature enthusiasts will appreciate a visit to the Cotigao Wildlife Sanctuary, located near Palolem. This sanctuary is home to a variety of flora and fauna, including rare species of birds, snakes, and monkeys. Take a guided tour or go hiking along the nature trails to explore the rich biodiversity of the region.
Go Kayaking or Paddleboarding: Explore the scenic coastline of Palolem by renting a kayak or paddleboard. Cruise along the calm waters, discover hidden coves, and get up close to the stunning rock formations. It's a fun and adventurous way to experience the beauty of the sea.
Indulge in Beachside Massages: Pamper yourself with a relaxing massage on the beach. Numerous beach shacks offer traditional Ayurvedic massages and spa treatments, allowing you to unwind and rejuvenate amidst the soothing sounds of the waves.
Experience the Silent Noise Party: Palolem is famous for its unique silent noise parties, where revelers don wireless headphones and dance to the beats of different DJs. Experience the electric atmosphere as you groove to the music while enjoying a drink under the stars.
These are just a few of the many activities that Palolem has to offer. Whether you seek adventure or simply want to unwind, Palolem guarantees a memorable and fulfilling experience for all visitors.
Water Sports and Activities
Palolem is a haven for water sports enthusiasts, offering a wide range of thrilling activities for those looking to make the most of their beach getaway. Here are some popular water sports and activities to try in Palolem:
Jet Skiing: Hop on a jet ski and zoom across the sparkling waters of Palolem. Feel the rush of adrenaline as you speed through the waves and experience the exhilaration of this popular water sport.
Parasailing: Get a bird's-eye view of Palolem's stunning coastline by trying parasailing. Strap on a harness, get attached to a parachute, and soar high in the sky as a speedboat tugs you along. Enjoy panoramic views of the beach and the Arabian Sea below.
Scuba Diving: Explore the vibrant underwater world of Palolem by going scuba diving. Dive into the clear turquoise waters and discover colorful coral reefs, unique marine life, and even ancient shipwrecks. Professional dive centers offer courses for beginners as well as guided dives for experienced divers.
Snorkeling: Grab a snorkel, mask, and fins, and explore the shallow reefs near the shore. Spot colorful fish, vibrant corals, and other marine creatures in their natural habitat. Snorkeling can be enjoyed by people of all ages and skill levels.
Banana Boat Ride: Round up your friends or family and jump aboard a banana boat. Hold on tight as you're pulled through the water on an inflatable banana-shaped raft. It's a fun and bumpy ride that is sure to make you laugh and create lasting memories.
Kayaking: Rent a kayak and paddle your way through the calm waters of Palolem. Navigate through narrow channels, explore hidden lagoons, and enjoy the serenity of the surrounding mangrove forests.
Fishing Trips: Join a local fisherman on a traditional fishing trip and experience the age-old technique of coastal fishing. Learn the art of casting nets or try your luck at hooking some fish. It's a unique and educational experience for those interested in local culture and traditions.
Boat Tours: Embark on a leisurely boat tour along the coastline, allowing you to enjoy the beauty of Palolem from a different perspective. Visit neighboring beaches, spot dolphins, and witness stunning rock formations as you cruise through the Arabian Sea.
These water sports and activities offer an exciting and memorable way to make the most of your time in Palolem. Whether you're an adrenaline junkie or prefer more leisurely pursuits, there's something for everyone to enjoy in the crystal-clear waters of Palolem.
Dining and Nightlife
Palolem is not just a paradise for beach lovers but also a culinary delight. The beach town is home to a vibrant dining and nightlife scene that caters to all tastes and preferences. Here are some highlights of the dining and nightlife options in Palolem:
Dining:
Palolem offers a diverse range of dining choices, ranging from beach shacks serving fresh seafood to international restaurants serving global cuisines. Indulge in traditional Goan delicacies like fish curry, prawn balchão, and Goan sausages, or savor international favorites such as Italian, Mediterranean, and Asian cuisines.
The beach shacks are a popular choice for casual dining, where you can enjoy a meal with your toes in the sand. These shacks offer a laid-back vibe, live music, and a relaxed atmosphere. Try the catch of the day, grilled lobster, or tandoori delights while enjoying beautiful sunset views.
If you're seeking a fine dining experience, Palolem has upscale restaurants that offer a more refined and elegant ambiance. Enjoy a candlelit dinner with your loved ones, accompanied by a glass of fine wine, and relish gourmet dishes prepared by renowned chefs.
Nightlife:
Palolem comes alive at night with its vibrant and diverse nightlife scene. The beach shacks transform into makeshift bars and dance floors, offering a lively and enjoyable atmosphere. Experience the famous silent noise parties, where partygoers don wireless headphones and dance to the beats of different DJs.
The nightlife in Palolem caters to various preferences, from those who love to dance the night away to those who prefer a more laid-back evening. Enjoy live music performances by local bands or talented musicians, or simply relax with a cocktail and enjoy the cool sea breeze.
If you're in the mood for a more intimate and cozy ambiance, there are beachfront cafes and lounges where you can sip on a cocktail or enjoy a romantic dinner under the stars. The stunning beach views, combined with soothing music and delectable beverages, create the perfect setting for a memorable evening.
Whether you're a party animal or someone who prefers a more relaxed night out, Palolem offers an array of dining and nightlife options that are guaranteed to leave you with unforgettable memories of your beach getaway.
Shopping in Palolem
Palolem not only offers beautiful beaches and exciting activities but also a delightful shopping experience. The beach town is dotted with colorful shops and vibrant markets, offering a range of items to satisfy your shopping cravings. Here's a glimpse into the shopping scene in Palolem:
Beachside Shops:
As you walk along the beach, you'll come across various beachside shops offering a wide variety of items. From colorful sarongs, beachwear, and flip-flops to trendy sunglasses, hats, and accessories, these shops have everything you need for a stylish day at the beach. Pick up some souvenirs like seashell jewelry or handcrafted trinkets to commemorate your time in Palolem.
Local Markets:
Explore the local markets in Palolem to experience the vibrant atmosphere and shop for unique finds. The Palolem Market, held every Saturday, is a bustling affair where you can browse through stalls selling clothing, handmade crafts, spices, and local produce. It's a great place to immerse yourself in the local culture and interact with the friendly vendors.
Spice Shops:
Goa is known for its rich flavors and spices, and Palolem is no exception. Visit one of the spice shops in Palolem to discover an array of aromatic spices like turmeric, cumin, cinnamon, and more. You can also find pre-packaged spice mixes, such as the famous Goan vindaloo masala, that you can take home and recreate the flavors of Goa in your own kitchen.
Art and Handicrafts:
Palolem is a hub for creativity, and you'll find numerous shops selling beautiful art and handicrafts created by local artisans. From stunning paintings and sculptures to handmade pottery and traditional textiles, these items make for unique and meaningful souvenirs. Support local artists and take home a piece of art that captures the essence of Palolem.
Ayurvedic and Herbal Products:
For those interested in wellness and natural remedies, Palolem is a treasure trove of Ayurvedic and herbal products. Explore the many shops that offer a range of Ayurvedic oils, healing balms, herbs, and skincare products. Treat yourself to a massage with Ayurvedic oils or stock up on natural products that promote wellbeing and rejuvenation.
While shopping in Palolem, it's always a good idea to practice your bargaining skills. Many shops offer bargaining as part of the shopping experience, so don't hesitate to negotiate and secure the best prices.
Whether you're looking for beachwear, unique souvenirs, or local specialties, shopping in Palolem is a delightful experience that allows you to embrace the local culture and take home a piece of this vibrant beach town.
Exploring Nearby Attractions
While Palolem itself offers a plethora of activities and attractions, there are also several nearby attractions that are worth exploring during your visit. Here are some of the top attractions near Palolem:
Agonda Beach: Just a short drive from Palolem, Agonda Beach is another stunning beach known for its scenic beauty and tranquil atmosphere. With its pristine sands, clear waters, and a backdrop of palm trees, Agonda offers a serene retreat away from the crowds.
Cola Beach: Located a few kilometers north of Palolem, Cola Beach is a hidden gem featuring a stunning lagoon. Surrounded by coconut groves and bordered by lush hills, Cola Beach is a secluded paradise where you can relax, swim, and enjoy the tranquil surroundings.
Trek to Dudhsagar Falls: If you're up for an adventurous day trip, consider trekking to the mesmerizing Dudhsagar Falls. Located in the Bhagwan Mahaveer Wildlife Sanctuary, these magnificent waterfalls cascade down from a height of over 300 meters. The trek offers breathtaking views of lush forests and the gushing waterfall.
Netravali Wildlife Sanctuary: Nature enthusiasts will enjoy a visit to Netravali Wildlife Sanctuary, which is located about 70 kilometers from Palolem. Home to a diverse range of flora and fauna, including elusive creatures like the black panther and king cobra, the sanctuary offers scenic trails for hiking and exploring.
Goa Chitra Museum: Located in the town of Benaulim, the Goa Chitra Museum provides a fascinating insight into Goa's rich cultural heritage. The museum showcases a vast collection of artifacts, traditional Goan tools, and agricultural implements, giving visitors a glimpse into the state's rural past.
Old Goa: A short drive from Palolem will take you to Old Goa, the former capital of Goa during the Portuguese colonization. Explore the well-preserved churches and cathedrals that depict the blend of Indian and European architectural styles. The UNESCO World Heritage-listed Basilica of Bom Jesus and Se Cathedral are notable attractions here.
Sahakari Spice Farm: Experience Goa's spice culture by visiting Sahakari Spice Farm. Located near Ponda, about an hour's drive from Palolem, this working spice farm offers guided tours where you can learn about various spices, witness traditional farming techniques, and enjoy a delicious Goan lunch amidst the lush green surroundings.
Cotigao Wildlife Sanctuary: Situated near the village of Canacona, the Cotigao Wildlife Sanctuary is a must-visit for nature lovers. Trek through the dense forest trails and spot a variety of wildlife such as sambar deer, monkeys, and a wide array of bird species. The watchtower within the sanctuary provides panoramic views of the surrounding canopy.
These nearby attractions offer a chance to explore the diverse landscapes, rich culture, and natural beauty of Goa beyond Palolem. Whether it's a serene beach, a cascading waterfall, or a historical landmark, each attraction adds a unique flavor to your Goa experience.
Safety Tips and Travel Recommendations
While Palolem is generally a safe destination, it is important to keep a few safety tips in mind to ensure a smooth and enjoyable trip. Here are some safety tips and travel recommendations for your visit to Palolem:
Swimming Safety: Exercise caution when swimming in the sea, especially if you're not a strong swimmer. Pay attention to the lifeguard flags and follow their instructions. Be aware of any strong currents or rip tides and avoid swimming in areas marked as unsafe.
Sun Protection: Palolem is known for its sunny weather, so it's important to protect yourself from the sun's rays. Apply sunscreen with a high SPF, wear a hat and sunglasses, and seek shade during the peak hours of sunlight. Dehydration can also be an issue, so drink plenty of water to stay hydrated.
Nighttime Safety: While Palolem has a lively nightlife, it's always wise to practice caution during late hours. Stick to well-lit and populated areas, and avoid walking alone on secluded streets. Keep your belongings secure and be aware of your surroundings at all times.
Water Sports Safety: If you're participating in water sports or activities, ensure that the operators are licensed and adhere to safety guidelines. Always wear the necessary safety gear provided, listen to the instructions given by the instructors, and avoid risky behavior that could put your safety at risk.
Respect Local Customs: Goa has a diverse cultural heritage, and it's important to respect the local customs and traditions. Dress modestly when visiting religious sites, and be mindful of your actions and behavior in public places. Seek permission before taking photographs of locals or their property.
Stay Hygienic: To maintain good health during your stay, practice proper hygiene. Wash your hands regularly, especially before eating, and opt for bottled water or filtered water. Be cautious with street food and choose reputable, hygienic eateries for your meals.
Travel Insurance: It is advisable to have travel insurance that covers medical expenses, trip cancellations, and lost belongings. Check with your insurance provider to ensure that you have adequate coverage for your trip to Palolem.
Transportation Safety: Whether you're renting a scooter, hiring a taxi, or using public transportation, prioritize your safety during travel. Wear helmets when riding scooters, choose reputable taxi services, and be cautious of your belongings when using public transport.
It's always a good idea to stay updated on the latest travel advisories and follow any guidelines provided by local authorities or your embassy. By keeping these safety tips and recommendations in mind, you can have a worry-free and enjoyable experience in Palolem.
Conclusion
Palolem is truly a gem among Goa's beaches, offering a perfect blend of natural beauty, exciting activities, and a laid-back atmosphere. With its pristine white sands, crystal-clear waters, and breathtaking sunsets, it's no wonder that Palolem has become a popular destination for beach lovers from around the world.
Whether you prefer relaxing on the beach, engaging in thrilling water sports, exploring nearby attractions, or immersing yourself in the vibrant nightlife, Palolem has something for everyone. The wide range of accommodation options ensures that you can find a comfortable and suitable place to stay, whatever your budget and preferences may be.
But Palolem is not just about the beach; it offers a myriad of experiences that go beyond the sun and sand. From visiting nearby attractions like Dudhsagar Falls and Old Goa to exploring the cultural heritage of the region, there are endless opportunities for adventure and discovery. And let's not forget the delicious food, lively nightlife, and unique shopping experiences that add to the allure of Palolem.
While enjoying your time in Palolem, it's important to keep safety in mind. By following basic safety tips and respecting the local customs, you can ensure a smooth and hassle-free trip.
Whether you're seeking relaxation, adventure, or both, Palolem is a destination that will leave you with indelible memories. So, pack your bags, put on your sunscreen, and get ready to immerse yourself in the beauty and charm of Palolem – South Goa's most popular beach.