15 Best Beaches In Newquay, England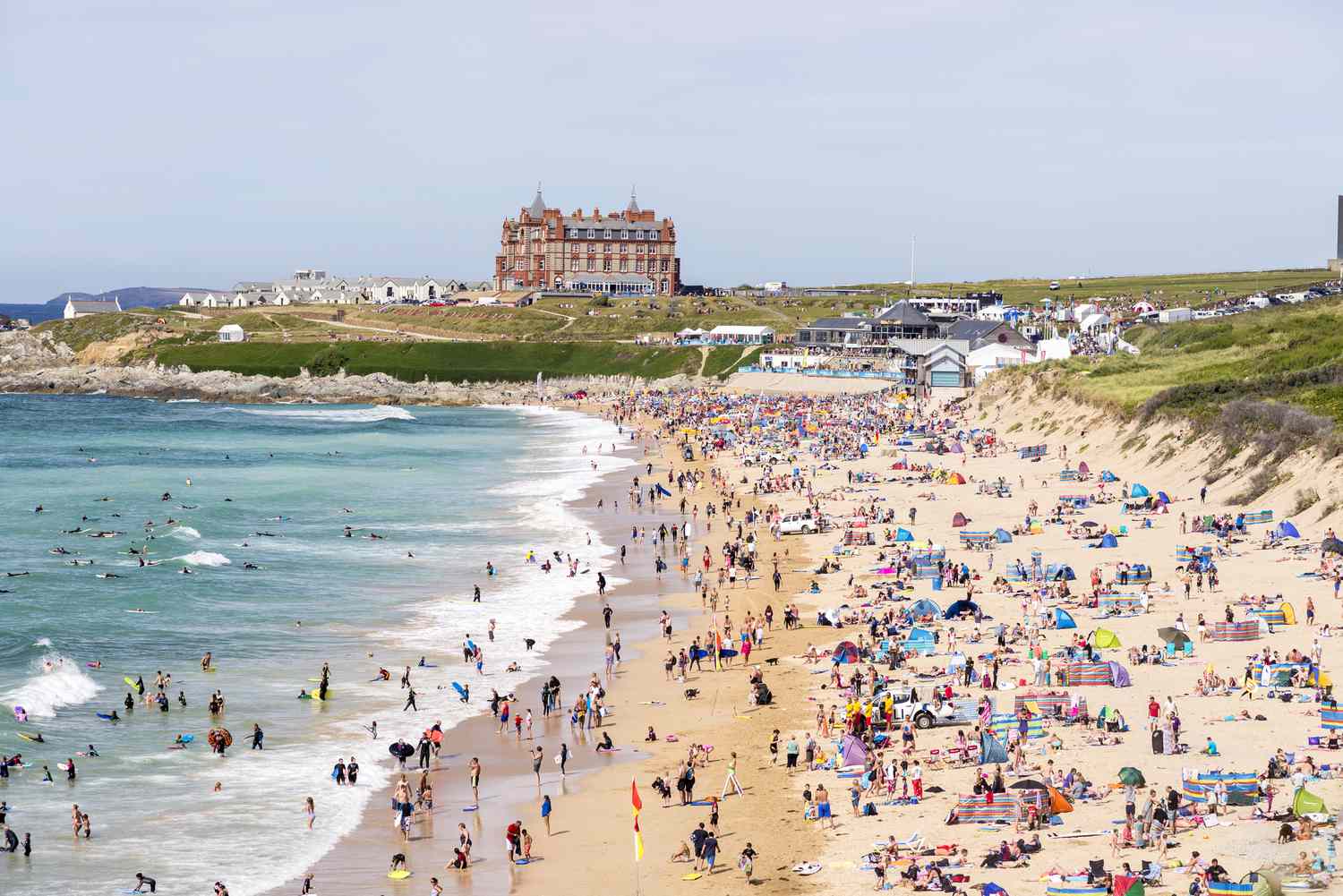 Newquay, located on the stunning coast of England, is a haven for beach lovers and adventure seekers. With its breathtaking landscapes, crystal-clear waters, and golden sandy shores, it's no wonder that Newquay is renowned for being home to some of the best beaches in the country. Whether you're looking for a tranquil spot to unwind and soak up the sun or craving exhilarating water sports and thrilling coastal walks, Newquay has it all.
In this article, we'll explore the 15 best beaches in Newquay that should be on every traveler's bucket list. From popular family-friendly beaches to hidden coves and secluded bays, there's something for everyone to enjoy. So grab your swimsuit, sunscreen, and sense of adventure as we embark on a journey to discover the breathtaking beauty of Newquay's beaches.
Fistral Beach
Fistral Beach, the crown jewel of Newquay's coastline, is renowned for its world-class waves and surf competitions. Surrounded by golden sand and breathtaking cliffs, this beach attracts surfers from around the globe. With its vibrant atmosphere and stunning sunsets, Fistral Beach is the perfect spot for surf enthusiasts and beach lovers alike.
Lusty Glaze Beach
Lusty Glaze Beach offers a more secluded setting, nestled between rugged cliffs. This hidden gem provides visitors with privacy and tranquility. Whether you're looking to relax in the sun or explore the crystal-clear waters, Lusty Glaze Beach promises a serene and picturesque experience.
Towan Beach
Towan Beach, located near the center of Newquay, offers a variety of activities for all ages. From building sandcastles to exploring the rock pools, there is something for everyone. With its convenient proximity to shops, cafes, and ice cream parlors, Towan Beach is a favorite among families and tourists.
Watergate Bay
Watergate Bay, a two-mile stretch of pristine sand, is popular among water sports enthusiasts. From surfing and kayaking to stand-up paddleboarding, the possibilities are endless. With stunning views and a range of dining options, including a renowned beachfront restaurant, Watergate Bay is a must-visit destination.
Mawgan Porth
Mawgan Porth is a picturesque cove surrounded by rugged cliffs and rolling hills. The beach offers plenty of space to relax and enjoy the stunning coastal scenery. With its calm waters, it is ideal for swimming and sunbathing. Mawgan Porth is also home to a charming village with a selection of cafes and shops.
Crantock Beach
Crantock Beach, nestled at the mouth of the River Gannel, showcases unspoiled natural beauty. This expansive beach is perfect for long walks and exploring the dunes and wildlife-rich estuary. Surfers also flock to Crantock Beach to catch some waves, making it a popular destination for both nature lovers and water sports enthusiasts.
Whipsiderry Beach
Whipsiderry Beach is a hidden gem, accessible via a steep path, but well worth the effort. This secluded beach offers a sense of serenity and stunning views of the rugged coastline. Its rocky outcrops are ideal for rock pooling and exploring. Whipsiderry Beach is a paradise for those seeking peace and tranquility.
Tolcarne Beach
Tolcarne Beach is a family-friendly destination with soft sand and shallow waters, making it perfect for swimming and sandcastle building. This south-facing beach enjoys sunshine throughout the day, and its location near the town center ensures easy access to amenities and entertainment options.
Trevelgue Beach
Trevelgue Beach is a secluded bay, hidden away from the bustling crowds. Surrounded by high cliffs and backed by rolling green hills, this beach offers a peaceful retreat. Its untouched beauty and sense of seclusion make Trevelgue Beach a hidden paradise.
Great Western Beach
Great Western Beach, located near the town center, offers a vibrant atmosphere and a range of activities. With its soft sand, rock pools, and excellent surfing conditions, it is a favorite among locals and tourists alike. Great Western Beach also boasts stunning views of Newquay's iconic cliffs.
Holywell Bay
Holywell Bay, nestled between impressive sand dunes, is a treat for nature enthusiasts. This beach is surrounded by stunning landscapes and offers scenic walks along the South West Coast Path. Its unique rock formations and captivating caves make Holywell Bay a photographer's paradise.
Porth Beach
Porth Beach is a family-friendly haven with golden sands and calm waters. This beach is ideal for swimming, sunbathing, and exploring the rock pools. Porth Beach is also home to a charming cafe, serving delicious treats and refreshing drinks.
Harlyn Bay
Harlyn Bay is a picturesque sandy beach sheltered by cliffs and backed by rolling hills. This beach is perfect for families, as it offers safe swimming conditions and ample space for picnics and beach games. With its stunning natural beauty, Harlyn Bay is a true hidden gem.
Booby's Bay
Booby's Bay, named after the seabird, is a small, unspoiled bay that offers a peaceful and tranquil experience. This secluded beach is a paradise for nature lovers and birdwatchers. With its stunning natural surroundings and breathtaking sunsets, Booby's Bay is a true hidden treasure.
Jerrys Point
Jerrys Point, located near Newquay Airport, is a hidden gem known for its rugged beauty. Surrounded by cliffs and tidal pools, this beach offers a sense of seclusion and tranquility. Exploring the tidal pools and observing the marine life is a fascinating experience at Jerrys Point.
Conclusion
Newquay, England is a coastal paradise that is home to some of the best beaches in the country. Whether you're a sun-worshipper, an avid surfer, or simply seeking a tranquil spot to relax and unwind, Newquay has something for everyone. From the iconic Fistral Beach with its world-class waves, to the picturesque Crantock Beach with its golden sand dunes, you will be spoiled for choice.In addition to its natural beauty, Newquay offers a vibrant beach culture, with a range of amenities and activities available. Whether you prefer to take a leisurely stroll along the promenade, try your hand at surfing, or indulge in delicious seafood at a beachside café, there is never a dull moment in Newquay.So pack your sunscreen, grab your towel, and head to Newquay for an unforgettable beach getaway. With its stunning scenery, exciting water sports, and welcoming atmosphere, it's no wonder why Newquay is considered one of England's top beach destinations.
FAQs
1. What is the best beach in Newquay for surfing?
Fistral Beach is widely regarded as the best beach in Newquay for surfing. Its powerful waves and consistent swells attract surfers from around the world.
2. Are there any family-friendly beaches in Newquay?
Yes, Newquay boasts several family-friendly beaches, such as Towan Beach and Lusty Glaze Beach. These beaches have lifeguard services, shallow waters, and facilities that cater to families with children.
3. Are dogs allowed on Newquay's beaches?
Yes, some of Newquay's beaches are dog-friendly, including Crantock Beach and Watergate Bay. However, certain restrictions may apply during peak tourist season, so it's advisable to check local regulations beforehand.
4. Can I rent equipment for water sports on Newquay's beaches?
Absolutely! Newquay is known for its thriving water sports scene, and there are various rental shops along the beachfront where you can hire equipment for activities like surfing, paddleboarding, and kayaking.
5. Are there any secluded beaches in Newquay?
Yes, if you're looking for a more secluded beach experience, consider visiting Porth Joke Beach or Holywell Bay. These hidden gems offer peaceful atmospheres and breathtaking natural beauty.