15 Best Beaches In Cornwall, England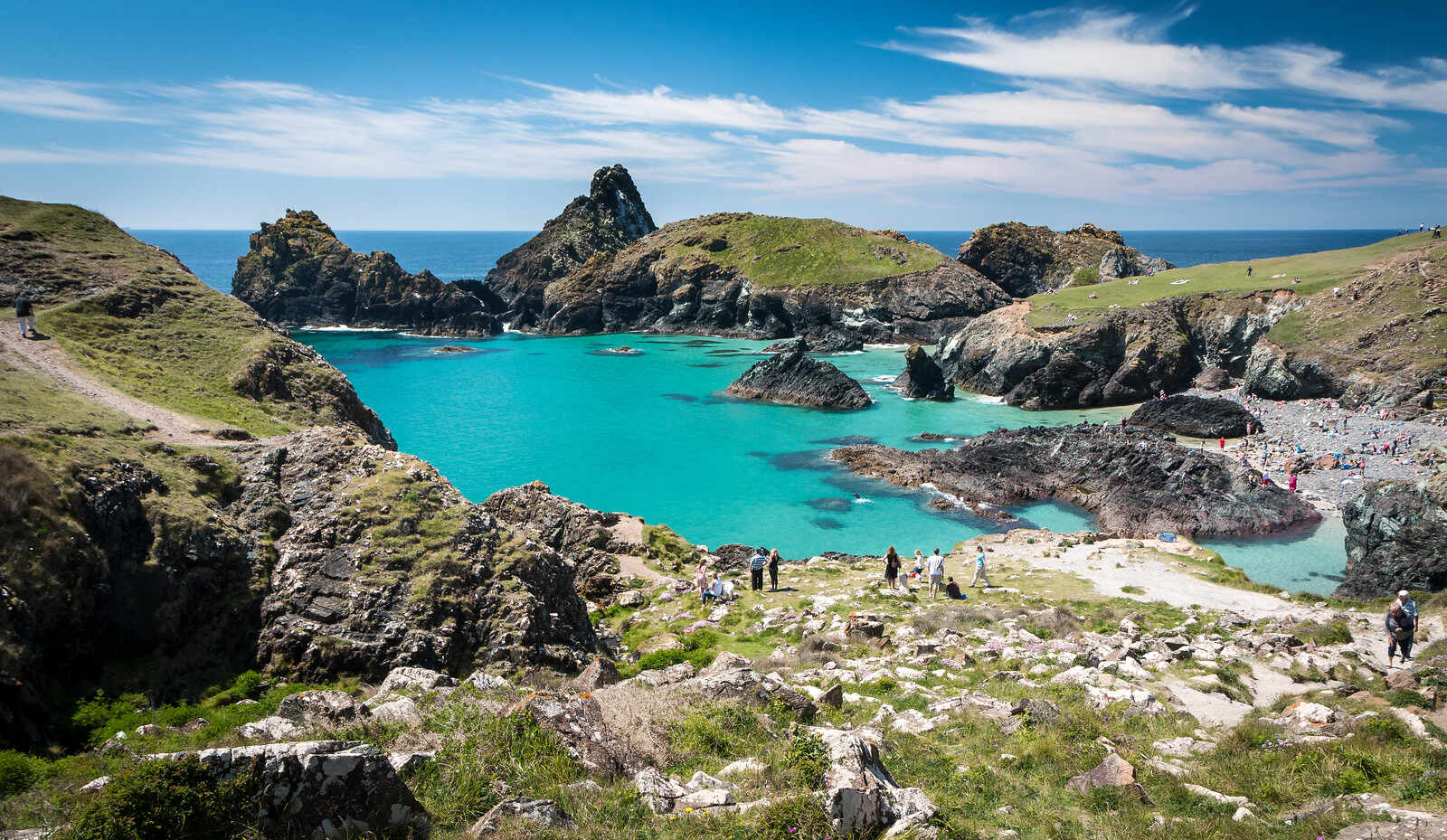 When it comes to breathtaking coastal landscapes, Cornwall in England is an absolute paradise. With its rugged cliffs, idyllic fishing villages, and turquoise waters, it's no wonder why Cornwall is known for having some of the best beaches in the country. Whether you're a sun worshipper, a surfer, or a nature enthusiast, Cornwall has it all. From charming hidden coves to wide sandy stretches, there's a beach in Cornwall to suit everyone's taste.
In this article, we have curated a list of the 15 best beaches in Cornwall that you simply cannot miss. Get ready to discover stunning stretches of sand, explore secluded coves, and experience the awe-inspiring beauty of the Cornish coastline. Whether you're planning a family holiday, a romantic getaway, or a solo adventure, these beaches are the perfect destinations for creating lasting memories and soaking up the sun.
Porthcurno Beach
Nestled in a secluded valley, Porthcurno Beach is known for its crystal-clear turquoise waters and golden sands. Surrounded by dramatic cliffs, this beach offers a picturesque setting for a day of relaxation and swimming.
Fistral Beach
Famous for its impressive surf, Fistral Beach is a paradise for surfers and water sports enthusiasts. With its Atlantic-facing waves and vibrant atmosphere, it's no wonder this beach attracts visitors from all over the world.
St. Ives Bay
Boasting three stunning beaches, Porthminster Beach, Porthmeor Beach, and Carbis Bay, St. Ives Bay offers a variety of coastal experiences. From sunbathing to exploring the charming town, there's something for everyone here.
Perranporth Beach
Perranporth Beach is a wide expanse of golden sand that stretches for three miles, making it perfect for long walks and beach games. On a clear day, you can enjoy breathtaking views of the rolling dunes and Atlantic Ocean.
Kynance Cove
Tucked away on the Lizard Peninsula, Kynance Cove is a hidden gem known for its dramatic cliffs, turquoise waters, and stunning rock formations. It's a must-visit destination for nature lovers and photographers.
Porthminster Beach
Located in the charming town of St. Ives, Porthminster Beach is a family-friendly beach with soft sands and calm waters. Take a dip, build sandcastles, or simply soak up the sun while enjoying views of the picturesque St. Ives Bay.
Polzeath Beach
Polzeath Beach is a paradise for beachgoers and surfers alike. With its consistent surf breaks and relaxed atmosphere, it's the perfect spot to catch some waves or simply relax on the sand and watch the surfers in action.
Porthcawl Beach
Located near the charming village of Mousehole, Porthcawl Beach offers a serene and sheltered setting. The rocky shoreline and crystal-clear waters create a tranquil atmosphere for swimming and exploring the tide pools.
Sennen Cove Beach
With its stunning natural beauty, Sennen Cove Beach offers a true Cornish experience. This picturesque beach is surrounded by rugged cliffs, and its clear waters are ideal for swimming, surfing, and even wildlife spotting.
Portminster Beach
Portminster Beach in St. Ives is a popular spot for families. Its sheltered and calm waters make it ideal for swimming, paddleboarding, and kayaking. Enjoy the stunning views of Godrevy Lighthouse in the distance.
Praa Sands Beach
Praa Sands Beach is a sweeping bay renowned for its golden sands and clear waters. This unspoiled beach is perfect for long walks, picnics, and beach games, and it offers a peaceful escape from the crowds.
Holywell Bay Beach
Nestled between two towering cliffs, Holywell Bay Beach is known for its wild and rugged beauty. It's a great spot for surfing, exploring sand dunes, and even discovering the famous Gull Rocks.
Porthcothan Bay Beach
Porthcothan Bay Beach is a hidden gem on the North Cornwall coast. Its pristine sands and rolling waves create a captivating landscape, perfect for taking long walks and enjoying the peaceful surroundings.
Treyarnon Bay Beach
Treyarnon Bay Beach is a popular destination for families and avid surfers alike. With its sandy shores, rocky outcrops, and clear waters, it offers a perfect blend of relaxation and adventure.
Lusty Glaze Beach
Lusty Glaze Beach is a secluded cove that offers a tranquil escape from the busier beaches. With its cliffside cafes, water sports activities, and stunning sunsets, it's a must-visit destination for a romantic getaway.
These 15 best beaches in Cornwall, England showcase the incredible natural beauty and diverse coastal experiences that this region has to offer. Whether you're seeking a thrilling surf or a peaceful retreat, Cornwall's beaches have something for everyone. Make sure to explore them all and create unforgettable memories during your visit to this stunning part of England.
Conclusion
In conclusion, Cornwall, England offers some of the most beautiful and diverse beaches in the world. From pristine sandy shores to dramatic cliffs and secret coves, there is something for everyone to enjoy. Whether you're looking to relax and soak up the sun, take part in water sports, or explore the unique rock formations and wildlife, Cornwall has it all. With its stunning natural beauty, charming coastal towns, and rich history, a visit to Cornwall's beaches is truly a memorable experience. So pack your swimsuit, sunscreen, and sense of adventure, and get ready to discover the 15 best beaches in Cornwall, England.
FAQs
Q: Are the Cornwall beaches suitable for families?
A: Absolutely! Many of the beaches in Cornwall are family-friendly and offer amenities such as lifeguards, toilets, and nearby parking. Additionally, the calm and shallow waters of some beaches are perfect for young children to paddle and play in.
Q: Can I bring my dog to the Cornwall beaches?
A: There are a number of beaches in Cornwall that are dog-friendly. However, it's important to check local regulations and restrictions as some beaches have specific rules regarding dogs, particularly during peak tourist season.
Q: Are there any water sports available on the Cornwall beaches?
A: Absolutely! Cornwall is a popular destination for water sports enthusiasts. You can enjoy activities such as surfing, paddleboarding, kayaking, and even coasteering at various beaches in the region. There are also several surf schools and rental shops available.
Q: Can I camp near the Cornwall beaches?
A: Yes, there are plenty of campsites and caravan parks near the Cornwall beaches where you can set up your tent or park your caravan. It's a great way to be close to nature and enjoy the beach during your stay.
Q: Are there any facilities available near the beaches?
A: Many of the popular beaches in Cornwall have facilities such as cafes, restaurants, shops, and public toilets nearby. However, it's always a good idea to check beforehand, especially if you have specific needs or preferences.