Everything You Need To Know About Aftershock Music Festival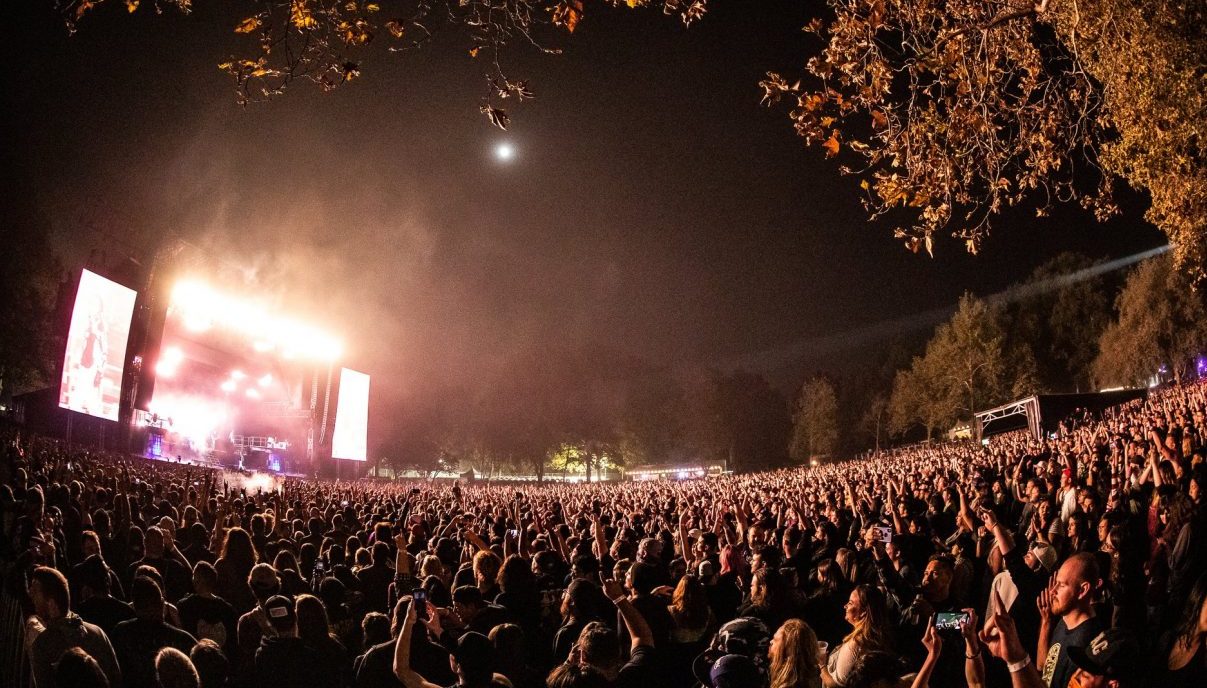 Introduction
Welcome to the ultimate guide to Aftershock Music Festival! If you're a lover of music, you're in for an electrifying experience. Aftershock Music Festival is an annual event that has been rocking the hearts and souls of music enthusiasts since its inception. This article will provide you with everything you need to know about this iconic festival, from its history and lineups to the festival experience and practical information like tickets and transportation. So, get ready to dive into a world of incredible music, vibrant energy, and unforgettable memories.
Aftershock Music Festival is renowned for bringing together some of the biggest names in the rock, metal, and alternative music scenes. From international headliners to emerging talent, the festival promises a lineup that will leave you mesmerized. But Aftershock isn't just about the music. It's an immersive experience that immerses attendees in a unique and exhilarating atmosphere. Whether you're a seasoned festival-goer or new to the festival scene, Aftershock offers something for everyone.
In this comprehensive guide, we'll take you on a journey through the history of Aftershock Music Festival, delve into the details of the venue and dates, explore the diverse lineup and performers, and provide insights into the festival experience. We'll also cover essential information like camping and accommodations, food and drink options, activities and attractions, tickets and pricing, transportation and parking, and safety and security measures. By the end of this guide, you'll have all the knowledge you need to plan your epic adventure at Aftershock Music Festival and make the most of your experience.
History of Aftershock Music Festival
The roots of Aftershock Music Festival can be traced back to the year 2012 when it made its debut in Sacramento, California. This two-day festival quickly gained traction and became a beloved event for rock and metal music enthusiasts. Originally envisioned as a one-time celebration of the 10th anniversary of Sacramento radio station 98 Rock, Aftershock exceeded all expectations and soon became an annual affair.
As the years went by, Aftershock Music Festival expanded its reach and popularity, attracting thousands of fans from all corners of the globe. The festival became known for its diverse lineup, featuring heavy hitters in the rock and metal genres, as well as up-and-coming artists. Iconic acts such as Metallica, Tool, and Slipknot have graced the stages of Aftershock, solidifying its reputation as a must-see event in the music calendar.
One significant milestone in the festival's history was in 2015 when Aftershock expanded from a two-day event to a full three-day weekend experience. This allowed for even more music, more performers, and more memories to be made. The festival organizers also made it a point to incorporate various sub-genres of rock and metal, ensuring that there was something to cater to every musical taste.
The success of Aftershock prompted the organizers to explore new horizons. In 2019, Aftershock expanded beyond its home in Sacramento and launched a sister event in San Diego, California. This move not only brought the explosive energy of Aftershock to a new location but also allowed for an even larger lineup and increased accessibility for fans on the West Coast.
Aftershock Music Festival has undoubtedly carved a niche in the festival circuit, earning a reputation as one of the premier rock and metal events in the United States. This remarkable journey, from its humble beginnings to its status as a powerhouse festival, is a testament to the unwavering dedication of the organizers and the unwavering support of the fans.
Venue and Dates
Aftershock Music Festival has found its permanent home in the heart of California's capital, Sacramento. The festival takes place at Discovery Park, a sprawling outdoor venue that provides the perfect backdrop for an unforgettable musical experience. With its scenic views and spacious grounds, Discovery Park offers a picturesque setting for attendees to immerse themselves in the magic of Aftershock.
As for the dates, Aftershock Music Festival traditionally takes place in the fall, usually in the month of October. The festival spans a period of three days, allowing fans to indulge in an extended weekend filled with non-stop music and excitement. The carefully curated lineup, coupled with the vibrant atmosphere of the festival, creates an electric ambiance that keeps attendees coming back year after year.
The choice of venue and timing is not by chance. Sacramento, with its vibrant music scene and rich cultural heritage, provides the perfect backdrop for Aftershock Music Festival. The city's diverse community, coupled with its enthusiastic music fans, adds another layer of excitement and energy to the festival atmosphere. This unique combination of location and timing ensures that Aftershock delivers an experience that is truly unmatched.
It is important to note that Aftershock Music Festival is an outdoor event, so attendees should come prepared for varying weather conditions. As the festival takes place in the fall, temperatures can range from mild to chilly. It's advisable to check the weather forecast before attending the festival and bring layers of clothing to ensure comfort throughout the day and night.
Whether you're a local resident or traveling from afar, Aftershock Music Festival offers a convenient location and a time of year that allows for maximum enjoyment. The combination of Discovery Park's natural beauty, Sacramento's vibrant music culture, and the breathtaking performances by renowned artists make Aftershock a truly immersive and unforgettable experience.
Lineup and Performers
One of the biggest draws of Aftershock Music Festival is its impressive lineup of talented performers. Year after year, the festival showcases a diverse range of artists, from iconic headliners to emerging acts, ensuring there's something for every music lover in attendance.
The festival prides itself on attracting some of the biggest names in rock, metal, and alternative music. Past headliners have included legendary bands like Metallica, Tool, and Slipknot, who have delivered electrifying performances that have left the crowd in awe. These iconic acts are often complemented by a carefully curated selection of supporting artists, chosen to enhance the overall experience and provide an incredible lineup from start to finish.
In addition to the established acts, Aftershock Music Festival also places a strong emphasis on showcasing emerging talent. This gives attendees the opportunity to discover new and up-and-coming artists who are making waves in the music industry. From hard-hitting metal bands to alternative rock outfits, the festival's lineup is a melting pot of diverse sounds and genres.
Furthermore, Aftershock is known for its commitment to inclusivity and diversity in its lineup. The festival actively seeks out performers from different backgrounds and identities, ensuring a representation of voices and perspectives in its music offerings. This commitment to diversity adds richness and depth to the festival's lineup, creating a more inclusive and welcoming atmosphere for all attendees.
To keep the excitement alive, the festival organizers release the lineup in the months leading up to the event, allowing fans to eagerly anticipate the performances of their favorite artists. This anticipation is met with enthusiasm and high expectations, as attendees prepare to witness extraordinary live performances that will leave a lasting impression.
It is worth mentioning that while the lineup is subject to change, Aftershock Music Festival consistently delivers a stellar roster of performers that never fails to disappoint. Whether you're a long-time fan of a particular headliner or looking to discover new talent, the lineup and performers at Aftershock will leave you captivated and craving more.
Festival Experience
Attending Aftershock Music Festival is a truly immersive experience that goes far beyond just the music. From the moment you step foot onto the festival grounds, you'll be enveloped in a vibrant atmosphere filled with energy, excitement, and a strong sense of community.
The festival experience begins as soon as you enter Discovery Park. The sprawling grounds are transformed into a lively hub of music and culture, with multiple stages set up to host simultaneous performances. This allows attendees to explore different genres and discover new artists, creating a diverse and engaging musical experience.
In addition to the live performances, Aftershock Music Festival offers a variety of other attractions and activities to enhance the overall experience. From art installations and immersive experiences to interactive sponsor activations, there's always something happening around every corner. These additional elements add an extra layer of depth and engagement to the festival, ensuring that there's never a dull moment.
The festival also boasts a food and drinks village, where attendees can sample an array of culinary delights from local food vendors. From gourmet food trucks to artisanal treats, there's a wide variety of options to satisfy every palate. Additionally, a selection of craft beer, cocktails, and other beverages are available to complement the culinary offerings and keep the good vibes flowing.
Aftershock Music Festival is not just about the music and food, but also about fostering a sense of community. The festival attracts a diverse and passionate group of music lovers, creating a welcoming environment where attendees can connect with like-minded individuals. The sense of camaraderie and shared enthusiasm creates a unique bond among festival-goers, making Aftershock feel more like a close-knit gathering of friends rather than a large-scale event.
To ensure a smooth and enjoyable experience for all attendees, Aftershock Music Festival also provides various amenities such as water stations, charging stations, and rest areas. These amenities are strategically located throughout the festival grounds, making it convenient for attendees to take care of their basic needs and recharge before diving back into the action.
Whether you're rocking out to your favorite band, indulging in delicious food, immersing yourself in art installations, or connecting with fellow music enthusiasts, Aftershock Music Festival offers an all-encompassing experience that will leave you with unforgettable memories.
Camping and Accommodations
For those looking to fully immerse themselves in the Aftershock Music Festival experience, camping is a popular option. The festival offers on-site camping facilities, allowing attendees to stay just steps away from the action and create lasting memories with fellow festival-goers.
Aftershock's on-site camping provides a convenient and communal atmosphere for attendees. With designated camping areas, attendees can choose between bringing their own tents or opting for pre-set up camping options. The campgrounds are equipped with amenities such as shower facilities, restrooms, and food vendors, ensuring a comfortable and enjoyable stay.
Camping at Aftershock not only provides easy access to the festival but also offers unique opportunities for late-night gatherings and impromptu jam sessions with fellow campers. The communal environment fosters a sense of camaraderie among campers, creating a tight-knit community that resonates with the festival's spirit.
While camping is a popular choice, not everyone prefers to sleep under the stars. For those seeking alternative accommodations, there are numerous hotels and Airbnb options available in the nearby areas. These options provide a more traditional and private setting, ensuring a comfortable stay while still being within convenient distance of the festival grounds.
It's important to note that whether you choose camping or other accommodations, it's advisable to book in advance. Aftershock Music Festival draws in a large number of attendees, and accommodations can fill up quickly. Planning and booking ahead of time will help ensure a stress-free and enjoyable festival experience.
Whether you decide to camp on-site, book a hotel room, or opt for an Airbnb, the key is to find the accommodation that best suits your preferences and needs. Regardless of your choice, you'll have ample opportunities to bond with fellow festival-goers, share stories, and create lasting friendships in the midst of the vibrant Aftershock experience.
Food and Drink Options
Aftershock Music Festival isn't just about the amazing music; it's also a culinary adventure. The festival offers an array of food and drink options to satisfy every craving and keep attendees fueled throughout the event.
One of the highlights of the festival is the Food and Drinks Village, where attendees can explore a wide variety of culinary delights from local food vendors. From gourmet food trucks serving up mouthwatering dishes to specialty vendors offering unique and international flavors, there's something to tantalize every taste bud.
The festival organizers strive to provide options for every dietary preference and restriction. Whether you're a meat lover, vegetarian, vegan, or have specific dietary needs, you'll find a range of choices to suit your preferences. From indulgent comfort foods to healthy and organic options, the food vendors at Aftershock cater to a diverse range of dietary needs.
In addition to the wide variety of food options, Aftershock also offers an extensive selection of beverages to quench your thirst. From craft beers and specialty cocktails to non-alcoholic drinks and fresh juices, there's a refreshing beverage for everyone. You can sip on your favorite beer while headbanging to your favorite band, or enjoy a cool beverage to beat the California sun.
While food and drink options are available for purchase at the festival, it is important to note that there are specific guidelines regarding outside food and beverages. Outside food and beverages are generally not allowed, with the exception of sealed water bottles. However, exceptions may be made for attendees with valid medical reasons or special dietary needs. It's advised to check the festival's official guidelines for any updates or specific requirements.
So, whether you're in the mood for delicious street food, exotic flavors, or refreshing drinks, Aftershock Music Festival offers a remarkable culinary experience that will keep your taste buds satisfied throughout the event.
Activities and Attractions
Aftershock Music Festival isn't just about the music; it's a full-blown immersive experience that offers a wide range of activities and attractions to keep festival-goers entertained throughout the event.
One of the highlights of the festival is the various art installations and interactive experiences scattered throughout the grounds. From large-scale sculptures to vibrant murals, these artistic displays add a visually captivating element to the festival atmosphere. Attendees can explore and interact with these art installations, creating memorable moments and photo-worthy backdrops.
Additionally, Aftershock features a variety of sponsor activations and vendor booths that offer engaging experiences and unique products. These activations often include games, contests, and giveaways, providing attendees with opportunities to win exclusive prizes and merchandise.
For those looking for a break from the music, Aftershock offers a selection of additional activities to enjoy. From carnival rides and games to immersive virtual reality experiences, there's no shortage of entertainment options. Festival-goers can take a break from the crowds and delve into these activities, adding an extra layer of fun and excitement to their overall experience.
Furthermore, Aftershock is committed to promoting sustainability and environmental consciousness. The festival includes eco-friendly initiatives such as recycling programs, water refill stations, and educational booths. These efforts not only raise awareness about environmental issues, but also encourage attendees to be responsible and mindful of their impact on the planet.
It's important to note that while some activities and attractions may be free with admission, others may require an additional fee or reservation. It's recommended to check the festival's official website or program for information on specific offerings and any necessary requirements.
With its diverse range of activities and attractions, Aftershock Music Festival ensures that there's always something exciting happening beyond the stages. From art installations and interactive experiences to carnival rides and sustainability initiatives, the festival offers a multi-dimensional experience that goes beyond the musical performances.
Tickets and Pricing
Attending Aftershock Music Festival requires purchasing tickets, which grant access to the incredible lineup of performers and the immersive festival experience. Understanding the ticketing options and pricing is essential for planning your attendance at the festival.
Aftershock offers various ticket types to cater to different preferences and budgets. General Admission tickets provide access to all stages and activities for the duration of the festival. VIP tickets, on the other hand, offer additional perks such as exclusive viewing areas, dedicated lounges, and priority entry.
Ticket prices can vary depending on several factors, including the ticket type, whether it's a single-day or multi-day pass, and the availability of early bird or advanced purchase discounts. It's advisable to keep an eye on the festival's official website and social media channels for updates on ticket sales and pricing.
In addition to standard tickets, Aftershock also offers a limited number of special packages, such as VIP upgrades, camping add-ons, and enhanced experiences. These packages provide extra benefits and amenities, allowing attendees to customize their festival experience to suit their preferences.
When purchasing Aftershock tickets, it's important to be aware of the festival's terms and conditions. It's common for tickets to be non-transferable and non-refundable, so it's essential to double-check your plans and ensure that you can attend the festival on the specified dates before making a purchase.
It's also worth noting that Aftershock Music Festival has established partnerships with reputable ticket vendors and does not encourage or support purchasing tickets from unauthorized resellers or third-party websites. To avoid scams and ensure the validity of your tickets, it's recommended to purchase tickets directly from the festival's official website or authorized outlets.
For those planning to attend the festival, it's advisable to purchase tickets as early as possible once they become available. Aftershock Music Festival is a highly sought-after event, and tickets can sell out quickly, particularly for popular acts and dates.
By familiarizing yourself with the ticketing options, pricing, and guidelines, you can secure your spot at Aftershock Music Festival and be ready to indulge in a remarkable musical journey.
Transportation and Parking
Getting to Aftershock Music Festival is an important aspect of planning your attendance. Whether you're a local resident or traveling from out of town, there are several transportation options to consider.
If you're driving to the festival, Aftershock offers on-site parking for attendees. However, it's important to note that parking availability may be limited, especially during peak festival hours. It's recommended to arrive early to secure a parking spot, or consider carpooling with friends to maximize parking space and reduce the environmental impact.
For those who prefer not to drive, alternative transportation options are available. Aftershock often provides information about shuttle services from nearby hotels or designated pick-up points, enabling attendees to leave their vehicles behind and enjoy a stress-free journey to the festival.
Additionally, public transportation may be an option for some attendees. Local bus routes or light rail services may provide convenient routes to Discovery Park, allowing festival-goers to avoid traffic and parking hassles. It's advisable to check with the local public transportation authority for schedules and routes during the festival dates.
If you're traveling from out of town, it's essential to plan your accommodation in proximity to the festival grounds to minimize travel time. Opting for a hotel or Airbnb within walking distance or a short drive away can save you time and ensure easy access to the festival.
Navigating the festival grounds once you arrive is typically straightforward, as Aftershock provides clear signage and designated entry points. It's important to familiarize yourself with the layout of the grounds and make note of the location of stages, food vendors, attractions, and other essential areas beforehand.
When planning your transportation to and from the festival, it's important to consider the safety of yourself and others. It's always advisable to designate a sober driver if you choose to drive, or utilize ride-sharing services or public transportation if you plan to consume alcohol during the event.
By considering your transportation options and planning ahead, you can ensure a smooth and enjoyable journey to Aftershock Music Festival and make the most of your festival experience.
Safety and Security Measures
Aftershock Music Festival places a strong emphasis on the safety and security of all attendees. The festival organizers implement various measures to ensure a safe and enjoyable experience for everyone in attendance.
First and foremost, the festival works closely with local law enforcement and security personnel to maintain a secure environment throughout the event. Trained security staff are present at all times to monitor the festival grounds, manage crowds, and address any issues that may arise.
To enhance safety, Aftershock Music Festival provides medical aid stations staffed by qualified medical professionals. These stations are strategically located throughout the grounds to ensure prompt medical attention in case of emergencies or basic health needs. It's important to familiarize yourself with the location of these stations upon arrival.
Moreover, Aftershock invests in crowd management strategies to ensure smooth and safe movement within the festival grounds. This includes clearly marked entry and exit points, designated walkways, and guidance from staff to help attendees navigate the festival effectively.
In addition to physical safety measures, Aftershock promotes a safe and inclusive environment for all attendees. The festival has a strict code of conduct that prohibits any form of harassment, discrimination, or violence. Creating a positive and respectful atmosphere is a priority for the festival, and attendees are encouraged to report any concerns to the festival staff or security personnel.
It's crucial for festival-goers to take personal responsibility for their own safety as well. This includes staying hydrated, applying sunscreen, and taking breaks to rest. It's also recommended to keep valuables secure and not to leave personal belongings unattended.
To stay informed about safety updates and emergency procedures, it's advisable to follow the official Aftershock social media accounts and download any official apps or resources provided by the festival organizers. These platforms often provide real-time updates and important information regarding safety measures during the event.
By working together with festival organizers, security personnel, and fellow attendees, Aftershock Music Festival strives to create a safe and secure environment where everyone can enjoy the music and festivities without worry.
Tips for Attending Aftershock Music Festival
Attending Aftershock Music Festival is a thrilling experience. To make the most of your festival adventure, here are some helpful tips to keep in mind:
Plan Ahead: Familiarize yourself with the festival schedule, lineup, and map before you go. This will help you prioritize your must-see artists and navigate the grounds more efficiently.
Come Prepared: Check the weather forecast and dress accordingly. Bring layers of clothing, as temperatures can vary throughout the day and night. Don't forget sunscreen, a hat, and comfortable shoes.
Stay Hydrated: It's easy to get caught up in the excitement of the festival, but remember to drink plenty of water throughout the day to stay hydrated. Water refill stations are available at the festival grounds.
Charge Your Devices: Ensure your phone and other electronic devices are fully charged before you arrive. Consider bringing a portable charger to keep your devices powered up and ready to capture those memorable moments.
Explore Beyond the Music: While the music is the main attraction, take the time to explore the art installations, sponsor activations, and other attractions. Aftershock offers a rich and immersive experience beyond the stages.
Connect with Fellow Festival-Goers: Aftershock is known for its friendly and welcoming atmosphere. Strike up conversations and connect with fellow music enthusiasts to enhance your festival experience and make new friends.
Be Mindful of Others: Respect the space and boundaries of fellow attendees. Remember to practice good festival etiquette, such as not pushing or shoving, and be aware of your surroundings.
Try Something New: Step out of your musical comfort zone and check out artists and bands you may not be familiar with. Aftershock is an opportunity to discover new music and expand your musical horizons.
Take Breaks and Pace Yourself: With the non-stop music and activities, it's important to take breaks and pace yourself throughout the day. Take time to rest, eat, and recharge to ensure you have the energy to enjoy the entire festival.
Keep Important Items Secure: Keep your belongings secure at all times. Use lockers, if available, to store valuable items. Avoid carrying unnecessary items and only bring what you need for the day.
By following these tips, you can maximize your Aftershock Music Festival experience and create unforgettable memories that will last a lifetime. Embrace the music, the atmosphere, and the community, and get ready for an epic adventure that you won't soon forget!
Conclusion
Aftershock Music Festival is not just a music event; it's an immersive experience that ignites the senses and leaves a lasting impact on attendees. From its humble beginnings to its current status as a powerhouse festival, Aftershock has consistently delivered exceptional lineups, unforgettable performances, and a vibrant atmosphere that keeps fans coming back for more.
Immersing yourself in the rich history and culture of Aftershock Music Festival, you become part of a community that celebrates the power of music and embraces the diversity of rock, metal, and alternative genres. Whether you're headbanging to your favorite band, savoring culinary delights, exploring captivating art installations, or connecting with fellow music enthusiasts, Aftershock offers an all-encompassing experience that transcends the ordinary.
To make the most out of your Aftershock adventure, it's essential to plan ahead, familiarize yourself with the festival grounds, and take advantage of the various amenities and attractions available. Stay informed about safety and security measures, and be mindful of your fellow attendees to create a welcoming and respectful environment for all.
As you step into the world of Aftershock Music Festival, be prepared for an electrifying journey filled with sensational performances, vibrant experiences, and lifelong memories. Allow the music to resonate through your soul, connect with fellow music lovers, and embrace the powerful energy that unites us all. Aftershock Music Festival is more than a festival; it's an extraordinary celebration of music, art, and community that will leave an indelible mark on your heart.