The Best Time To Visit Chicago For Every Traveler – Be My Travel Muse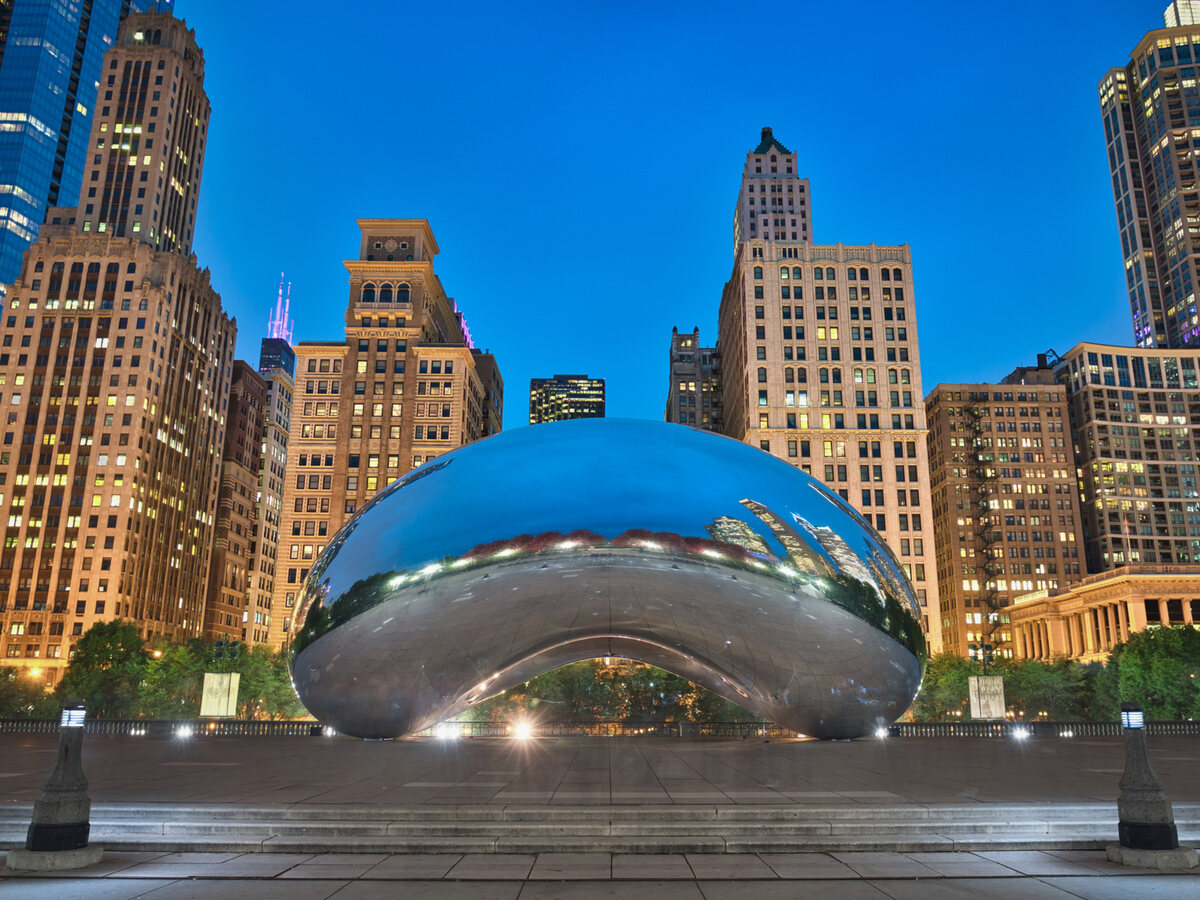 Introduction
Chicago, the vibrant and bustling city nestled on the shores of Lake Michigan, offers a unique blend of culture, history, and stunning architecture. Whether you're a foodie looking to indulge in deep-dish pizza and Chicago-style hot dogs, an art aficionado eager to explore renowned museums and galleries, or an outdoor enthusiast seeking recreational activities along the lakefront, Chicago has something for everyone.
With its distinct seasons, each offering its own charm and attractions, choosing the best time to visit Chicago can greatly enhance your travel experience. From the blooming flowers of spring to the cozy winter festivities, there is no shortage of options to explore and immerse yourself in the city's vibrant atmosphere.
Before deciding on the ideal time for your Chicago adventure, it's important to consider your preferences and interests. Do you enjoy outdoor activities, or are you more inclined towards indoor attractions? Are you a budget-conscious traveler looking for the best deals, or do you prioritize attending festivals and events? To help you plan your trip, we've compiled a guide to the best time to visit Chicago for every type of traveler.
So, delve into this comprehensive guide and discover the perfect time to experience the Windy City's myriad of wonders. Whether you're planning a romantic weekend getaway, a leisurely family vacation, or a solo exploration, there's a time to suit every traveler's dreams in Chicago.
Spring in Chicago
As the harsh grip of winter loosens its hold, Chicago begins to bloom with colorful flowers and rejuvenated energy during the spring season. From late March to early June, the city comes alive with beautiful blossoms and a plethora of outdoor activities.
One of the highlights of spring in Chicago is the annual Chicago Flower & Garden Show, held at Navy Pier. This magnificent event showcases stunning floral displays, landscape designs, and horticultural exhibits that are sure to delight any nature lover.
Spring is also a great time to explore the city's parks and gardens, as they burst with vibrant colors and aromatic scents. The iconic Millennium Park, with its famous "Cloud Gate" sculpture, becomes even more enchanting as the surrounding gardens blossom. The Lincoln Park Conservatory is another must-visit destination, with its tropical plants and exquisite flower collections.
Outdoor enthusiasts can take advantage of the pleasant weather by cycling or walking along the scenic Lakefront Trail. This 18-mile path offers breathtaking views of Lake Michigan, lush green spaces, and access to many of the city's iconic attractions, including Navy Pier and the Museum Campus.
Springtime in Chicago also marks the start of baseball season. Head to Wrigley Field or Guaranteed Rate Field and immerse yourself in the lively atmosphere of a Chicago Cubs or Chicago White Sox game. The excitement and camaraderie of the fans make for an unforgettable experience.
Keep in mind that spring weather in Chicago can be unpredictable, with occasional showers and temperature fluctuations. It's a good idea to pack layers and a raincoat to be prepared for any weather changes.
Whether you're strolling through the blooming gardens, cheering at a baseball game, or simply enjoying the pleasant breezes along the lakefront, spring in Chicago offers a delightful mix of outdoor adventures and cultural experiences.
Summer in Chicago
Summer in Chicago is synonymous with blue skies, warm temperatures, and an electrifying atmosphere. From June to August, the city comes alive with a multitude of outdoor activities, festivals, and events that make it an ideal time to visit.
One of the highlights of summer in Chicago is the Taste of Chicago festival, an epic gathering of culinary delights from around the city. Sample mouthwatering dishes from various restaurants and food vendors while enjoying live music performances and cultural entertainment.
The city's lakefront beaches, including North Avenue Beach and Oak Street Beach, become popular destinations during the summer months. Relax on the sandy shores, take a dip in Lake Michigan, or engage in water sports such as kayaking, paddleboarding, and jet skiing.
Another must-visit attraction during summer is Millennium Park's Jay Pritzker Pavilion, which hosts a variety of free outdoor concerts and performances. From classical music to jazz, blues, and indie bands, the park's summer concert series offers something for every musical taste.
For art enthusiasts, the Grant Park Art Festival is a celebration of creativity and talent. Browse through the work of local and international artists, find unique pieces to add to your collection, and immerse yourself in the vibrant artistic scene of Chicago.
If you're a sports fan, catching a Chicago Cubs baseball game at Wrigley Field is a quintessential summer experience. Feel the energy of the crowd as you cheer on the home team and savor the nostalgia of this beloved historic stadium.
With its perfect blend of warm weather and a plethora of activities, summer in Chicago is the ideal time to explore the city's outdoor offerings, savor its culinary delights, and immerse yourself in its cultural scene.
Fall in Chicago
With the arrival of autumn, Chicago transforms into a picturesque landscape of vibrant colors and crisp air. From September to November, the city's parks, neighborhoods, and streets are adorned with the stunning hues of fall foliage, making it a captivating time to visit.
One of the highlights of fall in Chicago is the Chicago International Film Festival, attracting cinephiles from around the globe. Experience the magic of the silver screen as you watch thought-provoking films, attend screenings, and engage in discussions with filmmakers.
The city's renowned museums and galleries also offer a wealth of artistic and cultural experiences during the fall season. Explore the Art Institute of Chicago, home to an impressive collection of artworks spanning centuries, or immerse yourself in contemporary exhibits at the Museum of Contemporary Art.
As Halloween approaches, Chicago embraces the spirit of the holiday with various spooky events and activities. Take a ghost tour to discover the city's haunted history or visit one of the many haunted houses and attractions that pop up throughout the city.
Food lovers will delight in the Chicago Gourmet Festival, a celebration of the city's culinary scene. Indulge in delectable dishes prepared by renowned chefs, attend cooking demonstrations, and savor the flavors of fall.
For those interested in architecture and design, the Chicago Architecture Biennial is a must-visit event. Explore innovative installations, attend lectures and workshops, and gain a deeper understanding of the city's rich architectural heritage.
Fall in Chicago also offers a pleasant climate, perfect for exploring the city on foot or bike. Enjoy leisurely strolls along the Riverwalk, take in the panoramic views from the Willis Tower Skydeck, or visit the vibrant neighborhoods such as Lincoln Park and Wicker Park.
With its stunning foliage and an array of cultural events and attractions, fall in Chicago provides a captivating and culturally rich experience for visitors.
Winter in Chicago
Winter in Chicago may bring chilly temperatures, but it also brings a magical atmosphere and a host of seasonal activities that make it a captivating time to visit. From December to February, the city is transformed into a winter wonderland, offering unique experiences that are sure to warm your heart.
One of the iconic attractions during winter is the Christkindlmarket, a traditional German-inspired Christmas market held in Daley Plaza. Explore the festive stalls, sip on warm mulled wine, indulge in delicious treats, and shop for unique holiday gifts.
Millennium Park also becomes a winter paradise with the McCormick Tribune Ice Rink. Glide gracefully across the ice as you take in the breathtaking views of the city skyline. If ice skating isn't your thing, you can simply enjoy the rinkside atmosphere and cheer on the skaters.
The city's theaters come alive during the winter months with enchanting holiday performances. Catch a classic like "The Nutcracker" at the Joffrey Ballet or enjoy a heartwarming play at one of the many theater venues in the city.
For sports enthusiasts, winter means basketball season in Chicago. Head to the United Center and cheer on the Chicago Bulls as they showcase their skills on the court. The electric atmosphere of a basketball game is a quintessential Chicago experience.
Winter in Chicago is also a time for culinary delights. Warm up with a steaming bowl of hearty Chicago-style chili or indulge in a piping hot deep-dish pizza. The city's diverse food scene ensures that there's something to satisfy every palate.
While exploring the city, make sure to take in the stunning holiday lights and decorations that adorn the streets and buildings. The Magnificent Mile, in particular, becomes a dazzling spectacle with its festive displays and vibrant energy.
While the weather can be cold, there's no denying the charm and unforgettable experiences that winter in Chicago offers. From holiday festivities to cozy indoor activities, it's a season that truly captures the spirit of the city.
Festivals and Events
Throughout the year, Chicago hosts a wide array of festivals and events that showcase the city's vibrant culture and diverse communities. No matter when you visit, chances are you'll stumble upon a lively celebration or a captivating event. Here are some of the top festivals and events that you can look forward to in Chicago:
1. Chicago Blues Festival: Held annually in June, this is the largest free blues festival in the world. Experience the soulful sounds of renowned blues musicians as they take the stage in Grant Park, paying tribute to the city's rich musical heritage.
2. Lollapalooza: A premier music festival held in Grant Park in August, Lollapalooza features a lineup of top artists from various genres. Dance to the beats of your favorite bands and soak in the lively atmosphere of this iconic event.
3. Chicago Air and Water Show: Taking place in August along the lakefront, this thrilling event showcases aerial acrobatics, water stunts, and military aircraft displays. Watch in awe as planes soar through the sky and jets create impressive water formations over Lake Michigan.
4. Chicago Jazz Festival: Celebrating the city's rich jazz history, this festival brings together jazz musicians from around the world. Enjoy free outdoor concerts in Millennium Park and immerse yourself in the smooth rhythms and improvisations of this quintessential American genre.
5. Chicago Pride Parade: Held in June, the Pride Parade is a colorful and joyous celebration of the LGBTQ+ community. Join the vibrant parade as it winds through the city streets, spreading love, acceptance, and equality.
6. Taste of Chicago: A food lover's paradise, this festival held in July gathers the city's top restaurants and food vendors, offering a delectable selection of cuisines. Indulge in a variety of dishes, enjoy live music performances, and revel in the festive atmosphere.
7. Chicago Marathon: Taking place in October, the Chicago Marathon attracts runners from around the world to conquer the city's iconic course. Cheer on the participants along the route and feel the electric energy of this major sporting event.
Note that the dates and details of these events may vary from year to year, so it's recommended to check the official websites for up-to-date information prior to your visit.
Immerse yourself in the vibrant spirit of Chicago by attending one of these festivals or events. They offer a perfect opportunity to connect with the local community, celebrate diverse cultures, and create wonderful memories during your visit.
The Best Time for Budget Travelers
If you're a budget-conscious traveler, choosing the right time to visit Chicago can significantly impact your expenses. Here are a few tips on the best time to visit for those seeking to stretch their travel budget:
1. Off-peak season: Consider visiting Chicago during the shoulder seasons of spring (March to May) and fall (September to November). During these months, you can often find discounted hotel rates and lower airfare prices compared to the peak summer season.
2. Weekdays vs. weekends: Opt for visiting Chicago during the weekdays rather than weekends, as hotels and attractions tend to offer lower rates during the week. Additionally, weekdays are typically less crowded, allowing you to enjoy popular attractions without the long queues.
3. Winter months: While winters in Chicago can be cold, they also present an opportunity for budget travelers. Hotel rates tend to be lower during the winter months, especially in December and January. Consider visiting during this time and take advantage of seasonal sales and discounts.
4. Free attractions: Take advantage of Chicago's many free attractions. Visit iconic landmarks like Millennium Park, where you can marvel at the Cloud Gate sculpture and attend free concerts and events at the Jay Pritzker Pavilion. Explore the Art Institute of Chicago for free on certain days of the week, and wander through neighborhood festivals and street markets that offer free entertainment and affordable local eats.
5. Public transportation: Chicago has an extensive public transportation system that is not only affordable but also convenient. Utilize the Chicago Transit Authority (CTA) buses and trains to get around the city at a fraction of the cost of taxis or rideshares.
6. Dining options: To save on dining expenses, opt for budget-friendly eateries and local favorites. Dive into Chicago-style hot dogs and indulge in delicious deep-dish pizza at neighborhood pizzerias. Look out for happy hour specials or prix-fixe menus at restaurants to get a taste of Chicago's culinary scene without breaking the bank.
By planning your visit during off-peak times, taking advantage of free attractions, and exploring budget-friendly dining options, you can experience the best of Chicago without straining your wallet. With a little creativity and research, you can enjoy the city's vibrant atmosphere and cultural offerings while staying within your travel budget.
The Best Time for Sightseeing
When it comes to sightseeing in Chicago, timing is key. To make the most of your sightseeing adventures and explore the city's iconic landmarks and attractions, here are the best times to visit:
1. Spring and fall: Spring (March to May) and fall (September to November) offer pleasant temperatures and milder weather, making them ideal seasons for sightseeing. During these months, you can enjoy comfortable temperatures as you navigate the city on foot or by bike, without the extremes of summer heat or winter cold.
2. Early mornings: Beat the crowds and experience popular attractions in a more peaceful setting by starting your sightseeing adventures early in the morning. This is especially true for popular attractions like the Cloud Gate sculpture in Millennium Park or the Skydeck at Willis Tower. Arriving early allows you to take in the sights at your own pace and capture stunning photographs without the hustle and bustle of the crowds.
3. Weekdays: If your schedule permits, consider visiting Chicago's main attractions on weekdays rather than weekends. This can help you avoid larger crowds and enjoy a more relaxed experience. Museums, parks, and architectural landmarks tend to be less crowded during weekdays, allowing you to fully appreciate the surroundings without feeling rushed.
4. Evening and nighttime: For a unique perspective of the city, consider exploring Chicago's landmarks in the evening and nighttime. The city's skyline comes alive with stunning lights, creating a magical ambiance. Take a nighttime river cruise to admire the illuminated architecture, or visit the Navy Pier to enjoy the fireworks display that takes place regularly during the summer months.
5. Special events and exhibitions: Keep an eye out for special events and exhibitions that may enhance your sightseeing experience. From temporary art installations to photography exhibits, there are often limited-time offerings that can add an extra layer of excitement to your visit. Check museum websites and local event calendars to stay updated on upcoming events that align with your interests.
By choosing the right season, visiting during less crowded times, and taking advantage of early mornings or evening hours, you can optimize your sightseeing experience in Chicago. Plan your itinerary strategically to ensure you have enough time to explore each attraction at your own pace and make lasting memories of the city's iconic landmarks.
The Best Time for Outdoor Activities
For outdoor enthusiasts, Chicago offers a plethora of recreational activities to enjoy throughout the year. Whether you're looking to explore the city's parks, bike along the lakefront, or engage in water sports, here are the best times to visit Chicago for outdoor adventures:
1. Summer (June to August): The summer months are prime time for outdoor activities in Chicago. With warm temperatures and longer daylight hours, you can take full advantage of the city's outdoor offerings. Explore the expansive Lakefront Trail by foot or bike, indulge in water activities such as kayaking or paddleboarding on Lake Michigan, or simply relax on one of the city's inviting beaches.
2. Spring and fall: Spring (March to May) and fall (September to November) also provide excellent opportunities for outdoor activities in Chicago. The milder temperatures make it pleasant to explore the city's parks and gardens, such as the iconic Millennium Park or the scenic Lincoln Park. Take a leisurely stroll along the Riverwalk or rent a bike to enjoy the vibrant colors of the changing seasons.
3. Early mornings and weekdays: To avoid crowds and have a more serene outdoor experience, consider venturing out early in the morning or on weekdays. This is particularly enjoyable during the summer when popular outdoor spaces, like Millennium Park, can get crowded later in the day. Starting your day early allows you to fully appreciate the peacefulness of the city's outdoor attractions.
4. Winter activities: Don't let the cold deter you from outdoor activities in Chicago during the winter. Embrace the season by going ice skating at the McCormick Tribune Ice Rink in Millennium Park or enjoying winter sports like cross-country skiing or snowshoeing in the city's parks. Add a touch of magic to your outdoor experience by visiting the city's winter festivals and events, such as the Christkindlmarket.
5. Festivals and events: Keep an eye out for outdoor festivals and events that take place throughout the year in Chicago. From neighborhood street fairs to music festivals, these events offer a great opportunity to soak up the outdoor atmosphere while enjoying live performances, local food, and engaging activities.
Remember to check the weather forecast and dress accordingly for your outdoor activities. Whether it's a sunny day at the beach or a snowy adventure in the park, Chicago provides plenty of options to satisfy your craving for outdoor recreation.
The Best Time for Food and Drinks
With its vibrant culinary scene, Chicago is a food-lover's paradise. From deep-dish pizza and Chicago-style hot dogs to globally-inspired cuisine and craft cocktails, the city offers a delicious array of dining options. To experience the best of Chicago's food and drinks, here are the optimal times to visit:
1. Summer festivals: Chicago comes alive with food festivals and outdoor food events during the summer months. The Taste of Chicago festival, held in July, is a must-visit for food enthusiasts. It showcases the city's diverse culinary offerings, allowing you to sample dishes from a wide range of restaurants and food vendors. Additionally, many neighborhoods host their own food festivals where you can indulge in local specialties and cultural delights.
2. Farmers markets: Visit Chicago's farmers markets, which are in full swing during the warmer months from May to September. Explore the stalls brimming with fresh local produce, artisanal products, and homemade treats. The Green City Market and the Logan Square Farmers Market are just a couple of the popular options where you can pick up ingredients for a picnic or sample gourmet foods.
3. Restaurant week: Twice a year, in January and August, Chicago holds its annual Restaurant Week. This event offers the opportunity to try some of the city's top restaurants at a discounted price. Enjoy prix-fixe menus that showcase the culinary talents of renowned chefs and experience the city's dining scene without breaking the bank.
4. Craft breweries and cocktail bars: Chicago is home to a burgeoning craft beer and cocktail scene. Take advantage of happy hour specials and visit craft breweries and cocktail bars during weekdays to enjoy deals on drinks and appetizers. Explore neighborhoods like Logan Square, West Loop, and Pilsen to discover trendy spots offering unique libations.
5. Winter comfort food: Embrace the winter season in Chicago by indulging in hearty comfort foods. From steaming bowls of Chicago-style chili to warm and cheesy deep-dish pizzas, winter is the perfect time to savor these iconic Chicago dishes. Cozy up in a neighborhood pub or restaurant and enjoy the warm ambiance as you savor the city's culinary delights.
6. Brunch: Weekends are the ideal time to experience Chicago's brunch culture. Many restaurants and cafes offer an array of brunch options, from classic American breakfast fare to creative twists on traditional dishes. Join locals in the morning for a leisurely brunch experience paired with a cup of coffee or a refreshing mimosa.
Whether you're a gastronomic adventurer or looking to try classic Chicago dishes, visiting during food festivals, farmers market seasons, and restaurant weeks can enhance your culinary experience in Chicago. Take the time to explore the city's diverse food scene and enjoy the flavors that make Chicago a destination for food lovers.
Conclusion
Chicago is a city of endless possibilities, offering a rich tapestry of experiences for every type of traveler. Whether you're visiting for the vibrant festivals, exploring the world-class museums, indulging in the diverse culinary scene, or simply taking in the iconic skyline, the Windy City has something to captivate and inspire everyone.
Each season in Chicago holds its own unique charm and attractions. Spring unveils blooming flowers and the promise of new beginnings. Summer brings sunshine, outdoor festivals, and lively energy. Fall paints the city in stunning hues, creating a picturesque scene. Winter blankets Chicago in snow and brings forth a sense of wonder and cozy warmth.
When it comes to choosing the best time to visit, consider your preferences, interests, and budget. Spring and fall offer pleasant weather and fewer crowds, making them ideal for sightseeing and outdoor activities. Summers are perfect for beach days and enjoying the city's festivals and concerts. Winter provides a magical experience with holiday lights, ice-skating, and seasonal festivities.
Whatever time you choose to visit, Chicago welcomes you with open arms and a vibrant spirit. It's a city that embraces its heritage, celebrates its diverse communities, and offers a wealth of experiences for every traveler. From the iconic landmarks to the hidden gems, immerse yourself in the culture, history, and culinary delights that make Chicago a destination unlike any other.
So, pack your bags, lace up your shoes, and get ready to embark on an unforgettable adventure in the Windy City. Chicago awaits, ready to charm you with its architectural marvels, cultural treasures, and the warm hospitality of its residents. Embrace the spirit of adventure, explore the city's many facets, and create memories that will last a lifetime.