Havasu Falls Camping Guide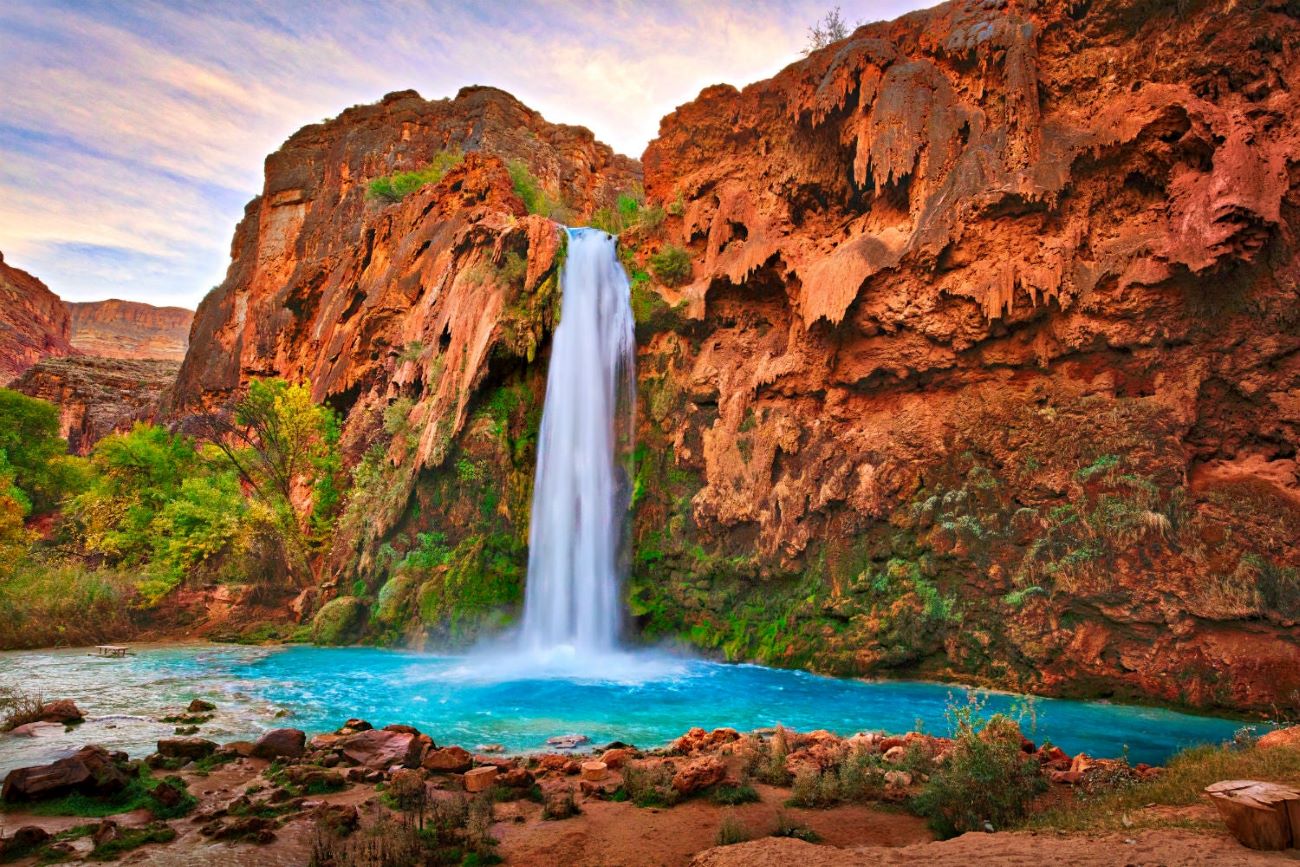 Introduction
Welcome to the ultimate Havasu Falls camping guide! If you're seeking an awe-inspiring adventure that combines breathtaking natural beauty with outdoor exploration, then Havasu Falls is the perfect destination for you.
Located in the remote Havasupai Indian Reservation within Arizona's Grand Canyon, Havasu Falls is a hidden gem that will capture your heart and leave you with unforgettable memories. The striking turquoise water cascading over red rock cliffs creates a surreal and picturesque landscape that will take your breath away.
Known as one of the most beautiful waterfalls in the world, Havasu Falls offers a unique opportunity to camp at the base of the falls, surrounded by the tranquility of nature. This guide aims to provide you with all the essential information you need to plan, prepare, and embark on your Havasu Falls camping adventure.
Whether you're a seasoned outdoor enthusiast or a first-time camper, this guide will help you navigate the logistics, understand the reservation and permit process, and ensure you have all the necessary camping gear and supplies for a successful trip. Additionally, we'll provide you with insider tips and recommendations for exploring the area and making the most of your Havasu Falls experience.
Get ready to immerse yourself in the stunning beauty of Havasu Falls, hike scenic trails, swim in crystal-clear turquoise waters, and camp under the starry desert sky. From the moment you arrive, you'll understand why Havasu Falls is a bucket-list destination for nature lovers and adventure seekers from around the world.
So, pack your bags, grab your hiking boots, and let's dive into the enchanting world of Havasu Falls camping!
Planning Your Trip
Planning is the key to a successful and enjoyable Havasu Falls camping trip. Taking the time to carefully plan and prepare will ensure that you have a smooth adventure. Here are some important factors to consider when planning your trip:
Choose the Right Time: The best time to visit Havasu Falls is during the spring and fall seasons when the weather is mild and the water levels are typically higher. Avoid visiting during the summer months when temperatures can soar, and flash floods are more likely to occur.
Duration of Trip: Decide how many days and nights you want to spend at Havasu Falls. Keep in mind that the journey to the falls and back requires time, so plan accordingly.
Group Size: Determine the number of people in your camping group. This will help you determine the amount of camping gear, food, and supplies needed for the trip.
Fitness Level: Consider the physical demands of the trip. The hike to the campground is approximately 10 miles, which can be challenging for some. Ensure that everyone in your group is physically prepared for the journey.
Budget: Determine your budget for the trip, including camping permits, transportation, camping gear, food, and other expenses. Keep in mind that camping permits can be quite expensive, especially during peak seasons.
Obtain a Permit: Camping at Havasu Falls requires a permit, which can be obtained through the official Havasupai Tribe website. Permits often sell out quickly, so it's important to book well in advance.
Research Camping Policies: Familiarize yourself with the camping policies and regulations set by the Havasupai Tribe. This includes rules regarding campfires, waste disposal, and hiking safety.
By considering these factors and thoroughly planning your trip, you will be well-prepared for your Havasu Falls camping adventure. Now, let's delve into the next crucial step: making reservations and obtaining permits.
Reservations and Permits
Securing reservations and permits is an essential part of planning your Havasu Falls camping trip. Due to the high demand and limited availability, it's crucial to book well in advance and ensure you have the necessary permits. Here's what you need to know:
Booking a Reservation: Reservations for Havasu Falls camping can be made through the official Havasupai Tribe website. The reservation system typically opens on a specific date each year, and permits are released for various months. It's recommended to be online and ready to book as soon as reservations open, as they can sell out within minutes.
Types of Permits: There are different permit options available, including overnight permits, day hiking permits, and extended-stay permits. Overnight permits allow you to camp at the campground, while day hiking permits are for those who wish to hike to the falls and back in a single day. Extended-stay permits are for visitors who want to stay longer than the typical overnight limit.
Permit Fees: The permits come with a fee, which covers the cost of camping and land use within the Havasupai Indian Reservation. The fees vary depending on the length of your stay and whether you are a tribal member or non-tribal member. It's important to account for these fees when budgeting for your trip.
Cancellation and Changes: The Havasupai Tribe has specific cancellation and change policies. If your plans change and you need to cancel or modify your reservation, be sure to review their policies and contact their office for assistance. Keep in mind that cancellations may not always be refundable.
Visitor Limit: The Havasu Falls campground has a maximum capacity limit. This is to ensure environmental conservation and maintain a serene camping experience. Make sure you are aware of the maximum number of people allowed per reservation and plan your group size accordingly.
Additional Fees: In addition to camping permits, there may be additional fees for things like parking, helicopter transportation, and reservations for the campground's picnic area. Be sure to check the official website for any additional fees and requirements.
Remember, securing your reservations and permits early is vital to guarantee your spot at the campground. Once you have obtained your permits, it's time to prepare for the journey and gather all the necessary camping gear and supplies.
Getting to Havasu Falls
Getting to Havasu Falls requires a bit of effort and planning, but the journey is part of the adventure. Here are the main steps involved in reaching this breathtaking destination:
Arriving at the Trailhead: The trailhead for Havasu Falls is located at Hualapai Hilltop, which is about a 4-hour drive from either Las Vegas, Nevada, or Phoenix, Arizona. Once you reach the trailhead, park your vehicle in the designated parking area and prepare for the hike.
Hiking to the Village: From Hualapai Hilltop, you'll begin your hike towards the Havasupai Indian Village, which is approximately 8 miles away. The trail descends steeply into the canyon, so be prepared for a challenging but rewarding hike. Along the way, you'll be treated to breathtaking views of the surrounding landscapes.
Reaching Supai Village: Once you arrive at the Havasupai Indian Village, check in at the tourism office to register and collect your camping permits. This is also where you'll pay any additional fees and obtain important information about camping rules and regulations. From the village, it's another 2 miles to the campground.
Hiking to the Campground: The final leg of the journey consists of a 2-mile hike from Supai Village to the Havasu Falls campground. This section of the trail offers stunning views of the canyon and the turquoise waters of Havasu Creek. Take your time, enjoy the scenery, and stay hydrated along the way.
Helicopter Option: If hiking the entire way is not feasible for you, or if you prefer a quicker option, you have the choice to take a helicopter from Hualapai Hilltop to the Supai Village. This heliport service is operated by the Havasupai Tribe and is available for an additional fee. Be sure to check the flight schedule and make reservations in advance.
It's important to note that the hike to Havasu Falls is considered moderately strenuous and requires good physical fitness. Prepare yourself with proper hiking gear, plenty of water, snacks, and sunscreen. It's also advisable to familiarize yourself with a map of the trail and carry a first-aid kit for emergencies.
Now that you know how to reach Havasu Falls, let's move on to the next section where we'll discuss the essential camping gear and supplies you'll need for your adventure.
Camping Gear and Supplies
When camping at Havasu Falls, it's essential to come well-prepared with the right gear and supplies to ensure a comfortable and enjoyable experience. Here is a list of essential camping gear and supplies to consider for your trip:
Tent: Choose a sturdy and waterproof tent that can accommodate the size of your camping group. Make sure to set it up properly to protect against potential rain and wind.
Sleeping Bag and Sleeping Pad: Invest in a quality sleeping bag that suits the temperature range of your visit. Additionally, a sleeping pad or mattress will provide cushioning and insulation for a better night's sleep.
Cooking Equipment: Pack a lightweight camping stove, cooking utensils, and pots and pans for preparing meals. Remember to bring food storage containers and sealable bags to keep your food secure and safe from wildlife.
Water Filtration System: Since potable water is limited in the campground, bring a reliable water filtration or purification system to ensure a continuous supply of clean drinking water.
Camp Chairs and Table: Relax and enjoy the beautiful surroundings by bringing foldable camp chairs and a compact camping table. These will provide a comfortable space for meals and relaxation at your campsite.
Headlamp or Flashlight: A reliable light source is essential for navigating the campground, especially during nighttime visits to the waterfalls or when using the restroom facilities.
First-Aid Kit: Always have a well-stocked first-aid kit that includes supplies for treating minor injuries, blisters, and any other medical emergencies that may arise during your trip.
Clothing and Personal Items: Pack appropriate clothing for the weather conditions, including layers, rain gear, and sturdy hiking shoes. Don't forget toiletries, sunscreen, bug repellent, and any prescription medications you may need.
Camping Essentials: Other important items include a camping knife, fire starter, extra batteries, a portable charger for electronic devices, a compass or GPS, and a map of the area.
Make sure to distribute the weight of your gear evenly among your group and pack efficiently to maximize space. It is also essential to pack out everything you bring in and follow the Leave No Trace principles to preserve the pristine beauty of Havasu Falls.
Now that you're equipped with the necessary camping gear and supplies, it's time to set up camp and explore everything that Havasu Falls has to offer. Read on to the next section to learn about setting up camp at the Havasu Falls campground.
Setting Up Camp
Arriving at the Havasu Falls campground is an exciting moment. Here are some tips to help you set up camp for a comfortable and enjoyable stay:
Choosing a Campsite: The campground is divided into several sections, and campsites are available on a first-come, first-served basis. Take your time to explore the campground and choose a site that suits your preferences. Look for level ground, proximity to water sources, and shade if possible.
Pitching Your Tent: Once you've selected your campsite, start by clearing the area of any rocks or debris that can puncture your tent. Follow the instructions provided with your tent to set it up securely. Make sure to stake it properly and use guy lines if necessary to withstand potential wind and rain.
Organizing Your Campsite: Create separate zones within your campsite for sleeping, cooking, and relaxation. Keep your gear and supplies organized in designated areas to maintain cleanliness and avoid attracting wildlife. Consider using tarps or ground cloths under your tent and cooking area for added protection.
Food Storage: It's crucial to store your food securely to prevent wildlife encounters. Use bear-proof food storage containers or hang your food in a designated area away from your campsite. Follow the camping policies regarding food storage to ensure the safety of both humans and wildlife.
Setting Up a Campfire: Campfires are allowed in designated fire rings, but be mindful of fire regulations that may be in place. Use only dead and downed wood for your fire and completely extinguish it before leaving the area or going to bed. Remember, firewood is not provided, so you'll need to bring your own.
Respecting Quiet Hours: The campground has established quiet hours to ensure a peaceful atmosphere for all campers. Respect these hours and keep noise to a minimum during the designated times to allow everyone to enjoy the serenity of the surroundings.
Water and Sanitation: There are shared restrooms and basic shower facilities available in the campground. Be mindful of water usage and maintain cleanliness to preserve the environment and ensure the comfort of other campers. Always practice proper hygiene and leave the facilities clean for the next person.
Responsible Waste Management: Follow the Leave No Trace principles and carry out all waste from your campsite. Bring ample garbage bags for trash, and consider bringing reusable containers for non-biodegradable waste. Dispose of waste in designated areas or pack it out with you.
By setting up camp responsibly and following these guidelines, you'll contribute to the preservation of Havasu Falls' natural beauty and ensure a pleasant camping experience for yourself and future visitors. Now that your campsite is ready, it's time to explore the magnificent Havasu Falls area and all its wonders.
Campground Facilities
The Havasu Falls campground offers a range of facilities to enhance your camping experience. Here are some of the amenities and services available to campers:
Restroom Facilities: The campground provides shared restroom facilities that include flushing toilets and sinks. These facilities are regularly cleaned and maintained, ensuring a level of comfort and hygiene.
Showers: Basic shower facilities are also available within the campground. Keep in mind that there may be a small fee to use the showers, and water usage should be kept to a minimum to conserve resources.
Trash Receptacles: Throughout the campground, you'll find designated trash receptacles where you can dispose of your waste. It is important to properly separate trash and recyclables and dispose of them in the appropriate containers.
Water Sources: There are natural water sources such as Havasu Creek and a few spigots within the campground. It's important to treat or filter the water before consuming it to prevent any waterborne illnesses.
Picnic Areas: The campground features picnic areas where you can enjoy your meals or simply relax and take in the scenic beauty of the surroundings. These areas often have tables, benches, and shade structures.
Campground Office: There is a campground office located in the Havasupai Indian Village where you can check-in, obtain your camping permits, pay any additional fees, and receive information about camping rules and regulations.
Ranger Station: Campers can find a ranger station in the Havasupai Indian Village. The rangers are available to provide assistance, answer questions, and offer guidance on hiking trails and safety measures.
While the campground facilities provide convenience and comfort, it's important to be mindful of the limited resources and practice responsible usage. Use water sparingly, respect quiet hours, and ensure proper waste disposal to help maintain the pristine beauty of Havasu Falls.
Now that you know about the facilities available at the campground, let's explore the various points of interest and hiking trails in the Havasu Falls area.
Exploring the Havasu Falls Area
The Havasu Falls area is a paradise for nature enthusiasts, offering a variety of attractions and activities to explore. Here are some of the highlights you won't want to miss:
Havasu Falls: The main attraction and focal point of the area, Havasu Falls captivates visitors with its stunning turquoise waters plunging into a travertine pool below. Take the time to fully immerse yourself in the beauty of the falls, swim in the inviting pools, and relax on the sandy beaches.
Mooney Falls: Located approximately 0.5 miles downstream from Havasu Falls, Mooney Falls is a slightly more challenging but equally breathtaking waterfall. Descending down a series of steep ladders and narrow pathways, you'll be rewarded with a view of the stunning 200-foot waterfall.
Beaver Falls: For those looking to venture a bit farther, a hike of approximately 3 miles downstream from Mooney Falls will lead you to Beaver Falls. This series of cascading waterfalls and pools offers a picturesque setting for swimming, sunbathing, and enjoying the natural beauty surrounding you.
New Navajo Falls: Following a flash flood in 2008, the original Navajo Falls transformed, and New Navajo Falls emerged. It consists of a series of small waterfalls and pools, creating a serene and peaceful environment for relaxation and enjoyment.
Exploring Havasu Creek: Along the trails to the various falls, take the time to explore the stunning Havasu Creek. This crystal-clear creek flows through the canyon, offering opportunities for wading, soaking your feet, or simply taking in the tranquil atmosphere.
Hiking and Backpacking: There are several hiking trails in the area, ranging from short and leisurely walks to longer and more challenging hikes. Consider hiking to the Carbonate Canyon, Cheyava Falls, or exploring the hidden gems of the area to make the most of your adventure.
Photography and Wildlife Viewing: With its breathtaking waterfalls, vibrant blue waters, and dramatic landscapes, the Havasu Falls area provides endless opportunities for photographers to capture stunning images. Additionally, keep your eyes peeled for a variety of wildlife that call this area home, including birds, rabbits, and perhaps even a glimpse of the elusive canyon dwellers such as bighorn sheep.
Remember to respect the natural environment, follow designated trails, and adhere to any signage or instructions from park rangers or tribal members. This ensures the preservation and safety of both visitors and the delicate ecosystem of the area.
Now that you're familiar with the incredible attractions in the Havasu Falls area, let's explore the hiking trails and points of interest that will take you on memorable adventures.
Hiking Trails and Points of Interest
Havasu Falls offers an array of hiking trails that will take you to breathtaking points of interest. Here are some notable trails and attractions to explore during your visit:
Havasu Falls Trail: This trail leads from the Havasupai Indian Village to the campground and offers stunning views of the canyon, the turquoise waters of Havasu Creek, and, of course, the magnificent Havasu Falls itself. It's a moderate hike that takes you through the heart of the Havasu Falls area.
Mooney Falls Trail: Continuing past Havasu Falls, the trail to Mooney Falls is more challenging and requires traversing steep ladders and narrow pathways. The reward is a breathtaking view of the 200-foot Mooney Falls, making it well worth the effort for adventurers seeking an adrenaline rush.
Beaver Falls Trail: For those looking to explore further downstream, the trail to Beaver Falls is a must-do. This hike takes you through beautiful landscapes, with opportunities to cross the creek, pass through small canyons, and reach the series of cascading Beaver Falls.
Carbonate Canyon Trail: A hidden gem in the area, the Carbonate Canyon Trail offers unique geological formations and the chance to witness rare fern gardens. This trail takes you through a slot canyon, providing a beautiful contrast to the other waterfalls in the Havasu Falls area.
Navajo Falls and Rock Falls: While the original Navajo Falls was transformed by a flash flood, remnants of it can still be seen. The area offers several small waterfalls and pools, as well as a slide rock where visitors can slide down into the pools below for a refreshing dip.
Cheyava Falls: For experienced hikers and backpackers looking for a longer adventure, the trail to Cheyava Falls offers a challenging and rewarding experience. This off-the-beaten-path trek takes you through rugged terrain, leading to a stunning 196-foot waterfall.
Remember to stay on designated trails, follow any posted signs or instructions, and be prepared with sufficient water, snacks, and appropriate footwear for hiking in a desert environment. Additionally, check with the Havasupai Tribe or the campground office for any trail closures, weather conditions, or additional guidance before embarking on longer or more challenging hikes.
Each trail in the Havasu Falls area offers its own unique beauty and rewards, allowing you to immerse yourself in the natural wonders of the Grand Canyon. Take your time, enjoy the journey, and create memories to last a lifetime.
Now that you have an idea of the hiking trails and points of interest available, let's move on to the important topic of safety tips and precautions to ensure a smooth and secure Havasu Falls camping experience.
Safety Tips and Precautions
While Havasu Falls offers unparalleled beauty and adventure, it's important to prioritize safety during your camping trip. Here are some essential safety tips and precautions to keep in mind:
Hiking Preparedness: Before heading out on any hike, ensure you have the appropriate gear, including comfortable hiking boots, sufficient water, sun protection, snacks, a map or GPS, and a first-aid kit. Familiarize yourself with the trail, its difficulty level, and the estimated time it will take to complete.
Hydration and Sun Protection: The desert environment can be harsh, so it's crucial to stay hydrated by drinking plenty of water. Bring a refillable water bottle and have access to water treatment options. Additionally, wear sunscreen, a hat, and protective clothing to shield yourself from the intense desert sun.
Flash Flood Awareness: Be aware of the potential for flash floods, especially during the monsoon season. Monitor weather conditions and pay attention to any flash flood warnings or advisories. If you encounter rising water or hear thunder, seek higher ground immediately and avoid entering narrow canyons or low-lying areas.
Wildlife Encounters: While wildlife encounters are rare, it's important to maintain a safe distance and avoid feeding or approaching any animals. Respect their natural habitat and remember that you are a visitor in their home. Secure your food properly to prevent attracting wildlife to your campsite.
Water Safety: Although the water in Havasu Falls may appear calm and inviting, strong currents can still be present, especially during flash floods or heavy rain. Use caution when swimming and avoid taking unnecessary risks. Always assess the water conditions and your swimming abilities before entering.
Emergency Preparedness: In case of emergencies, it's crucial to have a plan in place. Make sure someone knows your itinerary and expected return date. Carry a whistle and a signal mirror for communication. Familiarize yourself with the location of emergency services and be prepared to provide basic first aid if necessary.
Respect for the Environment: Practice Leave No Trace principles by minimizing your impact on the environment. Pack out all trash, dispose of waste in designated areas, and avoid disturbing the flora and fauna. Keep noise levels to a minimum to maintain a peaceful atmosphere for yourself and other campers.
By adhering to these safety tips and precautions, you can ensure a safe and enjoyable Havasu Falls camping experience. Always prioritize your well-being and the well-being of those around you throughout your trip.
Now that you're equipped with safety knowledge, let's discuss the importance of practicing Leave No Trace principles to preserve the natural beauty of Havasu Falls.
Leave No Trace Principles
Preserving the natural beauty of Havasu Falls and minimizing our impact on the environment is essential for the long-term sustainability of this incredible destination. By following the principles of Leave No Trace, we can ensure that future generations can also enjoy the beauty of this pristine area. Here are the key principles to keep in mind:
Plan Ahead and Prepare: Proper planning and preparation can greatly reduce the impact on the environment. Familiarize yourself with the rules and regulations of the campground and the surrounding area. Pack all necessary supplies, including food, water, and appropriate camping gear. Research the trails, weather conditions, and any potential hazards.
Travel and Camp on Durable Surfaces: Stick to established trails and camp only on designated areas within the campground. By minimizing unnecessary trampling of vegetation, we can protect fragile ecosystems. Stay on the path during hikes and avoid creating new trails. When setting up camp, choose flat and durable ground to minimize damage to the environment.
Dispose of Waste Properly: Pack out everything you bring in and leave no trace of your presence. Carry a small trash bag and ensure that all waste, including packaging, food scraps, and hygiene products, is properly disposed of. Use designated trash receptacles and follow any recycling guidelines provided.
Leave What You Find: Resist the temptation to take souvenirs or items from the natural surroundings. Leave rocks, plants, artifacts, and other elements as you found them, allowing future visitors to appreciate the area's untouched beauty. By respecting the natural environment, we can maintain the delicate balance of the ecosystem.
Minimize Campfire Impact: Follow specific regulations regarding campfires and fire rings. Use only dead and downed wood for fires, keep the fire small, and completely extinguish it before leaving. Avoid building new fire rings or damaging vegetation for firewood. Consider using a camping stove as a more sustainable alternative.
Respect Wildlife: Observe wildlife from a safe distance and resist the urge to feed or approach them. Maintain a respectful distance to minimize disturbance to their natural behaviors. Secure your food properly to prevent attracting wildlife to your campsite. Remember, we are the visitors in their home.
Be Considerate of Other Visitors: Respect the peace and solitude of fellow campers and hikers. Keep noise levels to a minimum, especially during quiet hours. Yield to others on trails and share the space with others, being mindful of their experience and enjoyment of the area.
By adhering to these Leave No Trace principles, we can protect the natural environment of Havasu Falls and ensure that its pristine beauty remains for future generations. Let's be responsible stewards of this remarkable destination.
Now that you understand the importance of Leave No Trace, it's time to wrap up our comprehensive Havasu Falls camping guide and prepare for an unforgettable adventure in this stunning corner of the Grand Canyon.
Conclusion
Congratulations! You now have all the essential information and tips you need to embark on an amazing camping adventure at Havasu Falls. From planning your trip and securing permits to setting up camp and exploring the breathtaking attractions, you are well-equipped to make the most of this extraordinary destination.
As you venture into the Havasu Falls area, immerse yourself in the beauty of the turquoise waters, majestic waterfalls, and stunning landscapes. Keep in mind the importance of safety, responsible camping practices, and following the Leave No Trace principles to preserve this natural wonder for future generations.
Whether you choose to hike to Havasu Falls, explore Mooney Falls, or venture to the lesser-known gems, each step of your journey will be filled with awe-inspiring moments and unforgettable experiences. Take the time to connect with nature, admire the intricate geology, and appreciate the unique culture and history of the Havasupai Tribe.
Remember, Havasu Falls is a special place that demands respect and appreciation. Approach your adventure with a sense of wonder and gratitude, and leave with cherished memories that will last a lifetime.
So, pack your gear, put on your hiking boots, and prepare for the adventure of a lifetime. Havasu Falls is waiting to welcome you with its picturesque beauty and serene ambiance. Now, go out and create the camping experience of your dreams at Havasu Falls!