Best Rock Climbing Places In The U.S.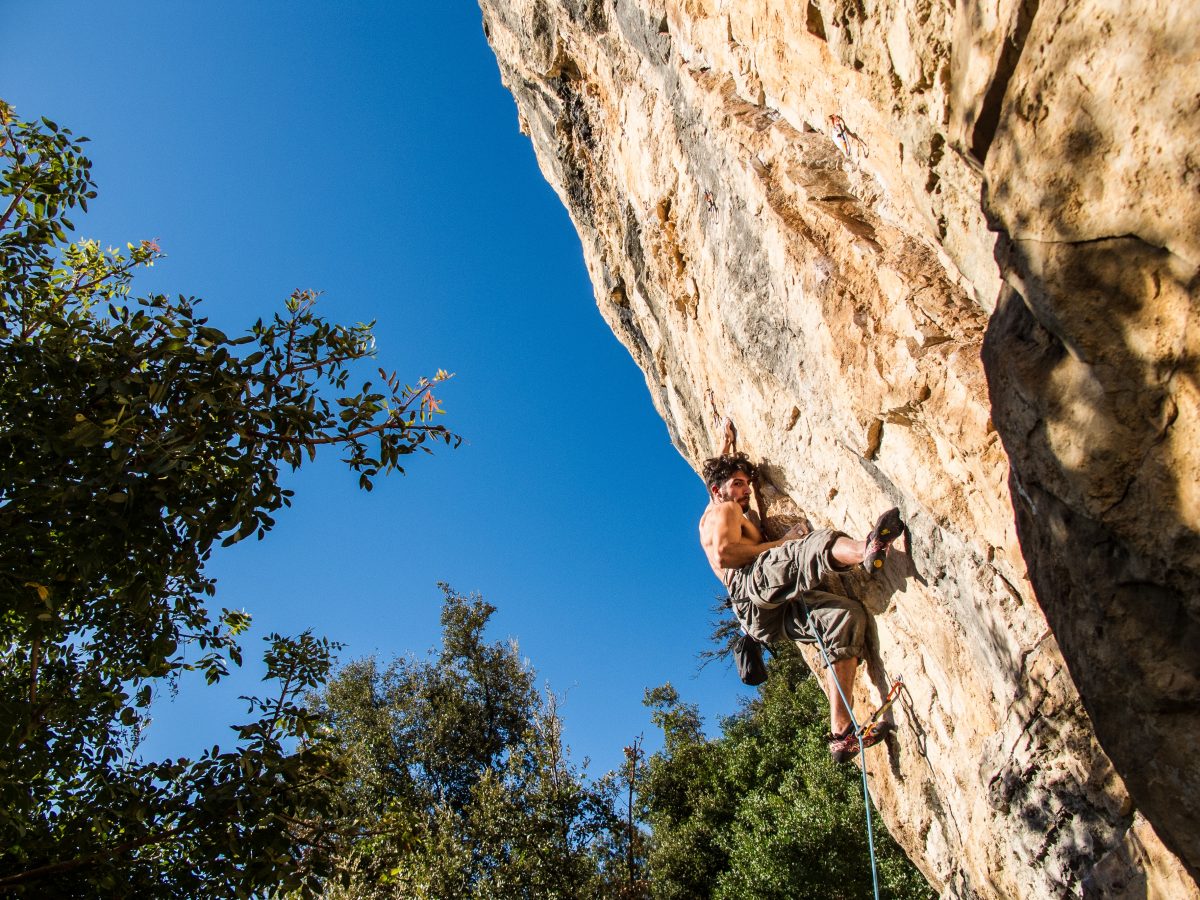 Some rock climbing destinations offer once in a lifetime climbing experiences. Others are known for their energetic nightlife or scenic beauty. Whichever you choose, rock climbing is a high-adrenaline sport that will give you a rush like no other.
Rock climbing is an incomparable experience. It takes every muscle in your body to edge your way upward. There's no time for your mind to wander. Combining physical strength with sharp focus, rock climbers scale to incredible heights all in the name of sport.
An intense rock climbing vacation in the U.S. is a great way to progress your skills while getting away on an active holiday but there are a couple of things you should know before you travel.
The History Of Rock Climbing
The earliest evidence of rock climbing comes from paintings of Chinese rock climbers which date back to 400BC. In Nepal, archaeologists discovered numerous burial caves that can only be reached by climbing the faces of imposing vertical cliffs. Whereas, the southwest of America has an abundance of evidence of native tribes living high in the mountains.
People have always climbed mountains for safety, hunting or spirituality. It's human nature to look at out-of-reach places and want to explore the unknown. Rock climbing developed from its ancient roots into mountaineering and then into the recreational climbing that we have today.
There are three places of significance when it comes to the birthplace of modern-day recreational climbing, the Dolomites in northern Italy, the Peak and Lake Districts of England and the Elbe Sandstone region of southeast Germany. Climbing spreads across Europe as part of early mountaineering but it wasn't until the late 1800s that rock climbing became an international sport.
By the 1940s, rock climbing had gained popularity in the United States, with Warren Harding ascending The Nose of El Capitan in 1958. It's a 3000-foot climb that was once considered an impossible feat. To date, around 450 commercial climbing gyms have opened in the U.S., making climbing an increasingly popular outdoor activity.
Which Type Of Rock Climbing Should I Choose For My Trip?
Sport Climbing
Sport climbing originated from traditional rock climbing and focuses more on the rewards of rock climbing without the danger. The sport climbers ascend the rock face using only their hands and feet, with their protection being reliant on fixed bolts that are permanently attached to the rock. The primary focus of sport climbing is to improve on strength, speed, and endurance.
Bouldering
Bouldering is a form of climbing without the use of a harness and generally takes place at lower heights than regular climbing. It is normally practiced on boulders or any other low down obstacle. Bouldering routes are called 'problems' and usually require a short series of technical moves as opposed to the much longer series of challenges faced by a sport climber.
Traditional Climbing
Traditional climbing is a style of rock climbing in which the climber places all gear themselves, as opposed to sports climbing which uses pre-existing bolts. Climbers are solely responsible to make safe judgments about where to place gear for a safe ascent, which can be both challenging and dangerous.
Free Solo
Free solo climbing, which is also known as free soloing, is a form of rock climbing where the climber climbs unaided without the use of ropes, harnesses or other protective equipment, forcing them to rely entirely on their physical strength, ability, and psychological power to get them through the climb. This is an incredibly dangerous form of rock climbing, and unlike bouldering, free solo climbers scale above safe heights where a fall would result in serious injury or death.
Where Are The Top Places To Go Rock Climbing In The U.S.?
When it comes to choice, the U.S. has some of the greatest diversity of rock climbing locations, ranging from at Yosemite National Park in California to Red Smith Rock State Park in Oregon.
For rock-climbing enthusiasts, it's impossible not to find somewhere suitable. There are locations all over the U.S. that have become favourites for the adventure climber.
Selecting the right site for your climbing trip is an important factor in making sure you have an enjoyable climb session. Here is a list of top our picks for the best rock climbing places in the U.S.
Yosemite Valley is the infamous birthplace of American rock climbing and continues to be a place where world-class climbers are honing their skills, breaking records and pushing the boundaries of human strength and endurance.
The park, located in central California, is popular with climbers from all over the world who have been visiting the park for decades to test themselves against the impressive wall climbs on El Capitan and Half Dome. In addition to a multitude of routes, Yosemite Valley also has everything from long free climbs to world-class bouldering.
El Capitan
El Capitan is located to the north of Yosemite Valley. The granite monolith stands about 3,000 feet from base to summit. The top of El Capitan can be reached by hiking out of Yosemite Valley on the trail next to Yosemite Falls, then continuing west.
Half Dome
Half Dome can be ascended in several different ways. Thousands of hikers reach the top each year by following an 8.5-mile trail from the valley floor.
Alternatively, more than 12 climbing routes lead from the valley up Half Dome's vertical northwest face and can be free climbed in several hours. Other technical routes ascend the south face and the west shoulder of Half Dome.
How To Get There
You can rent a car in San Francisco which is 4 hours away or in Sacramento which is 3 hours away to reach the park.
Traveller's Tip: Yosemite National Park is often flooded by tourists and climbers during the summer season. Visit the park during off-seasons for a more peaceful climb.
Joshua Tree National Park is world-famous for its thousands of routes and countless boulder problems. It's been long considered one of the best winter destinations for rock climbing in the U.S., with its appeal growing through the years due to its mild temperatures, easy to scale rock and scenic landscape.
Trashcan Rock
Often crowded, especially on weekends, Trashcan Rock is one of Joshua Tree's most popular climbing locations. The west face has a great range of climbs suitable for beginners.
Lizards Hangout
Lizard's Hangout is about 7 miles from the west entrance of Joshua Tree National Park and is the ideal climbing area for all skill levels.
How To Get There
Joshua Tree National Park is a 3 hours' drive east of Los Angeles and 35 miles northeast of Palm Springs.
Traveller's Tip: The park has limited camping sites so book a spot in advance.
Rock climbing in northern Utah's Zion National Park is incredibly diverse. Within just a few miles it's possible to climb limestone, granite, and quartzite. There are thousands of routes at the park, from fun practice areas to sport-climbs for the more adventurous of climbers.
Angels Landing
Angels Landing's summit offers impressive views of Zion Canyon and is a must climb for many visitors to Zion National Park. The best conditions for climbing are from March until May and September until early November.
Northeast Buttress
Located below Angels Landing is the Northeast Buttress. This all free route starts on the east side of the ridge between Angels Landing and the Organ. This classic route should not be underestimated as it is quite remote and can be difficult to climb in bad weather conditions.
How To Get There
Zion National Park can be accessed using State Route 9 in Springdale, Utah. The park is 163 miles from Las Vegas, Nevada and 80 miles from Saint George, Utah.
Red Rock Canyon, often referred to as Red Rocks, is a unique location for climbing in North America. The area boasts a beautiful desert environment while at the same time enjoying the ease of access and amenities of a nearby metropolitan area.
Red Rock Canyon's sandstone canyon provides many long routes that are both bolted sport routes and traditional climbing routes. There are also many excellent bouldering areas nearby, the most popular being at Calico Basin and Black Velvet Canyon.
Calico Basin
Calico Basin is on the north side of the Calico Hills and offers a wide variety of short routes for traditional and sport climbs.
Black Velvet Canyon
Black Velvet Canyon's varnished rock is of the highest-quality for climbing with its walls spanning upwards for 2,000 feet. The canyon receives little sunlight, offering a cooler area to climb on hot days.
How To Get There
Red Rock Canyon is located 25 miles west of the Las Vegas Strip and can be accessed via Charleston Boulevard.
Smith Rock State Park, located in the high desert in Oregon, has cliffs and hillsides which stand out in the surrounding terrain. The exposed cliffs of Smith Rock State Park are composed of welded tuff, an ancient volcanic ash that was welded together under high temperatures. This unique rock type makes a great surface for a vast variety of climbs.
The Dihedrals
The sheer rock face known as The Dihedrals are the foundation of Smith Rock State Park and contain one of the highest concentrations of rock climbers in the world. Home to big-name climbs like To Bolt Or Not To Be and Chain Reaction, The Dihedrals have played an important part in Smith Rock State Park's history and have often been named as one of the world's most difficult climbing routes.
How To Get There
Smith Rock State Park is located 3 hours from Portland and 6 hours from Seattle by car, just 3 miles east of Highway 97 in the small town of Terrebonne.
Traveller's Tip: Peak season for climbing in Smith Rock State Park is in late spring or mid fall. Climbers looking to avoid crowds should visit during summer.
What Equipment Will I Need?
Rock climbing is a complex sport that requires not only physical ability but also skills in using technical equipment. For sports and traditional climbing, climbers also need a harness, rope, chalk bag, carabiner and belay device, all of which should be available for rent near your climbing location.
Here's a rundown of the basic gear you'll need on your climb.
Climbing shoes: When it comes to rock climbing, proper footwear is key. Choose a pair of shoes that are comfortable and are a proper fit.
Harness: Invest in a comfortable and sturdy harness, one that won't cut off the circulation to your legs.
Rope: Go for durable rope and make sure the length is suitable for your climb.
Quickdraws: A quickdraw consists of two non-locking carabiners attached by webbing. This is the device you clip your rope into as you climb.
Belay device: Before you go climbing, it's necessary that you learn how to belay with a simple locking carabiner.
Chalk bag: Choose a chalk bag that is a comfortable fit for your hand and comes with a wrist strap.
Backpack: You need a spacious backpack to transport all of your sport climbing gear to the location.
When Is The Best Time To Go Climbing?
In the height of summer, some surfaces retain heat and make it difficult to climb, while in winter the cold can hinder the climber's ability to proceed up or across a surface safely.
Rock climbing in spring gives you the opportunity to see the foliage changing from drab brown to fresh green. With long days of sunshine, you can take in the sun in the crisp morning air. Many climbing locations have multiple routes, allowing climbers to take the shade on any given day.
Autumn is arguably the best time for rock climbing. The reliably clear weather is hard to beat and the heat of summer is long gone.
Should I Hire A Guide?
Depending on your skill level, hiring a guide is a great way to progress your abilities. When you have a guide, you are capable of undertaking a more challenging route to increase your rock climbing experience.
You can also benefit from the guide's knowledge of the local area. They can offer insight into the locality and give tips on how to efficiently use your time so you get the most out of your experience and enhance the overall safety of your climb.
To relax after your climb, why not visit one of the top 10 beach resorts in the U.S.?