15 Fun Things To Do In Budapest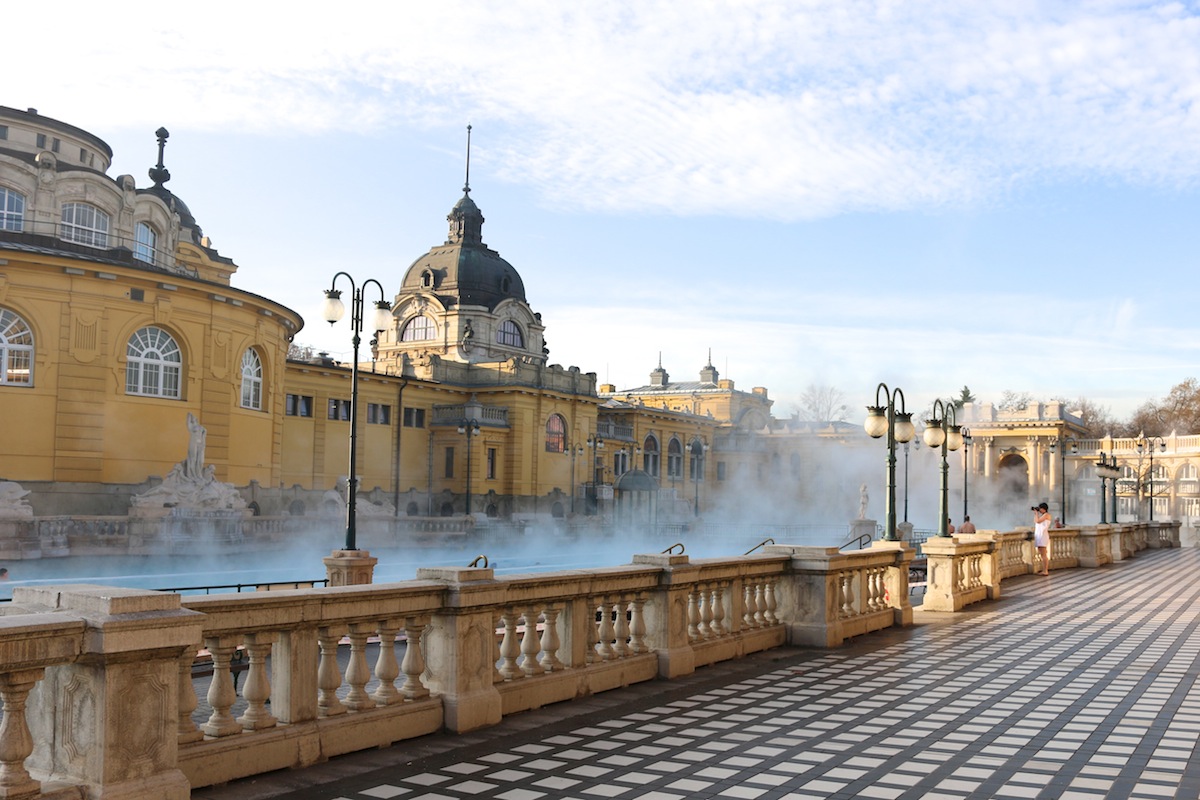 Budapest, the capital city of Hungary, is a vibrant and dynamic destination that offers a plethora of exciting activities for travelers of all ages and interests. This enchanting city is brimming with rich history, stunning architecture, and a lively cultural scene that will captivate and inspire you. Whether you're a history buff, a food lover, an outdoor enthusiast, or simply looking to have a good time, Budapest has something for everyone.
In this article, we will explore 15 fun things to do in Budapest that will make your visit an unforgettable experience. From exploring iconic landmarks and soaking in the thermal baths, to indulging in delicious traditional cuisine and experiencing the vibrant nightlife, Budapest has it all. So, grab your guidebook, put on your walking shoes, and get ready to embark on an adventure in the "Pearl of the Danube".
The Stunning Architecture of Budapest
Budapest is known for its breathtaking architecture, offering visitors a visual feast at every turn. The first on our list of 15 Fun Things To Do in Budapest is to explore the city's impressive landmarks. Start with a visit to the iconic Hungarian Parliament Building, a magnificent example of neo-gothic architecture. Marvel at its intricate details and take a guided tour of the interior to learn more about Hungary's political history.
Take a Relaxing Boat Ride on the Danube River
No visit to Budapest is complete without a leisurely boat ride along the Danube River. Admire the city's stunning skyline as you float under its famous bridges, such as the Chain Bridge and the Liberty Bridge. Whether you choose a daytime or evening cruise, the views of Budapest from the river are truly unforgettable.
Indulge in Delicious Hungarian Cuisine
When in Budapest, be sure to indulge in the city's mouthwatering cuisine. Sample traditional dishes such as goulash, a hearty meat stew seasoned with paprika, or try lángos, a popular street food made of deep-fried dough topped with various savory or sweet toppings. Don't forget to pair your meal with a glass of Hungarian wine, known for its rich flavors and quality.
Visit the Historical Castle District
Explore the historical Castle District, located on the Buda side of the city. Discover the grandeur of Buda Castle, a UNESCO World Heritage Site, and take in the panoramic views of Budapest from Fisherman's Bastion. Wander through the charming medieval streets, visit Matthias Church, and soak in the rich history and culture of this captivating neighborhood.
Relax and Unwind in the Thermal Baths
Budapest is famous for its soothing thermal baths, which are a must-visit for relaxation and rejuvenation. Head to the Széchenyi Thermal Bath, the largest medicinal bath in Europe, and soak in the healing waters of its outdoor and indoor pools. Unwind in the steam rooms and sauna, and experience the centuries-old tradition of thermal bathing in Budapest.
Discover the Ruin Bars of Budapest
Immerse yourself in Budapest's vibrant nightlife by exploring the unique ruin bars scattered throughout the city. These eclectic bars are located in abandoned buildings, courtyards, and alleyways, giving them a distinct and bohemian atmosphere. Enjoy a tasty cocktail or local beer while admiring the quirky decorations and creative designs that make each ruin bar a hidden gem.
Experience the Thrills of Hungarian Folklore
Immerse yourself in the rich traditions of Hungary by attending a traditional Hungarian folklore show. Experience the captivating music, vibrant dances, and colorful costumes that showcase the country's cultural heritage. Let the energetic performances transport you to a bygone era and leave you with an unforgettable memory of Budapest.
Stroll Along Andrassy Avenue
Take a leisurely stroll along Andrassy Avenue, one of Budapest's most prestigious boulevards. Admire the stunning architecture of the buildings lining the street, including the Hungarian State Opera House and the beautiful residential mansions. Browse the luxury shops, cozy cafes, and charming restaurants that make Andrassy Avenue a vibrant and fashionable destination.
Explore the Great Market Hall
Step into the bustling atmosphere of the Great Market Hall, a must-visit for food lovers and souvenir hunters. Discover a wide range of fresh produce, local delicacies, and traditional crafts. Taste Hungarian specialties such as lángos, salami, and pálinka, and pick up unique souvenirs to remember your time in Budapest.
Take a Day Trip to the Buda Hills
Escape the hustle and bustle of the city and take a day trip to the picturesque Buda Hills. Enjoy a scenic hike through the lush forests, visit the historic Elizabeth Lookout Tower for panoramic views of Budapest, or explore the charming village of Szentendre, known for its artist community and quaint shops.
Marvel at the Stunning Heroes' Square
Visit Heroes' Square, a monumental square that pays tribute to the country's most influential historical figures. Admire the iconic Millennium Monument, featuring statues of renowned Hungarian kings and national leaders. Take a leisurely walk in the adjacent City Park and enjoy the tranquil surroundings and beautiful scenery.
Experience the Elegance of the Hungarian State Opera House
Step into the world of classical music and opera by attending a performance at the Hungarian State Opera House. Marvel at the opulent interiors and enjoy a breathtaking performance by talented artists. Whether you are an opera aficionado or experiencing it for the first time, the Hungarian State Opera House offers an unforgettable cultural experience.
Discover the Charming Neighborhood of Óbuda
Explore the charming neighborhood of Óbuda, where Budapest's history comes alive. Visit the Aquincum Museum and Archaeological Park to learn about the Roman heritage of the city, stroll along the cobblestone streets of the Old Town, and admire the medieval ruins of the Óbuda Synagogue. This hidden gem offers a glimpse into Budapest's rich past.
Enjoy a Romantic Danube River Cruise
Experience Budapest's enchanting beauty by taking a romantic Danube River cruise at sunset. Admire the illuminated city landmarks, including the Hungarian Parliament Building, Buda Castle, and the Chain Bridge, as they light up the night sky. This magical experience is perfect for couples looking to create unforgettable memories.
Immerse Yourself in Art at the Museum of Fine Arts
Art enthusiasts will find delight in the Museum of Fine Arts, which houses an extensive collection of artwork spanning various periods and styles. Admire masterpieces by renowned artists such as Rembrandt, Van Gogh, and Monet, and immerse yourself in the world of art as you explore the museum's diverse galleries.
Conclusion
In conclusion, Budapest offers a plethora of exciting and enjoyable activities for visitors of all ages. From exploring historical landmarks and soaking in the thermal baths to indulging in delicious Hungarian cuisine and experiencing the vibrant nightlife, there is something for everyone to enjoy in this captivating city. With its unique blend of architectural wonders, cultural heritage, and vibrant atmosphere, Budapest is truly a gem waiting to be discovered. So, grab your travel essentials and get ready to embark on an unforgettable adventure in the beautiful city of Budapest!
FAQs
1. What are some must-see attractions in Budapest?
Some must-see attractions in Budapest include the Hungarian Parliament Building, Buda Castle, Fisherman's Bastion, Matthias Church, and St. Stephen's Basilica.
2. Are the thermal baths in Budapest worth visiting?
Absolutely! Budapest is renowned for its thermal baths, and they are definitely worth visiting. The Széchenyi Baths and Gellért Baths are among the most popular ones, offering a relaxing and rejuvenating experience.
3. What is the best time to visit Budapest?
The best time to visit Budapest is during the spring and autumn seasons when the weather is pleasant and the city is not too crowded. However, Budapest is a year-round destination, so you can plan your visit according to your preferences.
4. Is it safe to travel in Budapest?
Budapest is generally a safe city to travel in. Like any other big city, it is advisable to take basic precautions such as keeping an eye on your belongings and being aware of your surroundings.
5. What is Hungarian cuisine known for?
Hungarian cuisine is known for its hearty and flavorful dishes. Some popular Hungarian dishes include goulash, langos, chimney cake, and paprika chicken.
6. How can I get around in Budapest?
Budapest has a well-connected public transportation system, including buses, trams, and the metro. You can easily purchase a travel pass or use a transportation card to get around the city.
7. Are there any day trips from Budapest worth taking?
Yes, there are several day trips you can take from Budapest. Some popular options include visiting the charming town of Szentendre, exploring the historic Eger Castle, or cruising along the Danube River to the picturesque town of Visegrád.
8. What is the currency used in Budapest?
The currency used in Budapest is the Hungarian Forint (HUF). It is advisable to have some local currency on hand for small purchases, although credit cards are widely accepted in most places.