5 Best Waterfalls In Bali You Must Visit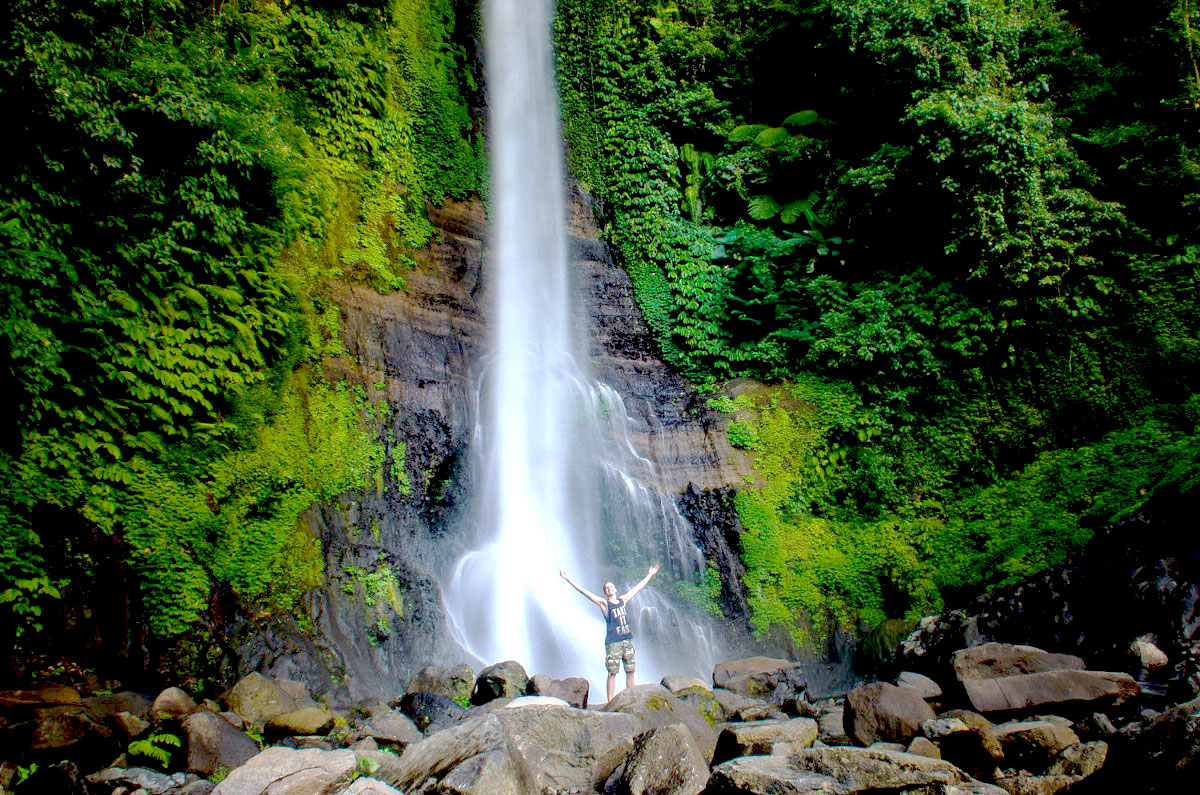 Indonesia is known for gorgeous sunsets, stunning temples, rejuvenating beaches, and waterfalls in Bali. Amidst the nightlife and local shopping are some stunning waterfalls that you will never forget.
So, if you plan on visiting this wondrous island, we've put together a list of five best waterfalls in Bali. These are ought to feature on your to-do list.
Read on to know more about the best waterfalls in Bali!
This one is arguably one of the most famous waterfalls, due to its relatively easy approach and overall trekking experience.
Located in Buleleng province, this waterfall in Bali is known for a lush green spectacle, good accessibility by road and foot, and its scenic twin water inclines.
The dense sheet of water splashes down from a height of 35 meters. It makes this waterfall in Bali a fairly powerful one. Despite its height, some sections of this waterfall are safe to swim and bathe due to its still and calm waters.
A Local Legend At Gitgit Waterfalls
Gitgit waterfalls carry with it an interesting legend with regard to married couples. The local myth is these waterfalls being unlucky for newly married couples if they bathe in.
So, if you're a newly-wed couple visiting Bali on your Honeymoon, we would suggest you feast on this breath-taking view but give a dip a miss!
Ideal Entry Point To Gitgit Waterfalls
Visit Gitgit waterfalls from northern Bali, either from Lovina or Munduk. It not only makes the distance shorter and the access to these waterfalls in Bali a lot easier.
Known as the Niagara Falls of Bali, Niagara Munduk offers not one but two visually captivating waterfalls. Present in the midst of rainforests around the Munduk village, these beautiful waterfalls are cushioned by rice fields, expansive clove plantations and enveloped by the range of Bali's mountains in the background.
Truly a marvel of nature, Niagara Munduk is indeed one of the must-visit waterfalls in Bali. What makes this a tourist favourite among the other famous waterfalls in Bali is the presence of a scenic restaurant in its midst, allowing visitors to soak in the visuals with some delicious food.
Hike to Melanting From Niagara Munduk
You can spend some time lounging in the calm waters of Niagara Munduk, after which there is another famous waterfall awaiting you a short trek above the Niagara Munduk.
Melanting waterfalls is truly a captivating visual, so we suggest you come with the right footwear and clothing to get there by an eventful trek.
Ideal Entry Point For Niagara Munduk
This magical sight is easily accessible from Munduk in just 10 minutes by road, making it one of the most visited waterfalls in Bali due to its accessibility and pleasant topography.
If you're in search for a hidden waterfall in Bali that leaves you in the lap of nature in its most raw form, your search ends here. This 50-meter high waterfall is in a small village in Bali and reveals itself only to those who are avid explorers and adventurers.
Surrounded by rice paddies, rocks, and plants, with sunlight streaming through, this scenic waterfalls in Bali would make you want to click away on your camera and feast your eyes on this sight both at the same time. You could even swim and lounge in the shallow waters of Nungnung waterfalls and enjoy the entire atmosphere.
Access To Nungnung Waterfalls
Reaching these falls is no easy feat. You have to wade through 509 steep and slippery steps to get to this treasure. Having said that, Nungung waterfalls is the perfect waterfalls in Bali for the explorer in you and is absolutely worth the effort!
If we were to name the most scenic, tourist-friendly waterfalls in Bali, it would be the Tibumana Waterfalls. This marvel of nature offers visuals of a straight, clear descend of water, almost like a curtain of water. Behind which stands tall trees, lush greenery complete with colorful birds and butterflies to complete the scenery.
Doesn't it sound like an absolute visual delight? It certainly is, especially if you get there on a summery day, you can see beautiful rays on sunlight wade through the trees painting a dream-like picture
Tibumana – The Best Waterfall To Swim In
The calm water and uniform topography with up to waist height make Tibumana the best waterfalls in Bali to swim in. What's more? There are even lockers for rent. Here you can leave belongings and dip away in these serene waters with reckless abandon.
Access To Tibumana Waterfalls
In order to get to these gorgeous waterfalls, you will have to do a bit of walking and trekking by foot. While the drive from Ubud to Tibumana is a mere 30 minutes. The way to the waterfalls involves crossing a forest walk and a wooden bridge. Hence, make sure your attire and shoes support this rather slippery journey.
Local Legend At Tibumana Waterfalls
Most waterfalls in Bali bring with them some intriguing age-old myths and stories. Tibumana Waterfalls are no different. Right behind the silvery sheet of water rests a cave. An internal passageway is there all the way to Goa Raja Temple, at the Besakih temple complex. Entering this temple cave isn't something any local Balinese would recommend, due to many mythical stories associated with it.
Due to it's proximity to Gitgit waterfalls, Jembong waterfalls are most times unvisited and often underrated in the list of the best waterfalls in Bali. This relatively less footfall ensuring Jembong is still nascent, untouched and unspoiled in terms of its beauty and blossom.
Spiritual Healing At Jembong Waterfalls
One of the best waterfalls in Bali for spiritual healing is Jemnong Waterfalls. Owing to its terrain, isolated location and pleasant pace of water help lend a calming touch to the environment. So if you're in Bali looking to rejuvenate your mind and body, head to Jembong for some natural water therapy.
Access To Jembong Waterfalls
It is located in the Buleleng district, just like Gitgit waterfalls although a little further into the terrain from Gitgit. As signage isn't very clear, it is best to have the company of an experienced local who can guide you there.
If you're planning a trip to this splendid Indonesian island, your experience will be incomplete without exploring native waterfalls in Bali.
We would absolutely recommend you to head out to these waterfalls. Discover not only what we would call the best waterfalls in Bali, but most definitely among the visuals of nature in the world.