What Are Reef Sandals And Why Do You Need a Pair?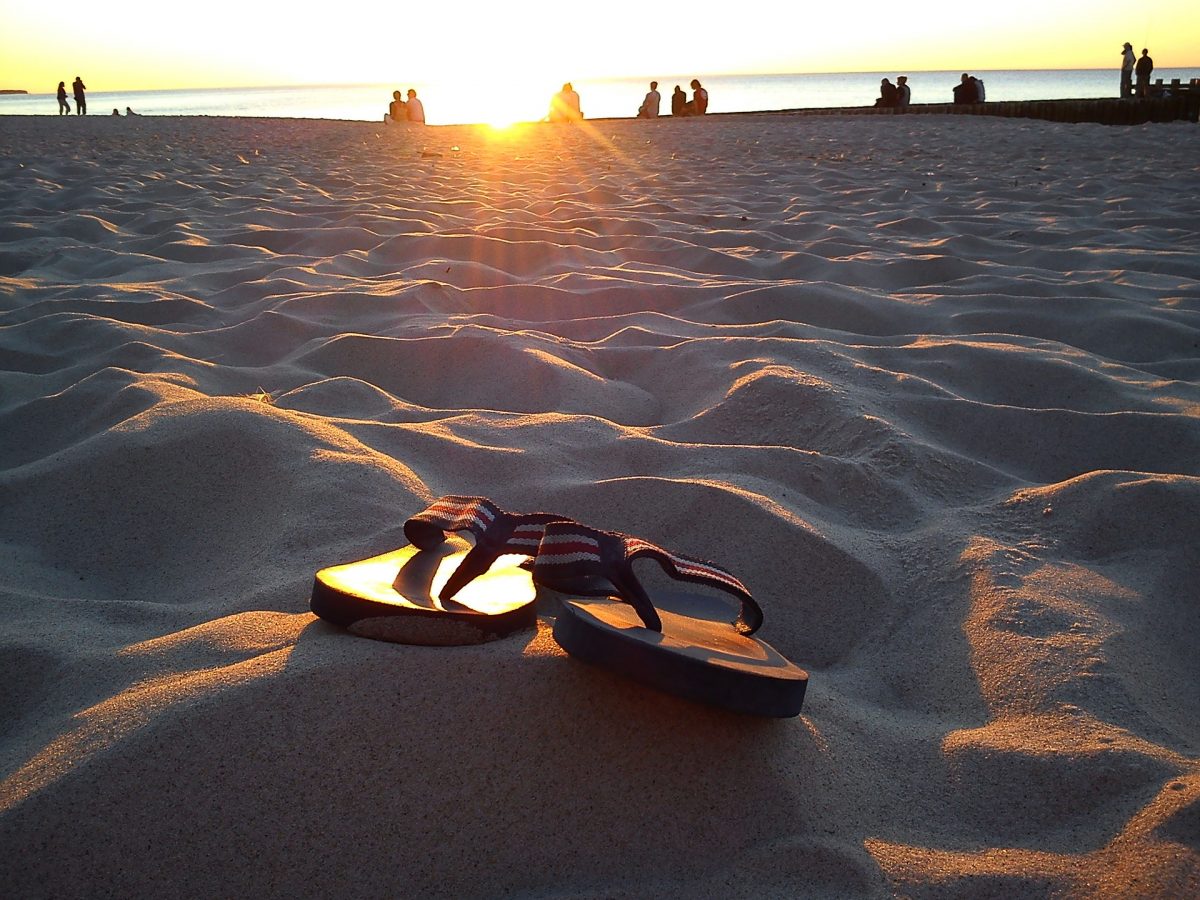 Reef is a company created in 1984 by two beach loving brothers from Argentina. They wanted to create a top quality sandal that was perfect for every beach-goer, and so Reef Sandals were born. Reef Sandals are specially created to keep you comfortable and relaxed in any environment, even if it's not at the beach.
Here are our top picks on the best pairs from Reef Sandals that we feel you need for your next island vacation!
1.
Men's and Women's Fanning

Professional surfer and three-time world champion, Mick Fanning has lent his name to the ultimate in athletic sandal. This particular Reef Sandal is comfortable, water-friendly and made from a synthetic nubuck and rubber. The footbed is made using a contoured injection mold, with anatomical arch support.
The heel features a 360 degree airbag enclosed in soft poly for shock absorption and support. A unique and yet bonus smart feature is the built-in bottle opener in the sole. They are available in numerous colours and designs. But it's worth noting that the men definitely have more choice in this regard, including leather!
Shop both men's and women's reef sandals here!

This classic leather Reef Sandal is named after a classic surfer's paradise. Made from full grain leather, the super-soft textile lining and metal Reef logos ensure this is a stand out sandal. The midsole, made up of 51% recycled EVA, features a deep contour for added support and comfort.
The Reef Supreme Design outsole consists of 25% recycled rubber. These premium Reef Sandals are sure to keep you stylish and comfortable for a long time. They're also available in 5 colours. Meaning that you get to stay stylish while taking care of the earth.
3.
Women's Cushion Butter

With a name like that, you can expect that every step you take will be as smooth as butter with these quality durable Reef Sandals. The footbed and upper are made from water-friendly vegan leather. While the platform provides height, the footbed features the classic anatomical arch support for added comfort.
The rubber sponge outsole, classic design, and versatility of the Cushion Butter, means you can seamlessly go from breakfast to beach to dinner in style and comfort. You won't want another summer without these sandals! Available in brown and black.
This Reef Sandal is perfect for funky boys and girls, and is made especially for the non-stop beach kid. The Ahi flip flops have a synthetic strap with a supple polyester lining. The flexible, durable, high-density EVA outsole makes sure these sandals can keep up with even the busiest kids.
The anatomical arch support keeps your kids relaxed and comfortable. The toddler version (ages 2 – 4) features a removable back strap. They even have a design with a colour-changing back strap! Simply take them out into the sunlight and watch the patterns change colour! Basically, if you need a durable pair of flip flops for children, you've struck gold!
Shop Reef Kids Ahi Sandals here!
If you're the kind of man that doesn't particularly like thong flip flops, then these beach essentials are perfect for you! The lightweight and eco-friendly Reef One Slide sandals are waterproof, machine-washable, and extra comfy.
This Reef Sandal features include an injection-molded EVA footbed with anatomic contouring. Non-marking durable outsole. Soft faux-leather padded strap for fit and comfort. These Reef Men's One Slide also come with perforated detail for breathability. Meaning that your feel will remain cool and comfortable in the hotter climates!
6.
Women's Escape Sling LX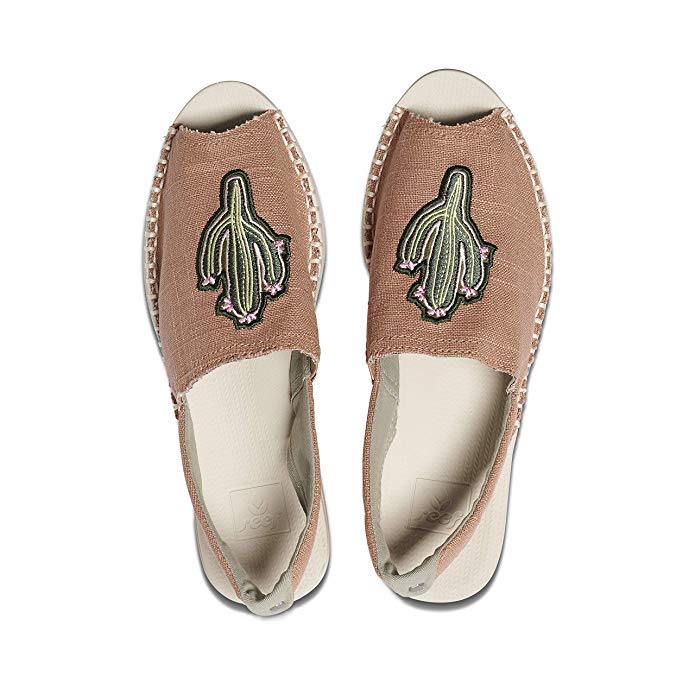 Experience paradise with the Escape Sling Sandal. You can't go wrong with the two part cushion cup-sole construction and soft cushion rubber footbed.
Natural fibre uppers, with espadrille stitch detail and seasonal hand-stitched patches will turn any simple outfit into a trendy one. Who said you had to choose between comfort and style?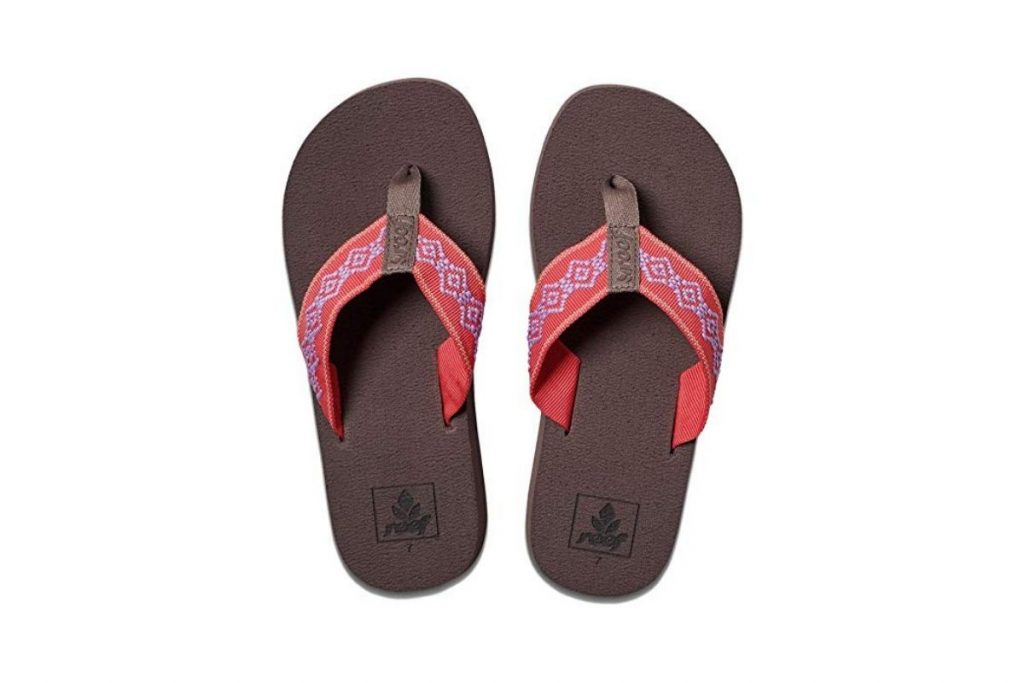 Be ready for any water adventure with Reef's Women's Sandy sandals. They're ready to handle the splashes at the beach, to the lake or even at the pool. Featuring a well-fitting wide woven polyester strap for comfort.
The footbed is Reef-Flex triple density constructed with anatomical arch control. Say goodbye to that awkward pain you feel when you've been in flip flops the whole day. The sole has been made from a durable high-density EVA. Available in a range of colours.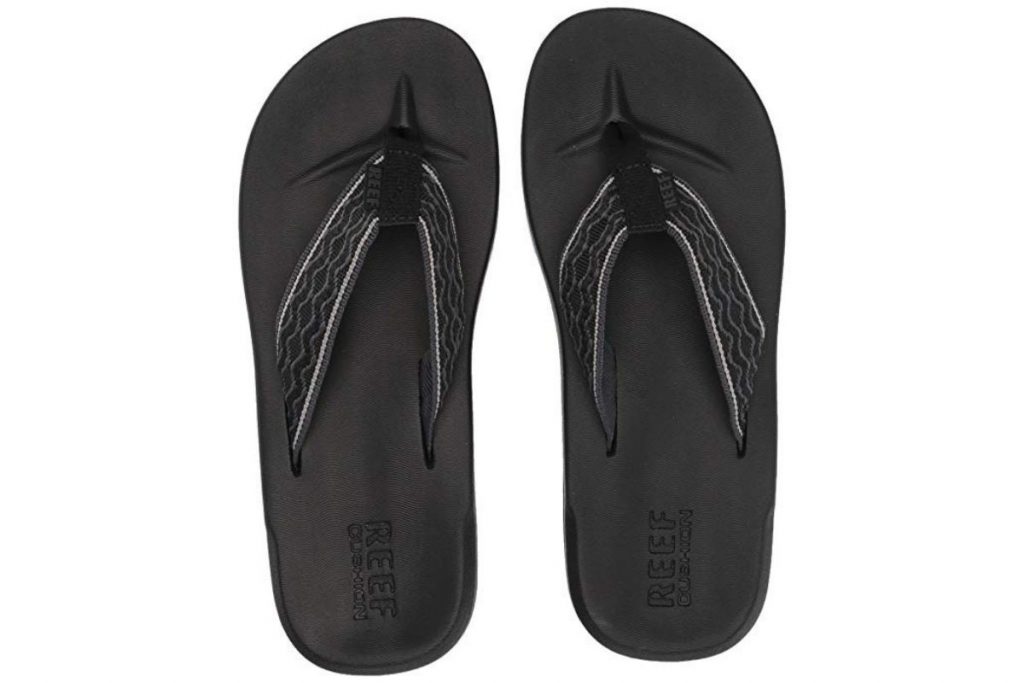 Taking us back to the humble beginnings of Reef Sandals, is the updated version of the Cushion Smoothy. Simple, anatomically correct arch support and lightweight.
The Reef heritage woven strap design, which is available in various designs and colours to cater to your personal preference. This durable sandal has a molded PU cushioned footbed, that's super grippy. Its rubber sponge outsole ensures the promised durability.
9.
For The Budget-Conscious

Men's Switchfoot LX (under $30)
The Switchfoot LX is a luxurious men's sandal made with an eco-friendly PVC-free strap and durable cushion rubber. The rubber sponge footbed molds with anatomical arch support and heel cupping.
Pull strength tested for longer wear, so you're getting the bang you deserve for you bucks. If you're grabbing lunch at the food trucks or taking a walk up the promenade, these budget friendly flip flops will see you through many summers.
Women's Reef Bliss (under $30)
The Bliss is a fantastic sandal for a walk along the boardwalk, a cliff walk to check out the views, or an evening walk along the beach.
You will find your "Bliss" with the faux leather skinny strap, soft footbed with flexible rubber sponge. The absolute must-have footwear for a beach wedding. Available in three solid yet funky designs.
Why you need a Reef Sandal…

After 35 years in the business, Reef has established themselves as a top quality beach sandal manufacturer. Reef's passion for creating comfortable, durable trendy beach footwear is uncompromising.
As is Reef Sandal's equal passion for the environment and their desire to use as much eco-friendly materials in their flip flops as possible. The leather they use, like in the J-Bay III, comes from Silver or Gold rated facilities.
These facilities are rated by an environmental audit that classifies tanneries based on their energy use, wasted products and water treatments. But, Reef Sandals also uses vegan-friendly leather to cater for their vegan customers. A vegan-friendly leather sandal example is the women's Cushion Butter, but another way they are saving the environment is the organic additive "Eco-One".
You can enhance the biodegradation process when your sandals are at the end of their lifespan because you can properly dispose of them in a biologically active landfill.
Our Final Thoughts
So, whether you're having a BBQ with friends, surfing in Jeffrey's Bay, metal detecting in The Outerbanks, or sand castle building in Malibu, a pair of Reef Sandals is the only summer footwear you will ever need.