Top 5 Quay Sunglasses To Consider Buying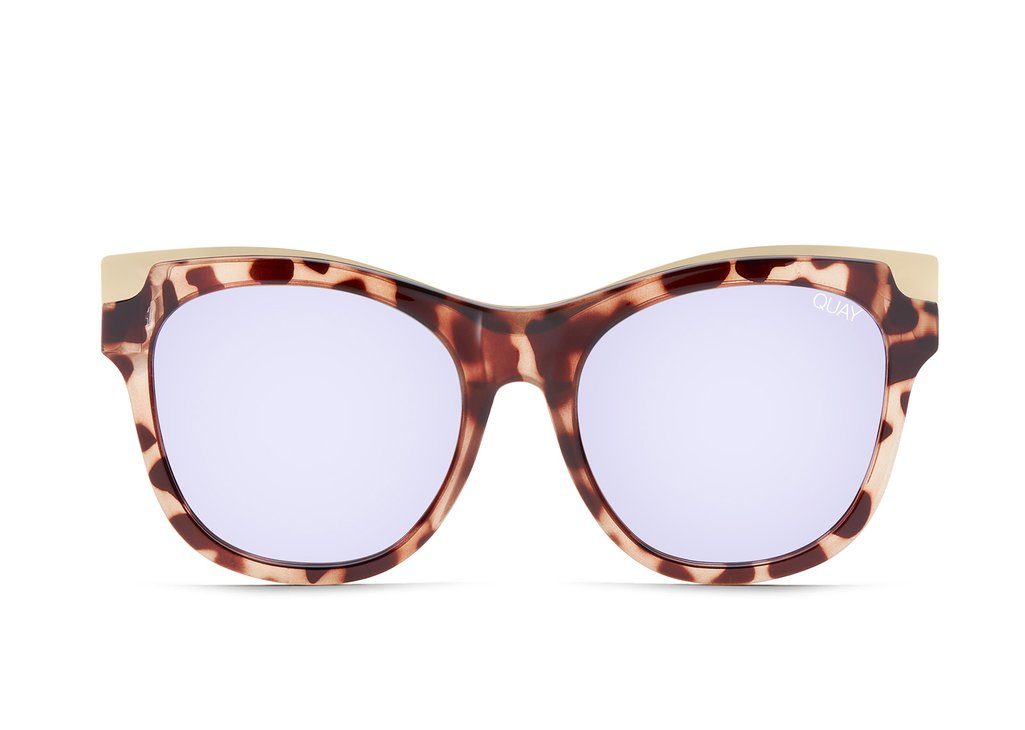 Established over 14 years ago in Melbourne by Allen and Linda Hammond, and inspired by the festival lifestyle, Quay sunglasses is a brand designed for the 'free thinking'. Quirky, bold and courageous – the designs have been constructed to really push the boundaries of the sunglasses world and make you feel unstoppable in the process. Quay Australia has become a reputable, edgy brand specialising in 80s-inspired shades with stockists all over the world.
Why You Should Own A Pair of Quay Australia Sunglasses
If you are looking to stand out from the crowd and create the ultimate fashion statement, Quay Australia is the brand for you. Follow in the footsteps of the likes of JLO who loves the brand so much, she has created her own collection, as well as the countless other celebrities sporting their very own pair of Quays around the globe. Quay Australia sunglasses are instantly recognisable with their bold, flatbrow and rounded designs and dark tinted lenses so get ready to rock the retro look!
Have we sold them to you yet? 1.7 million loyal Instagram followers cannot be wrong! With super affordable prices, you can instantly become a trendsetter in your own right. Take a look at our pick of the top 5 Quay sunglasses you should be looking to get your hands on today.
Be fearlessly stylish and dramatic in the Quay Jaded Shades and block out the paparazzi with the lightly tinted lenses. Available in black or pink, these oversized chunky square frames are for the superstar in you. Moulded nose pads give added comfort and curved temple tips ensure the glasses stay secure on the face ensuring you can radiate with confidence all day long.
Pros
Super trendy and modern
Very durable
Great quality
Stay firmly in place
Cons
A little heavy and large framed
Quay Jaded Sunglasses retail at $60
Look 'the bomb' in the quirky and cool Quay Cherry Bomb Sunglasses. Featuring rose gold framing with vibrant pink and green splashes of colour on mirrored lens (with the option to choose non-mirrored), these over-sized rounded cat eye sunnies are a perfect stand out option and must-have summer accessory.
Pros
Great quality
Lightweight and comfortable
Vibrant and colourful to really stand out in the crowd
Great for those with flatter bridge noses
Cons
May be too large for smaller faces
Quay Cherry Bomb Sunglasses retail at $29
Quay It's My Way Sunglasses are available in 3 distinct colour options, ensuring you can turn heads and get spotted whether you're on the beach enjoying that well-deserved holiday or on your way into the office. They feature a plastic frame and again come with the option of either mirrored or non-mirrored lenses. These oversized cat-eye sunglasses are a bold yet classic and timeless choice that will never go out of style.
Pros
Super chic and sophisticated
Great shape
An expensive look for an affordable price
Cons
May be too large for smaller faces
Quay It's My Way Sunglasses retail at $55
Glam it up with glittering gold lenses, ooze passion in pretty pink lenses or make a statement with bold black lenses. Quay Australia Hindsight Metal Sunglasses feature large square lenses with a strong standout plastic brow bar to enable you to walk out in confidence and get noticed. Not for the faint-hearted!
Pros
Fabulous quality and design
Great UV protection
Strong thick frames so they don't break easily
Cons
A little heavy when worn for a long period of time
Quay Hindsight Sunglasses retail at $60
Turning the classic aviator on its head, Quay High Key Sunglasses are a global favourite, designed in collaboration with Desi Perkins. With 7 different colours to choose from you can have a different pair for each day of the week! The signature triangle notches on oversized frames with reflective lenses live up to the High Key name. And, even better, all High Key frames include a #QUAYXDESI clear case and cleaning cloth. However, this is a limited-edition so make sure to snap them up before they're gone!
Pros
Great quality, sturdy and strong so they don't glide off the nose
A bold and popular choice
Great transition from black to clear lenses
Cons
May be too large for smaller faces so opt for the High Key minis!
Quay High Key Sunglasses retail at $65
Notable Mentions
We couldn't possibly only pick 5 out of all the fabulous designs Quay Australia has created, so take a look at a couple of our other favourites which are well worth a purchase:
Take the bold black look or be pretty in pink with the Quay Shook Sunglasses. With daring brown lenses, these medium sized shades are perfect for all face shapes. You'll also nab a limited-edition PRETTY SHADY cleaning cloth and baby pink zip case (which also doubles up as a make-up bag) – what more could you want?
Pick the Quay All In Sunglasses and you'll be channelling your inner JLO as these sit proudly as one of her favourite Quay styles and form part of her must-have collection, designed by the lady herself. Right on trend and comfortable to wear, these will be your go-to shades for the summer season. And what's more, Quay All In sunnies come with a limited-edition white faux-snakeskin zip case with luxe gold hardware. What are you waiting for?
A final note on Quay sunglasses…
You can't go wrong no matter what pair of Quay Sunglasses you choose to purchase, but what we do know is that you will be spoilt for choice. The super affordable prices make these stand-out pieces affordable for everyone without compromising on quality, style or comfort. Loved by celebrities and influencers, you get to make a celebrity statement without the celebrity price tag. Chic and timeless, you can wear Quay sunglasses for years to come!