Top 5 Portable Bluetooth Speakers For Your Camping Trip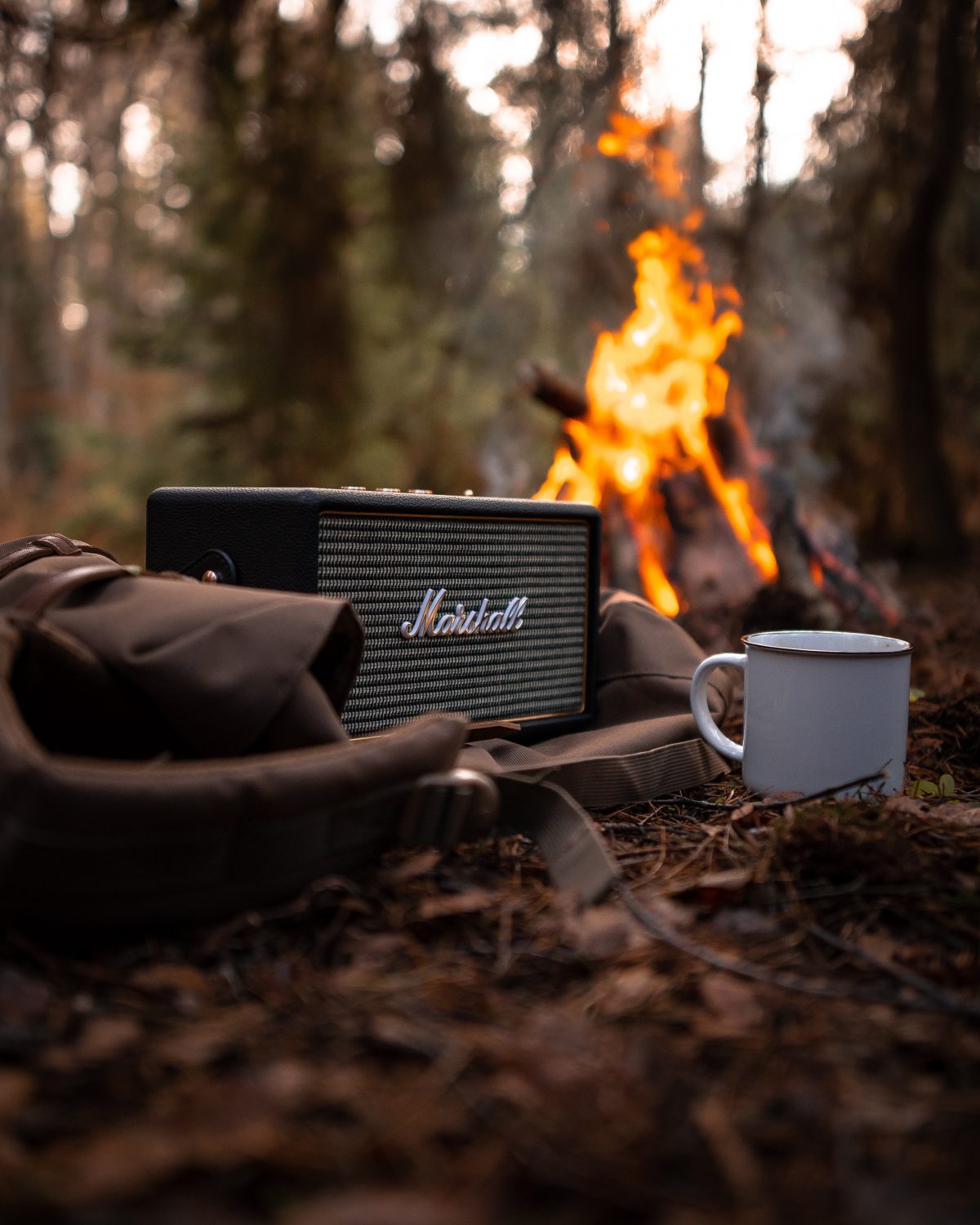 The Bluetooth technology became an overnight sensation when it was first introduced and ever since it is widely adopted by people around the world for its various uses. Perhaps the finest example to prove my point would be portable Bluetooth speakers.
With some outstandingly innovative designs and the latest built-in technology, the line of Bluetooth speakers available in the market is increasingly becoming irresistible.
And it does not just end there, these wireless speakers come with a whole list of advantages that make them completely alluring to anyone, here are a few of them.
Benefits Of Owning A Portable Bluetooth Speaker
Portability: This remains on the top of the list! A portable pair of Bluetooth speakers by your side means you can party wherever you carry them. Some of them are so small; they can fit in the carry on luggage while others come with a convenient carrying strap.
Low power consumption: Another great advantage is that they consume very low power in spite of the fact that they deliver high-quality sounds. Some of the good brands can work exceptionally well on AA batteries as well.
Cable-free experience: Bluetooth speakers mean no cables and wires or adapters which makes it a non-messy experience — very convenient to bring on your travels.
Outdoor use: With Bluetooth speakers, you will never miss your favourite music even when you are outdoors. Whether it is a pool party, a picnic or camping, wireless speakers are your best bet when throwing a party on your travels.
No installation: The best thing about Wi-Fi speakers is that they do not require any kind of installation or installation CDs. They connect seamlessly to the device you wish to connect to.
Factors To Keep In Mind When Looking For The Best Bluetooth Portable Speaker
There is no surprise that it can become very tricky to choose the right Bluetooth speaker since there is an endless array of options available in the market. But if you understand the fact that each speaker comes with a USP of its own and is fit for a purpose, making a choice becomes much easier.
For instance, if you are looking to use your speaker mostly outdoors, choose the ones that are rugged and durable, are waterproof and have long battery life. On the contrary, if you will be using them mostly indoors, all you need is a well-built design that is attractive and has a multi-point pairing and a good battery life. And that will be a pretty good choice.
So all you need to do is recognize your requirements first and then match them with the USP of these Bluetooth speakers to find the most suitable one for you.
Just in case, we have convinced you enough to invest in a Bluetooth speaker of your own, here's our list of top 5 portable Bluetooth speakers that will make you the life of your camping trip party.
Top 5 Portable Bluetooth Speakers That Are Worth Your Money
1.
DOSS SoundBox Pro Portable Wireless Bluetooth Speaker
DOSS SoundBox is a brilliant choice of wireless speakers whether you plan to use it outdoors or in the comfort of your own living room. It is one of those products that fill the gap between a home and an outdoor speaker.
This is by far the only speaker in the market that has the audio and sound quality similar to those big brands out there. Its superior sound quality output is loud, and it can be also be paired with another DOSS SoundBox which creates a much more immersive experience while listening to music.
The speaker also comes IPX5 certified, which is waterproof but not able to partially or fully submerge it. Why would you do that anyway?
Pros
Delivers big, powerful sound

Has a pretty decent battery life of 12 Hours

Physical buttons, made for easy control

Splash resistant
Cons
Not a big brand, so people might tend to avoid purchasing
Mini conclusion: This is the most worth it speaker for its price range and it is highly recommended. Get it on Amazon here!
2.
JBL Charge 3 Waterproof Bluetooth Speaker
The JBL Charge 3 waterproof Bluetooth speaker is an excellent deal for the price it is available. Since the design is big and heavy, it offers big, impressive sound and complete waterproofing that makes it possible to carry it outdoors or near the pool without any feeling of guilt.
These JBL Bluetooth speakers offer powerful and deep bass and play loudly without any distortion which is quite impressive coming from portable Bluetooth speakers. The exposed woofers make for a cool and chic design but need extra care and maintenance. These JBL speakers are an improvement over the previous Charge 2 in every possible manner.
However, if you have that extra cash with you and don't know what to do with it, I would recommend the JBL Charge 4 since it is more future proof with a USB C charging port and also some other improvements. You can look it up on YouTube if you can't decide!
Pros
It is a completely waterproof design

Has an impressive battery life of 20 hours

Comes with built-in microphone that can be used as a speakerphone

Has an excellent bass response and is extremely loud

Can also charge your device
Cons
The exposed woofers need special care

Has muted highs
Mini conclusion: A very durable speaker, with very good sound quality. Get this on Amazon now!
3.
Bose SoundLink R

evolve Portable Speaker
The Bose SoundLink Revolve is best known for its cylindrical design that delivers omnidirectional sound and lets the user experience the same quality of sound in every direction. It is well built and has an Aluminum Exterior in silver or black. Even when it comes to the volume, this Bose Bluetooth speaker performs excellently by pumping loud music in all the directions.
It has an average battery life of 12 hours that could have been improved; the portable speaker also takes up to 4 hours to get fully charged which is a fairly long time when compared to other products in the competition. The SoundLink Revolve also works great as a speakerphone for receiving calls.
Pros
Has an attractive design and a strong build quality

Delivers 360-degree surround sound

Delivers expansive and loud sound
Cons
Has a limited range of 10m

Not entirely dust and waterproof

Does not have a charging dock

Is expensive
Mini conclusion: Premium sound quality, loud with 360 surround sound. Check it out on Amazon!
4.
Ultimate Ears WONDERBOOM Portable Waterproof Bluetooth Speaker
The UE Wonder Boom is an improvised version of the UE Roll 2 in every sense. The IPX7 rating makes it the best waterproof speakers that can survive in a meter of water for up to 30 minutes and still not get affected. Talking of the performance, it sounds excellent, the bass is good but gets a little uncontrolled at higher volumes.
The Bluetooth speaker has been designed to project sound from all sides to give a similar listening experience to one and all; a rubberized membrane makes it much more durable. Additionally, the wireless speaker is available in six different colours that include austere black, light grey, orange, pink and purple.
Pros
Is waterproof

Offers 360-degree sound

Can pair 2 devices simultaneously
Cons
Does not have a speakerphone

Does not have an attractive design
Mini conclusion: Allows surround sound if paired with another UE Wonderboom, and it is also very durable! Buy it on Amazon now!
5.
Marshall Kilburn Wireless Speaker
Moving away from the portability, you cannot help but fall in love with the vintage looks and great sound of Marshall Kilburn wireless speakers. However, if the retro style is not enough to woo you, then the popularity of the super-brand Marshall will do the trick for you. Choose between the black or cream finish and the steel option that is available in a metallic finish.
The powerful bass of this Marshall Bluetooth speaker will completely blow your mind away. It has a battery life of 20 hours and that's more than enough to impress anyone looking for outdoor Bluetooth speakers in the real sense. However, it's large and heavy design takes away its points in portability.
Pros
The impressive battery life of 20 hours

Is extremely loud

Has a remarkable bass
Cons
Is not waterproof

Is a large and heavy design (not portable enough)

Does not have USB charging feature
Mini conclusion: Not so portable but definitely worth it for the sound and bass, very good for large gatherings! Check it out on Amazon now!
Final Thoughts On Portable Bluetooth Speakers
It is natural to be overwhelmed by an endless choice of Bluetooth speakers in the market today. Yet, it's equally important that you choose one that suits your personal requirements and unique lifestyle. Therefore, look for the unique selling points of each one of them and try to measure them up to what you are looking for and you are sure to find what you always wanted. So whether you are using it outdoors or indoors, with these portable Bluetooth speakers, you can just let the music play.