Top 10 Travel Pillows For Your Next Flight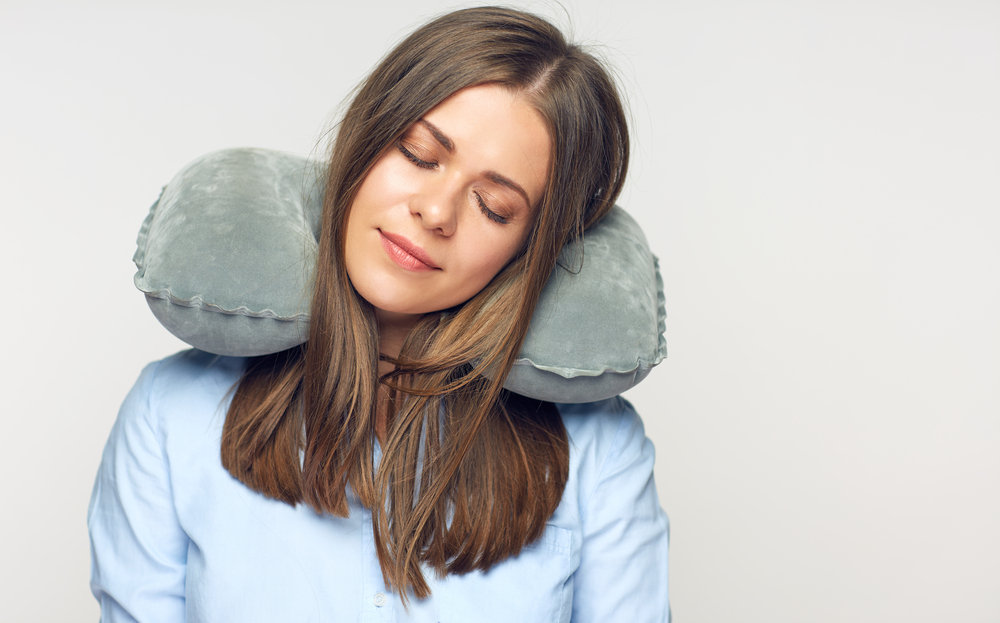 You may think you don't need to bring a travel pillow onboard the plane – because what are headrests for right? Then, a couple of hours set in and you start to feel a stiffness in your neck and find it impossible to get some shut-eye. Here's why you should bring a travel pillow for your next trip.
Benefits Of Having A Travel Pillow With You
Prevents stiff neck and fatigue
With a travel pillow around your neck, you don't have to worry about nodding off every few seconds or on to the shoulder of your travel partner (worse, if its a complete stranger!).
Side supports on travel pillows give you the comfort of resting your cheek on an elevated surface, so that you don't wake up with a sore neck. There's also nothing worse than not being able to fall asleep comfortably on a journey that's hours long.
No more sleep apnea and snoring
Struggle with sleep apnea and snoring? Don't be that person that bothers everyone in the plane. Nobody needs the discomfort when they're already in a small enclosed space.
As sleep apnea and snoring are caused by obstructions in the air passages, using a travel pillow can help keep your airways clear by keeping your neck straight. Yay to no disrupted sleep for you and your fellow travellers!
Protects your joints and spine
Travelling already puts enough stress on the human body, but buying a travel pillow can help to alleviate some of it! Some people have really bad joint pains or discomfort in their spines for being in a position for too long.
Sleeping in a sitting position can cause the joints in your neck and shoulder to feel tense and cramped. Using a travel pillow can help to provide enough cushioning to minimize that pain. It can also help position your head and neck naturally, which protects the spine from prolonged extension and bending in an unnatural position.
What To Look For In A Travel Pillow
Material type
There are different types of "fillings" that can be inside your travel pillow and we're here to tell you how to differentiate the good from the bad.
The worst type of travel pillow you could be buying are inflatable ones. They're usually cheap and you'll have to do the inflating yourself. While it is convenient as you can collapse it after you're done and tuck it away in your carry-on, it essentially does nothing. Air will escape from the pillow and leave your neck barely supported.
Your next best choice is then one made out of the polyester fibre, which is commonly used. Easy to wash and dry, it's also firm enough to cushion your neck and let you have a good rest. It's also a lightweight choice to have!
Now the best material would be memory foam. While more and more memory foam travel pillows are popping up in the market, they are still slightly pricier than polyester fibre ones. Memory foam fits you perfectly – moulding itself to how you rest on it, which can help relieve any pain or pressure you feel.
Ease of transportation
One of the things that tend to stop people from buying a travel pillow is the thought of having to carry something bulky with them along with whatever bags and luggage they have. Now, there are plenty of pillows that allow you to roll them up to a more compact size, making them easier to pack.
There are also travel pillows that come with a casing as well as a clip for you to attach it easily to your carry-on. This way, your travel pillow stays clean and gives you peace of mind when you rest your face on it.
Comfort and durability
If possible, try out the travel pillows in-store before you make the purchase. Ensure that it has the level of firmness that you desire and that the cover of the pillow is thin enough for breathability, yet not so thin that it easily snags and tears. A plus point is if you can remove the cover so that you can prolong its life-span and wash it when it gets dirty.
Now that you know what are the factors to look for when purchasing a travel pillow, read on for our top 10 picks!
This Trtl pillow is making waves due to its unique approach to what a travel pillow should be like. Not like your usual U-shaped pillow, this pillow looks more like a weighted towel that you wrap around your neck.
Its internal support holds your head in a better position than standard travel pillows as your neck is not leaning so far down your shoulder. The pillow is also lightweight and half the side of a U-shaped pillow. The use of super soft fleece doesn't hurt as well!
You can purchase a Trtl Travel Pillow for US$29.99.
Inspired by massage chairs and designed with physiotherapists, this travel pillow hailing from Australia is backed by thousands of fans that helped launch the product from Kickstarter and Indiegogo.
This is for travellers who want a compact travel pillow with all the comfort. The Woollip can be deflated to the size of a book and the specially designed pump only requires four to five breaths for it to be fully inflated!
You can purchase a Wollip Travel Pillow for US$39.90.
Voted by shoppers as the best Travel Pillow of 2018 for the Travel Retail Awards, the Evolution S3 Travel Pillow is one of a kind. Their innovative Seat Strap System eliminates any head drops and the whiplash response you get when you're jerked awake.
Raised supports on the side prevents any "bobble-head" movement and the thin back keeps your spine aligned and releases any tension.
Get your very own Evolution S3 Travel Pillow for US$39.99.
This stylish, memory foam travel pillow is great for those on to go. Aptly named the OSTRICHPILLOW GO, it features a perfect fit to your neck whatever the size – perfect for those with larger neck circumferences.
It's also fuss-free to use, just snap it into place with its hidden magnetic buttons. The pillow also boasts the ability to reduce 60% of volume when rolled up, making it super convenient for travelling!
You can purchase the OSTRICHPILLOW GO Travel Pillow for US$60.
A simple, fuss-free option, the Dual Comfort Microbead Travel Pillow has kept millions of travellers happy for over 15 years. Its premium microbeads support and conform to your position, without crushing as easily as other microbead pillows in the market.
Choose from either the cozy and plush side or the cool, relaxing spandex on the other – it's like having two pillows in one!
Get this Cloudz Travel Pillow on Amazon for US$10.95.
This travel pillow has a versatile shape, allowing you to twist, wrap and bundle it to fit your preference. Its signature temperature regulating materials and smooth bamboo fabric will give you all the comfort you need.
There's also multiple ways for you to use the pillow, be it for back support, to cover your eyes or to cancel out noise, giving you maximum flexibility.
Get your very own Infinity Travel Pillow from their website for US$40.
Different from its U-shaped counterparts, this J-shaped pillow has a three-way support system for your head, neck and chin! Its unique shape keeps your neck upright and fills the gap between the head and shoulders.
The pillow also comes with a handy carry bag that compressed the pillow to half its size and has a snap-loop fastener for you to attach it to your carry-on.
Order your very own J-Pillow Travel Pillow from their website for US$29.95.
Their Twist Memory Foam Travel Pillow provides custom support as you can bend it to almost any shape and position to suit you. For those with back pains, it can even be converted to a back support, alleviating any discomfort.
The memory foam insert is also covered by a breathable, washable cotton cover, so you can keep it clean and fresh for your next trip.
Buy a Dot&Dot Travel Pillow from their website for US$24.99.
The Daydreamer Neck Pillow is different from its inflatable counterparts. Forgo the embarrassment of blowing it up when you can just push a button to get it blown up!
The pillow's inflation can be adjusted to your liking, and the contoured neck support keeps your neck straight and head up. The super-soft velvet case can also be removable for washing.
Order your Aircomfy Travel Pillow directly through Amazon for US$18.95.
Even the lightest of sleepers will be able to enjoy a restful sleep with this travel pillow set. It comes with a ventilated memory foam neck pillow, a silk sleep mask, as well as a pair of foam earplugs.
Getting rid of pesky light and noises while snoozing off comfortably? Check.
Get your Aeris Memory Foam Travel Neck Pillow Kit on Amazon for US$24.90.
Restful Sleep For Everyone
Nowadays, there is an array of travel pillows to suit your needs as a traveller and well, sleeper. Invest in a solid choice and say goodbye to headaches and feeling sore, and hello to waking up fresh and ready to conquer your trip!