The Best Pool Floats For Kids And Kids At Heart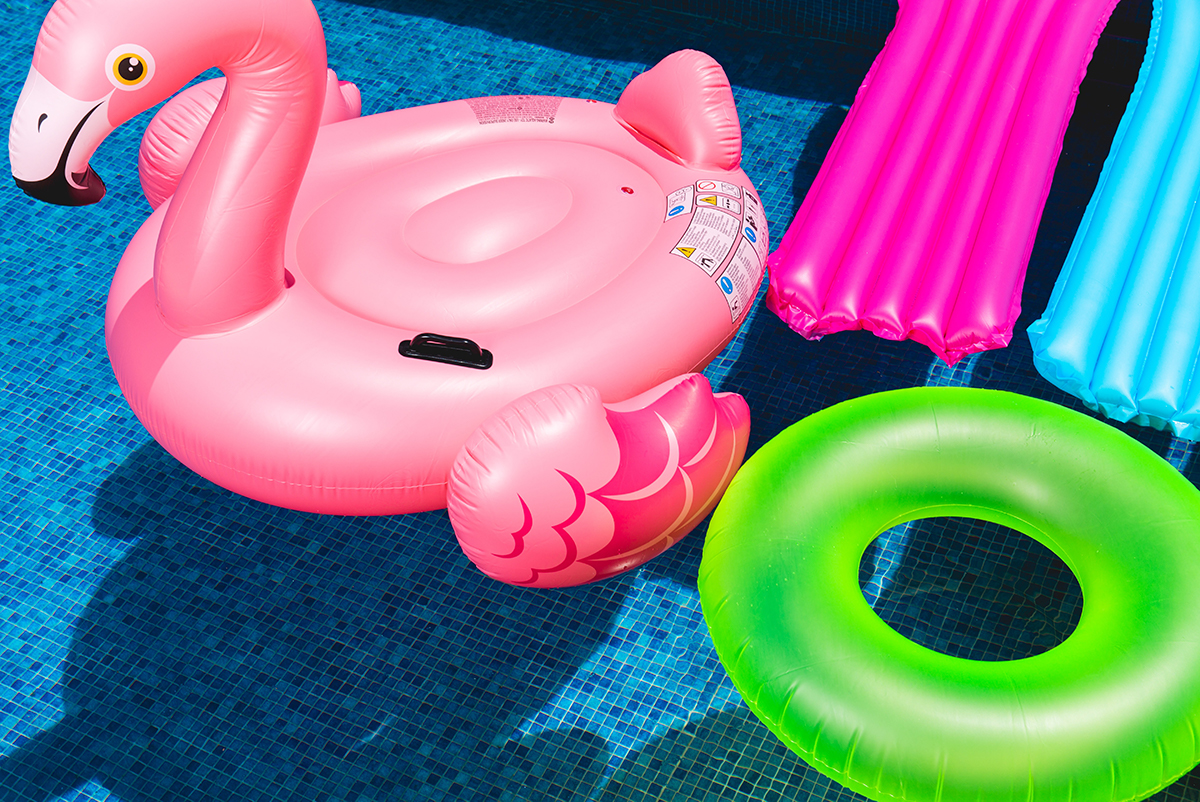 Summer is here and there is no better way to spend the day lounging in the pool, but just because you are having fantastic do-nothing day doesn't mean you can't inject a little fun into it too.
That is where a fin pool float comes into play. Not just for the kids but for the adults too. These inflatable pool floats come in many different sizes, shapes, and colours. That means that you may want a little help making the decision on which one to go with.
In this article, we are going to give you some help so that you can get to lounging in the pool quicker. We will breakdown what makes a good pool float and then talk about some brands that are getting the fun right.
These brands make floats in fun designs that will be good t be used as pool floats for the kids and the adults alike. But before we get to that, what do you want in a pool float.
What Makes A Good Pool Float?
Sure you can just choose your pool floats by the fun and cool designs and that would be just fine but if you want to get the most fun and use out of those floats there are a few things that you should look at. Just like buying a car you want the best model for you and your summer lounging needs.

A Cup Holder For Your Drinks
You want to stay hydrated, right? And no one likes having to crawl in and out of the pool to grab that drink. Or worse yet must spend your relaxation or pool party time holding on to that drink for dear life. So, making sure that your pool floats have a cup holder may be something to think about.
Portability So You Can Take It Anywhere
You want a pool float that is easy to deflate and store. This means looking for one that is easy to transport. Plus, who says you will only be hanging at your pool. Maybe you will hit up the beach or the lake and want to take your favourite float (or your kid's favourite float) with you.
Portability is also a good thing to check out when dealing with the ring style of float that way you can easily get in and out of the water with no problem.
Support For Your Body
Even though pool floats were originally constructed for use by children (and they still can be) if you are an adult you will want to check out the support. This means getting a pool float that is big enough to support your body.
Sturdy Material That Won't Rip or Break
This is especially an important factor when you are a big kid looking for a fun pool float. You will need to look for a float designed for adults so that the material used to produce it will be able to handle the extra weight. Se great fabrics that do this are nylon or vinyl.
Multiple Air Chambers So You Don't Sink If A Puncture Occurs
Now with all the fun aside the devices were originally intended as safety tools. That means making sure they can do their job while still looking fabulous is a must. So, when you are looking for your pool float you may want to look for ones that have multiple air chambers. It may take a little while longer (and possibly a tank of oxygen) to blow up but you will be okay with that id one of the air chambers pops while you are snoozing while floating.
A Repair Kit For If A Puncture Occurs
If you want that cute pool float to last you will definitely want to consider ones that come with a repair kit. This will extend the life of your favourite unicorn float so that you will be able to be the cool kid for a few more summers.
Best Pool Floats for Kids (and Kids at Heart)
So now you have an idea of how to get the best and most amazing pool float for your fun summer water activities. But where can find these cool pool floats?
The truth is there are a lot of places you can find them. And a lot of companies that specialise in bringing you and your kid's pool floats that make a statement. So, let's look at some of the biggest brands… and what they have to offer in the way of summer fun!
1.
Bigmouth Inc. Pool Floats
Bigmouth Inc. has a plethora of fun and trendy pool floats for both kids and kids at heart. You can even get your Stranger Things on with some floats from this very popular show.
There are fun patterns and if you are looking for a giant inflatable unicorn float then this company has your back. Bigmouth is available in a lot of retail stores as well as their online store. Even some brands like American eagle distribute these brands fun pool floats during the summer season.
Modcloth knows how to accessorise your swimwear with inflatable pool floats. They offer fun designs and colours in multiple sizes. They even sell fun little floats specifically designed for your drinks.
Whether you are looking to float around on a watermelon or the traditional donut you will find a nice selection of fun floats for you and your kids. The only drawback is that these floats are only available through their online shop.
Summer Waves pool floats are another great choice. They have several designs that will be fun to lounge in and are readily available both in many stores like target and such as well as online shopping sites.
Using the more traditional style of float the ring GoFloats has designed some fun and invented designs. These designs range from unicorn floats to hamburger flats to dragons. All of which will be perfect for you or your kids.
Whatever type of pool float you are looking for the team at has for you. From the floaties, kids use to learn to swim to giant pool floats for adults Intex has you covered. They offer fun designs or simple designs but either way, you will find the right pool float for you or kids.
Are you looking to be a little more stylish yet fun, then take a look at what Urban Outfitters has to offer, sure they are more known as a clothing company, but they want to help you be hip and trendy even when floating around your pool? They have a lot of fun and glittery choices including a Rose bottle and a tiger.
Next brand to look at if you are looking for a fun float is a company based out of Venice California called FUNBOY. They have a lot of great choices that will make you feel like a jet setter. Some of their designs include a red sports car, a private jet, and a pink convertible. Fin and well made the pool floats are perfect for those Instagram selfies you need to take.
Sun Pleasure is less about the individual and more about getting the party started. These floats are designed to hold multiple people and are rather large. So, if you're hitting the lake or simply getting the gang together for a beach part you may want to look at all the fun designs, they have. After all who doesn't want to float around a lake on a unicorn. Absolutely no one that who. If your summer includes a few get together then this could be the best pool float for the kids. Or for you, that kid at heart.
These are just some of the best and biggest brands that specialise in designing fun pool floats. So, whether you are feeling your game of Thrones and want to ride a dragon…or you are down with the upside down of Stranger things…there is a pool float for everyone out there.
Final Thoughts
Just like the suit you choose makes a statement, so too does the pool float you decide to go with. Are you trendy? Are you classic? No matter if the pool float is for you or your kids, you want to help increase the fun of summer. And by choosing a wacky design or a fun colour, you can do just that.
Hopefully, with this article, we have helped you narrow down your choices. And we hope that you will get the best pool float for you or your kids. When that Summer sun comes knocking, grab your float, sunscreen, and a few drinks, and head out to the pool. What could be better than a day spent in the water with your friends and family floating and playing on your fun float.
Now here's somewhere you can definitely show-off that new pool float of yours – Naples Grande Beach Resort!