The Coolest Airbnbs In Utah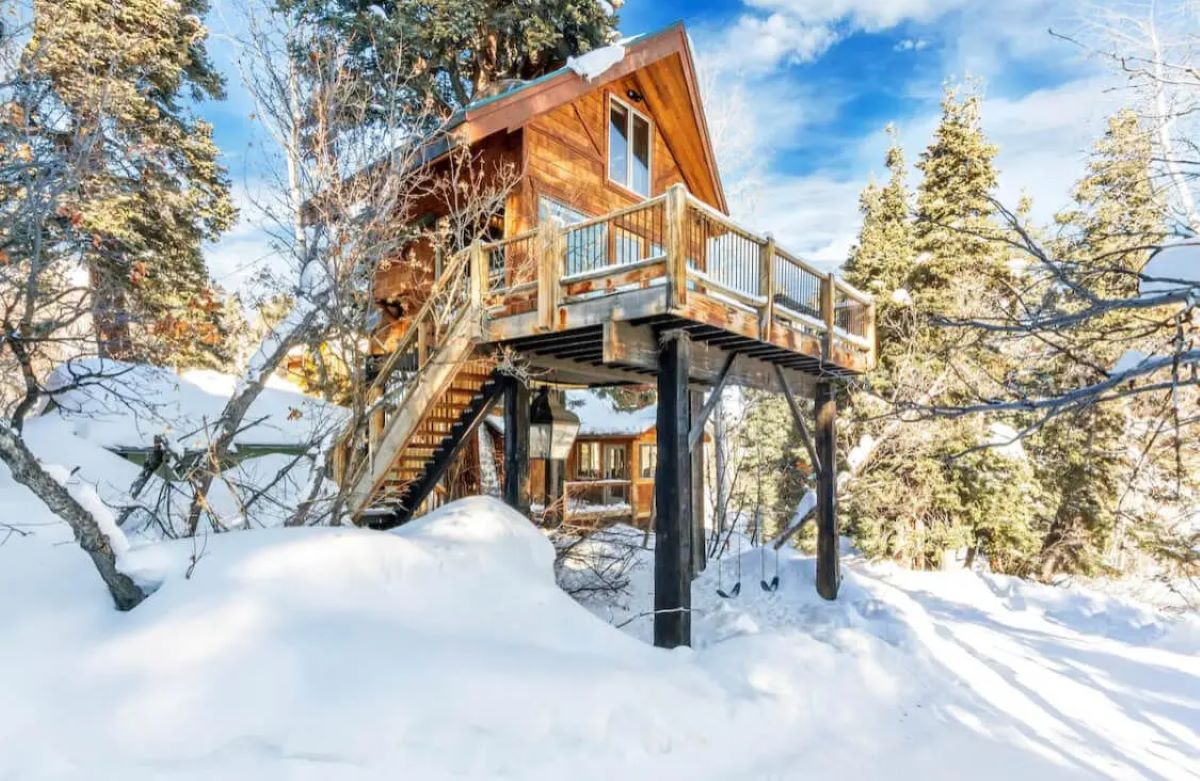 Introduction
Welcome to Utah, a state known for its stunning natural landscapes and outdoor adventure opportunities. While hotels offer a comfortable and convenient stay, there's nothing quite like immersing yourself in the heart of Utah's beauty by choosing a unique Airbnb for your accommodation. From cozy cabins to modern lofts, Utah has something for every traveler seeking an unforgettable experience.
In this article, we've curated a list of the coolest Airbnbs in Utah. These accommodations not only provide a comfortable place to rest your head but also offer an immersive and distinctive stay that will enhance your overall trip. Whether you're exploring Arches National Park, hitting the slopes in Park City, or discovering the charm of downtown Salt Lake City, these rentals will elevate your travel experience.
Our selection includes a variety of options to suit different preferences and budgets. From secluded getaways surrounded by nature to trendy urban lofts in the heart of the city, there's something for every adventurer. So, without further ado, let's dive into the coolest Airbnb rentals in Utah that are sure to make your trip extra special.
Arches National Park Retreat
Located just minutes away from the iconic Arches National Park, this retreat offers a perfect escape for nature lovers. Surrounded by breathtaking red rock formations, this Airbnb provides a serene and secluded stay, allowing guests to fully immerse themselves in the beauty of the park.
The rental cabin features rustic yet modern furnishings, providing a cozy and comfortable atmosphere. With a fully equipped kitchen, spacious living area, and private terrace, guests have all the amenities they need for a relaxing stay. The highlight, however, is the unobstructed views of the stars at night. The remote location and lack of light pollution make it a stargazer's paradise.
During the day, visitors can explore the wonders of Arches National Park, marveling at the famous Delicate Arch and other striking rock formations. Hiking trails suitable for all levels of experience allow guests to get up close and personal with the incredible natural scenery.
Whether you choose to hike, bike, or simply enjoy the tranquility, this Arches National Park retreat is the perfect base for your Utah adventure. Escape the city hustle and immerse yourself in the awe-inspiring beauty of one of Utah's most famous national parks.
Luxury Treehouse in Moab
If you're looking for a unique and luxurious experience in Moab, this treehouse Airbnb is a perfect choice. Situated among the picturesque red rock landscapes, this elevated getaway offers both comfort and breathtaking views.
The treehouse boasts modern amenities and sleek design, blending effortlessly with its natural surroundings. The open-concept living space features large windows that provide panoramic views of the surrounding canyons and mesas. With a fully equipped kitchen, cozy bedroom, and a stylish bathroom, guests can enjoy all the comforts of home while being immersed in nature.
One of the main highlights of this treehouse is the spacious deck, complete with a hot tub. Imagine soaking in the warm bubbles while enjoying the spectacular sunset over the desert. And when the night falls, stargazing from the deck becomes an unforgettable experience as the sky lights up with countless stars.
Located just a short drive from Moab's main attractions, such as the majestic Canyonlands National Park and the world-renowned Slickrock Bike Trail, guests can easily explore the area's outdoor wonders. There's no shortage of adventure here, from hiking and mountain biking to rock climbing and river rafting.
For those seeking a unique and luxurious getaway, this treehouse in Moab offers a one-of-a-kind experience. Reconnect with nature, indulge in modern comforts, and create memories that will last a lifetime.
A-Frame Cabin in Park City
If you're after a cozy and charming stay in the mountains, look no further than this A-Frame cabin nestled in Park City. Just minutes away from world-class ski resorts and the vibrant downtown area, this Airbnb combines rustic charm with modern comforts.
The A-Frame cabin features a unique architectural design with its distinctive triangular shape and soaring ceilings. Inside, you'll find a warm and inviting space adorned with tasteful furnishings and natural elements. The living area is perfect for relaxing after a day on the slopes, with a fireplace to keep you cozy during the colder months.
The cabin offers a fully equipped kitchen, allowing you to prepare your favorite meals. Enjoy your dining experience even more by taking advantage of the outdoor seating area, where you can savor your food while surrounded by the stunning mountain vistas.
During the winter months, Park City is a haven for skiing and snowboarding enthusiasts. With multiple ski resorts nearby, such as Deer Valley and Park City Mountain Resort, guests have easy access to world-class slopes and winter activities. And when the snow melts, Park City transforms into a haven for outdoor enthusiasts, with hiking and mountain biking trails winding through the picturesque mountains.
After a day of adventure, unwind in the cabin's private hot tub, where you can soak your tired muscles and enjoy the crisp mountain air. You can also explore the vibrant downtown area of Park City, known for its charming boutiques, art galleries, and award-winning restaurants.
For a cozy mountain getaway with easy access to both outdoor activities and city amenities, this A-Frame cabin in Park City offers the perfect retreat.
Sleek Loft in Salt Lake City
If you're looking for a trendy and modern stay in the heart of Salt Lake City, this sleek loft Airbnb is an excellent choice. Located in the vibrant downtown area, this loft offers both style and convenience, allowing guests to experience the best of city living.
The loft features a contemporary design with its open floor plan, exposed brick walls, and high ceilings. The industrial-chic aesthetic is complemented by carefully curated furnishings and artwork, creating a stylish and inviting atmosphere. Large windows provide ample natural light and offer city views, giving you a true urban living experience.
The well-appointed kitchen is perfect for those who enjoy cooking, featuring modern appliances and ample counter space. The living area is comfortable and inviting, providing a perfect spot to relax after a day of exploring the city. And when it's time to unwind, the loft offers a cozy bedroom that ensures a restful night's sleep.
Being located in downtown Salt Lake City means you're just steps away from a wide array of dining options, shopping boutiques, art galleries, and entertainment venues. Explore the city's vibrant food scene, visit the fascinating museums, or catch a live performance at one of the theaters.
For outdoor enthusiasts, Salt Lake City is also a gateway to incredible recreational activities. The nearby Wasatch Mountains offer superb hiking and biking trails, as well as world-class skiing in the winter. Whether you enjoy outdoor adventures or urban exploration, this sleek loft serves as the perfect base for your Salt Lake City experience.
With its stylish design and prime location, this sleek loft in Salt Lake City provides a chic and comfortable stay for those seeking a trendy urban getaway.
Desert Oasis in St. George
Escape to a desert paradise with this stunning Airbnb in St. George. Surrounded by breathtaking red rock landscapes and nestled in a peaceful neighborhood, this desert oasis offers a serene and unforgettable retreat.
The rental home features modern and spacious interiors, with large windows that frame the captivating views of the surrounding desert. The open-concept living area is tastefully decorated, providing a comfortable and stylish space for relaxation. The fully equipped kitchen allows guests to prepare their own meals, or they can take advantage of the outdoor barbecue grill for a delightful cookout.
The highlight of this desert oasis is undoubtedly the outdoor area. Step outside to a backyard oasis complete with a private pool, hot tub, and comfortable lounge chairs. Enjoy soaking up the sun during the day or unwind with a refreshing swim. In the evenings, gather around the fire pit and marvel at the star-filled sky.
St. George is renowned for its outdoor recreational opportunities. From hiking and climbing in the nearby Snow Canyon State Park to exploring the awe-inspiring Zion National Park, adventure awaits just moments from your doorstep. Golf enthusiasts will also find themselves in paradise, as St. George boasts a number of world-class golf courses in its vicinity.
After a day of exploring, return to your desert oasis and indulge in the tranquility and beauty that surrounds you. Whether you're seeking relaxation or adventure, this Airbnb in St. George provides the perfect balance between luxury and nature.
Historic Home in Ogden
Step back in time with this charming historic home Airbnb in Ogden. Located in a picturesque neighborhood lined with tree-lined streets, this century-old home offers a glimpse into the city's rich history and provides a cozy and unique stay for guests.
The historic home has been lovingly restored to preserve its original character while incorporating modern amenities. From the moment you step through the front door, you'll be transported to a bygone era, with its beautiful antique furnishings, intricate woodwork, and vintage decor.
The home features multiple bedrooms, providing ample space for families or larger groups. Each room is thoughtfully decorated, creating a warm and inviting atmosphere. The fully equipped kitchen allows guests to prepare their own meals, and the dining area offers a perfect spot to gather and share meals together.
While staying in this historic home, take the time to explore the heritage of Ogden. Visit the nearby Historic 25th Street, lined with charming shops, art studios, and local restaurants. Learn about the city's railroad history at the Union Station Museum, or venture into the great outdoors and hike along the scenic Ogden River Parkway.
After a day of exploring, return to your historic oasis and relax on the front porch, taking in the sights and sounds of the neighborhood. This Airbnb offers a unique and memorable experience, allowing you to create lasting memories while being immersed in the history of Ogden.
Mountain Chalet in Sundance
Escape to the mountains with this stunning chalet Airbnb in Sundance. Nestled among the towering peaks and lush forests, this mountain retreat offers a luxurious and tranquil getaway for nature lovers and outdoor enthusiasts.
The chalet features a rustic yet elegant design, with exposed wooden beams, stone accents, and floor-to-ceiling windows that provide breathtaking views of the surrounding mountains. The interior is beautifully furnished, creating a warm and inviting atmosphere that blends seamlessly with the natural surroundings.
With multiple bedrooms and spacious living areas, this chalet can comfortably accommodate families or larger groups. The fully equipped kitchen allows guests to prepare their own meals, while the living room with its cozy fireplace provides the perfect spot to relax and unwind after a day of outdoor adventures.
Situated just steps away from Sundance Resort, guests have direct access to a wide range of activities. During the winter months, hit the slopes and experience world-class skiing and snowboarding. In the summer, explore the hiking and mountain biking trails that meander through the majestic mountains. In any season, don't miss the opportunity to indulge in Sundance's acclaimed dining options or enjoy a relaxing spa treatment.
After a day of exploration, retreat to your mountain chalet and luxuriate in the private hot tub, taking in the stunning view of the starlit sky. The peacefulness of the surroundings and the serenity of the mountains will leave you feeling rejuvenated and inspired.
For those seeking a mountain escape that combines luxury with natural beauty, this chalet in Sundance is the perfect choice. Experience the magic of the mountains and create memories that will last a lifetime.
Unique Dome House in Torrey
Experience a truly unique stay in this captivating dome house Airbnb in Torrey. Located in the heart of Southern Utah's red rock country, this one-of-a-kind accommodation offers a blend of modern comfort and architectural intrigue.
The dome house is an architectural marvel, with its curved walls and unique design that seamlessly blends with the natural surroundings. Inside, the space is thoughtfully designed and furnished to provide a comfortable and memorable stay. The open-concept living area is filled with natural light and offers panoramic views of the surrounding landscape.
The home features a fully equipped kitchen, allowing guests to prepare their own meals using local ingredients. The dining area is the perfect spot to savor your creations while enjoying the striking desert views. At night, cozy up by the fireplace and unwind in the comfort of this extraordinary dome.
While staying in Torrey, explore the nearby Capitol Reef National Park, known for its stunning rock formations, hiking trails, and scenic drives. Marvel at the towering cliffs and take in the expansive views of the desert landscape. You can also venture to nearby Grand Staircase-Escalante National Monument or Bryce Canyon National Park for even more outdoor adventures.
After a day of exploration, relax on the spacious deck surrounding the dome house. From here, you can soak in the vastness of the rugged landscape and witness the magnificent desert sunsets. On clear nights, stargazing becomes an unforgettable experience as you marvel at the unobstructed view of the stars.
If you're looking for a truly unique and awe-inspiring accommodation, this dome house in Torrey offers an unparalleled stay. Immerse yourself in the beauty of Utah's red rock country while enjoying the comfort and charm of this remarkable architectural gem.
Ranch Style Getaway in Kanab
Experience the charm of the Wild West with this ranch-style getaway Airbnb in Kanab. Nestled in the heart of Southern Utah's scenic beauty, this retreat offers a unique opportunity to immerse yourself in the rugged beauty and cowboy culture of the region.
The ranch-style home captures the essence of Western living with its rustic decor, wooden accents, and spacious layout. The living areas are cozy and inviting, with plush sofas and a fireplace perfect for cozy evenings. The fully equipped kitchen allows you to prepare delicious meals while enjoying the company of family and friends.
Step outside and you'll find yourself surrounded by wide-open spaces and breathtaking landscapes. The property features ample outdoor seating, a fire pit, and even a barbecue grill, giving you the perfect setting for outdoor gatherings and meals under the stars.
Immerse yourself in the cowboy culture by taking part in ranch activities or horseback riding adventures. For nature enthusiasts, the nearby Grand Staircase-Escalante National Monument and Zion National Park offer stunning landscapes and countless opportunities for hiking, canyoneering, and wildlife spotting.
Kanab is also known as the "Little Hollywood of Utah" due to its rich history as a filming location for numerous Western movies and TV shows. Make sure to visit the Frontier Movie Town and experience the Old West come to life.
Experience the true essence of the American West with this ranch-style getaway in Kanab. Whether you're seeking adventure, relaxation, or a taste of Western culture, this Airbnb provides the perfect retreat in the stunning landscapes of Southern Utah.
Lakeside Cabin in Bear Lake
Escape to the idyllic shores of Bear Lake with this lakeside cabin Airbnb. Located on the border of Utah and Idaho, Bear Lake is known for its stunning turquoise-blue waters and picturesque mountain views, making it the perfect destination for a peaceful lakeside getaway.
The cabin offers a cozy and welcoming space, with its wood-paneled interiors and charming rustic decor. The living area is perfect for relaxation, with comfortable seating and a fireplace for those cooler evenings. The fully equipped kitchen allows you to prepare meals with ease, and the dining area offers a place to gather and enjoy your culinary creations.
Step outside onto the cabin's deck and you'll be greeted by breathtaking views of the lake. Enjoy your morning coffee while watching the sunrise over the water, or spend your evenings grilling on the barbecue and dining al fresco. With direct access to the lake, you can take advantage of water sports such as fishing, boating, or paddleboarding.
Exploring the surrounding area is a must, with plenty of outdoor activities to enjoy. Hike through nearby trails, go mountain biking, or simply relax on the sandy beaches of Bear Lake. During the winter months, the region transforms into a winter wonderland, offering opportunities for snowmobiling, ice fishing, and skiing at the nearby Beaver Mountain Ski Resort.
For a taste of local flavor, visit the charming town of Garden City, where you can indulge in delicious raspberry shakes, browse unique boutiques, or simply soak in the small-town atmosphere.
Whether you're seeking adventure or relaxation, this lakeside cabin in Bear Lake provides the perfect retreat. Immerse yourself in the natural beauty and tranquility of this picturesque destination and create memories that will last a lifetime.
Conclusion
Utah is a treasure trove of natural beauty and outdoor adventures, and choosing the right accommodation can greatly enhance your experience in this remarkable state. Whether you prefer the solitude of a desert oasis, the charm of a historic home, or the luxury of a sleek loft, the Airbnb options in Utah are sure to cater to your preferences and create lasting memories.
From the breathtaking landscapes of Arches National Park to the vibrant city life of Salt Lake City, each Airbnb on this list offers a unique and immersive experience, allowing you to fully embrace the essence of Utah. Whether you're exploring national parks, hitting the slopes, or simply seeking solace in nature, these accommodations provide a comfortable and convenient base for your adventures.
From cozy cabins that blend seamlessly into the mountains to modern lofts in the heart of the city, these Airbnbs showcase the diverse beauty and culture that Utah has to offer. Each one provides a unique opportunity to connect with nature, explore the local attractions, and create cherished memories with friends and family.
So, if you're planning your next trip to Utah, consider stepping outside the traditional hotel experience and immerse yourself in the charm and character of these incredible Airbnb accommodations. Whether you're seeking relaxation, adventure, or a bit of both, these exceptional rentals will ensure that your stay in Utah is nothing short of extraordinary.