The Best Spring Getaways In The USA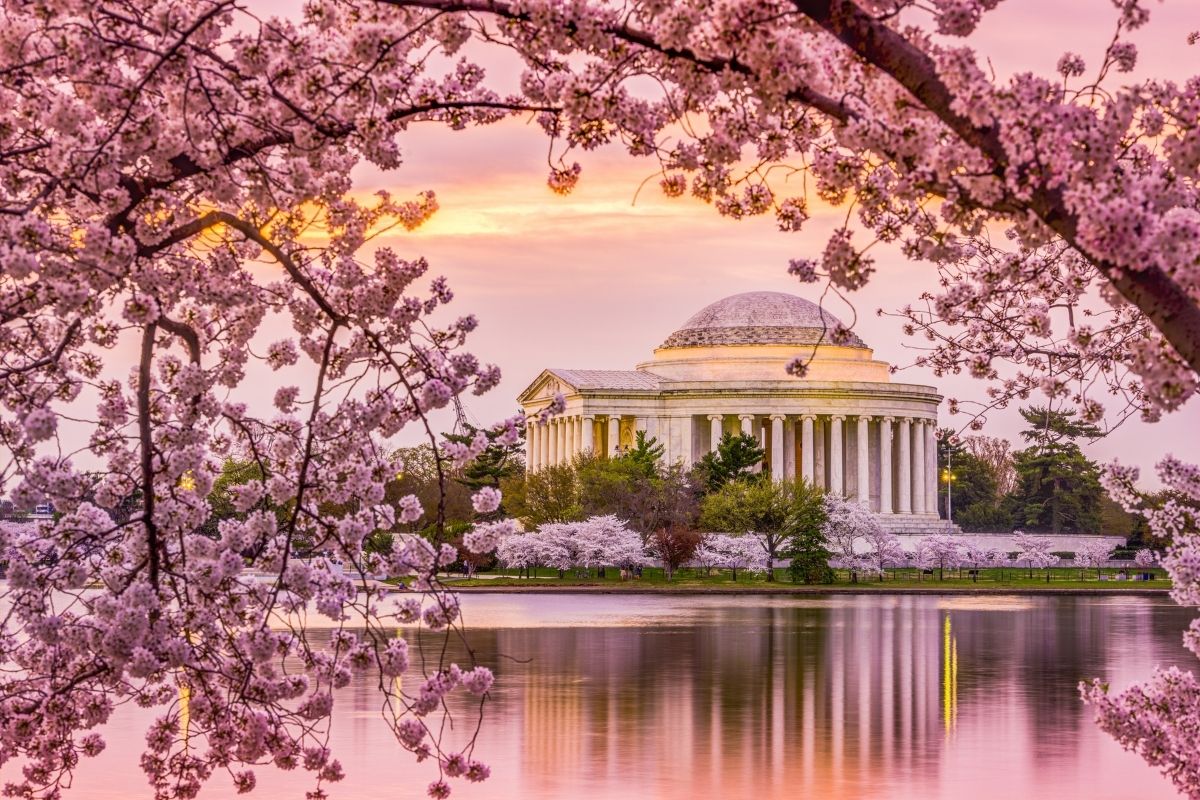 Introduction
As winter melts away and flowers begin to bloom, it's the perfect time to plan a spring getaway in the United States. With its diverse landscapes and vibrant cities, the USA offers a plethora of options for travelers seeking to embrace the beauty of the season. From national parks to coastal towns and cultural hotspots, there is something for everyone.
Whether you're looking to embark on an outdoor adventure, savor delicious cuisine, explore historical sites, or simply relax on pristine beaches, the United States has it all. In this article, we will highlight some of the best spring getaways that will leave you feeling refreshed and inspired.
From the majestic Great Smoky Mountains National Park in Tennessee to the charming streets of Key West, Florida, there is an array of destinations to choose from. Each place offers its own unique set of attractions, making it difficult to pick just one.
So, get ready to explore some of the most captivating spring getaways in the USA. Whether you're a nature enthusiast, a foodie, a history buff, or a beach lover, there's a perfect destination waiting for you. Let's dive into the details and plan your dream spring vacation.
The Great Smoky Mountains National Park
Tucked away in the Appalachian Mountains, The Great Smoky Mountains National Park straddles the border between Tennessee and North Carolina. This enchanting national park is known for its breathtaking scenery, diverse wildlife, and numerous outdoor activities.
During the spring season, the Smokies come alive with vibrant wildflowers, cascading waterfalls, and lush greenery. Hiking enthusiasts can explore over 800 miles of trails, ranging from easy strolls to challenging treks. The park boasts iconic trails such as the Appalachian Trail and the Chimney Tops, offering breathtaking views of the surrounding mountains.
In addition to hiking, visitors can enjoy horseback riding, fishing, biking, and scenic drives along the park's winding roads. Keep an eye out for the park's rich wildlife, including black bears, elk, deer, and a variety of bird species.
For those seeking a more relaxing experience, the park offers picturesque picnic spots and peaceful campgrounds where you can immerse yourself in the tranquility of nature. Spring also brings opportunities for photography enthusiasts to capture the beauty of blooming flowers and majestic waterfalls.
Another highlight of the Great Smoky Mountains National Park is its rich cultural heritage. Visit the historic Cades Cove, a picturesque valley dotted with preserved log cabins and churches from the 1800s. Take a step back in time as you explore this living museum of Appalachian history.
If you're visiting during the spring, make sure to attend the annual Wildflower Pilgrimage, a weeklong event that celebrates the park's stunning variety of wildflowers. Join informative guided hikes and educational sessions to learn more about the park's diverse plant life.
Whether you're an outdoor enthusiast, nature lover, or history buff, The Great Smoky Mountains National Park offers a captivating spring getaway that will leave you with unforgettable memories.
Napa Valley, California
Nestled in the heart of California's wine country, Napa Valley is a picturesque destination that offers a perfect spring getaway for wine enthusiasts and food lovers. This renowned region is known for its rolling vineyards, charming wineries, and world-class culinary scene.
During the spring season, Napa Valley comes alive with vibrant colors as the vineyards awaken from their winter slumber. The mild weather and blooming flowers create a scenic backdrop for a leisurely drive or a bike ride through the valley. Explore the Silverado Trail or the iconic Highway 29, both dotted with vineyards and wineries offering tastings and tours.
Wine enthusiasts will delight in the opportunity to visit some of the finest wineries in the country. From family-owned boutique wineries to grand estates, Napa Valley offers a wide range of wine tasting experiences. Take a guided tour to learn about the winemaking process and sample a variety of award-winning wines, including world-class Cabernet Sauvignon, Chardonnay, and Pinot Noir.
In addition to wine, Napa Valley is a culinary paradise. Indulge in farm-to-table dining at Michelin-starred restaurants or enjoy a relaxed picnic among the vineyards. The region's fertile land ensures that the local produce is fresh and abundant, and many restaurants feature seasonal menus that showcase the best of the region.
Beyond wine and food, Napa Valley offers a host of outdoor activities. Explore the picturesque landscapes on a hot air balloon ride, hike through scenic trails, or pamper yourself with a spa day at one of the region's luxurious resorts.
During your visit, don't miss the opportunity to explore the charming towns of Yountville, St. Helena, and Calistoga. These idyllic communities offer charming shops, art galleries, and a vibrant cultural scene.
Whether you're a wine connoisseur, a foodie, or simply seeking a scenic and relaxing escape, Napa Valley is a must-visit destination for a spring getaway.
New Orleans, Louisiana
Known for its vibrant culture, lively music scene, and delicious cuisine, New Orleans is a captivating destination for a spring getaway. Located in the heart of Louisiana, this unique city offers a blend of history, diversity, and a welcoming spirit that sets it apart from any other place in the United States.
Spring is an ideal time to visit New Orleans, as the city comes alive with festivals and outdoor events. One of the most famous celebrations during this time is Mardi Gras, a colorful and energetic festival known for its parades, costumes, and elaborate floats. Although the main Mardi Gras season is in February, the festive atmosphere lingers into the spring with street parties and live music performances.
Explore the historic French Quarter, with its charming architecture, lively bars, and exceptional cuisine. Be sure to try iconic New Orleans dishes like gumbo, jambalaya, and beignets. Indulge in the city's vibrant music scene, from jazz clubs to street performers, and witness the powerful influence of music on the local culture.
Take a leisurely stroll along the picturesque streets of the Garden District, admire the beautiful antebellum mansions, and explore Magazine Street, known for its unique boutiques and art galleries.
For a taste of history, visit the National WWII Museum, one of the most popular attractions in New Orleans. Immerse yourself in the story of World War II and explore interactive exhibits that bring history to life. Don't forget to take a ride on the authentic D-Day landing craft to experience a small part of what soldiers encountered during the war.
If you're a food lover, be sure to explore the city's culinary scene beyond the French Quarter. Venture into neighborhoods such as Bywater or Mid-City, where you can find hidden gems and local favorites. Indulge in dishes like po'boys, crawfish etouffee, and mouthwatering seafood.
New Orleans is also known for its annual Jazz and Heritage Festival, held in late April and early May. This multi-day event celebrates the city's rich musical heritage, featuring performances by renowned jazz, blues, and gospel artists.
With its rich history, vibrant culture, and lively atmosphere, New Orleans offers an unforgettable spring getaway that will leave you enchanted with its unique charm.
Savannah, Georgia
Savannah, Georgia, with its historic charm, scenic beauty, and Southern hospitality, is a perfect destination for a spring getaway. This coastal city offers a rich history, stunning architecture, and a laid-back ambiance that draws visitors from around the world.
Springtime in Savannah brings mild temperatures and blooming azaleas, creating a picturesque backdrop for exploring the city's historic district. Take a leisurely walk along the cobblestone streets, lined with moss-draped oak trees and beautifully preserved antebellum homes. The historic district is known for its meticulously manicured squares, each offering a peaceful oasis amidst the hustle and bustle of the city.
Architecture enthusiasts will appreciate the well-preserved buildings that showcase a mix of different architectural styles, including Georgian, Greek Revival, and Gothic. Explore attractions such as the Cathedral of St. John the Baptist, Forsyth Park, and the Mercer-Williams House, made famous by the book and movie "Midnight in the Garden of Good and Evil."
Savannah is also known for its vibrant arts scene. Visit the Telfair Museums, which feature a collection of American and European art, or explore the SCAD Museum of Art, showcasing contemporary works by students and established artists.
The city's culinary scene is a highlight, with a diverse range of restaurants offering everything from Southern comfort food to international cuisine. Indulge in Southern classics like shrimp and grits, fried chicken, and pecan pie. Don't forget to sample some of the region's famous sweet tea and try traditional Lowcountry dishes.
For a unique experience, take a riverboat cruise along the Savannah River and enjoy the breathtaking views of the city skyline. Learn about the city's history and listen to live music as you soak in the beautiful surroundings.
If you're a nature lover, take a short drive to Tybee Island, Savannah's nearby beach destination. Relax on the sandy shores, explore the local shops and restaurants, or take a stroll along the picturesque pier.
With its historic charm, captivating architecture, and Southern grace, Savannah offers a delightful spring getaway that will transport you back in time and leave you wanting to return for more.
Sedona, Arizona
Sedona, Arizona, nestled among the stunning red rock formations, is a breathtaking destination that offers a unique and rejuvenating spring getaway. With its scenic beauty, spiritual energy, and outdoor adventures, Sedona is a haven for nature lovers and those seeking relaxation and inspiration.
Springtime in Sedona brings pleasant temperatures and the blooming of desert flowers, creating a vibrant and picturesque landscape. Explore the mesmerizing red rock formations, such as Bell Rock and Cathedral Rock, on hiking trails that lead to stunning viewpoints. The vibrant colors and unique formations make it a perfect destination for photography enthusiasts.
One of the highlights of Sedona is its reputation as a spiritual and wellness retreat. The area is renowned for its vortex sites, believed to emit powerful energy that can enhance self-discovery and personal transformation. Visitors can participate in meditation sessions, yoga retreats, and energy healing sessions to connect with the spiritual energy of the land.
If adventure is what you seek, Sedona offers a wide range of outdoor activities. Embark on a jeep tour to explore the rugged terrain and learn about the area's geology and Native American history. Challenge yourself with rock climbing or go on a thrilling mountain biking excursion along the scenic trails.
For a more tranquil experience, indulge in a spa treatment or a relaxing soak in one of the natural hot springs that dot the area. Pamper yourself with a massage or a rejuvenating facial while surrounded by the serene beauty of Sedona.
Art enthusiasts will appreciate Sedona's vibrant art scene. Explore the numerous art galleries showcasing the work of local artists, ranging from Native American-inspired pieces to contemporary installations. Don't miss the opportunity to attend the Sedona Arts Festival, held in the spring, where you can browse and purchase a wide range of arts and crafts.
Sedona also offers exquisite dining options, with a focus on fresh, organic ingredients and Southwest flavors. From charming cafes to fine dining establishments, there's something to suit every palate. Enjoy a leisurely meal while taking in the stunning views of the red rock formations.
With its awe-inspiring landscapes, spiritual energy, and outdoor adventures, Sedona provides a one-of-a-kind spring getaway that will leave you feeling both grounded and inspired.
Maui, Hawaii
Maui, the second-largest island in Hawaii, is a tropical paradise that offers an idyllic spring getaway. With its pristine beaches, lush landscapes, and diverse range of activities, Maui is a dream destination for sun-seekers, nature enthusiasts, and adventure lovers alike.
Spring in Maui brings warm temperatures, gentle breezes, and clear skies, making it an ideal time to explore the island's natural wonders. Relax on the golden sands of Kaanapali Beach or go snorkeling in the crystal-clear waters of Molokini Crater, a volcanic crater known for its vibrant marine life.
For those seeking outdoor adventures, Maui offers a wealth of activities. Hike through the bamboo forests and swim beneath waterfalls along the iconic Road to Hana. Take a scenic drive up to Haleakala National Park and witness the breathtaking sunrise from the summit of the dormant volcano.
Surfing enthusiasts will find plenty of world-class surf breaks along the island's coastline. Whether you're a beginner or an experienced surfer, Maui offers the perfect waves to catch and ride. Lessons and equipment rentals are readily available for those looking to try their hand at this exhilarating sport.
Maui is also a paradise for food lovers. Sample fresh tropical fruits at local farmers' markets, indulge in Hawaiian delicacies such as poke and kalua pig, or dine at one of the island's many high-quality restaurants that fuse local flavors with international cuisine.
Don't miss the opportunity to explore Maui's unique cultural heritage. Visit the historic town of Lahaina, once a bustling whaling port and now a charming hub of art galleries, shops, and restaurants. Discover the rich Hawaiian history and traditions through cultural activities, such as hula dancing and lei-making workshops.
Maui also offers plenty of opportunities for relaxation and rejuvenation. Treat yourself to a luxurious spa day, practice yoga on the beach, or simply unwind with a book while sunbathing on one of the island's pristine beaches.
With its stunning landscapes, abundance of outdoor activities, and laid-back island vibe, Maui is the perfect spring getaway for those seeking a tropical paradise.
Charleston, South Carolina
Charleston, South Carolina, with its rich history, charming architecture, and Southern hospitality, is a delightful spring getaway destination. Known for its cobblestone streets, antebellum mansions, and world-class cuisine, Charleston offers a perfect blend of old-world charm and modern sophistication.
In the springtime, Charleston showcases its beauty with blooming azaleas, dogwoods, and magnolias, creating a picturesque setting for exploring the city. Take a leisurely stroll along the historic Battery, where you can enjoy views of the Charleston Harbor and iconic Rainbow Row, a row of colorful Georgian townhouses.
Immerse yourself in the city's rich history by visiting plantations such as Boone Hall or Magnolia Plantation and Gardens, where you can learn about the area's antebellum past and admire the beautiful gardens. Take a guided walking tour to discover the hidden alleys, hidden gardens, and historic landmarks that tell the stories of Charleston's past.
Food lovers will be in heaven in Charleston, as the city is known for its exceptional culinary scene. Experience Lowcountry cuisine, which combines influences from African, French, and Caribbean traditions, with dishes like she-crab soup, shrimp and grits, and Carolina gold rice. Don't forget to sample delicious sweet tea, a quintessential Southern beverage.
Charleston is also home to a vibrant arts scene, with numerous art galleries and theaters showcasing local talent. Visit the Gibbes Museum of Art, which features a collection of American art from the colonial period to the present day, or catch a performance at the historic Dock Street Theater.
If you're looking for relaxation, head to one of Charleston's nearby beaches, such as Folly Beach or Sullivan's Island. Soak up the sun, take a dip in the Atlantic Ocean, or simply unwind with a beachfront picnic.
For nature enthusiasts, a visit to the nearby Angel Oak, a massive live oak tree estimated to be over 400 years old, is a must-see. Marvel at its sprawling branches and captivating presence.
With its historic charm, delectable cuisine, and cultural offerings, Charleston beckons visitors to immerse themselves in its Southern grace and hospitality, making it an ideal spring getaway destination.
Austin, Texas
Austin, the capital of Texas, is a vibrant and eclectic city that offers a unique spring getaway experience. Known for its live music scene, thriving arts community, and outdoor attractions, Austin is a destination that caters to a variety of interests.
Springtime in Austin brings comfortable temperatures and beautiful wildflowers. Explore the famous Lady Bird Lake, a scenic reservoir in the heart of the city, where you can enjoy activities such as kayaking, paddleboarding, or simply strolling along the waterfront trails.
Austin is often referred to as the "Live Music Capital of the World," and for good reason. From renowned music festivals like South by Southwest (SXSW) to countless live music venues spread throughout the city, there is always a performance to catch. Experience the vibrant local music scene by visiting iconic venues like the Continental Club or the Moody Theater, home to the famous Austin City Limits TV show.
The city is also known for its thriving food scene, with a wide range of dining options available. Sample mouth-watering barbecue, indulge in Tex-Mex cuisine, or explore the city's diverse international culinary offerings. Don't forget to visit the famous food trucks scattered throughout the city, serving up delicious eats with unique flavors.
Art and culture enthusiasts will find plenty to explore in Austin. Visit the Blanton Museum of Art, which houses an impressive collection of European, Latin American, and contemporary art. Take a stroll through the University of Texas at Austin campus and admire its beautiful architecture, including the iconic Tower.
Nature lovers will appreciate Austin's many outdoor spaces. Spend a day exploring the beautiful Zilker Park and its botanical garden. Hike or bike along the scenic trails at the Barton Creek Greenbelt or take a dip in the natural spring-fed swimming holes like Barton Springs Pool. Austin's natural beauty is sure to invigorate and inspire.
For a taste of local culture, visit the SoCo (South Congress) neighborhood, known for its trendy boutiques, vintage shops, and unique art galleries. Indulge in some retail therapy while immersing yourself in Austin's hip and eclectic atmosphere.
With its vibrant music scene, delectable cuisine, and outdoor attractions, Austin offers an unforgettable spring getaway experience that is both lively and laid-back. Embrace the city's motto, "Keep Austin Weird," as you immerse yourself in the vibrant culture and Southern charm.
Washington, D.C.
Washington, D.C., the capital of the United States, is a captivating spring getaway destination that offers a wealth of history, culture, and iconic landmarks. With its cherry blossoms in full bloom and pleasant weather, D.C. is a perfect place to explore the nation's rich heritage.
Springtime in D.C. is marked by the spectacular blooming of cherry blossoms around the Tidal Basin. These delicate pink flowers create a picture-perfect scene and attract visitors from around the world. Take a stroll or rent a paddleboat to admire the stunning cherry blossom trees and enjoy the vibrant atmosphere.
The city is home to an incredible range of world-class museums and monuments. Explore the Smithsonian Institution, which consists of multiple museums, including the National Air and Space Museum and the National Museum of American History. Don't miss the opportunity to visit the iconic monuments and memorials, such as the Lincoln Memorial, the Washington Monument, and the Vietnam Veterans Memorial.
Take a stroll along the National Mall, a sprawling park that stretches from the Capitol Building to the Lincoln Memorial, dotted with beautiful green spaces and famous landmarks. The National Mall is also home to the renowned annual National Cherry Blossom Festival, featuring parades, concerts, and cultural performances.
For history enthusiasts, a visit to the National Archives is a must. View the original Declaration of Independence, the U.S. Constitution, and the Bill of Rights, which are on display for public viewing.
Explore the diverse neighborhoods of D.C., each with its own unique character and charm. From the vibrant streets of Georgetown with its upscale shops and waterfront dining, to the hip and artistic scene of Adams Morgan, there is something for everyone. Discover the eclectic dining scene, offering everything from international cuisine to traditional American fare.
Nature lovers can escape the bustling city by visiting Rock Creek Park, a massive urban park that spans over 2,000 acres. Enjoy hiking and biking trails, picnic areas, and even horseback riding in this green oasis in the heart of the city.
With its rich history, iconic landmarks, and stunning cherry blossoms, Washington, D.C. offers an unforgettable spring getaway that will immerse you in the pride and heritage of the nation.
Key West, Florida
Key West, the southernmost city in the United States, is a tropical paradise that offers a vibrant and laid-back spring getaway. With its crystal-clear turquoise waters, sandy beaches, and colorful culture, Key West is a slice of paradise that will transport you to a world of relaxation and bliss.
Spring is the perfect time to visit Key West, as the weather is warm and balmy without the peak tourist crowds. Soak up the sun on the beautiful beaches, such as Smathers Beach or Higgs Beach, where you can swim, snorkel, or simply lounge under a palm tree with a good book.
Explore the history and charm of Old Town Key West. Take a leisurely stroll along Duval Street, lined with unique shops, art galleries, and lively bars. Discover the beautiful conch-style houses and visit iconic landmarks like the Ernest Hemingway Home and Museum or the Mel Fisher Maritime Museum.
Take a sunset cruise and witness the breathtaking beauty of the sun sinking into the horizon, painting the sky in hues of pink and gold. The stunning sunsets in Key West are legendary, and there are various options to choose from, including sailboat cruises or catamaran tours.
For a taste of adventure, embark on a snorkeling or diving excursion to explore the vibrant coral reefs surrounding the island. Encounter colorful tropical fish, graceful sea turtles, and even friendly dolphins. Key West is a haven for water sports lovers, offering activities such as kayaking, paddleboarding, and jet skiing.
Indulge in the vibrant and diverse culinary scene of Key West. From fresh seafood caught daily to Caribbean-inspired flavors, the city offers a wide range of dining options. Savor the famous Key lime pie, a tangy and refreshing treat that perfectly captures the essence of this tropical island.
Explore the unique culture of Key West by visiting the Hemingway Days Festival, which celebrates the life and works of the renowned author. Enjoy literary competitions, live music, and even a "Running of the Bulls" event. Key West is also known for its colorful and lively LGBTQ+ community, with events and festivals that celebrate diversity and inclusivity.
As the sun sets, head to Mallory Square, a vibrant gathering place for street performers, artists, and vendors. Enjoy the lively atmosphere, catch a mesmerizing street performance, and witness the nightly Sunset Celebration, where locals and visitors alike gather to bid farewell to another beautiful day in paradise.
With its enchanting beauty, vibrant culture, and endless opportunities for relaxation and adventure, Key West is the perfect destination for a rejuvenating and unforgettable spring getaway.
Conclusion
From the majestic mountains of the Great Smokies to the tropical paradise of Key West, the United States offers a diverse range of spring getaways that will leave you with lasting memories. Whether you're seeking outdoor adventures, cultural experiences, or simply a place to relax and unwind, there is a destination to suit every traveler's preferences.
Immerse yourself in the natural beauty of the Great Smoky Mountains National Park, where blooming wildflowers and cascading waterfalls create a picturesque backdrop for outdoor activities. Or, indulge in the refined pleasures of Napa Valley, where vineyards stretch as far as the eye can see and world-class wines await your tasting.
Experience the vibrant culture and history of cities like New Orleans, where lively music, delicious cuisine, and colorful festivals create an atmosphere like no other. Explore the charming streets of Charleston, where well-preserved antebellum homes and Southern hospitality create an old-world charm that's hard to resist.
For a more serene and spiritual escape, Sedona beckons with its captivating red rock formations, tranquil energy, and outdoor adventures. And for those seeking a tropical getaway, Maui in Hawaii offers pristine beaches, lush landscapes, and a taste of paradise.
Discover the political and cultural heart of the nation in Washington, D.C., as you explore the iconic landmarks, world-class museums, and the beauty of cherry blossoms in full bloom. And finally, unwind in the laid-back paradise of Key West, where crystal-clear waters, stunning sunsets, and a vibrant atmosphere create the perfect backdrop for relaxation and adventure.
Whether you're an outdoor enthusiast, a history buff, a food lover, or simply seeking a tranquil escape, the United States has a spring getaway destination that will cater to your desires. So, pack your bags, embark on an unforgettable journey, and let the beauty and charm of these destinations envelop you.