Your Essential Guide: What To Do In New York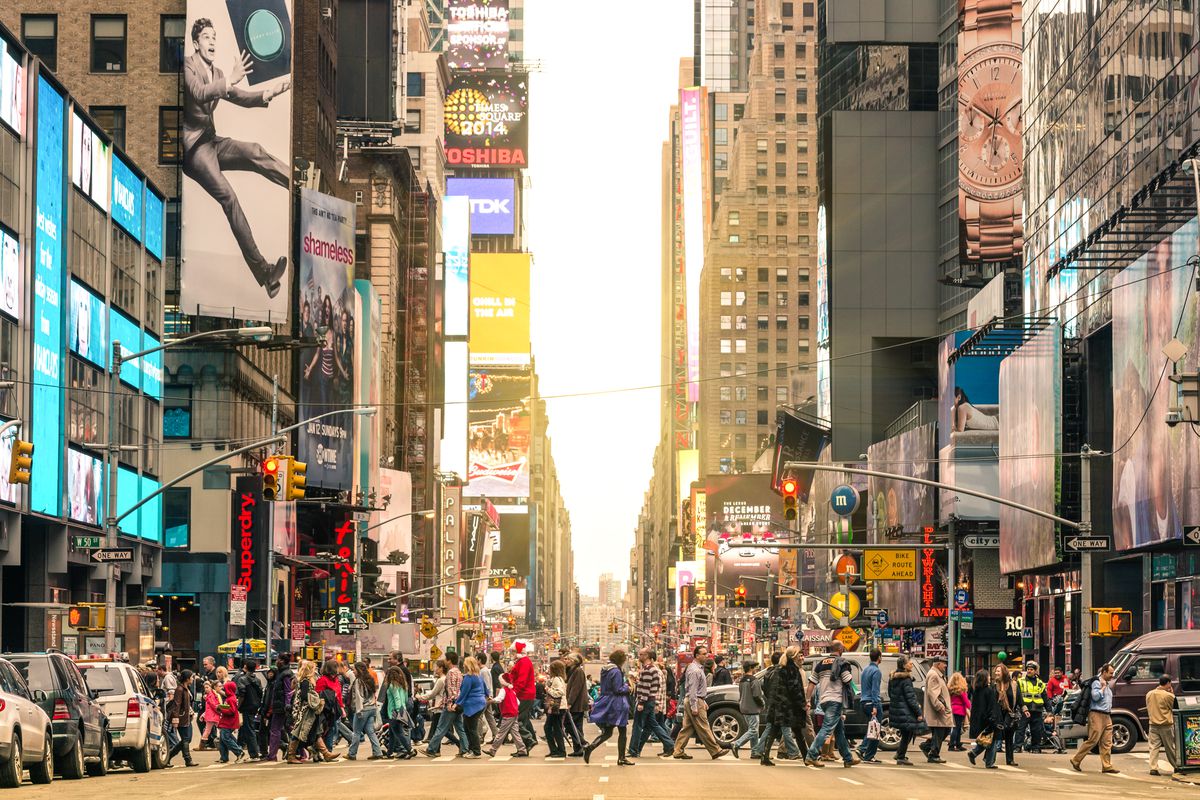 Introduction
Welcome to the city that never sleeps! New York, also known as the Big Apple, is a vibrant and diverse metropolis that offers an endless array of experiences. From iconic landmarks to thriving cultural scenes, from world-class dining to exciting outdoor activities, this iconic city has something for everyone.
With its towering skyscrapers, bustling streets, and rich history, New York is a city that captures the imagination of millions of visitors each year. Whether you're a first-time visitor or a seasoned traveler, there's always something new and exciting to explore in the city that never ceases to amaze.
Home to famous landmarks such as the Statue of Liberty, Times Square, and Central Park, New York offers unparalleled opportunities for sightseeing. From the top of the Empire State Building, you can take in breathtaking views of the city skyline, while a stroll through Central Park reveals the city's green oasis in the midst of the urban jungle. Exploring these iconic landmarks is a must for any visitor to the city.
But New York is more than just its famous landmarks. It is a melting pot of cultures, reflected in its diverse neighborhoods and thriving arts scenes. From the bohemian streets of Greenwich Village to the trendy galleries of Chelsea, there are countless opportunities to immerse yourself in the city's vibrant cultural offerings. Whether you're interested in art, theater, music, or dance, New York has something to satisfy every cultural craving.
Of course, no visit to New York would be complete without indulging in its world-renowned culinary scene. From Michelin-starred restaurants to street food vendors, the city offers a plethora of dining options to suit every palate and budget. From classic New York-style pizza to international cuisines from around the world, food lovers will find themselves in a gastronomic paradise.
But it's not all about the urban experience in New York. The city also boasts numerous parks and outdoor spaces, where you can escape the hustle and bustle and enjoy some fresh air. From the High Line, an elevated park built on a historic freight rail line, to Prospect Park in Brooklyn, there are plenty of green spaces to relax and unwind.
With its vibrant nightlife, world-class museums and galleries, and a bustling theater district, New York offers unlimited entertainment options. Catch a Broadway show, explore the exhibits at the Metropolitan Museum of Art, or dance the night away at one of the city's iconic clubs – the choices are endless.
Whether you're looking for a romantic getaway, a family-friendly vacation, or a solo adventure, New York has it all. From exploring iconic landmarks to immersing in cultural experiences, from indulging in culinary delights to enjoying outdoor activities, this city has something to offer everyone. So pack your bags and get ready to experience the magic of New York!
Exploring Iconic Landmarks
New York is synonymous with iconic landmarks that have become symbols of the city and are recognized worldwide. One of the most famous landmarks is the Statue of Liberty, standing tall on Liberty Island in the New York Harbor. Visitors can take a ferry ride to get up close to Lady Liberty and even climb to the top for a stunning view of the city skyline.
Another must-visit landmark is Times Square, known for its neon lights, giant billboards, and bustling energy. This vibrant intersection is the heart of the city, where visitors can soak in the electrifying atmosphere, shop at flagship stores, and catch a Broadway show.
No visit to New York would be complete without a trip to Central Park. This vast green oasis in the middle of Manhattan offers a serene escape from the urban jungle. Take a leisurely stroll through the park, rent a bike, or have a picnic by the lakeside – there are endless ways to enjoy this iconic landmark.
For breathtaking views of the city, head to the top of the Empire State Building. This Art Deco skyscraper offers observation decks on the 86th and 102nd floors, providing panoramic views of the entire city. From here, you can see famous landmarks like the Chrysler Building, One World Trade Center, and the Brooklyn Bridge.
Other notable landmarks include the Brooklyn Bridge, a marvel of engineering and a beloved symbol of the city; the High Line, an elevated park built on a historic railway track; and the Vessel, a unique honeycomb-like structure that offers stunning views of the Hudson Yards neighborhood.
Exploring these iconic landmarks not only provides a chance to capture Instagram-worthy photos, but also offers a glimpse into the city's rich history and architectural wonders. So be sure to carve out time in your itinerary to visit these landmarks and create lasting memories of your time in New York.
Immersing in Cultural Experiences
New York is known for its vibrant and diverse cultural scene, offering a plethora of opportunities to immerse yourself in art, music, theater, and more. Whether you're a fan of classical art, contemporary performances, or experimental exhibits, the city has something to cater to every artistic taste.
Start your cultural journey by visiting the world-renowned Museum of Modern Art (MoMA), home to a vast collection of modern and contemporary art. Admire works by renowned artists such as Van Gogh, Picasso, Warhol, and Pollock, and explore rotating exhibits that showcase emerging talents and innovative contemporary art forms.
For a taste of New York's thriving street art scene, head to the Bushwick neighborhood in Brooklyn. This neighborhood is known for its vibrant murals and colorful graffiti, with numerous street art galleries and outdoor installations to explore. Take a guided tour or simply wander the streets to discover hidden artistic gems.
New York is also a hub for theater and Broadway shows. Catch a performance of a classic musical like "The Phantom of the Opera" or "Hamilton," or check out the latest Off-Broadway productions for a more intimate and avant-garde theater experience. The Theater District, centered around Times Square, is the epicenter of the city's theater scene, with a multitude of theaters showcasing a variety of performances.
If you're a music lover, be sure to catch a live concert in one of New York's legendary venues. From the iconic Carnegie Hall to the intimate jazz clubs of Greenwich Village, the city offers a diverse range of musical experiences. Jazz, rock, classical, hip-hop – whatever your preferred genre, you'll find a venue that caters to your taste.
For a truly immersive cultural experience, explore the different neighborhoods of New York City. Take a stroll through the historic streets of Harlem, known for its rich jazz heritage and soul food restaurants. Visit Chinatown to discover vibrant Asian markets and sample authentic cuisine. Explore the galleries and art studios of Chelsea, or dive into the bohemian atmosphere of Greenwich Village.
To fully immerse yourself in the city's cultural diversity, consider attending one of the many cultural festivals that take place throughout the year. From the colorful Lunar New Year Parade in Chinatown to the vibrant Caribbean Carnival in Brooklyn, these festivals showcase the city's multicultural fabric and offer a chance to experience different traditions and cuisines.
New York's cultural experiences are not limited to traditional art forms. The city is also a hotspot for cutting-edge performances, experimental theater, and interactive exhibits. Keep an eye out for immersive art installations, pop-up galleries, and interactive theater experiences that push the boundaries of creativity.
Immersing yourself in New York's cultural experiences is not only a way to appreciate the city's artistic spirit, but also an opportunity to gain a deeper understanding of its diverse communities and their contributions to the cultural fabric of the city.
Indulging in Culinary Delights
New York City is a paradise for food lovers, offering a tantalizing array of culinary delights from around the world. Whether you're in the mood for gourmet fine dining, casual street food, or international cuisines, the city has something to satisfy every craving and palate.
Start your culinary adventure by exploring the diverse neighborhoods of New York. From Little Italy in Lower Manhattan to Jackson Heights in Queens, these ethnic enclaves offer a taste of authentic and traditional cuisines. Indulge in mouthwatering pasta dishes, wood-fired pizzas, or delectable dumplings – the options are endless.
If you're a fan of street food, you're in for a treat. New York is famous for its hot dog stands, pretzel vendors, and halal carts that line the streets. Grab a classic New York hot dog with all the toppings, savor a soft pretzel, or indulge in a flavorful falafel wrap – these affordable and delicious street eats are a must-try in the city.
For those seeking a fine dining experience, New York boasts a plethora of Michelin-starred restaurants helmed by world-class chefs. From cutting-edge gastronomic creations to classic French cuisine, these culinary temples will delight your taste buds and provide an unforgettable dining experience.
No visit to New York would be complete without trying a slice of the city's famous pizza. Whether you prefer a classic New York-style thin crust or a chewy Neapolitan pie, there are pizzerias scattered throughout the city that will satisfy your pizza cravings. Head to establishments like Lombardi's, Juliana's, or Di Fara for a truly authentic and mouthwatering pizza experience.
Seafood lovers will find themselves in paradise when dining in New York. The city's proximity to the coast ensures fresh and flavorful seafood dishes. Indulge in a seafood tower filled with oysters, crab, and lobster, or savor a bowl of creamy New England clam chowder – the options for seafood enthusiasts are endless.
Don't forget to save room for dessert! New York is famous for its sweet treats, ranging from iconic cheesecake to decadent chocolate desserts. Stop by a bakery for a classic black and white cookie, sample unique flavors at artisanal ice cream shops, or indulge in a slice of creamy New York-style cheesecake – the city's dessert scene is sure to satisfy any sweet tooth.
And let's not forget about the city's vibrant food markets. From Chelsea Market to Smorgasburg, these bustling markets are a food lover's paradise, offering a wide selection of culinary delights from local vendors. Sample gourmet bites, artisanal cheeses, and international specialties as you explore these vibrant foodie havens.
New York's culinary scene is ever-evolving, with new restaurants, food trends, and innovative dining concepts constantly emerging. Exploring the city's diverse culinary landscape is an adventure in itself, allowing you to savor the flavors of the world right in the heart of the Big Apple.
Enjoying Outdoor Activities
While New York City is known for its bustling streets and towering skyscrapers, it also offers plenty of opportunities to enjoy the great outdoors. From sprawling parks to scenic waterfronts, the city provides a variety of outdoor activities for visitors and locals alike.
Central Park is a true oasis in the heart of Manhattan. Spanning over 843 acres, it offers a multitude of activities for outdoor enthusiasts. Rent a bike and explore the numerous pathways, have a picnic on the Great Lawn, row a boat on the Central Park Lake, or visit the Central Park Zoo. With its lush greenery, tranquil lakes, and iconic landmarks, Central Park is the perfect place to escape the concrete jungle.
For a unique outdoor experience, venture to the High Line, an elevated park built on a historic freight rail line. This elevated promenade offers stunning views of the city skyline and the Hudson River, as well as art installations and beautifully landscaped gardens. Take a leisurely stroll, enjoy a picnic, or simply relax and soak up the sun as you make your way along this popular urban park.
New York City is surrounded by water, making it an ideal destination for water-based activities. Take a relaxing ferry ride to Staten Island to catch stunning views of the Statue of Liberty and the city's skyline. Rent a kayak or paddleboard and explore the Hudson River or the breathtaking waters of Jamaica Bay. For a beach experience, head to Coney Island or Rockaway Beach, where you can soak up the sun, swim in the ocean, or ride exhilarating roller coasters.
If you're a fitness enthusiast, join the locals in their outdoor workout routines. Many parks in New York offer fitness equipment, yoga classes, and running paths, allowing you to stay active while enjoying the fresh air. Join a group of joggers in Central Park, participate in a high-energy Zumba class in Bryant Park, or try your hand at outdoor rock climbing in DUMBO.
New York City is also home to many picturesque gardens and botanical spaces. Visit the New York Botanical Garden in the Bronx, where you can explore diverse landscapes, visit themed gardens, and attend educational programs. The Brooklyn Botanic Garden is another must-visit, with its stunning cherry blossom trees, peaceful Japanese Garden, and vibrant floral displays.
For sports enthusiasts, New York offers plenty of opportunities to catch a game or engage in recreational activities. Attend a baseball game at Yankee Stadium or Citi Field, home to the New York Yankees and New York Mets, respectively. Join a pickup basketball game at one of the city's iconic street courts, or skate at one of the many roller or ice skating rinks scattered throughout the city.
From leisurely walks to adrenaline-pumping activities, New York City has something for everyone when it comes to outdoor pursuits. Whether you're looking to relax, stay active, or simply enjoy the beauty of nature, the city's outdoor offerings will not disappoint.
Shopping in New York
New York City is a shopaholic's dream, offering a wealth of shopping opportunities that cater to all tastes and budgets. From luxury department stores to trendy boutiques and bustling street markets, the city has it all when it comes to retail therapy.
Start your shopping spree on Fifth Avenue, often referred to as the "Fashion Avenue" of New York. This iconic street is home to high-end designer boutiques, luxury department stores, and flagship stores of renowned fashion brands. Explore world-famous names like Saks Fifth Avenue, Bergdorf Goodman, and Tiffany & Co., and indulge in a luxury shopping experience like no other.
If you're looking for more affordable options, head to SoHo (South of Houston Street). This trendy neighborhood is known for its diverse shopping scene, featuring a mix of independent boutiques, well-known brands, and unique concept stores. Discover the latest fashion trends, browse unique vintage shops, or shop for local designer creations in this vibrant and fashionable district.
For those seeking a bargain, a visit to the city's vibrant street markets is a must. The Union Square Greenmarket offers a wide selection of fresh produce, artisanal products, and handmade crafts. Explore the Brooklyn Flea Market, where you can find vintage clothing, antiques, and unique art pieces. And don't forget to check out the bustling atmosphere of Chinatown, where you can haggle for bargains on everything from clothing and accessories to souvenirs and home goods.
New York City is also home to numerous iconic department stores that offer an unparalleled shopping experience. Macy's Herald Square, one of the largest department stores in the world, offers a wide selection of clothing, home goods, and accessories. Bloomingdale's, known for its upscale fashion and luxury brands, is a must-visit for fashion enthusiasts. Explore the historic and elegant surroundings of Lord & Taylor, or browse the wide range of offerings at Nordstrom's flagship store.
If you're a food lover, don't miss the chance to explore the city's gourmet and specialty food shops. From the famous food halls at Chelsea Market and Eataly to the upscale vendors at The Plaza Food Hall, these culinary destinations offer a wide range of gourmet ingredients, artisanal treats, and unique dining options.
For a unique shopping experience that blends culture and commerce, visit the many pop-up markets and craft fairs that take place throughout the city. From the locally made products at the Artists & Fleas market to the eclectic offerings of the Renegade Craft Fair, these temporary markets showcase the creativity and craftsmanship of local artisans.
Shopping in New York City goes beyond just purchasing things – it's an opportunity to immerse yourself in the city's vibrant culture and fashion scene. So whether you're in search of high-end fashion, vintage finds, or one-of-a-kind souvenirs, the city offers an endless array of shopping options to satisfy every taste and style.
Discovering Vibrant Nightlife
New York City truly comes alive after dark, offering a vibrant and diverse nightlife scene that caters to all tastes and preferences. From swanky rooftop bars to historic jazz clubs and high-energy nightclubs, the city offers endless opportunities for entertainment and socializing.
Start your evening by exploring the city's rooftop bars, where you can enjoy breathtaking views of the skyline while sipping on expertly crafted cocktails. From the luxurious rooftop lounges of Midtown to the trendy spots in Lower Manhattan and Brooklyn, these elevated venues provide the perfect setting for a night out on the town.
If live music is your passion, New York City is home to some of the world's most iconic jazz clubs. Head to the Village Vanguard or Blue Note in Greenwich Village, where legendary jazz musicians have played for decades. Get lost in the soulful sounds of live performances and experience the rich history of the city's jazz scene.
The city's nightlife scene also includes a multitude of high-energy nightclubs, where you can dance the night away to the beats of renowned DJs and live music. Take a trip to the Meatpacking District, known for its upscale clubs and stylish crowd, or explore the vibrant nightlife of Williamsburg in Brooklyn. New York's diverse club scene ensures that there's a venue for every musical taste.
If you're looking for a more laid-back evening, venture to the neighborhood bars and pubs that are scattered throughout the city. From historic taverns in the East Village to cozy speakeasies in the West Village, these intimate establishments offer a more relaxed atmosphere where you can unwind and socialize with friends.
New York City is also famous for its Broadway shows, which provide a unique and unforgettable nightlife experience. Watch world-class performances of musicals and plays at iconic theaters like the Majestic Theatre or the Richard Rodgers Theatre. Whether you're a theater enthusiast or new to the world of Broadway, catching a show is a must-do when in the Big Apple.
For those looking for a more alternative nightlife experience, New York City has a thriving underground scene. From secret warehouse parties to interactive theater performances and immersive nightlife experiences, the city offers a range of unconventional and unforgettable nighttime activities.
When it comes to late-night dining, New York offers a wealth of options. Indulge in a slice of pizza from a 24-hour joint, savor a steaming plate of dim sum in Chinatown, or satisfy your cravings with a bowl of late-night ramen. With numerous diners, food trucks, and restaurants that cater to late-night appetites, you'll never go hungry in the city that never sleeps.
Exploring the vibrant nightlife of New York City is an essential part of experiencing the city's energetic and dynamic atmosphere. Whether you're dancing until dawn, enjoying live music, or sipping cocktails with stunning views, the city's nightlife scene promises an unforgettable night on the town.
Relaxing in Parks and Gardens
Amidst the hustle and bustle of New York City, there are numerous parks and gardens that offer peaceful and serene environments for relaxation and rejuvenation. These green spaces provide a welcome escape from the fast-paced urban life, allowing visitors to reconnect with nature and enjoy a moment of tranquility.
One of the most iconic and beloved parks in the city is Central Park. Spanning over 843 acres, this sprawling oasis in the heart of Manhattan is a haven for both locals and tourists. Take a leisurely stroll along the winding pathways, have a picnic on the Great Lawn, or rent a rowboat and glide across the peaceful waters of the Central Park Lake.
For a more immersive nature experience, visit the Brooklyn Botanic Garden. This 52-acre garden is home to a stunning collection of flora and fauna, including the famous Japanese Garden, the fragrant Rose Garden, and the peaceful Cherry Esplanade, which bursts into a riot of color during the cherry blossom season. The Brooklyn Botanic Garden offers a tranquil escape from the city, allowing visitors to immerse themselves in the beauty of nature.
The High Line, an elevated park built on a historic freight rail line, combines greenery, art, and stunning city views. This unique urban park features beautifully landscaped gardens, art installations, and seating areas where visitors can relax and take in the panoramic views of the city skyline. Whether you're enjoying a leisurely walk or sitting on one of the benches, the High Line provides a serene escape from the bustling streets below.
Prospect Park, located in Brooklyn, is another gem of natural beauty. Designed by the same architects who created Central Park, this 585-acre park offers a wide array of activities for relaxation and recreation. Take a bike ride along the winding trails, have a leisurely picnic by the lake, or enjoy a serene boat ride on the Prospect Park Boathouse. A visit to Prospect Park offers a peaceful retreat from the city, surrounded by lush greenery and natural landscapes.
New York City is also home to smaller, yet equally inviting, neighborhood parks. From the historic and picturesque Washington Square Park in Greenwich Village to the waterfront oasis of Battery Park in Lower Manhattan, these parks provide spaces for peaceful contemplation, listening to street musicians, or just soaking up the atmosphere of the city.
These parks and gardens not only provide opportunities for relaxation, but also host various events and activities throughout the year. From outdoor concerts and movie screenings to yoga classes and nature walks, there are plenty of ways to engage with the natural surroundings and the vibrant community in these outdoor spaces.
So, if you're in need of a break from the urban jungle, New York City's parks and gardens offer a perfect respite. Take a moment to unwind, enjoy the beauty of nature, and recharge in these peaceful and green retreats within the city.
Visiting Museums and Galleries
New York City is renowned for its rich cultural heritage, and one of the best ways to immerse yourself in the city's art and history is by visiting its world-class museums and galleries. From renowned institutions to hidden gems, the city offers a diverse array of cultural spaces that cater to all interests.
The Metropolitan Museum of Art, or simply the Met, is an iconic landmark and one of the largest art museums in the world. Housing over two million artworks spanning over 5,000 years of human history, the Met offers a vast collection of paintings, sculptures, decorative arts, and artifacts from around the globe. From ancient Egyptian artifacts to modern masterpieces, visiting the Met is like embarking on a journey through the history of art and civilization.
If modern and contemporary art is more your taste, then look no further than the Museum of Modern Art (MoMA). With its impressive collection of modern and contemporary art, including renowned works by artists like Van Gogh, Picasso, and Warhol, MoMA is a must-visit for art enthusiasts. The museum also hosts rotating exhibitions and special events that showcase emerging artists and cutting-edge art forms.
For those interested in American art, the Whitney Museum of American Art is a must-see. Located in the Meatpacking District, the Whitney houses a comprehensive collection of American art from the twentieth and twenty-first centuries. From iconic works of American realism to contemporary installations, the museum provides a unique perspective on the country's artistic legacy.
In addition to these major institutions, New York City is home to a myriad of smaller galleries that showcase emerging and established artists. Neighborhoods like Chelsea, the Lower East Side, and Williamsburg are renowned for their vibrant contemporary art scenes, with numerous galleries showcasing a wide range of artistic styles and mediums.
Beyond traditional forms of art, New York City also offers specialized museums that cater to unique interests. The American Museum of Natural History is a favorite among visitors of all ages, housing a vast collection of scientific exhibits, including dinosaur skeletons, ancient fossils, and interactive displays. The Museum of the Moving Image in Queens celebrates the art and history of film, television, and digital media, with exhibits showcasing iconic movie props and behind-the-scenes insights.
Visiting museums and galleries in New York City goes beyond admiring beautiful artwork; it provides opportunities to learn, engage, and develop a deeper understanding of various artistic movements and cultural contexts. Whether you're an art connoisseur or simply curious about history and culture, the city's museums and galleries are sure to inspire and captivate.
Taking a Tour in the City
Exploring the vibrant streets of New York City is an adventure in itself, but to truly learn about the city's history, culture, and iconic landmarks, taking a tour is highly recommended. Whether you prefer walking, biking, or cruising through the streets, there are a variety of tour options available to suit every interest and preference.
A popular way to discover the city is by taking a guided walking tour. Lace up your comfortable shoes and join a knowledgeable guide who will lead you through the city's neighborhoods, sharing fascinating stories and historical insights along the way. Explore the historic streets of Lower Manhattan, learn about the architecture of Midtown, or delve into the vibrant cultural enclaves of Harlem or Chinatown.
If you're looking to cover more ground in a shorter time, consider a guided bus tour. Hop on a comfortable double-decker bus and soak up the sights as you pass through the city's most famous landmarks. From Times Square to Central Park, the Statue of Liberty to the Empire State Building, these tours offer informative commentary and convenient transportation.
For a unique perspective, take to the water on a boat tour. Cruise along the Hudson River or the East River and enjoy stunning views of the Manhattan skyline and iconic bridges. Some boat tours even offer live commentary, providing historical and architectural insights as you glide past landmarks like the Statue of Liberty, Ellis Island, and the Brooklyn Bridge.
Cycling enthusiasts can explore the city on two wheels by joining a guided bike tour. Ride through Central Park, pedal across the Brooklyn Bridge, or explore the vibrant neighborhoods of Brooklyn. These tours offer a fun and active way to see the city while learning about its history and landmarks from experienced guides.
For a more specialized experience, consider taking a themed tour. New York City offers a wide range of unique tours that cater to specific interests. From culinary tours that take you to the city's best food spots to street art tours that explore the vibrant graffiti scene, there's a tour for every niche interest.
New York City is also famous for its theater scene, and taking a backstage tour of a Broadway theater is a must for theater enthusiasts. Go behind the scenes, step onto the stage, and learn about the history and production of Broadway shows. Some tours even offer the chance to meet cast members or visit renowned costume and prop workshops.
Whether you're an architecture buff, a history enthusiast, or simply eager to see the sights, taking a tour in New York City provides a unique and informative experience. Not only will you gain a deeper understanding of the city's rich cultural heritage, but you'll also create lasting memories of your time exploring the Big Apple.
Attending Broadway Shows
No visit to New York City is complete without experiencing the magic of Broadway. Known as the pinnacle of American theater, Broadway offers a dazzling array of world-class shows, captivating performances, and unforgettable musicals that will leave you spellbound.
Located in the Theater District in Midtown Manhattan, Broadway is home to some of the most iconic theaters in the world. From the classic productions that have stood the test of time to the latest and most innovative shows, there is always something for every theater enthusiast.
One of the highlights of attending a Broadway show is the opportunity to see world-renowned performers in action. From legendary stage actors to rising stars, the talent on Broadway is unparalleled. Whether it's a dramatic play, a toe-tapping musical, or a thought-provoking production, the performances will leave you in awe of their skill and artistry.
Broadway musicals are particularly captivating, with their show-stopping numbers, dazzling costumes, and elaborate set design. Productions like "Hamilton," "The Lion King," and "Wicked" have become cultural phenomena, captivating audiences with their powerful storytelling and breathtaking performances. The energy and excitement of a Broadway musical are unmatched, creating an unforgettable experience.
Getting tickets to a Broadway show is a highly sought-after experience, and planning in advance is crucial. It's recommended to book tickets online or through authorized vendors to secure your seats. Discounted tickets can sometimes be found at the TKTS booth in Times Square, where you can get same-day or next-day tickets at a reduced price.
Aside from the popular long-running productions, Broadway is also renowned for its limited-engagement shows and plays. These shorter runs often feature award-winning actors and directors, bringing unique and thought-provoking stories to the stage. Be sure to keep an eye out for these special performances that offer a different flavor of Broadway's artistic offerings.
Attending a Broadway show is not just about the performance itself – it's the entire experience. The historic theaters with their ornate interiors, the buzz of anticipation from the audience, and the vibrant atmosphere of the Theater District all contribute to the excitement and magic of the evening.
After the show, you can discuss your favorite moments and performances over a drink or meal at one of the many bars and restaurants in the area. Many of these establishments offer pre-theater prix-fixe menus, allowing you to enjoy a delicious meal before or after the show.
Whether you're a theater aficionado or new to the world of Broadway, attending a show is an essential part of the New York City experience. Prepare to be enthralled by the talent, mesmerized by the performances, and inspired by the sheer creativity and artistry that make Broadway a truly one-of-a-kind theatrical destination.
Exploring Nearby Day Trips
While there is no shortage of things to see and do in New York City, sometimes it's nice to venture beyond the bustling streets and explore the nearby areas for a change of scenery. Luckily, the city's proximity to other amazing destinations makes it the perfect starting point for unforgettable day trips.
One popular day trip option is visiting the charming town of Sleepy Hollow, located just north of the city. Known for its connection to the famous Washington Irving story, Sleepy Hollow offers a mix of history, natural beauty, and spooky legends. Explore the Sleepy Hollow Cemetery, visit the Philipsburg Manor, or take a lantern-lit tour to immerse yourself in the area's rich folklore.
If you're looking for a beach escape, a visit to the Hamptons is a must. Located on the eastern end of Long Island, the Hamptons offer pristine beaches, quaint villages, and stunning mansions. Spend the day lounging on the sandy shores, explore the charming streets of East Hampton or Southampton, or treat yourself to a delicious seafood meal at one of the seaside restaurants.
For history buffs, a trip to historic Philadelphia is highly recommended. Just a short train ride away, Philadelphia is home to some of the nation's most significant historical sites, including Independence Hall, where the Declaration of Independence was signed, and the Liberty Bell. Explore the cobblestone streets of the Old City, visit the Philadelphia Museum of Art, or indulge in a famous Philly cheesesteak.
For a nature-filled day trip, head to the stunning Hudson Valley region. Just a short drive or train ride away, the Hudson Valley is known for its picturesque landscapes, charming towns, and vibrant arts scene. Explore the hiking trails of Bear Mountain State Park, visit the historic town of Cold Spring, or tour the renowned Storm King Art Center, an outdoor sculpture park with breathtaking views.
If you're looking to escape the city's urban landscape, a trip to the serene and picturesque Hudson River Valley is highly recommended. Explore the grand mansions of the Gilded Age, such as the Vanderbilt Mansion or Kykuit, the Rockefeller estate. Indulge in wine tastings at the region's numerous vineyards or take a scenic boat tour along the Hudson River.
Finally, if you're a nature lover, consider a day trip to the stunning landscapes of the Catskill Mountains. Just a few hours away, the Catskills offer opportunities for hiking, camping, and exploring the beautiful wilderness. From hiking to the top of Kaaterskill Falls, one of the tallest waterfalls in New York, to visiting charming towns like Woodstock and Phoenicia, the Catskills provide a peaceful and picturesque escape from the city.
These nearby day trip destinations offer a diverse range of experiences, allowing you to explore beyond the city's borders and discover the rich history, natural beauty, and cultural gems that surround New York. Whether you're seeking relaxation, adventure, or a taste of small-town charm, these day trips will provide a refreshing break from the vibrant energy of the city.
Conclusion
New York City truly is a destination that captures the imagination of travelers from around the world. With its iconic landmarks, thriving cultural scenes, culinary delights, and vibrant nightlife, the city offers a never-ending array of experiences and attractions.
From exploring the famous landmarks like the Statue of Liberty, Times Square, and Central Park, to immersing in the city's diverse cultural offerings, New York leaves visitors with a sense of awe and wonder. The city's renowned museums and galleries provide opportunities to appreciate world-class art and delve into its rich history.
Indulging in the city's culinary scene is a must, whether it's savoring a slice of classic New York pizza, dining in Michelin-starred restaurants, or exploring the vibrant street food culture. The city's parks and gardens provide peaceful retreats, while its nightlife scene offers endless entertainment options, from Broadway shows to jazz clubs and rooftop bars.
When you're ready to venture beyond the city's borders, nearby day trips offer a change of scenery and a chance to explore charming towns, serene nature spots, or historical landmarks. Whether it's visiting Sleepy Hollow, exploring the Hamptons, or immersing yourself in the history of Philadelphia, the surrounding areas offer exciting and enriching experiences.
New York City is a destination that truly has it all – from art and culture to delicious cuisine, outdoor adventures, and unforgettable nightlife. Its diverse neighborhoods and vibrant energy make it a city like no other. So, pack your bags, lace up your shoes, and get ready to immerse yourself in the magic and excitement of the Big Apple.