Detroit Airport (DTW) – Everything You Need To Know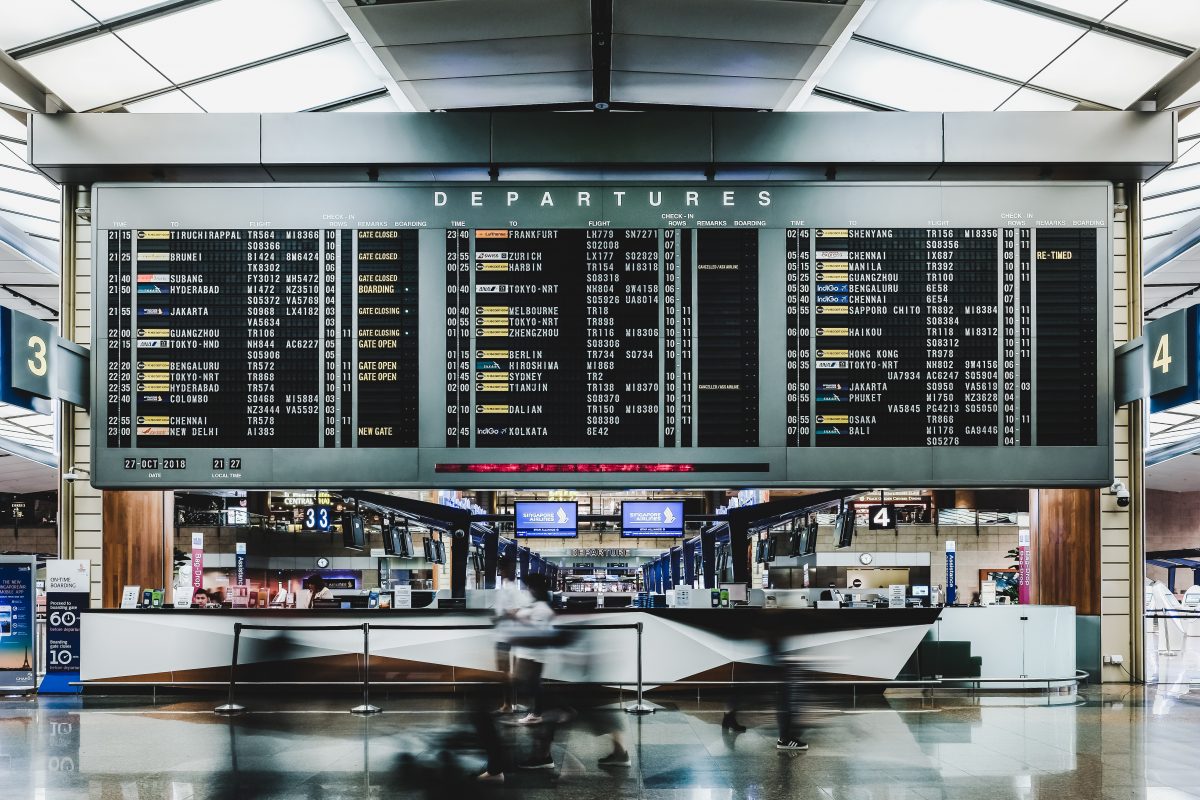 Many travelers hate having to stay for a lengthy time at the airport while waiting for their next flight. It's understandable. Some airports don't have good facilities that can make your stay enjoyable. This could be the lack of dining options, an uncomfortable place to rest, and even poor customer service.
However, if you know you're going to have a flight from Detroit Metropolitan Airport, you shouldn't worry. Why? Because this Detroit airport is pretty impressive. This modern airport has everything you need from lounges, shops, top-notch restaurants, and places we all travelers need during our trips—a good nice rest.
Moreover, the design of the airport makes it one of the most unique airports in the country. There is the colorful light tunnel that travelers can enjoy while walking between gates, as well as the light rails that are running inside the terminal. Yep, it's like a city inside the terminal!
So, what else is there for you? Without further ado, here is our complete guide to Detroit Metropolitan Airport, which not only covers everything about Detroit airport but will also help you know where to eat and what to do while you are there.
History of Detroit Metropolitan Airport
The Detroit Metro, as it's locally known, is one of the biggest international airports in the US and the busiest in the state of Michigan. It is conveniently located just 20 miles outside downtown Detroit in Michigan.
The construction of the DTW was completed in 1929, starting with only one square mile of land. It was not until 1950 that the Detroit metro became Detroit's primary airport. Since then, it has come a long way from its humble beginning.
Detroit airport is now the third-largest gateway to Europe and the primary gateway to Asia from the eastern part of the United States. Moreover, it has six runways and two big terminals which serves more than 140 non-stop domestic and international flights. In 2018, the Detroit airport served around 35.2 million people.
Top 5 busiest routes from and to Detroit airport are Atlanta, Amsterdam, Chicago, and New York.
How to Get Around
DTW has several public transportations that connect the airport to the city as well as between terminals. With its availability, you won't have any problems getting around. That's excellent news for us travelers, as most of us will be spending much time on the road already.

There are two bus services which bring you to and from Detroit Airport. The first one is the airport bus service called AirRide, which links the airport to stations in the Ann Arbor area. The second one is a public bus service called SMART and runs between the Detroit airport, Southeast Detroit Michigan.
Both services can be found at the Ground Transportation Center at both terminals: Mcnamara and North Terminals. What's better is that the fares for these services are cheap. Most of us agree that cheap is always good. US$2 for adults, US$1 for youth, and US0.50$ for Elders and disabled.
If you don't want to spend too much on transportation, then we suggest to leave out the taxi option. A ride to and from the airport will cost you around US$45 to US$50 and an hour journey. Taxis can be found at ground transportation center near the baggage claim.
If you're driving yourself, the fastest way to travel between the airport and the city is by taking the I-94 W route which will take you around 25 minutes, depending on the traffic.
Detroit Airport Parking Space
The Detroit metro has excellent parking spaces. The Detroit Airport is equipped with a short term and a long term parking garages close to both terminals. The parking option located at Mcnamara terminal will cost you around US$24 for long-term daily parking. The big blue deck at the north terminal will cost you US$12. Of course, no to worry, there are shuttles that take visitors to both terminals.
If you're staying at a nearby hotel, find the Qwik Park lots which are widely available. To park a whole day, it cost US$11. If you're worried about not getting the parking spaces, give them a call and order ahead of time.
Some travelers have also opted to park their car in the hotels near the airport. Of course, this option is available for customers. Most of the also hotels offer shuttle services to get you to and from the airport.
Terminals at Detroit Michigan Airport
The Detroit Metro airport in Michigan has two terminals: McNamara terminal and North terminal.

The McNamara Terminal is served by Delta Airlines, Air France, Aero Mexico, and other SkyTeam airlines. While the North Terminal served all other non-SkyTeam airlines.
McNamara Terminal
There are four levels at McNamara airport. The first levels are for domestic and international arrivals. The second and third levels are the departure gates, security as well as check-in counters.
McNamara is home to three concourses (A, B, and C) which hosts 100 boarding gates. If your flight is scheduled to depart from Concourse A, make sure to spare enough time to get there because it is 1-mile long! Detroit Airport's concourse A is the second-longest concourse in the world after Japan's Kansai International airport. Make use of the express trams that travel inside the concourse A.
The McNamara Terminal is generally more exciting than the North terminal due to the availability of shops, restaurants, and attractions. The famous colorful light tunnel and the water feature are located in McNamara terminal. Whether your flight departs from McNamara or North terminal, you should visit these worth-to-see attractions.
Other services available here are vending machines, shoeshine, ATM's, currency exchange, baby care facilities, Spa, Pet relief area, and children area.
North Terminal
The North terminal hosts concourse D (D1-D32) and is home to Lufthansa business lounge and the USO lounge which offer services to the military and their relatives.
Although the McNamara terminal is more popular than the North terminal, you shouldn't cross out the North terminal just yet. This terminal has all the necessary amenities for travelers such as excellent restaurants and shops, ATM's, children's play area, pet relief area, and much more! You should check both of them out if you have a long layover and need to stretch your legs after a long flight. With the public transportation that Detroit airport has, going between the two terminals is an easy task.
If you ever get lost at Detroit airport or need any other assistance, look out for people wearing blue vests around the airport. The Detroit airport has its Airport Ambassadors ready to help you out!
Where to Eat?

One that often crosses the mind of all travelers when they get off the plane or arriving at the airport is: what should I eat? Luckily, the airport in Detroit, Michigan, is a heaven for those looking to get some small bites, drinks, or real food that can satisfy your empty stomach. You all know the portion of the food that you get in the airline. Here are some of the best restaurants and bars in both McNamara and North Terminals that you should try.
Andiamo
This local chain restaurant opens daily for breakfast, lunch, and dinner. So whether you arrive in the morning or at night, you know Andiamo is ready to serve you. The restaurant is located near gate A30 at the McNamara terminal. Don't forget to taste the popular dishes such as the ciabatta breakfast sandwich, grilled Atlantic salmon, chicken parmesan, and lemon ricotta pancakes.
Vino Volo
Are you just looking to relax and have a nice glass of wine to accompany you? Then head over to Vino Volo, the best place to get wine at Detroit airport. Vino Volo is located at gate A45 at the McNamara terminal. Have a nice glass of chardonnay or merlot completed with a plate of cheese and see other passengers pass by.
National Coney Island
If you're just a passerby at Detroit Michigan airport and don't have the chance to try local Detroit's cuisine, the National Coney Island at the North Terminal has some of the best Coney hotdogs around. This traditional Detroit food is one not to miss. National Coney Island is located at the North Terminal, gate D15.
Atwater Brewery
Located at gate D19 of the North terminal, Atwater Brewery is the place to be if you want to have some nice beers before or in between your travel. A glass of beer is never a bad idea! Atwater is a Detroit Michigan- born brewery which serves German-style beers. Have some snacks and chips to go along with your beer.
Bigalora Wood-Fried Cucina
This Italian restaurant has it all—food, snacks, and alcoholic beverages. If you're a vegan or vegetarian, they also offer many options for you. Bigalora specializes in Italian pizza made with fresh ingredients. The quality and the affordable price makes Bigalora one of the most popular restaurants at Detroit Michigan Airport.
What to Do in Detroit Airport?
There are many activities you can do to kill time here at Detroit Airport. Besides trying out the dining options, you should explore the airport itself, if you have the time, of course. Your time at Detroit Michigan airport can be enjoyable so, be sure to check the clock. You don't want to miss your flight!
Walk through the light tunnel at McNamara Terminal
One of the highlights of Detroit airport is the impressive light tunnel. The 700-foot underground tunnel features a colorful display of led lights, added with soothing sounds. The tunnel is located at McNamara terminal which connects concourses A, B, and C. A visit to the light tunnel is a must when you are in Detroit airport.
Relax at one of the lounges
If you have a long time before your flight and want to have some food, drinks, and relax, consider going to one of the four Delta sky clubs at McNamara terminal. The clubs offer a quiet and relaxing place where you can have a self-serve beer, read magazines, watch TV, or surf the internet using the WiFi. You can access the club even if you're not a member of the Sky Delta club. You can purchase a single pass.
Visit the water feature
Another popular feature of Detroit Airport to see is the water fountain in the center of McNamara terminal. This water feature shoots off streams of water to the center of the fountain.

Travelers often flipped coins into the water feature, and you should try it too. All the coins flipped is donated to local charities. What's more, many restaurants and bars surround the water feature. Grab a bite or have a coffee and enjoy the scene at the best airport in Detroit, Michigan.
Ride the light tram
Check out what's there to offer in Mcnamara terminal in style. Rather than walking the whole one-mile long concourse, ride the tram that runs above the entire concourse! It will take you approximately 3 minutes from one end to another.
Get a massage at Be Relax and Recharge yourself in Westin Hotel
Need to do your exercise routine before going on a long summer vacation? Or you simply want to jump in the pool and take a nice shower after? The Westin hotel which is located inside the McNamara terminal has a fitness studio where you can use the gym, pool, and showers for just US$15!

A massage sounds just perfect after or before a long flight, right? Head to one of Be Relax locations at McNamara terminal to get yourself a massage.
Find peace at the reflection room
Are you a yogi or a spiritual person? Detroit airport has got it covered for you. Both McNamara and North terminals have reflection rooms where you can pray, do yoga, or meditation.
Useful Tips for Your Trip to Detroit Michigan Airport
Know your airline and terminal
Detroit airport is one of the biggest airports in the country. Some of the terminal, such as the concourse A, is a mile long and it will take you some time to check-in, pass the security point, and getting to the gate. We recommend you to check your tickets and make sure of the location of your flight.
Arrive early
If you're coming in during the holiday season, the Detroit airport will be very crowded. It is wise to arrive early so you can make sure to make your flight on time. Anyways, after you've read all the options that the Detroit airport has to offer, don't you want to spend more time here before your flight?
Last but not least, make sure you have everything with you. Enjoy Detroit airport and have a safe journey wherever you're heading to!