You Ultimate Guide To San Francisco Beyond The Guidebook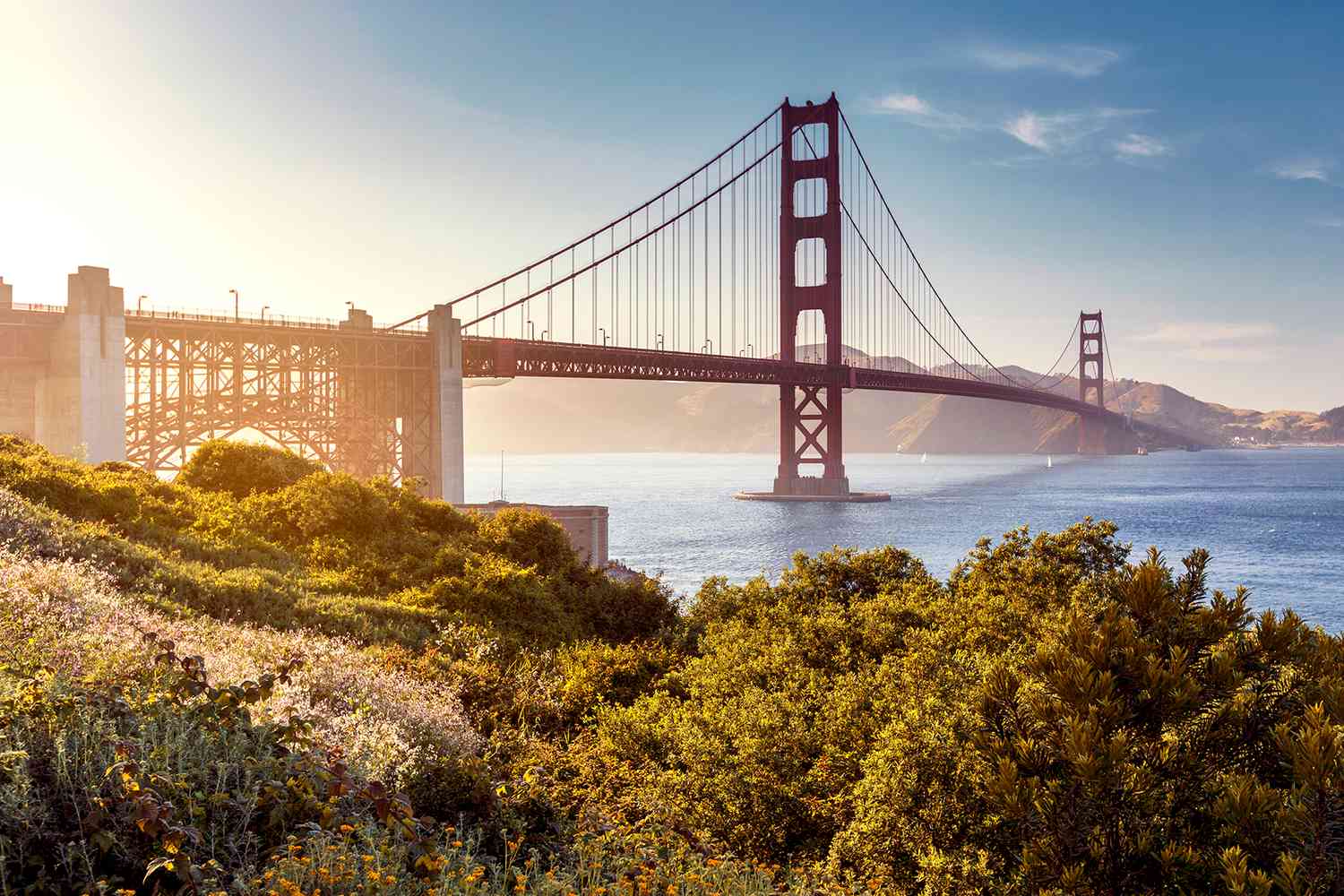 Introduction
Welcome to the vibrant and diverse city of San Francisco, where stunning landscapes, iconic landmarks, and a thriving cultural scene await you. Situated on the scenic coastline of Northern California, San Francisco is a city renowned for its eclectic neighborhoods, entrepreneurial spirit, and progressive values.
Known for its iconic Golden Gate Bridge, historic cable cars, and Alcatraz Island, San Francisco captivates visitors with its unique charm and character. But beyond the guidebook attractions, there is so much more to discover in this dynamic city.
With a rich history shaped by the California Gold Rush and the counterculture movement of the 1960s, San Francisco has evolved into a hub of innovation, creativity, and free expression. From the steep hills of Nob Hill to the bohemian vibes of Haight-Ashbury, the city offers a diverse range of experiences that cater to every interest and taste.
Whether you're a nature enthusiast looking to explore the stunning parks and coastal trails, a foodie eager to indulge in the diverse culinary scene, or an art lover seeking inspiration at world-class galleries and museums, San Francisco has something for everyone.
In this comprehensive guide, we will take you beyond the typical tourist destinations and delve into the hidden gems and local secrets that make San Francisco truly special. We'll explore the distinct neighborhoods, uncover outdoor adventures, dive into the flourishing food and drink scene, and immerse ourselves in the city's thriving arts and culture.
So get ready to embark on an unforgettable journey through the vibrant streets of San Francisco. Let's go beyond the guidebook and discover the authentic essence of this remarkable city that captures the hearts of both visitors and locals alike.
Getting to Know San Francisco
Before diving into all that San Francisco has to offer, it's important to get acquainted with the city's layout and transportation options. The city is divided into various neighborhoods, each with its own unique character and attractions. The most popular areas to explore include Union Square, Fisherman's Wharf, Chinatown, the Mission District, and the Castro.
To navigate the city, there are several transportation options available. The iconic cable cars not only provide a scenic mode of transportation, but also offer a glimpse into the city's history. The Muni system, which includes buses and light rail trains, is a convenient way to get around the city. Additionally, rideshare services and taxis are readily available for those looking for a more private mode of transportation.
When it comes to weather, San Francisco is known for its microclimates. The city experiences cooler temperatures, especially near the coast, due to the influence of the Pacific Ocean. It's always a good idea to dress in layers and carry a light jacket, as temperatures can change throughout the day.
As you embark on your San Francisco adventure, be prepared to encounter the city's famous hills. Walking around the city can be a great way to explore, but keep in mind that some areas can be steep. Comfortable shoes and a sense of adventure are essential!
Another important aspect to consider is the city's renowned culinary scene. San Francisco is home to a diverse range of international cuisines, as well as fresh and sustainable locally-sourced ingredients. From innovative food trucks to Michelin-starred restaurants, there are endless options to satisfy your taste buds.
Lastly, it's worth mentioning that San Francisco is a city that embraces diversity and inclusivity. It prides itself on being a welcoming and accepting community, which adds to the vibrant and inclusive atmosphere of the city.
Now that you have a basic understanding of the city, it's time to delve deeper into the must-see landmarks, explore the unique neighborhoods, and uncover the hidden gems that await you in San Francisco.
Must-See Landmarks
San Francisco is home to a plethora of iconic landmarks that have become synonymous with the city's identity. From the world-famous Golden Gate Bridge to the notorious former prison on Alcatraz Island, these landmarks are a testament to the rich history and captivating beauty of San Francisco.
The Golden Gate Bridge is the most recognized symbol of San Francisco. Spanning 1.7 miles across the Golden Gate Strait, the bridge offers stunning views of the city skyline, the Pacific Ocean, and the rugged Marin Headlands. Walking or biking across the bridge is a popular activity for locals and visitors alike, providing a memorable experience and breathtaking photo opportunities.
Located in the middle of San Francisco Bay, Alcatraz Island is another must-see landmark. Known as "The Rock," this former federal prison housed notorious criminals such as Al Capone and Machine Gun Kelly. Visitors can take a ferry to the island and explore the prison on a guided tour, learning about its history and the daring escape attempts that have become the stuff of legends.
No visit to San Francisco is complete without a visit to Fisherman's Wharf. This lively waterfront area is home to an array of attractions, including Pier 39, a bustling shopping and dining complex known for its resident sea lions. Enjoy fresh seafood, browse local boutiques, and catch a glimpse of the iconic Powell-Hyde cable car line as it passes through the area.
The Painted Ladies, a row of colorful Victorian and Edwardian houses, is another iconic sight in San Francisco. Located in the Alamo Square neighborhood, these meticulously maintained homes offer a charming glimpse into the city's architectural history. It's a perfect spot to capture a postcard-worthy photo of the city's picturesque skyline in the background.
For history buffs, a visit to the Presidio of San Francisco is a must. This former military base turned national park offers a wealth of historic sites, lush green spaces, and stunning views. Explore the Officers' Club, visit the Walt Disney Family Museum, or take a leisurely hike through the Presidio's expansive trail system.
These are just a few of the many remarkable landmarks that await you in San Francisco. Each one holds a unique story and adds to the city's undeniable charm. Immerse yourself in the history, soak in the breathtaking views, and embrace the magic of these must-see landmarks.
Exploring the Neighborhoods
One of the best ways to experience the vibrant and diverse culture of San Francisco is by exploring its distinct neighborhoods. Each area has its own unique character, offering a glimpse into the city's history, art, cuisine, and community. From the hustle and bustle of downtown to the bohemian vibes of the Mission District, there's something for everyone to discover.
Union Square is the heart of downtown San Francisco, buzzing with high-end shops, theaters, and renowned hotels. This bustling district is a shopper's paradise, offering a mix of luxury boutiques, department stores, and flagship stores. Take a break from shopping and enjoy a leisurely stroll through the nearby Yerba Buena Gardens or catch a show at one of the many theaters in the area.
For a taste of old-world charm, head to Chinatown, one of the oldest and largest Chinatowns outside of Asia. Explore the vibrant streets lined with colorful storefronts, exotic markets, and traditional Chinese temples. Indulge in authentic cuisine, browse unique shops, and try your luck at the local fortune cookie factory.
The Mission District is a colorful and artistic neighborhood known for its vibrant street art, delicious food scene, and lively nightlife. Take a walk along Valencia Street and admire the stunning murals that adorn the walls, showcasing the neighborhood's rich cultural heritage. Sample delicious Mexican cuisine at one of the many taquerias or experience the lively atmosphere of the district's bars and clubs.
If you're looking to immerse yourself in LGBTQ+ history and culture, head to the Castro District. Known as one of the first gay neighborhoods in the United States, the Castro is home to colorful rainbow flags, historic theaters, and a vibrant nightlife scene. Explore Harvey Milk Plaza, pay homage to the LGBT Freedom Flag, and enjoy the inclusive and welcoming atmosphere of this iconic neighborhood.
In the Haight-Ashbury neighborhood, step back in time to the 1960s counterculture movement. This bohemian enclave was at the epicenter of the hippie revolution. Explore vintage shops, psychedelic boutiques, and iconic record stores that harken back to the Summer of Love. Walk through Golden Gate Park, which offers lush greenery and attractions such as the Conservatory of Flowers and the de Young Museum.
These are just a few of the many vibrant neighborhoods that make up San Francisco. Each one offers a unique experience and showcases the city's diversity and cultural richness. So, take the time to explore, wander the streets, and discover the hidden gems that lie within each neighborhood.
Hidden Gems and Local Secrets
San Francisco is not only a city of iconic landmarks and popular attractions but is also home to numerous hidden gems and local secrets that add an extra layer of charm and intrigue. These off-the-beaten-path discoveries offer a glimpse into the authentic and lesser-known aspects of the city.
If you're a nature lover, make sure to visit the Lands End Coastal Trail. Tucked away at the northwestern edge of the city, this scenic trail offers breathtaking views of the rugged coastline, the Golden Gate Bridge, and the Pacific Ocean. Explore hidden coves, climb down to the rocky beach, and immerse yourself in the tranquil beauty of this hidden gem.
For a unique cultural experience, head to the Asian Art Museum. While it may not be as well-known as some of the other museums in the city, it houses an impressive collection of Asian art spanning over 6,000 years. From ancient ceramics to contemporary installations, this hidden gem showcases the diversity and beauty of Asian culture.
If you're a food enthusiast looking for local culinary secrets, visit the Ferry Building Marketplace on a Tuesday, Thursday, or Saturday. On these days, the outdoor farmers market takes place, featuring a wide array of delicious local produce, artisanal products, and gourmet street food. It's the perfect place to sample fresh and seasonal ingredients while supporting local farmers and vendors.
For panoramic views without the crowds, head to Twin Peaks, the highest point in the city. A short hike or drive will take you to the summit, where you'll be rewarded with stunning vistas of the city skyline, the bay, and the surrounding hills. It's a prime spot to witness a beautiful sunrise or enjoy a peaceful sunset away from the hustle and bustle.
If you're looking for a peaceful oasis away from the city noise, visit the San Francisco Botanical Garden in Golden Gate Park. This hidden gem spans 55 acres and showcases a diverse collection of plants from around the world. Take a leisurely stroll through different themed gardens, including a calming Japanese Tea Garden, and admire the vibrant colors and fragrant blooms.
These hidden gems and local secrets provide a glimpse into the authentic and lesser-known side of San Francisco. Venture off the beaten path, engage with the local community, and uncover the hidden treasures that make this city truly special.
Outdoor Activities
San Francisco offers a plethora of outdoor activities that allow you to connect with nature, enjoy breathtaking views, and embrace the city's beautiful landscapes. From scenic hikes to exhilarating water activities, there is no shortage of outdoor adventures to embark on.
One of the best ways to appreciate the natural beauty of San Francisco is by exploring its numerous parks. Golden Gate Park, spanning over 1,000 acres, offers a wide range of recreational opportunities. Rent a bike and cruise along the park's winding paths, visit the Japanese Tea Garden, or have a picnic by the popular Stow Lake.
If you're seeking a more challenging outdoor experience, lace up your hiking boots and tackle the trails at Mount Tamalpais State Park. Located just north of the city, this park boasts stunning views of the Bay Area from its summit. Hike through the redwood forests, summit the East Peak for panoramic vistas, and revel in the tranquility of this hidden gem.
For an adrenaline rush, head to Crissy Field and indulge in windsurfing or kiteboarding. This waterfront park offers ideal conditions for these exhilarating water activities, with the iconic Golden Gate Bridge as your backdrop. Lessons and equipment rentals are available for all skill levels.
For a more leisurely outdoor experience, take a stroll along the Embarcadero and enjoy the refreshing sea breeze. This waterfront promenade offers stunning views of the San Francisco Bay, along with various attractions such as the Exploratorium and the historic Ferry Building. Be sure to stop by the Fisherman's Wharf for some fresh seafood and soak in the lively atmosphere.
If you're looking to escape the city hustle, venture to Point Reyes National Seashore. Located just outside San Francisco, this protected coastal area offers rugged cliffs, stunning beaches, and abundant wildlife. Hike to the Point Reyes Lighthouse for breathtaking views, explore the numerous trails, or simply relax and watch the seals basking in the sun.
These outdoor activities provide the perfect opportunity to immerse yourself in San Francisco's natural beauty and embrace an active and adventurous lifestyle. Whether you prefer hiking, biking, water sports, or leisurely strolls, there is something for everyone to enjoy in the great outdoors of San Francisco.
Food and Drink Scene
San Francisco is a food lover's paradise, boasting a thriving culinary scene that celebrates diverse flavors, local ingredients, and innovative techniques. From Michelin-starred restaurants to hidden neighborhood gems, the city offers a myriad of options to satisfy every palate.
One of the city's most iconic dishes is the San Francisco-style sourdough bread. The unique tangy flavor and chewy texture of this bread are a result of the region's specific wild yeast culture. Be sure to try a classic sourdough bread bowl filled with creamy clam chowder, a beloved local specialty.
For seafood enthusiasts, a visit to Fisherman's Wharf is a must. Indulge in the freshest seafood, from Dungeness crab to clam cocktails, or savor a bowl of famous San Francisco-style cioppino, a hearty and flavorful fish stew that combines the best of the ocean's offerings.
San Francisco is also known for its diverse international cuisine. Explore the lively neighborhoods of Chinatown and the Mission District for authentic and mouthwatering culinary experiences. From dumpling houses and dim sum restaurants to taquerias serving up flavorful Mexican street food, there's something to satisfy every craving.
With its proximity to California's wine country, San Francisco also boasts a vibrant wine scene. Visit the nearby Napa and Sonoma valleys for wine tastings and vineyard tours, or explore the city's wine bars and restaurants that showcase an extensive selection of local wines.
Additionally, San Francisco has become a hub for craft breweries and artisanal cocktails. Explore the city's vibrant craft beer scene, with breweries ranging from established names to up-and-coming microbreweries. For cocktail enthusiasts, visit the city's speakeasy-style bars and innovative mixology establishments that offer creative and handcrafted libations.
Don't miss the opportunity to explore San Francisco's farmers markets, where you can find fresh and locally grown produce, artisanal cheeses, baked goods, and more. The Ferry Building Marketplace hosts a year-round farmers market, providing an abundance of tasty treats for food enthusiasts.
From hole-in-the-wall eateries to upscale dining establishments, San Francisco's food and drink scene is a delightful journey for the taste buds. Embrace the culinary diversity, savor the innovative flavors, and indulge in the gastronomic delights that make San Francisco a truly unforgettable culinary destination.
Arts and Culture
San Francisco's arts and culture scene is as diverse and vibrant as the city itself. With a rich history of creativity and innovation, the city is home to world-class museums, cutting-edge galleries, and a thriving performing arts community. Whether you're a fan of classical art, contemporary exhibitions, or live performances, San Francisco has something to offer for every art enthusiast.
The de Young Museum, located in Golden Gate Park, showcases a vast collection of American art from the 17th through the 21st centuries. Admire masterpieces by renowned artists such as Georgia O'Keeffe and Winslow Homer, and explore galleries dedicated to Native American art, photography, and textiles.
Another must-visit museum is the San Francisco Museum of Modern Art (SFMOMA), one of the largest modern and contemporary art museums in the country. With its impressive collection spanning various artistic movements, SFMOMA presents a diverse range of thought-provoking and innovative artworks. Explore exhibits featuring renowned artists like Frida Kahlo, Jackson Pollock, and Mark Rothko.
If you're interested in photography, head to the Museum of the African Diaspora (MoAD), located near Yerba Buena Gardens. MoAD celebrates the art, history, and cultural impact of the African diaspora through compelling exhibitions and educational programs.
In addition to museums, San Francisco is known for its vibrant gallery scene. The renowned 49 Geary Street building houses multiple galleries, showcasing a wide range of contemporary art and emerging artists. Explore these galleries during the monthly "First Thursday" art walk, where visitors can mingle with artists and enjoy new exhibitions.
San Francisco is also a city that embraces performing arts. The War Memorial and Performing Arts Center, located in the Civic Center district, is home to the San Francisco Ballet, the San Francisco Opera, and the San Francisco Symphony. Experience world-class performances ranging from classical ballet to opera and symphony concerts.
For theater lovers, San Francisco offers a variety of venues showcasing both Broadway productions and experimental works. The American Conservatory Theater (ACT) is renowned for its quality productions, while smaller theaters such as the Magic Theatre and the Curran Theatre provide unique and intimate theater experiences.
Additionally, the city hosts a multitude of cultural festivals and events throughout the year. From the vibrant Carnaval San Francisco to the eclectic Outside Lands Music and Arts Festival, there is always something happening to celebrate the diversity and creativity that San Francisco embodies.
Immerse yourself in San Francisco's arts and culture scene, embrace the creativity that surrounds you, and allow the city's vibrant spirit to inspire and captivate you.
Shopping and Markets
San Francisco is a shopper's paradise, offering a diverse range of shopping experiences that cater to every taste and style. From luxury boutiques to vintage shops and bustling markets, the city has something for everyone, making it a true retail haven.
For high-end shopping, head to Union Square, the city's premier shopping district. Here, you'll find luxury flagship stores such as Gucci, Louis Vuitton, and Chanel, as well as upscale department stores like Neiman Marcus and Saks Fifth Avenue. Explore the surrounding streets for designer boutiques offering the latest fashion trends.
If you're in search of unique and one-of-a-kind finds, visit the eclectic neighborhoods of Haight-Ashbury and the Mission District. These areas are known for their vintage shops, independent boutiques, and local designers. Discover vintage clothing, retro accessories, and curated collections of artisanal goods.
For a truly immersive shopping experience, don't miss the Ferry Building Marketplace. Located on the Embarcadero waterfront, this historic building houses a vibrant collection of shops, restaurants, and a farmers market. Browse the market stalls for locally sourced produce, artisanal cheeses, gourmet chocolates, and handcrafted goods.
For food lovers and culinary enthusiasts, a visit to the San Francisco Farmers Market is a must. Held at various locations throughout the city, these markets showcase the fresh and diverse produce of the region. Sample delicious fruits, vegetables, cheeses, and baked goods while supporting local farmers and producers.
For a unique shopping experience that combines food, art, and community, head to the Treasure Island Flea. This monthly open-air market brings together a curated selection of vendors offering vintage clothing, handmade crafts, antiques, and artisanal food. Enjoy live music, food trucks, and stunning views of the San Francisco skyline.
San Francisco is also home to a number of shopping centers and outlet malls. The Westfield San Francisco Centre, located near Union Square, houses a wide range of stores, from popular fashion brands to tech gadgets. The nearby Stonestown Galleria offers an array of shops, a movie theater, and dining options.
Lastly, for bookworms and literary enthusiasts, a visit to City Lights Books is a must. This iconic bookstore in North Beach is known for its extensive collection of books, particularly those focusing on progressive and countercultural literature. Browse the shelves and discover hidden literary gems.
From luxury shopping districts to bustling markets and one-of-a-kind boutiques, San Francisco offers a diverse and exciting shopping scene. Discover unique treasures, support local artisans, and indulge in a retail therapy experience unlike any other.
Day Trips and Excursions
While San Francisco has plenty to offer, venturing out on a day trip or excursion allows you to explore the stunning natural beauty and cultural attractions beyond the city limits. From wine country adventures to coastal escapes, there are countless possibilities for unforgettable day trips from San Francisco.
Located just over an hour's drive from the city, Napa Valley and Sonoma County are world-renowned wine regions that offer the perfect day trip for wine connoisseurs and enthusiasts. Embark on a wine tasting journey through picturesque vineyards, visit exclusive wineries, and sample award-winning wines while enjoying the beautiful countryside scenery.
For those seeking scenic escape along the coast, a trip to Muir Woods and the neighboring town of Sausalito is a must. Muir Woods National Monument is home to a magnificent grove of towering ancient redwood trees, offering a peaceful and awe-inspiring experience. Afterward, visit the charming coastal town of Sausalito, known for its waterfront cafes, art galleries, and breathtaking views of the San Francisco skyline.
A visit to the charming town of Carmel-by-the-Sea is another fantastic day trip option. Enjoy the beautiful coastal drive along Highway 1 as you make your way to this idyllic destination. Stroll through the picturesque streets lined with art galleries, boutique shops, and gourmet restaurants. Don't forget to visit the world-famous Pebble Beach Golf Links and enjoy the stunning views along the 17-Mile Drive.
For nature enthusiasts, a trip to Point Reyes National Seashore is highly recommended. Located just outside the city, this protected area offers stunning coastal landscapes, pristine beaches, and abundant wildlife. Explore the numerous hiking trails, visit the historic Point Reyes Lighthouse, and marvel at the rugged beauty of this coastal gem.
If you're looking for a taste of history and charm, head to the old gold rush town of Sacramento. Located about two hours northeast of San Francisco, Sacramento offers a glimpse into California's past with its preserved historic district, captivating museums, and the picturesque State Capitol building.
These are just a few of the many exciting day trips and excursions you can embark on from San Francisco. Whether you're seeking outdoor adventures, wine tasting experiences, or cultural explorations, the surrounding areas offer a plethora of options to satisfy your wanderlust and create lasting memories.
Practical Information
When planning a trip to San Francisco, it's essential to have some practical information in mind to ensure a smooth and enjoyable experience.
First, let's talk about transportation. San Francisco has an excellent public transportation system consisting of buses, light rail trains, and the iconic cable cars. The Muni system operates throughout the city, offering an affordable and convenient way to get around. Visitors can purchase a Clipper Card, which can be loaded with cash value or a day pass, providing unlimited rides on Muni and other participating transit systems.
If you prefer a more private mode of transportation, rideshare services like Uber and Lyft are widely available in the city. Taxis can also be hailed or found at designated taxi stands.
San Francisco's weather can be unpredictable, so it's a good idea to dress in layers. The city experiences cool and foggy temperatures, especially near the coast. Even on sunny days, it's advisable to carry a light jacket or sweater, as temperatures can fluctuate throughout the day.
When it comes to accommodations, San Francisco offers a range of options to suit different budgets. From luxury hotels in downtown to cozy bed and breakfasts in residential neighborhoods, there are plenty of choices. It's recommended to book in advance, especially during peak tourist seasons.
Being a major tourist destination, San Francisco can get crowded, especially around popular attractions. To avoid long lines and ensure a more enjoyable experience, consider purchasing tickets in advance for popular sites like Alcatraz Island or the Golden Gate Bridge visitor center.
San Francisco is known for its diverse and world-class dining scene, but keep in mind that reservations are often necessary, especially at popular restaurants. It's advisable to book a table in advance to secure your spot, especially for dinner or weekend brunch.
When it comes to safety, San Francisco is generally considered a safe city for travelers. However, like any urban area, it's important to be aware of your surroundings and take standard precautions. Keep valuables secure, especially in tourist-heavy areas, and be cautious when using public transportation or walking at night.
Finally, don't forget to check out local events and festivals happening during your visit. San Francisco hosts a wide array of events throughout the year, ranging from cultural festivals to music and arts celebrations. Checking the local event calendar will help you plan your trip and make the most of your time in the vibrant city.
With these practical tips in mind, get ready to embark on an unforgettable adventure in San Francisco. Explore the neighborhoods, indulge in the culinary delights, immerse yourself in the arts, and create memories that will last a lifetime.
Conclusion
San Francisco is a city that captivates the imagination and leaves visitors in awe of its beauty, diversity, and cultural richness. From the iconic landmarks like the Golden Gate Bridge and Alcatraz Island to the vibrant neighborhoods and hidden gems, there is always something new and exciting to discover in this dynamic city.
Whether you're exploring the distinct neighborhoods, indulging in the diverse food and drink scene, immersing yourself in the arts and culture, or embarking on day trips to the surrounding scenic areas, San Francisco offers a wealth of experiences that cater to every interest and taste.
As you walk along the hilly streets and immerse yourself in the vibrant atmosphere, you'll quickly come to appreciate the city's welcoming and inclusive nature. San Francisco is a place where diversity is celebrated, and individuality is embraced, creating a vibrant and accepting community that inspires and captivates.
As your journey in San Francisco comes to an end, take with you the memories of the breathtaking views, the flavors of the diverse culinary scene, the sounds of the flourishing arts and music, and the warmth of the welcoming locals.
Whether you're a first-time visitor or a seasoned traveler to San Francisco, this city has a way of leaving a lasting impression. It's a place that welcomes exploration and invites you to go beyond the guidebooks to uncover its true essence.
So, embrace the spirit of adventure, wander through the eclectic neighborhoods, savor the culinary delights, and immerse yourself in the arts and culture of this extraordinary city. San Francisco invites you to create unforgettable experiences and to fall in love with its magnetic charm over and over again.