Top 10 Things to do in Cairo, Egypt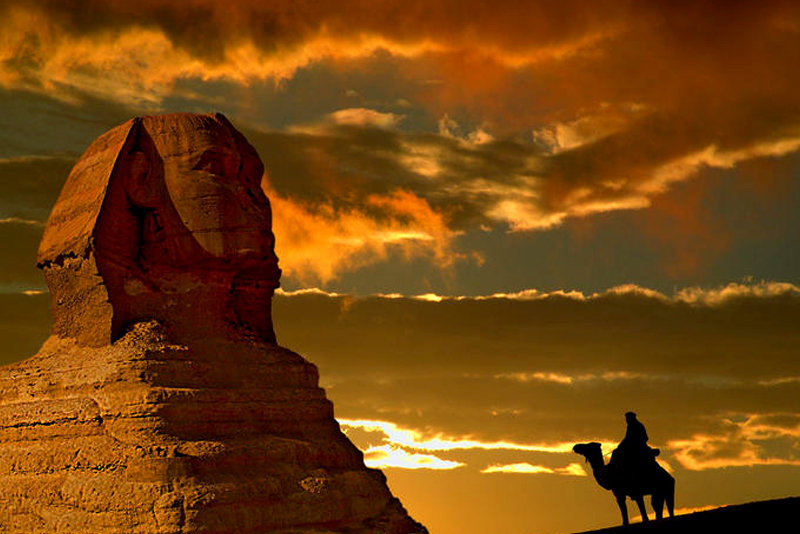 Cairo is the mega-city capital of Egypt with a metropolitan population of over 20 million and growing. It is the largest city in all of Africa. Cairo is a city of commotion where ancient relics seem to be around every corner. Sometimes called the City of Minarets, the soundtrack of Cairo is a cacophony of calls to prayer, cars beeping, and people chattering and carrying on. It is a place that will overload your senses with sights, sounds, and smells.
There is honestly no place quite like it. The contrast between the vast bone-dry desert, the long life-giving Nile River, and the densely packed cityscape is an image you will forever keep in your memory. To top it all off, there are so many incredible things to do in Cairo! The numerous historical monuments, cultural centers, mosques, museums, markets, and ancient pyramids could occupy you for weeks!
Nearly 4,500 years ago, the first of the three Giza Pyramids were constructed near the modern city of Cairo, Egypt. Along with the famous Sphinx and several smaller tombs and monuments, the Giza pyramids are part of a larger complex. It includes a palace, temples, solar boat pits, and various other features. These massive and architecturally-impressive pyramids are one of the seven wonders of the ancient world. Also, they are the oldest tourist attraction on the planet.
The first of the three pyramids were built for the Pharaoh Khufu. His pyramid, which is the largest in Giza towers 481 feet high. It is also sometimes called Cheops, the Khufu Pyramid, or the Great Pyramid. Khufu's son Khafre succeeded him as Pharaoh, and his pyramid plan included the construction of the mysterious limestone Sphinx. Pharaoh Menkaure followed suit and had the third pyramid built in his honor and preparation for the afterlife.
From Cairo, you can take a bus, taxi, or private shuttle to visit the Giza pyramids complex. Once there, you can opt to explore via horseback, camelback, or on foot. Be prepared for crowds though, as this is one of the most popular tourist destinations in the area. However, the experience is well worth it!
You can't possibly comprehend how sensational these ancient monuments are until you are standing in their presence. It is unimaginable to think of the planning and labor that went into building such massive stone structures all in the name of the afterlife. You can visit this mesmerizing marvel any day of the week. Prices will vary depending on whether or not you book a private tour or explore without a guide.
2.
Saladin Citadel of Cairo
Starting in 1176, Saladin El Ayouby began the construction of the Citadel in Cairo to serve as a fortress against the Crusaders. It became home to Egypt's rulers for 700 years and was occupied by the Ayyubid dynasty. It was then followed by the Mamluks, the Ottoman government, and finally Muhammad Ali. The Citadel includes several palaces, three mosques, four museums, terraces with exceptional city views, and during Mamluk occupation, multiple harems.

On a clear day, you can see the Giza Pyramids from one of the Citadel's terraces. It is now a UNESCO World Heritage Site and a popular tourist landmark on the eastern edge of Cairo. There are three gates to the Citadel, El Mokatam Gate, Bab Ed Haddad Gate, and the Middle Gate. Each gate has its own interesting history and design. You could definitely spend a significant portion of the day here as there is so much to see and do within the Citadel. Fortunately, it is open every day of the week.
3.
Mosque of Muhammad Ali
Muhammad Ali was originally a second-in-command officer who was sent to Egypt by the Ottoman government. With him was a 300-man Albanian regiment in 1801. By 1805, he was named pasha and viceroy of Egypt, and long story short he eventually became king. During his rule, he commissioned the construction of an elaborate alabaster mosque as part of the total renovation of the Saladin Citadel complex. The intricately-designed mosque was the work of the famous architect Yussuf Bushnaq.

Ottoman law actually prohibited any mosque from having more than one minaret; the tall thin tower where the muezzin calls Muslims to prayer. Muhammad Ali's mosque had two. This was a clear indicator that he was not going to be submissive to the Ottoman government anymore. While the mosque is not one of the oldest in Egypt, it is certainly one of the most visited. This exquisite landmark is conveniently located in the heart of Cairo and close to multiple other attractions.
A trip to the ancient and modern city of Cairo wouldn't be complete without a visit to the Egyptian Museum on the north side of Tahrir Square. The unmissable pink building is home to over 120,000 Egyptian artifacts. A walk through this extraordinary collection is like a walk back in time!

Fortunately, in 1835, Muhammad Ali banned the export of any antiquities. It was this ban that made this vast collection possible. In 1902, the building that is now the Egyptian Museum was constructed to house mummies, sarcophagi, pottery, jewelry, and the opulent treasures from the tomb of Tutankhamun. While you aren't required to have a guide to tour the museum, it is highly recommended. Also, it should be noted that some of the artifacts from the Egyptian Museum are being relocated to the new Grande Egyptian Museum in Giza; scheduled to be finished and fully opened in 2022.

You can visit the Egyptian Museum in Cairo, Egypt, any day of the week that suits your itinerary.
5.
Museum of Islamic Art in Cairo
The Museum of Islamic Art in Cairo, Egypt houses the largest collection of Islamic art in the world. There are over 100,000 artifacts from all different periods of Islamic history. This impressive institution attracts researchers, historians, and visitors from around the globe who are drawn to the immense knowledge the manuscripts and artifacts have to offer regarding medicine, engineering, and astronomy. The extensive collection of manuscripts includes text on astronomical instruments, horticulture, and even surgery. This is one thing to do in Cairo you don't want to skip.

You will also find beautifully made jewelry, utensils, pottery, textiles, carpets, weapons, and ivory objects, as well as some extremely rare pieces. The domain of daily life demonstrates how advanced and detail-oriented Islamic artisans were. This museum in Cairo will prove to be an inspiring experience. The antique artifacts that are displayed at the Museum of Islamic Art come from Iran, the Arabian Peninsula, the Levant, Egypt and other parts of North Africa, and Andalusia.

There are also various workshops offered throughout the year at the museum; it includes a youth center. The Museum of Islamic Art is located in Bab el Khalk. It is open Monday through Thursday from 9:00 to 5:00 pm and Friday from 9:00 to 11:30 am and 1:30 to 5:30 pm.
6.
Sharia Al Muizz Li Din Allah
The Sharia Al Muizz Li Din Allah was once a block bursting with storytellers, performers, and food vendors back in the Fatimid era around 969 AD. Today, it is like a living open-air museum. The Bein Al Qasreen, which is a historical street within the Sharia Al Muizz Lin Din Allah is a must-walk down road when you are visiting Cairo. Between 9 am and 10 pm every day of the week, the Bein Al Qasreen is void of vehicles. A street free of cars is extremely rare if not non-existent in Cairo, Egypt.

Also, on these lively streets, you will find the Al-Aqmar mosque, the Musafirkhana Palace, the Madrasa of Sultan Barquq, and the Madrassa and Mausoleum of Qalaun. You will also have the opportunity to marvel at the medieval architecture and shop the small vendors. Here, they sell all sorts of traditional crafts and souvenirs. There are several streets in this area to explore, and any day of the week is a good day to go.
7.
Khanel El-Khalili Market
Khanel El-Khalili was established in the 14th century and has since been the epicenter for cultural and economic activities in Old Cairo. This is the place to go in Cairo if you want to pick up authentic souvenirs. This expansive marketplace also has plenty of quaint cafes where you can enjoy traditional Egyptian cuisine, music, and ambiance. This is a wonderful opportunity to experience life as it is lived in Cairo. The people-watching is phenomenal!

Your senses will be inundated. Walking through this market is something you must do while you are in Cairo. This type of market is also very traditional throughout Egypt and the Middle East. Khanel El-Khalili is where you can really practice your bargaining skills. However, if you opt not to bargain you are likely to be charged full tourist prices for the wares you to purchase. You will find colorful stained-glass lamps, shiny silverware, gold antiques, spices, incense, handmade carpets, and a seemingly endless variety of treasures at the Khanel El-Khalili. The market is hustling and bustling Monday through Sunday. You might want to consider bringing an extra luggage bag so that you can bring back all of your one-of-a-kind purchases!
After all of the commotion and crowds that come with the above seven attractions, a little reprieve will be in need. Al-Azhar Park is just the place to escape the stimulation that accompanies a megacity like Cairo. It is an oasis in the desert! The land that is now the meticulously manicured and landscaped Al-Azhar Park used to be one giant garbage pile. In 2005, the Aga Trust for Culture funded the great transformation of the city's first and only large park.

This is a beautiful spot to have a picnic as many Cairenes do on the weekends. Also, it can be just a semi-quiet place to take a peaceful stroll. The contrast between the cityscape and green gardens is quite magnificent. There are also several small cafes, an open-air theater, and a lake within the park. This lovely green space is a great place to recharge after all the amazing sightseeing that you have been doing. The Al-Azhar Park is open Monday through Sunday.
9.
Wakalet El-Ghouri Arts Center
The Wakalet El-Ghouri Arts Center or the Dervish Theater as it is also called is the place to see a real authentic Whirling Dervish performance. If you spend time in Cairo, you will likely come across this memorizing type of dance. Many riverboat cruises, night clubs, and restaurants employ dancers to perform this traditional dance. However, real Whirling Dervishes don't actually perform many of those shows.

The Islamic branch known as Sufi, whose history dates back some 700 years invented the dance. Also, bright gold plates with a radiating orange center representing the sun make up the illustrious floor of the theater. Visiting the Dervish Theater is an off-the-beaten-path tourist attraction. However, it is one that will provide an experience unmatched by anything else you do in Cairo. The performance is spiritual and entrancing.

While there are other types of cultural performances at the theater, the Whirling Dervishes shows also called Al Tannoura shows are genuinely unique. They take place on Saturday, Monday, and Wednesday evenings at 7 pm.
It would be silly to travel to Cairo and not enjoy the infamous Nile River. This river has long been the life vein of Egypt. It also happens to be the longest river in the world. There are plenty of opportunities to take an afternoon or evening Nile River cruise. Doing so offers an entirely different perspective of Cairo and the surrounding desert than you will enjoy from the city.

There are different types of boat options. For example, you can book a tour aboard a felucca or sailboat for a relaxing experience. However, a traditional Egyptian wooden sailboat is the way to go for the most authentic sightseeing experience. You can also enjoy a sunset and dinner cruise complete with live performances. It really just depends on your personal preference, budget, and time constraints. Also, there are river cruises that are several days to over a week-long; if you want to explore more than just Cairo while you are in Egypt.