Things To Do In Ottawa, Canada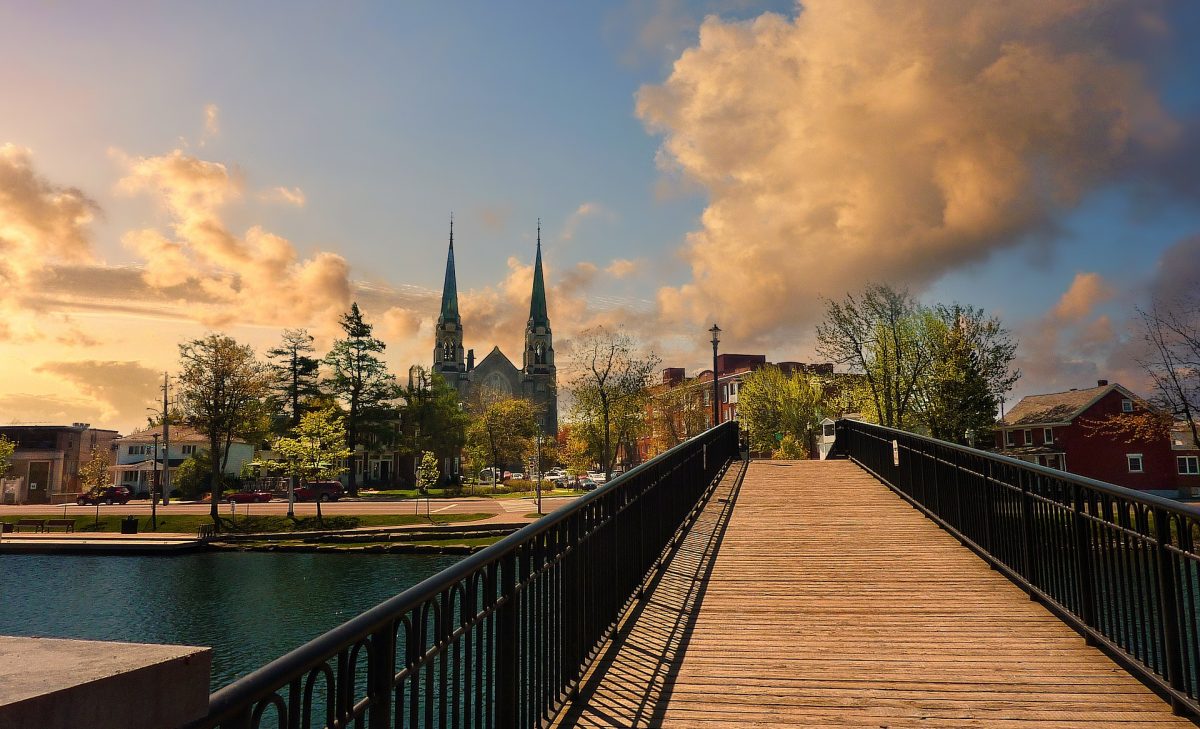 Unlike Toronto, Montreal, or Vancouver, the city known as Ottawa seems to be a little less popular. However, Ottawa is, in fact, the capital of Canada and is probably one of the most underrated cities in Canada.
While you're not wrong to think of maple syrup and the Niagara Falls, Canada is home to all that and more. We've taken the liberty of putting together a list of our top picks on what to do when you're in Ottawa, Canada.
With everything from chowing down on Beavertails to exploring the many museums in Ottawa, we're sure you will find that there is something for everyone.
1.
Get Your Ice-Skates On At The Rideau Canal Skateway
At Ottawa, they take their ice-skating very seriously! This could be due to the fact that Ottawa, Canada is home to the largest natural ice-skating rink in the world. Each year during winter the Rideau Canal becomes solid enough for you to ice-skate upon.
The Rideau Canal Skateway stretches on for a whopping 4.8 miles! Its total surface area making up more than 90 Olympic-sized hockey rinks. Safe to say that you could probably spend a good chunk of your day out on the ice!
You'll be happy to know that the Rideau Canal Skateway is taken very good care of during the winter months so as to ensure proper safety standards. So get those ice skates on and start skating!
2.
Celebrate Winterlude In Ottawa
If you're in Ottawa during the winter months from January to early March, you will also be just in time for Winterlude. Winterlude is an annual winter festival organised by The Department of Canadian heritage. As you'd expect, Winterlude is a big hit with both locals and tourists.
What can you expect to find during Winterlude in Ottawa? Aside from the aforementioned Rideau Canal Skateway, you will also see the International Ice Carving Competition and get to indulge in some Maple Syrup Snow Candy.
Maple Syrup Snow Candy is precisely what you think it is. Maple syrup drizzled on snow and served on a stick. Can you think of anything more deliciously Canadian?
3.
Snack On Beavertails At ByWard Market
Soak in the best of the local vibes at the ByWard Market in Ottawa. You'll get to see vendors of all sorts selling everything from local artwork to maple-infused chocolates.
This is probably one of the best places to pick up a few souvenirs for the folks back home. Especially if you're looking to find souvenirs that are a little less mainstream and a bit more personal!
Byward Market stretches across four blocks and is easily accessible via public transport. Alternatively, if you've chosen to rent a car during your trip you can simply drive in.
While you're at ByWard Market, you absolutely must try a Beavertail. A Beavertail, is essentially is a rather big piece of fried dough that is slathered with your topping of choice.
Imagine chocolate sauce, nuts, cinnamon sugar all heaped generously on a warm piece of fried pastry dough. There are few things that compare to having a Beavertail with all your favourite sinful treats.
4.
Treat Yourself To A Stay At The Andaz Hotel Ottawa
Are you willing to splurge? Is this a romantic weekend away from life's hustle and bustle? The Andaz Hotel Ottawa is the perfect place for you to get away from it all.
The Andaz Hotel Ottawa is located a mere stone's throw away from ByWard Market. Be prepared to be surrounded by the perfect balance of good ole' local vibes and all the comforts of a luxury hotel. The Andaz Hotel Ottawa opened back in 2016 and is a boutique brand of the more well known Hyatt.
The highlight of your stay would have to be the food at The Andaz Hotel Ottawa. Expect your taste buds to be blown away by all sorts of scrumptious Canadian cuisine. So remember not to have too many Beavertails at the ByWard Market! Try the Duck For Four Sharing platter and tuck into duck served four ways. A duck-lovers dream if you ask us.
5.
Spook Yourself Silly At The Fairmont Chateau Laurier & The Ottawa Jail Hostel
Book yourself a spot on the Ottawa Haunted Walk of Ottawa if you're curious to explore the city's darker side. The Haunted Walk of Ottawa organises various tours that take to places such as the Fairmont Chateau Laurier and the Ottawa Jail Hostel.
On the Ottawa Jail Hostel tour, you will walk through the various sections of the jail. You will even enter the area reserved for death row inmates. Many guests report shortness of breath and a change in the air in these areas.
Tours usually cost USD$24 and up, depending on which tour you choose. Your tour will also end with a much-needed drink at a nearby pub to calm your nerves.
If you're looking to stay active during your vacation to Ottawa, consider making a trip to Petrie Island. Petrie Island boasts 7-kilometres of hiking trails Hiking at Petrie Island is free, so get your favourite pair of trainers on and head out.
Alternatively, you could hit Petrie Island for a picnic. Make use of their 40 picnic tables that are located to the west of the beach. Some tables are seasonal but there are also tables that are open all year long. If you're planning to go as a big group you may want to make a reservation.
We know a trip to any beach is not complete without a dip in the water. However, if you're planning to go swimming at Petrie Island we recommend checking the official site before you visit. Heavy rainfall occasionally causes the waters to be unsanitary for swimmers.
7.
Feel The Canadian Spirit When You Catch The Ottawa Redblacks
It doesn't matter if you're particularly fond of sport or not, we recommend going to see the Ottawa Redblacks if you're in town during football season!
Catching a football game together as a family can be an exciting and memorable bonding experience. If you're looking for things to do while in Ottawa with kids, especially if your kids are a little older, this is for you.
The Ottawa Redblacks play in Ottawa at the TD Place Stadium. Tickets come just under USD$30. You can also opt for group bookings which come cheaper.
8.
Go On An Art Tour At Rideau Hall
Rideau Hall, which is home to the Governor General of Canada, welcomes the public to come and explore the lush interior of this mansion. Regardless of the season, Rideau Hall boasts a variety of activities for both tourists and locals to enjoy.
Summertime at Rideau Hall means art and garden tours as well as free outdoor concerts. You are also welcome to seek shelter under one of the many trees that flourish in the Rideau Hall garden.
Alternatively, during winter, there is an outdoor skating rink for those of you who wish to soak in as much winter fun as you can. The best part being that all activities organised at the Rideau Hall are free. Meaning that this is the perfect spot for you if you're looking for free things to do while in Ottawa, Canada.
9.
Tour The Supreme Court Of Canada
Perhaps you've always wanted to know more about the judicial system and how it works. If you're in Ottawa, Canada, you will be presented with the rare opportunity to take a guided tour of a supreme court.
The tour guides are all law students and they are more than happy to give you insight on how the judicial system in Canada works.
A tour of the Supreme Court of Canada is another activity you can add to your list of free things to do in Ottawa. You can get to the Supreme Court of Canada with ease by public transport.
10.
Let Your Troubles Melt Away At The Nordik Spa-Nature In Gatineau
You can find the Nordik Spa-Nature just 10 minutes from downtown Ottawa, in an area called Gatineau. As you can probably guess from the name, you're in for a day full of the best Scandinavian relaxation techniques.
The Nordik Spa-Nature in Ottawa is proud to have 10 stunning outdoor baths, 9 luxurious indoor saunas, along with various other spa facilities.
If you're looking for a spa experience that is a little more special, you'll be happy to know that Nordik Spa-Nature also has the only saltwater floating pool in all of America. This is a great activity if you're on a romantic getaway with your special someone!
11.
Pick Up The Pace When You Whitewater Raft In Ottawa
Check out Wilderness Tours when you're Ottawa, Canada for some whitewater rafting fun. It doesn't matter if you're particularly experienced or not, Wilderness Tours has a wide array of tours.
Their various tours cater to the different types of whitewater rafters. There are more intense, adrenaline-pumping tours for the more experienced and gentler waters to cater to families or newbies!
Whitewater rafting tours at Wilderness Tours start at roughly USD$100 for a basic, single-day package. You do have the option to book a longer tour and spend a couple of nights at the resort. Wilderness Tours in Ottawa has a range of cabins and chalets for you and your holiday party to stay at. If you're in a group of over 12 people, you have the option of booking their beach house!
12.
See All Of Ottawa's Seven Museums
Ottawa, Canada definitely is not lacking in terms of the arts, history, and culture. Whether it's science, aviation, or history when in Ottawa you can find a museum for almost everything.
The Canada Aviation and Space Museum had to be one of our favourites. There you can see how aviation grew from its humble beginnings to becoming an extremely important part of modern society.
At the Canada Aviation and Space Museum, you will come face to face with the country's largest collection of aircraft. As an added bonus, you will also learn about what Canada has been getting up to in outer space!
For a more hands-on experience, check out the Canada Agriculture and Food Museum. Hang out with the cutest cows and take part in butter churning and ice cream making. It promises to be a legen-dairy day!
13.
Admire The John Ceprano Rocks
If you're in Ottawa, Canada we promise that a trip to see the Balanced Rock Sculpture by artist John Ceprano. The sculpture is often referred to as the John Ceprano Rocks.
The simple, yet captivating sculptures are located at Remic Rapids Park. The John Ceprano Rocks are meant to reflect and emanate the calm that you feel when you look at its surroundings.
The John Ceprano Rocks are particularly stunning to look at against the sunset. So we recommend slotting this in as a filler activity on a day when you have a couple of hours to spare.
14.
Sightsee At Parliament Hill In Ottawa
Another one for your list of free things to do while in Ottawa, take a tour around Parliament Hill! Many travellers remark that visiting Parliament Hill felt like taking a trip back in time.
You will understand once you're stood before the grand structure that is Parliament Hill. The tallest structure, the clock tower, stands proud and tall as a focal point.
While the tours at Parliament Hill are free, that it no way means they're anything less than spectacular. The guides take pride in their work and are well-versed and knowledgeable with regards to Parliament Hill's past and history.
We suggest you set aside at least two hours for your visit to Parliament Hill. That way you can ensure that you've had the chance to take in everything that it has to offer.
Let Us Know…
We'd love to hear about your time in Ottawa, Canada! Did you manage to check out all of our favourite attractions? Also, is there anything that you stumbled upon that you think should not be missed? Hit us up in the comments!